This kale smoothie is a delicious high protein smoothie that's easy, nutritious and ready in minutes. Made with healthy ingredients like banana, kale, Greek yogurt and berries, it's the best way to eat your greens that will keep you full until your next meal!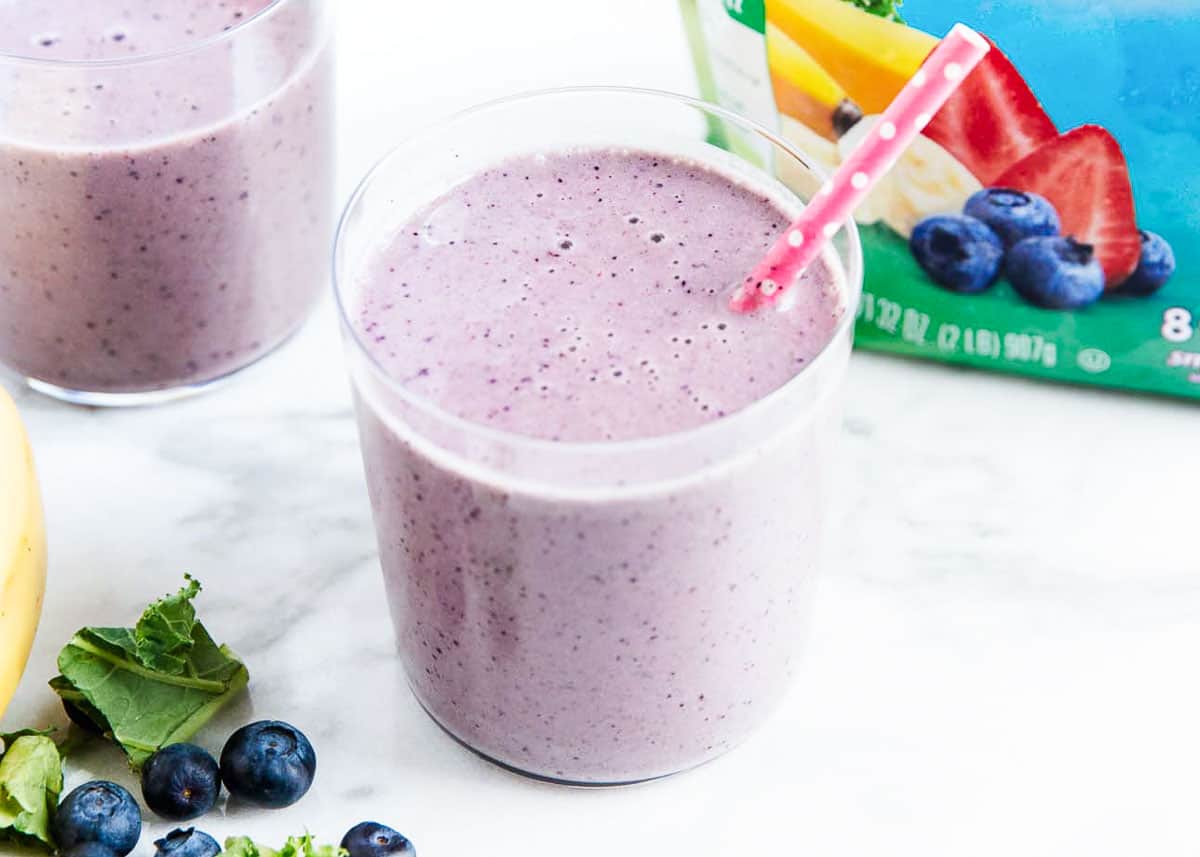 Delicious High Protein Kale Smoothie Recipe
Smoothies are my favorite thing to make for breakfast in the mornings. This kale smoothie recipe is on my weekly rotation, as well as my strawberry banana smoothie, green smoothie and pineapple mango smoothie. All are so flavorful, healthy and yummy!
Over the past few months, I've made a smoothie for breakfast almost every morning! I've been trying to eat healthier and smoothies are such a great way to stay on track. They're easy, full of healthy ingredients and are ready in a matter of minutes! Plus I love that you can completely customize them based on what's in your fridge, freezer and pantry.
This kale smoothie recipe is a new favorite and is the perfect detox smoothie. It's rich with all natural ingredients, Vitamin C and has amazing flavor. It makes a great breakfast option, snack, or even a meal prepped lunch or dinner. Seriously so easy and wholesome!
Why You Will Love This Smoothie
Rich in natural fruits & veggies
Good source of Vitamin C, Vitamin A and fiber
Naturally gluten-free
Filled with antioxidants
Helps with digestion
Keeps you hydrated
Ingredients
Below are my favorite ingredients to use when making a kale smoothie. The flavor turns out great and the consistency is spot on!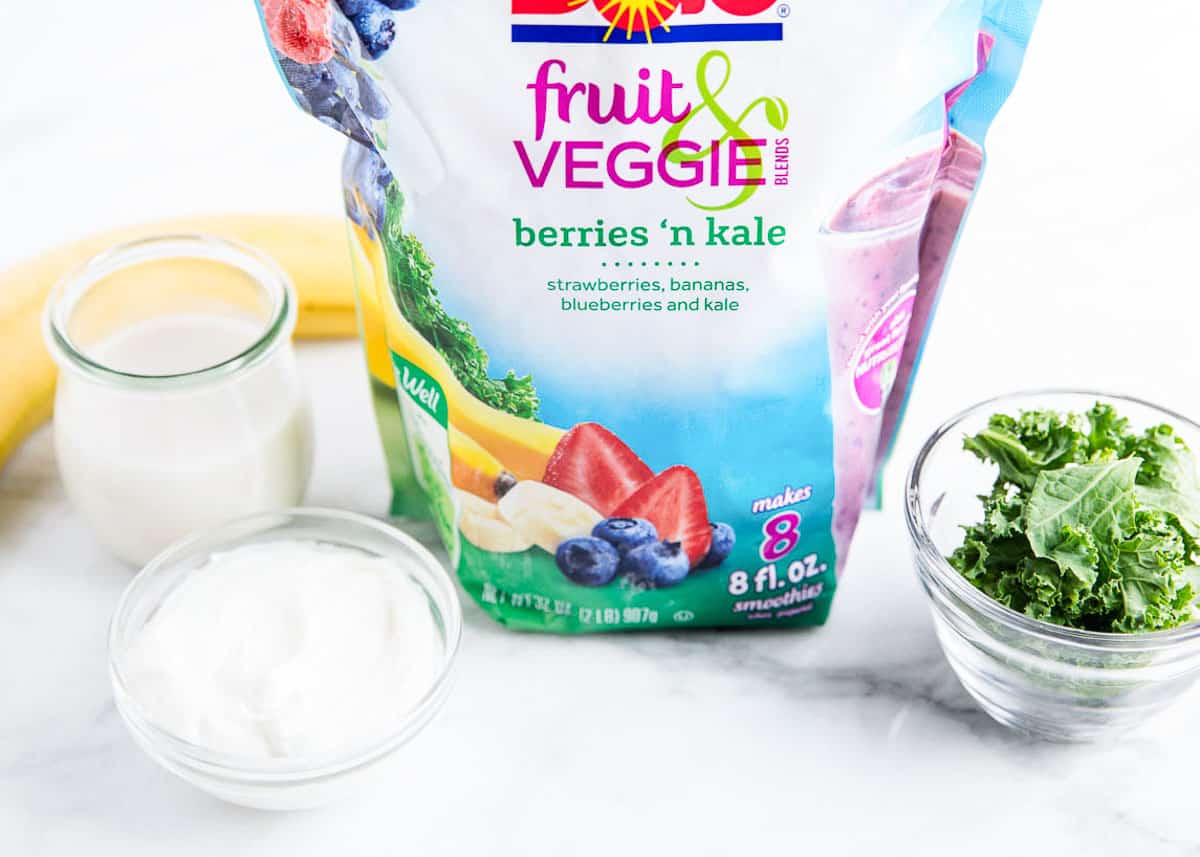 Frozen fruit: I like frozen berries like blueberries and strawberries for a berry kale smoothie, but any frozen fruit works.
Almond milk: Unsweetened almond milk is my preference but any dairy free milk, milk, orange juice or apple juice work.
Greek yogurt: Adds a boost of healthy protein!
Kale: Curly kale is most popular but use whatever you like.
Frozen banana: This will make the smoothie thick and creamy.
Ice cubes: To make your smoothie thicker.
Add-In's and Variations
Superfood boost: Chia seeds, flax seeds, hemp seeds, bee pollen, collagen or protein powder add extra nutrients.
Other frozen fruit: Peaches, pears, mangos, raspberries, cherries, or pineapple chunks all work.
Extra protein: Add some peanut butter, almond butter or even raw cashews.
Bright flavor: Add a squirt of fresh lime juice or lemon juice.
Ginger: Just a 1/2 teaspoon of freshly grated ginger adds a zing and warm flavor.
Coconut: A small amount of shredded coconut, coconut water, or coconut milk can add a tropical taste.
How to Make a Kale Smoothie
The best way to blend a berry kale smoothie is to first add your liquids and softer ingredients like Greek Yogurt. Next, add the frozen ingredients. This helps make it easier to blend!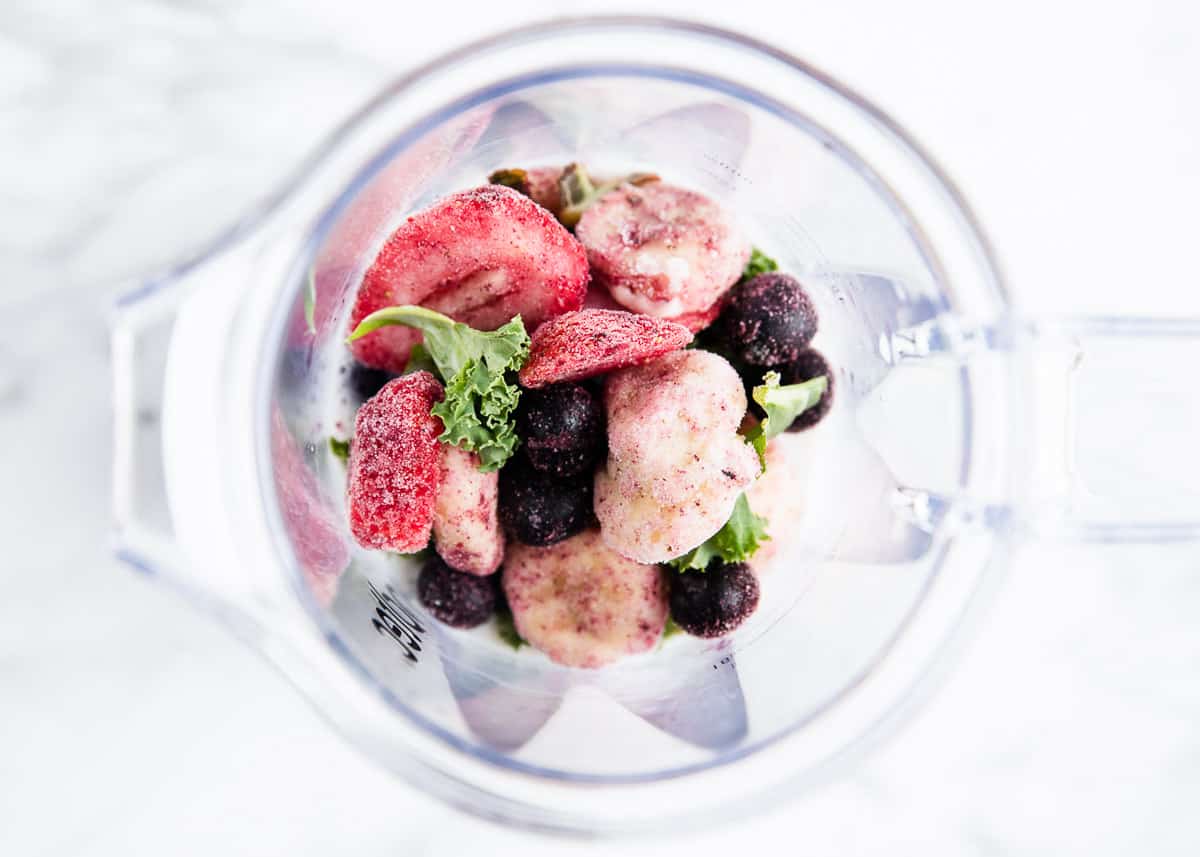 Layer ingredients in blender: Add the milk and Greek yogurt to the bottom of your blender, then add remaining ingredients on top.
Blend until smooth: Blend ingredients until smooth (can add more ice or liquid as needed). It's as simple as that!
Tips to Make the Best Kale Smoothie
Extra thick: Freeze your kale if you love extra thick, almost like ice cream smoothies. On that note, make sure all your fruit is frozen, too!
No high powered blender? Blend your almond milk with kale first and make sure the kale stems are removed from your kale leaves for best texture. You may need to stop and scrape the sides down and stir plus it will take longer to blend.
Taste and adjust: The best part of making a smoothie is making it suit your tastes! Try it and add more greens, more ice, more milk, honey or more fruit to find the perfect balance.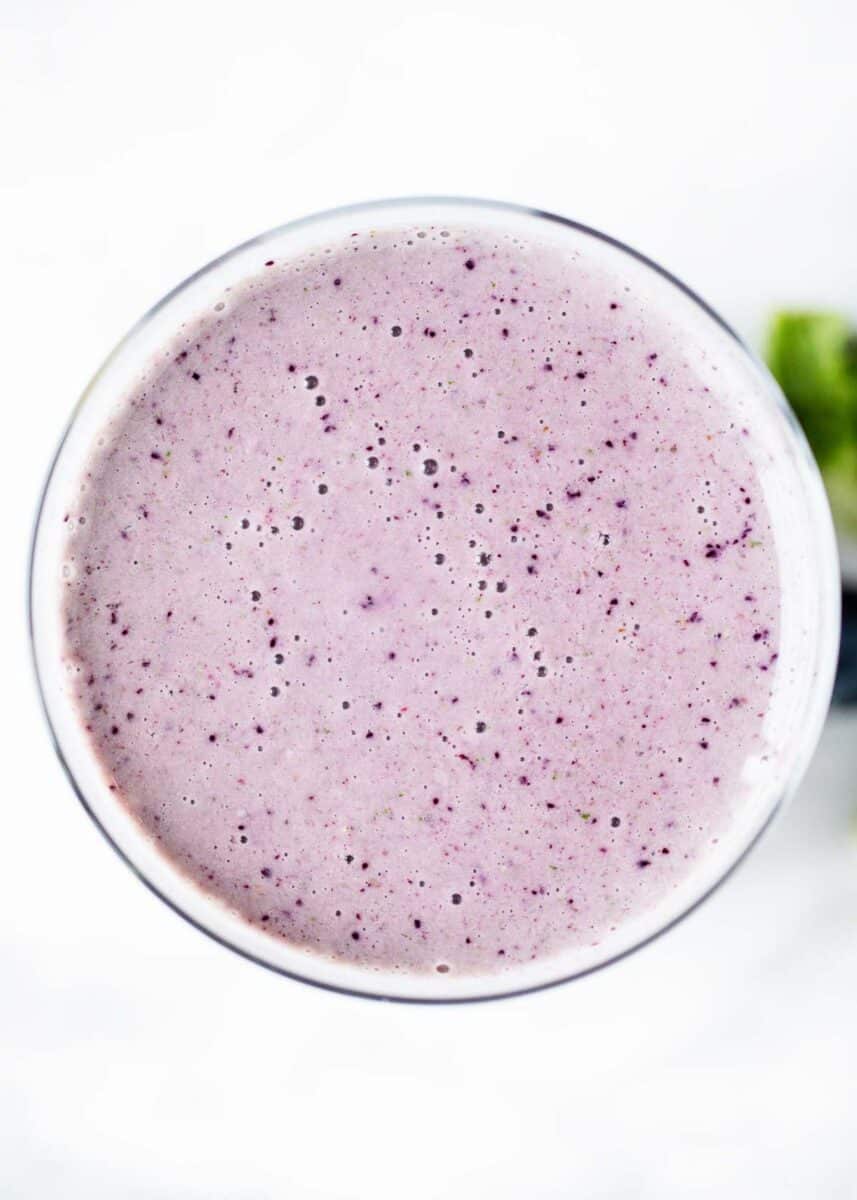 FAQs
Is spinach or kale better for smoothies?
They are both great! If you haven't tried adding either of these greens to your smoothie recipes, definitely give it a shot! They add tons of fiber and calcium and most of the time you honestly can't even taste them when mixed with the sweet fruit like in this kale berry smoothie.
Can you taste kale in smoothies?
In my personal opinion, no! If you use a high power blender it will blend up nicely. I always make sure to mix the kale with fresh or frozen sweet fruits so that when they blend together, the sweetness overpowers the kale. Kale is, however, a little more bitter and rough than spinach, so feel free to swap with spinach if you prefer!
Is it okay to put raw kale in smoothies?
Yes! There is no need to cook raw kale first before adding it to this smoothie.
How can I adjust the thickness of the smoothie?
To adjust the thickness, add more or less ice until it reaches the desired consistency. If you need to thin out your smoothie, add more almond milk or water.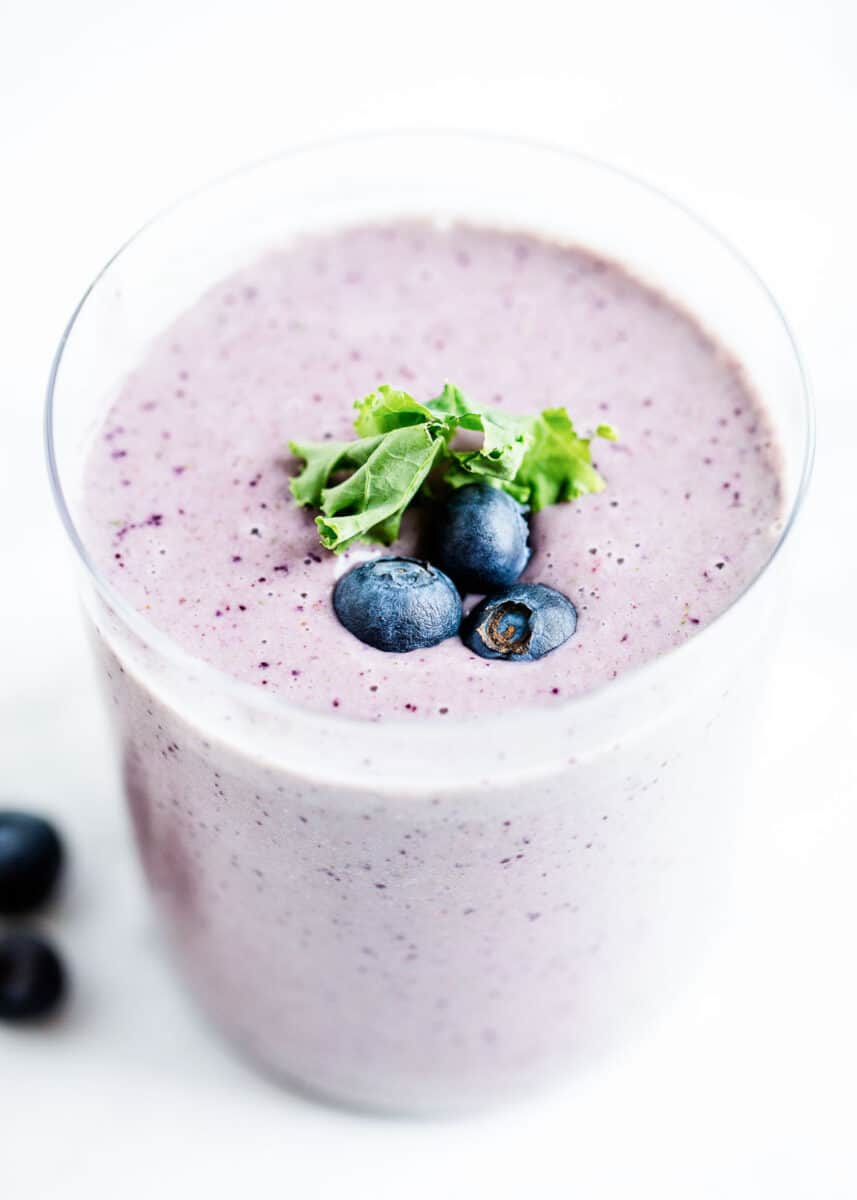 HUNGRY FOR MORE? Subscribe to my newsletter and follow on Facebook, Pinterest and Instagram for all the newest recipes!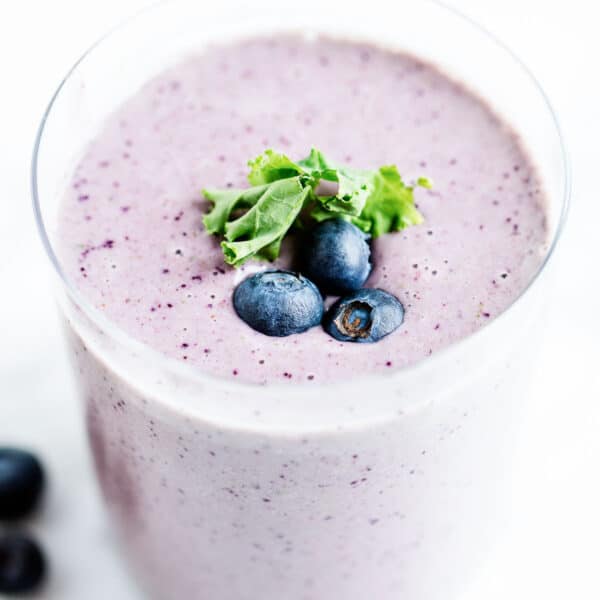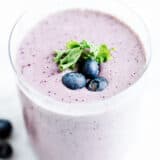 Kale Smoothie Recipe
This kale smoothie is a delicious high protein smoothie that's easy, nutritious and ready in minutes. Made with healthy ingredients like banana, kale, Greek yogurt and berries, it's the best way to eat your greens that will keep you full until your next meal!
Ingredients
½ cup almond milk (can substitute with milk or apple juice)
½ cup plain greek yogurt
1 cup chopped kale
½ cup frozen fruit (I used Dole Frozen Fruits)
ice (as needed)
Optional add in's: frozen berries, protein powder or collagen, chia seeds, flaxseed, honey or bee pollen
Instructions
Add the milk and greek yogurt to the bottom of a high power blender. Add the remaining ingredients on top of the liquids. Blend until smooth.


Add more ice or liquid as needed. Enjoy this kale smoothie recipe while cold!
---
Nutrition
Calories: 204kcal | Carbohydrates: 34g | Protein: 14g | Fat: 2g | Cholesterol: 5mg | Sodium: 225mg | Potassium: 738mg | Fiber: 3g | Sugar: 17g | Vitamin A: 6695IU | Vitamin C: 92.7mg | Calcium: 360mg | Iron: 1.2mg
Nutrition provided is an estimate. It will vary based on specific ingredients used.
Did you make this recipe? Don't forget to give it a star rating below!