These sweet and sour meatballs are combined with bell peppers and pineapple smothered in an irresistible sauce. Whether served over rice as a meal, or on their own as a party appetizer, they are always a hit!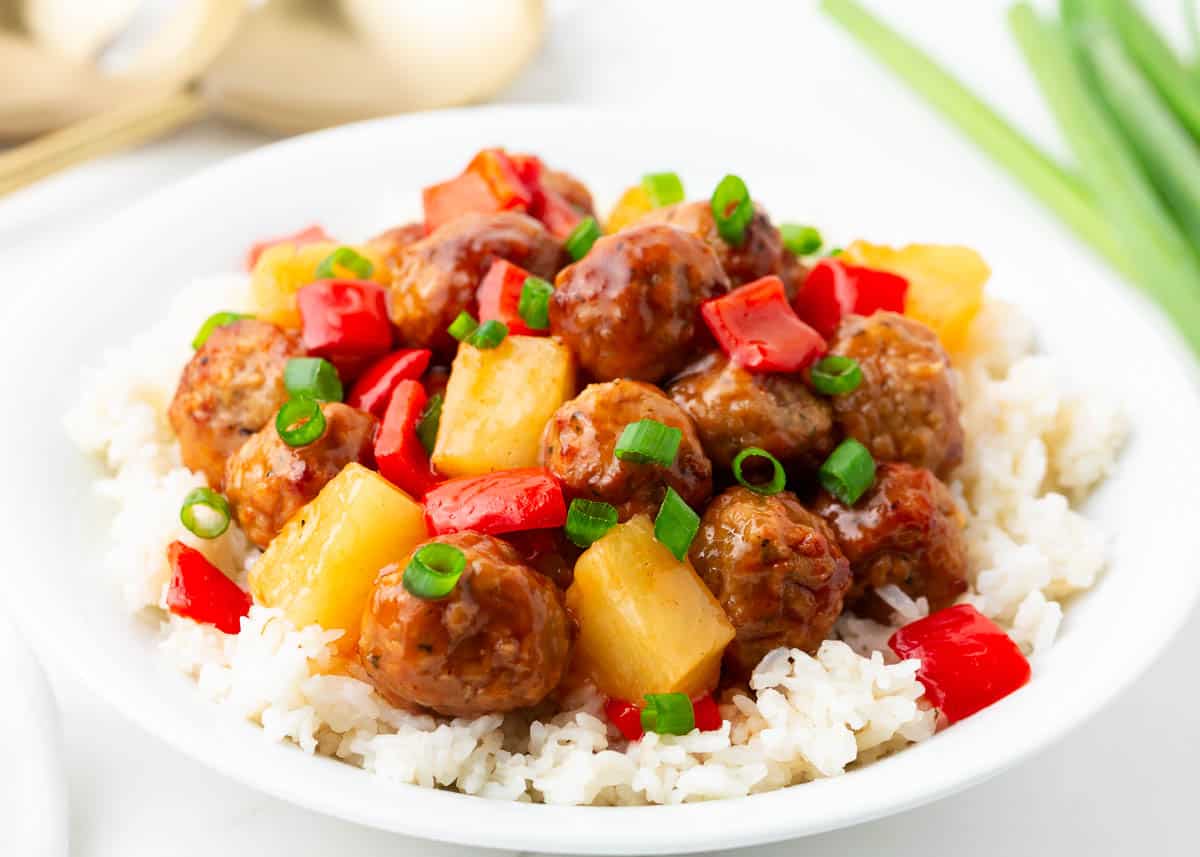 Dinner, Appetizer, or Both!
The beauty of this delicious meatball recipe is just how easy it comes together to bring you a dish with such complex flavors! Busy moms and dads love this recipe simply because it's one the kids will never complain about!
I've made a few different versions of sweet and sour sauce recipes before. Sweet and sour chicken, for example, uses fewer ingredients with a similar flavor. Or these slow cooker Hawaiian meatballs that are made with even fewer ingredients. However, neither are as authentic as the sweet and sour sauce for meatballs used in this recipe!
This recipe can be made with frozen or homemade meatballs, chunks of red bell pepper and pineapple smothered in an authentic Asian-inspired sweet and tangy sauce. Serve it with coconut rice for a delicious dinner idea your entire family will love!
Why We Love This Recipe
Serves a crowd. Whether you buy meatballs or you make them yourself, there are usually plenty. This is great for serving appetizers to a crowd and can be stretched out for dinner when serving it with rice or noodles.
Easy ingredients. There is nothing complicated about this recipe. If you don't already have what you need on hand, you can find it at your local grocery store.
Dinner in a hurry. A meal ready in under 30 minutes is what I call a win! Juicy meatballs smothered in an irresistible and crave-worthy sauce work well for busy weeknights!
Ingredients Needed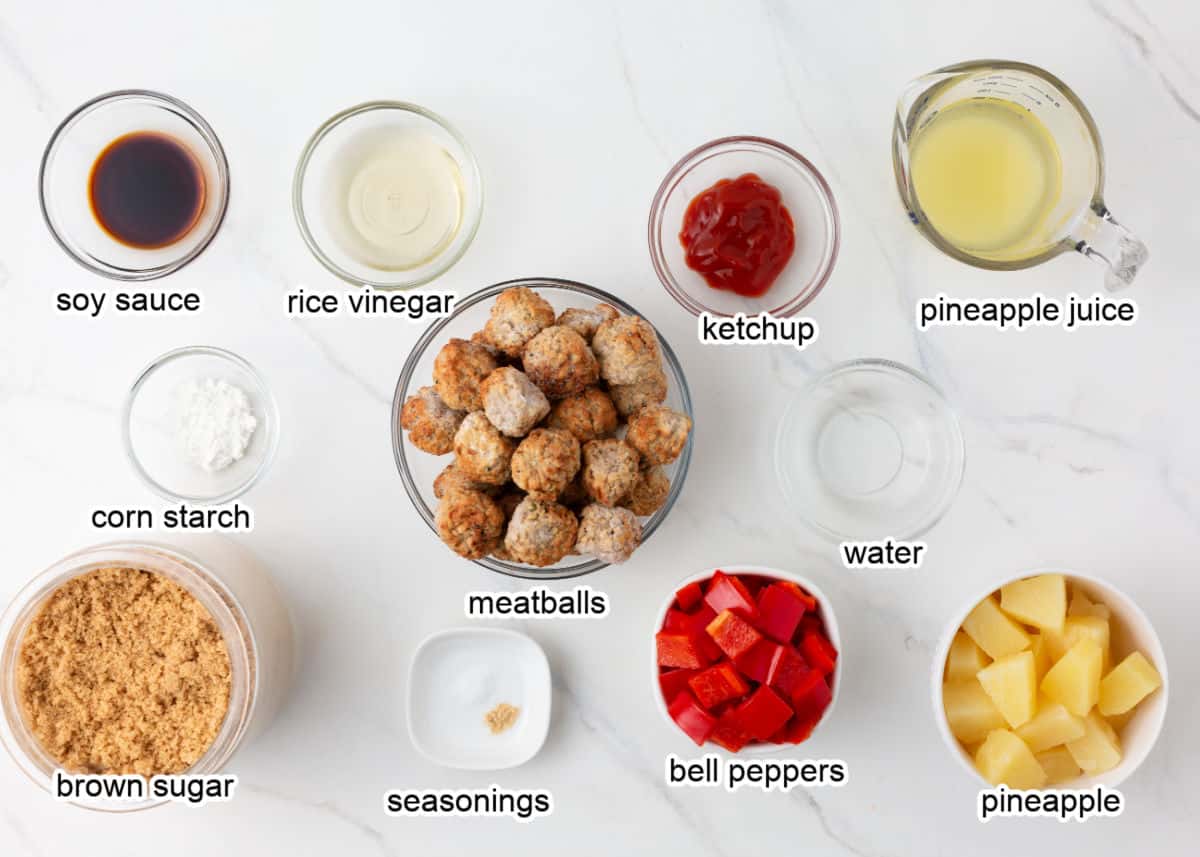 Find the full printable recipe at the bottom of this post.
For the Sauce
Pineapple juice: Using the juice from the canned pineapple chunks is convenient if you don't already have a can or jar of juice on hand. Avoid using fresh juice as it's not quite sweet enough.
Light brown sugar: Packed sugar adds the sweet to the sour and a bit of color as well. Using brown sugar over white gives it a bit more flavor too.
Rice vinegar: The acidic component that gives it that tangy sour, yet slightly sweet taste.
Ketchup: A signature ingredient that adds a red color (instead of using any food coloring) and also a sweet and tart flavor balance.
Soy sauce: Needed for that umami flavor!
Kosher salt: Brings out the flavors in this finger-licking sauce.
Ginger: Using vibrant ginger is an Asian-inspired way to brighten it up!
Cornstarch & Water: Helps to thicken up the sauce.
For the Meatballs
I'm usually all about homemade meatballs because when I make them I make a big batch and keep some frozen for times like this. You can also use your favorite store-bought version if preferred.
Red bell pepper is sweeter so I use those but feel free to use green, orange, or yellow if you prefer. You can also use a combination. The pineapple chunks that come in a can are ripe, juicy, and sweet. It's also a bonus that it comes with juice that I use in the sauce itself.
How To Make Sweet and Sour Meatballs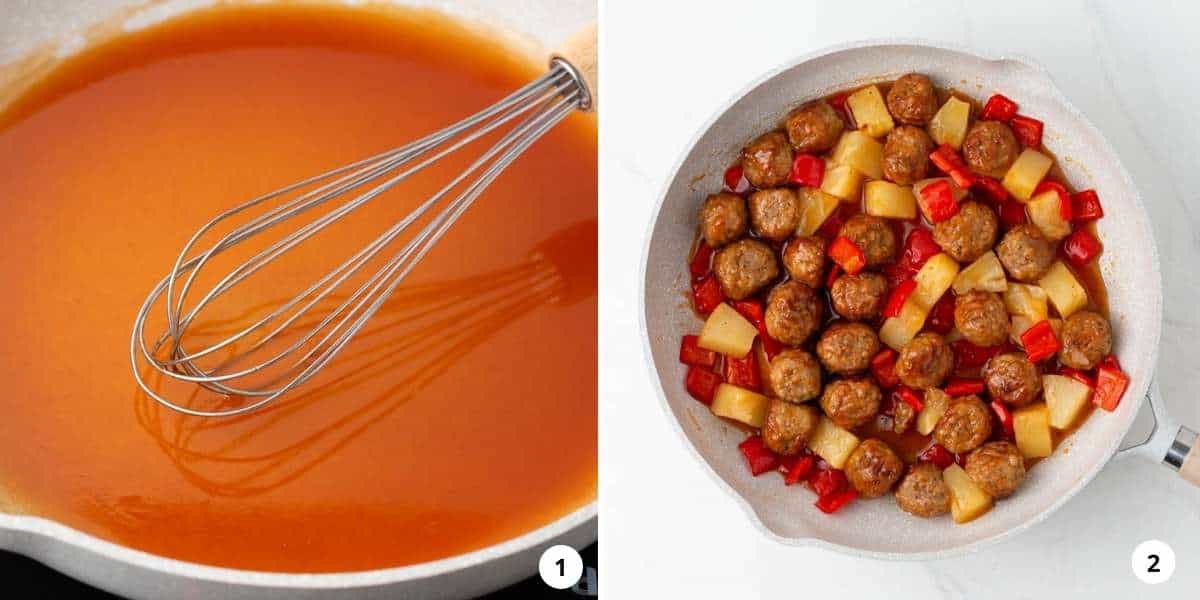 Make the sauce. In a large skillet over medium heat, stir together the pineapple juice, sugar, vinegar, ketchup, soy sauce, salt, and ginger. Simmer until sugar has dissolved then lower the heat and thicken the sauce with a cornstarch slurry.
Smother the meatballs. Add cooked meatballs to the sauce. They can be frozen or thawed, it's up to you. Cover with the lid and cook for 10 minutes until heated through. If frozen, tack on 10 extra minutes. Stir in pineapple chunks and season to taste.
Tips & Variations
Different meat: Make turkey meatballs with ground turkey or these chicken meatballs instead. You can also use ground pork, ground lamb, lean ground beef, or a mixture.
Add some spice: For a sweet, sour, and spicy version, throw some red pepper flakes into your sauce.
Use leftover sauce: Drizzle it over meatloaf or use it as a dipping sauce for egg rolls or cream cheese wontons. You can also use it to coat chicken and vegetable stir fry or use it as a glaze for grilled salmon.
To thaw meatballs: If you want to cut down cooking time when they're frozen, allow them to thaw at room temperature for 30-60 minutes ahead of time.
How to Serve Them
If you have leftover cooked rice, you're ahead of the game. Use it up!
We love them overtop coconut rice or pineapple fried rice garnished with green onions.
You could enjoy them over fried rice or plain white rice. For that, I have both an Instant Pot rice recipe and a stovetop rice recipe for you.
When serving them as an appetizer, all you need are some toothpicks and napkins! My kids love walking through the door after school to the aroma! They're such a fun after school treat to look forward to!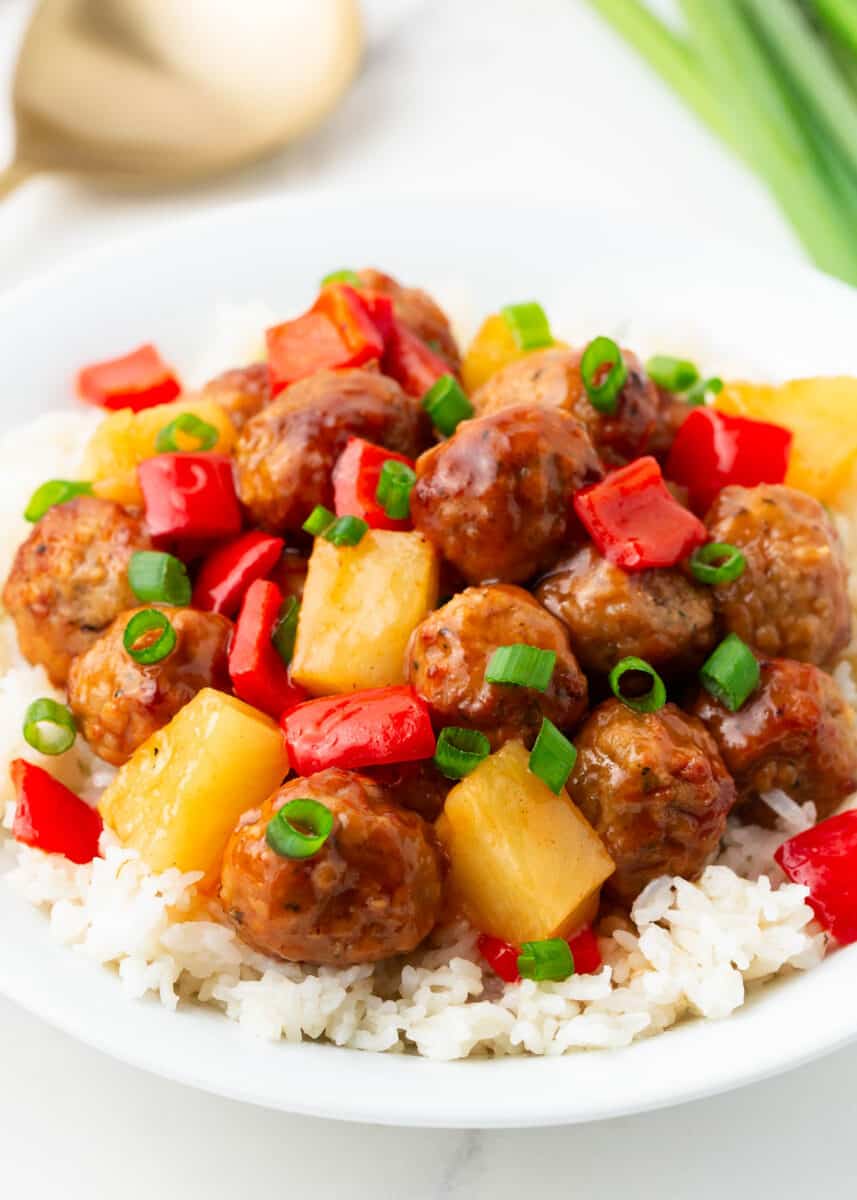 What's the Secret to Great Meatballs?
Well, there are a few secrets, in no particular order!
Flavor and texture. First, you want to think about what kind of meat you're using. Higher fat content leads to more moisture. So, medium ground beef, ground pork, or a mix of the two work well together. Pairing leaner meat with higher fat ground meat makes a difference.
Moisture. You also want to make sure you're not overworking the meat. This is when it becomes too tough which will then dry out your meatballs.
How they hold. Use binding ingredients like eggs and/or breadcrumbs. Soaking the breadcrumbs in water can help to keep them moist.
Recipe FAQs
Can I use store-bought meatballs?
Sure! Although I prefer making homemade meatballs if I have the time, I'm definitely not one to shy away from easy shortcuts. Especially on busy weeknights! Just make sure to thaw them first before using if frozen.
Is this recipe gluten-free?
It can be! Some soy sauces contain gluten, so make sure to look for one that's gluten-free. You could even use coconut aminos instead for a similar flavor.

Many store-bought meatballs are also not gluten-free unless specified, so make sure to choose a gluten-free variety or make your own homemade meatballs with gluten-free breadcrumbs.
What's the best way to reheat sweet and sour meatballs?
You can reheat them in the microwave until warm, or use an oven or skillet to heat them all the way through. If I have leftover sweet and sour sauce, I'll add a bit more so they don't dry out when reheating.
Make Ahead & Storage Tips
Make ahead: There are some things you can do to prepare yourself ahead of time. If using homemade meatballs, bake them in the oven the day before (or the crock pot, or whatever method you choose), you can chop your peppers, and if you're using frozen meatballs, thaw them in the fridge overnight.
To store: Keep them in an airtight container in the fridge for up to 3 days.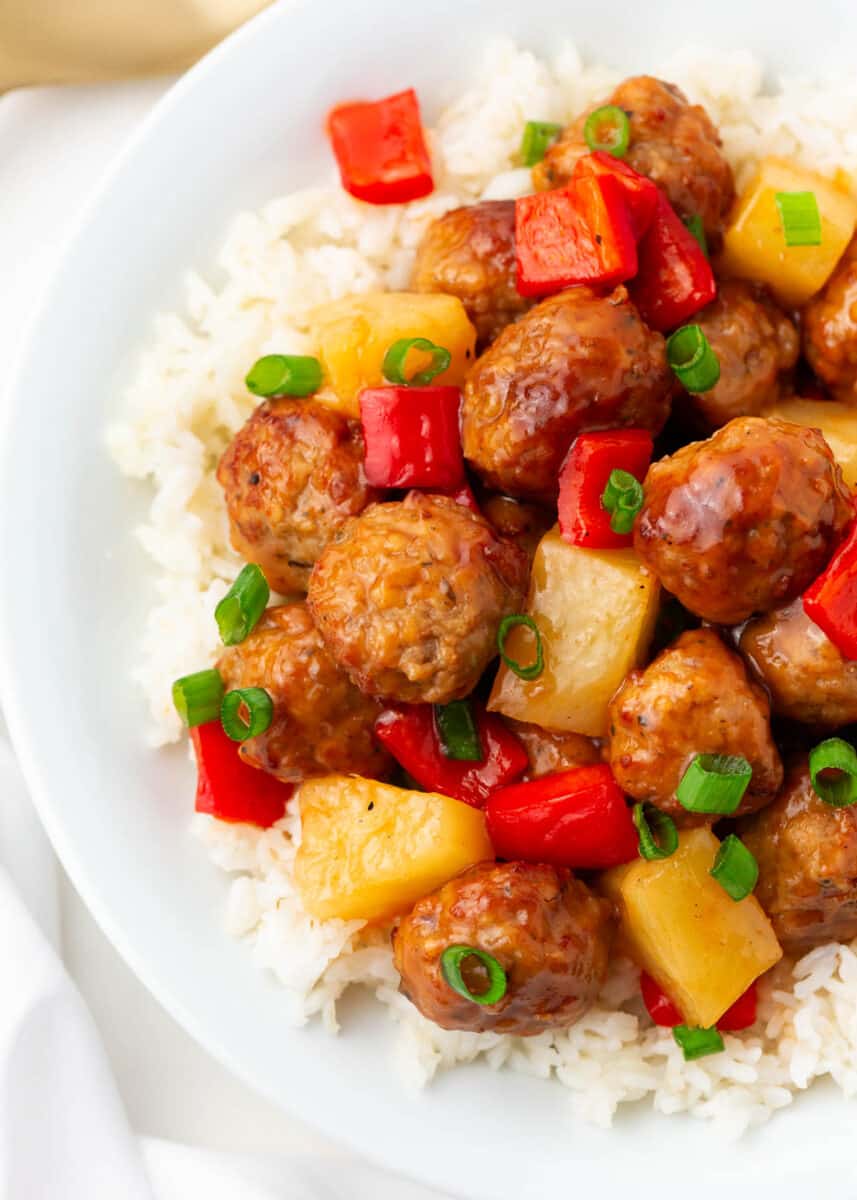 HUNGRY FOR MORE? Subscribe to my newsletter and follow on Facebook, Pinterest and Instagram for all the newest recipes!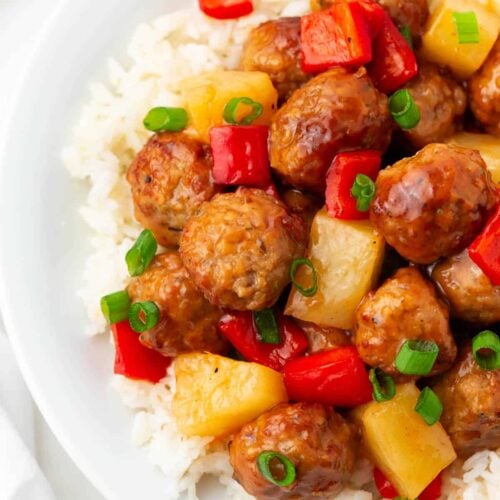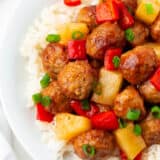 Sweet and Sour Meatballs
These sweet and sour meatballs are combined with bell peppers and pineapple smothered in an irresistible sauce. Whether served over rice as a meal, or on their own as a party appetizer, they are always a hit!
Ingredients
Sweet and Sour Sauce
½ cup pineapple juice , can use juice from canned pineapples
¼ cup light brown sugar , packed
2 Tablespoons rice vinegar
1 ½ Tablesoons ketchup
½ Tablespoon soy sauce
⅛ teaspoon Kosher salt
Dash ground ginger
½ Tablespoon cornstarch
1 Tablespoon water
Meatballs
25 meatballs , homemade or store-bought
1 red bell pepper , cut into 1-inch pieces
1 cup pineapple chunks , drained or reserve juice for sauce
Salt , to taste
Ground black pepper , to taste
For serving: Cooked rice, Sliced green onions
Instructions
Sweet and Sour Sauce
In a large skillet, stir together the pineapple juice, brown sugar, vinegar, ketchup, soy sauce, salt, and ginger over medium heat. Simmer, stirring until sugar is dissolved.

In a small bowl, mix together the cornstarch and water. Stir into the sauce. Turn the heat to low and whisk until it is well combined and the sauce is slightly thickened.
Meatballs
Add the meatballs and bell peppers to the sauce. Cover with a lid and cook 10 minutes, or until heated through. Stir in pineapple and season to taste. Remove from heat.

Serve meatballs and sauce over rice with green onions sprinkled on top.
---
Notes
Pineapple Juice: Use canned or bottled, not fresh pineapple juice. You can also use the juice from the can of pineapple chunks.
Meatballs: You can make this homemade meatball recipe or use store-bought frozen meatballs. If using frozen meatballs, let them sit out 30 to 60 minutes before cooking. Or allow them to cook 10 minutes longer in the skillet.
Rice: We love to serve these sweet and sour meatballs over coconut rice.
Storage: Store in a covered container in the refrigerator for up to 3 days.
Nutrition
Serving: 5meatballs | Calories: 279kcal | Carbohydrates: 24g | Protein: 13g | Fat: 15g | Saturated Fat: 6g | Polyunsaturated Fat: 1g | Monounsaturated Fat: 7g | Cholesterol: 50mg | Sodium: 206mg | Potassium: 360mg | Fiber: 1g | Sugar: 21g | Vitamin A: 776IU | Vitamin C: 38mg | Calcium: 32mg | Iron: 1mg
Nutrition provided is an estimate. It will vary based on specific ingredients used.
Did you make this recipe? Don't forget to give it a star rating below!