Coconut rice will quickly become your new favorite way to enhance the flavor of your everyday white rice. With just 4 ingredients and 5 minutes of prep time, you're on your way to a new level of cooking your whole family will appreciate!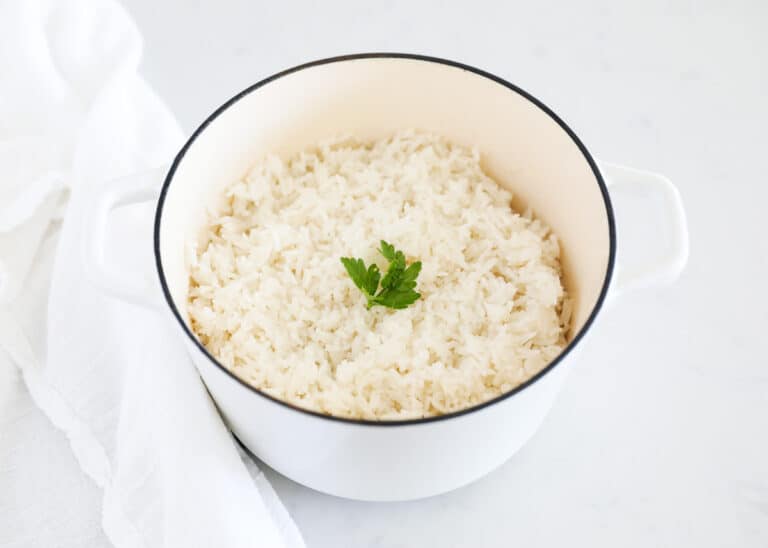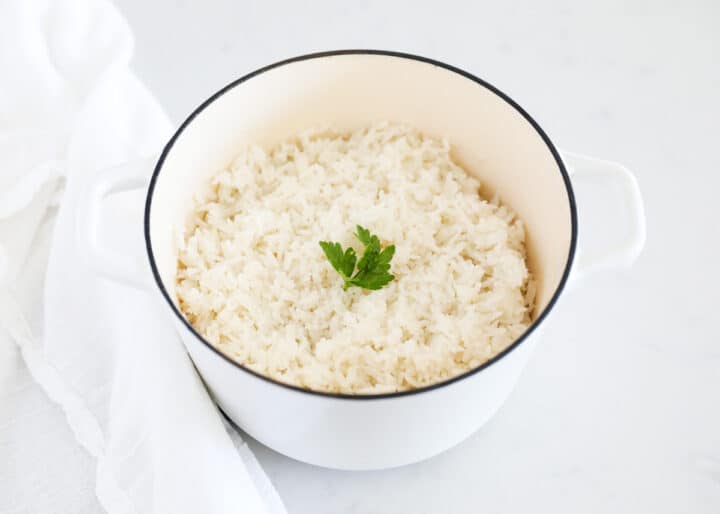 Easy Flavored Rice
This coconut rice recipe is an easy way to jazz up your everyday white rice. This South Asian-inspired side dish gives the rice a delicate coconut flavor without becoming too overwhelming. It's slightly sweet, light, fluffy, and just so darn good!
If you've ever had Thai or Indian food, you may have had the pleasure of having coconut milk rice. Cooking rice in coconut milk is popular in many Caribbean countries as well and if this isn't something you normally do at home and think you can only have it when you order it at a restaurant, well think again!
Enjoy restaurant-style coconut rice at home on a budget with just 4 simple ingredients and a recipe that couldn't be easier. Top it off with a bit of toasted coconut and you've got the added crunch factor that just takes it up another notch.
Knowing how to cook rice on the stove is not hard, but it does take a bit of know-how in the "follow the instructions as directed" department. Once you've got that down, you can start seasoning it in a variety of ways. Enhancing your rice by using this coconut milk rice recipe is one of our family favorites because I know my kids love it!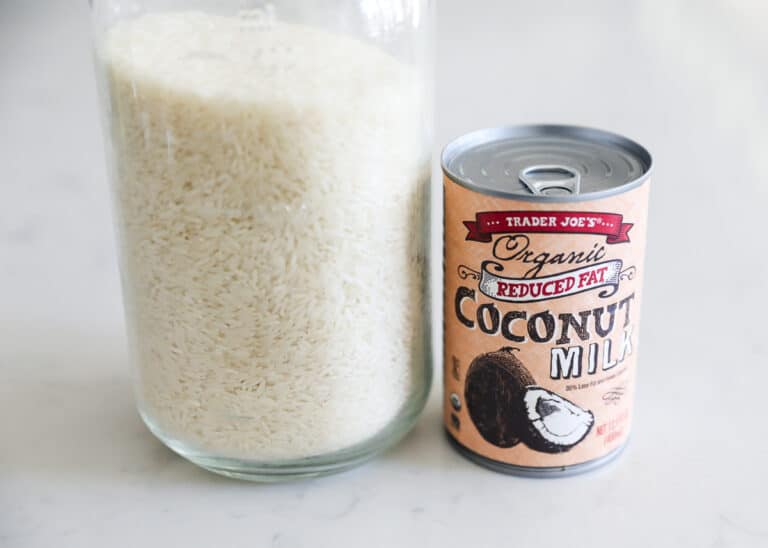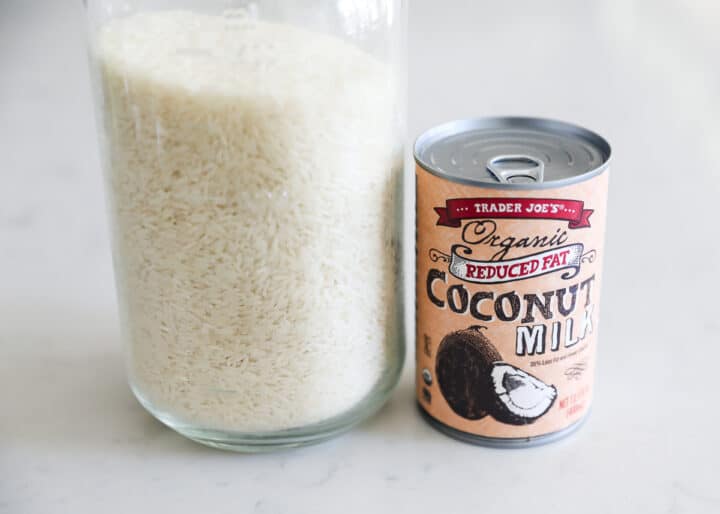 Why Can't I Just Use Only Coconut Milk?
Coconut milk, while it is a liquid, is also quite thick. In the amount of time it takes to cook the rice, it will not have absorbed enough of the coconut milk. Adding water will help dilute the coconut milk, thinning it out. This helps with absorption.
You might wonder if it makes sense to use coconut milk from a carton rather than a can because it's much more diluted. It does not, so don't do it! It won't have the same flavor richness and it doesn't come with the coconut cream (full fat) which adds to the flavor and texture as well.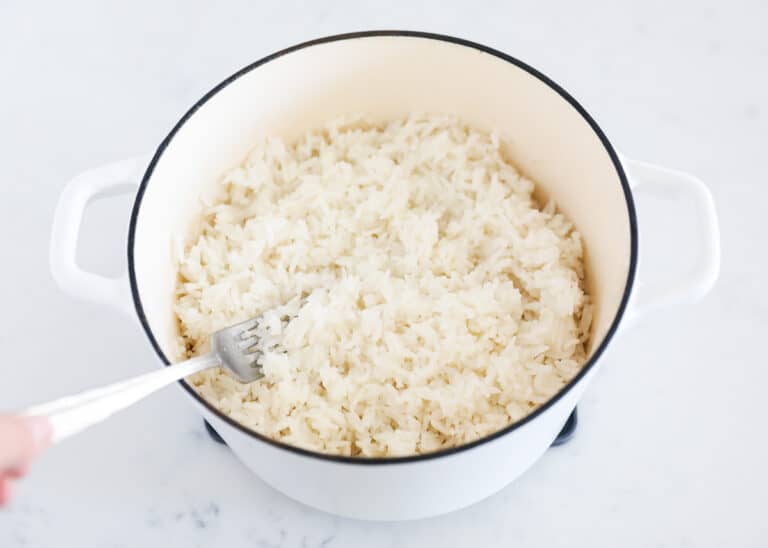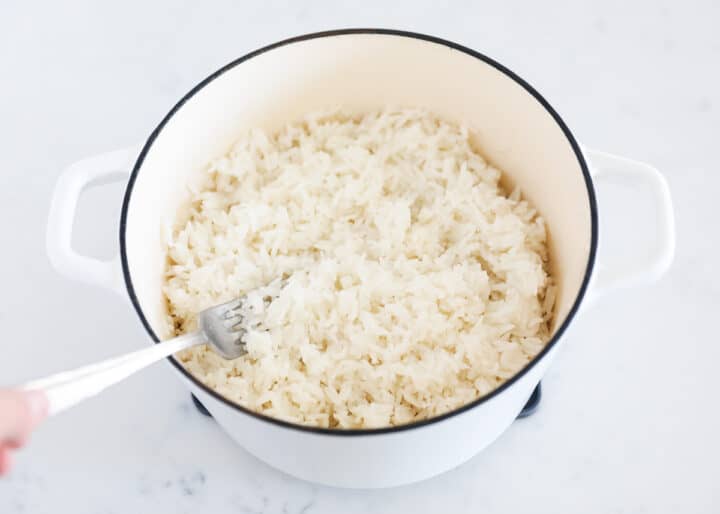 Tips & Variations for Coconut Rice
Rinse your rice well. The secret to light and fluffy (and not clumpy) rice is getting rid of the extra starch that it comes with.
If you like yours a little sweeter, add in sugar with the coconut and water you cook the rice in. Keep in mind, better quality coconut milk will always be a bit sweeter, so you may find you don't need added sugar depending on the brand.
You can use full fat or light coconut milk, depending on your preference. For extra coconut flavor, I love added toasted coconut flakes on top.
Jasmine rice is great for this recipe, but you can also use basmati or long-grain white rice.
Brown rice can be used in place of white, however, the cooking time will be longer.
Cans of coconut milk can be found at your local grocery store, sometimes found in the "international food" section. Thai Kitchen is a great brand that doesn't come with a bunch of unnecessary additives.
Chopped cilantro and lime are a nice addition and would be a vibrant balance to the otherwise sweet coconut. Case in point, check out my cilantro lime rice!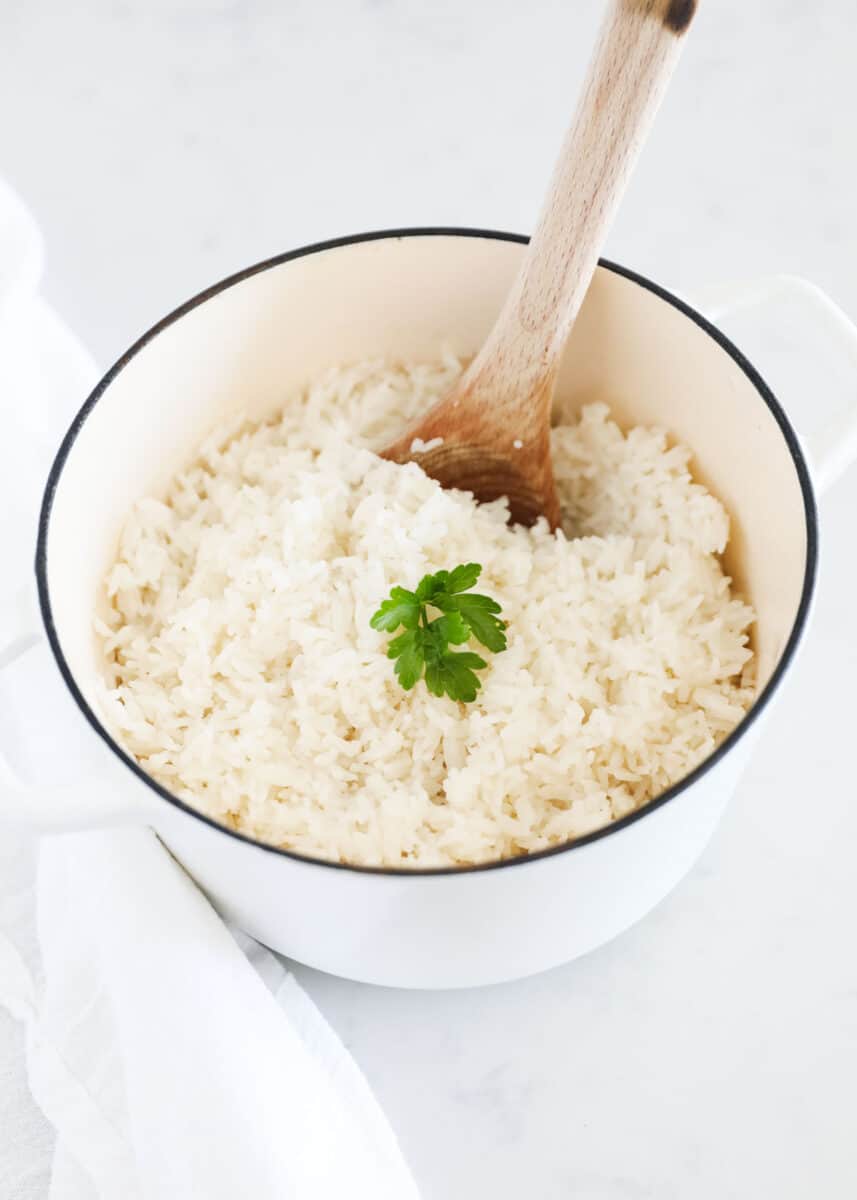 Serving Recommendations
Spruce it up by adding in some extra ingredients for flavor and texture. Then, serve it on the side of one of the following for a complete and delicious meal that rivals any restaurant order!
Storage and Reheating Tips
Store: Leftovers can be kept in the fridge in an airtight container for up to 5 days.
Reheat: Heat on the stovetop with a splash of extra liquid (water or coconut milk) to add back in the moisture and to avoid the rice burning the bottom of the pan.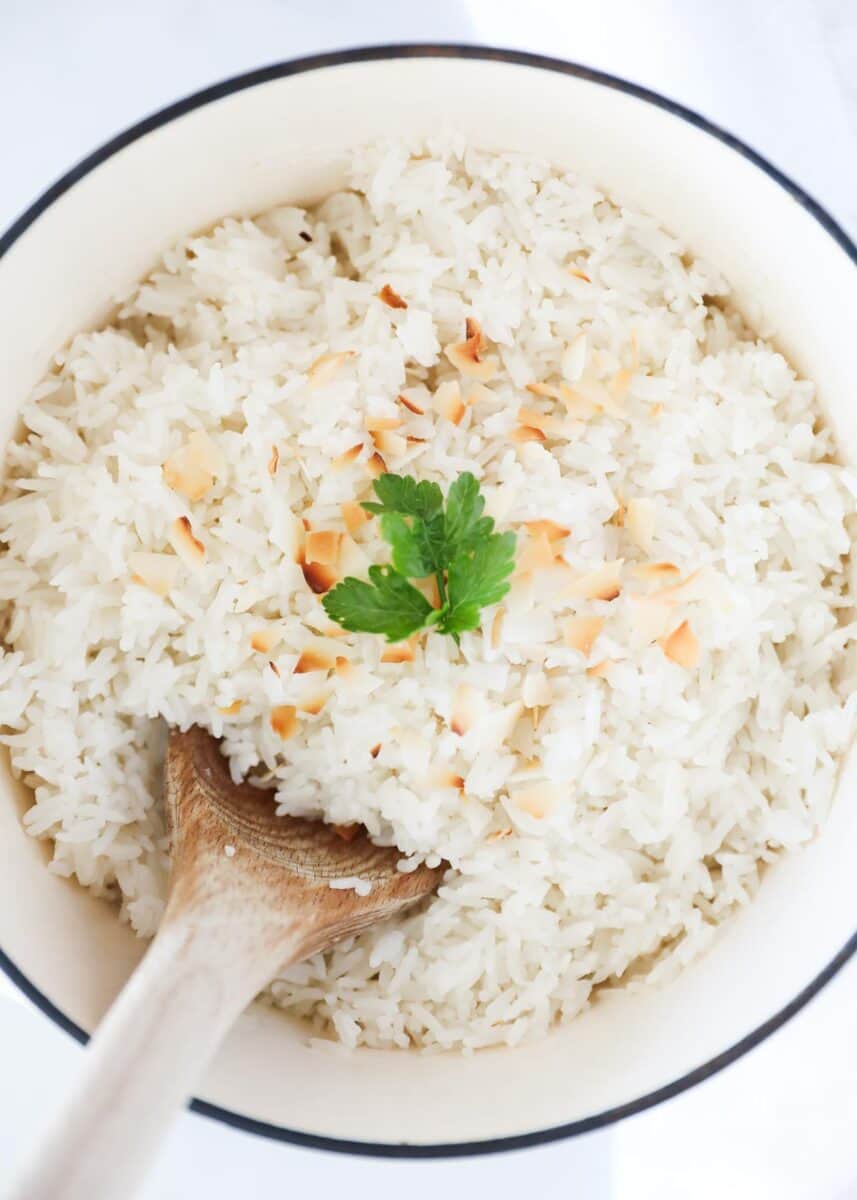 More Dishes to Serve With: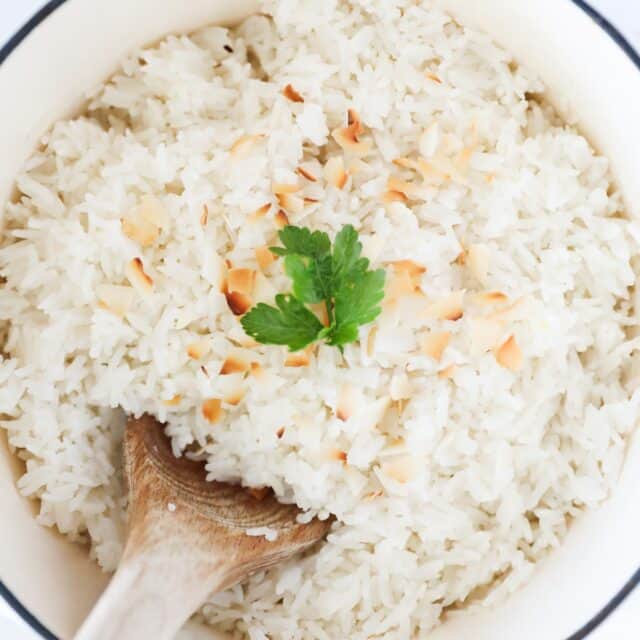 Coconut Rice
Coconut rice will quickly become your new favorite way to enhance the flavor of your everyday white rice. With just 4 ingredients and 5 minutes of prep time, you're on your way to a new level of cooking your whole family will appreciate!
Ingredients
2 cups jasmine rice , rinsed
1 1/2 cups water
1 teaspoon Kosher salt , more to taste
13.5 ounce canned coconut milk
Optional: Toasted coconut, chopped parsley or cilantro, sugar, pepper to taste
Instructions
Place the water, coconut milk and salt in a medium sauce pan over medium high heat. You can add 1-2 teaspoons of sugar if you'd like it sweeter here. Add the rice and then stir once. Bring to a boil.

Cover the pot with a lid and turn the heat to low. Let simmer for 17-20 minutes. Do not remove the lid while it's cooking.

Remove the lid and allow the water to evaporate for a few minutes. Just before serving, gently fluff the rice with a fork.

Salt and pepper, to taste. Top with coconut and herbs if desired. Store leftovers in a covered container for up to 5 days in the refrigerator.
---
Notes
Variations: You can use light coconut or full fat coconut milk. If you'd like extra coconut flavor, I recommend adding toasted coconut on top.
Instant pot coconut rice: To cook in the instant pot, only use 3/4 cup water. The cook on high pressure for 3 minutes and natural release for 5-10 minutes (the longer the fluffier it will be).
Brown rice: If you prefer to use brown rice, only use 1 1/2 cups. You'll also want to add an additional 8 minutes to the cooking time. I like to stir and then keep the lid on an additional 5-10 minutes as well to make it soft.
Calories: 209kcal | Carbohydrates: 39g | Protein: 3g | Fat: 3g | Saturated Fat: 3g | Sodium: 335mg | Potassium: 53mg | Fiber: 1g | Sugar: 1g | Calcium: 14mg | Iron: 1mg
Nutrition provided is an estimate. It will vary based on specific ingredients used.
Did you make this recipe? Don't forget to give it a star rating below!