These easy slow cooker BBQ brisket sandwiches require two hands, napkins and a good appetite! The brisket is simmered in BBQ sauce in a slow cooker then topped with coleslaw for a restaurant-style meal right at home.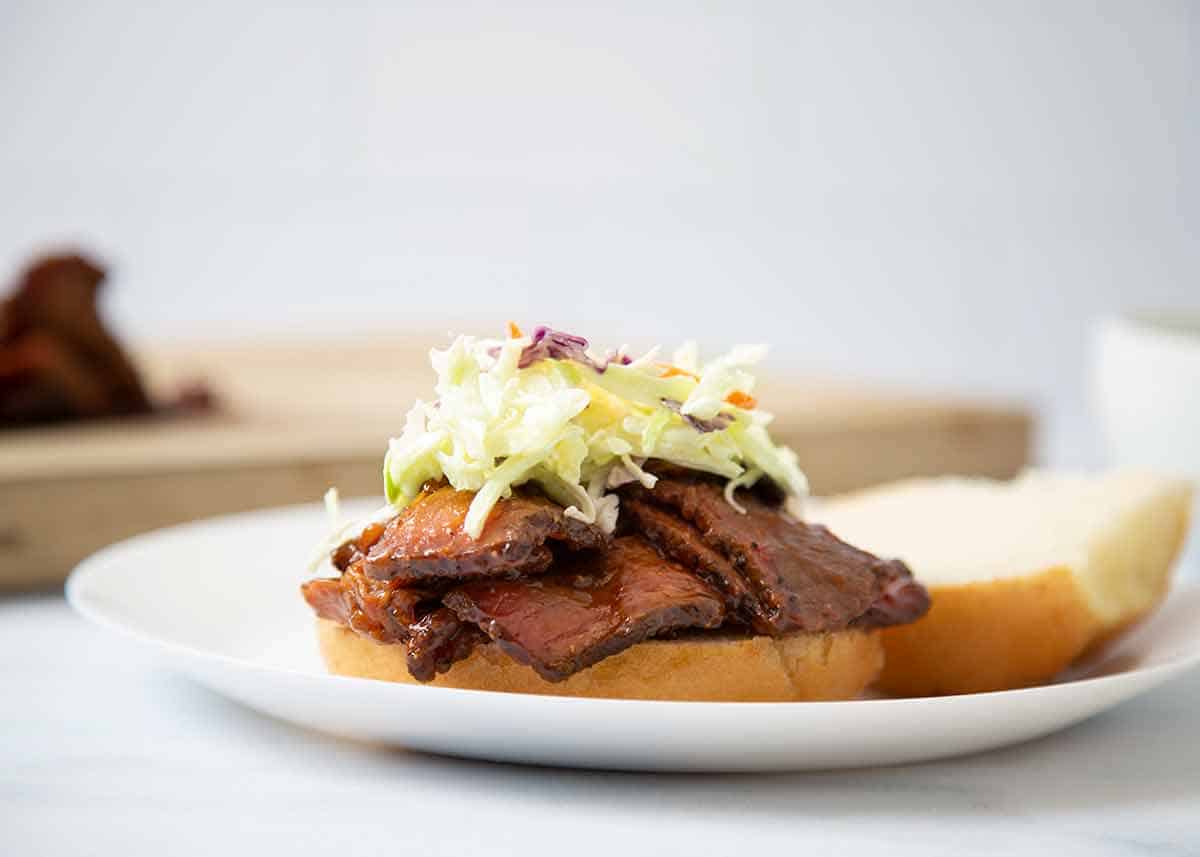 Crockpot Brisket Sandwiches
It's that time of the summer when all I want is BBQ and grilled vegetables in the backyard with all my friends and family. Top it off with a big scoop of ice cream to cool down from the summer heat. Just roll that tape over and over again!
It's also that time in the summer when it's just starting to dip into the high 80's and get a bit too hot to be standing over the stove, baking in the oven or even hovering over a hot grill (someone else can do that!). But I still get my BBQ brisket sandwiches in, without heating the house. Slow cooker to the rescue!
I know you are familiar with the ease of a slow cooker meal. The dump and simmer method, the layer and cook method, even stewing and shredding. I like all of these, but often am left with a delicious meal that looks, well, not that great.
I'm a professional food stylist so I'm really into how my food looks on the plate. To me it's just as important as what it tastes like. So these BBQ brisket sandwiches speak to me! They are an easy 5-ingredient crockpot meal, taste delicious AND look pretty dang amazing on the plate!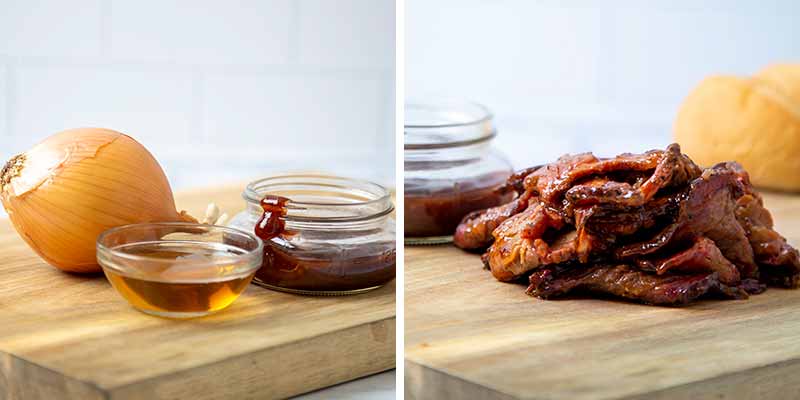 Make BBQ Brisket in the Slow Cooker!
Place the brisket (fat side up) in the bottom of the slow cooker. Add the sliced onions on top. Then mix together BBQ sauce with cider vinegar (the acid adds flavor and helps tenderize the brisket) and pour over the brisket. Cover and cook on high until the beef is tender, about 5 hours.
TIP: For even more flavor, try rubbing this dry rub for ribs over the brisket before adding to the crockpot. It will add an extra smokiness to your meat that tastes delicious!
Slicing the Brisket
Before slicing the brisket, it's important to let the meat rest. Remove it from the crockpot and place on a cutting board to rest for about 20 minutes. This keeps the meat moist and juicy. If you were to slice it right away, the natural juices would seep out, making the meat less tender and more dry. So let that meat rest for the best result! Then once rested, slice the meat flat against the grain into strips.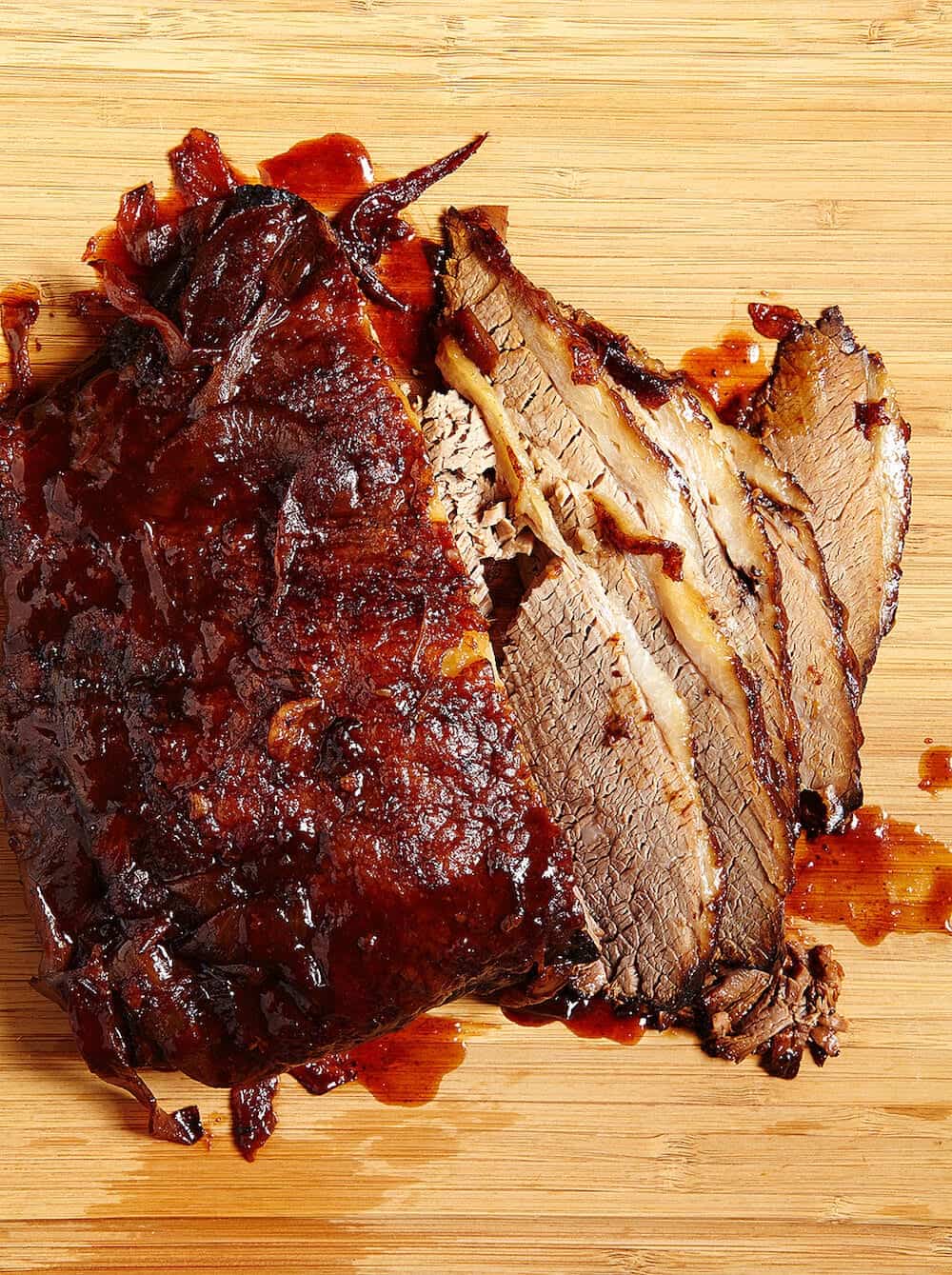 Serving Tips
Your tender brisket can be sliced and piled high on a soft toasted roll or hamburger bun. We love to drizzle a spoonful of the remaining sauce that's left in the slow cooker over the meat for extra flavor. Then add some prepared coleslaw and sliced pickles to make it taste like a restaurant-style sandwich. Oh so good! I serve mine with crunchy potato chips. Enjoy summer!
Favorite Sides to Serve With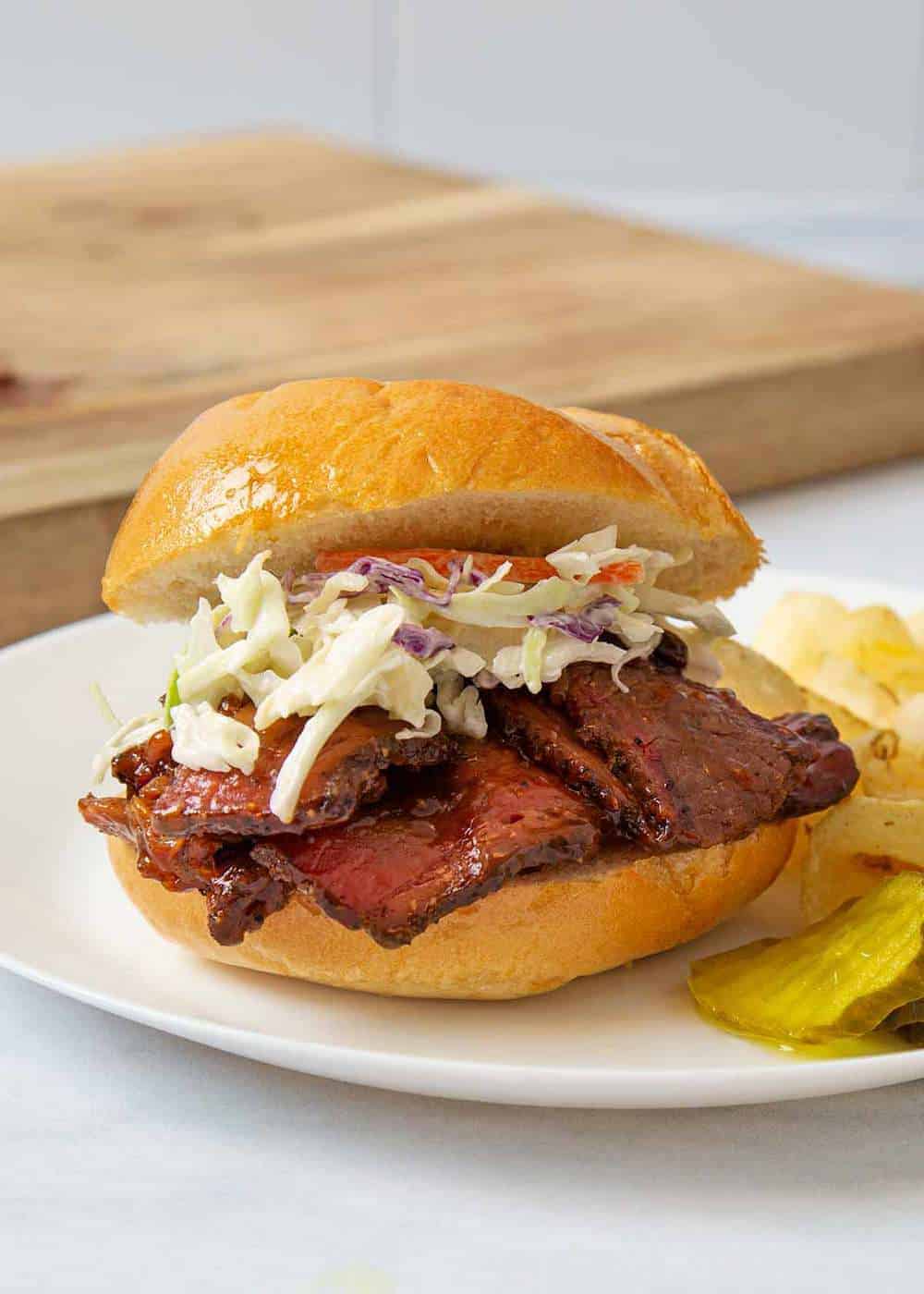 More Slow Cooker Dinners
HUNGRY FOR MORE? Subscribe to my newsletter and follow on Facebook, Pinterest and Instagram for all the newest recipes!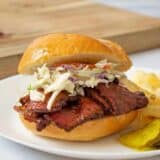 Slow Cooker BBQ Brisket Sandwiches
Sliced, tender brisket is cooked in the slow cooker to perfection then sliced and piled high on a soft roll. Top with coleslaw and extra sauce for the perfect summer meal.
Ingredients
2½ pounds flat cut brisket
1 small onion , sliced
¼ cup apple cider vinegar
1 cup BBQ sauce
For serving: brioche or hamburger buns, coleslaw, sliced dill pickles, potato chips
Instructions
Place brisket in a 4 to 6 quart slow cooker, fat side up. Add the onion on top. Whisk together the apple cider vinegar and BBQ sauce and pour over brisket. Cover and cook on high until brisket is tender, about 5 hours.

Let meat rest about 20 min before slicing and reserve the sauce in the slow cooker. Toast the rolls and add sliced brisket to the bottom of each roll. Add a spoonful of coleslaw and dill pickles if desired.

Serve sandwiches drizzled with reserved sauce and potato chips
---
Nutrition
Calories: 384kcal | Carbohydrates: 21g | Protein: 39g | Fat: 14g | Saturated Fat: 4g | Cholesterol: 117mg | Sodium: 640mg | Potassium: 768mg | Sugar: 16g | Vitamin A: 105IU | Vitamin C: 1.7mg | Calcium: 29mg | Iron: 4mg
Nutrition provided is an estimate. It will vary based on specific ingredients used.
Did you make this recipe? Don't forget to give it a star rating below!