Loaded with beans, veggies, and mouthwatering seasoning, this Wendy's chili copycat recipe has hit it out of the park! When the fast food cravings hit, you now have this easy recipe to make it at home!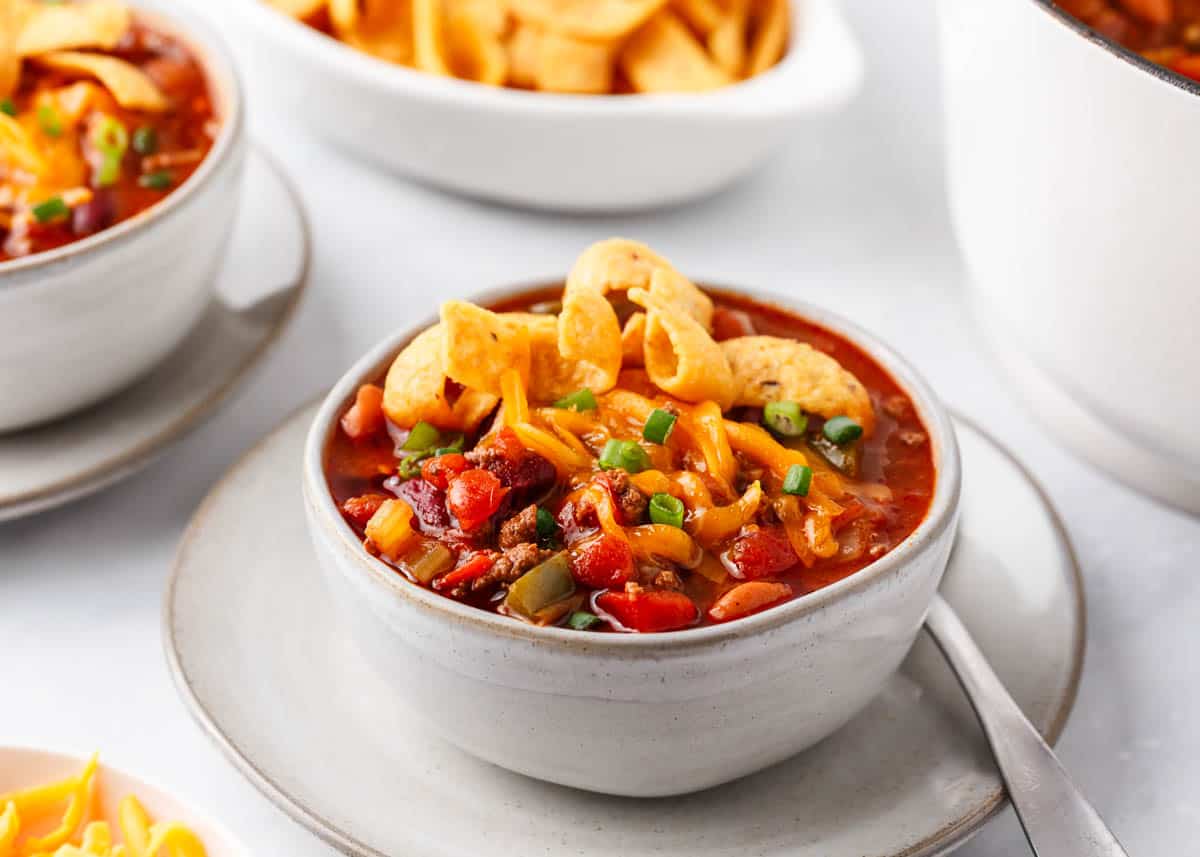 Simply Crave-Worthy!
There is a certain time of the year when the cold weather hits and a cozy bowl of chili is all we crave in our house. That's why it's been super important to me to switch it up and come up with a variety of different chili recipes so I don't have to hear, "Mom, chili again!"
I've got everything in my back pocket from crockpot chili, 3-ingredient chili, homemade chili, white chicken chili, and finally this Wendy's chili copycat recipe!
This Wendy's chili hits the mark in every way. Loads of flavor, perfectly spiced, easy to make, and incredibly hearty and satisfying.
It took a little testing and tweaking then testing some more to get the family's seal of approval, but I've done it! This right here is the BEST Wendy's chili copycat recipe that tastes even better than the original.
Grab your bowl and spoon and let's get started!
Why This Recipe Works
Delicious. The juicy beef, the tomatoes, the spices, and the buttery beans, all come together in a tasty bowl of chili. If you love Wendy's chili you're going to love this version even more.
Customizable. Adjust the spice level, add in some extra veggies, and top with your favorite toppings. Make it your own!
Easy! It's a one-pot meal with just 15 minutes of prep time. The hard part is waiting for it to simmer but that's when all the flavors marry, so patience is key!
Recipe Ingredients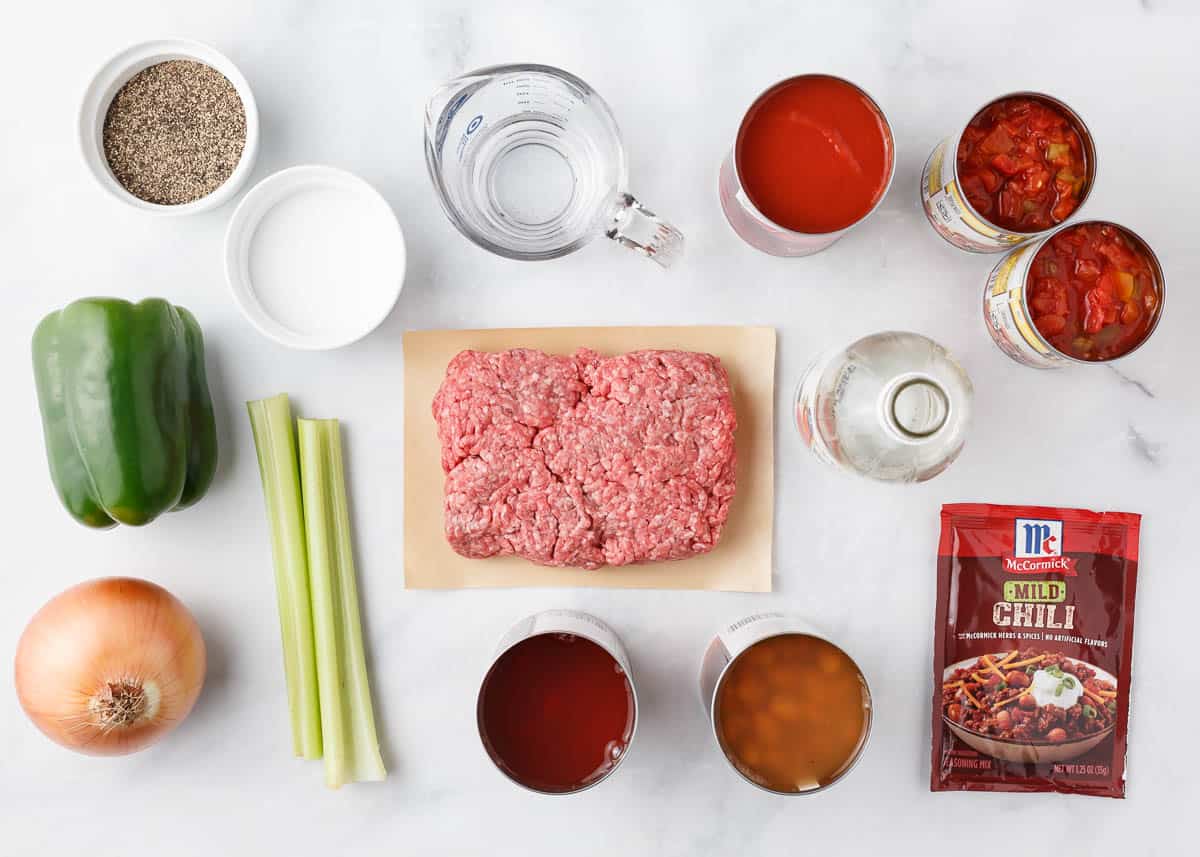 Find the full printable recipe with specific measurements below.
Ground beef: Use whatever ground beef you have. We will drain the grease once it's cooked so if it's not lean that's fine.
Veggies: Chopped onion, celery, and green bell pepper will be cooked with the beef to give the chili its flavor foundation and textural elements.
Tomatoes: Adding layers of flavors using canned tomatoes with green chiles (like Rotel or Hunt's seasoned diced tomatoes) and tomato sauce. What's red chili without the flavor of tomatoes?
Chili seasoning: McCormick Mild Chili Seasoning Mix is what I use for this recipe. I do have a homemade chili seasoning which I love, but for this Wendy's chili copycat recipe, McCormick's is a fan favorite.
Beans: I use both kidney beans and pinto beans and I don't drain them. I add the liquid right into the pot.
Salt & pepper: To taste
White vinegar: Adding it in just before serving rounds out the flavors. You won't taste the acidity, you'll just know it adds a little something extra.
Make it Spicy!
Although I have perfected this recipe for Wendy's chili, there's always room to make it your own.
If you like spicy chili use medium Rotel rather than mild. Or you could add chili powder or cayenne pepper. If you're serving people who have different tolerances for spice, having sliced jalapenos to put on top is a great compromise.
How to Make Wendy's Chili Copycat Recipe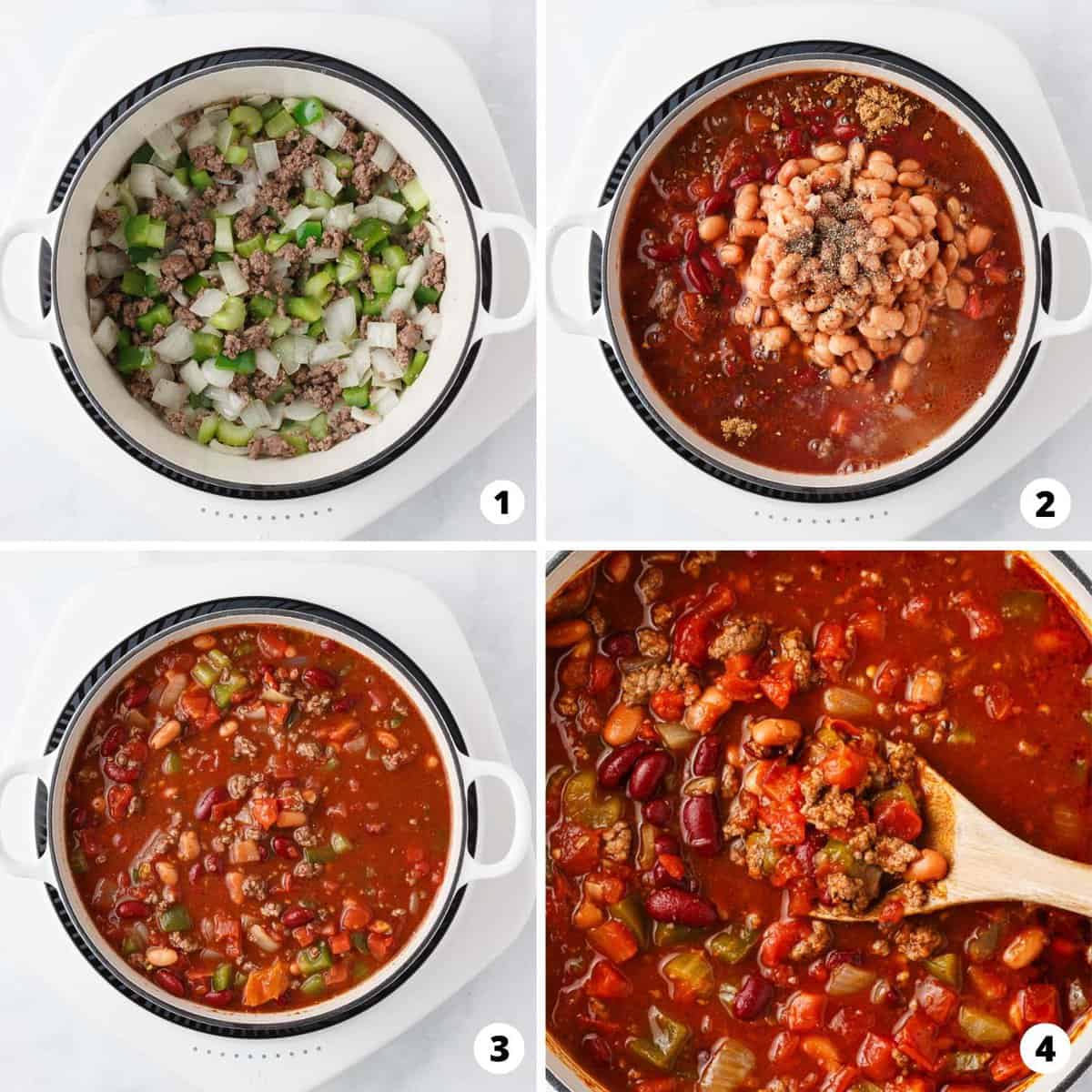 Cook the ground beef. In a large pot over medium heat, brown the meat for about 8-10 minutes, crumbling it up as it cooks. Once it is no longer pink, drain the grease, then stir in the onion, celery, and bell pepper. Cook for 5 minutes until the onions are translucent and soft.
Add remaining ingredients. Pour in the tomatoes, tomato sauce, and water. If there isn't enough liquid add an extra 1/2 cup of water. Don't forget you'll be adding the liquid from the beans too. Then, stir in the chili seasoning, beans, and season with salt and pepper.
Lower heat and simmer. Bring the chili to a boil and reduce the heat to low. Simmer for an hour and wait for all of those aromatic flavors to become friends. Trust me, it's worth the wait!
Grab a bowl and spoon, it's ready! Just before serving, mix vinegar into the chili. Enjoy with your favorite toppings like shredded cheddar cheese and sour cream and a piece of sweet cornbread.
Best Toppings for Wendy's Copycat Chili
Shredded cheese
Sour cream
Tortilla chips
Cilantro
Green onions
Sliced jalapeno
Expert Tips
Double batch. Make a couple of batches by doubling the recipe and freeze half for later.
Make it lighter. Use ground turkey or ground chicken instead of beef if preferred.
Leftover hamburger. Save a step by using leftover hamburgers that have been chopped up. In fact, that's the history of how the founder of Wendy's created this chili recipe.
Add butter. Some readers have found that adding 1 Tablespoon of butter at the end provides richness and mellows out some of the more robust flavors. Try it if you'd like!
Low heat. Don't stray too far for too long. Keep an eye on the pot and make sure it's always at a low simmer and not a boil. Stir occasionally so nothing is catching at the bottom.
Can I Make Wendy's Chili in the Slow Cooker?
Absolutely! This copycat Wendy's chili is a great crockpot meal.
Technically you don't need to brown the meat first, but I like to. The original Wendy's version uses crumbled-up hamburger patties that already have that grilled char flavor. To get that extra flavor, I like to brown the meat before dumping everything into the slow cooker.
Then, cook on low for 3-4 hours.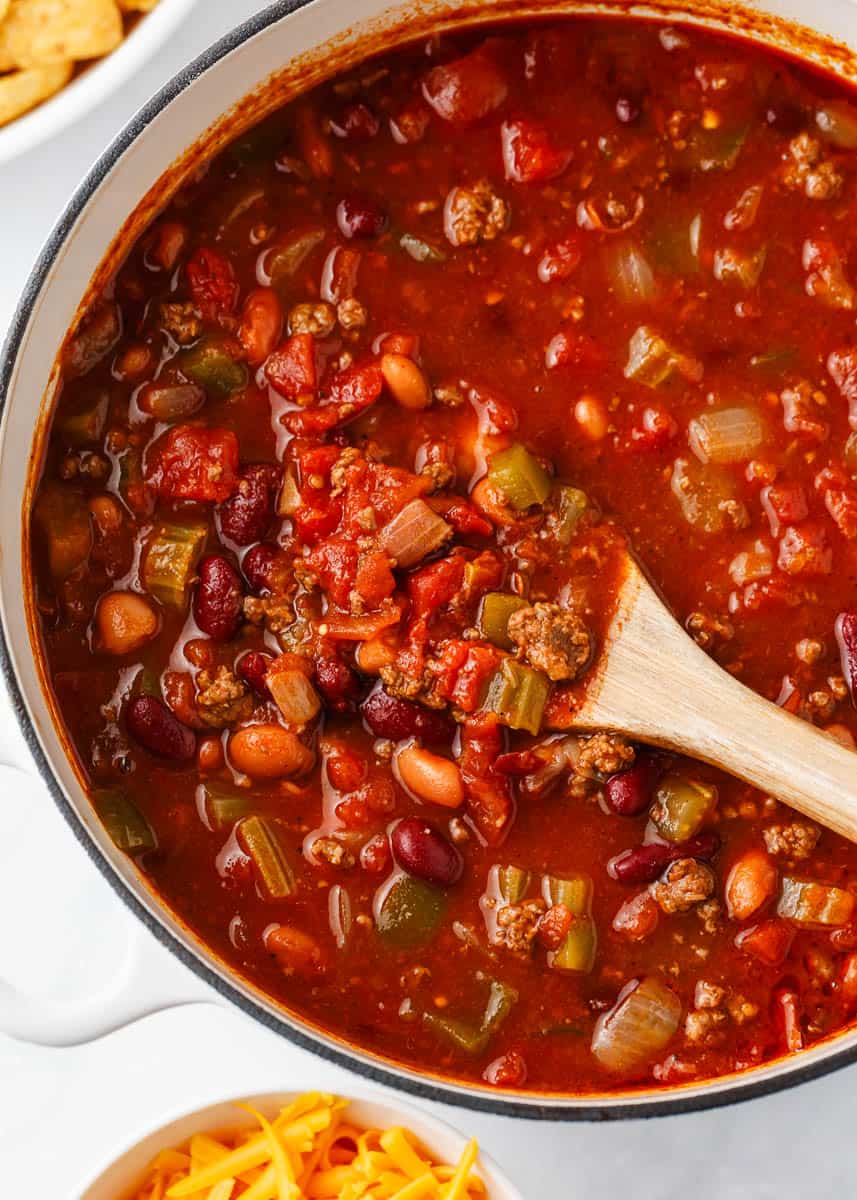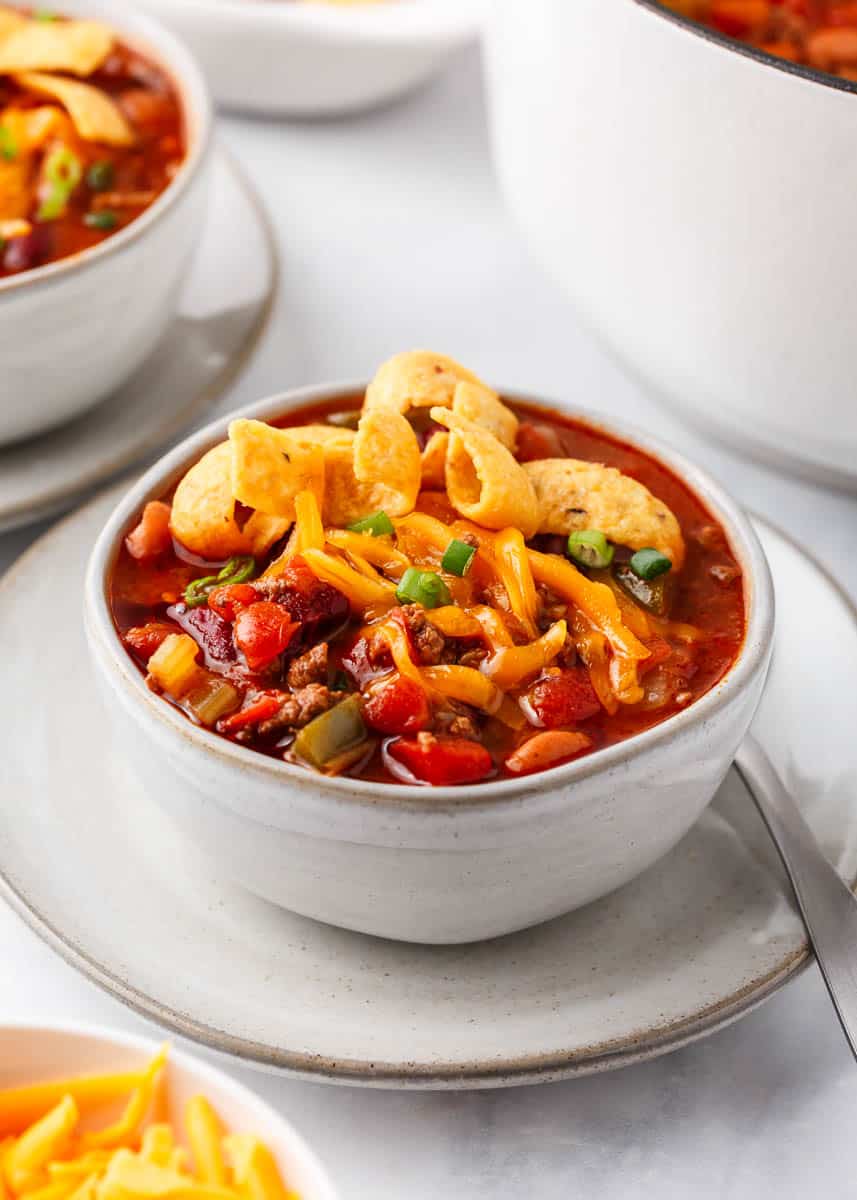 Recipe FAQs
Is this chili gluten-free?
This chili is gluten-free as long as you check the ingredients in your chili seasoning, if not using a homemade blend.
How to store leftovers?
Keep Wendy's chili copycat stored in an airtight container for up to 5 days.
Can Wendy's chili copycat recipe be frozen?
Definitely! That's why I recommend doubling the batch and having a quick dinner at the ready!

Once completely cooled, transfer the chili to freezer-safe containers and keep frozen for up to 3 months. If you have a deep freeze, you can stretch it to 6 months. Thaw in the fridge overnight.
How to reheat it?
Reheat a larger batch of Wendy's chili copycat recipe in a big pot on the stovetop over medium-low. If you're just reheating a bowl, you can use the microwave.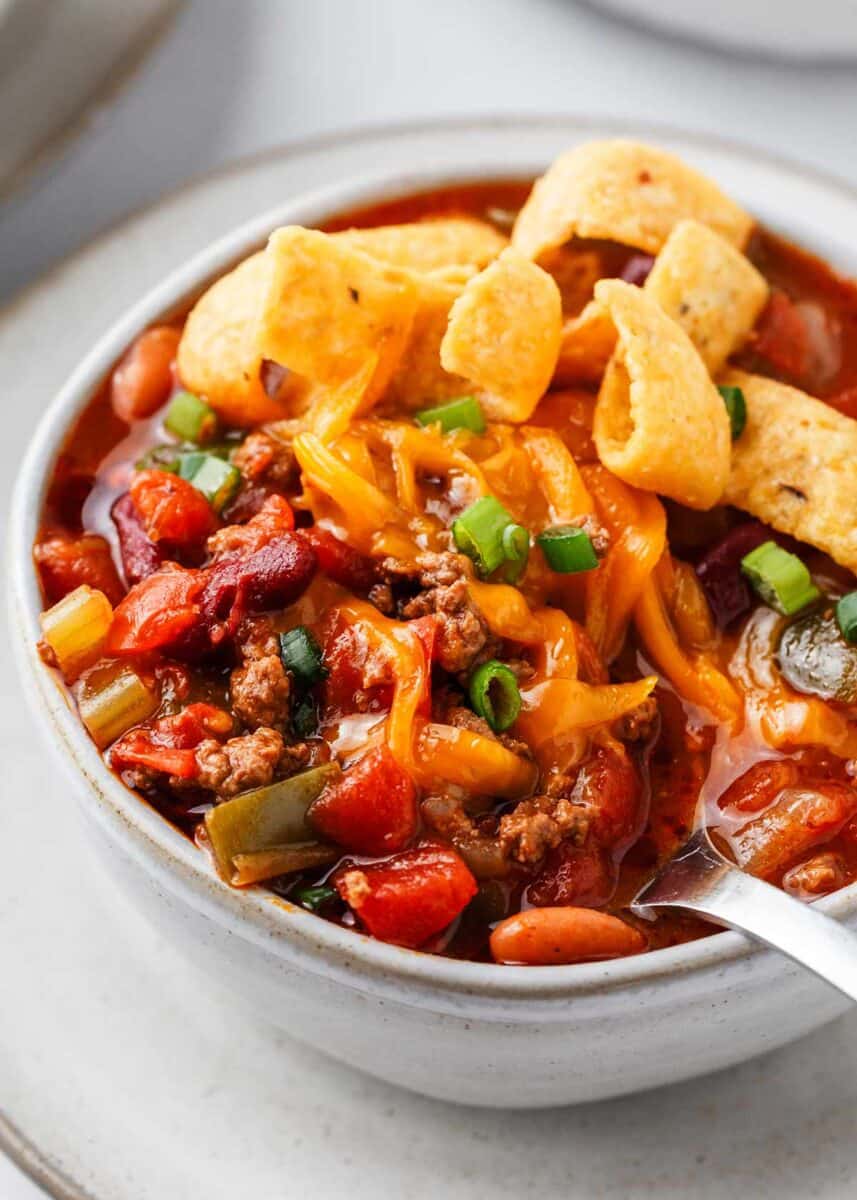 HUNGRY FOR MORE? Subscribe to my newsletter and follow on Facebook, Pinterest and Instagram for all the newest recipes!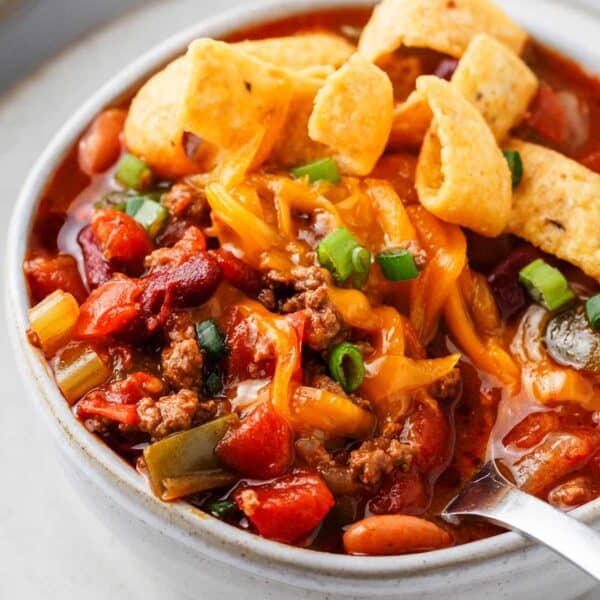 Wendy's Chili Recipe
Loaded with beans, veggies, and mouthwatering seasoning, this Wendy's chili copycat recipe has hit it out of the park! When the fast food cravings hit, you now have the recipe to make it at home!
Ingredients
1 pound ground beef
1 onion , chopped
2 stalks celery , chopped
1 green bell pepper , chopped
2 (10-ounce) cans diced tomatoes with green chiles , I use Rotel or Hunt's Seasoned Diced Tomatoes in Sauce for Chili
1 (14-ounce) can tomato sauce
¼ cup water , plus more as needed
1 (1.25-ounce) package chili seasoning (such as McCormick® Mild Chili Seasoning Mix)
1 (15-ounce) can kidney beans , undrained
1 (15-ounce) can pinto beans , undrained
Kosher salt , to taste
Ground black pepper , to taste
½ Tablespoon white vinegar , or to taste
Optional toppings: Cheese, Sour cream, Tortilla chips, Cilantro, Green onions
Instructions
In a large pot over medium heat, cook the beef, breaking into crumbles, 8 to 10 minutes, or until browned and no longer pink. Drain any grease. Stir in the onion, celery, and bell pepper and cook 5 minutes, or until onion is translucent.

Pour in tomatoes, tomato sauce, and water. Add more water (up to 1/2 cup) if there isn't enough liquid. Stir in chili seasoning, kidney beans, and pinto beans. Season with salt and pepper.

Bring to a boil and then reduce heat to low. Simmer 1 hour.

Mix in vinegar right before serving. Enjoy with your favorite toppings, such as cheese and sour cream.
---
Notes
Heat: For a little heat, use medium Rotel. For mild, use plain diced tomatoes or mild Rotel. If you'd like even more heat, add in 1 teaspoon chili powder or cayenne pepper. Crockpot: You could also combine in a crock pot and cook on low 3 to 4 hours. Storage: Leftovers will keep in an airtight container in the refrigerator up to 5 days.
Nutrition
Calories: 386kcal | Carbohydrates: 48g | Protein: 30g | Fat: 10g | Saturated Fat: 3g | Polyunsaturated Fat: 1g | Monounsaturated Fat: 4g | Trans Fat: 0.5g | Cholesterol: 49mg | Sodium: 392mg | Potassium: 1442mg | Fiber: 16g | Sugar: 7g | Vitamin A: 3440IU | Vitamin C: 33mg | Calcium: 126mg | Iron: 8mg
Nutrition provided is an estimate. It will vary based on specific ingredients used.
Did you make this recipe? Don't forget to give it a star rating below!