An easy 20-minute egg skillet made with crispy red potatoes, bacon, sautéed onions and peppers with over easy eggs on top. Perfect for breakfast, brunch or even dinner!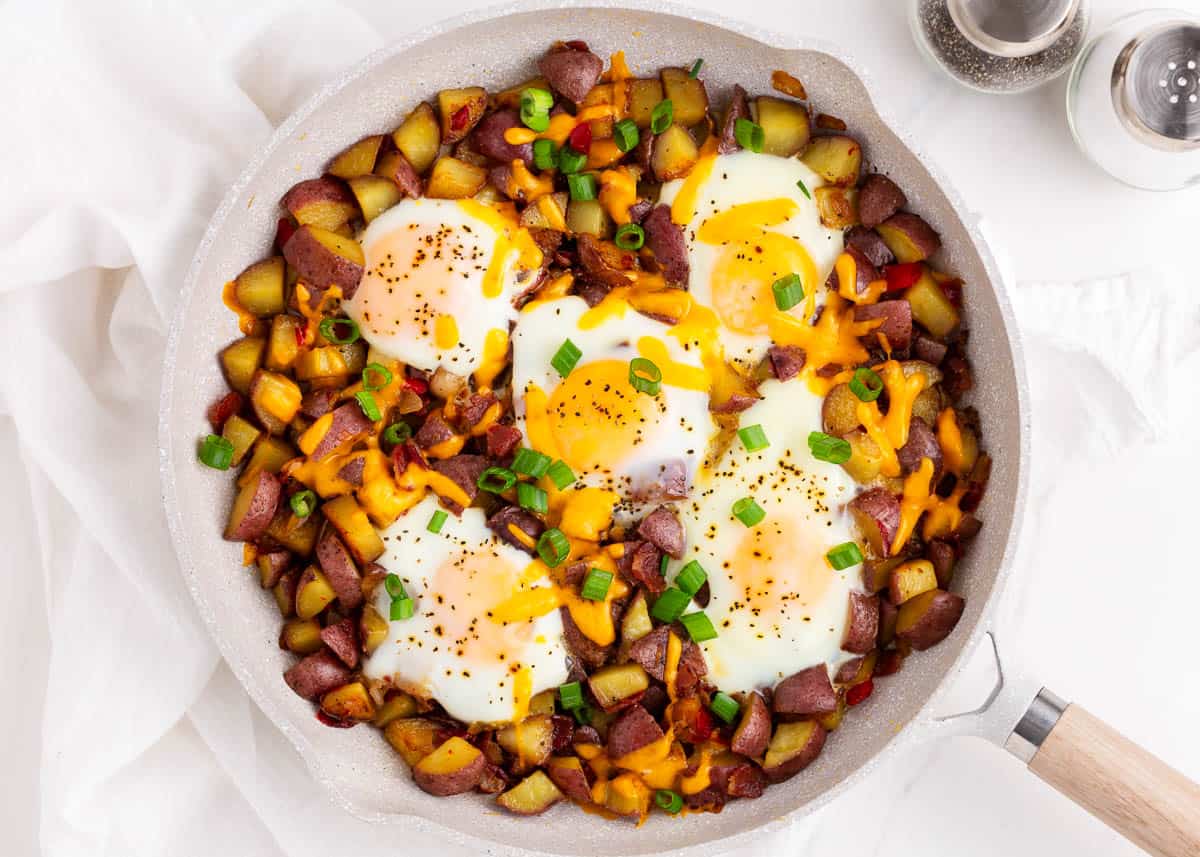 Breakfast Egg and Potato Skillet
I love a delicious, quick, and easy breakfast recipe to get the morning started off right! This egg skillet is a tasty new savory breakfast idea that has quickly become one of our favorites. It's the perfect clean-out-your-fridge breakfast and makes enough to feed the whole family.
It's made with buttered crispy red potatoes, bacon, sautéed onions, peppers and over easy eggs on top. Everything cooks in just one pan and comes together in 20 quick minutes. It reminds me of these delicious skillet breakfast potatoes, but with the addition of eggs to complete the meal.
This egg skillet recipe is super customizable and easy to adapt based on what you have on hand. Use any variety of potatoes, veggies and meat to make it your own. Then add all your favorite toppings before serving. So easy and delicious!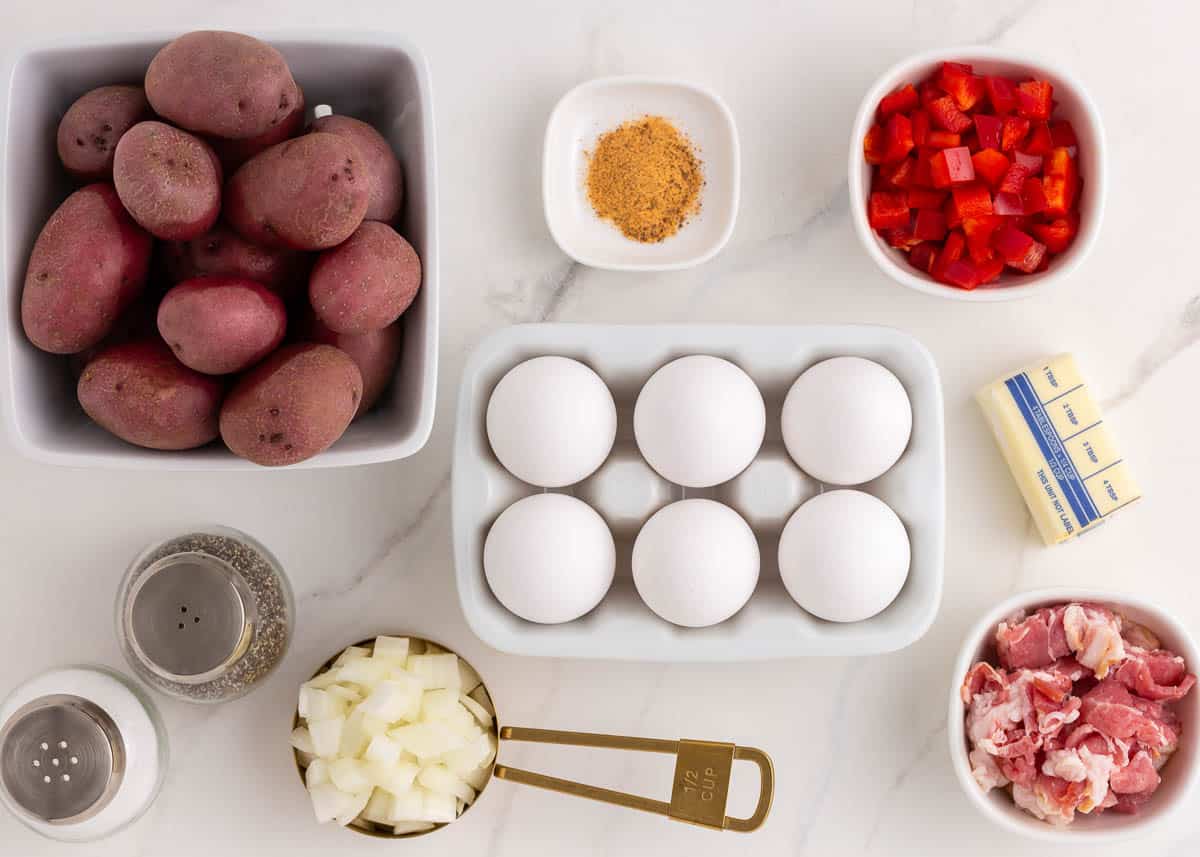 Ingredients
Potatoes: The potatoes are the base of the dish and get crispy on the outside with a tender inside. I used red potatoes since that's what we had on hand, but yukon gold or russet potatoes work just as well.
Butter: The potatoes cook in the butter, giving them a crisp exterior with a rich, buttery taste. I use salted butter to add more flavor.
Bacon: Cooking the bacon in the pan with the potatoes is the perfect way to add more flavor to your egg skillet. Cut the bacon into 1/2-inch pieces before frying so that it cooks quick and evenly.
Onions and peppers: The veggies add another layer of flavor and are sautéed until caramelized and tender. Find tips for how to cut an onion and how to cut a bell pepper.
Eggs: Instead of making a breakfast skillet with scrambled eggs, we're cooking them over easy by cracking on top and letting them steam until set. Hardly any work required!
Seasonings: I keep it simple and use a dash of seasoned salt to cook the potatoes and veggies. Then finish it off with more salt and pepper to taste as needed.
Customizations
The beauty of making an egg skillet or egg frittata is how easily customizable the recipe can be. Use ham or sausage in place of bacon, or leave out the meat completely to make vegetarian. Sneak in more veggies like mushrooms, spinach, asparagus or tomatoes if you prefer.
Or get the creative with the spices you use! Italian seasoning, garlic powder or onion powder would all add terrific flavor. You can even use garlic herb butter in place of regular butter. If you like spice, kick up the heat with paprika, chili powder or even a dash of hot sauce!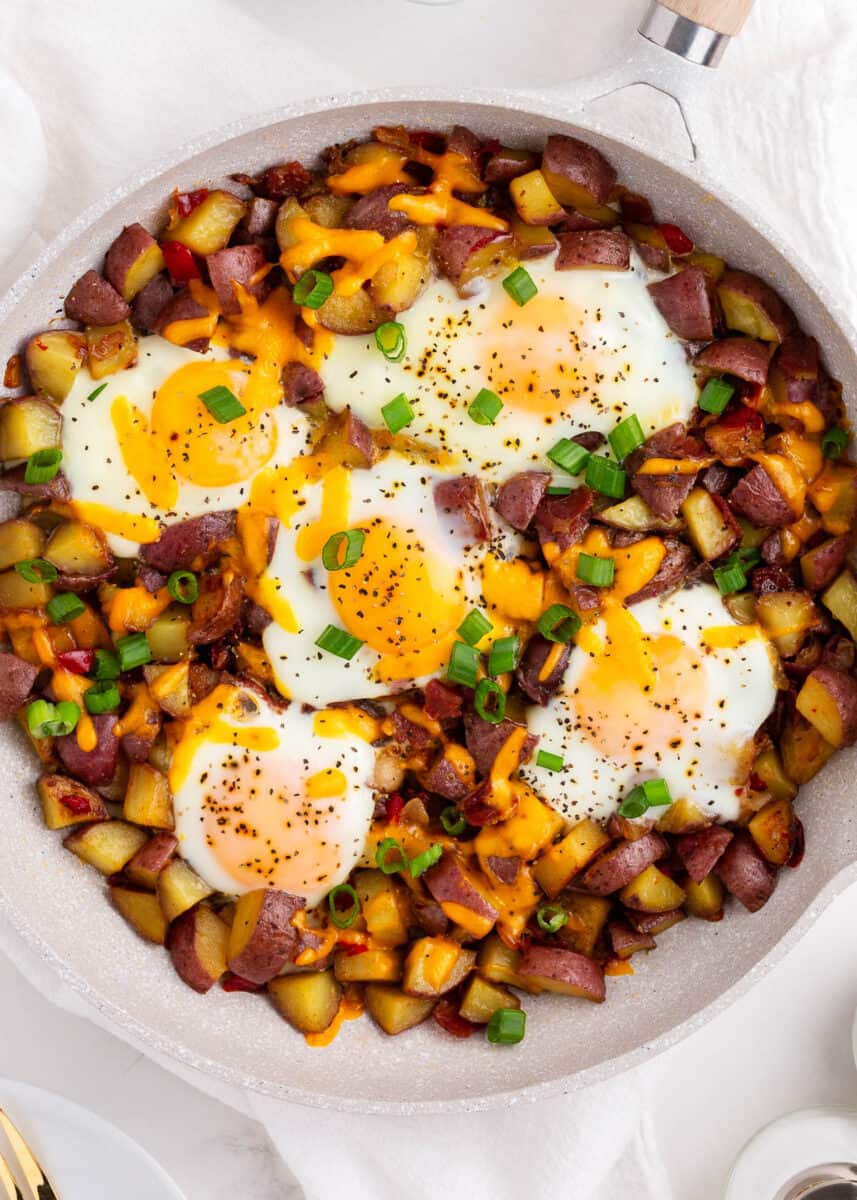 Tips for the Best Egg Skillet
Dice the potatoes evenly. It's important to dice the potatoes into smaller, bite-sized pieces so that they cook evenly and all the way through. Larger pieces will take longer to cook and may not crisp up as nicely while still remaining tender on the inside.
Bacon grease. Don't discard the bacon grease while cooking. The potatoes and veggies will cook in the grease, giving your egg skillet next-level flavor.
Flip occasionally. Make sure to stir the potatoes continuously to ensure they cook evenly on all sides and don't burn. The potatoes will be tender, so gently toss them so they don't smash.
Cast iron skillet. Although it's not a necessity, there's something about cast iron skillet potatoes that just can't be beat. A well seasoned cast iron evenly distributes the heat from the stove, making it the perfect pan for frying potatoes. They get super crispy and delicious every time!
Toppings
Don't forget to add your favorite toppings before serving! We love adding shredded cheese on top during the last few minutes of cooking, so that cheese gets melty and golden. Then add any of the other delicious ideas below.
Shredded cheese: Freshly shredded cheddar (mild or sharp), Mexican cheese or mozzarella all taste great.
Green onions: Sliced and added just before serving so they stay crisp.
Avocado: Freshly sliced avocado or guacamole add great flavor.
Tomatoes: Diced roma or cherry tomatoes or fresh pico de gallo or salsa for a Mexican twist.
Herbs: Fresh cilantro or parsley are two of my favorites.
Hot sauce: A dash of your favorite hot sauce is the perfect finishing touch!
What to Serve with Egg Skillet
This egg and potato skillet is plenty hearty, so we love serving this dish with a few lighter options to round out the meal. A fresh berry fruit salad or honey lime rainbow fruit salad always tastes delicious. This dish also tastes great served with a warm homemade biscuit topped with strawberry jam.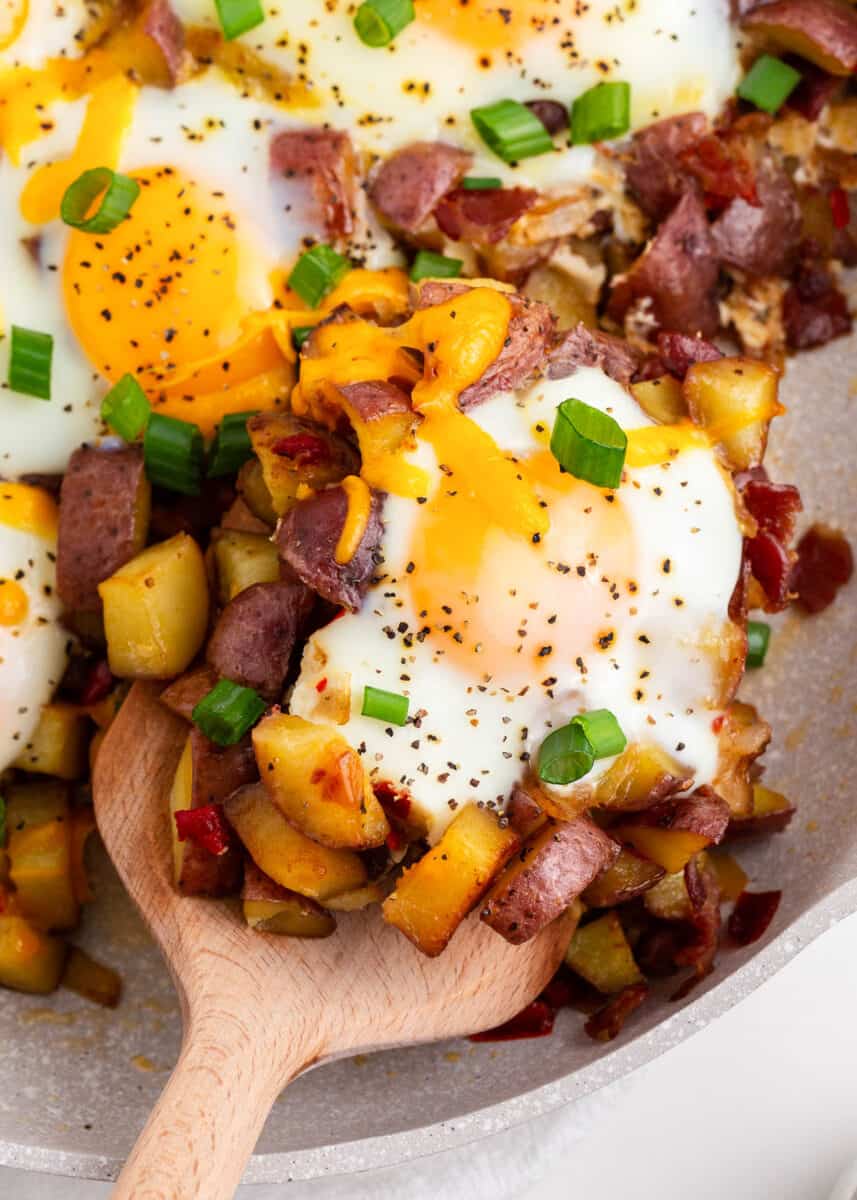 More Breakfast Favorites
HUNGRY FOR MORE? Subscribe to my newsletter and follow on Facebook, Pinterest and Instagram for all the newest recipes!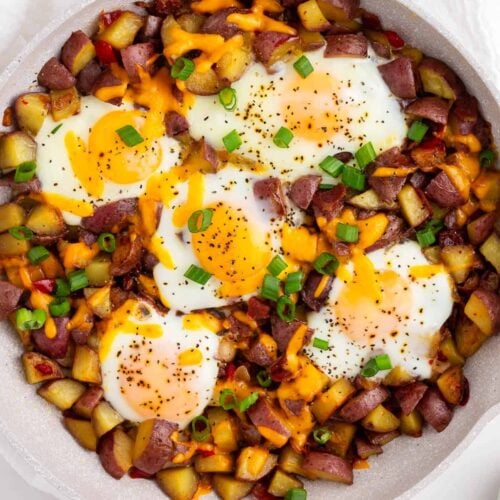 Egg Skillet
An easy 20-minute egg skillet made with crispy red potatoes, bacon, sautéed onions and peppers with over easy eggs on top. Perfect for breakfast, brunch or even dinner!
Ingredients
4 Tablespoons salted butter
1 pound red potatoes , washed
4 strips bacon , cut into 1/2-inch pieces
½ cup diced onion
½ red bell pepper , chopped
1 teaspoon seasoned salt
5 large eggs
Salt and Pepper , to taste
Optional toppings
Shredded cheddar cheese
green onions , sliced
parsley optional for garnish
avocado
diced tomatoes
hot sauce
Instructions
Cut the potatoes into smaller bite sized pieces.

Melt butter in a large skillet. Add potatoes, sliced bacon, onions and bell peppers to the skillet. Sprinkle seasoned salt evenly over top. Cook for about 10 minutes, or until crisp around the edges and fork tender. Flip occasionally, being careful not to smash the potatoes. Turn down the heat if they're cooking to fast.

Make five wells in the potatoes and then crack the eggs into the skillet. Cover the skillet and cook for 5-8 minutes over low heat, or until the eggs are set. Sprinkle salt and pepper over top.

Sprinkle shredded cheese on top the last couple minutes of cooking, if desired. Add green onions and hot sauce if desired. Serve while hot.
---
Notes
Meat: In place of bacon you could add in 1/2 cup diced ham or sausage. You could also omit the meat altogether.
Vegetables: If you'd like to add more veggies, feel free to add in mushrooms, spinach, chopped asparagus or broccoli. I would add when you start cooking the potatoes.
Mexican flavors: Avocado, cilantro and salsa would be delicious on top too. To kick up the heat you could sprinkle chili powder on the potatoes while they're cooking.
Leftovers: If you have leftovers, they taste delicious stuffed in a tortilla to make a breakfast burrito.
Nutrition
Calories: 290kcal | Carbohydrates: 17g | Protein: 10g | Fat: 20g | Saturated Fat: 10g | Polyunsaturated Fat: 2g | Monounsaturated Fat: 7g | Trans Fat: 1g | Cholesterol: 199mg | Sodium: 742mg | Potassium: 560mg | Fiber: 2g | Sugar: 3g | Vitamin A: 903IU | Vitamin C: 24mg | Calcium: 42mg | Iron: 2mg
Nutrition provided is an estimate. It will vary based on specific ingredients used.
Did you make this recipe? Don't forget to give it a star rating below!