Pie making is a breeze with this easy all butter pie crust recipe. Flakey and tender, this crust pairs perfectly with cream and fruit fillings. You can even prepare the dough in advance and freeze it so you can enjoy a fresh buttery crust any time!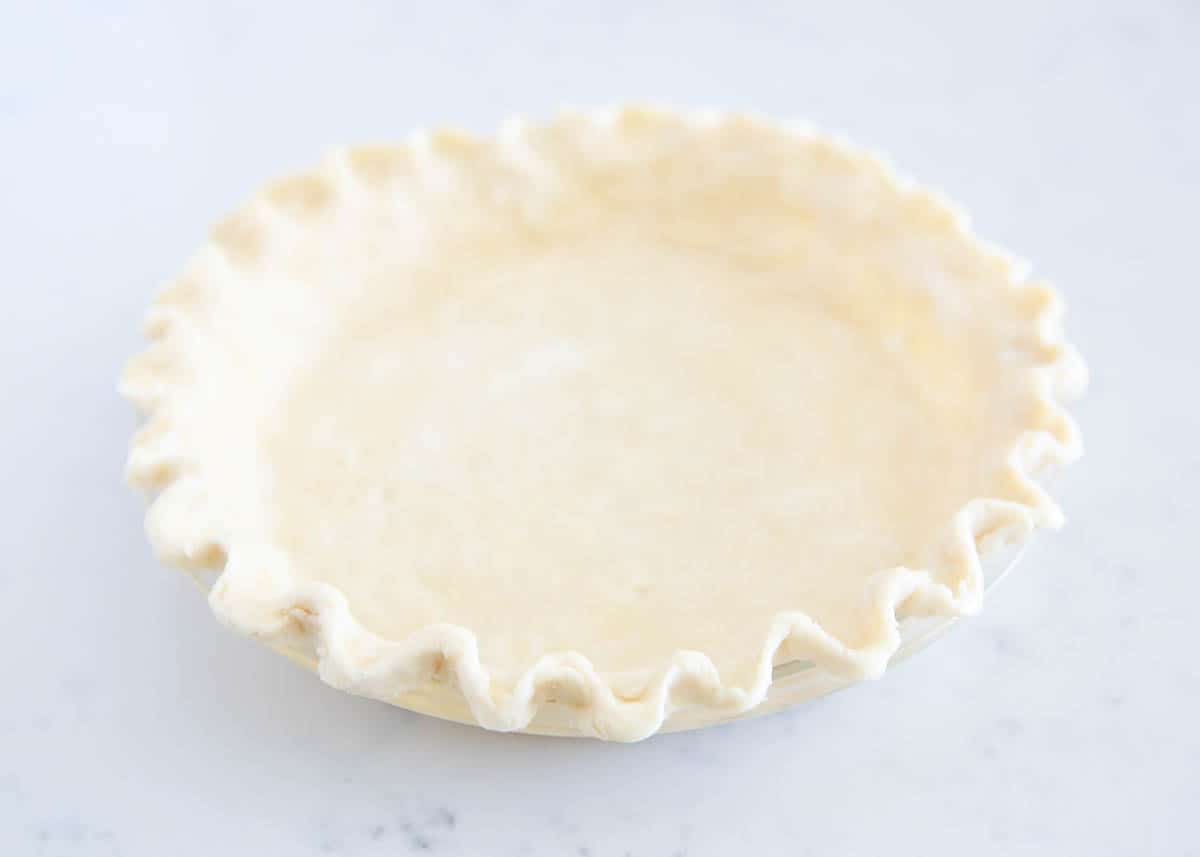 Just 3-Ingredients!
I used to run for the hills at the thought of making pie crust at home. It all just seemed so intimidating! That is until I learned a few tips and tricks that helped to make the process so much easier.
I'm going to share my method with you today which gives me perfect results every time!
If you follow my easy step-by-step instructions, you can enjoy a golden buttery pie crust with very little effort and in no time at all. Then use it for all kinds of fillings including custard, fruit, cream or even homemade pot pie!
My easy banana cream pie is always delicious along with some of my favorites include peach pie, Dutch apple pie, and breakfast pie! You can also use this all butter pie crust recipe to make a decorative lattice pie crust which always looks so impressive but is actually pretty easy to make!
Once you get the hang of this recipe for pie crust with butter, you can also try making my easy pie crust recipe made with both butter and shortening. It's similar with just an extra bit of flakiness thanks to the shortening.
And if the thought of making it still intimidates you, everyone always loves this pretzel crust for pie, it's so simple to make!
Why Does Butter Make Crust Flakey?
Nothing beats biting into a buttery flakey crust! It is what every baker strives for.
When making the dough, there are a couple of rules to follow: 1) start with cold butter, and 2) don't overwork the dough.
The butter needs to be cold so that it doesn't melt completely into the dough before it even reaches the oven. There's a bit of science involved here!
The heat from the oven will melt the cold pieces of butter which creates steam that will make little pockets of air in the dough. Once the dough cools, it settles down into those delicious flakey layers we all love.
Recipe Ingredients
Here's what you need to make this 3-ingredient all-butter pie crust! Ok, 4 if you count the water :)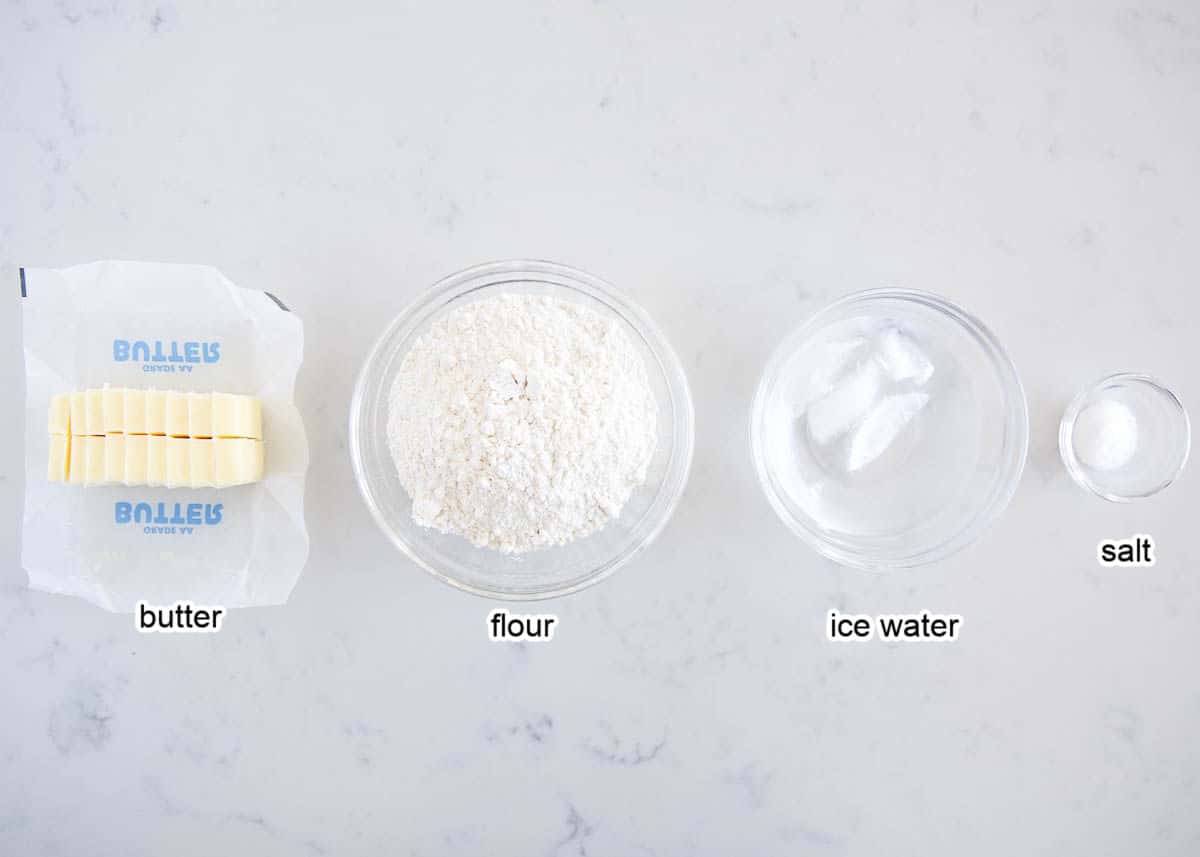 Find the full printable recipe with specific measurements below.
All-purpose flour: Make sure to accurately measure the flour because adding too much will make it tough.
Sea salt: To enhance the flavor.
Ice water: I can't stress this enough – your butter and water should be very cold when you start. This is the key to getting a flaky crust!
Unsalted butter: I prefer using unsalted butter so I can control the salt.
How to Make an All Butter Pie Crust
This recipe makes enough for one single crust, so if you're making a double crust pie, simply double the recipe.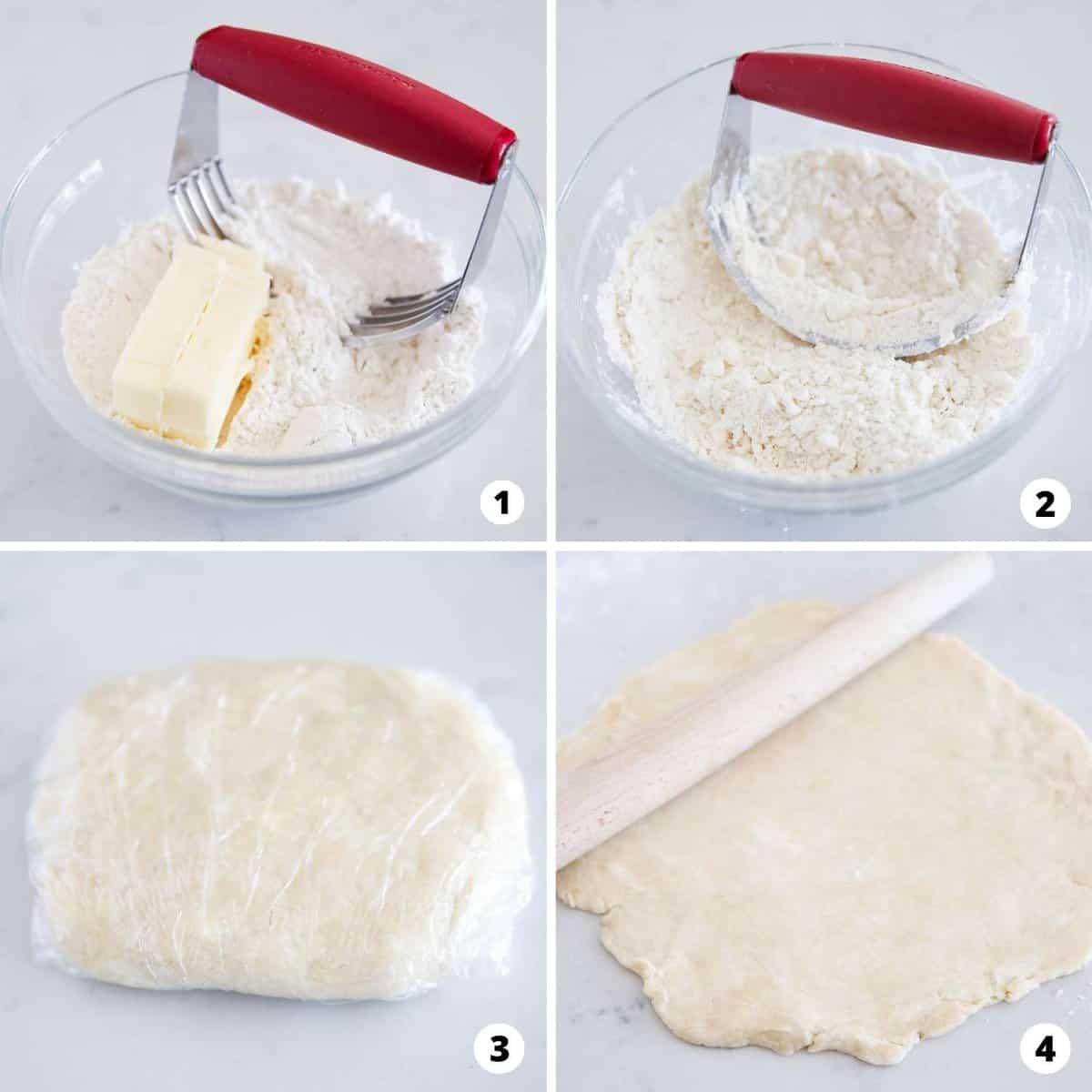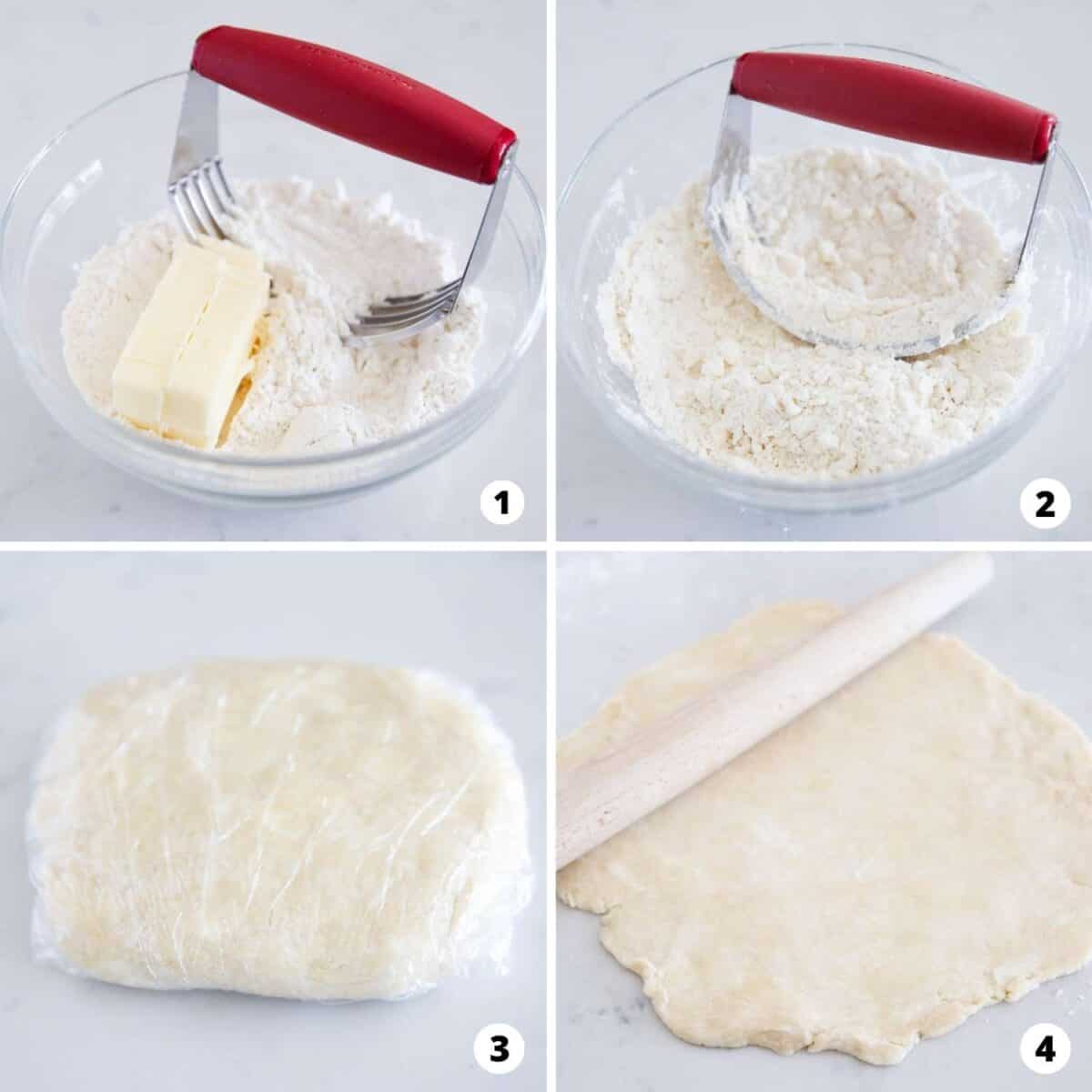 Cut in the butter. Stir together the flour and salt. Add the butter pieces and use a pastry cutter to work them into the flour. You are looking for pea-sized crumbles. You can also use a food processor for this step.
Add water. Add the chilled water a little at a time and stir your dough until it comes together and forms a ball. Once it comes together, stop adding water! You don't want to end up with sticky dough.
Chill. Wrap it in plastic wrap and press it into a disc shape. Chill in the refrigerator for at least one hour or leave it overnight.
Roll. Now you're ready to roll out your dough! On a lightly floured surface, use a rolling pin to roll the dough to a ¼-inch thickness. Transfer rolled dough to your pie plate, trim the excess dough and pinch the trim around the edges. Bake according to your recipe directions.
How to Blind Bake the Crust
Go ahead and follow your own recipe baking instructions or use the steps below.
Pierce the crust. Use a fork to pierce tiny holes all over the bottom of the dough in a 9-inch pie plate. Cover the base of the dough with aluminum foil and add ¼ cup of pie weights or dried beans and freeze for 5 minutes.
Bake. Place the plate on a baking sheet and bake at 400°F for 20 minutes. Carefully remove the foil and the weights and brush all over with an egg wash. Bake for 10 more minutes until golden.
Cool. Let it cool completely before filling.
Expert Tips
Work quickly. You want to keep the butter as cold as possible, so bringing everything together as quickly as you can is your goal.
Dough too dry? Dip your hand in cold water and continue to work the dough.
Dough too soft? Place it in the fridge for 15 minutes to let the butter firm up a bit.
Flour for rolling. Use only a dusting of flour on your rolling surface to prevent the dough from sticking. Using too much flour can make your crust dry and tough.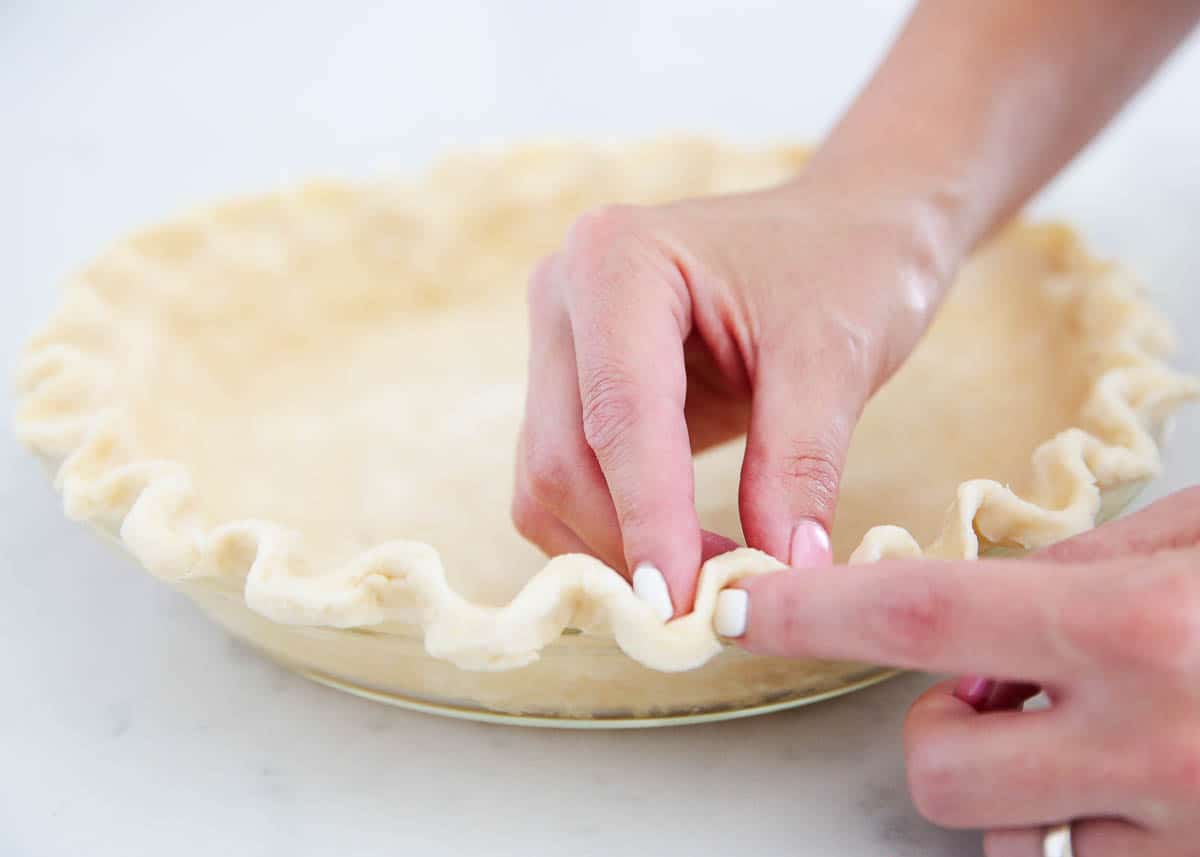 Recipe FAQs
How to keep pie dough cold?
The colder the dough the flakier the crust! To keep pie dough cold, use ice water, very cold butter (partially frozen butter works, too), chill your dough at least one hour (two is best), and you could even chill your flour and mixing bowl!

Why is my butter pie crust tough?
Oh, the heartbreak of a tough pie crust! Usually, the reason is that the dough has been overworked. Use a light touch when bringing your dough together. You still want to see some chunks of butter in the dough when you roll it out.
How can I prevent my crust from browning?
You can protect it from over-browning by using a pie shield. I use a large piece of foil with a hole cut out in the center about the size of the area of the filling. Then I fold the foil around the outside of the pie plate.
Why does my pie crust shrink?
Don't be tempted to skip the resting time in the fridge! This time lets the gluten relax which means your dough won't be as elastic and less likely to spring back down your pie plate.
Make Ahead + Storage
You can make this 3-ingredient all butter pie crust recipe in advance and then wrap it tightly in plastic wrap. It can stay in the refrigerator for up to 2 days.
To keep the dough even longer, wrap it in plastic wrap and store it in a zip-top bag or freezer-safe container for up to 3 months. Thaw the dough overnight in the refrigerator before rolling it out.
HUNGRY FOR MORE? Subscribe to my newsletter and follow on Facebook, Pinterest and Instagram for all the newest recipes!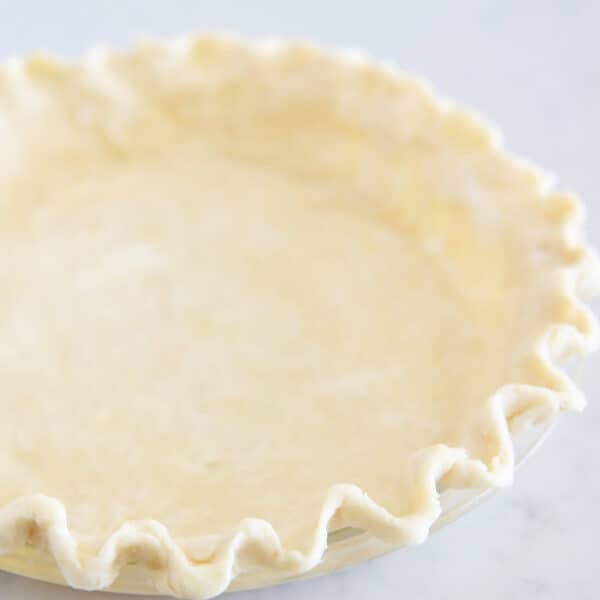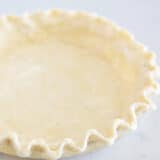 All Butter Pie Crust
Pie making is a breeze with this easy all butter pie crust recipe. Flakey and tender, this crust pairs perfectly with cream and fruit fillings. You can even prepare the dough in advance and freeze it so you can enjoy a fresh buttery crust any time!
Ingredients
1 ¼ cups (163 grams) all-purpose flour
½ teaspoon fine sea salt
½ cup (113 grams) unsalted butter , chilled and cubed
4-5 Tablespoons ice cold water , add 1 Tablespoon at a time
Instructions
In a large bowl, stir together the flour and salt. Using a pastry cutter, cut the butter into the flour until it forms pea-sized crumbles. You'll want to work fast so the butter doesn't have time to warm up. You may also use a food processor for this step, if preferred.

Adding 1 Tablespoon water at a time, stir until the dough comes together to form a ball. Stop adding water when this happens or you will end up with sticky dough.

Wrap the dough in plastic wrap. I like to press it into a 1-inch disk so it's easier to roll out. Chill at least 1 hour or overnight.

Once the dough is chilled, let sit at room temperature for a few minutes. On a well-floured surface, roll out the dough to about 1/4-inch thick (big enough to fit a 9-inch pie pan). I like to start rolling from the center and then roll out. Turn dough a 1/4 turn and continue rolling from the center out. Try to handle the dough as little as possible.

Fold the dough in half and then carefully transfer to a pie pan. Make the crust edges using your thumb and index finger. You can also cut off the extra dough around the edges or press it down with a fork. Proceed with baking the pie crust per the pie recipe you are making.
Baking Instructions, if needed
Preheat the oven to 400°F. Place a baking sheet on the middle rack.

Pierce the bottom of the pie crust with a fork. Cover the base with foil and then place 1/4 cup pie weights or dried beans inside. Freeze 5 minutes before baking.

Place pie dish on baking sheet in oven. Bake 20 minutes. Remove foil and beans and brush edges with an egg wash (see notes) if desired. Cook an additional 5 to 10 minutes, or until crust is golden.

Remove pie crust from oven and place baking dish on a cooling rack. Let cool completely before filling.
---
Notes
Doubling: If you need 2 pie crusts, simply double this recipe and divide in half. Egg wash: To make the crust nice and shiny, whisk together 1 egg and 1 Tablespoon water or cream. Brush on the edges the last 10 minutes of cooking. Freezer instructions: Place the dough disks wrapped in plastic in a zip-top bag or freezer container up to 3 months. Place in the refrigerator overnight to thaw before using.
Nutrition
Serving: 1pie crust | Calories: 1383kcal | Carbohydrates: 119g | Protein: 17g | Fat: 94g | Saturated Fat: 59g | Polyunsaturated Fat: 4g | Monounsaturated Fat: 24g | Trans Fat: 4g | Cholesterol: 244mg | Sodium: 1181mg | Potassium: 195mg | Fiber: 4g | Sugar: 0.5g | Vitamin A: 2836IU | Calcium: 53mg | Iron: 7mg
Nutrition provided is an estimate. It will vary based on specific ingredients used.
Did you make this recipe? Don't forget to give it a star rating below!