Having quick and easy access to homemade cherry pie filling will come in handy for much more than just pie! Use this thick, glossy, and sweet filling to pour over ice cream, swirl into your yogurt and serve over your waffles too!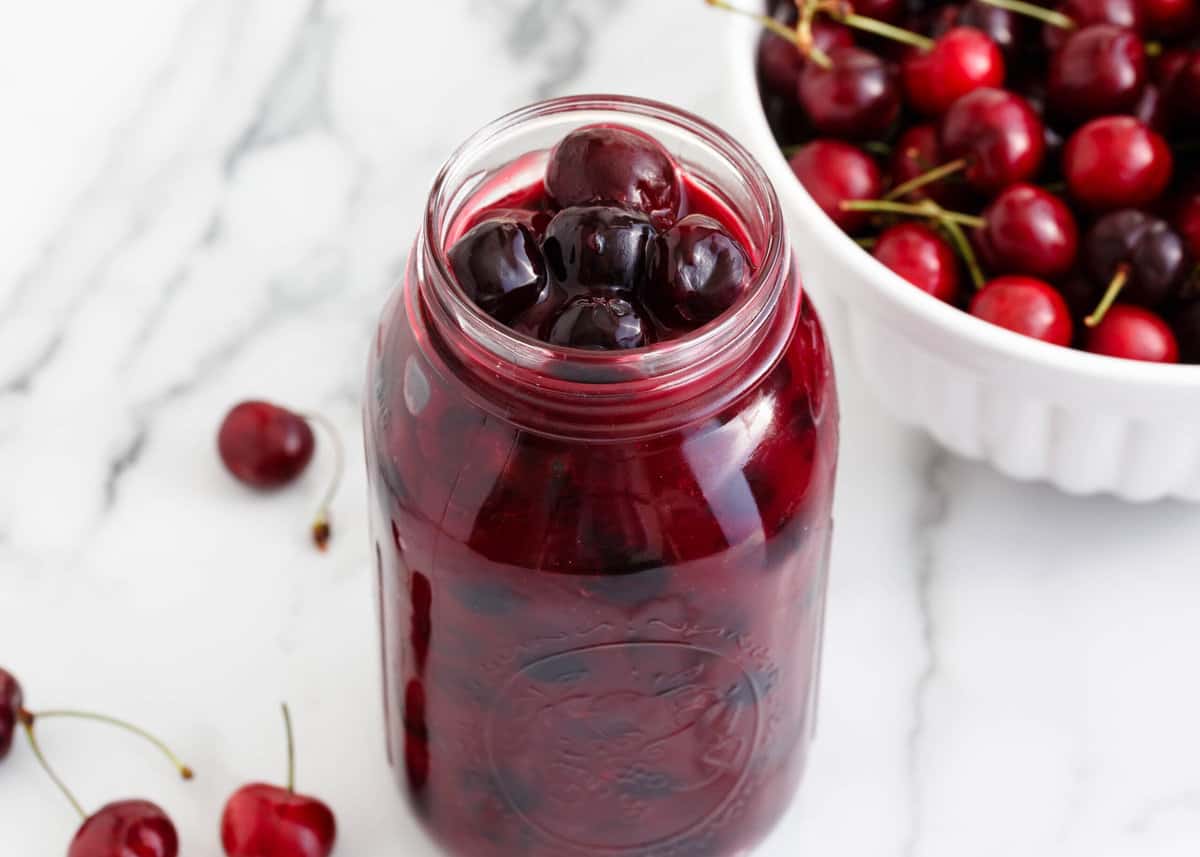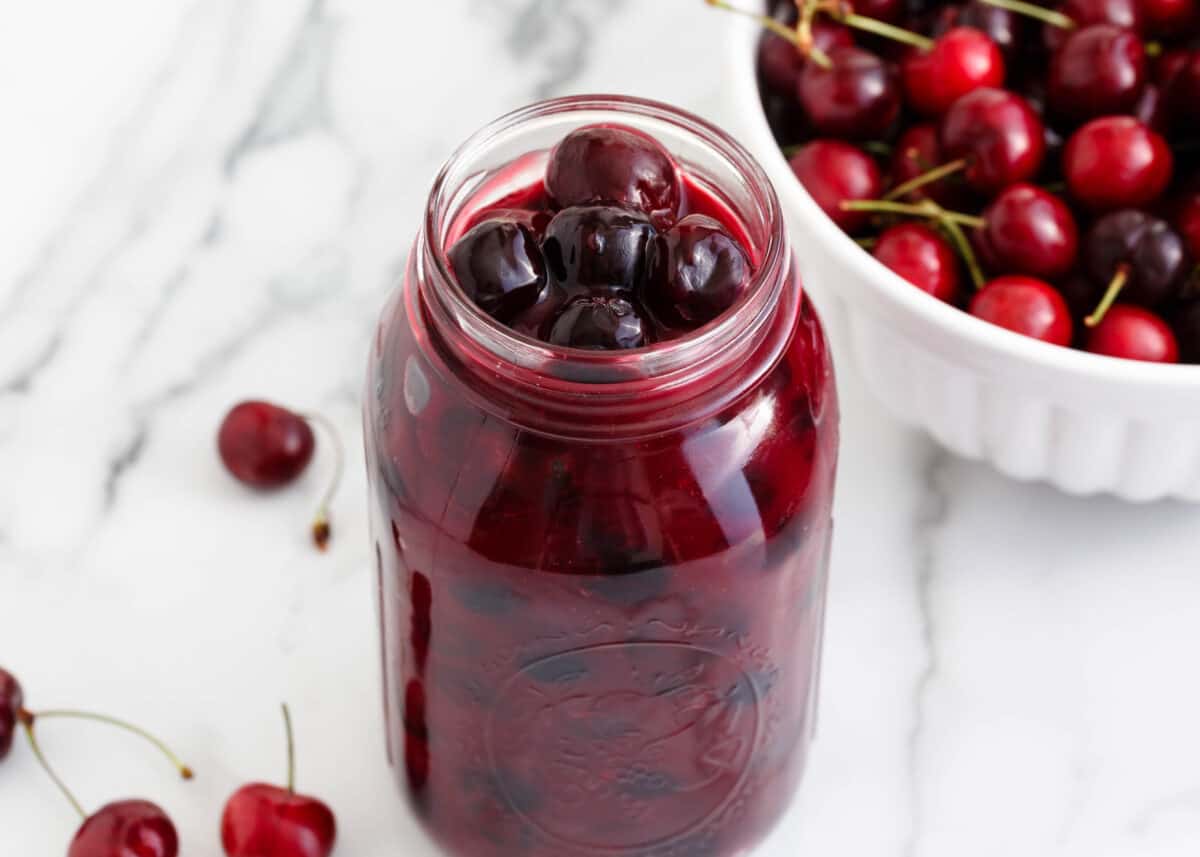 Homemade Cherry Pie Filling
Homemade cherry pie filling comes together quickly and easily when you're making homemade cherry pie but it can also be used for so much more than that!
You can spoon it over homemade vanilla ice cream or swirl it into your yogurt bowl and we even like to pour it over our buttermilk pancakes.
It's made with simple ingredients that you may already have in your kitchen including fresh cherries, water, cornstarch, sugar, and lemon juice.
This thick, syrupy, glossy filling presents a striking red color and a sweet and tart flavor that can elevate all your summer treats including these cherry pie bars.
Why This Recipe Works
Quick and Easy. With just 5 minutes of prep time and 10 minutes of cook time, the rest of the time is spent waiting for it to cool. It's so easy!
Any time of the year. Frozen cherries can also be used year-round, so it's a great recipe to keep for the holidays too!
Versatile. As mentioned above, this recipe is a treat in and of itself. I'm talking by the spoonful, friends! It's great for waffles, french toast, ice cream sundaes, oatmeal, parfaits, you name it.
Adaptable. This recipe can be tweaked for slight adjustments in flavor. Adding different flavor extracts for example, or maybe some warming spices, depending on what you use it for.
Recipe Ingredients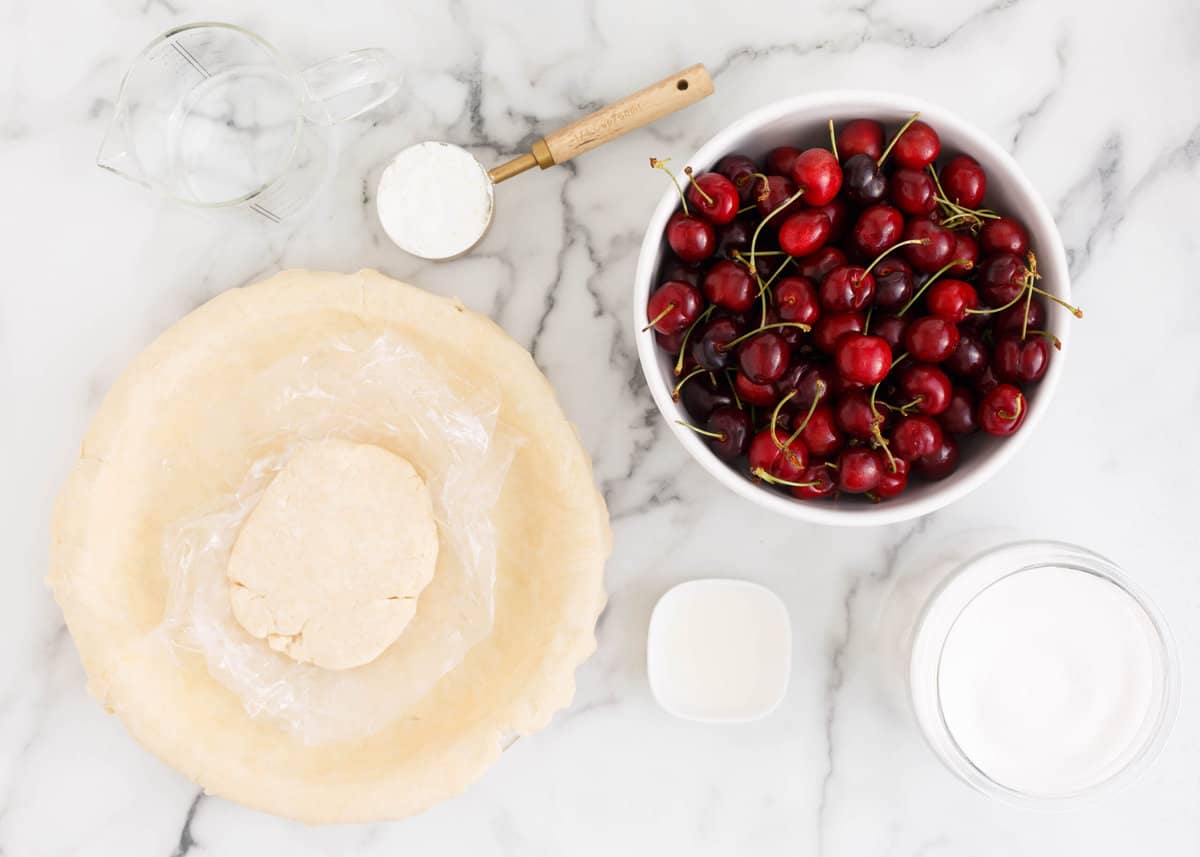 Find the full printable recipe with specific measurements below.
Cornstarch: This is to help thicken the cherry pie filling. This also helps it set so that it's not a runny sauce.
Water: Boiling water helps to dissolve the sugars and cook the cherries down.
Cherries: The best cherries for pie filling are going to be ripe, fresh, and juicy! No discoloration, medium red to dark red, and of course pitted. You'll need to remove the pits first.
Granulated sugar: Sometimes cherries can be quite sour, so you can play with the amount of sugar and use more if needed.
Freshly squeezed lemon juice: This helps to brighten up the homemade pie filling with a bit of citrusy zest. The acid also helps the filling to set and balance out the sweetness. Use more if your cherries are very sweet.
Variations
Add a bit of cinnamon for a bit of warming spice. This is especially great when making it around Thanksgiving and Christmas time and throughout the fall and winter months.
A bit of almond extract or vanilla extract can be added for extra flavor.
You can also replace the refined sugar with honey or maple syrup if preferred.
How to Make Cherry Pie Filling
Let's make this filling from scratch in a few easy steps.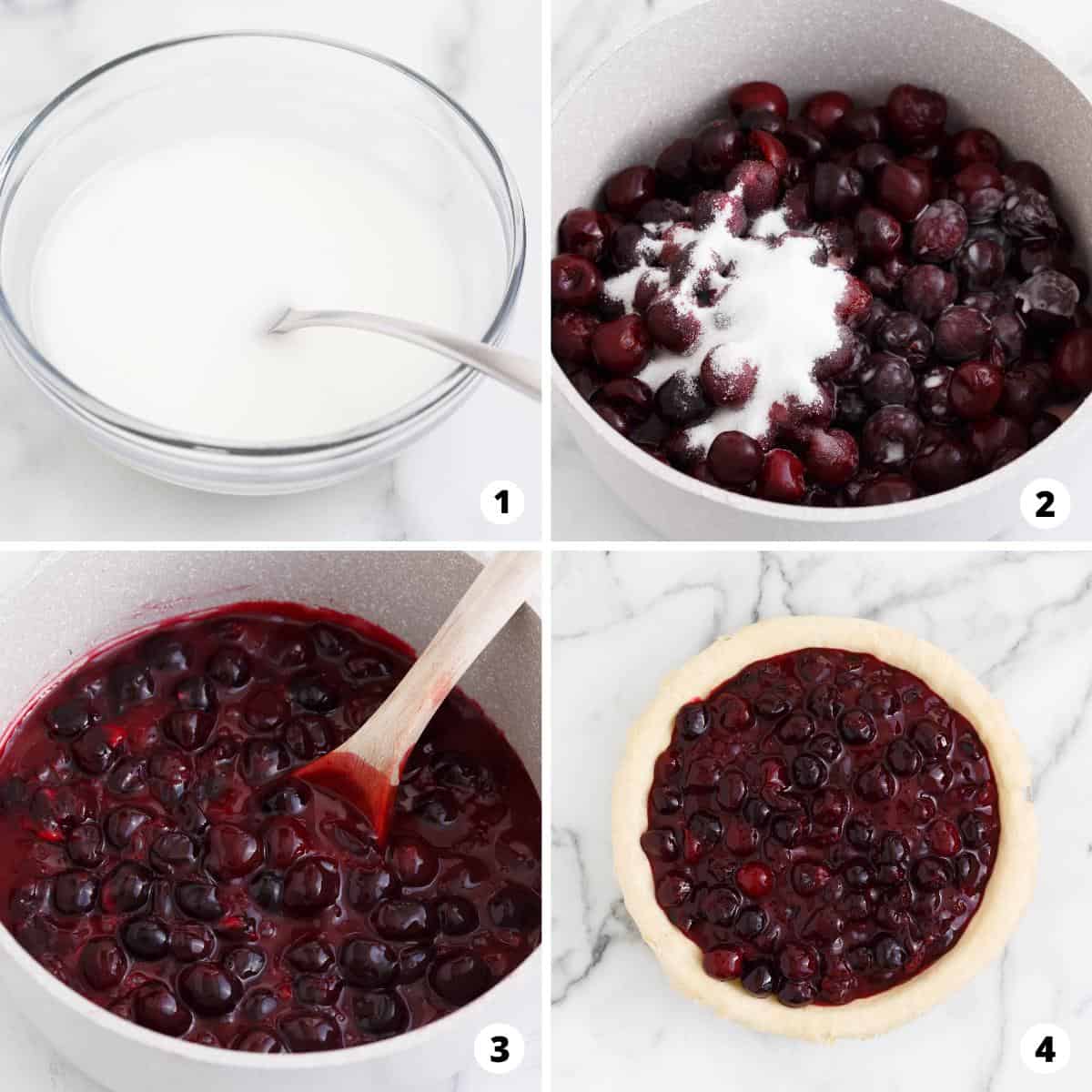 Make cornstarch slurry. In a small bowl, stir together the cornstarch and water. Otherwise known as a cornstarch slurry.
Bring all ingredients to a boil. Combine cherries, sugar, lemon juice, and cornstarch slurry in a saucepan over medium heat. Bring the mixture to a boil and reduce the heat to low, stirring frequently.
Simmer on low. Simmer for 10 minutes, or until the sauce thickens and the cherries have softened.
Cool and enjoy. Remove from the heat and allow it to cool to room temperature. You can use it immediately or chill it for later.
Making Homemade Cherry Pie
By all means, use a store-bought pie crust if you want, but I will say there's nothing better than an easy homemade pie crust or all butter pie crust. I keep some frozen at all times for this occasion.
Pour filling into rolled-out pie dough and top with either the top rolled-out dough or cut strips to make a lattice pie crust. Bake for 20 minutes at 400°F and then reduce the heat to 375°F for another 30-40 minutes. Check out the full post on how to make a cherry pie for detailed steps.
Expert Tips
Use a cherry pitter to remove the pits. This will save you time and will prevent most if not all of the red stains on your hands!
You can use frozen cherries. Slightly thaw them first and drain any excess juices. Use only 1/4 of the water to make the slurry.
If using honey or maple syrup instead of sugar, be mindful that it will change the flavor of the cherry pie filling. It will still taste great, but using too much can be overpowering.
When using it as a topping to a fruit tart or fruit pizza, for example, reserve the surrounding juices for something else. Try and use mostly just the cherries so that it doesn't become too runny.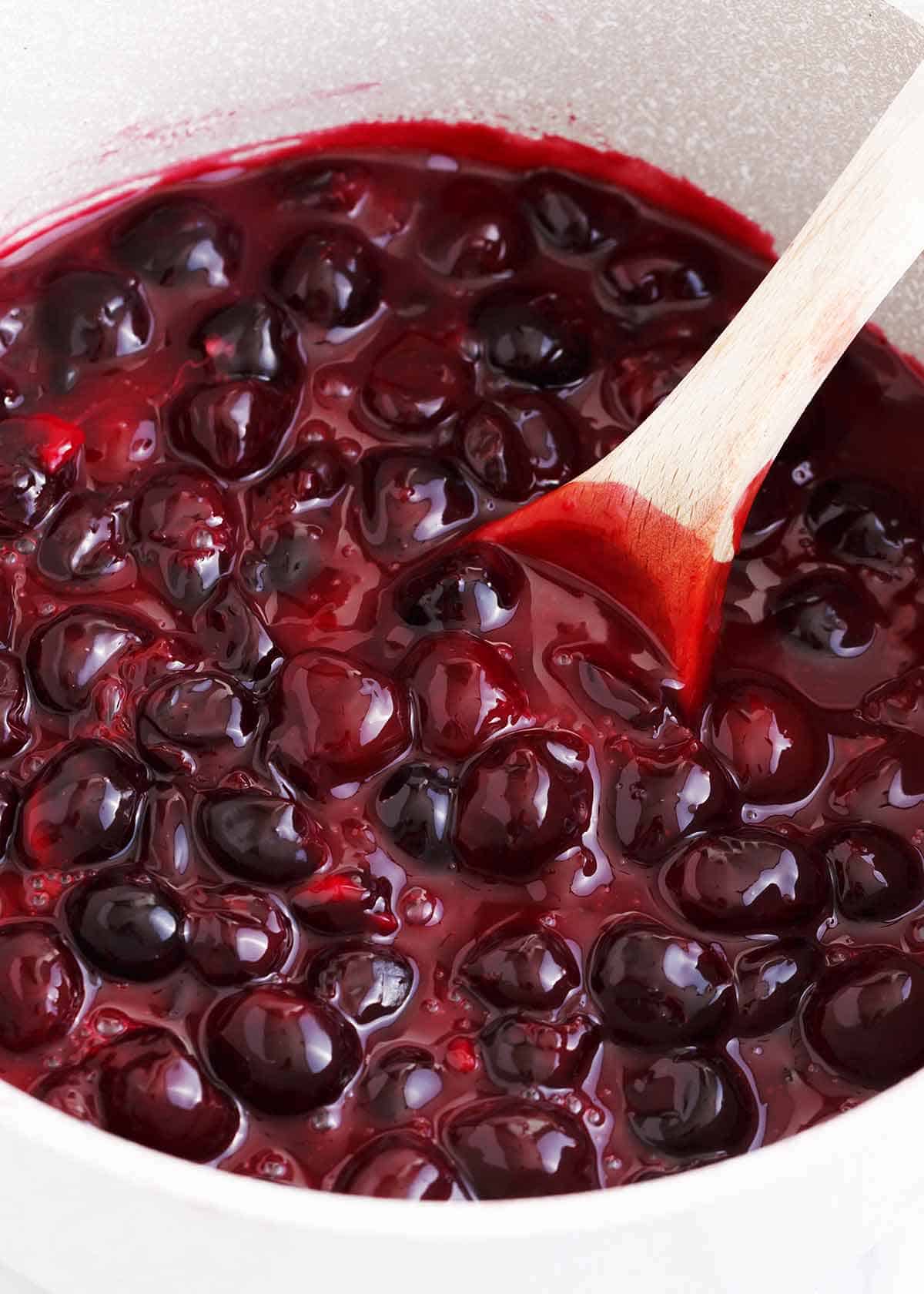 Ways to Use Cherry Pie Filling
There are loads of desserts with cherry pie filling that aren't even pies! Cherry tarts can also be filled with pie filling and here are some more examples of how to use it: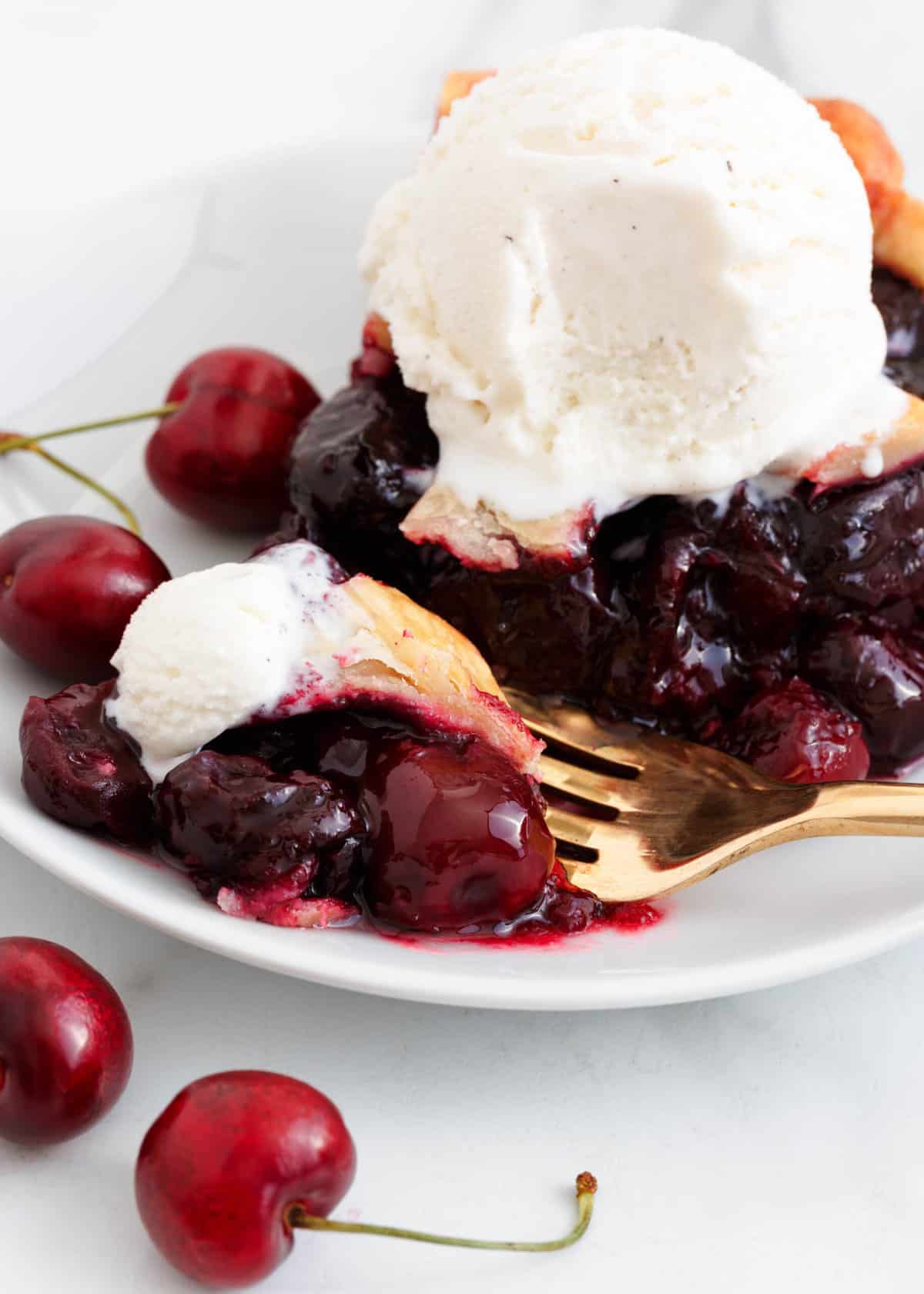 Recipe FAQs
What cherries are good for pie?
Bing cherries are what you're more than likely to find at your local grocery store, so they're the most popular.

If you happen to have a cherry tree in your backyard, use those! Morello cherries are also a great choice for cherry pies.
Can I double this cherry pie-filling recipe?
Certainly! Double it and use it in all kinds of ways or gift it to someone.
Can I use a store-bought filling instead?
You can, but with a recipe this easy, you don't have to.
How much filling does this recipe make?
It makes enough to fill an 8 or 9″ pie plate.
Storing
Keep stored in an airtight container or mason jar with a tight-fitting lid for up to 3 days in the fridge.
It thickens as it cools, and even more so when it's cold. To loosen it up again, heat it in the microwave for 30-second intervals, stirring in between or on the stovetop until smooth once again.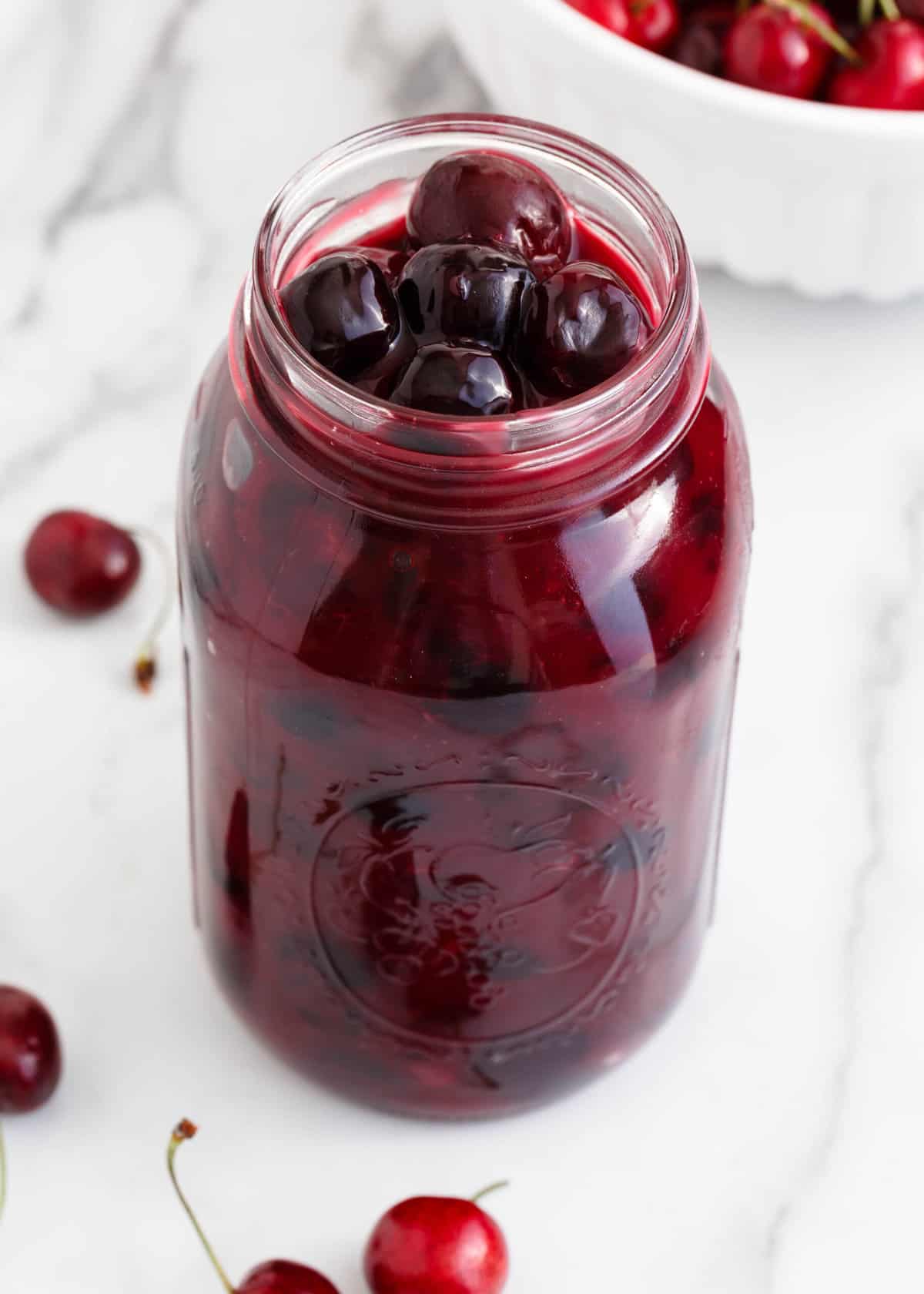 HUNGRY FOR MORE? Subscribe to my newsletter and follow on Facebook, Pinterest and Instagram for all the newest recipes!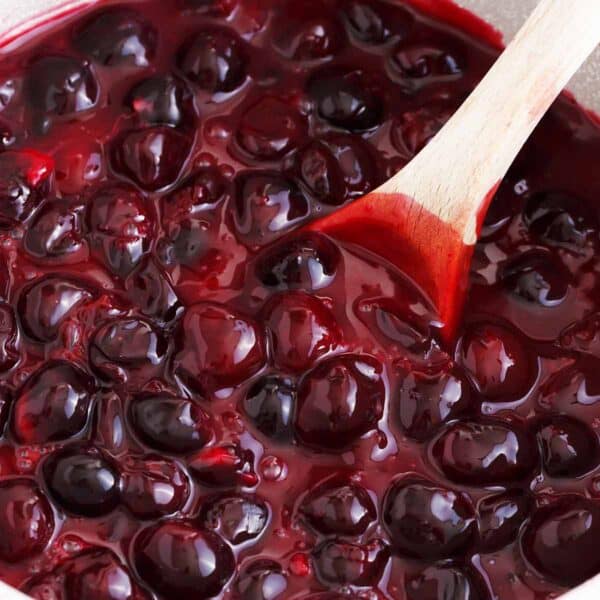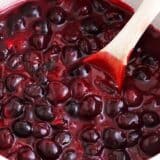 Cherry Pie Filling
Having quick and easy access to homemade cherry pie filling will come in handy for much more than just pie! Use this thick, glossy, and sweet filling to pour over ice cream, swirl into your yogurt, and serve over your waffles too!
Ingredients
¼ cup cornstarch
½ cup water
5 cups cherries , pitted
¾ cup granulated sugar
¼ teaspoon freshly squeezed lemon juice
Instructions
In a small bowl, stir together the cornstarch and water.

In a saucepan over medium heat, combine cherries, sugar, lemon juice, and cornstarch slurry.

Bring to a boil and reduce heat to low. Stirring frequently, simmer 10 minutes, or until the sauce thickens and cherries have softened.

Cool to room temperature then chill until ready to use.
---
Notes
Notes: This cherry pie filling also tastes amazing on top of vanilla ice cream. You could also place on top of a fruit pizza or fruit tart (reserving the juices).
Yield:
Makes enough filling for an 8- or 9-inch pan.
Frozen cherries: You can use frozen cherries for this filling. Let thaw slightly. Drain any excess juices before using. Use 1/4 cup water with the cornstarch.
Cherries: If you use sour cherries you may need more sugar, while sweet cherries may need more lemon juice.
Pie crust: You can use store bought pie crust, but here is my favorite homemade pie crust recipe. You can also add this crumble topping if desired.
Store: Keep in an airtight container in the fridge for up to 3 days. It will become thicker once cold.
Nutrition
Calories: 142kcal | Carbohydrates: 36g | Protein: 1g | Fat: 0.2g | Saturated Fat: 0.03g | Polyunsaturated Fat: 0.05g | Monounsaturated Fat: 0.04g | Sodium: 1mg | Potassium: 192mg | Fiber: 2g | Sugar: 30g | Vitamin A: 55IU | Vitamin C: 6mg | Calcium: 12mg | Iron: 0.3mg
Nutrition provided is an estimate. It will vary based on specific ingredients used.
Did you make this recipe? Don't forget to give it a star rating below!