Hand held cheese ball bites are loaded with bacon, cream cheese, dry ranch dressing and then rolled in pecans. A pretzel stick on top makes these the perfect grab-and-go party appetizer!
These appetizers are miniature versions of my bacon ranch cheese ball! Other favorites include jalapeno poppers and potato skins!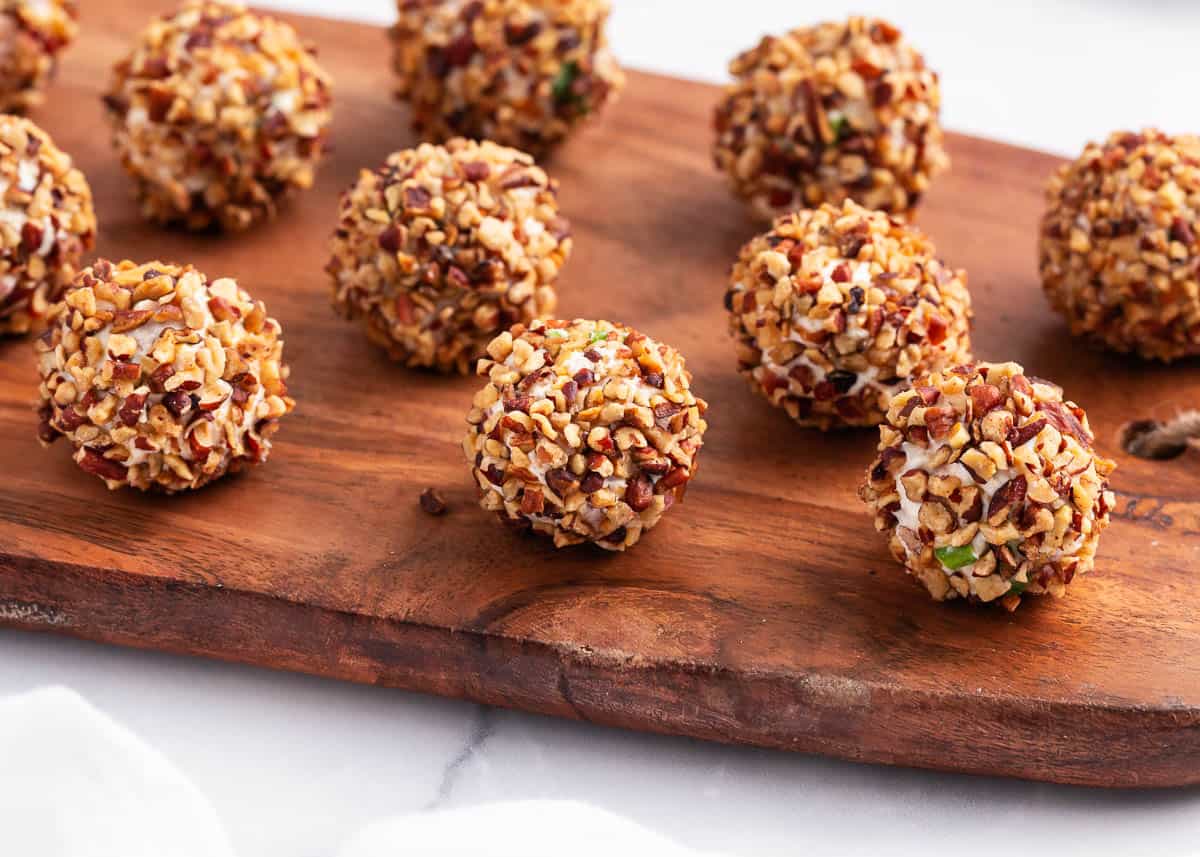 Bacon Ranch Cheese Ball Bites
I love a good cheese ball. They are one of my favorite Christmas appetizers, not only to eat but because they can be whipped up so quickly—often just a few minutes! I usually just make the regular size, but this time around I thought it would be fun to make them into mini appetizers.
Who doesn't love mini cheese ball bites, especially when they are loaded with bacon? You can't go wrong with ranch and bacon, it is such a delicious flavor combination. Not only are they delicious in this recipe, but also in bacon ranch deviled eggs and bacon ranch cheddar dip.
I'm telling you, these little appetizers are just so yummy! And the green onions add a perfect fresh flavor. I love the crunch of pecans on the outside, but you could roll them in more bacon, or even fresh parsley.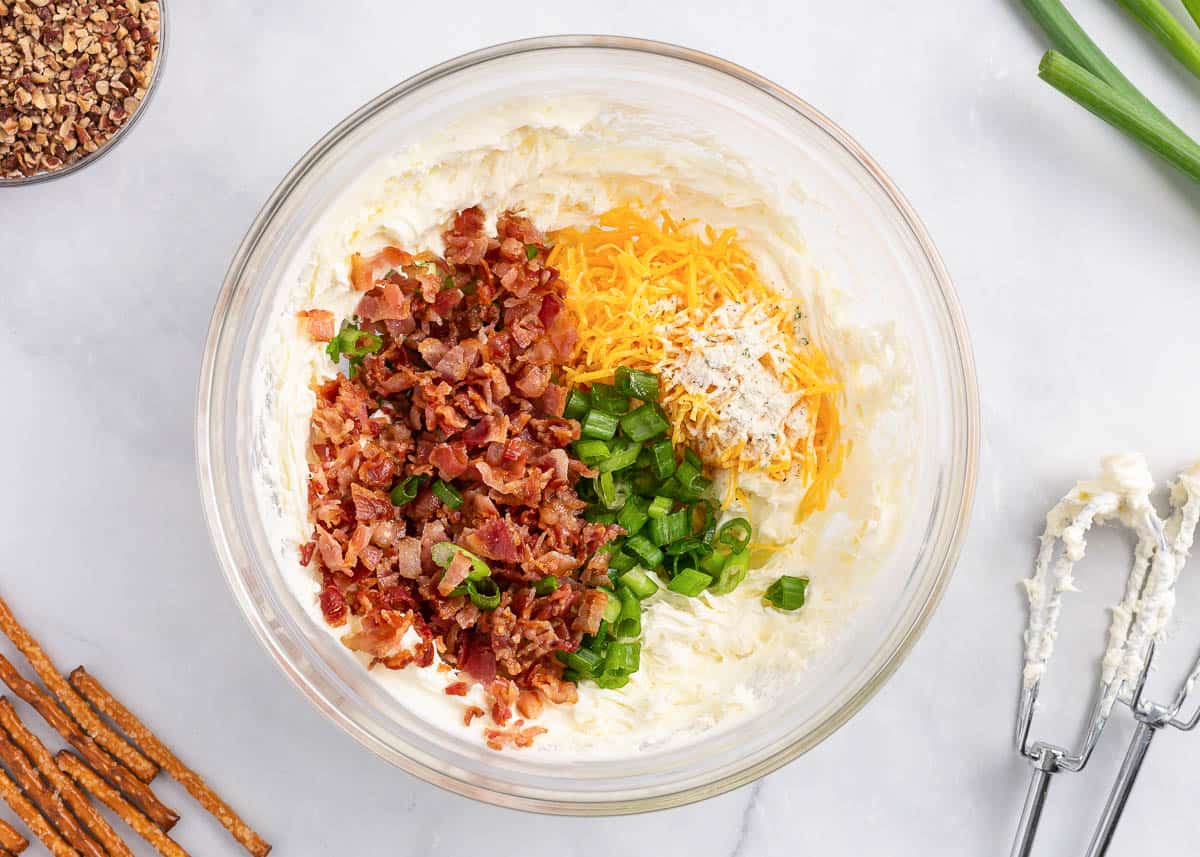 How to Make Mini Cheese Balls
This recipe is so simple to throw together. Just follow these simple step by step directions and you'll have the perfect loaded cheese ball bites!
Cook bacon until crispy. You'll need about a half cup of diced bacon, so this would be a good use for leftover bacon after breakfast.
Beat cream cheese until it's smooth.
Add in the rest of the ingredients. This includes cheddar cheese, bacon, ranch dressing mix, and green onions. Beat it all until well blended.
Cover and chill for about 20 minutes. You can also chill it longer if you want to make it ahead of time.
Roll the mixture into balls and cover with crushed pecans. Then, chill the cheese ball bites until ready to serve, then insert a pretzel stick before serving.
NOTE: If you want to make a large version, there's no reason why this recipe couldn't be used to create a big mound. Instead of rolling the cheese ball bites in crushed pecans, you can make a cheese log and roll it in the pecans, then serve with pretzels.
Serving Options
I serve this mini cheese ball recipe with pretzel sticks to make them even easier to serve, especially at a buffet table. In my opinion, it's so much better than trying to cut off a piece of cheese ball with a knife!
However, if you are trying to make this gluten-free or low carb, or just don't want to use pretzels, you can easily serve these with toothpicks instead. You can get the fancy kind with the fringe too.
Other options include wheat thins, triscuits, crackers, toast, or even vegetables. However you serve it, it's fantastic!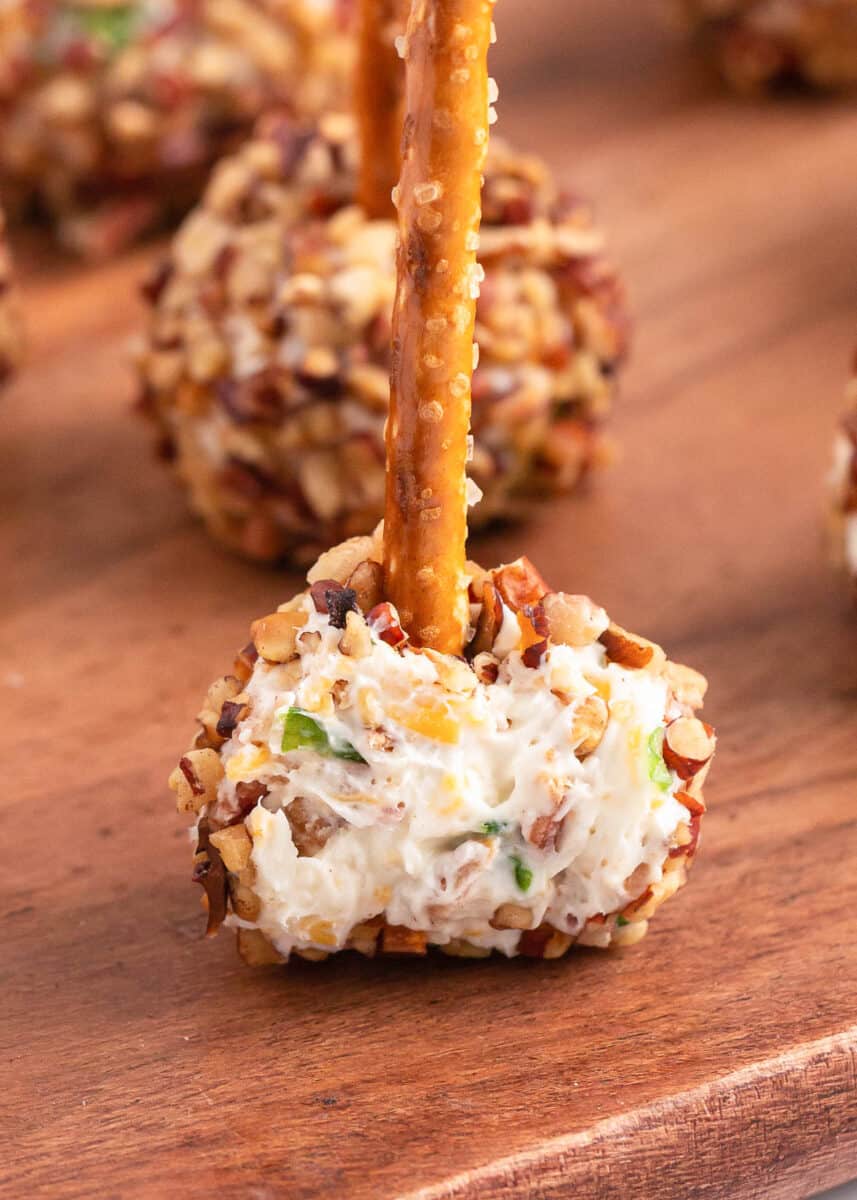 Next time you need to bring an appetizer to a party, bring a tray of these mini cheese bites! Not only are they easy to make, but they are also sure to be a hit. Everybody loves cute little bite-sized food!
Who knows, you might end up only making this miniature version from now on. I do that now with these pretzel bites. Bite sized food for the win!
Make Ahead Instructions
You can easily make these cheese ball bites ahead of time if preferred. Simply prepare the cream cheese mixture as directed, then shape into balls and roll them into the chopped nuts. Place in an airtight container and store in the refrigerator. Then right before serving, press the pretzel sticks into the cheese balls.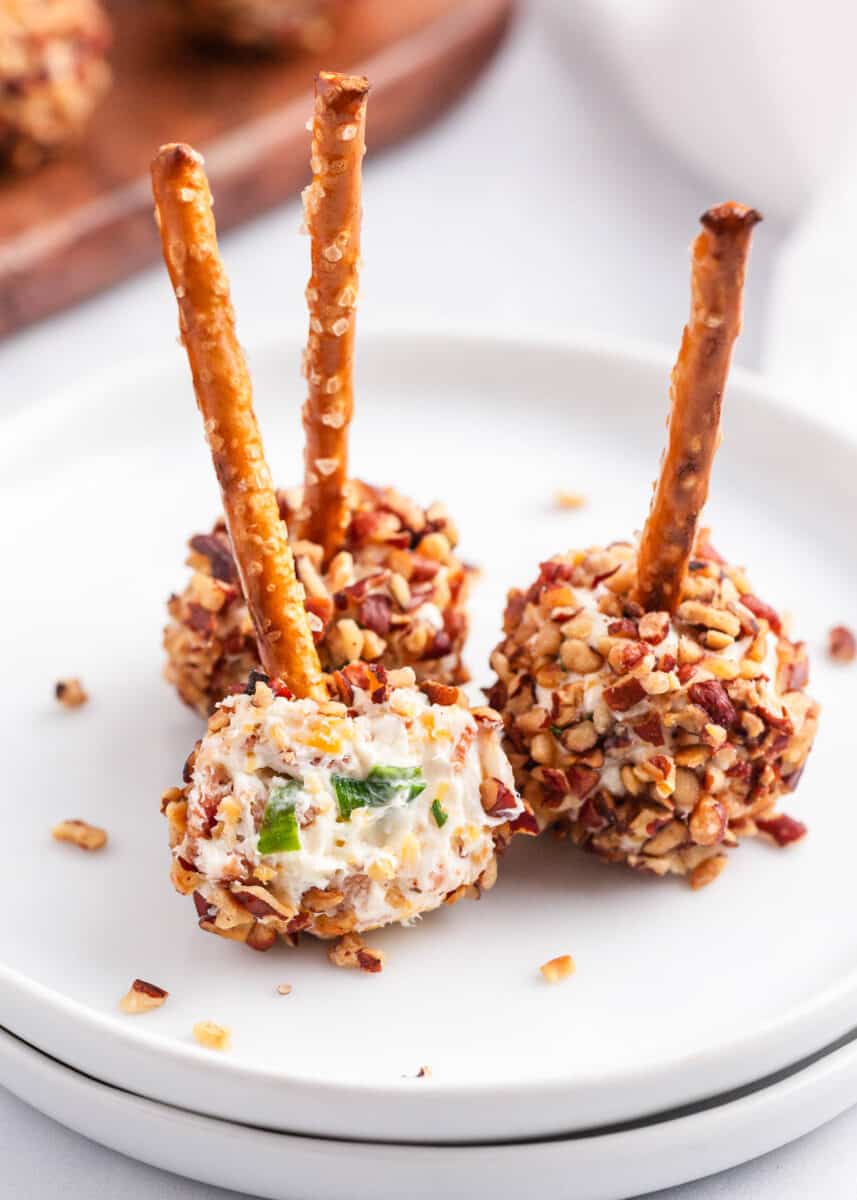 HUNGRY FOR MORE? Subscribe to my newsletter and follow on Facebook, Pinterest and Instagram for all the newest recipes!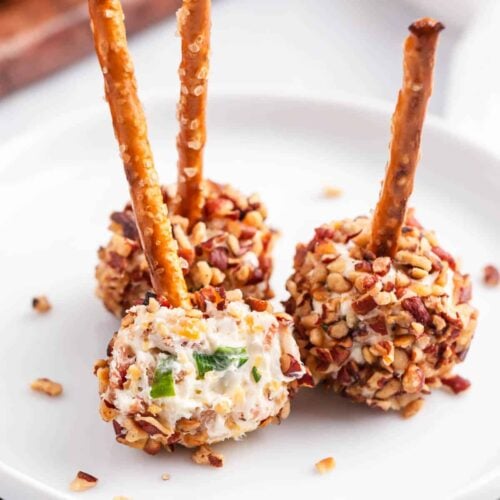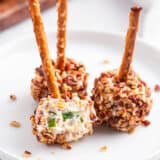 Cheese Ball Bites
Cheese ball bites are flavorful appetizers that are perfect for snacking or serving at parties. These mini cheese balls are loaded with everyone's favorite ingredients, and they are incredibly simple to make.
Ingredients
8 ounce package cream cheese
½ cup finely shredded cheddar cheese
2 teaspoons dry ranch dressing mix
½ cup cooked bacon , diced
2 green onions , sliced
½ cup finely chopped pecans
18 mini stick pretzels
Instructions
Using an electric mixer, beat cream cheese in a large bowl until smooth. Add cheddar cheese, ranch dressing mix, bacon and green onions. Beat again until well blended.

Cover and chill in refrigerator for 20 minutes, or until set up enough to handle.

Roll into 1″ sized balls. Then roll in chopped pecans.

Chill until ready to serve. Just before serving, stick a pretzel stick into each cheese ball bite.
---
Notes
Make ahead: Roll them in nuts and refrigerate them. Add the pretzel sticks right before serving. To make a large version: Instead of rolling the cheese ball bites in crushed pecans, you can make a cheese log and roll it in the pecans, then serve with pretzels.
Nutrition
Calories: 84kcal | Carbohydrates: 2g | Protein: 2g | Fat: 8g | Saturated Fat: 3g | Cholesterol: 18mg | Sodium: 128mg | Potassium: 35mg | Fiber: 1g | Sugar: 1g | Vitamin A: 214IU | Vitamin C: 1mg | Calcium: 38mg | Iron: 1mg
Nutrition provided is an estimate. It will vary based on specific ingredients used.
Did you make this recipe? Don't forget to give it a star rating below!