Spruce up your mundane chicken recipes with this classic chicken florentine made in 35 minutes! Seared until golden, the tender chicken is smothered in a rich and creamy sauce with tomatoes, spinach, and Parmesan cheese!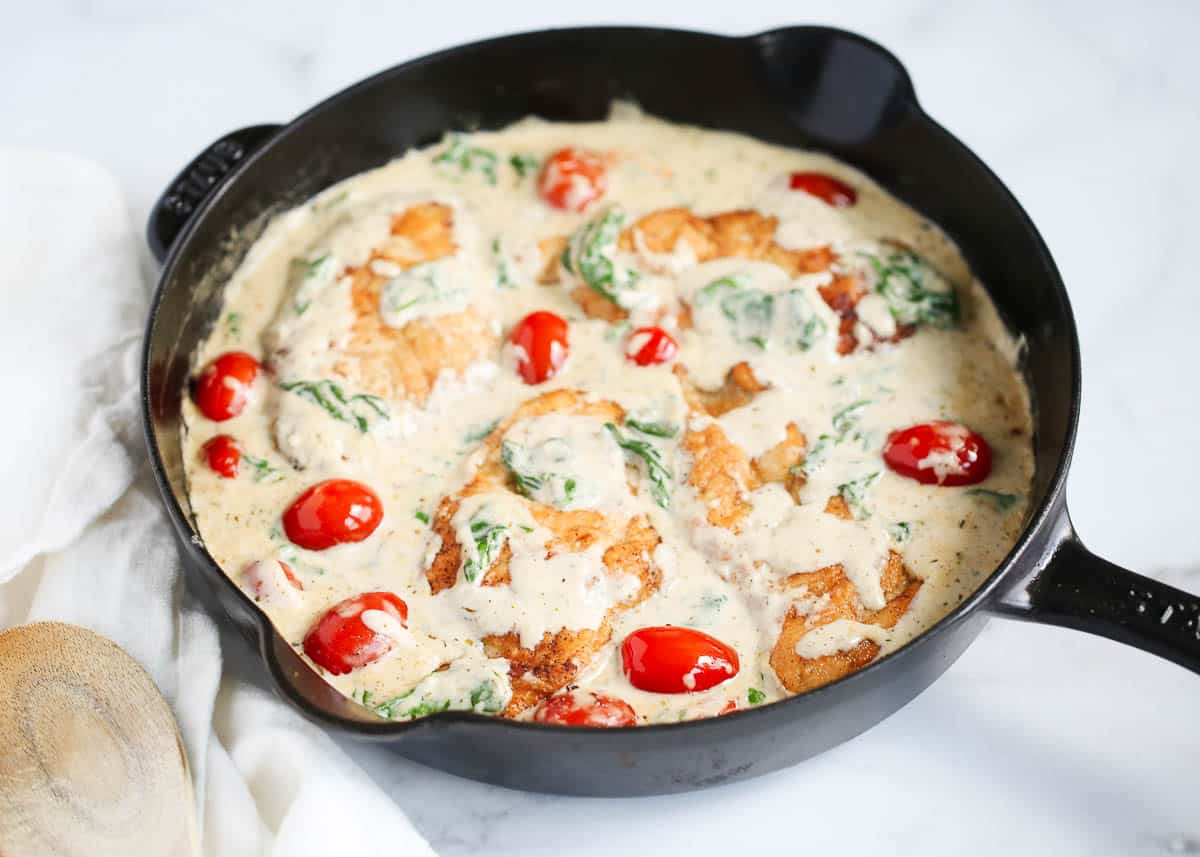 Classic Comfort Food
As impressive as this creamy chicken florentine is, it's surprisingly easy to make! Simple, flavorful ingredients, come together in one skillet for an elegant dinner that is sure to wow your family on any given weekday or guests on any occasion! A delicious upgrade from these classic yet easy chicken breast recipes like chicken tenders or lemon chicken.
The chicken cutlets are pan-fried until golden, then smothered in a rich and flavorful creamy garlic sauce with juicy tomatoes, spinach, and Parmesan cheese. If you love fettuccini alfredo with chicken are my chicken piccata recipe, you will love this dish, too!
The seasoned broth has a nice kick to it thanks to the red pepper flakes, and is so good, that you'll be hard-pressed not to ask for seconds!
Why This Recipe Works
It pairs well with so much. Mashed potatoes, rice, pasta, you name it!
Customizable. There are ways to make this dish your own. Swapping seasonings, adding in or omitting veggies, and adjusting the consistency of the cream sauce are all ways to make it your own.
It's easy! I can't say enough good things about a chicken recipe that not only livens up the weekly dinner routine, but does it quickly, easily, and without stress. This chicken florentine is a keeper! Our spinach and cream cheese stuffed chicken breast and parmesan ranch chicken are also keepers!
What is Chicken Florentine?
Florentine refers to a dish that is served with or on a bed of cooked spinach. You may have heard of eggs florentine or quiche florentine before. This is chicken florentine!
A la florentine refers to an old wives tale that is just the way Catherine de Medici of Florence (who married a French king) liked to eat almost anything. In reality, it more likely refers to Florence, a region in Italy, and its influence on French cooking.
Ingredients Needed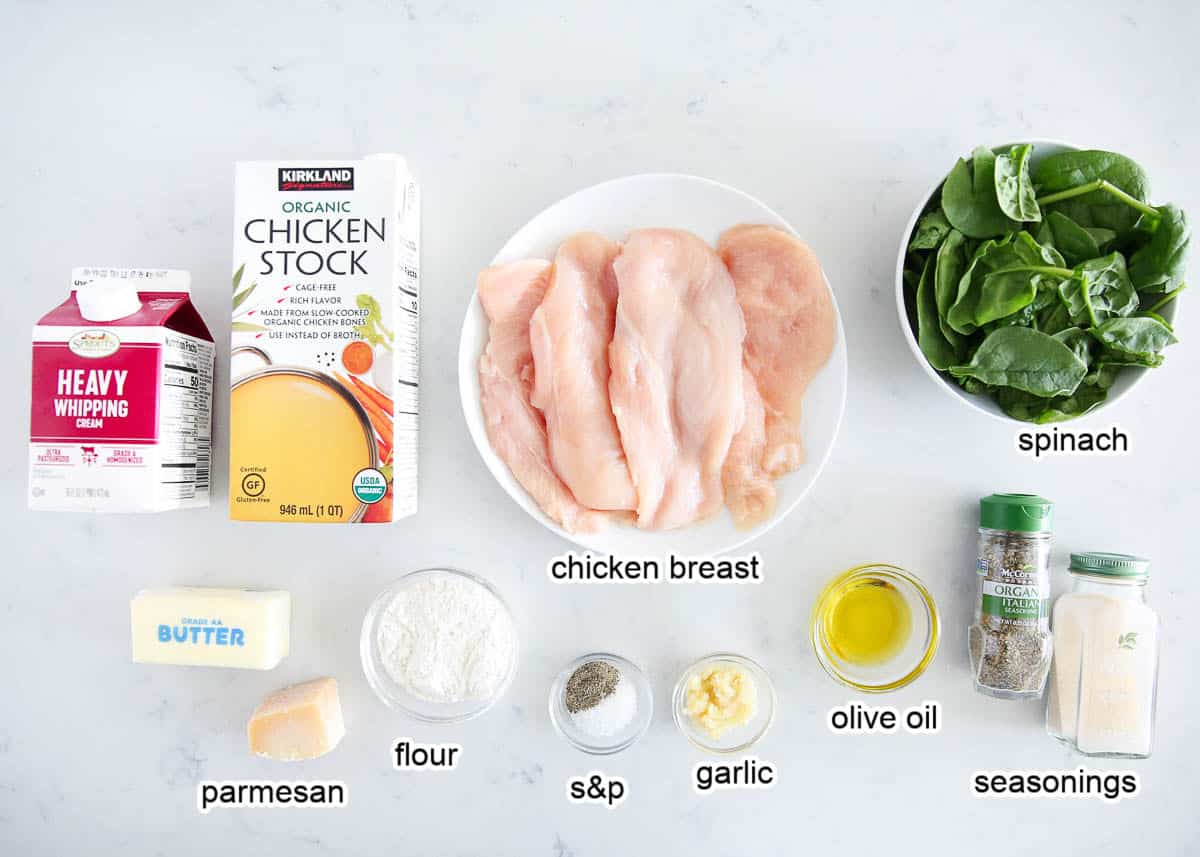 Find the full printable recipe with specific measurements below.
Chicken: You'll start with two boneless skinless chicken breasts, but you'll slice each one in half horizontally, giving you 4 cutlets. You can also use boneless, skinless chicken thighs which will cook faster so use a thermometer to tell when they're done at 165°F.
Chicken stock or broth: Traditionally you'd find white wine used in a chicken florentine recipe, but I prefer to just use more stock or broth.
Heavy cream: This is what delivers the rich and creamy consistency of the sauce. You can also use evaporated milk, but make sure it's unsweetened!
Italian seasoning: I like to keep a jar of my homemade Italian seasoning blend at all times just because I use it a lot. It's a combination of oregano, rosemary, thyme, basil, sage, and parsley. If you would rather use a store-bought mix you can, or use any of the herbs you've got on hand.
Parmesan cheese: Freshly grated from the block is the way to go! It tastes better and it will melt much easier into the sauce.
Spinach: I prefer to use fresh spinach in the creamy spinach sauce, but you can use frozen. Just be sure to thaw it first, then squeeze out any water.
Variations
There are a few ways to switch up some of the ingredients in this chicken florentine to replace what you might be missing or just to change the flavor profile a bit.
You can swap the tomatoes for mushrooms or use both if you prefer. You can also use sundried tomatoes instead of fresh cherry tomatoes.
Other veggies you can throw in would be capers, artichoke hearts, sliced onions, green beans, and broccoli.
Finish off the dish with a squirt of lemon juice. The citrus juices cut through the heavy cream and brighten up the dish.
You can also add a drop of Dijon mustard in there to add a bit of extra tartness and tang that you don't get when you're not using white wine. It's so good!
Finally, you can add a sprinkle of extra cheesiness. Cream cheese, fontina cheese, or mozzarella are all great additions!
How to Make Chicken Florentine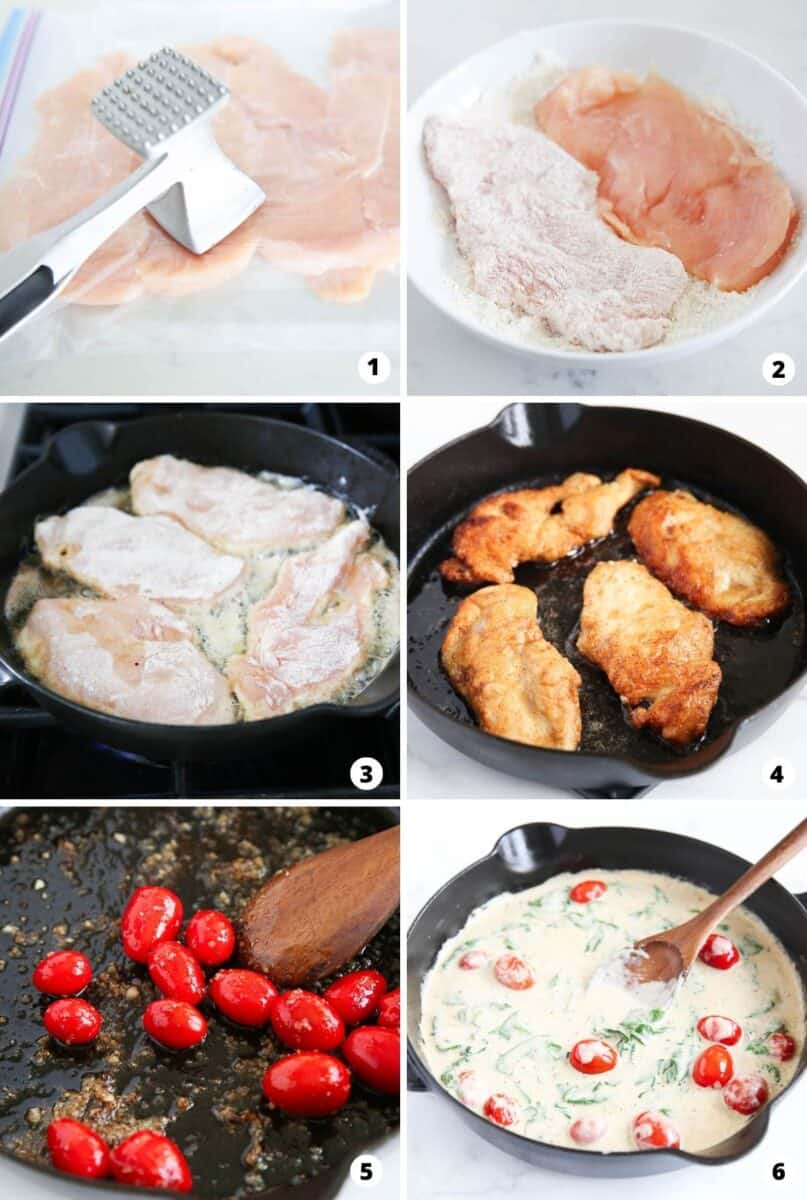 Slice into cutlets. Use a sharp knife to cut the chicken breasts in half horizontally. You may find this easier to do when the meat is still slightly frozen. Cover the breasts with plastic wrap and pound to an even thickness. If you don't have a mallet, use a rolling pin.
Dredge in flour. Pat the pieces dry and dredge them in the seasoned flour. The flour coating will help give them a nice golden brown sear.
Brown the chicken. In a large skillet, heat oil over medium-high heat. Add the butter and chicken and cook for 3-4 minutes. Using both oil and butter will help to keep the oil from burning therefore helping to keep the outside of the chicken from browning too quickly before the insides catch up. Also, the added buttery flavor is just yummy!
Flip and continue cooking. Once the chicken hits the pan, don't move it. You want to allow it to sear and if you move it too quickly, you could tear it. Then, once it's ready, flip and cook for another 3-4 minutes on the other side until cooked through. Remove the pan from the heat and transfer the chicken to a plate. Do not wipe the skillet clean. That's where all the flavor is!
Make the sauce. Add more butter to the skillet if needed and add the tomatoes, garlic, and red pepper flakes to sauté for a couple of minutes. Reduce the heat to low and stir in the broth and cornstarch along with the heavy cream. Season it, bring it to a simmer while deglazing the bottom, and simmer until thickened.
Add back the chicken. Once it has thickened, stir in Parmesan until melted, then add the spinach to wilt. Season with salt and pepper then return the chicken to the skillet to warm through. Enjoy chicken florentine immediately!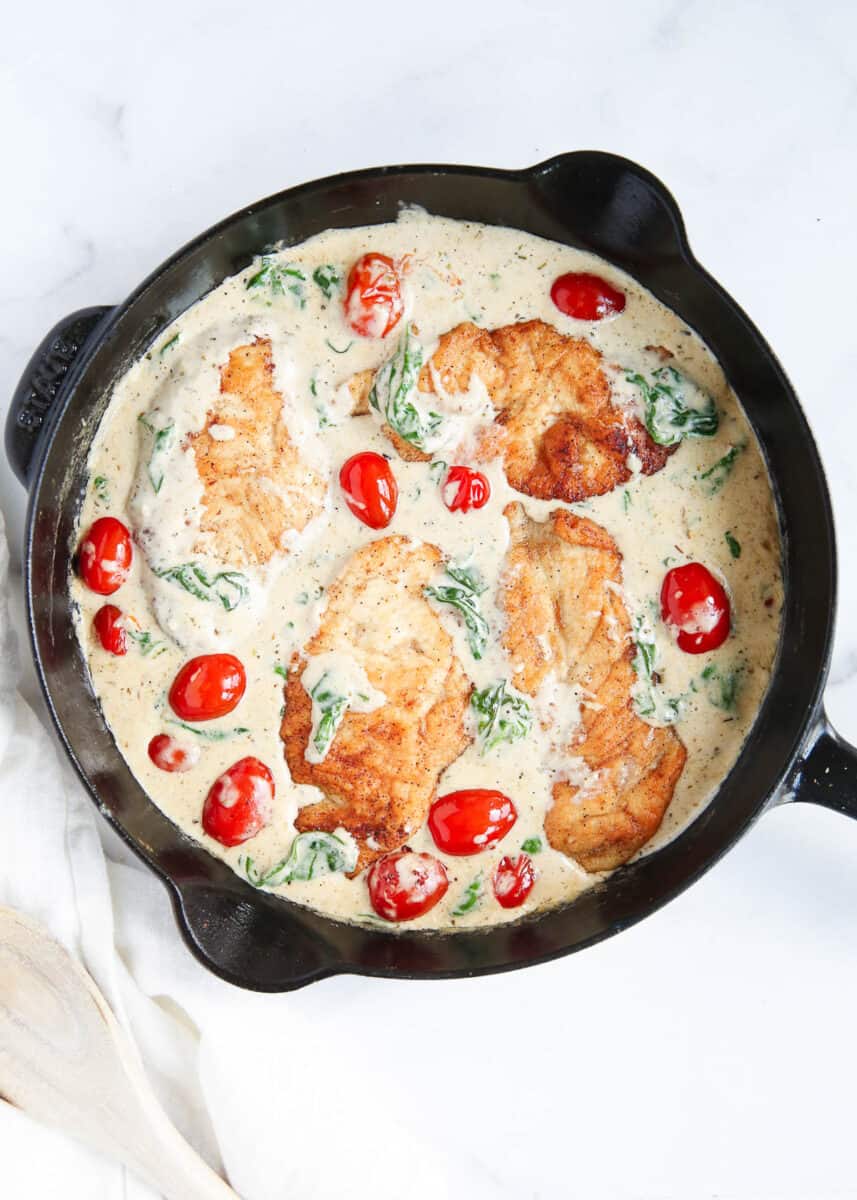 Expert Tips
Cutting the chicken in half makes it so that they cook faster while remaining juicy. If you prefer to leave them whole you can, it'll just take a lot longer.
Bring meat to room temperature. You never want to add cold meat to a hot pan. It sticks and doesn't cook evenly.
Knowing how to mince garlic can be a helpful tool in having your garlic ready to go. It's also good to know the difference in pungency between minced garlic, whole cloves, and chopped garlic.
Chicken florentine refers to spinach, so don't be afraid to add a lot! It wilts down substantially, so go ahead and add as much as you'd like.
Recipe FAQs
What to serve with this easy chicken florentine recipe?
This dish can be served all on its own or on a bed of creamy mashed potatoes, and rice, or check out my tips on how to cook pasta and use your favorite kind. For a low-carb side try spaghetti squash or zucchini noodles instead. Sometimes a simple tossed salad is all you need.
How to store leftovers?
Store leftovers in an airtight container for up to 3 days in the refrigerator.
How to reheat it?
Warm leftovers on the stovetop in a skillet. If the sauce has thickened too much, add a splash of water or broth to thin it out. Heat over low heat and turn it up as needed.
HUNGRY FOR MORE? Subscribe to my newsletter and follow on Facebook, Pinterest and Instagram for all the newest recipes!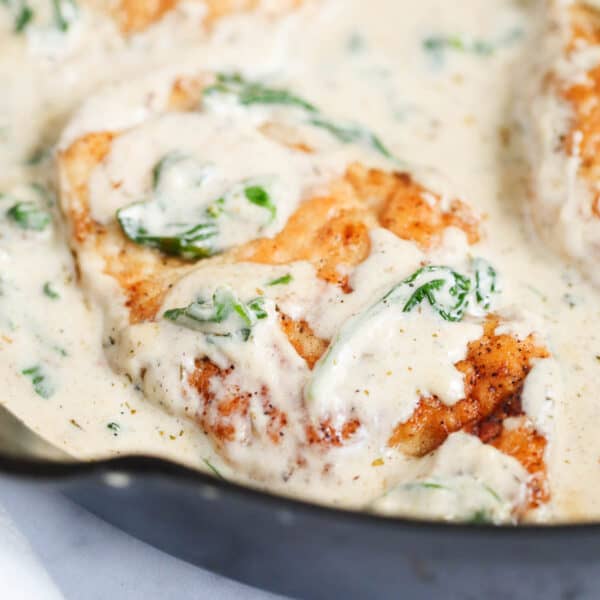 Chicken Florentine
Spruce up your mundane chicken recipes with this classic chicken florentine made in 35 minutes! Seared until golden, the tender chicken is smothered in a rich and creamy sauce with tomatoes, spinach, and Parmesan cheese!
Ingredients
Chicken
2 large boneless, chicken breasts (about a pound)
3 Tablespoons all-purpose flour
1 teaspoon garlic powder
1 teaspoon Kosher salt
½ teaspoon ground black pepper
2 Tablespoons olive oil
1-2 Tablespoons unsalted butter , plus more if needed
Sauce
1 cup chicken stock or broth
1 Tablespoon cornstarch
½ pint (about 12) cherry tomatoes , optional
4 cloves garlic , minced
Crushed red pepper flakes , to taste
¾ cup heavy cream , or evaporated milk
2 teaspoons Italian seasoning
½ teaspoon Kosher salt , to taste
¼ teaspoon ground black pepper , to taste
⅓ cup finely grated fresh parmesan cheese
3-4 cups fresh baby spinach
Optional sides: Mashed potatoes, Pasta, Spaghetti squash, Zucchini noodles, Rice
Instructions
Chicken
Cut the chicken breasts in half horizontally to make 4 chicken fillets. Cover with plastic wrap and pound to an even thickness. Pat dry.

In a shallow dish, whisk together the flour, garlic powder, salt, and pepper. Dredge each breast in the mixture, shake off any excess, then transfer to a dry surface.

In a large skillet, heat olive oil over medium-high heat. Add butter and chicken and cook 3 to 4 minutes, on each side, until golden brown and cooked through. Remove pan from heat. Without wiping out the skillet, transfer chicken to a plate.
Sauce
In a small bowl, combine chicken broth and cornstarch.

Return skillet to medium heat and add an extra 1 Tablespoon butter, if needed. Add tomatoes, garlic, and red pepper flakes, if using, and sauté 2 minutes. Reduce heat to low and stir in chicken broth mixture and heavy cream.

Add Italian seasoning, salt, and pepper. Bring sauce to a simmer while scraping up any brown bits from the bottom of the skillet. Simmer 3 minutes, or until thickened.

Once thickened, stir in parmesan. Cook, while stirring, 2 minutes, or until melted. Add spinach and cook 1 minute, or just until wilted. Season with salt and pepper.

Return chicken to the skillet to warm through. Serve over your favorite side dish.
---
Notes
Fresh herbs: Top with fresh parsley or basil with fresh to add more flavor. Chicken thighs: Boneless, skinless chicken thighs work great in this recipe, but they require a little less cooking time. Use an instant read thermometer and pull at 165°F so you don't overcook them. Frozen spinach: Fresh spinach works the best in this recipe, but you can use frozen in a pinch. Just thaw it completely and squeeze out any excess moisture before adding to the sauce. Be careful not to overcook. Storage: Stored in an airtight container in the fridge for up to 3 days.
Nutrition
Calories: 517kcal | Carbohydrates: 19g | Protein: 20g | Fat: 41g | Saturated Fat: 22g | Polyunsaturated Fat: 3g | Monounsaturated Fat: 14g | Trans Fat: 0.4g | Cholesterol: 135mg | Sodium: 1324mg | Potassium: 802mg | Fiber: 3g | Sugar: 6g | Vitamin A: 4794IU | Vitamin C: 38mg | Calcium: 191mg | Iron: 3mg
Nutrition provided is an estimate. It will vary based on specific ingredients used.
Did you make this recipe? Don't forget to give it a star rating below!