Creamy, cheesy, and comforting, this chicken tetrazzini is made with linguine and shredded chicken smothered in a cream sauce then covered in two kinds of cheese and baked until golden and bubbly. The perfect casserole your whole family will love!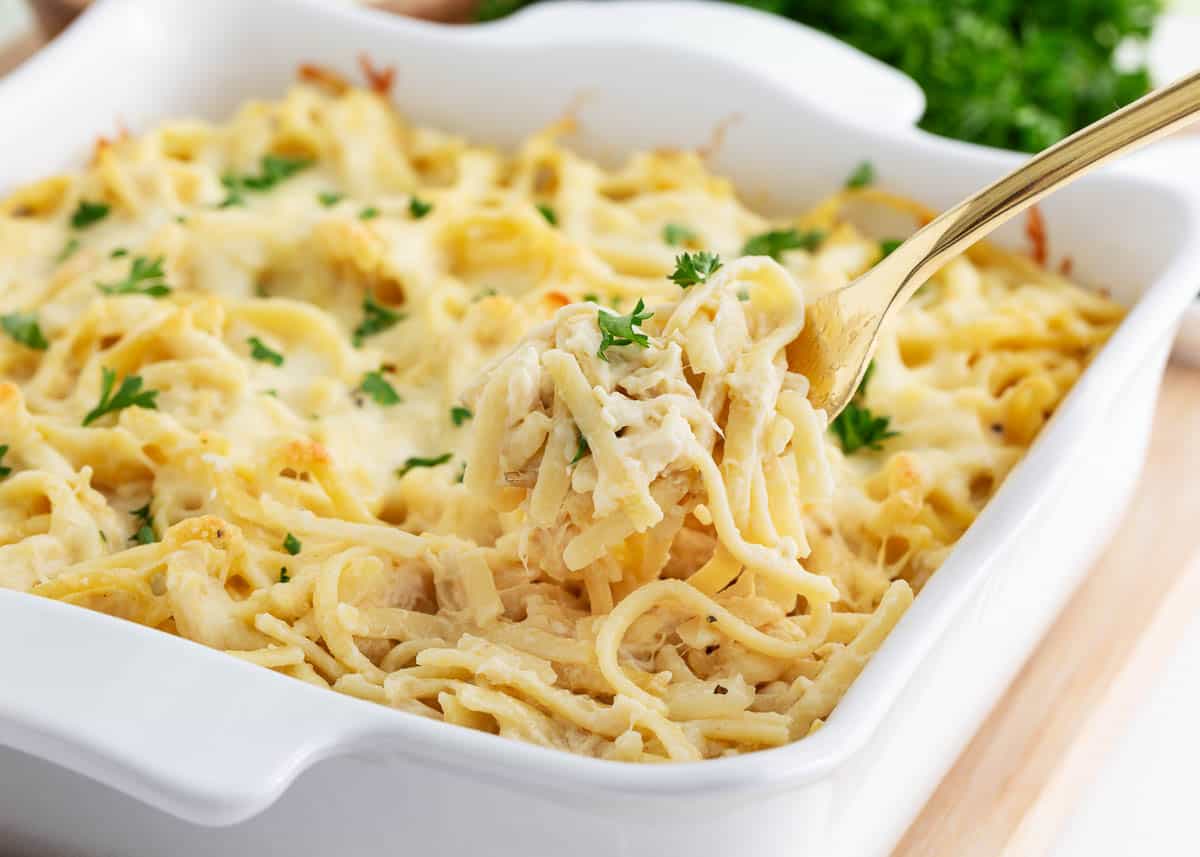 Easy Chicken Tetrazzini Recipe
I'm about to toot my own horn and let you know that, right up there with my turkey tetrazzini, this easy chicken tetrazzini might just be the best-tasting pasta bake you'll ever eat.
When it comes to dinner recipes this is a go-to because of how simple the ingredients are and the cheesy goodness doesn't hurt either! It's one of those dishes that I have to order if it's on the restaurant menu, but just like my favorite chicken francese recipe making it at home is always better!
What is Chicken Tetrazzini?
Tetrazzini is one of my all-time favorite casserole recipes also known as a pasta bake. If you have a Dutch oven it can all be prepared in one pot and go straight from the stove to the oven.
The traditional chicken tetrazzini recipe is not at all Italian, let's start there! It's named after an Italian opera singer, Luisa Tetrazzini, created in the 1900s by an American hotel owner when Tetrazzini debuted at his San Francisco hotel.
It's made with diced chicken (or turkey or seafood), some type of noodle, in a buttery cheesy cream sauce. It can be made in a variety of different ways, but it's essentially a creamy and delicious baked pasta.
Recipe Ingredients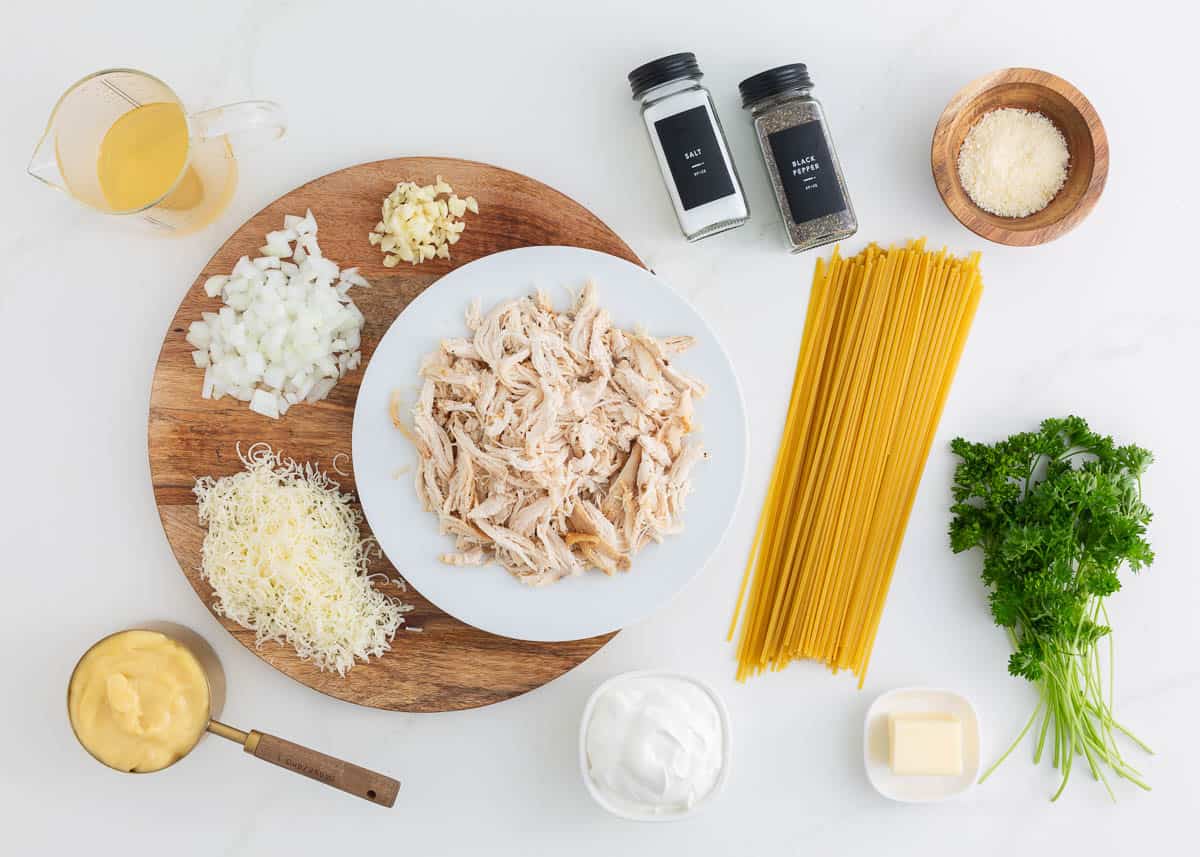 Find the full printable recipe with specific measurements below.
Linguine: I love using long pasta noodles for this recipe and spaghetti noodles are another option. Before you begin, you will need to cook the pasta according to the package directions, but I have a lot of great tips on how to cook pasta that is useful for all kinds of recipes.
Salted butter: We melt the butter to cook the aromatics. This is a great way to build flavor and deliciousness that oil just doesn't have!
Onion & garlic: The aromatics I am referring to that become cooked and soft and yummy in melted butter. This is the start of building flavors in the dreamy cream sauce.
Shredded chicken: For convenience you can use a store-bought rotisserie chicken and shred that. Or make a quick baked chicken and use that to make shredded chicken.
Cream of chicken soup: This is a thick soup that's had most of the water removed from it, so it adds a creamy consistency and concentrated chicken soup flavor. Cream of mushroom can be used in its place for a stronger mushroom flavor.
Chicken broth: This helps to thin it out a bit otherwise the sauce will be extremely thick.
Sour cream: Adds a richness and extra creamy texture to the sauce. When combined with the broth and condensed soup you get the perfect consistency.
Mozzarella & Parmesan cheese: If you can, I highly recommend you grate and shred your cheese fresh from a block. It melts much nicer than pre-shredded because it's not coated in any anti clumping powder.
Variations
To add veggies, toss in some chopped celery and sliced mushrooms to the melted butter with the onions.
Broccoli florets, cauliflower, corn, and frozen peas and carrots are also tasty options.
Instead of cooked chicken breast, you can use leftover turkey or ham.
If you don't have any spaghetti, linguine, or fettuccine on hand, you can certainly use any medium pasta you've got. Fusilli, penne, or even bowtie pasta works.
For a shortcut you can use 1/2 tsp onion powder and 1/2 tsp garlic powder instead of the fresh stuff!
How to Make Chicken Tetrazzini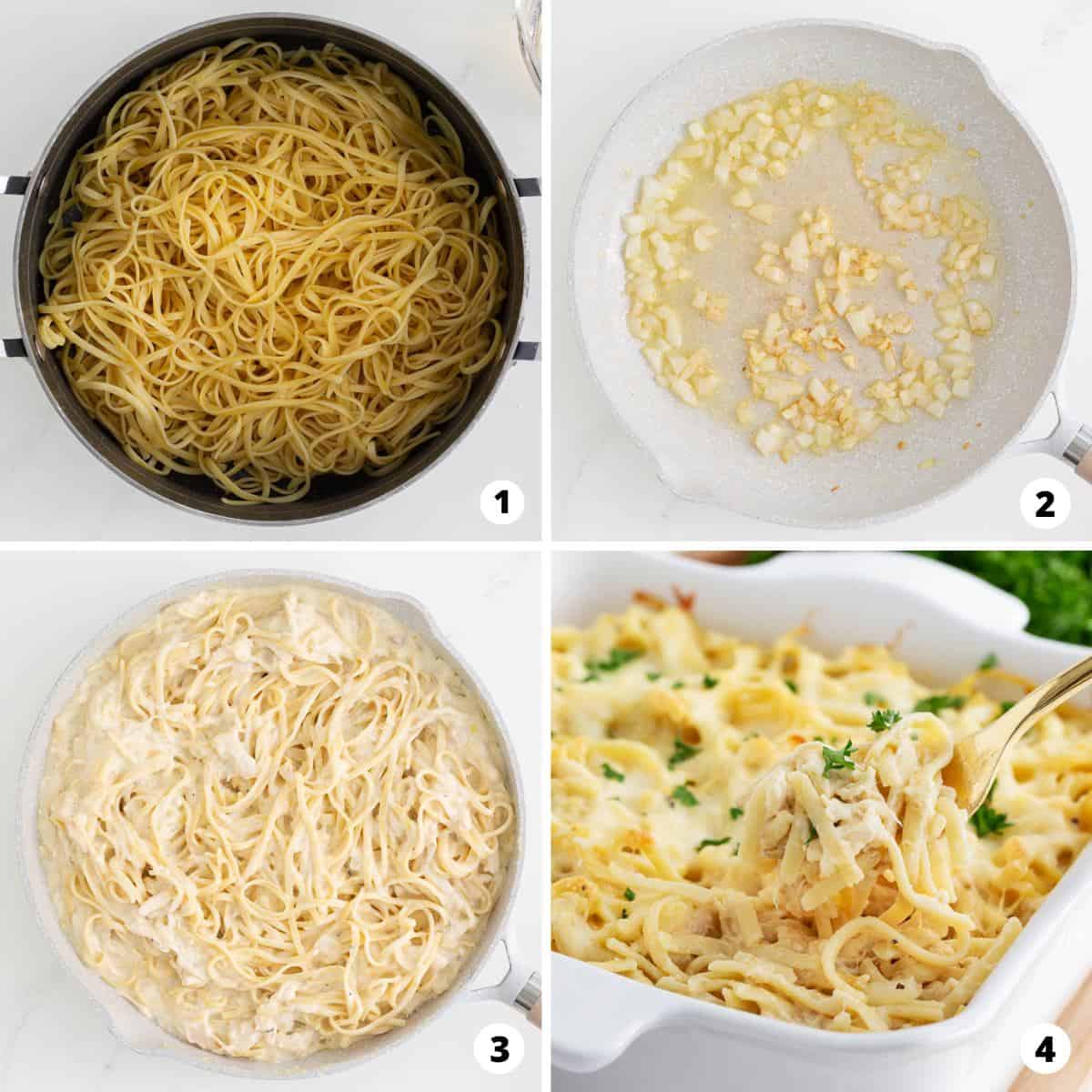 Cook pasta. Follow the directions on the package of pasta and cook until al dente then drain the noodles. Reserve 1/3 cup of pasta water.
Make the sauce. In a large skillet cook the onions for 3-5 minutes in the melted butter then add the garlic for 1 more minute. Stir in the chicken, cream of chicken soup, chicken broth, and sour cream. Season with salt and pepper and add the noodles and toss to combine.
Assemble the casserole. Transfer creamy pasta to a prepared baking dish and top with shredded mozzarella cheese and grated Parmesan.
Bake until golden. Bake for 25 to 30 minutes until the cheese is melted and bubbly and the top is lightly golden. Top with fresh parsley and enjoy!
Expert Tips
Thin out the sauce. Add the reserved pasta water to the sauce if you find it too thick like I do in my pasta carbonara recipe.
A one-pan dish. Use a cast-iron skillet or Dutch oven to make life easier. Cook it directly in it on the stove then transfer it to the oven.
Do not overcook the pasta. Only cook to al dente otherwise as it bakes, it will continue to absorb the sauce as it continues to cook and become mushy.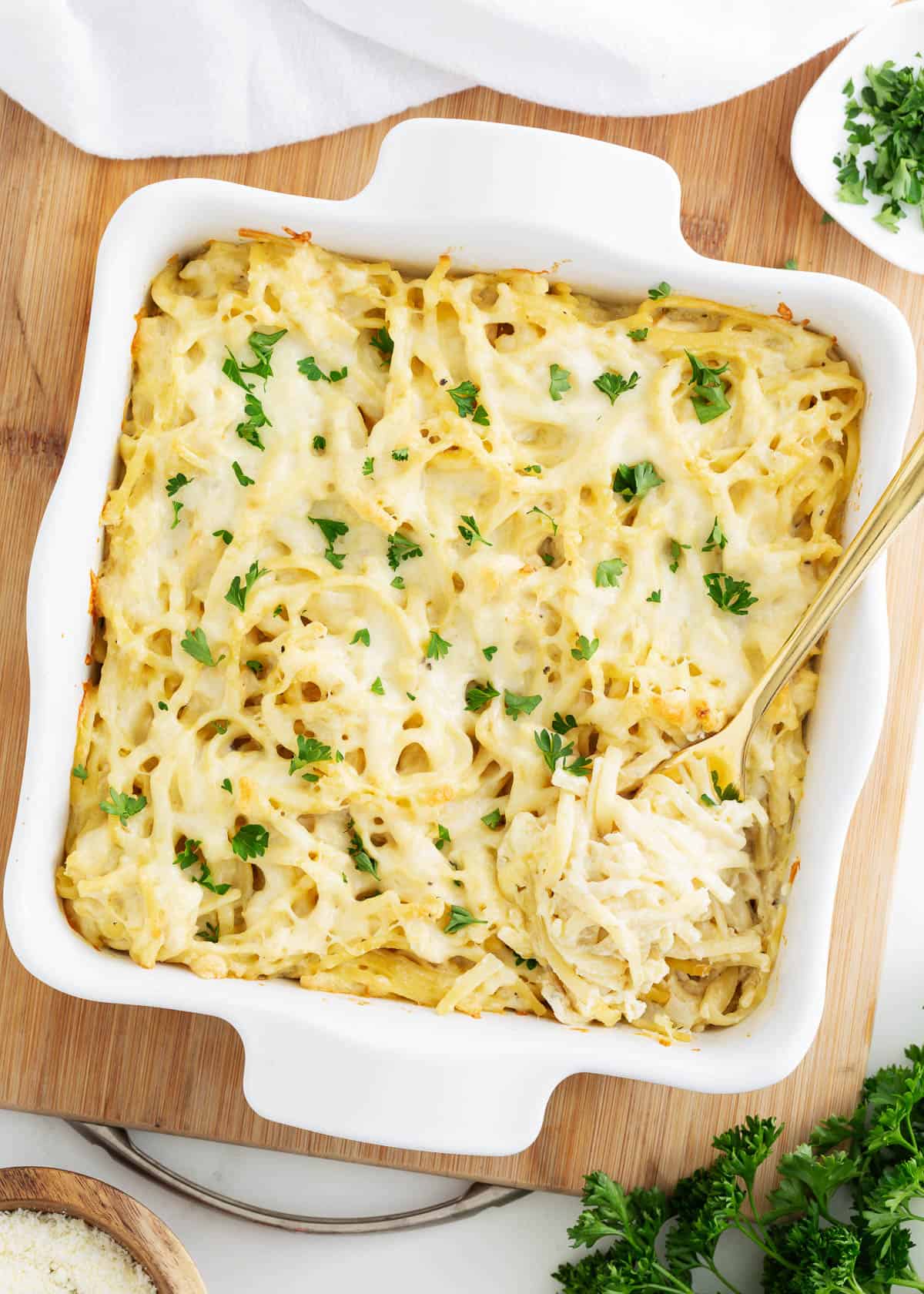 Recipe FAQs
Can I use a different type of cheese?
Absolutely. It will change the overall flavor of the chicken tetrazzini but you can certainly try something else like cheddar, Colby Jack or Monterey Jack. Gruyere may also be an option.
What is the difference between chicken Tetrazzini and alfredo?
While both are creamy pasta dishes, authentic Alfredo sauce is made with butter, Parmesan cheese, cream cheese and black pepper. The pasta water can be used to create a creamier consistency.

Tetrazzini uses condensed soup, broth, and sour cream to make the sauce and it's a pasta bake.
Can I make this dish ahead of time?
Yes! This is a great make-ahead dish that is quick to prepare and can be kept overnight until you're ready to bake it. See below for instructions.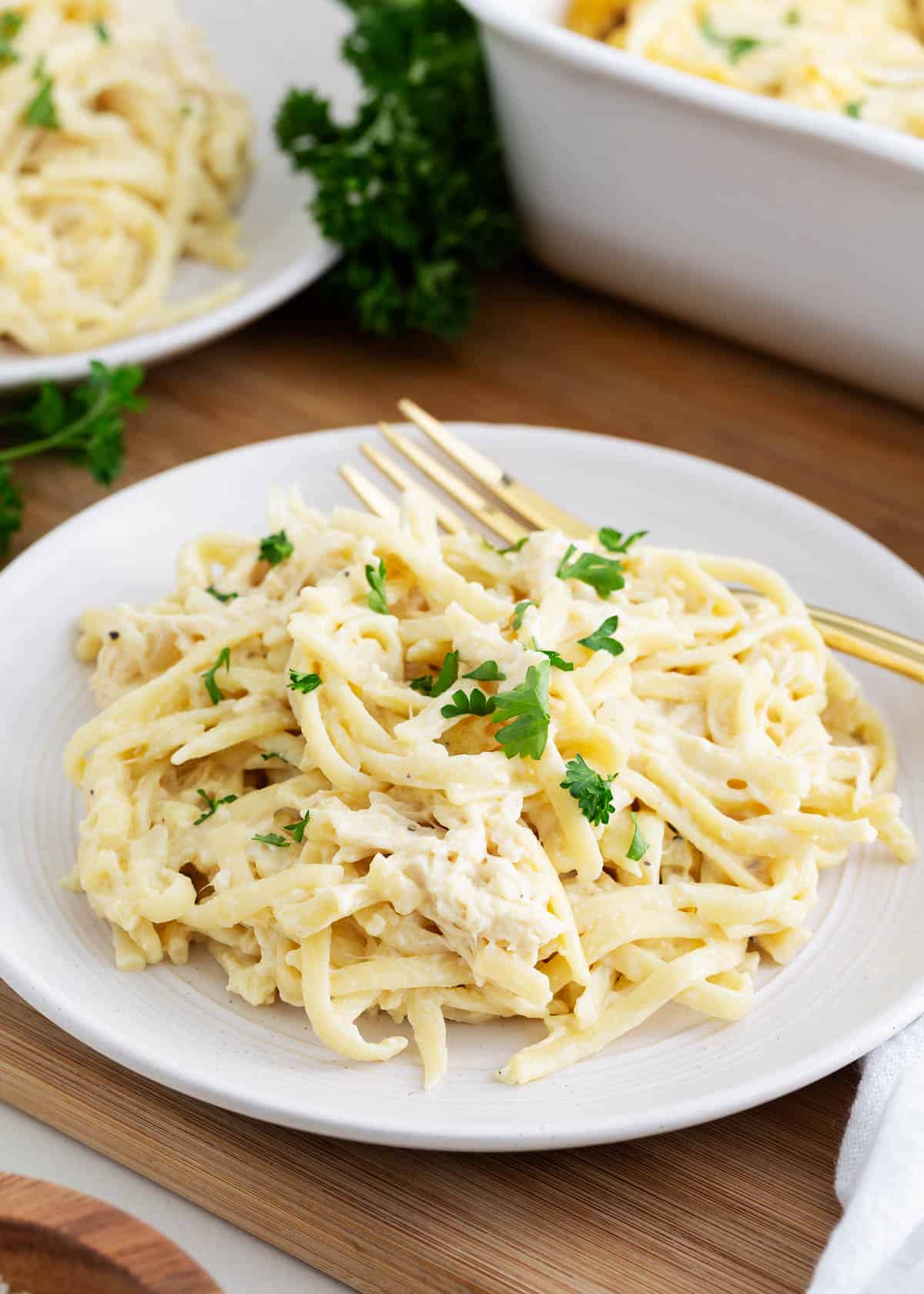 Make Ahead and Storage
Make ahead. This chicken tetrazzini casserole can be made ahead by assembling and topping with cheese first. Then, instead of baking it, you'll wrap it in foil or plastic wrap and keep it in the fridge for up to 24 hours. When you're ready to bake, remove the foil and bake as directed.
Alternatively, you can make it without the cheese topping and only add it just before putting it in the oven.
Leftovers. To ensure storing leftovers keeps everything safe, make sure to keep everything in an airtight container in the fridge for up to 3 days.
Freezing. You can also freeze chicken tetrazzini for up to 2 months then thaw it in the fridge overnight before reheating it in the oven.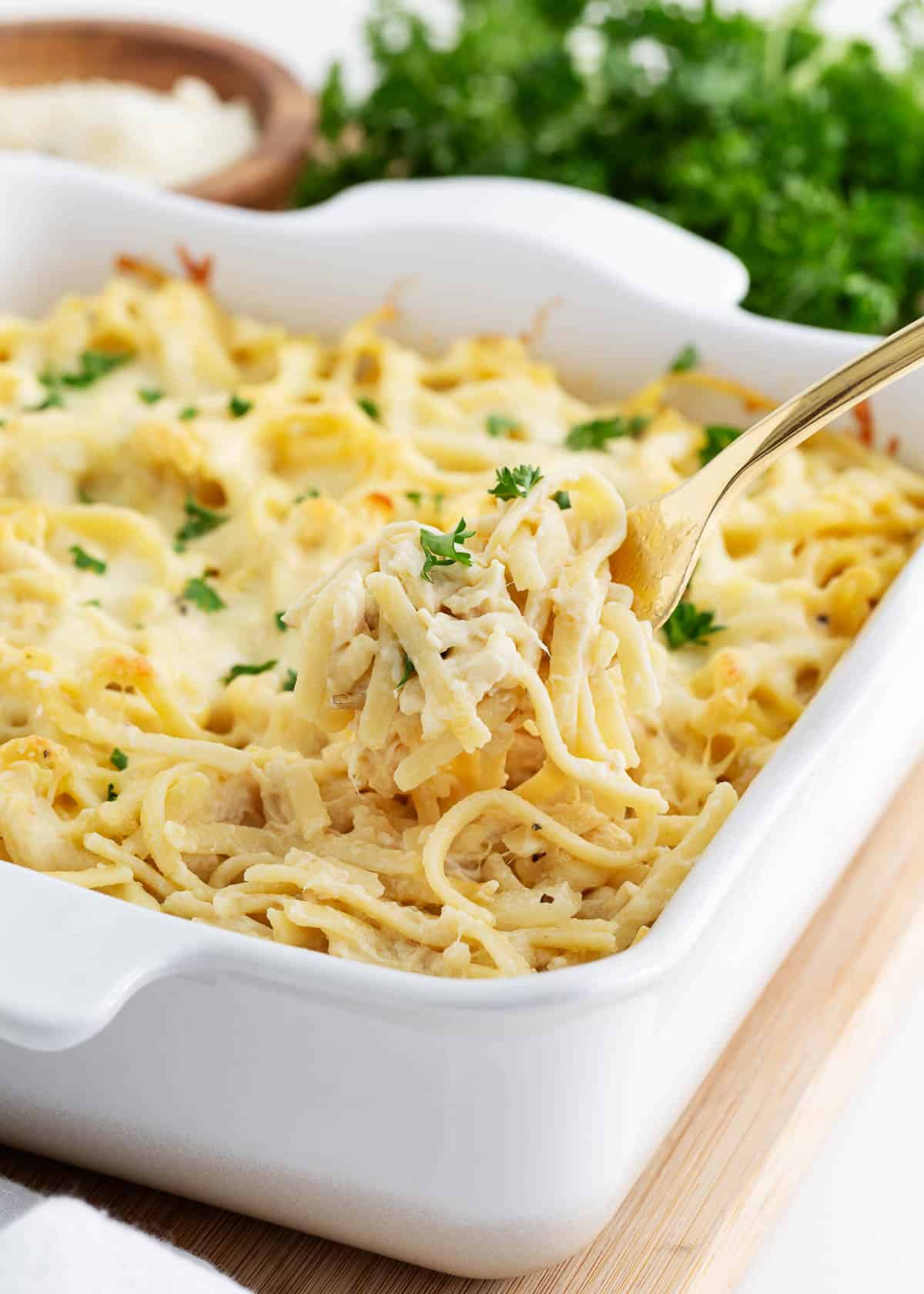 HUNGRY FOR MORE? Subscribe to my newsletter and follow on Facebook, Pinterest and Instagram for all the newest recipes!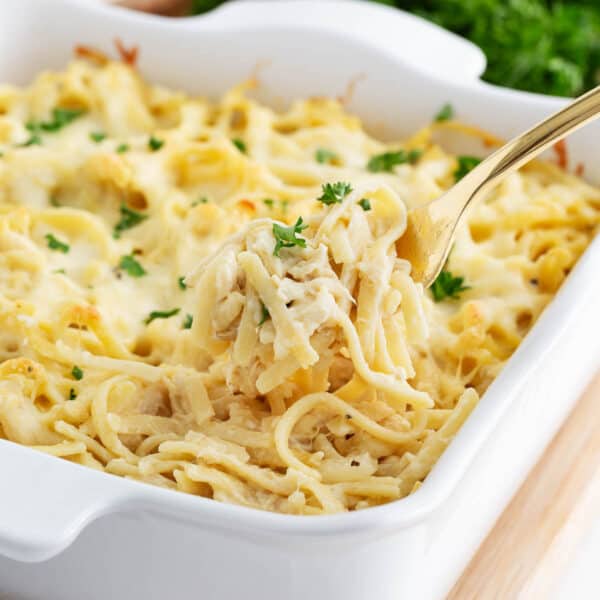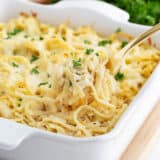 Chicken Tetrazzini Recipe
Creamy, cheesy, and comforting, this chicken tetrazzini is made with linguine and shredded chicken smothered in a cream sauce then covered in two kinds of cheese and baked until golden and bubbly. The perfect casserole your whole family will love!
Ingredients
8 ounces linguine , or spaghetti
3 Tablespoons salted butter
½ cup finely chopped onion
1-2 teaspoons minced garlic
2 cups shredded rotisserie chicken , or chicken cooked and shredded
1 cup cream of chicken soup , or cream of mushroom soup
½ cup chicken broth
¾ cup sour cream
Kosher salt , to taste
Ground black pepper , to taste
1/2-1 cup shredded mozzarella cheese
1-2 Tablespoons grated parmesan cheese
Chopped fresh parsley , for serving, toptional
Instructions
Preheat the oven to 350°F. Butter an 8×8" baking dish or spray with nonstick cooking spray. Cook pasta to al dente, according to package directions. Drain, reserving 1/2 cup pasta water.

In a large skillet, melt the butter over medium-heat. Stir in the onions and cook 3 to 5 minutes, or until softened. Add the garlic and cook 1 minute more.

Stir in the chicken, cream of chicken soup, chicken broth, and sour cream. If too thick, stir in the reserved pasta water. Season with salt and pepper. Add noodles and toss to combine. Pour into baking dish and top with mozzarella and parmesan cheese.

Bake 25 to 30 minutes, or until lightly golden and the cheese is bubbly. Top with fresh parsley, if desired.
---
Notes
Variation: Add in 1/2 cup sliced mushrooms and chopped celery with the onions to add some veggies. Substitute: You can swap 1/2 teaspoon onion powder and 1/2 teaspoon garlic powder if you'd rather omit the onions and garlic. Simply mix the seasonings with the melted butter and add to the cream mixture.
Nutrition
Calories: 469kcal | Carbohydrates: 34g | Protein: 31g | Fat: 23g | Saturated Fat: 10g | Polyunsaturated Fat: 1g | Monounsaturated Fat: 4g | Trans Fat: 0.2g | Cholesterol: 120mg | Sodium: 771mg | Potassium: 176mg | Fiber: 1g | Sugar: 3g | Vitamin A: 501IU | Vitamin C: 1mg | Calcium: 104mg | Iron: 1mg
Nutrition provided is an estimate. It will vary based on specific ingredients used.
Did you make this recipe? Don't forget to give it a star rating below!