This chicken francese recipe is a one-pan dish made with simple ingredients complete and ready to eat in 30 minutes! Thin cutlets are pan-seared until tender, juicy, and golden brown then served with a thickened lemon butter sauce.
Looking for more chicken recipes? Try chicken parmesan, chicken tetrazzini and chicken cordon bleu.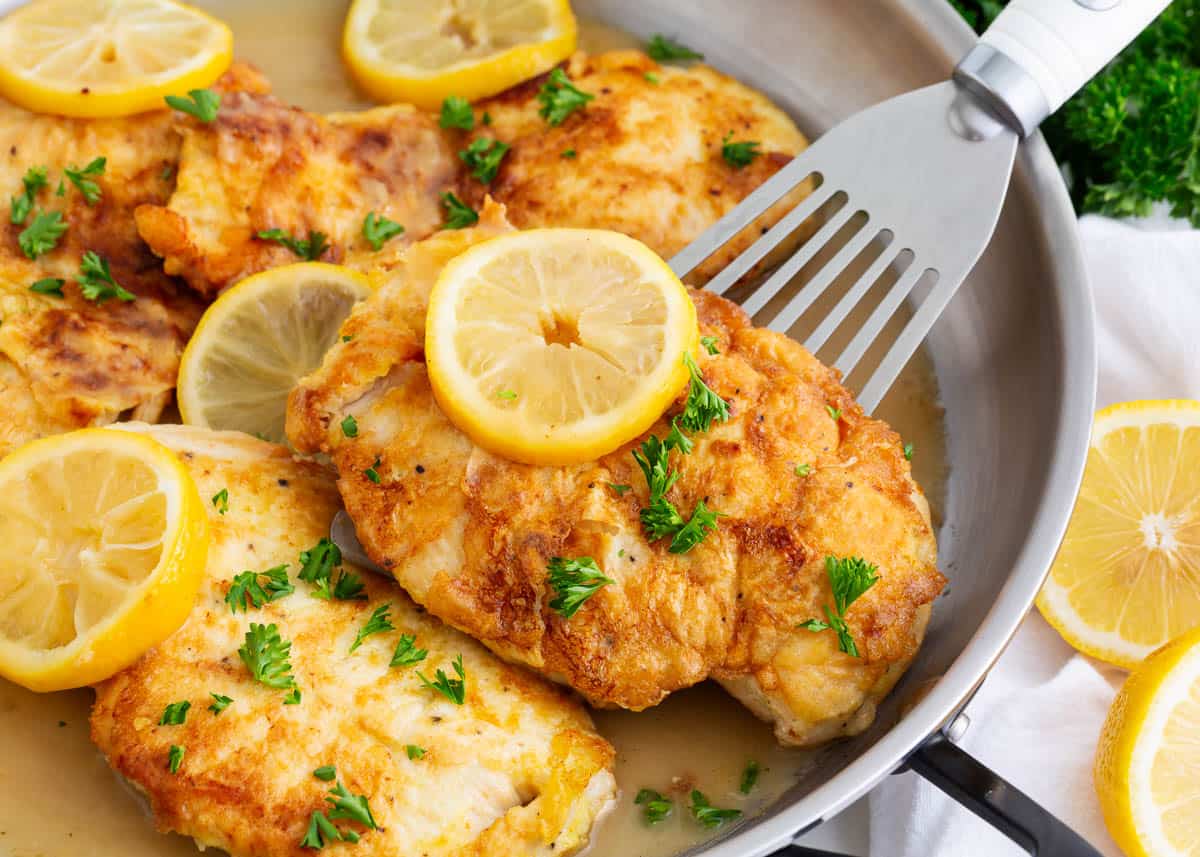 A Classic Italian-Inspired Dish
This simple recipe for classic chicken francese is an Italian American classic named after a French technique! Unlike chicken piccata which is dredged in egg first, then flour, and served with capers, this recipe for chicken francese is made by dredging cutlets in flour first and then an egg coating and served with a thick lemon butter sauce on top.
The meat is pan-seared until golden and crispy on the outside and tender and juicy on the inside and the lemon sauce gives the chicken Francese a bright, lively, and refreshing finish.

It's an elegant restaurant-quality dinner that makes it easy to get dinner on the table in 30 minutes, so it's easy to approve everyone's requests to make it any night of the week!
What is Chicken Francese?
Chicken francese is made by pan-searing thin cutlets that have been dredged in flour and coated in the whisked egg. This gives it a nice crispy exterior and then it's served with a drizzle of a lemon butter sauce.
In Italy, this dish was originally made using veal. It wasn't until Italian immigrants brought it to America, that chicken became more widely used in its place.
Chicken Francese Recipe Ingredients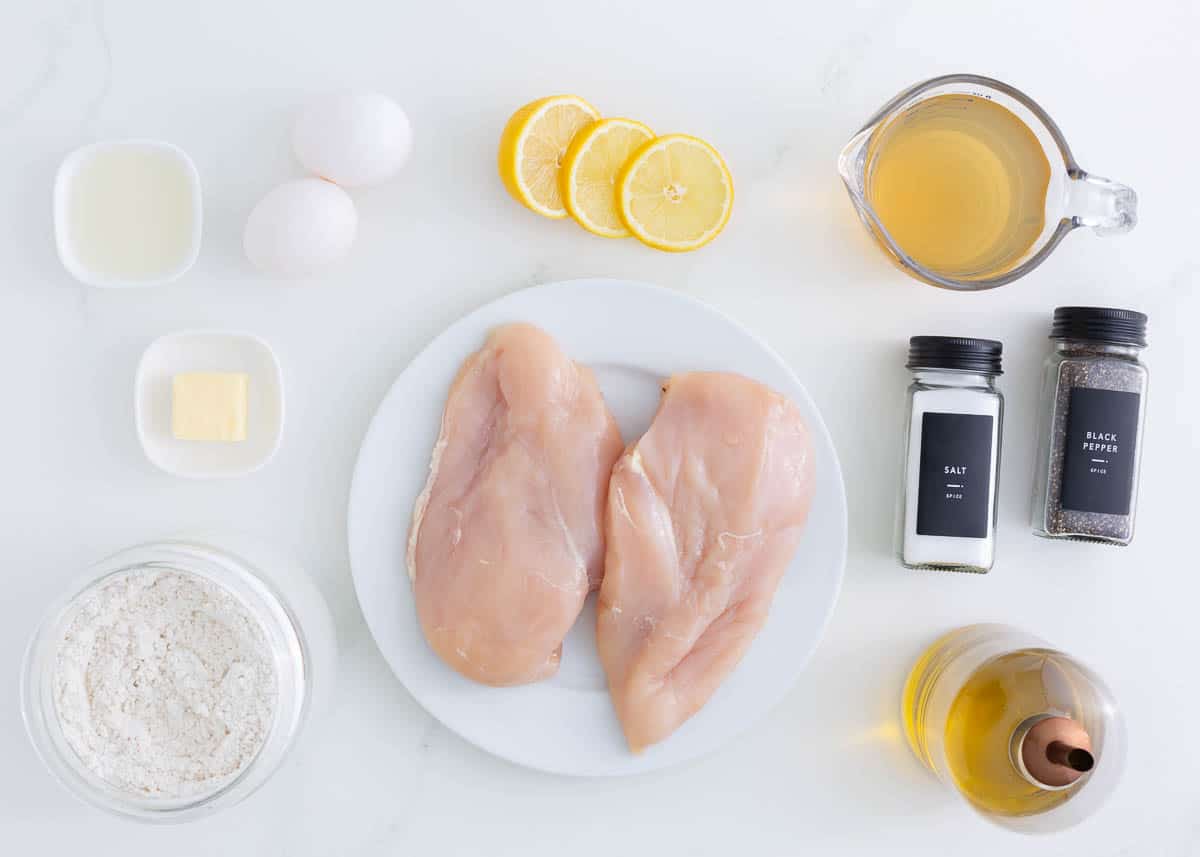 Find the full printable recipe with specific measurements below.
Chicken: Depending on the size of your boneless skinless chicken breasts, you may need to pound them to an even thinness.
All-purpose flour: We're using flour to coat so that it absorbs the excess moisture and helps the egg stick to the outside so that the meat browns nicely and gives it a crispy exterior. We're also using some of the flour to thicken the lemon sauce.
Salt & pepper: A simple seasoning gets added to the flour to give the chicken flavor.
Large eggs: Having the egg coating on the outside is a bit unexpected because you normally dredge chicken in the reverse order, but it works both ways!
Olive oil: This is used to pan-sear the chicken francese. I prefer to use extra virgin olive oil, but you can use another oil you prefer like avocado oil, canola oil, or vegetable oil.
Salted butter: Melting butter is the start of the luscious lemon sauce! Butter and lemon are a tasty duo.
Chicken broth: A flavorful way to turn the butter, lemon juice, and flour into a pourable sauce.
Lemon juice & Fresh lemon, seeded and sliced: The bright, zesty, citrusy element that is the perfect finishing touch.
Variations
Ideally, you want to use thin chicken breasts or cutlets because they cook faster, but you can certainly use chicken thighs if preferred.
There are other ways to add extra flavor as well, for example, add some Parmesan cheese to the flour coating, use dry white wine in the sauce along with the broth, and maybe add heavy cream if you want a creamier sauce.
You can also toss in some veggies if you want! Sliced mushrooms or onions would be great.
How to Make Chicken Francese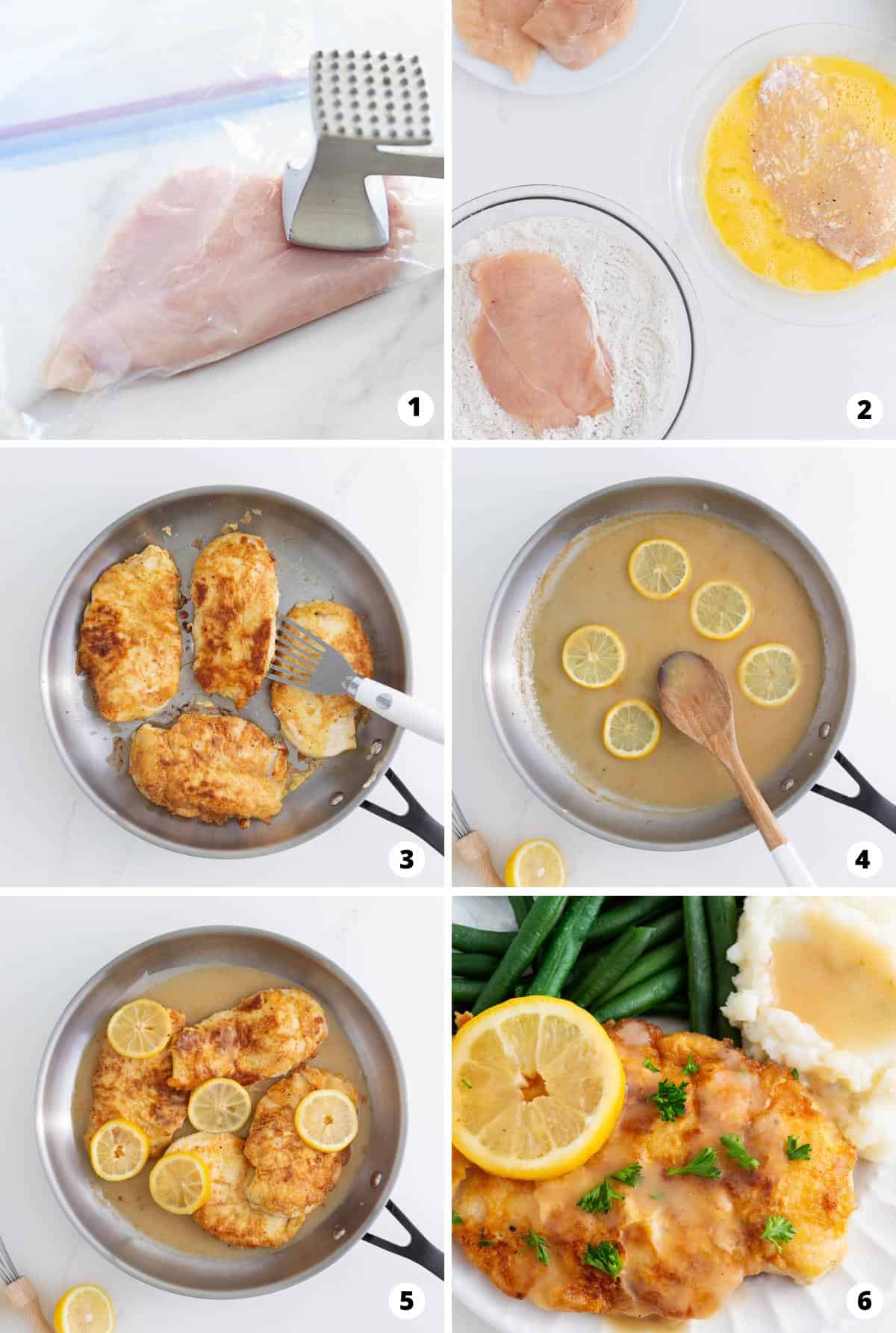 Pound the chicken. This is especially important if your chicken breasts are thick. Sometimes you can buy butterflied breasts, but even still, I recommend tenderizing them with a meat mallet and pounding them until 1/4" thick.
Dredge each piece. Get the dredging station prepared. In the first shallow dish, you'll have the flour, salt, and pepper. In the other one, lightly whisked eggs. While you're dipping, preheat a large skillet over medium-high heat. Dredge first in the flour then the egg.
Brown the cutlets. Sauté for 3-4 minutes per side until golden brown and cooked through. Do not overcrowd the skillet, so you may need to work in batches. Once cooked, transfer the chicken to a plate.
Melt the butter with lemon. In the same skillet, melt the butter along with the flour. This should create a roux, then whisk the broth and lemon juice to create a thick velvety sauce. As you cook it, scrape the bottom bits off the bottom of the pan. Add the slices of lemon and simmer for 5 minutes until thickened. Season to taste.
Add the chicken to the sauce. Return the chicken to the skillet to reheat. Or, place the pieces onto serving plates and spoon the sauce overtop.
Plate and serve. We enjoy ours garnished with fresh parsley overtop creamy mashed potatoes with green beans. See below for more serving ideas!
Expert Tips
When pounding the chicken, place the pieces in a zip-top bag or between two pieces of plastic wrap. If you don't have a meat pounder, use a heavy rolling pin instead.
Make sure the skillet is hot before adding the coated chicken breast. Otherwise, you will end up with a soggy exterior or overcooked chicken francese!
Work quickly. Make sure to set up your dredging station ahead of time to be prepared. Once it's dipped in flour and egg, you want to add it to the hot skillet right away.
Deglaze the pan. Don't skip this step! That's the beauty of this one-pan chicken francese recipe, is that you're building layers of flavor by scraping the bottom bits of the pan to help give the sauce extra flavor.
Too much lemon? If you like a more mellow lemon flavor, you can skip adding the slices that are meant to infuse more flavor. Just use lemon juice. You can also use less of it than instructed.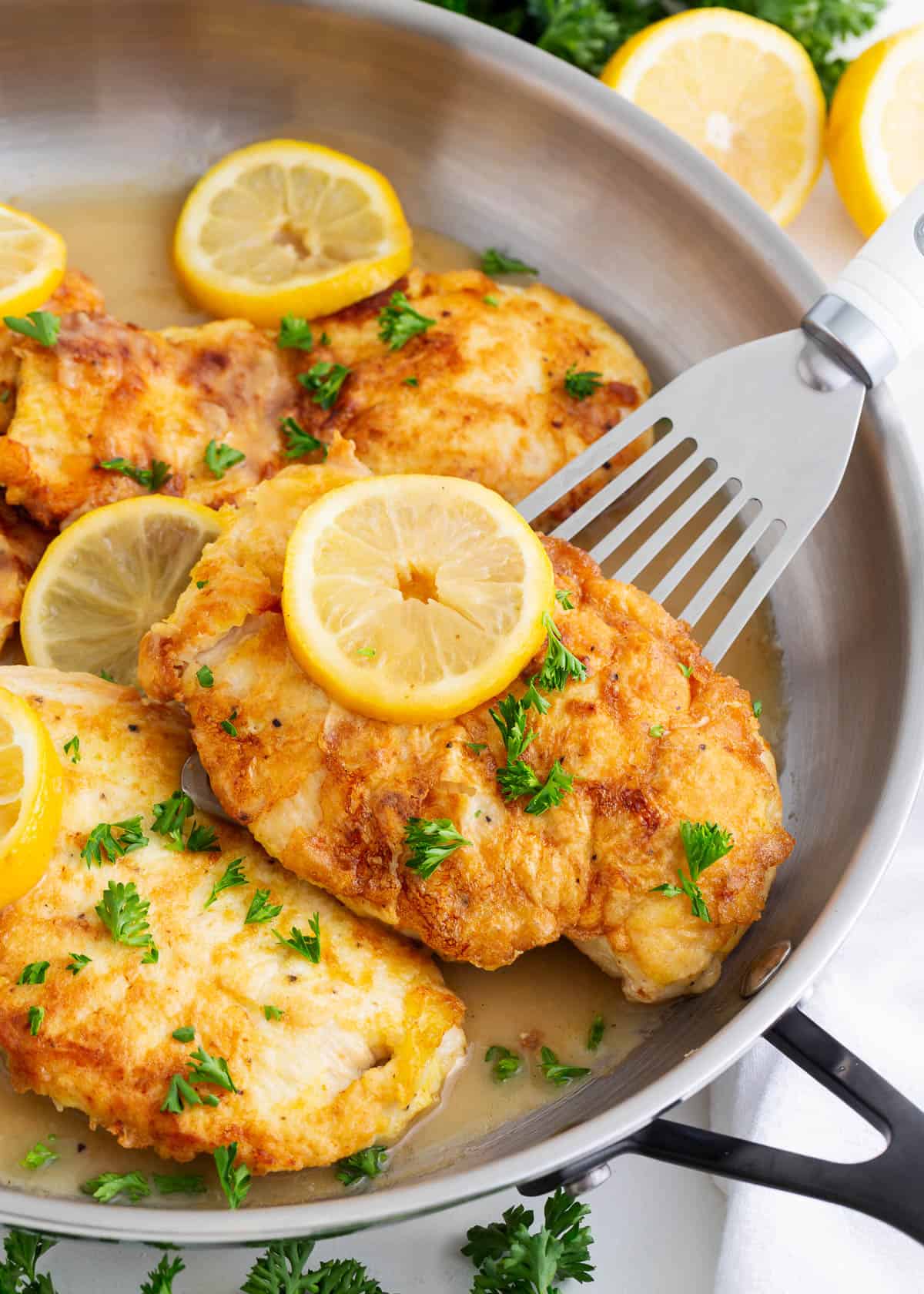 Recipe FAQs
How do I know my chicken is properly cooked?
These cutlets are quite thin, so you don't want to overcook them, however, you don't want to undercook them either! The best way to tell is by using a meat thermometer. Chicken is safe to eat once it reaches 165 degrees F.
Is chicken francese the same as lemon chicken?
No! There are so many ways to make lemon chicken that sometimes one lemon chicken isn't the same as another lemon chicken!

My baked lemon chicken is made without a coating and the sauce is a honey lemon garlic sauce.
Can I make the chicken ahead of time?
Technically you can, but keep in mind, it's best served the same day it's made because the egg coating can get soggy as it sits and cools. Especially if it's in an airtight container that has trapped some of its moisture.
Storing Leftovers
Keep stored in an airtight container for up to 4 days. Reheat in a skillet with the sauce or use the microwave. If your sauce is too thick, add a splash of broth to loosen it up.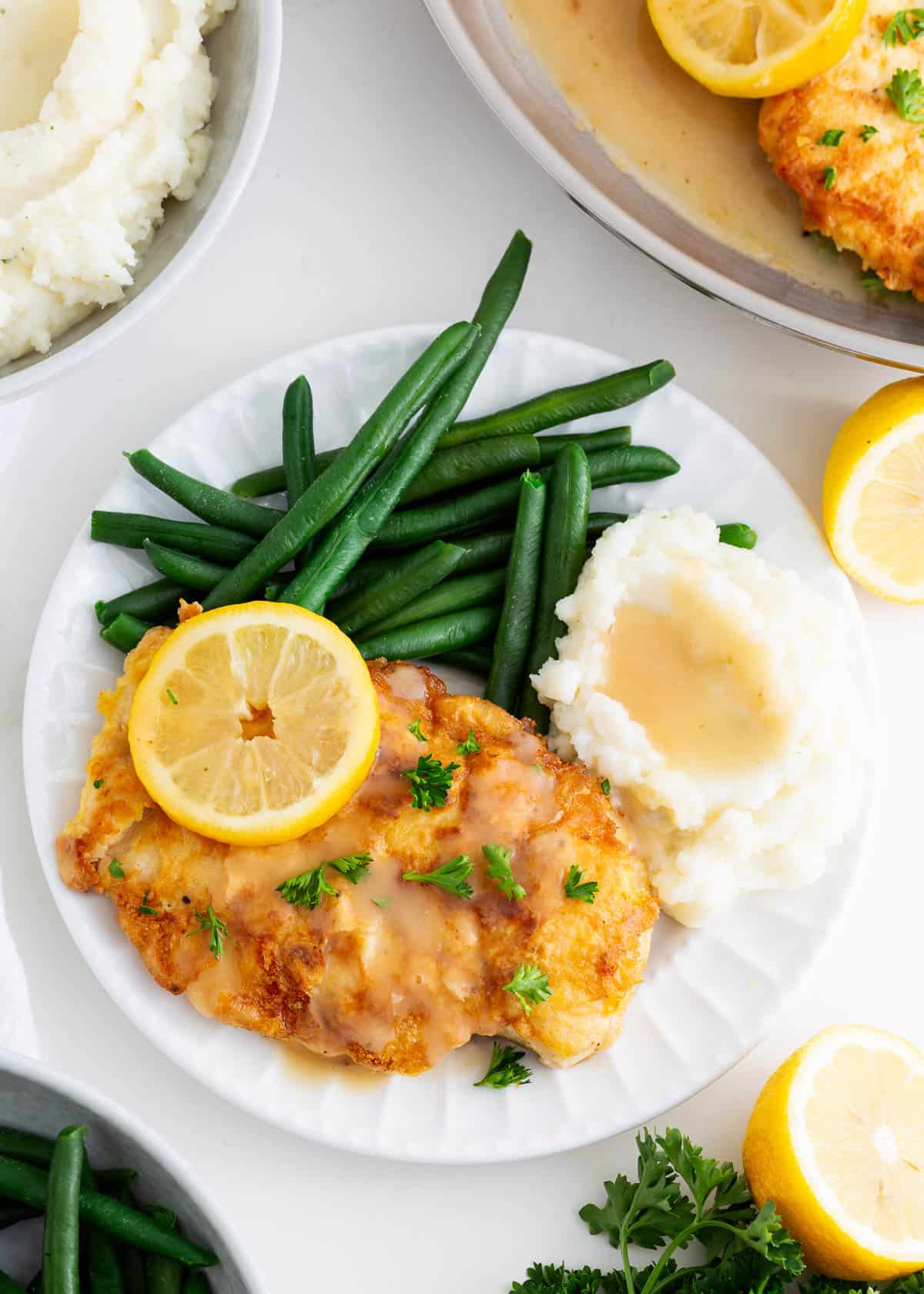 More Chicken Recipes to Try
HUNGRY FOR MORE? Subscribe to my newsletter and follow on Facebook, Pinterest and Instagram for all the newest recipes!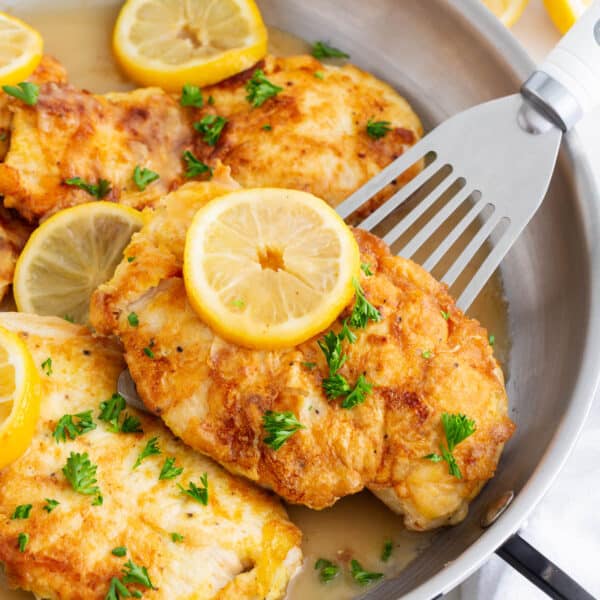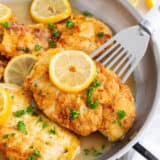 Chicken Francese Recipe
This chicken francese recipe is a one-pan dish made with simple ingredients complete and ready to eat in 30 minutes! Thin cutlets are pan-seared until tender, juicy, and golden brown then served with a thickened lemon butter sauce.
Ingredients
2 skinless, boneless chicken breasts (about 1 pound)
¼ cup + 1 Tablespoon all-purpose flour , divided
½ teaspoon Kosher salt , plus more to taste
¼ teaspoon ground black pepper , plus more to taste
2 large eggs
2 Tablespoons extra virgin olive oil
1 Tablespoon salted butter
1 cup chicken broth
1 Tablespoon lemon juice
½ lemon , seeded and thinly sliced
Optional garnish: Chopped flat-leaf parsley
Instructions
Slice the chicken breasts in half horizontally to make 4 equal chicken fillets. Place in a zip-top bag and pound with a meat tenderizer until 1/4-inch thick.

In a shallow dish, whisk together the 1/4 cup flour, salt, and pepper. In another shallow bowl, lightly whisk the eggs with a fork. In a large skillet, heat the olive oil over medium-high heat.

Dredge the chicken in the flour mixture until evenly coated, shaking off any excess flour. Dip in the egg quickly to coat. Place in the skillet and sauté 3 to 4 minutes per side, or until golden brown and cooked through. If needed, divide chicken into 2 batches if the skillet is too small to cook all at once. Transfer chicken to a plate.

In the same skillet, melt the butter over medium heat. Whisk in the remaining 1 tablespoon flour and cook 30 seconds. Add the broth and lemon juice, whisking continuously and scraping up any browned bits. Add the lemon slices. Simmer 5 minutes, or until the sauce has thickened. Season to taste.

Return chicken to the skillet or place chicken on serving plates and spoon sauce over the top. Sprinkle with parsley to serve.
---
Notes
Storage: Store chicken and sauce in an airtight container in the fridge up to 4 days. Reheat on the stove over medium-low heat for a few minutes or in the microwave until warmed through.
Nutrition
Calories: 263kcal | Carbohydrates: 16g | Protein: 18g | Fat: 14g | Saturated Fat: 4g | Polyunsaturated Fat: 2g | Monounsaturated Fat: 7g | Trans Fat: 0.1g | Cholesterol: 138mg | Sodium: 633mg | Potassium: 299mg | Fiber: 1g | Sugar: 1g | Vitamin A: 244IU | Vitamin C: 9mg | Calcium: 27mg | Iron: 2mg
Nutrition provided is an estimate. It will vary based on specific ingredients used.
Did you make this recipe? Don't forget to give it a star rating below!