Coconut frosting is a light, fluffy, buttery, and silky frosting with a delicious balance of sweetness and tang. Use it to frost your coconut cupcakes, coconut cake recipe, layer cake, and so much more!
Take your vanilla cupcakes or vanilla cake to the next level with this coconut frosting recipe!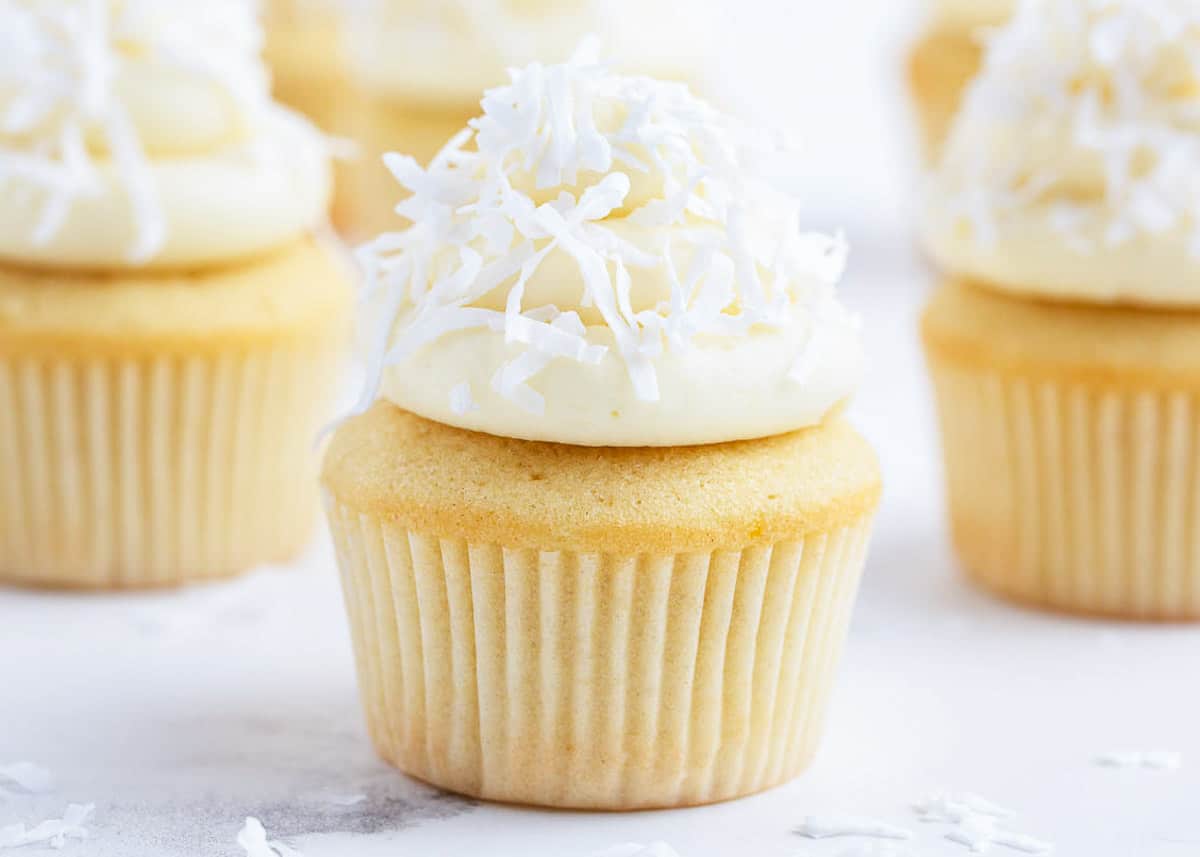 The Best Coconut Frosting
I love the sweet tang of homemade cream cheese frosting on basically everything, so adding a coconut extract to the original recipe is just downright amazing! As much as I love buttercream frosting, this one might take the cake!
Coconut frosting has the perfect amount of coconut flavor with a hint of vanilla, and it is officially our new favorite frosting for coconut cupcakes and so much more!
What's in Coconut Frosting?
Homemade coconut frosting is just what you need to add a special touch to each treat!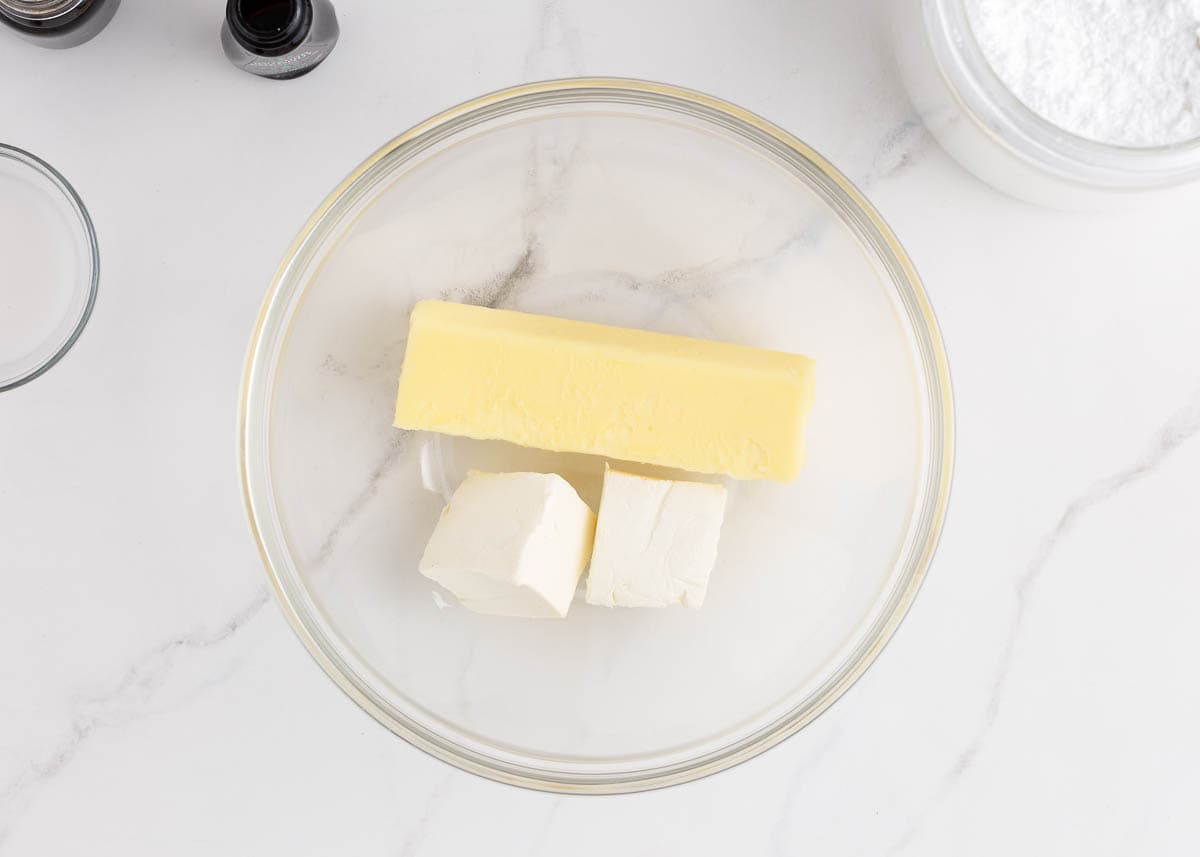 Find the full printable recipe with specific measurements below.
Unsalted butter: Tips on how to soften butter can be found here. It comes in handy when you've forgotten to take it out of the fridge early enough.
Cream cheese: You will also need to know how to soften cream cheese for that same reason. This will help add a creamy texture to the coconut frosting.
Powdered sugar: This is also known as confectioner's sugar. It's sugar that's been finely ground into a powder and has the addition of cornstarch which keeps it from clumping.
Vanilla extract and coconut extract: Beautiful flavors that complement each other nicely and have a delicate balance of flavors. You could also use the seeds from a split vanilla bean if you prefer.
How to Make this Coconut Frosting
This is a simple combination of adding dry ingredients to the wet ingredients in just a few quick and easy steps!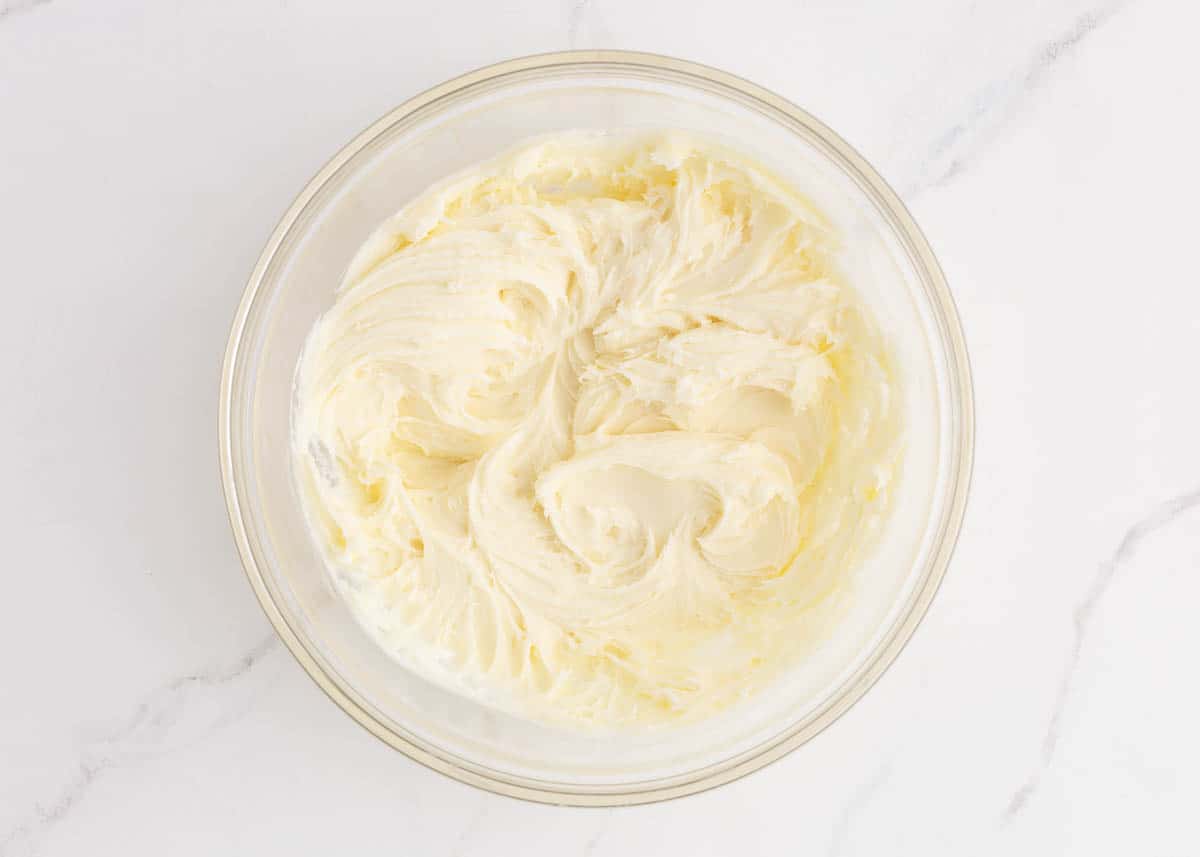 Cream butter and cream cheese. In a stand mixer fitted with a paddle attachment or a whisk attachment, cream together the butter and cream cheese. You can also use a high speed electric mixer and a large mixing bowl.
Add remaining ingredients. To the mixture, add powdered sugar, coconut milk, vanilla, and coconut extract. Mix until desired consistency is reached.
It's ready. Decorate your cakes and cupcakes and consider adding a sprinkling of toasted coconut or sweetened shredded coconut flakes on top!
Decorative Add-Ons!
You can also add sprinkles, gold balls, gold flakes, or edible flowers for special occasions like baby showers, wedding showers, or holiday desserts!
Recipe Tips
Making frosting is an easy task but can have a few adjustments the first few times that you make it! These coconut frosting tips are perfect to use or make adjustments to when necessary. Follow these helpful tips and make the best frosting with coconut every time!
Salt or no salt? I'm using unsalted butter in this recipe and there is no added salt either. If, once you've tasted your frosting, you want to add a pinch of salt, feel free.
Don't overmix. When you overmix butter it can get a bit lumpy.
No cream cheese. Omit it and make a coconut buttercream instead.
Frost once cooled. Once you've taken your baked good out of the oven, allow it to cool on a rack before frosting. This way, the frosting doesn't melt and become runny.
Easy clean-up. Lay a sheet of parchment paper down before frosting, it makes for easier cleanup. Especially if you plan to use any sprinkles or shredded coconut!
Use it on everything! Vanilla, pineapple, chocolate, almond, lemon, lime, you name it. This recipe pairs with so many flavors!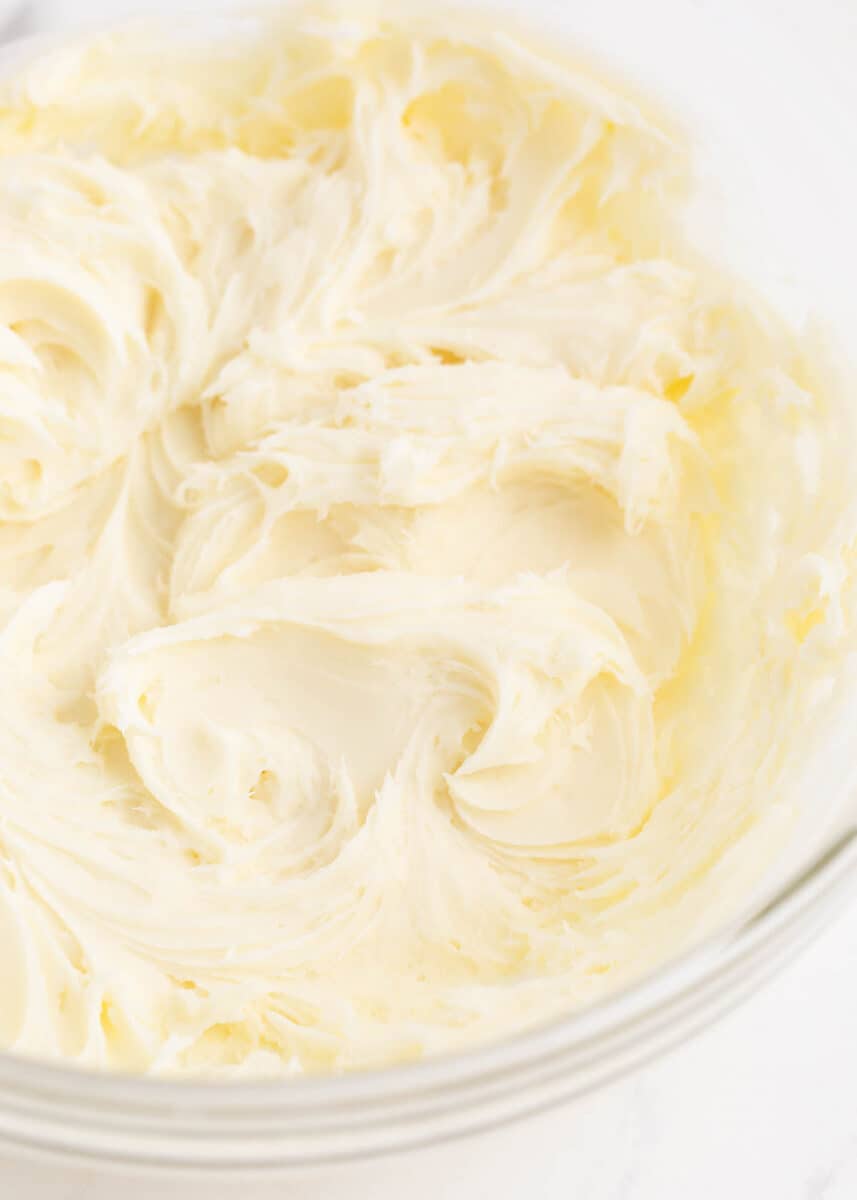 Frosting Tips
For all the details on what tips to use, and the best frosting choice, along with pictures, simple instructions for beginners, and more, check out my post on how to frost the perfect cupcakes.
Piping tips. Using different piping tips is a great way to present a variety of decorative frostings. It's way easier than you might think but even if you don't get it perfect the first time, it just means you can eat your mistakes!
Piping bag. Use a reusable or disposable piping bag. If you don't have one a Ziploc bag will do. 16 inches is a great size to use as it holds quite a bit of icing before the need to refill.
Filling piping bag. Using a large glass or cup to keep the piping bag sturdy as you fill it is helpful. Place the empty bag into the glass, tip side down. Fold the piping bag over the sides of the glass. Use a spatula to fill the bag with frosting.
Decorating tip! Twist the open end of the piping bag closed, gently pressing the frosting into the corner. Now you can decorate to your heart's content!
Recipe FAQs
Can I make this with coconut milk?
You can. If anything, use canned coconut milk, not from the carton. It's the cream on top that you're looking for. Just a bit can add a creamy more robust flavor.
How do you make toasted coconut?
A quick and easy way to toast up your coconut flakes is to use a saucepan on the stovetop over medium-low heat. Toss in your flakes and stir continuously until they are golden brown. This should take no more than 6 minutes. Immediately remove them from the heat and allow them to cool.

You can also do this with pecans, for a nutty crunchy finish!
How do I prevent my coconut frosting from curdling or separating?
To prevent any curdling or separating make sure your ingredients are all room temperature before starting to mix together. If the coconut frosting is separating, mix the frosting a little longer or even add more confectioners sugar to the mixture.
Can I make coconut frosting without shredded coconut?
If you prefer a smoother texture you can leave out the shredded coconut.
Can I color coconut frosting?
It is always fun to add different colors depending on the cake decorations. Yes! Add in the colors you need and want to make the frosting look amazing and it will still taste delicious!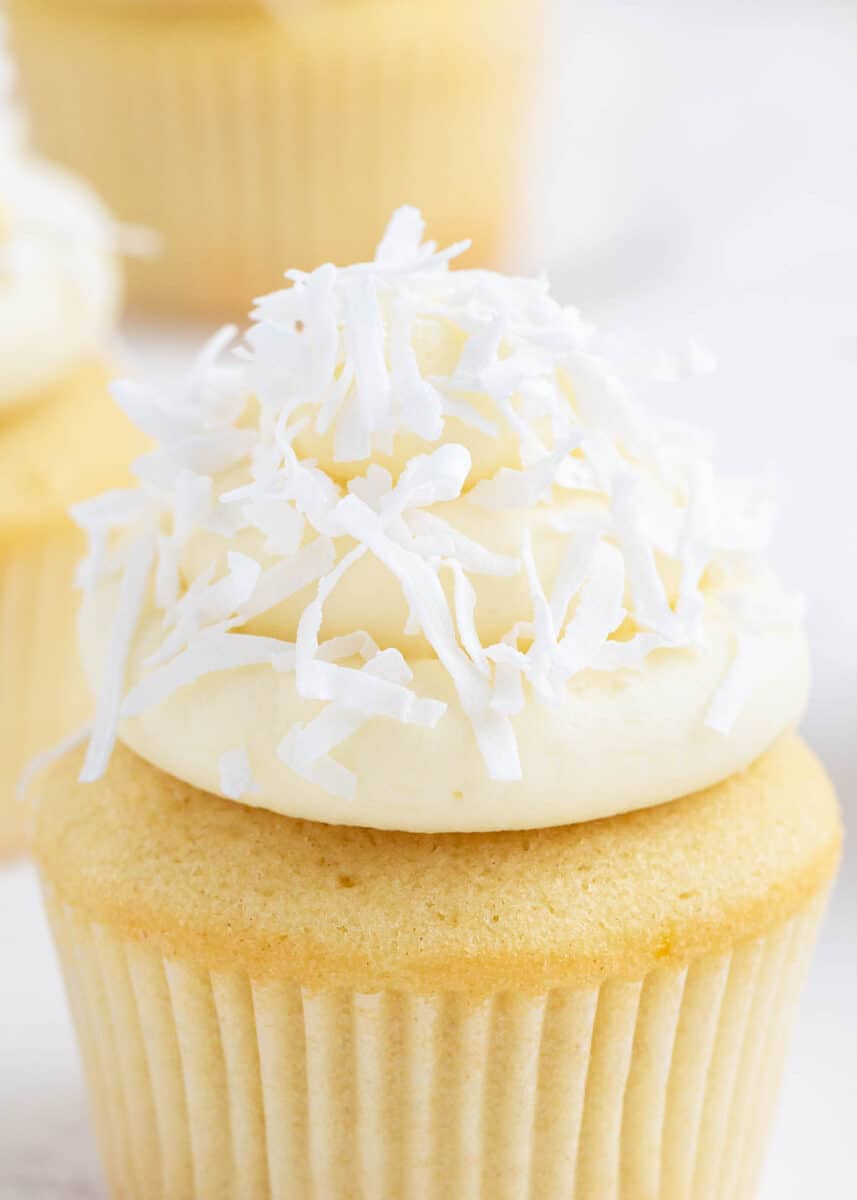 5 star review
"So coconutty and delicious! Love this with carrot cake – it's a fun switch from the traditional cream cheese frosting."

-Gina
Making Ahead and Storing
This coconut frosting is so simple to make and has an amazing flavor!
Make ahead. This recipe is great for making up to 24 hours ahead of time. There's no need to keep it in the refrigerator because the sugar acts as a preservative, however, you can if you want.
Storing. Place in an airtight container in the refrigerator for up to a week.
Whip it. Before piping or spreading the coconut frosting, re-whip the frosting and stir the contents together.
More Ways to Use Coconut Frosting
HUNGRY FOR MORE? Subscribe to my newsletter and follow on Facebook, Pinterest and Instagram for all the newest recipes!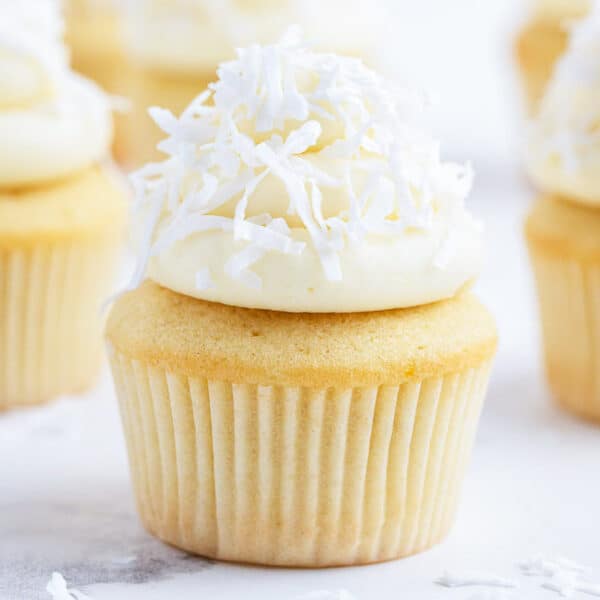 Coconut Frosting
Coconut frosting is a light, fluffy, buttery, and silky frosting with a delicious balance of sweetness and tang. Use it to frost your cupcakes, cake and so much more!
Ingredients
½ cup unsalted butter , at room temperature
3 ounces cream cheese , at room temperature
2 ½ cups powdered sugar
1 Tablespoon coconut milk
½ teaspoon vanilla extract (or seeds scraped from 1 split vanilla bean)
½ teaspoon coconut extract
Instructions
In a stand mixer fitted with a paddle attachment, cream together the butter and cream cheese.

Add the powdered sugar, coconut milk, vanilla, and coconut extract and mix until desired consistency is reached.

Frost cupcakes or cake as desired.
---
Notes
Butter: Make sure to leave the butter out an hour before making or follow these tips on how to soften butter.
Make ahead: This frosting can be made 24 hours in advance and stored in an airtight container until ready to frost.
Nutrition
Calories: 145kcal | Carbohydrates: 19g | Protein: 1g | Fat: 8g | Saturated Fat: 5g | Polyunsaturated Fat: 1g | Monounsaturated Fat: 2g | Trans Fat: 1g | Cholesterol: 21mg | Sodium: 18mg | Potassium: 12mg | Sugar: 19g | Vitamin A: 249IU | Vitamin C: 1mg | Calcium: 7mg | Iron: 1mg
Nutrition provided is an estimate. It will vary based on specific ingredients used.
Did you make this recipe? Don't forget to give it a star rating below!