Thanks for stopping by! To get the newest recipes 

subscribe

 or join us on facebook. You can also check out our

recipe box

for more yummy recipes.
***
Hello everyone! My name is Jesseca, and I am so excited to be over hear today from
One Sweet Appetite
 to share these coconut cupcakes!
Spring is definitely in the air here in Utah. Well, minus the days that it snowed the beginning of April. . . And all of the rain. . . During one of our recent springtime rain showers, I decided that I had to do something to lift our spirits, and what better way then a nice citrus cupcake? Even though I knew I wanted the main taste in this cake to be lemon, I couldn't help but think that a nice coconut frosting would give the flavor a nice push over the edge!
These cupcakes are unbelievable moist, and delicious! They almost remind me of warm summer days when I'm sitting outside sipping on a ice cold lemonade, watching my toddler run threw the sprinklers. The strong lemon flavor is just slightly mellowed out by the creamy coconut frosting.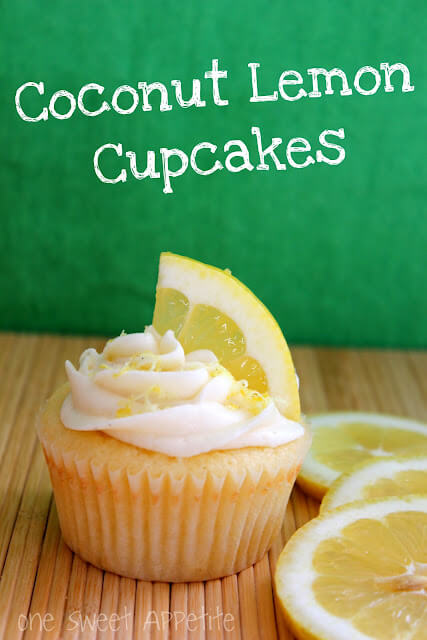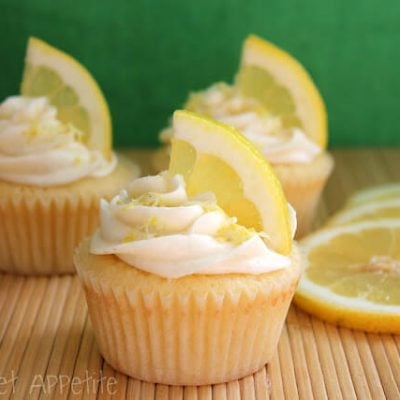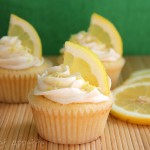 Coconut cupcakes with lemon
Coconut cupcakes with lemon - These cupcakes are unbelievable moist, and delicious!
Ingredients
For the Cupcakes:
3

cups

self rising flour

1/2

tsp

salt

1

cup

butter

(softened)

2

cups

sugar

4

eggs

1

tsp

vanilla extract

2

tbsp

lemon zest

(heaping)

1

cup

milk

2 1/2

tbsp

lemon juice
For the Lemon Curd Filling:
zest of 2 lemons

3/4

cup

sugar

1/4

cup

butter

(at room temp)

2

eggs

(extra-large)

1/4

cup

lemon juice

pinch of salt
For the Frosting:
1

cup

butter

(unsalted)

2 1/2

cups

powdered sugar

1/3

cup

reduced coconut milk

(at room temp)

1 1/2

tsp

vanilla extract

(or seeds scraped from 1 split vanilla bean)

1/8

tsp

salt
Instructions
Reducing the coconut milk: Open one can of milk, and pour it into a medium sized skillet. Heat to a boil, then reduce to low heat. Cook for about 25-30 minutes, or until your milk has reduced to about half. Place in the refrigerator to cool.

The cupcakes: Line two muffin tins with paper liners. Preheat the oven to 350 degrees. Whisk together your flour and salt in a small bowl. Set aside. In another small bowl, smash together the sugar with your zest.

Cream together your butter and zested sugar for 3 minutes. Scrape the sides of your bowl, and then add the eggs along with the vanilla. Stir in the lemon juice. Alternate between the flour and milk, pouring each into your egg mixture slowly. Scrape the side of the bowl, and give it one last good mix. Divide the batter between you liners, each should be 3/4 full, and bake for 15-20 minutes. Each oven is different, so make sure you keep a close eye on them. The cupcakes are done when they spring back when touched, or a toothpick inserted into the center comes out clean.

Place your cupcakes on a cooling rack to cool completely.

For the curd: In a small bowl, smash together the sugar and zest.

Cream your butter and zested sugar in the bowl of an electric mixer. Add the eggs, one at a time, followed by the lemon juice and salt.

Pour your mixture into a 2 quart saucepan, and heat over medium heat until thickened. (about 10 minutes). Cool in the refrigerator. Adapted from here.

The frosting: Start by creaming together your butter and powdered sugar. Scrape the vanilla bean, or add the vanilla extract, along with the coconut milk, and salt. Whip until your desired consistency has formed. Adapted from here.

Let's wrap things up:Using a paring knife, or a large piping tip, remove the center from each cupcake. Fill with the lemon curd, and pipe on your frosting.
Nutrition
Calories:
300
kcal
|
Carbohydrates:
38
g
|
Protein:
3
g
|
Fat:
15
g
|
Saturated Fat:
9
g
|
Cholesterol:
70
mg
|
Sodium:
188
mg
|
Potassium:
47
mg
|
Sugar:
28
g
|
Vitamin A:
485
IU
|
Vitamin C:
1.8
mg
|
Calcium:
23
mg
|
Iron:
0.3
mg
PIN THIS RECIPE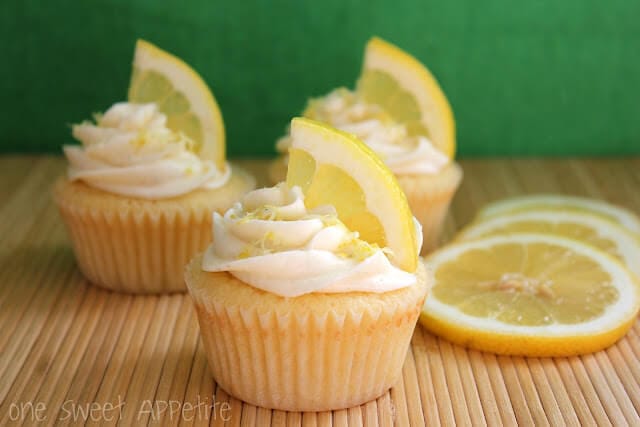 Thanks Jamielyn for letting me stop by with my treat today!
http://onesweetappetite.com/oreobunnytruffles/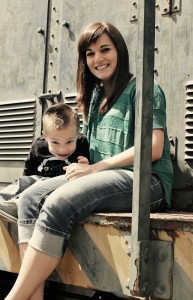 Hi. I'm Jesseca, the baker in charge of the site One Sweet Appetite. By day, I'm a stay at home mom that is juggling between taking care of a three year old son, and working right from home! By night? I'm a crazy chocoholic with a a serious love for food! I'm still learning a lot about the culinary & blogging side of life, so stop on by and we can learn together!
Visit me at www.onesweetappetite.com or on my facebook page, https://www.facebook.com/OneSweetAppetite!
These look great! Thanks for sharing Jesseca!