Jump to Recipe⌄
Adorable carrot cupcakes for Easter
Super rich, soft and delicious carrot cupcakes topped with cream cheese frosting!
I'm excited to share this carrot cupcake recipe with you today! They are my new favorite! A few years back I wrote down several recipes from my grandma's for my own recipe book. This carrot cake recipe was one of them. The original recipe wasn't quite sweet enough, so I have tested it a few times and finally came up with the perfect sweetness. The cream cheese frosting is just the icing on the cake! These are the perfect Easter dessert!
I used my 1m tip to frost them and you can find the tutorial on how to frost the perfect cupcake here.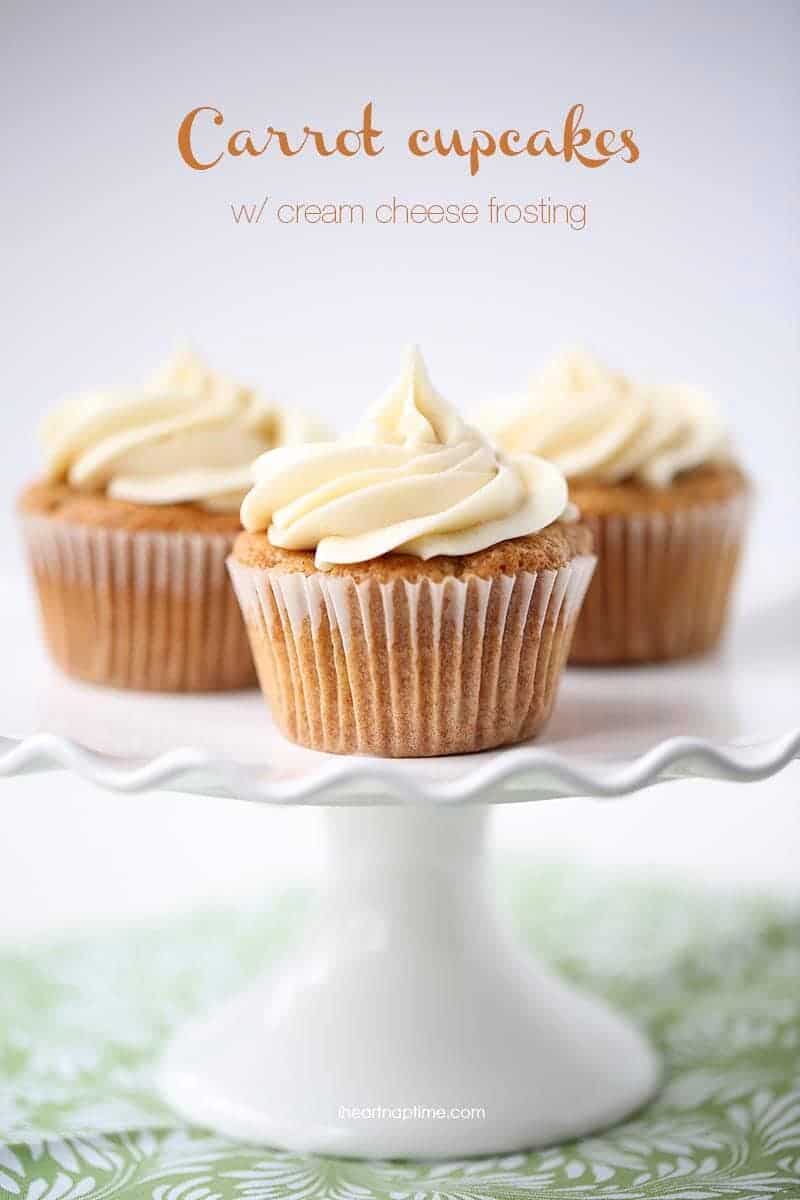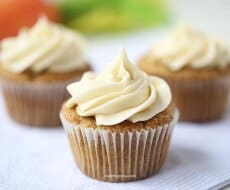 Carrot cupcakes
Ingredients:
2 1/2 cups all-purpose flour
1 1/4 teaspoon baking soda
1 1/4 teaspoon baking powder
1 1/4 teaspoon ground cinnamon
1/2 tsp kosher salt
1/4 teaspoon all-spice
1 1/2 cups granulated sugar
1/2 cup packed brown sugar
4 eggs
1 cup vegetable oil
1/2 coup sour cream
1 tsp vanilla
3 cups shredded carrots
1/2 cup chopped walnuts (optional)
*Frosting ingredients:*
8 oz package cream cheese
1/2 cup butter, softened
4 cups powdered sugar
2 1/2 tsp vanilla extract
Directions:
Pre-heat oven to 350°. Line cupcake pan with paper liners and set aside.
Whisk together the flour, baking soda, baking powder, cinnamon, salt and all-spice in a bowl. Set aside.
In a large bowl beat the eggs for 2-3 minutes. Add in sugar, oil, sour cream and vanilla and mix until combined.
Slowly add in flour mixture and stir until combined. Fold in carrots and walnuts.
Fill cupcake liners 2/3 the way full and bake for about 18-22 minutes, or until a toothpick comes clean. Remove from oven and allow to cool.
For frosting beat together the cream cheese and butter. Slowly mix in the powdered sugar. Add in vanilla and mix until combined.
Note: To save time I buy the pre-shredded carrots and then pulse them in a blender a few times. You want the pieces to be thin and small, but not pureed. You can also use a food processor to shred your own carrots.
All images and text ©
I also spotted these adorable baking pots at Target and knew they would be perfect to make "carrot pots" for the kids. All I did was bake them in the pots and then frosted the tops and dipped them in brown sprinkles. Then I remembered this cute idea I spotted on Pinterest last year for DOT carrots. All you do is cut small pieces of green candy Easter grass (also found at Target) and stick a few pieces on top of an orange candy dot.

So simple and cute! And the perfect treat for the kids on Easter! My kids were so excited to eat these!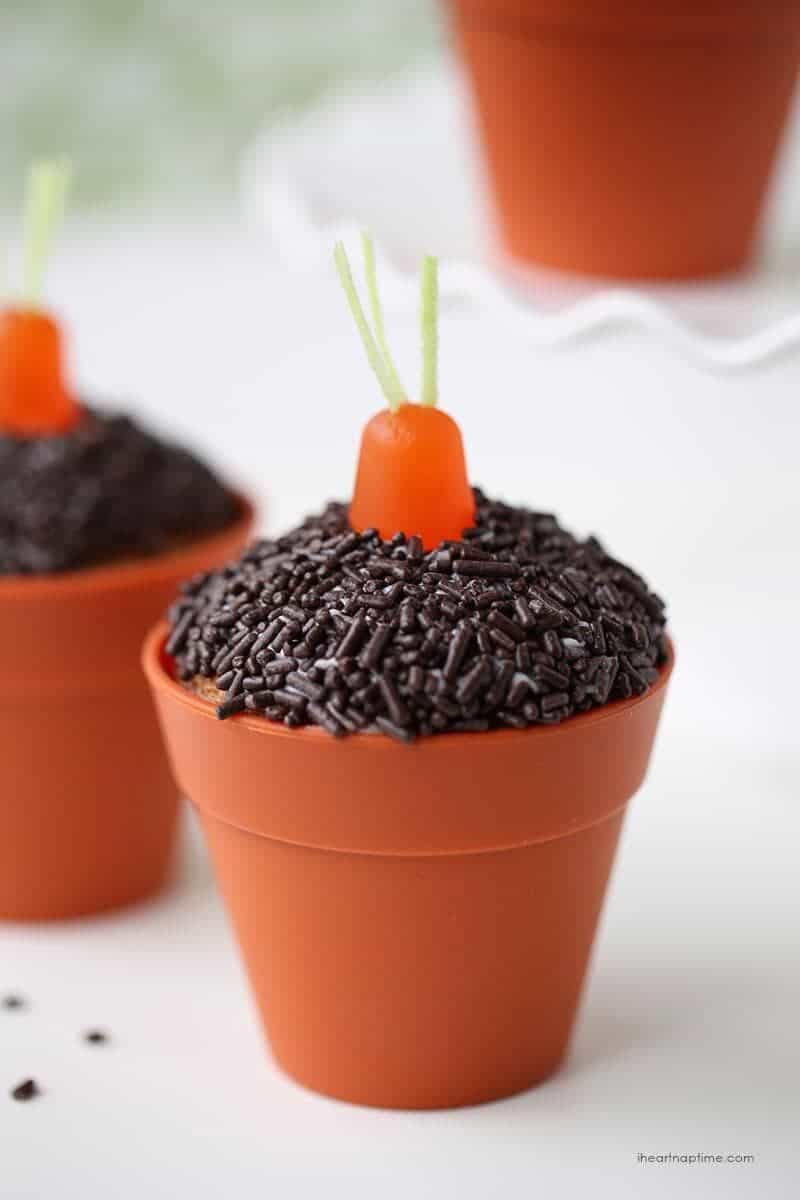 ENJOY!!

Looking for more Easter desserts? You'll love these too: