This ultra rich chocolatey old fashioned cooked chocolate icing is ready in just 10 minutes! This homemade chocolate icing takes cakes and cupcakes over the top with its fudgy, rich flavor.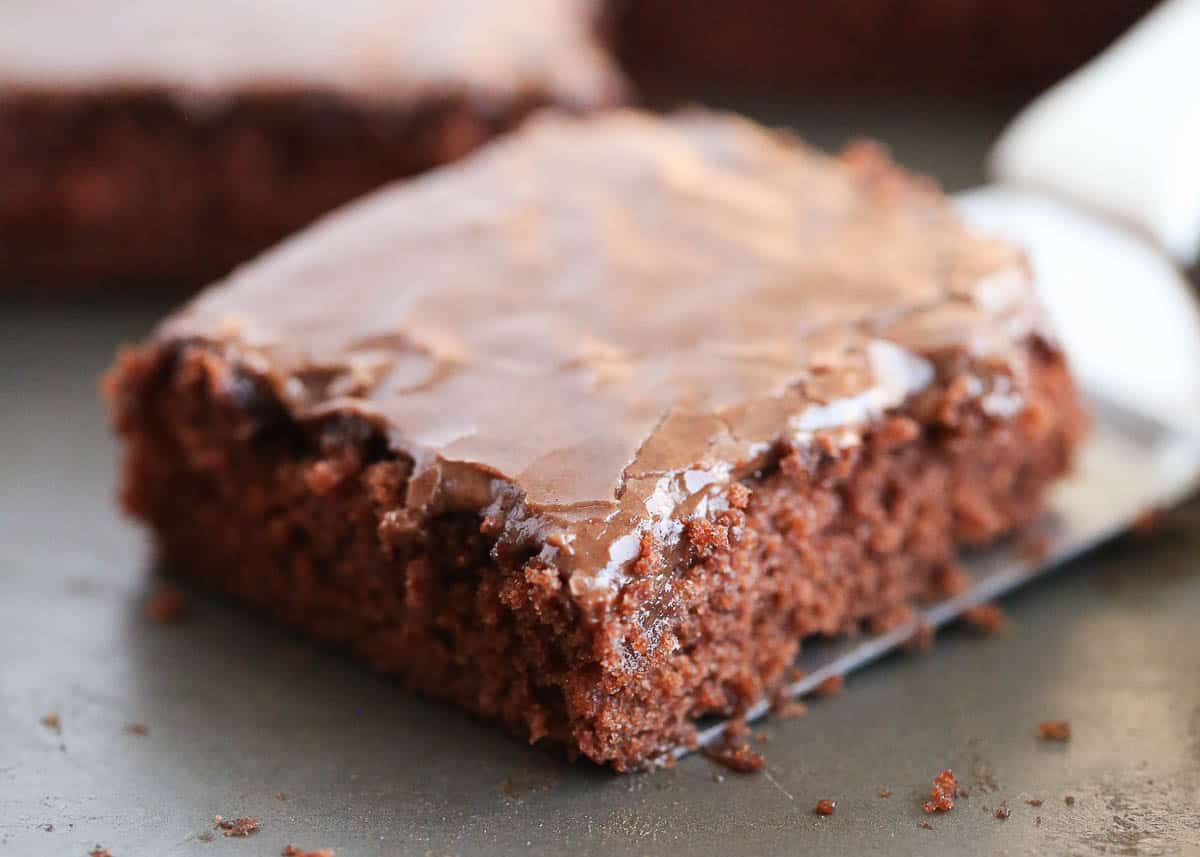 Quick and Easy Cooked Frosting
If you've ever tried chocolate Texas sheet cake, then you know just how delicious this cooked chocolate icing is. It's sweet and fudgy with a bold chocolate flavor and smooth consistency that will leave you debating whether you enjoyed the cake or the frosting more.
It has all the same ingredients as a chocolate buttercream frosting, but is cooked on the stove instead of creamed together with an electric mixer. The sugar and cocoa powder dissolve with the melted butter while cooking, resembling the texture of a rich chocolate ganache. Then the icing is poured on top of your dessert, keeping it moist and adding a thick and glossy fudge finish.
This cooked chocolate icing is an old fashioned favorite that you may remember your Grandma whipping up in the kitchen when you were younger. It's an "oldie but goodie" recipe that's been in my arsenal for years now and will truly never go out of style. After just one bite, you'll understand why!
Why This Recipe Works
Ready in 10 minutes. Fudgy cooked frosting made from start to finish in less than 10 minutes. Even though you need to use the stove, it's still super easy and quick! Minimal ingredients. Made with basic ingredients, so nothing fancy required! Think simple baking staples like milk, butter, vanilla, powdered sugar and cocoa powder.
Locks in moisture. After pouring the chocolate icing on top, it will harden and create the perfect fudgy layer which helps to lock in moisture and keep your desserts fresh!
Recipe Ingredients
This homemade chocolate frosting with cocoa powder only requires a few key ingredients and is so simple and delicious! Check out everything you'll need to make it below.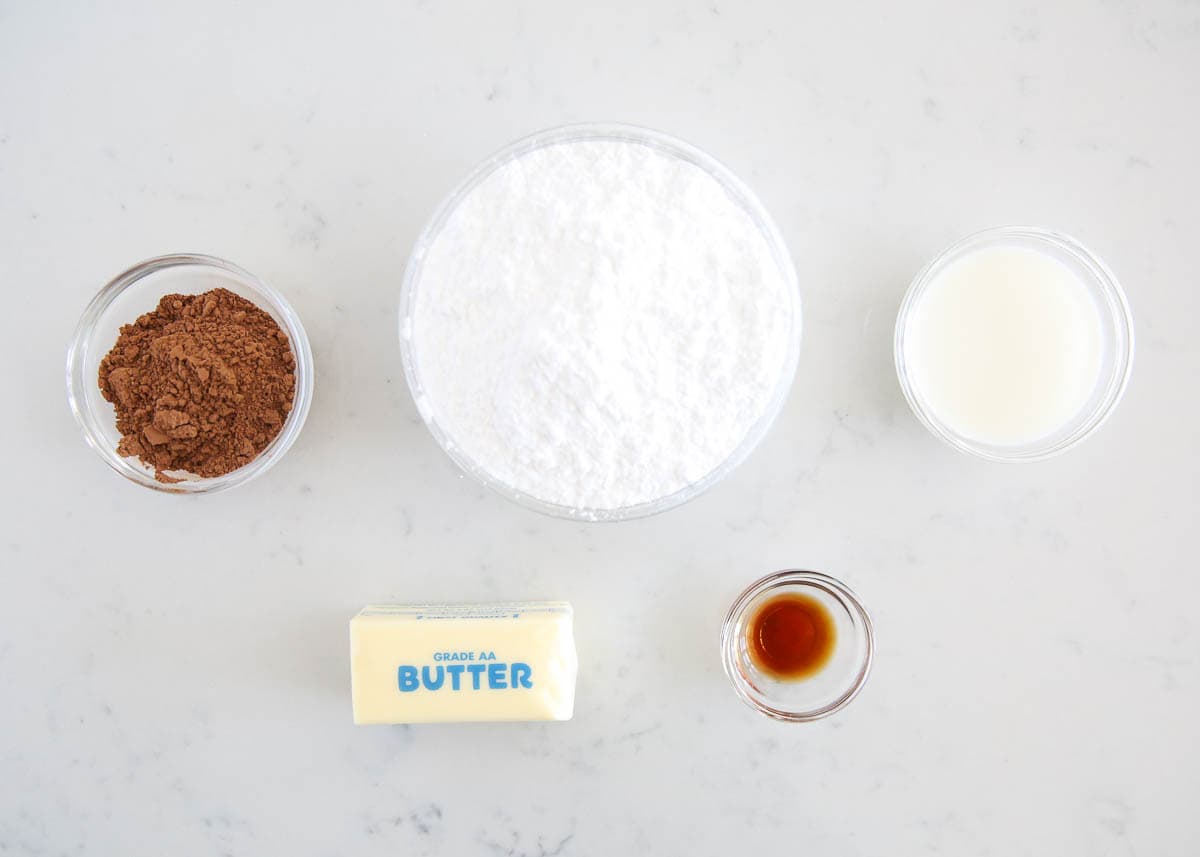 Find the full printable recipe with specific measurements below.
Cocoa powder: Make sure to use unsweetened cocoa powder since the majority of the sweetness will come from the powdered sugar.
Powdered sugar: Adds a sweet flavor and thick texture. Make sure to sift the powdered sugar first, so that your icing isn't lumpy.
Butter: Using salted butter will add the best flavor. Cube it first before adding to the pan for easier melting.
Milk: Used to help thin out the icing. Whole milk will add the richest flavor.
Vanilla: A high quality vanilla extract will give you the perfect boost of vanilla.
Variation with Nuts
For a crunchy variation with a rich, nutty taste, fold some chopped pecans or walnuts into the cooked chocolate icing. It adds great flavor and texture!
How to Cook Chocolate Icing on the Stove
This cooked chocolate fudge icing recipe is super easy to whip up on the stove in just 10 minutes. Follow the simple steps below to get started.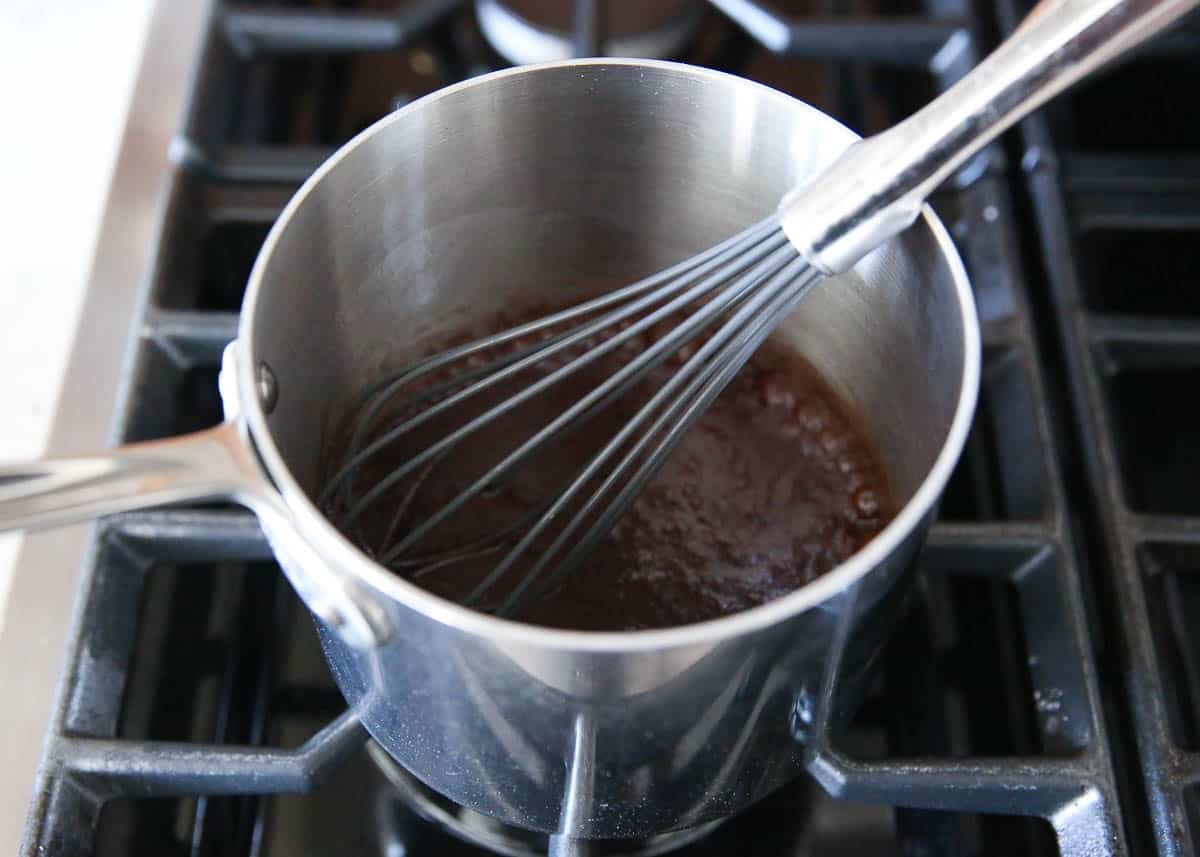 Melt. Chop the butter into cubes and then add to a medium saucepan. Melt over low heat, then stir in the unsweetened cocoa powder. Let the mixture come to a light boil, then remove the pan from the heat.
Whisk. Slowly whisk in the milk, vanilla extract and sea salt. Once combined, then whisk in the powdered sugar until dissolved and smooth.
Expert Tips
Cube the butter. Chop the butter into pieces before adding to the pan so that it melts more evenly and quickly.
Sift the powdered sugar. To avoid a lumpy or grainy texture, make sure to sift the powdered sugar through a fine mesh strainer before whisking into the icing.
Frost immediately. Add the frosting on top as soon as you take your dessert out of the oven so the icing can soak into the cake or brownies and keep them moist. Make sure to spread the icing immediately once poured because it thickens really quickly.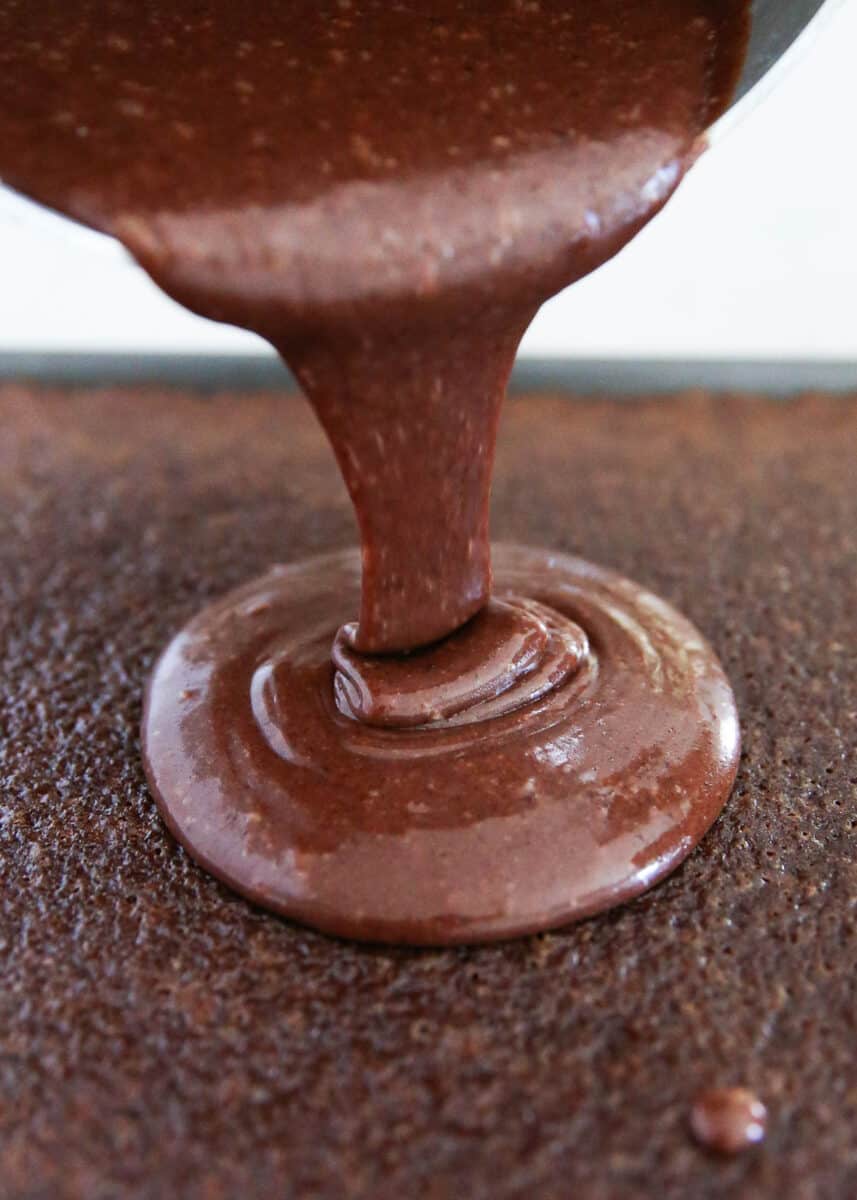 Recipe FAQs
Why is my cooked chocolate icing grainy?
Chocolate can seize if cooked too long or on too high of a temperature, which can cause a grainy texture. Since we're using cocoa powder instead of a chocolate bar or chocolate chips, the mixture should cook just fine as long as you cook over low heat.

Powdered sugar that has not been sifted can also cause a grainy (or lumpy) consistency, so make sure you sift it first prior to whisking it in.
Is chocolate icing the same as chocolate frosting?
While they both have a bold and rich chocolate flavor, chocolate frosting is typically a bit thicker and creamier than icing. It's usually thick enough to hold a point and can be piped onto cookies, cakes and cupcakes.

Chocolate icing (especially this cooked chocolate icing) is a bit thinner and smoother, making it perfect for pouring on top of a sheet cake or brownies. It will harden as it cools.
Can I cut the recipe in half?
Sure. This recipe makes a large amount and will cover a dessert that's made in a half-sheet pan. Simply cut the recipe in half to cover a dessert made in a 9×13-inch pan.
Ways to Use Cooked Chocolate Frosting
This chocolate icing recipe works best as a spreadable topping, making it perfect for sheet cakes, brownies and bars.
I wouldn't recommend using it for cakes with multiple layers because the consistency is a bit too thin and smooth. Stick with a traditional buttercream frosting for desserts such as a layer cake.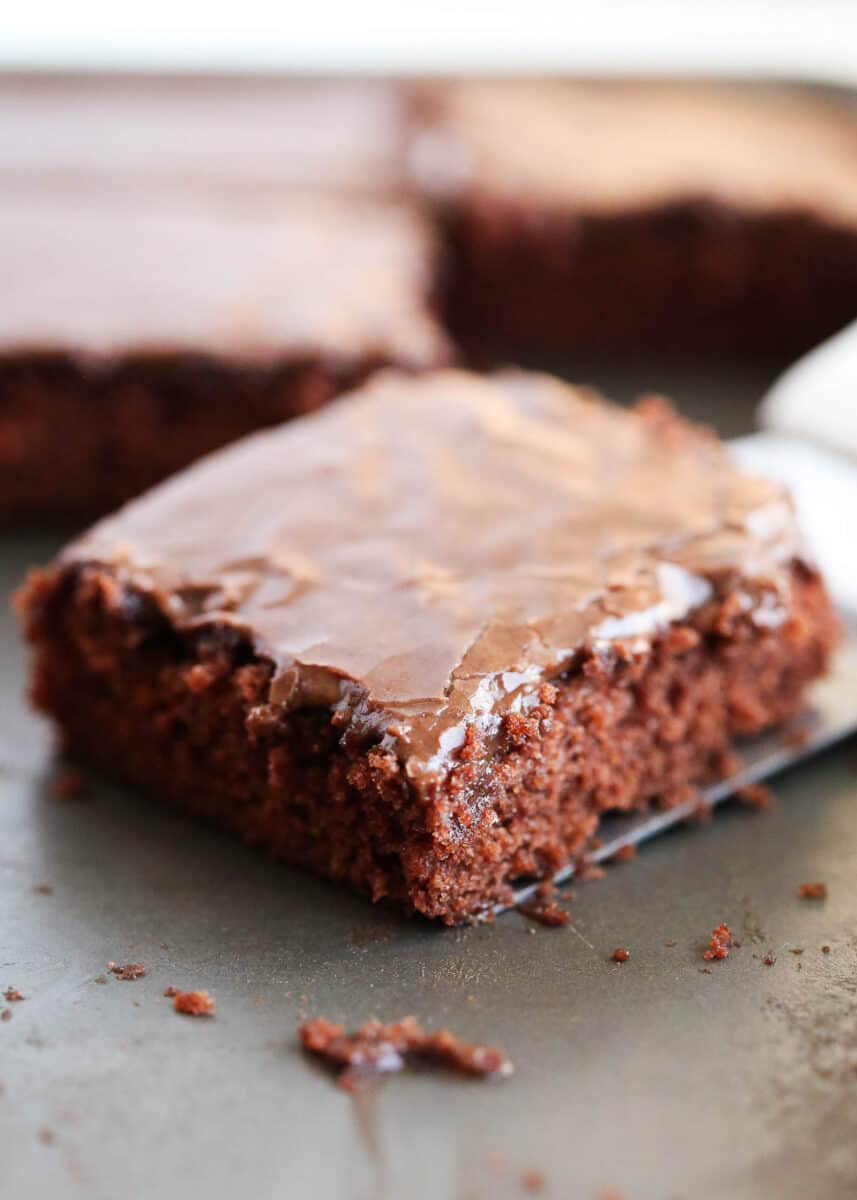 HUNGRY FOR MORE? Subscribe to my newsletter and follow on Facebook, Pinterest and Instagram for all the newest recipes!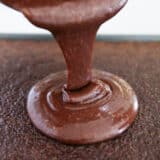 Chocolate Icing
Fudgy, rich and ultra chocolatey, this old fashioned chocolate icing is ready in just 10 minutes! The perfect finishing touch for your baked goods.
Ingredients
½ cup (113 grams) salted butter , cubed
3-4 Tablespoons (15 grams) unsweetened cocoa powder
⅓ cup milk
1 teaspoon vanilla extract
⅛ teaspoon table salt or fine sea salt
3 cups (330 grams) sifted powdered sugar
Instructions
In a medium saucepan, melt the butter over low heat. Stir in cocoa powder. Once the mixture has melted and comes to a light simmer, remove from heat. Slowly whisk in milk, vanilla, and salt. Then slowly stir in powdered sugar.

Pour the icing over your sheet-pan cake or brownies the moment they come out of the oven. Spread evenly with a rubber spatula immediately.
---
Notes
Nut lovers: Chop 1/2 to 3/4 cup pecans and mix into the frosting. Halve the recipe: This recipe will cover a cake or brownies the size of a half-sheet baking pan (perfect for Texas sheet cake). You can halve this recipe for a 9×13-inch cake or brownies.
Nutrition
Serving: 1g | Calories: 107kcal | Carbohydrates: 21g | Protein: 0.4g | Fat: 3g | Saturated Fat: 2g | Polyunsaturated Fat: 0.1g | Monounsaturated Fat: 1g | Trans Fat: 0.1g | Cholesterol: 7mg | Sodium: 32mg | Potassium: 24mg | Fiber: 0.5g | Sugar: 20g | Vitamin A: 89IU | Calcium: 5mg | Iron: 0.2mg
Nutrition provided is an estimate. It will vary based on specific ingredients used.
Did you make this recipe? Don't forget to give it a star rating below!