A colorful vanilla cake topped with whipped buttercream and decorated with toasted coconut and mini Cadbury eggs. This layered Easter cake is the perfect showstopper for your Easter celebration!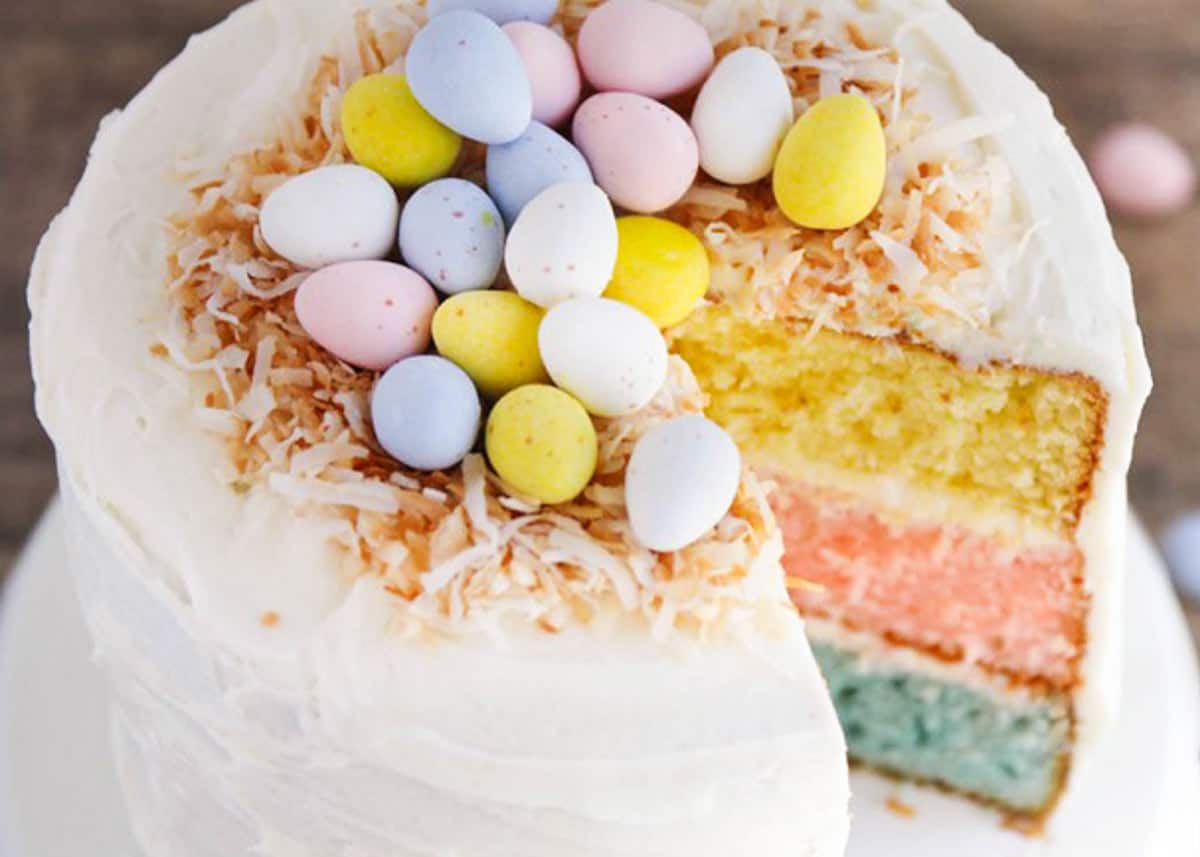 The Perfect Cake for Easter
Is there any better way to celebrate than with cake? I haven't found one! I usually choose vanilla cupcakes, just because they're generally quicker and easier, but there's something so elegant and beautiful about a nice layered cake.
This colorful Easter cake is a delicious way to celebrate spring! It has three pretty pastel layers, a light and fluffy marshmallow frosting, and an adorable bird's nest decoration on top. It's simple to make, and a totally stunning addition to your Easter brunch or Easter dessert table!
You could definitely use a cake mix instead of making your own batter, but I really like the taste and texture of a homemade cake. I used my go-to vanilla cake recipe, and I love that it's light and tender, easy to mix together, and always gives me perfect results. It's the perfect ending to your menu for Easter dinner!
Homemade Easter Cake Ingredients
Get your Easter basket ready and don't worry about the dessert with this delicious Easter cake recipe. It is made from scratch with all the love and everyone is going to be raving about it. Together, these ingredients make a deliciously moist and flavorful cake that everyone loves!
Find the full printable recipe with specific measurements below.
Flour: I used both all-purpose flour and cake flour to make this cake. It will give both a softer and crumbly texture.
Sugar: Added in for sweetness!
Baking powder: This will help raise the cake in the oven.
Salt: Enhances the flavors with the cake ingredients.
Butter: Creates a light and tender cake and adds flavor while raising in the oven as it bakes.
Eggs: Binds the cake batter together giving it thickness and structure.
Sour cream: This is a secret ingredient that adds flavor and moistens the cake.
Vanilla extract: Add in a little more flavor!
Food coloring: We used yellow, pink, and blue pastel colors for the layers of vanilla cake.
How to Make an Easter Cake
This homemade Easter cake makes about 8 to 10 serving slices depending on how big you make the slices. It is three layers of vanilla or yellow cake. Add frosting, lemon curd, whipped cream, or strawberries in between the layers. Have fun with this Easter dessert!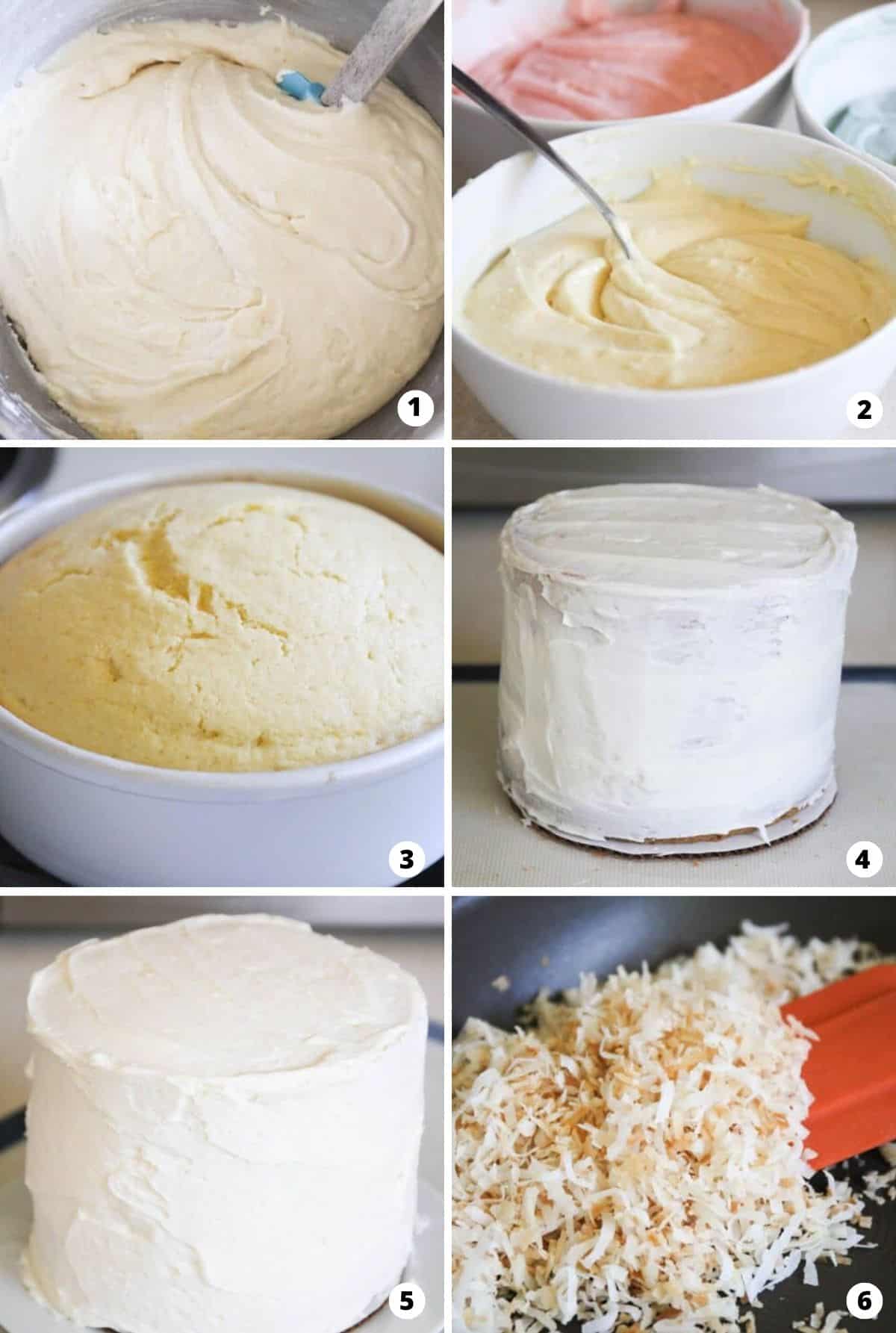 Make batter. Whisk together all of the dry ingredients. Then mix in the butter (at room temperature) until the mixture resembles damp sand. Next, beat in the eggs (one at a time) and then mix in the sour cream and vanilla until smooth.
Add coloring. Once the batter is mixed up, you'll add your food coloring to create the different colored layers. You only need a few drops to create a pretty pastel shade.
Bake in the oven. Bake the layers until they spring back when touched lightly and a toothpick inserted into the center comes out clean. The recipe divides perfectly to make three six-inch cake layers. Once the layers have cooled completely, level them using a leveler or serrated knife.
Crumb coat. Stack the layers with a layer of buttercream in between, then cover the whole cake with a thin layer of buttercream to seal in the crumbs. Then place in the refrigerator for about 20 to 30 minutes.
Frost. Once it has firmed up in the refrigerator, spread a thick and even layer of buttercream on top. It doesn't have to be perfect, but watch out for any bare spots. I kind of like the rustic look, and I feel like the imperfections just make it more charming!
Birds nest. Cook coconut on the stovetop over medium-low heat for toasted coconut.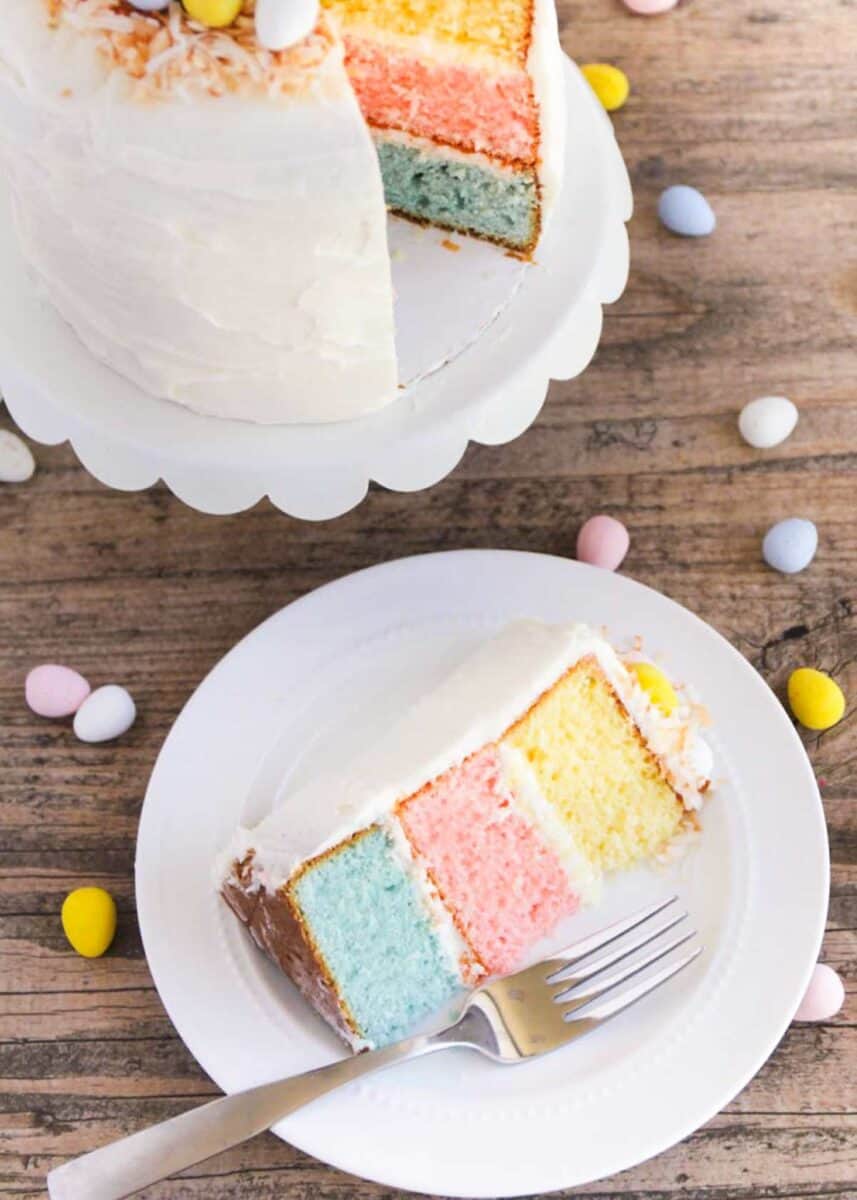 5 star review
"This recipe is amazing such a moist tasty cake, thank you for sharing, one of the best recipes I have found"

-Lorianne
Decorations
Then comes the fun part…decorating! I wanted to make an adorable bird's nest design, so I decided to use coconut and mini Cadbury eggs. I made toasted coconut on the stovetop over medium-low heat. It's important to watch it closely and turn it frequently to prevent burning.
Once the coconut has cooled, sprinkle it onto the middle of the cake, then add your mini Cadbury eggs. They are the cutest! This dessert is as tasty as it is gorgeous, and perfect for celebrating Easter!
Baking Tips
Follow along with these fun and easy baking tips to take your Easter cake to the next level. I loved the look of robin's eggs on top of our Easter cake but you can decorate, color, or frost your cake perfect for your family.
Food coloring. I used liquid food coloring since I was going for light pastel colors. You could use gel, too, but just use less. You can also omit the food coloring altogether if you'd like the inside to look like a classic vanilla cake.
Frosting. Feel free to use a classic buttercream or even a tangy cream cheese frosting. You can also color the frosting instead of the inside cake layers if preferred. Use an offset spatula to help even out the frosting too! A pastel pink, blue or yellow would be so cute!
Crumb coat. I have to confess, I used to skip the crumb coat step, and it is immensely harder to frost the cake and make it look good without the crumb coat. It only takes an extra 20 minutes or so to refrigerate it, but it makes frosting it much easier!
Making ahead. I would bake the cake layers the day before, let them sit in the pan overnight (place a clean, dry kitchen cloth over the tops once cooled), and then frost it and decorate it the next day. If that's too much of a time crunch, then assemble the whole thing the day before and place it in the refrigerator. Then about an hour or two before serving, remove the cake from the fridge so that it comes back to room temperature.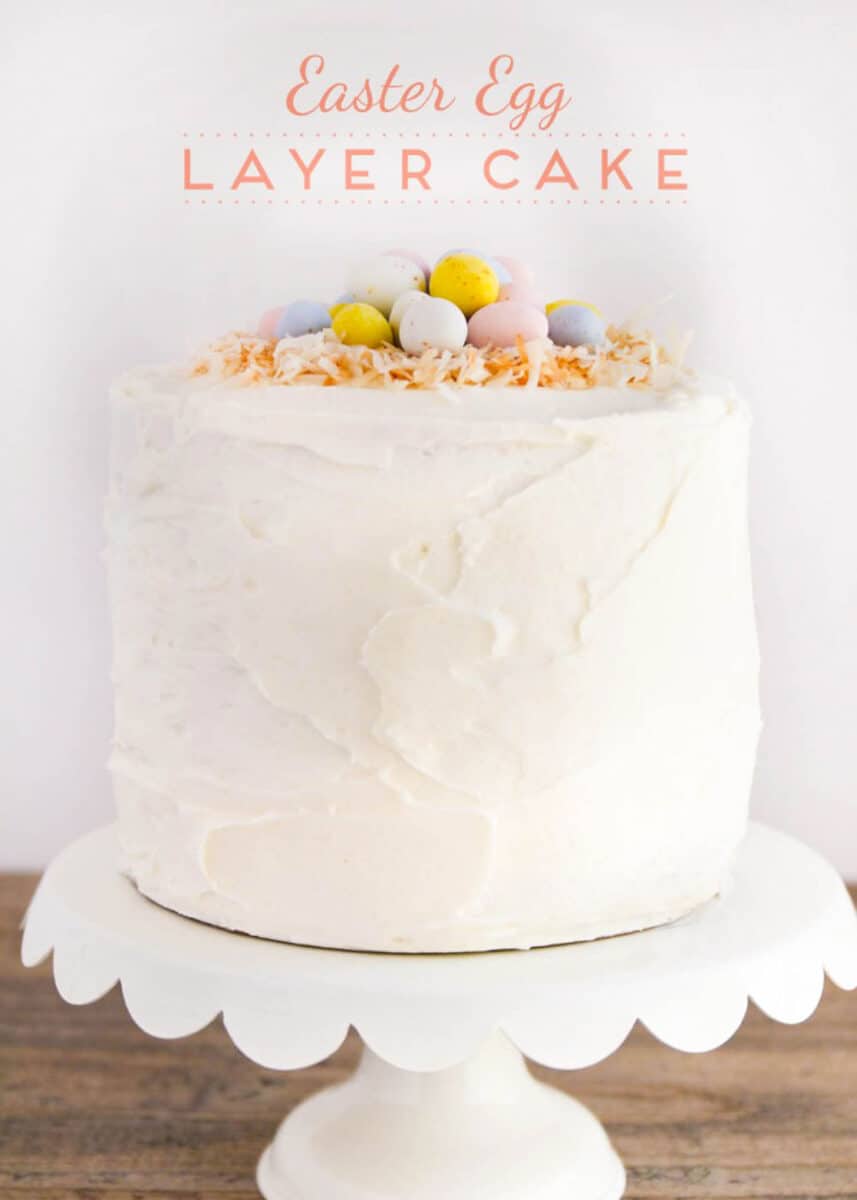 Recipe FAQs
What cake is traditionally eaten at Easter?
A Simnel cake is known to be a traditional Easter cake that is eaten during this holiday. It is a light fruit cake, that is round in structure and has specially decorated balls on the cake representing special significance towards Easter. The 11 marzipan balls represent the apostles that followed Jesus. Since Judas betrayed Jesus, they left out one ball and did not count him into the cake itself.
What is the meaning of Easter cake?
There are variations of Easter cake recipes. Some are shaped like lambs for an Easter lamb cake, crosses, or an Easter bunny cake, or layered with special baby colors inside them. Each of these cakes may represent a holiday, religion, or just a delicious dessert to celebrate the gathering of families.
How do you decorate Easter cakes?
Decorating is a fun way to add color, frosting, or create a cake into a shape or animal. It is fun to add holiday sprinkles, edible glitter, or fresh fruit or fresh berries, to the top or around the cake base. Kids always love to help too!
More Easter Desserts
We love the sweet spring pastel colors that are traditional for Easter. Add these to your favorite dessert recipes and enjoy more delicious treats!
HUNGRY FOR MORE? Subscribe to my newsletter and follow on Facebook, Pinterest and Instagram for all the newest recipes!
Easter Cake
A colorful vanilla cake topped with whipped buttercream and decorated with toasted coconut and mini Cadbury eggs. This Easter egg layered cake is the perfect showstopper for your Easter celebration!
Ingredients
For the cake:
1 ½ cups cake flour
1 ½ cups all-purpose flour
1 ¾ cups granulated sugar
2 ½ teaspoons baking powder
1 teaspoon Kosher salt
8 ounces butter (2 sticks) , at room temperature, cut into small pieces
4 large eggs
1 ½ cups sour cream or greek yogurt
2 teaspoons vanilla extract
yellow, red and blue food coloring
For decorating:
1 cup coconut , toasted
1 cup butter , at room temperature
7 ounce container marshmallow fluff
5 cups powdered sugar
1 teaspoon vanilla extract
2-3 Tablespoons half-and-half or heavy cream
1 cup mini Cadbury eggs
Instructions
Preheat the oven to 350°F. Butter and flour 3 six inch cake pans and set aside (you could also use 8 inch pans instead, but your layers will be thinner).

In a large bowl or the bowl of a stand mixer, whisk together the cake flour, all purpose flour, sugar, baking powder, and salt. Add the butter and mix until the mixture resembles damp sand. Beat the eggs in one at a time. Add the sour cream and vanilla, and mix until smooth.

Separate the batter into three bowls, dividing evenly. Add drops of food coloring to each bowl to create a yellow batter, a pink batter, and a blue batter (I used two drops of yellow, three drops of pink, and six drops of blue). Spoon the batter into the prepared pans and spread evenly.

Bake 25-30 minutes, or until the top springs back when touched lightly and a toothpick inserted in the center comes out clean. Remove and let cool completely.

While the cake cools, make the frosting by adding the butter and marshmallow cream to a large bowl or the bowl of a stand mixer. Beat until smooth. Add the powdered sugar, vanilla, and 2 tablespoons half and half, and beat until smooth. Increase the speed and beat 5-6 minutes, until light and fluffy. Add additional half and half as needed to reach a light consistency.

When the cakes have cooled, level each layer using a cake leveler or serrated knife.

Place the blue layer, cut side up, on a six inch cake round (or a six inch circle of cardboard covered in foil). Spread a layer of frosting over the blue layer, and place the pink layer on top. Spread another layer of frosting over the pink layer, and place the yellow layer on top, cut side down. Spread a thin layer of frosting over the entire cake to seal in the crumbs. Refrigerate 20-30 minutes.

Remove the cake from the refrigerator and spread a thicker layer of frosting over the outside. Sprinkle the top of the cake with toasted coconut, and arrange Cadbury eggs in the center to look like a bird's nest.
---
Nutrition
Calories: 918kcal | Carbohydrates: 130g | Protein: 9g | Fat: 41g | Saturated Fat: 26g | Cholesterol: 143mg | Sodium: 514mg | Potassium: 213mg | Fiber: 1g | Sugar: 100g | Vitamin A: 1110IU | Vitamin C: 0.8mg | Calcium: 132mg | Iron: 1.7mg
Nutrition provided is an estimate. It will vary based on specific ingredients used.
Did you make this recipe? Don't forget to give it a star rating below!