This easy gooey butter cake is made effortlessly with cake mix and a delicious cream cheese topping. This classic dessert is a beloved favorite.
If you're a fan of buttery desserts, don't miss these gooey butter cookies and salted caramel butter bars as well.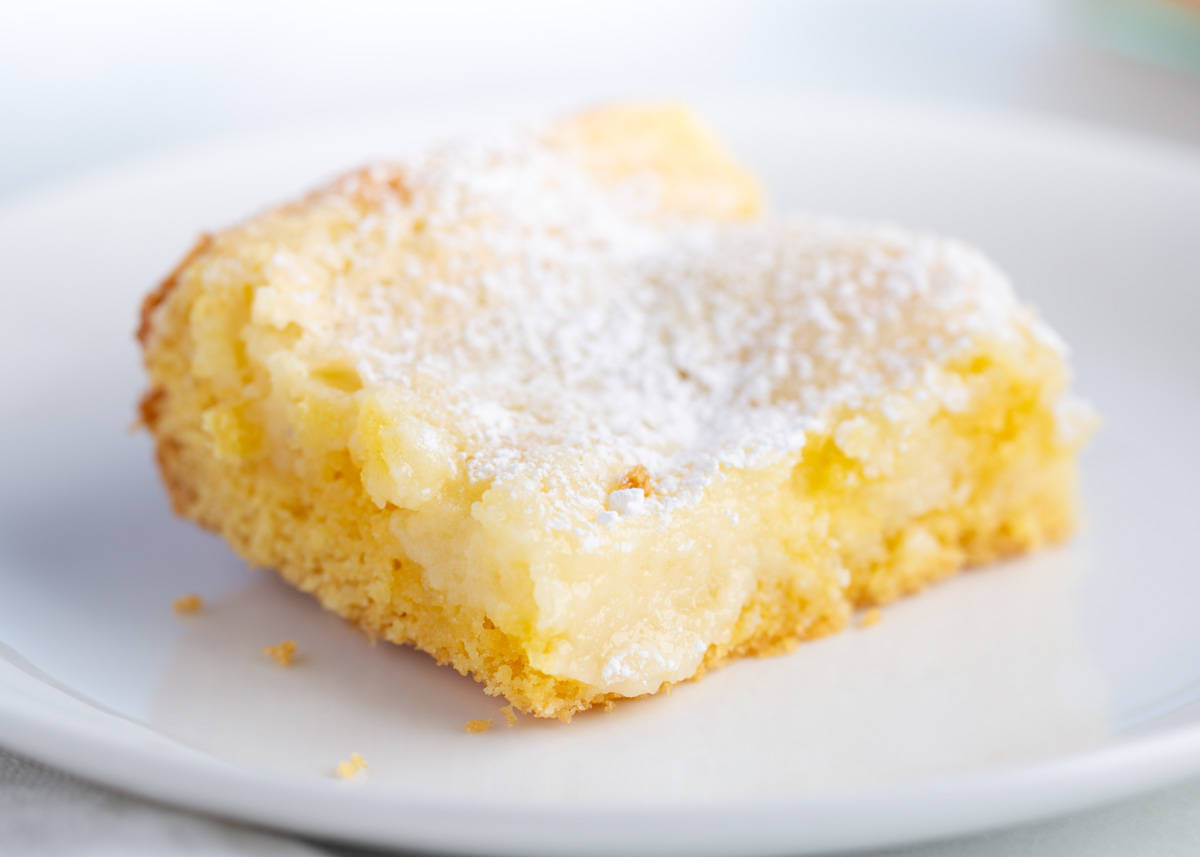 Why We Love Gooey Butter Cake
We love this gooey butter cake because it is incredibly simple to make. Serve slices of this cake with a dollop of homemade whipped cream and you are in for an extra special treat!
From dump cakes to cake mix cookie bars and cake mix cookies, using a cake mix ensures consistent results every time, plus is a timesaver!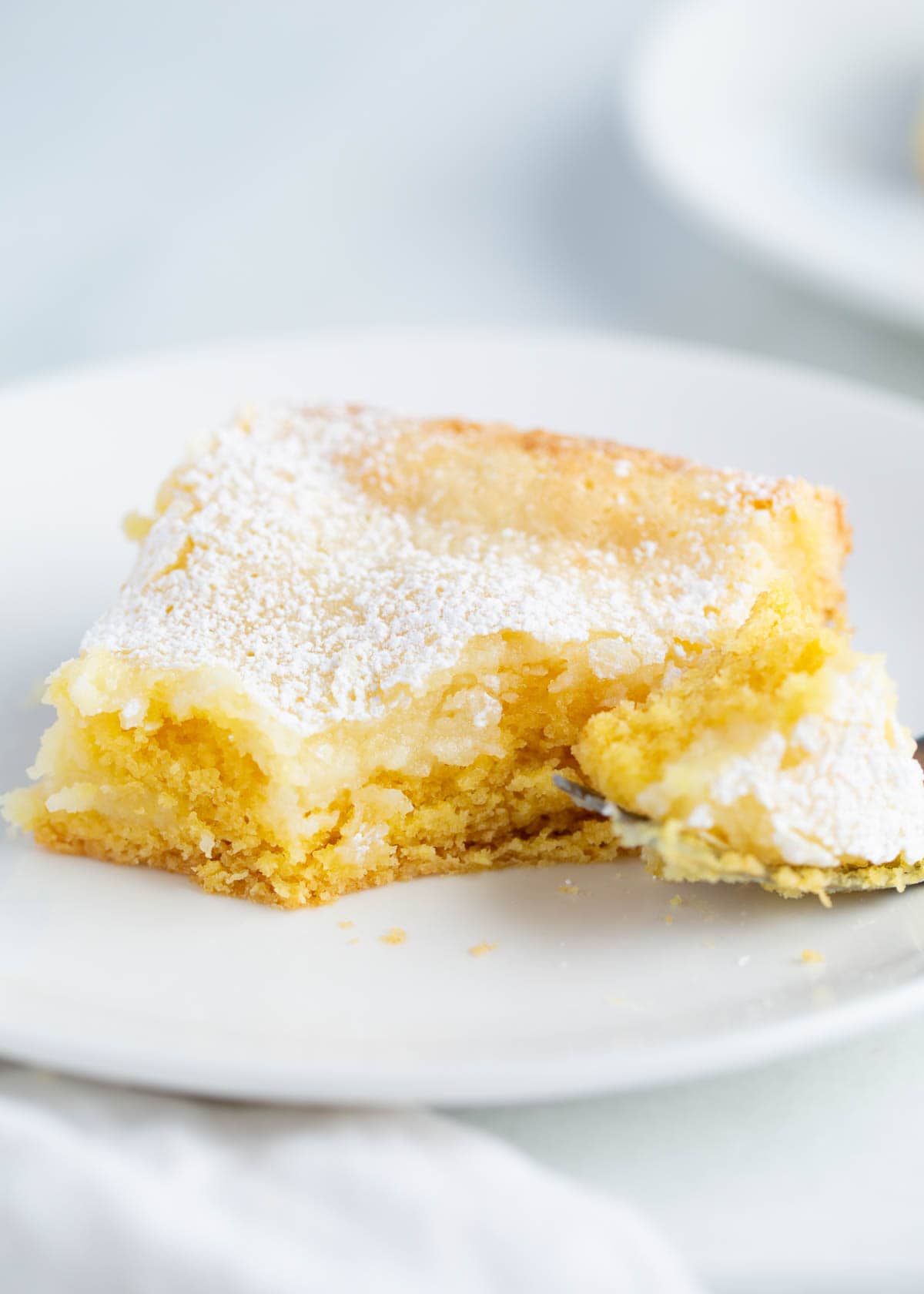 Recipe Ingredients
Using a box of cake mix is a real timesaver here and you can keep most of these ingredients on hand so you can bake up your ooey gooey butter cake any time you want!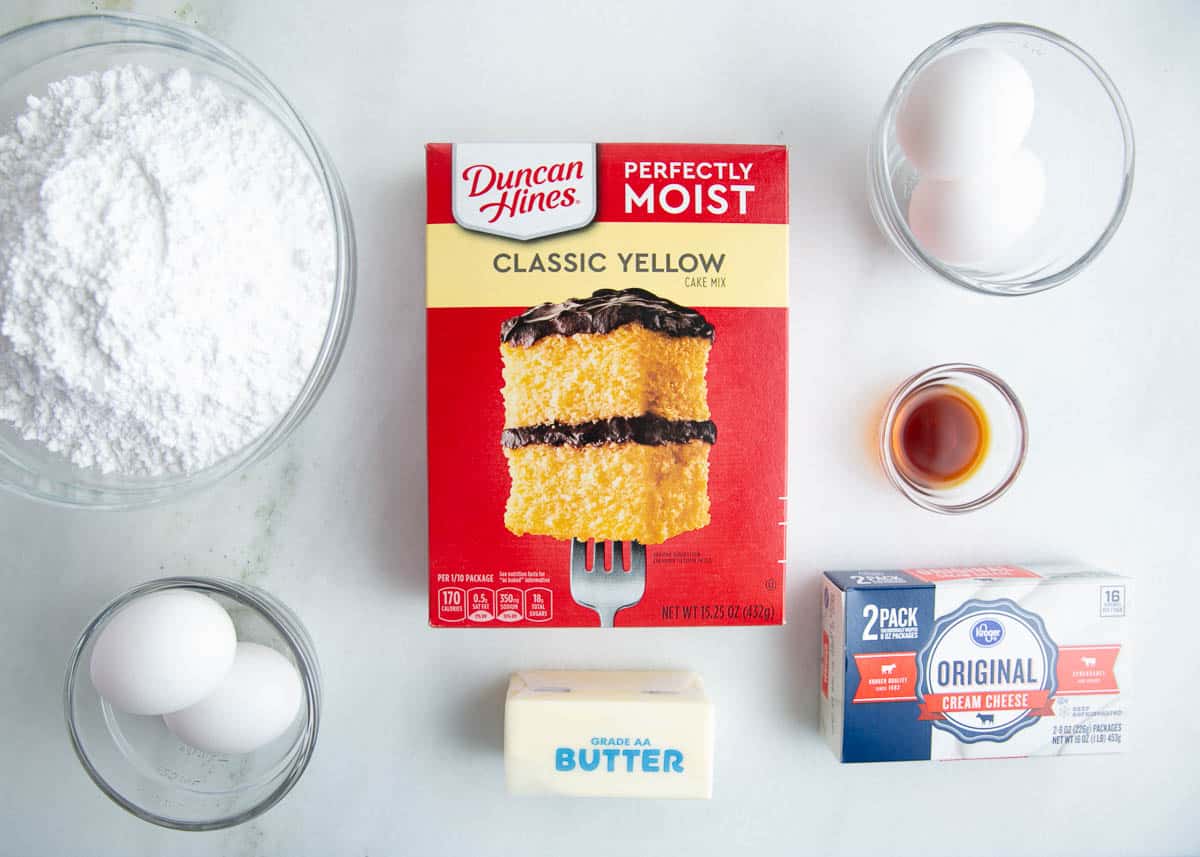 Find the full printable recipe with specific measurements below.
Box of yellow cake mix: The yellow cake mix serves as the base for the bottom layer of the gooey butter cake. Use your preferred brand or use homemade vanilla cake mix!
Salted butter: The melted salted butter adds richness and flavor to the bottom cake layer.
Vanilla extract: I use my favorite vanilla extract to enhance the cake flavors.
Cream cheese : Cream cheese forms the creamy, gooey top layer of the cake. Make sure you use softened cream cheese for easy mixing.
Powdered sugar: Powdered sugar is used in both the cake layer and the cream cheese topping.
Substitutions and Variations
While this classic gooey butter cake recipe is a crowd-pleaser, there's always room for a little creativity. Here are some variations to consider:
Nutty delight: Sprinkle chopped nuts like pecans or walnuts over the top before baking for added crunch and flavor.
Lemon zest: Add some lemon zest and a squeeze of lemon juice to the cream cheese mixture for a tangy, citrusy kick.
Topping variations: Get creative with toppings – drizzle with chocolate or caramel sauce, add a scoop of ice cream.
How to Make Gooey Butter Cake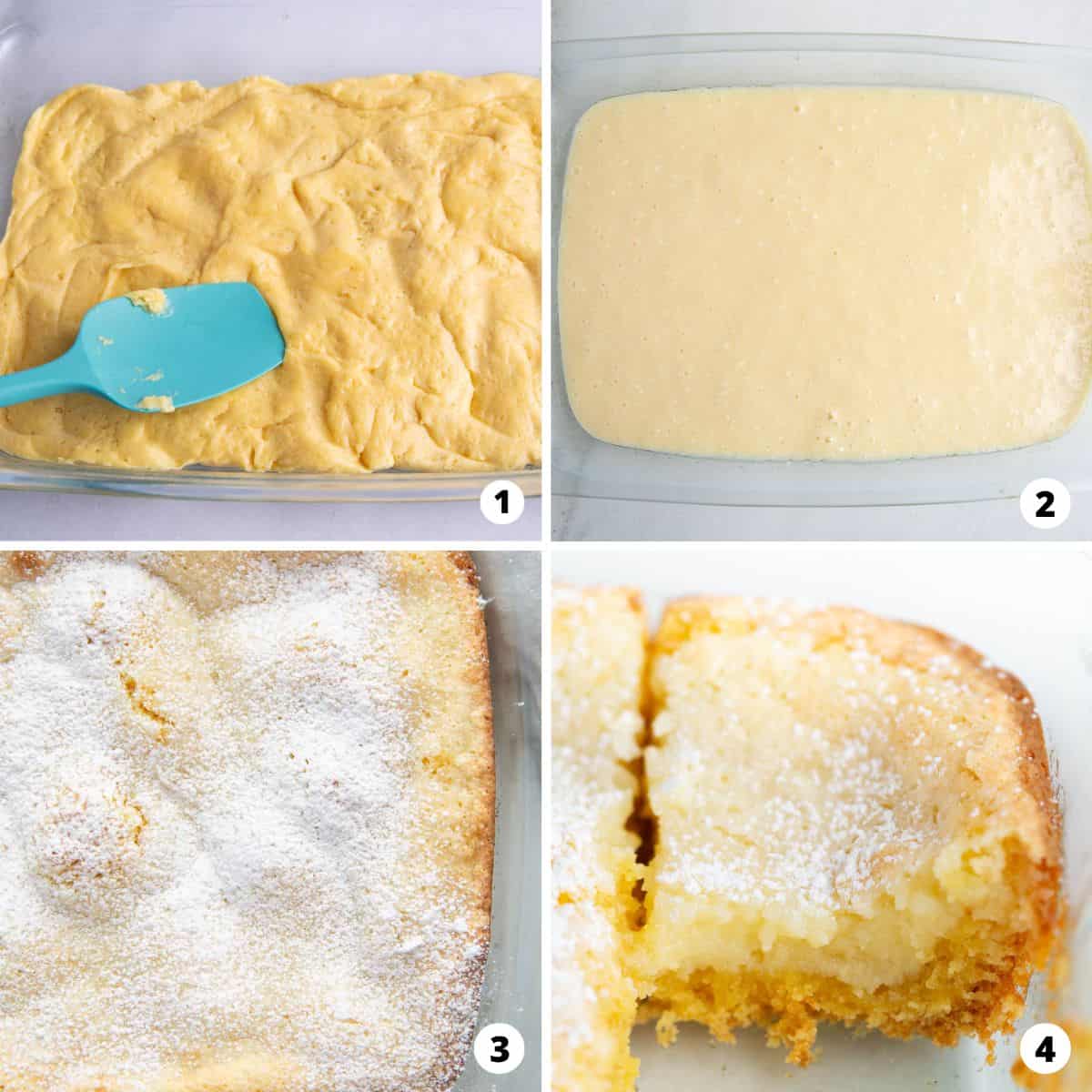 Bottom layer: Mix together the yellow cake mix, melted butter, and 2 eggs until well combined. This mixture will be thick, resembling cookie dough. Press it evenly into the bottom of a greased 9×13-inch baking dish.
Top layer: In another bowl, use an electric mixer to combine the softened cream cheese, remaining 2 eggs, and vanilla extract until smooth and creamy. Gradually add in the powdered sugar, continuing to mix until the mixture is well combined and free of lumps.
Pour the cream cheese cake batter over the cake mix layer in the baking pan, spreading it evenly.
Bake in 350°F oven until the top is golden brown and the center has a slight jiggle. Allow the gooey butter cake to cool completely in the baking dish before serving.
Baking Tips
Grease the baking bish: Make sure to thoroughly grease your 9×13-inch baking dish before spreading the cake mix layer. This will prevent the cake from sticking and make it easier to remove slices later.
Even cake mix layer: When pressing the cake mix mixture into the baking dish, aim for an even layer. You can use the back of a spoon or your clean hands to do this. An even layer ensures consistent baking.
Test for doneness: Keep a close eye on the cake during the last few minutes of baking. It should be golden brown on top and have a slight jiggle in the center when gently shaken. Overbaking can lead to a less gooey texture.
Chill before serving: While the cake is delicious at room temperature, it's even better when chilled for a few hours or overnight in the refrigerator. Chilling enhances the gooey texture and makes it easier to slice clean squares.
Recipe FAQs
What is gooey butter cake?
Gooey butter cake is a classic and beloved dessert, known for its rich, buttery, and, as the name suggests, gooey texture. It hails from St. Louis, Missouri, and has become a cherished treat around the world.
Can I use a different cake mix flavor?
Certainly! Feel free to experiment with different cake mix flavors to create unique variations of the cake.
Can I use unsalted butter instead of salted butter?
Absolutely! If you prefer to use unsalted butter, just add a pinch of salt to the cake mix to balance the flavors.
How do I know when my cake is done?
Look for visual cues! The top should be golden brown with a slight wobble in the center. During the cooling period, the topping will continue to set.
Can I make gooey butter cake in advance?
Yes, you can make it ahead! This ooey gooey actually tastes even better the next day. Store it in an airtight container in the refrigerator for up to 3-4 days.
Storing
Storing: To keep your cake fresh, store it in an airtight container in the refrigerator. It will stay delicious for up to 3-4 days.
Leftover cake ideas: If you have any leftover gooey butter cake (which is rare in my household), you can get creative with it.
Try crumbling it over vanilla ice cream or yogurt, or even turning it into a delightful trifle with layers of whipped cream and fruit.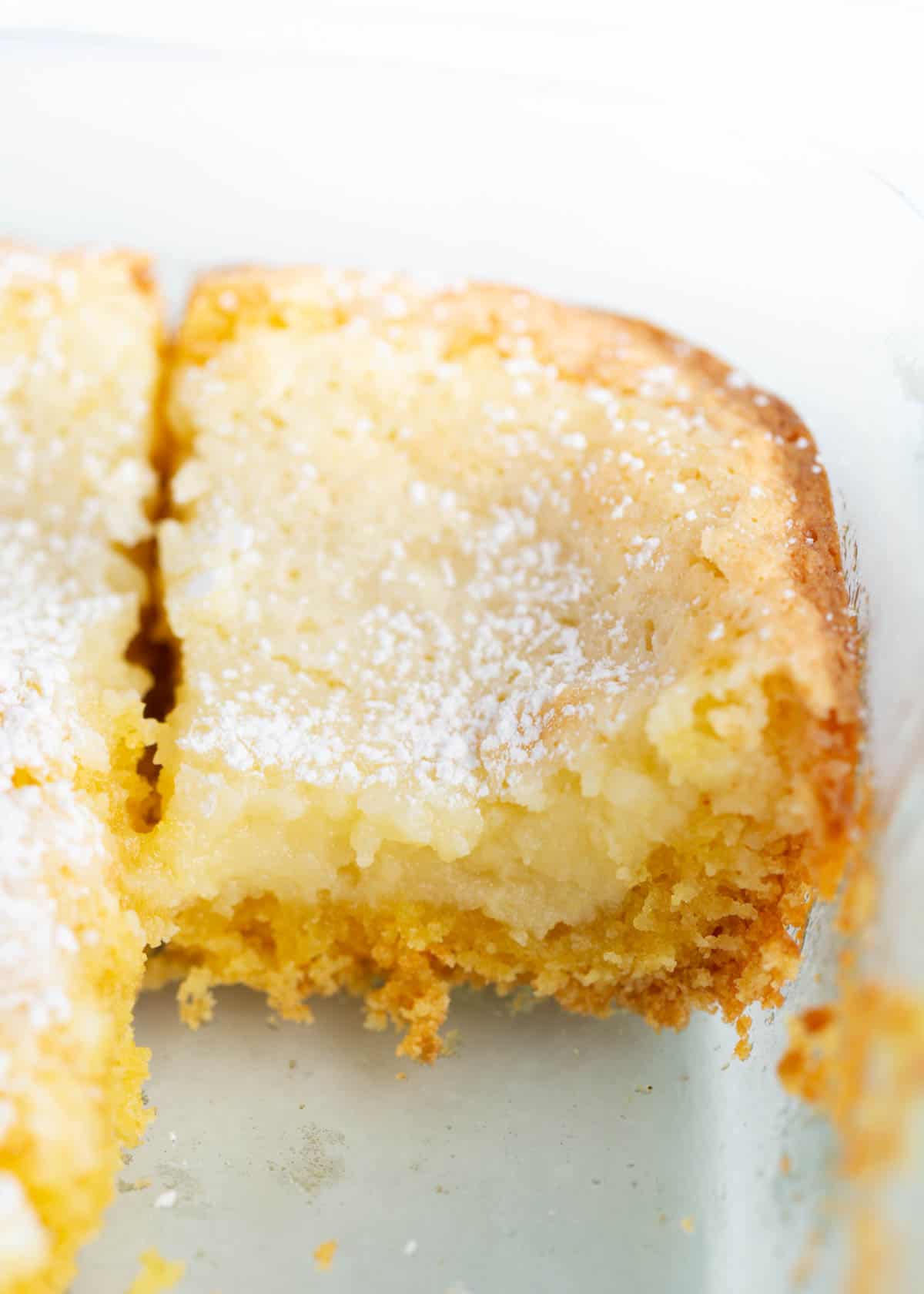 HUNGRY FOR MORE? Subscribe to my newsletter and follow on Facebook, Pinterest and Instagram for all the newest recipes!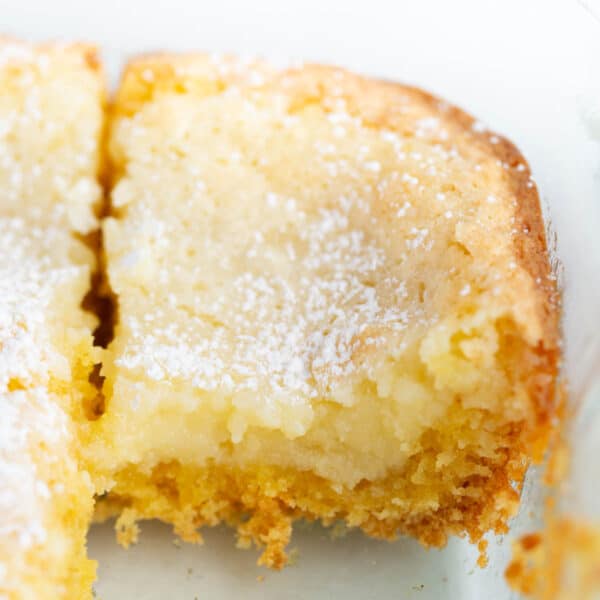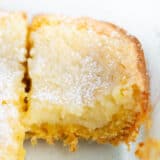 Gooey Butter Cake Recipe
This easy gooey butter cake is made effortlessly with cake mix and a delicious cream cheese topping. This classic dessert is a beloved favorite.
Ingredients
First layer
1 (18.25-ounce) box yellow cake mix
½ cup salted butter , melted
1 large egg
3 Tablespoons hot water
Second layer
1 (8-ounce) package cream cheese , softened
2 large eggs
3 ¼ cups powdered sugar , plus more for topping
2 teaspoons vanilla extract
Instructions
Preheat the oven to 350℉. Spray a 9×13-inch baking dish with nonstick spray.
First Layer
In a large bowl, mix together cake mix, butter, egg, and water until well combined. Spread evenly in the bottom of the baking dish.
Second Layer
In a medium bowl, mix together cream cheese, eggs, and vanilla with an electric mixer on medium speed. Gradually mix in powdered sugar until smooth and creamy. Spread over the top of the cake mix layer.

Bake 30 to 40 minutes, or until edges are golden brown. Let cool completely. Sprinkle with powdered sugar before serving.
---
Notes
Variation: Fold in coconut and pecans to the cream cheese mixture before adding to the top. Make ahead: This cake actually tastes better the longer it sits, and is perfect for baking a day in advance. Recipe slightly adapted from Allrecipes
Nutrition
Calories: 141kcal | Carbohydrates: 20g | Protein: 1g | Fat: 6g | Saturated Fat: 4g | Polyunsaturated Fat: 0.4g | Monounsaturated Fat: 2g | Trans Fat: 0.2g | Cholesterol: 55mg | Sodium: 57mg | Potassium: 18mg | Fiber: 0.001g | Sugar: 20g | Vitamin A: 218IU | Calcium: 8mg | Iron: 0.2mg
Nutrition provided is an estimate. It will vary based on specific ingredients used.
Did you make this recipe? Don't forget to give it a star rating below!