These oven baked chicken wings are SO easy to make and seriously addicting! They're crispy, flavorful and the perfect party appetizer. Coat them in your favorite sauce and dig in!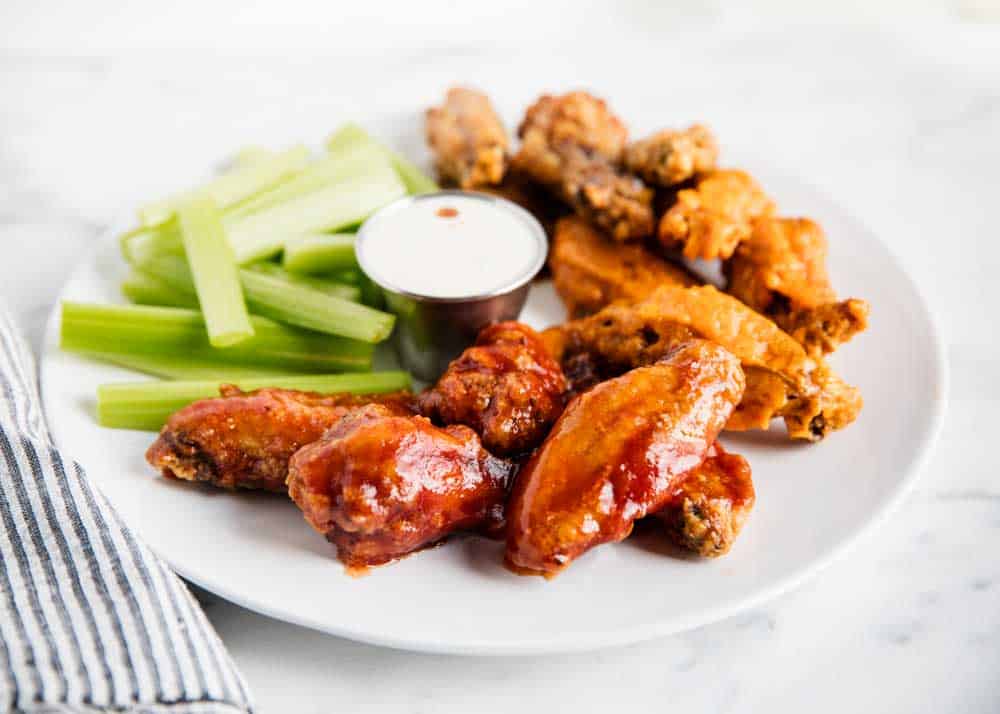 Crispy Baked Chicken Wings
You can't have a game day celebration without chicken wings! It's one of those classic party appetizers that everyone loves. We always make a plate of them, along with bbq meatballs or little smokies, jalapeno poppers and pigs in a blanket.
With the big game coming up, I wanted to share one of the most popular game day appetizers out there: chicken wings! There's something about crispy wings coated in a delicious and tangy sauce that just screams football (or any sport for that matter). They are so tender, flavorful and seriously addicting.
There are definitely LOTS of different ways to make them. Some of the most popular ways are to deep fry them, cook them in the crockpot or bake them. I love baking the chicken wings in oven because it is the EASIEST way to make them and you all know I love easy recipes. :)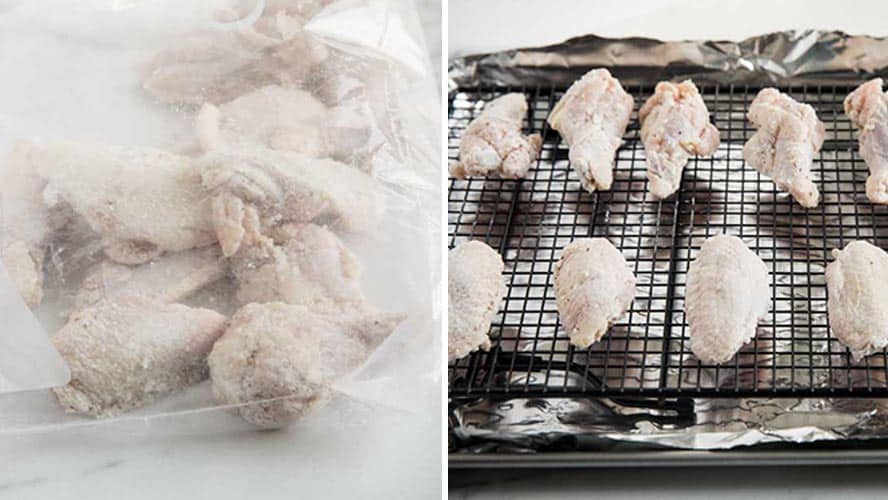 How to Bake Chicken Wings in Oven
CUT. Start by cutting off the wing tips from the chicken wings. If the wings and drumsticks are not separated, you'll need to cut those apart as well. Simply cut through the cartilage of the joint where the wing meets the drumstick. Then use a paper towel to pat the meat until completely dry.
COAT. Add the spices in a zip top bag and shake until combined. Place the meat in the bag and shake until each piece is evenly coated. Then place the wings on a foil lined baking sheet. I like to place a wire rack on top of the baking sheet, then place my wings directly on top of the rack. The wings are less greasy this way since the grease drips onto the baking sheet.
BAKE. Bake the chicken wings in oven at 425ºF for about 30 to 40 minutes. The skin should be golden and crispy. Don't forget to flip halfway through so that both sides cook evenly.
SAUCE. Remove from oven and let the wings sit on the rack for a few minutes. Then brush your favorite sauce on top. They also taste delicious plain with your favorite dipping sauces like ranch, blue cheese dressing or honey mustard.
Favorite Sauces
When it comes time to slather on your favorite sauce, try any of the delicious options below. They add the best flavor and make the wings finger licking good!
BBQ sauce: This is my favorite sauce to use. You can buy your favorite BBQ sauce or make my homemade BBQ sauce. Once the wings are done cooking, brush the sauce right on top.
Buffalo sauce: This is one of the most famous sauces. It has a little bit of heat and adds great flavor. You can make your own buffalo sauce by whisking together 1/2 cup franks hot sauce with 1/4 cup melted butter. Or you can buy the franks version from the store.
Teriyaki sauce: I like to buy Yoshida's brand or make my own homemade teriyaki sauce. It adds the best sweet and salty flavor to the teriyaki chicken wings!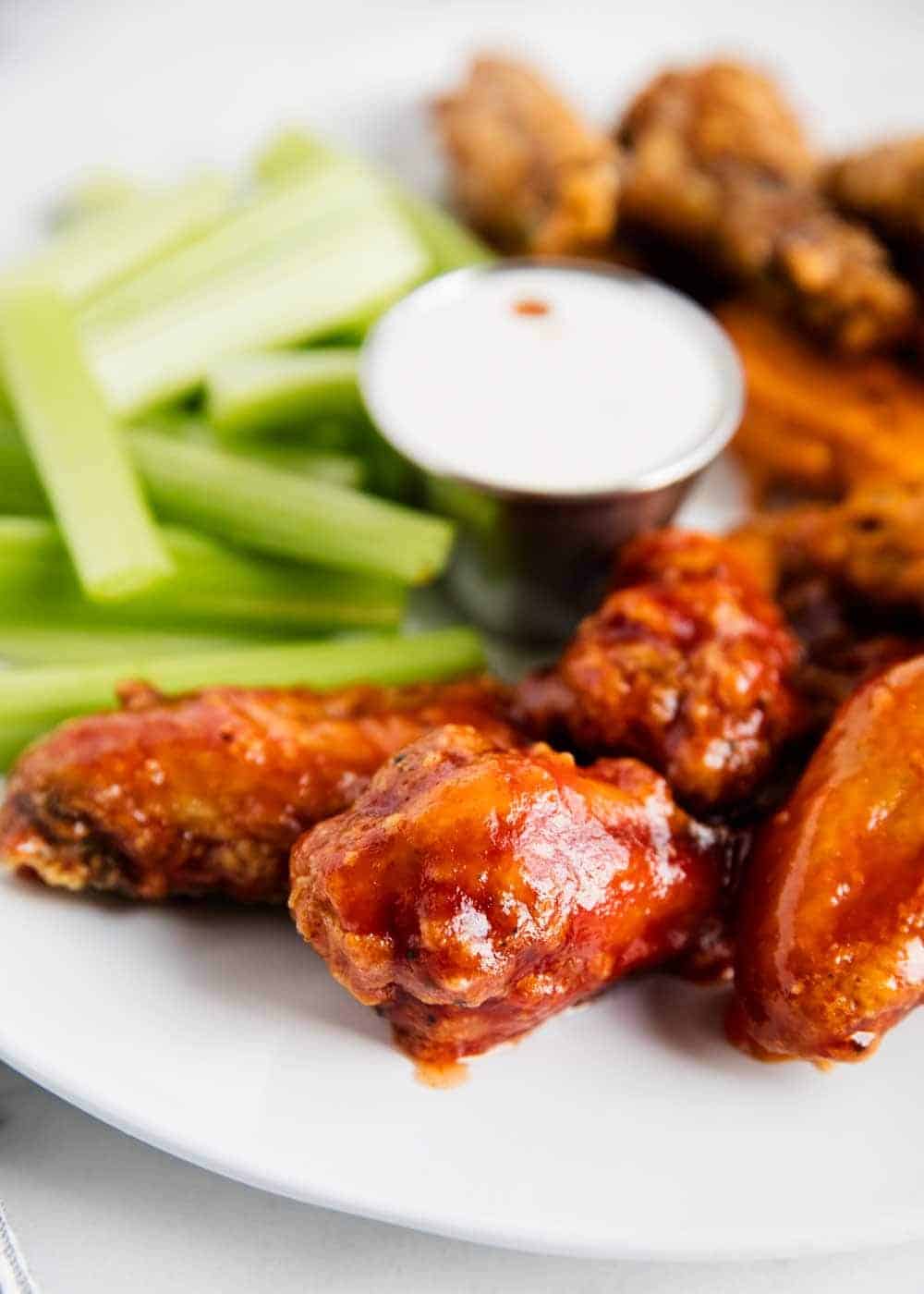 The Key to Crispy Baked Chicken Wings
Dry completely. There shouldn't be ANY moisture on the chicken skin before seasoning and baking. If the meat is still a little wet, it won't crisp up like you want it to. So use a paper towel to pat the skin completely dry before adding the seasonings.
Cook on a rack. This is key to a crispy texture! Instead of cooking the wings directly on a baking sheet, place a rack on top of the sheet and then place the wings on the rack. Any grease or liquid will drip off the rack onto the pan, which will help keep the skin crispy. This rack method also helps evenly distribute the heat on all sides of the meat. Plus it makes clean up WAY easier if you line the pan with foil.
Baking powder. You may be wondering why the wings are coated in baking powder. This is another trick to a crispy texture! It helps them brown up nicely and get extra crispy in the oven.
Flip halfway. Don't forget to flip them halfway through baking. This ensures that both sides will get perfectly crispy and delicious.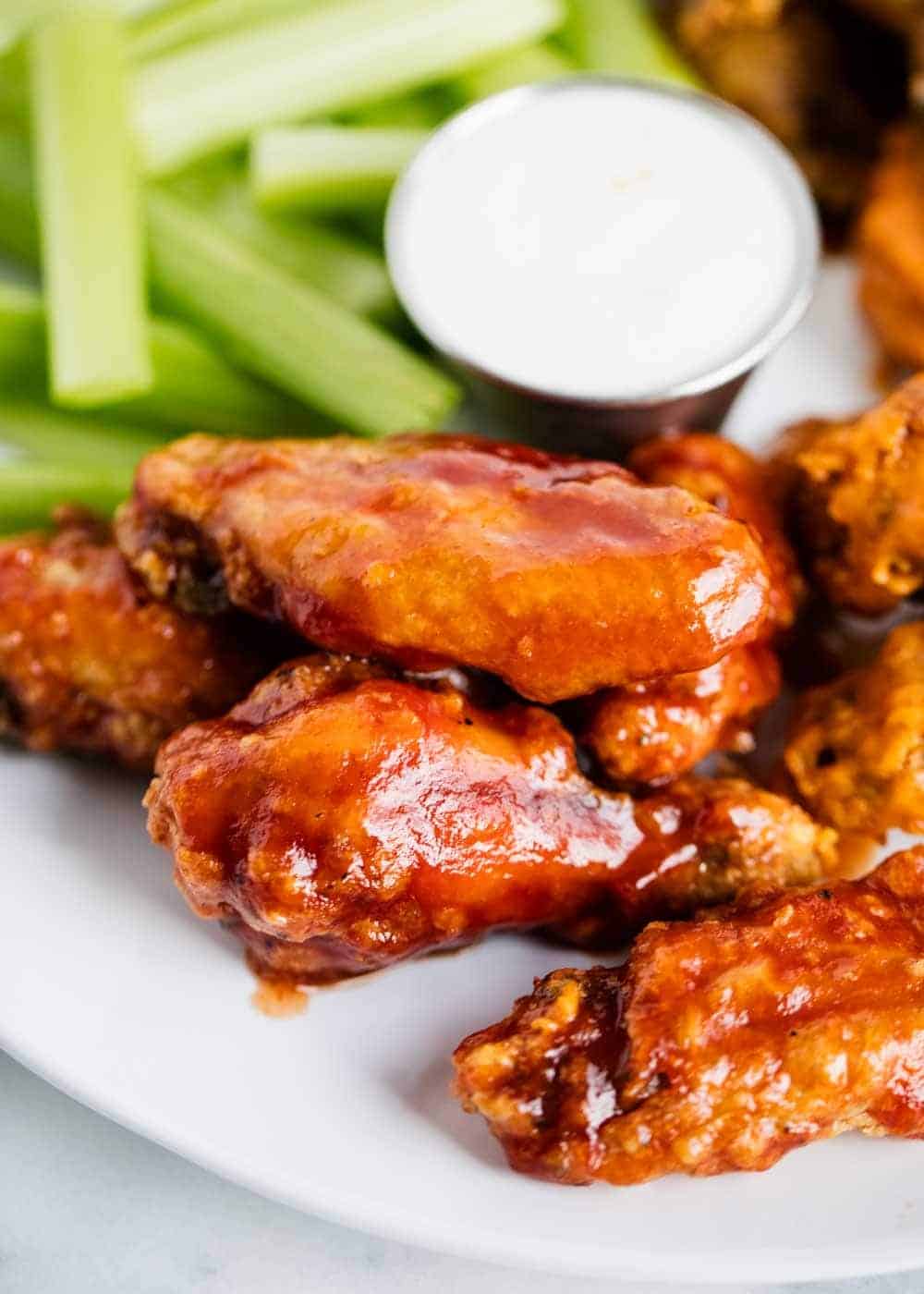 More Game Day Appetizer Ideas
HUNGRY FOR MORE? Subscribe to my newsletter and follow on Facebook, Pinterest and Instagram for all the newest recipes!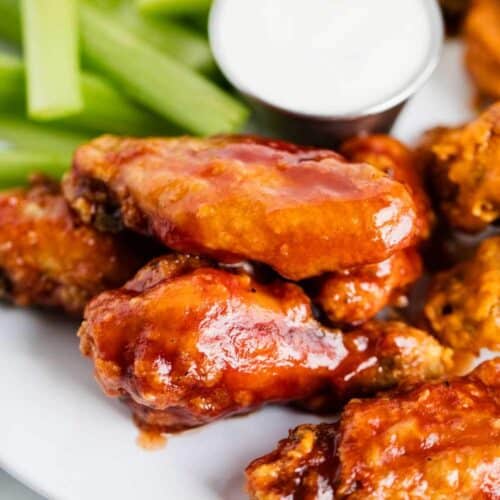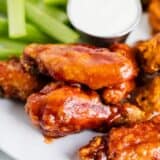 Oven Baked Chicken Wings
These oven baked chicken wings are SO easy to make and seriously addicting! They're crispy, flavorful and the perfect party appetizer. Coat them in your favorite sauce and dig in!
Ingredients
1 1/2 pounds chicken wings (about 20 fresh, not frozen)
1 Tablespoon baking powder
1 teaspoons salt
1/4 teaspoon pepper
Optional Sauces
For serving: Celery sticks and ranch or blue cheese dressing
Instructions
Preheat oven to 425ºF. Line a baking sheet with foil and coat with non-stick cooking spray. Place a wire rack on the pan if you'd like them less greasy.

Make sure your wings tips are removed and separate into wings and drums if they are not already. Pat your wings dry with a paper towel. Make sure they are completely dry.

Place the baking powder, salt and pepper in a zip top bag. Shake until combined. Then place the chicken in a ziptop bag and shake until coated. Place on top of the rack.

Bake for 30-40 minutes or until nice and crispy, flipping halfway. Let sit a few minutes and then brush on desired sauce.
---
Nutrition
Calories: 83kcal | Carbohydrates: 1g | Protein: 7g | Fat: 6g | Saturated Fat: 2g | Polyunsaturated Fat: 1g | Monounsaturated Fat: 2g | Trans Fat: 1g | Cholesterol: 28mg | Sodium: 260mg | Potassium: 179mg | Fiber: 1g | Vitamin A: 54IU | Vitamin C: 1mg | Calcium: 57mg | Iron: 1mg
Nutrition provided is an estimate. It will vary based on specific ingredients used.
Did you make this recipe? Don't forget to give it a star rating below!