Juicy and tender baked chicken breast in a sweet and tangy BBQ glaze. This is a no fuss baked BBQ chicken recipe with 2 simple ingredients and only 5 minutes of prep!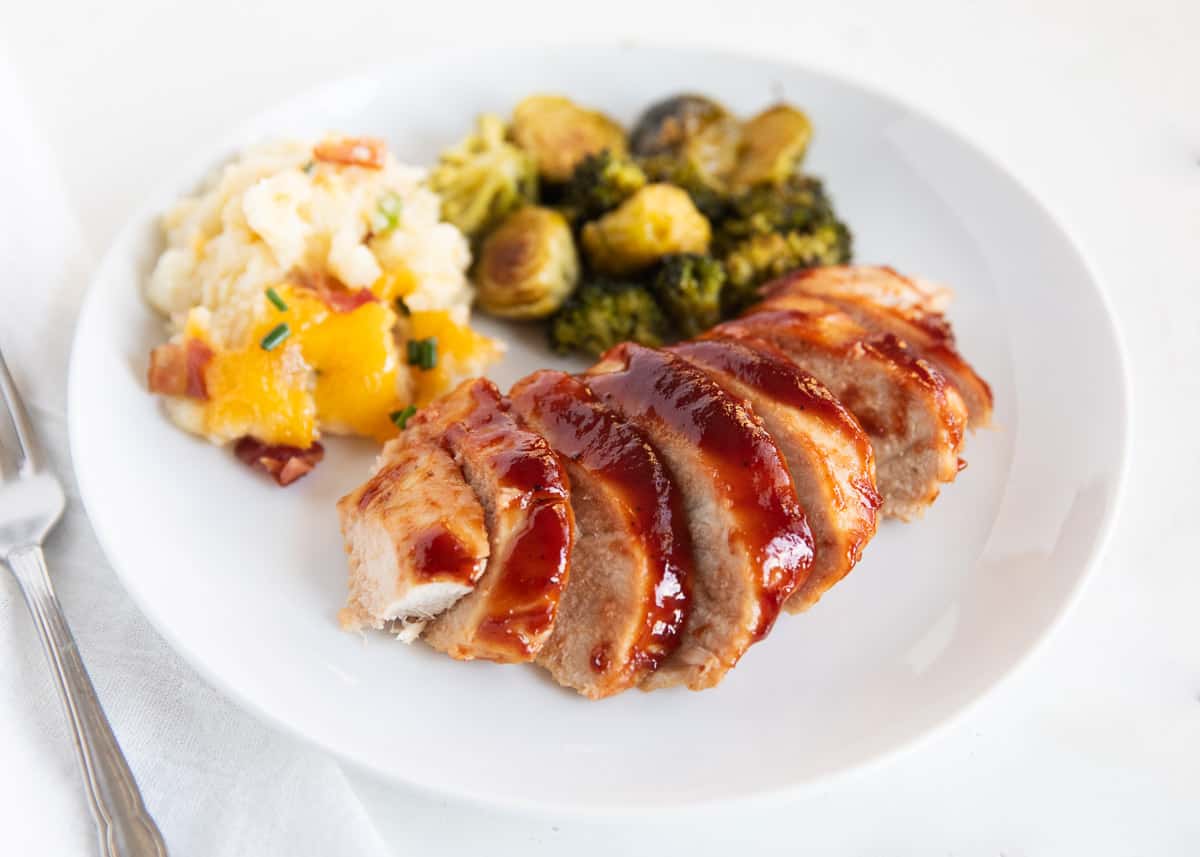 Oven Baked Chicken
This dish usually makes an appearance whenever I need something quick and easy for dinner. No need to fire up the grill or prepare anything in advance. It takes just 5 minutes to prep and is a delicious 30-minute meal that your family will keep coming back to.
Are you in need of an easy, quick, no-fail chicken recipe to add to your arsenal? This oven baked BBQ chicken is calling your name. It's the perfect dinner for busy weeknights and only requires 2 simple ingredients (chicken breasts + BBQ sauce) to come together. It's just as easy as my crockpot BBQ chicken, but made in a quarter of the time!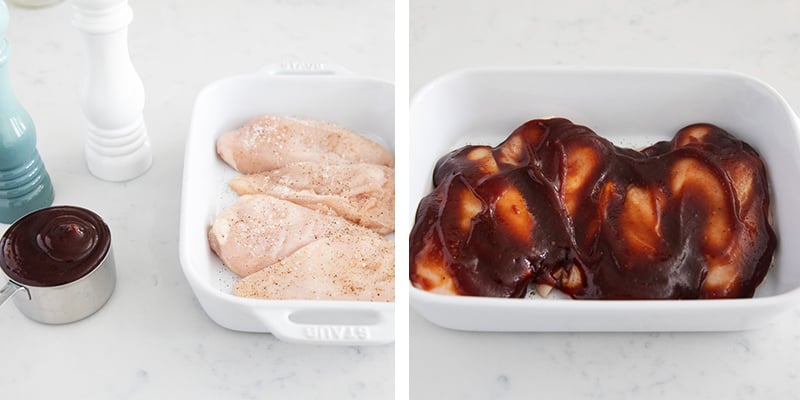 Tips for the Best Baked BBQ Chicken
Not only does it make a great dinner, but the chicken is also great for meal prep too. Make a big batch at the beginning of the week and use it for different dinners like stuffed sweet potatoes, a BBQ chicken salad, sheet pan BBQ nachos or a BBQ chicken pizza. There are so many delicious ways to use it, you'll never get bored.
Type of chicken. I like using chicken breasts for this recipe. They're lean, healthy and aren't super greasy when cooking. You could also make this recipe with thighs, drumsticks or bone-in breasts, although keep in mind that the total cooking time may change depending on how thick the meat is. You can use a meat thermometer to check if it's ready (the internal temperature should be 165°F).
Thickness. Chicken breasts can be a bit thick, so I like to use a meat mallet (or rolling pin) to lightly pound the meat to an even thickness (about 1 inch thick). If the meat is too thick, the outsides can burn while the center is still undercooked. Using a mallet helps ensure that the meat cooks evenly in the oven.
Marinate. This definitely isn't required, but I like to marinate my meat for a few hours in advance if I have the time. It makes the meat more tender and gives it a bolder BBQ flavor. If you don't have time to marinate, don't worry. Your chicken will still taste delicious!
Covered or uncovered. You may be wondering if you need to cover the pan with foil while baking. The answer is no! The sauce keeps the meat nice and moist, so it won't dry out if it's uncovered.
Keep moist. About halfway through baking, make sure to flip the meat AND baste with more sauce. I usually add about 1/2 cup sauce before baking, then baste with another 1/4 to 1/2 cup depending on how much it needs.
Let rest. This is a tip that many people forget. Let your meat rest before slicing! After removing it from the oven, let it sit in the pan for about 5 minutes so that the juices flow back in and create a super moist and tender result.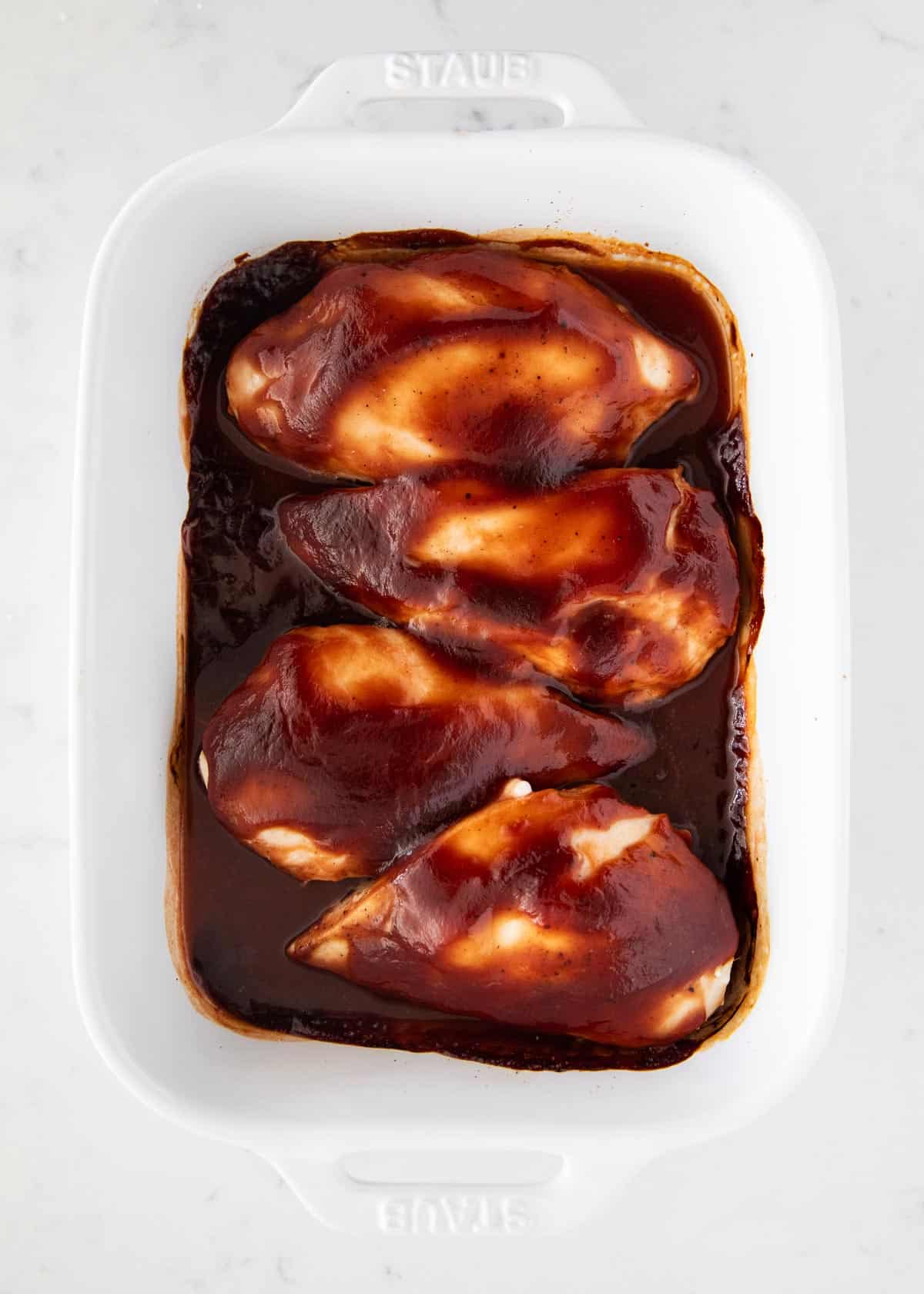 Sauce and Flavorings
What makes this recipe so great is that you only need BBQ sauce (plus a sprinkle of salt and pepper) to give this dish it's incredible flavor. You can use a homemade BBQ sauce or use your favorite premade bottle (I like Stubbs or Sweet Baby Ray's). I typically start with 1/2 cup sauce and then add more on top about half way through cooking if it looks like it needs it.
You can also give the sauce an extra oomph by mixing in any of the below:
A few Tablespoons of Italian dressing
A sprinkle of red pepper flakes, paprika or hot sauce
Minced garlic or garlic powder
A few Tablespoons of brown sugar or honey
A dash of liquid smoke
Storing, Freezing + Reheating
Any leftovers will keep in an airtight container in the fridge for up to 3 days. You can also freeze the chicken for an easy freezer meal for a busy day. If freezing, I prefer to slice it into pieces first. When ready to enjoy, thaw in the fridge overnight and then reheat in the microwave or oven at 200°F for about 10 minutes.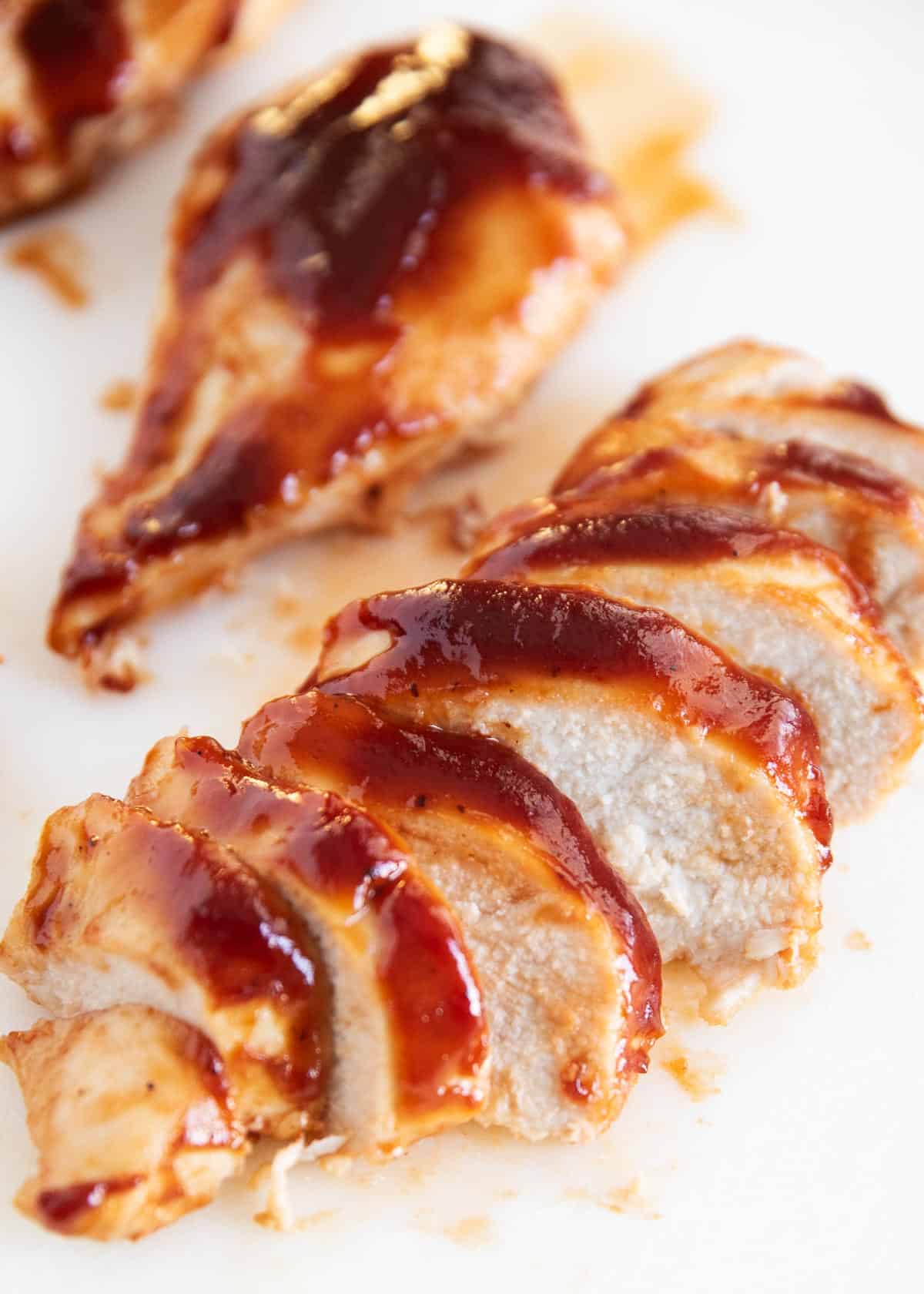 Favorite Sides for Serving
While your chicken cooks, try whipping up any of the below side dishes to serve it with. Keep it on the lighter side with a fresh vegetable dish or choose something a little more hearty and comforting. The options are endless!
HUNGRY FOR MORE? Subscribe to my newsletter and follow on Facebook, Pinterest and Instagram for all the newest recipes!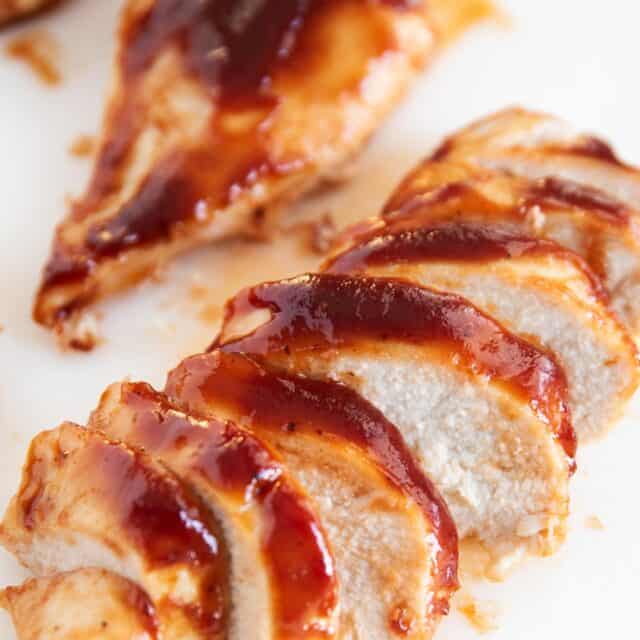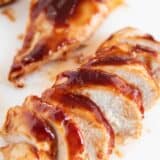 Baked BBQ Chicken
Juicy and tender chicken breast baked in a sweet and tangy BBQ glaze. This is a no fuss baked BBQ chicken recipe with 2 simple ingredients and only 5 minutes of prep!
Ingredients
4 chicken breasts
½ teaspoon Kosher salt , more to taste
¼ teaspoon Freshly ground black pepper , more to taste
½ – 1 cup BBQ sauce , more to taste
Instructions
Preheat oven to 400°F. Place the chicken breasts between 2 pieces of parchment paper and lightly pound with a mallet or rolling pin until they are an even thickness. I prefer mine about 1" thick. Trim any fat and then place in a baking dish and sprinkle with salt and pepper.

Pour BBQ sauce evenly over the top of the chicken. Then bake for 25-30 minutes or until the internal temperature reaches 165°F. To keep the chicken juicy, flip half way through and baste with more BBQ sauce.

Allow chicken to rest for 5 minutes before slicing. Serve while warm.
---
Notes
BBQ Sauce – I typically start with 1/2 cup sauce and add more sauce about half way through cooking if it looks like it needs it. My favorite store bought brands are Stubbs or Sweet Baby Ray's. Chicken – You may also use chicken thighs or bone in or drumsticks as well. Storage – Store leftovers in an airtight container for up to 3 days in the refrigerator or freeze up to 3 months. If freezing, I prefer to slice first. Then allow the chicken to thaw in the fridge overnight. Reheat in the microwave or the oven at 200°F for 10 minutes, or until warm.
Nutrition
Calories: 1770kcal | Carbohydrates: 175g | Protein: 195g | Fat: 26g | Saturated Fat: 5g | Trans Fat: 1g | Cholesterol: 579mg | Sodium: 6617mg | Potassium: 4347mg | Fiber: 4g | Sugar: 143g | Vitamin A: 1235IU | Vitamin C: 13mg | Calcium: 190mg | Iron: 6mg
Nutrition provided is an estimate. It will vary based on specific ingredients used.
Did you make this recipe? Don't forget to give it a star rating below!