This super simple Instant Pot chicken and rice is your one-stop-shop for a flavorful, budget-friendly, complete family-friendly dinner idea that can even give you leftovers for the week! One-pot for easy clean-up is an added bonus!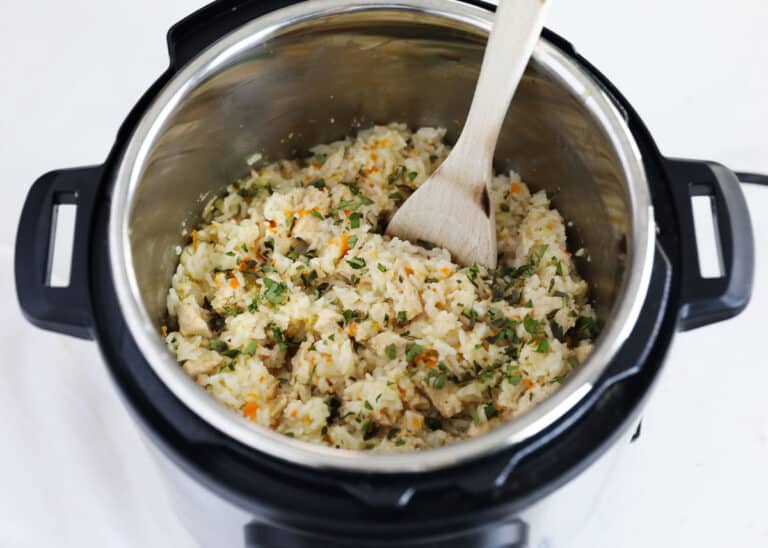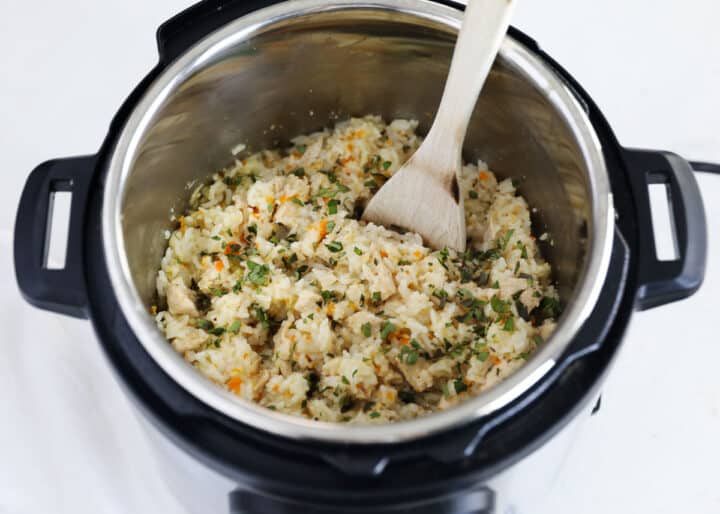 One-Pot Meal (in an instant!)
Instant Pot chicken and rice is a game-changer for busy families! Especially on days when no matter how well you think you've planned, you still don't have as much time as you thought to get dinner on the table. This easy recipe is a complete, healthy, and filling, one-pot meal that will save any day!
If you love my one-pot chicken and rice or chicken and rice casserole, you're going to love this one! They're each a little different and definitely all deserve a place at your dinner table on any given night, but for easy hands-off cooking, this chicken and rice in Instant Pot recipe wins every time.
It's cheesy and creamy which can either remind you of a casserole or a risotto or maybe a bit of both. It's loaded with herbs, fall apart pieces of chicken, and healthy tender veggies. The flavors of the parmesan cheese and lemon pepper put it over the top.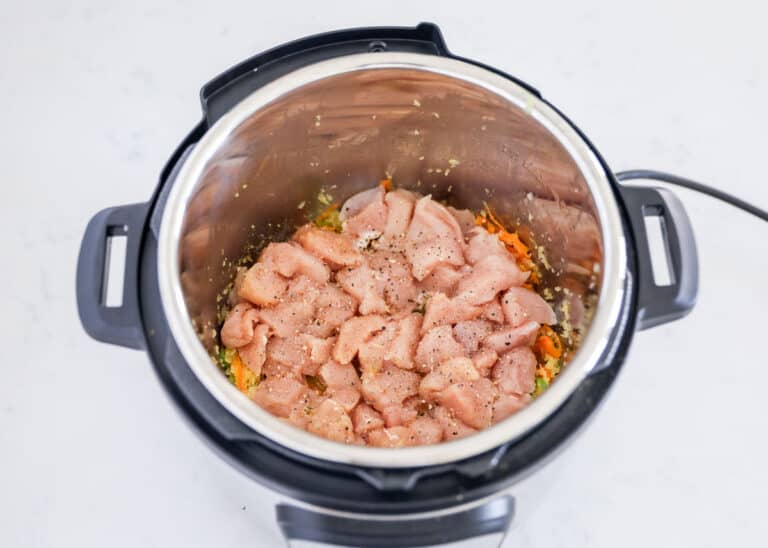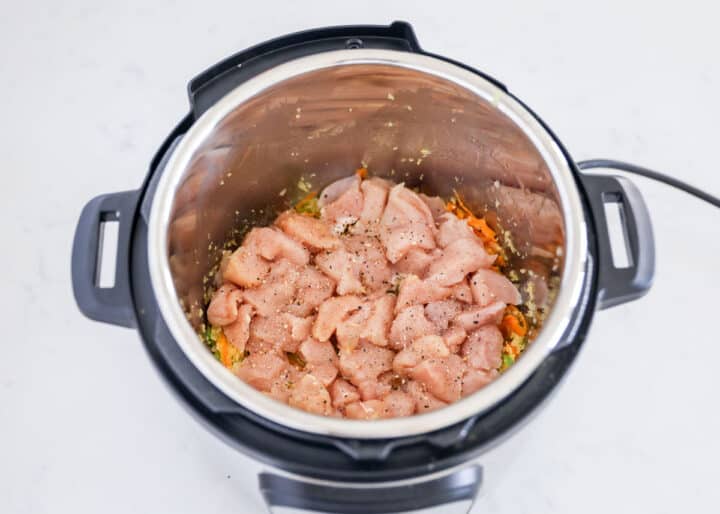 Which Rice to Use?
Here's the scoop! There is no precooking the rice for this dish. It goes in uncooked, all at once and then the magic of the pressure cooker does the rest. It is because of this, that white rice works best because of its much shorter cook time than brown rice.
If you were to make this dish with brown rice, based on the timing of this recipe you would have undercooked rice. Either that or, if you decided to cook the brown rice long enough, you'd have overcooked everything else. Stick with white rice for this one!
Best Cut of Chicken
For this dish, Instant Pot chicken breast and rice is definitely a contender, but I must say I prefer using chicken thighs. To make it even more budget-friendly, sometimes I'll just use whatever is on sale! The reason I prefer thighs over breasts is that they are much more flavorful and juicy. You do, however, technically get more meat from a non butterflied breast, so it's still a great option.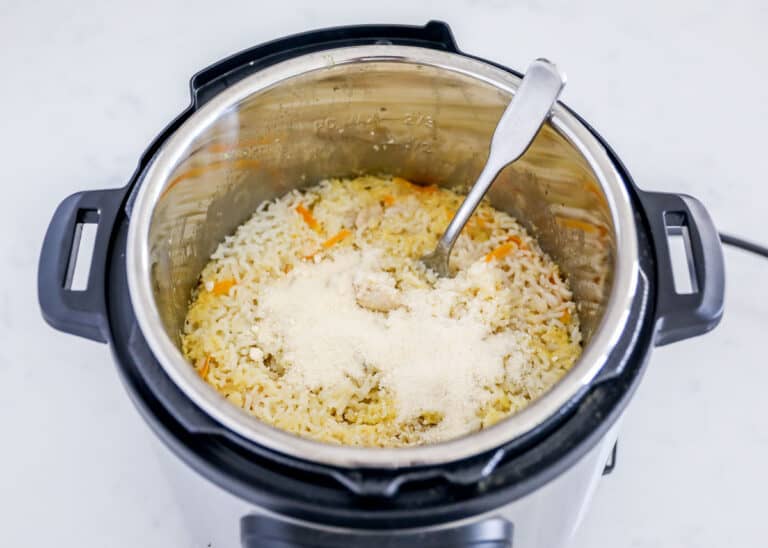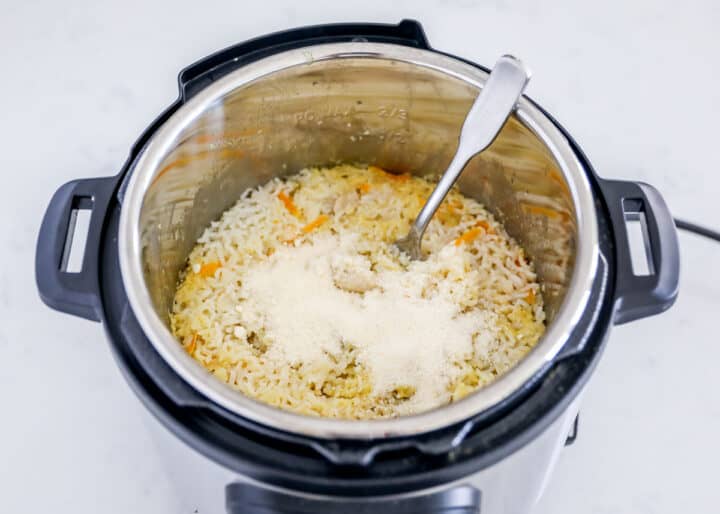 Tips
Be ready: Once the sauté button comes on, it is helpful to be ready to add your mirepoix (celery, onions, carrots) as well as the pieces of chicken. Having everything chopped beforehand will help to streamline everything and make it even easier than it already is.
Variations: This recipe is super flexible so go ahead and add more veggies if you want. 1/2 cup of bell peppers with the onions is great or you could up the garlic to an extra 3 cloves to infuse more garlic flavor into everything.
Fresh herbs: Swap the parsley with basil or oregano if that's what you have or prefer the taste of.
Rinse rice: White rice comes with a lot of starch, so rinsing off any residual starch will help keep it from clumping together.
Do not stir: Once you have added your rice over the chicken and the broth on top of that, it's important you do not stir. This is to avoid the burn notice. Once the rice absorbs all of the broth it can start to dry out, so keeping it above the chicken will help to avoid it burning on the bottom of the pot.
Quick release: Remember to avoid a natural release otherwise everything will be cooking much longer than it needs to. For more information on exactly what that means, check out my simple guide on how to use the Instant Pot.
Storage Suggestions
To store: This recipe makes quite a bit, so if you're not feeding a big family or crowd, you will probably have leftovers. Meal prep for the win! Store in an airtight container for up to 5 days.
To freeze: Transfer to a freezer-friendly bag or container and keep frozen for up to 3 months.
To reheat: Thaw in the fridge overnight, then reheat on the stovetop on a low simmer. You'll want to add a splash of water or broth to moisten it back up again. Cover with a lid so the steam will help bring it back to life!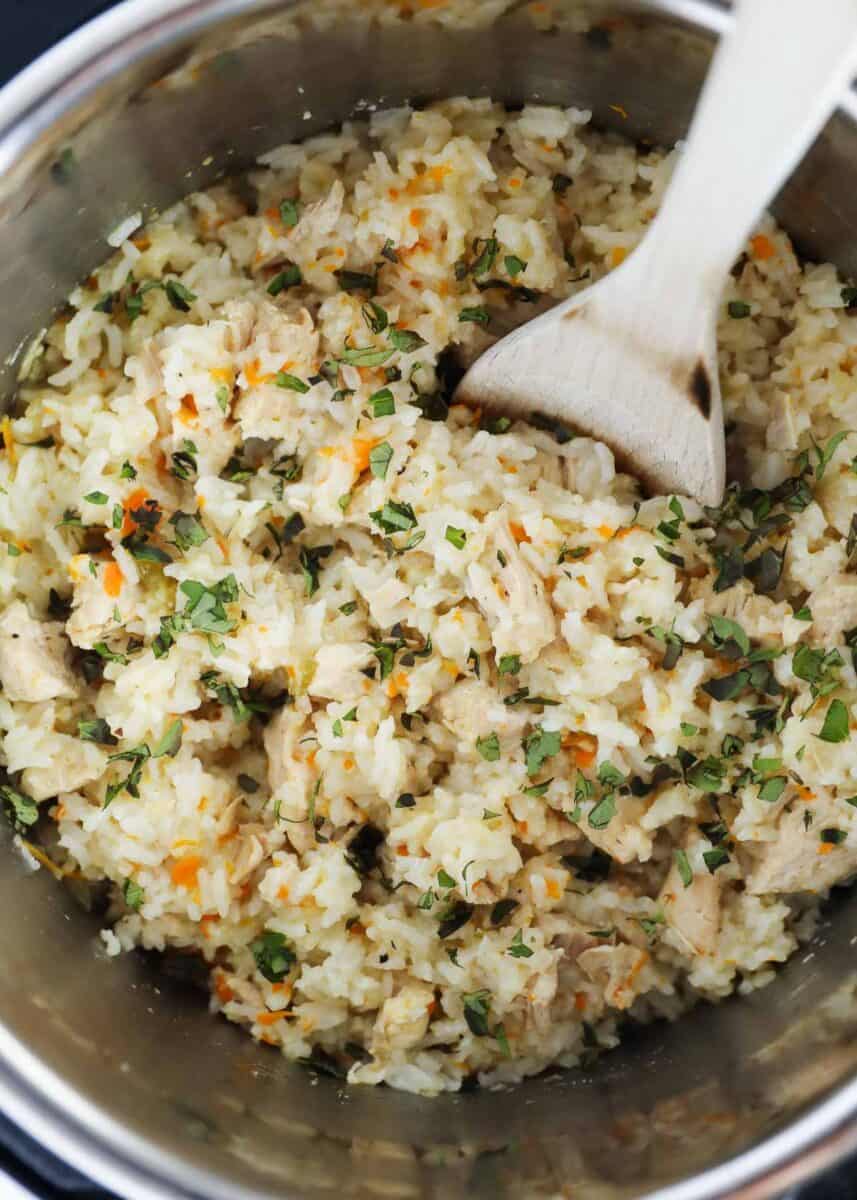 More Easy Instant Pot Dinners: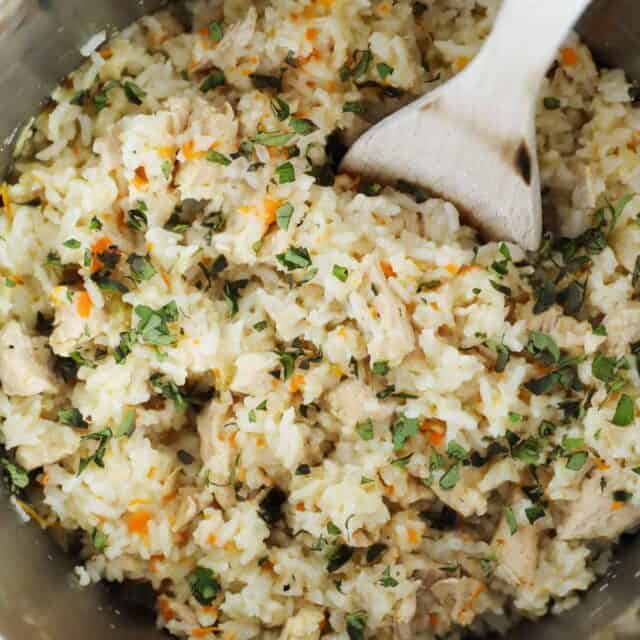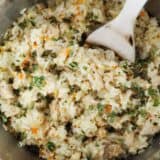 Instant Pot Chicken and Rice
This super simple Instant Pot chicken and rice is your one-stop-shop for a flavorful, budget-friendly, complete family-friendly dinner idea that can even give you leftovers for the week! One-pot for easy clean-up is an added bonus!
Ingredients
3-4 Tablespoons extra virgin olive oil
1 medium yellow onion , diced
2 large carrots , peeled and shredded
2 celery stalks , chopped
1 1/2 pounds boneless, skinless chicken thighs , or breasts (cut into 1-inch pieces)
1 1/4 teaspoon Kosher salt , more to taste
1/4 teaspoon lemon pepper or ground pepper , more to taste
1 Tablespoon minced garlic
1 1/2 cups jasmine rice , rinsed
3 cups chicken broth
1/2 cup shredded or grated Parmesan cheese
1/4 cup fresh chopped parsley
Instructions
Turn the Instant Pot to sauté mode. Heat extra virgin olive oil. Then add in the onion, carrots and celery. Sprinkle some salt and pepper over top. Cook until soft, about 5 minutes.

Turn the sauté mode back on if it turns off. Then place chicken pieces into the heated oil. Sprinkle the salt and pepper on top. Sauté for 5 minutes. Add the minced garlic the last minute.

Add the rice on top of the chicken. Then pour the chicken broth over top (do not stir). Cover with the lid and turn the valve to seal. Cook on high pressure for 10 minutes. Then do a quick release once cooked.

Remove the lid with oven mits. Then stir in the parmesan cheese and fresh parsley.

Taste and add more salt, pepper or seasonings if desired. Serve while warm.
---
Notes
Variations: This recipe is easy to add in more vegetables. Feel free to add in 1/2 cup bell peppers with the onions. Add in 3 extra garlic cloves if you'd like to infuse the garlic flavor more. Rice: Make sure to use a long grain white rice for this recipe. Brown rice will not cook as well. Fresh herbs: If you do not have parsley, substitute basil or oregano.
Calories: 317kcal | Carbohydrates: 32g | Protein: 22g | Fat: 11g | Saturated Fat: 3g | Polyunsaturated Fat: 1g | Monounsaturated Fat: 6g | Trans Fat: 1g | Cholesterol: 85mg | Sodium: 877mg | Potassium: 411mg | Fiber: 1g | Sugar: 1g | Vitamin A: 2781IU | Vitamin C: 11mg | Calcium: 110mg | Iron: 1mg
Nutrition provided is an estimate. It will vary based on specific ingredients used.
Did you make this recipe? Don't forget to give it a star rating below!