This easy one-pot chicken and rice recipe is a healthy dinner made with simple and real ingredients. Perfect for any night of the week!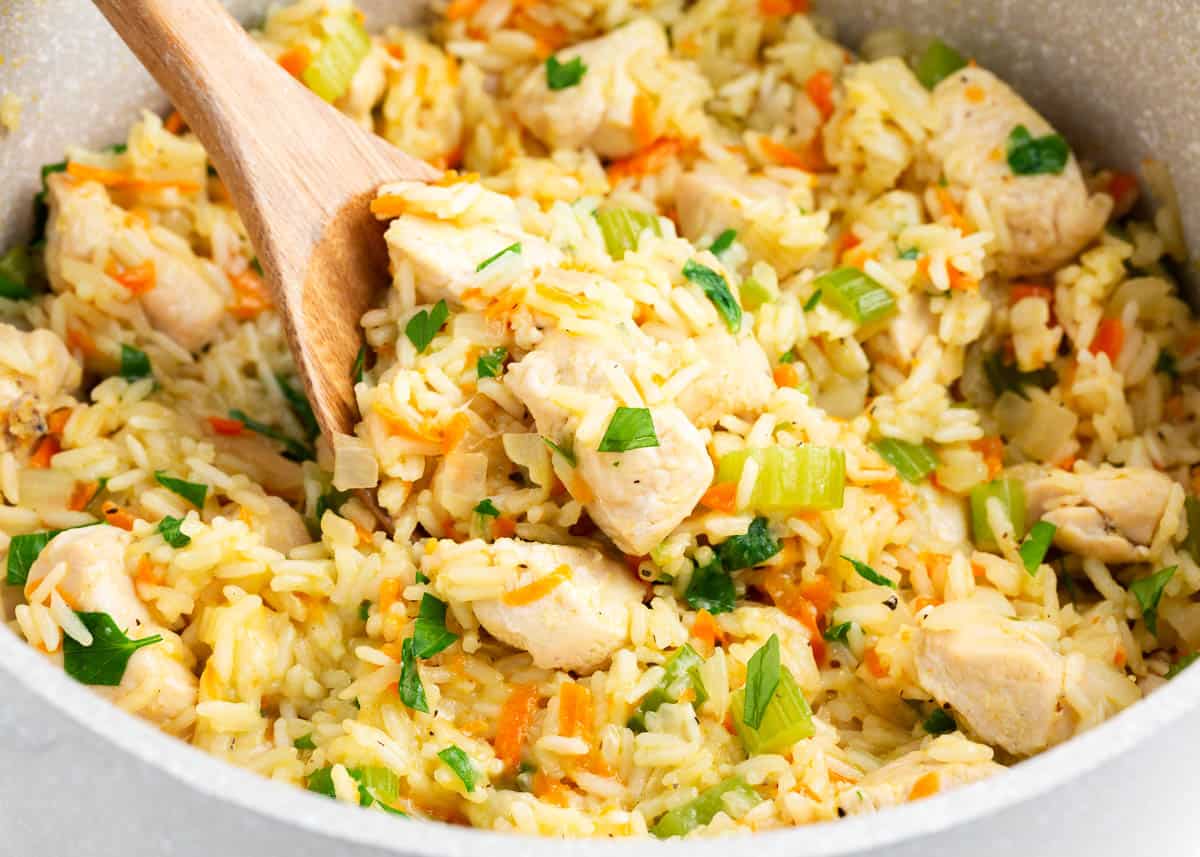 Easy One-Pot Meal
As a busy mom of four, I love meals that come together quickly in one pot and this chicken and rice recipe is one of my absolute favorites. It's easy to prepare and is fairly inexpensive to make. The best part about it is that everything is cooked together in just one pan, cutting down on cleanup time later.
Not only is it a healthy chicken breast recipe, but it also has amazing flavor too. It tastes like a better-for-you version of the classic chicken and rice casserole that many of us grew up on. It's hearty and packed with delicious ingredients like jasmine rice, chicken thighs, onions, carrots, celery, garlic, Parmesan cheese, and fresh parsley.
This easy chicken and rice recipe will become a go-to one-pot meal that your family begs for over and over again. Even my kids love this dish and go back for seconds whenever I make it!
Ingredients
For this easy one-pot chicken and rice meal you are going to have simple ingredinets that are pantry and fresh vegetables. This combination makes the best dinner yet! Prepare your ingredients ahead of time for an easier cooking experience.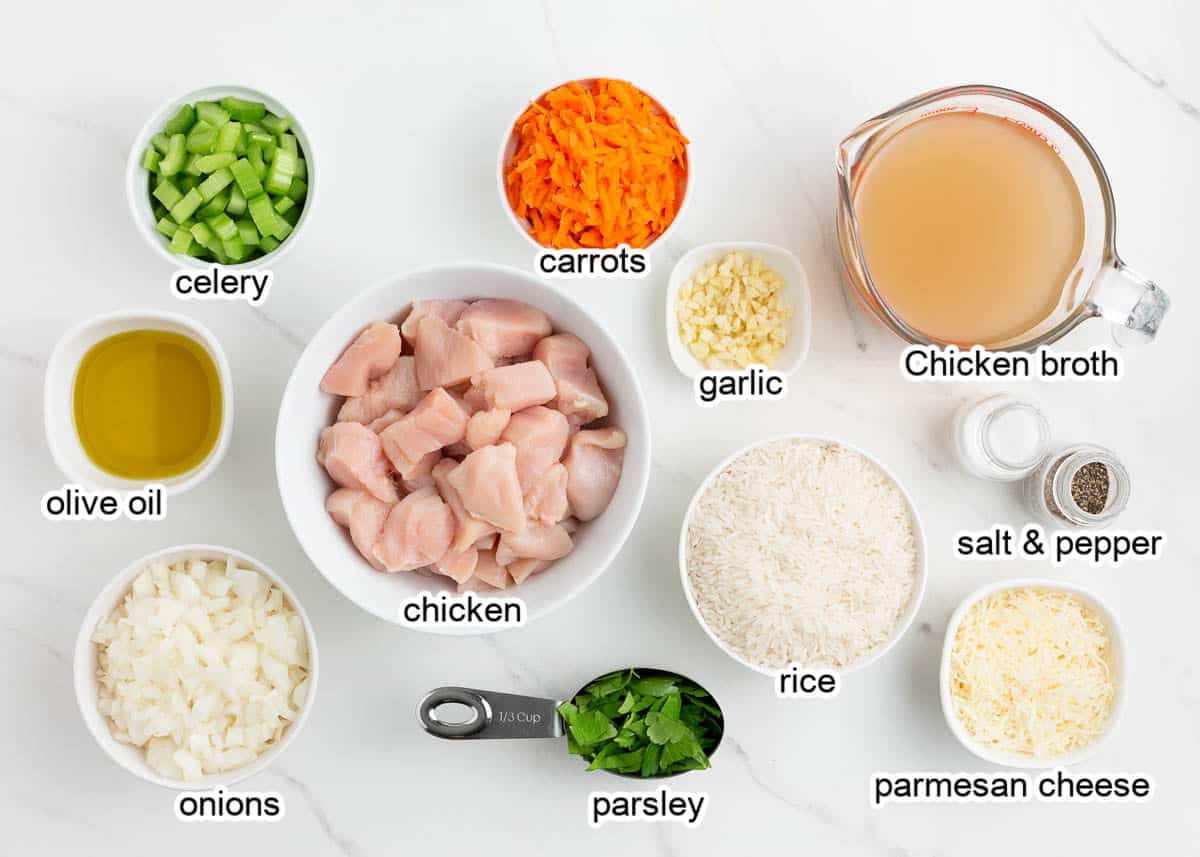 Find the full printable recipe with specific measurements below.
Chicken: I love to use chicken thighs for this recipe because they are less expensive than breast meat and have more flavor since they are dark meat. The richness of the thigh meat gives the dish tons of flavor.
Olive oil: Used when cooking the meat and vegetables to keep them from sticking to the pan and add additional flavor.
Vegetables: An aromatic mix of diced onion, celery, and shredded carrots, also known as "mirepoix" in French cuisine.
Garlic: Fresh minced garlic will add the best flavor to this dish. Learn how to mince garlic in a few different ways.
Rice: I prefer to use jasmine rice, which is a long-grain rice that has a super fluffy texture once cooked.
Chicken broth: The liquid needed to cook the rice in the pan. It also adds additional flavor to the dish.
Cheese: Freshly shredded or grated Parmesan cheese adds a creamy element to this dish, as well as a rich, tangy flavor.
Seasonings: Salt, pepper, and fresh chopped parsley finish off the flavor of this meal.
How to Make Chicken and Rice
Making this chicken and rice dinner is quick and easy! Cook your chicken, combine the ingredinets, and saute it all together. This is going to be your go-to dinner each week! It is that delicious!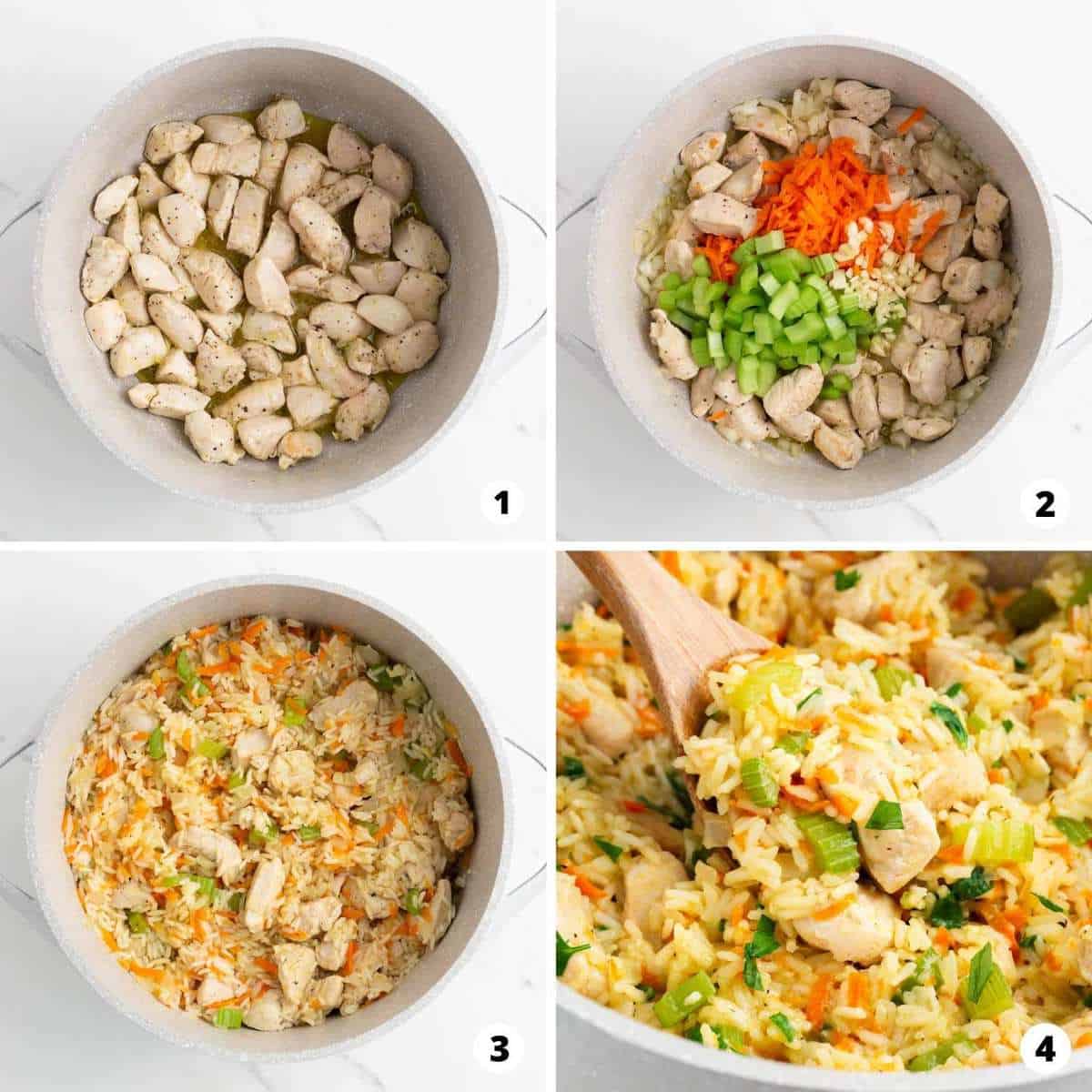 Sauté the meat. Heat oil in a large pot over medium-high heat. Place chicken thigh pieces into heated oil and season with salt and pepper. Sauté for 5-7 minutes, until cooked through.
Add in garlic and veggies. Add the diced onion and garlic to the skillet with the chicken and sauté for another 3 minutes. Next, add the carrots and celery.
Cook rice. Increase heat to high and add broth, then stir in the rinsed rice. Bring to a boil, then reduce heat to low. Stir again and then cover and let simmer for 15 to 20 minutes, or until the rice is cooked (stirring occasionally).
Add cheese and parsley. Stir in Parmesan cheese and fresh parsley. Add more salt, pepper, or seasonings if desired.
Variations
Create all the delicious ways to make this easy chicken and rice dinner! It is made all in one pot and comes together with simple ingredients. Take this chicken dinner to the next level with variations of your choice!
Chicken. Use chicken breasts instead of thighs for a leaner alternative (thighs will result in more flavor).
Pre-cooked chicken. You may also use cooked chicken in this recipe (such as rotisserie). Simply mix in the cooked meat after the vegetables have been sautéed.
Garlic. If you are a garlic lover, add a few additional garlic cloves to the broth to help infuse more garlic flavor or garlic powder. Then remove the cloves before serving.
Vegetables. Feel free to include extra vegetables like bell peppers, peas, or mushrooms. Simply add them in when sautéing the onions, carrots, and celery.
Stock. Rather than using chicken broth, you can use vegetable stock instead.
Herbs. You may substitute fresh parsley, thyme with basil or oregano if preferred.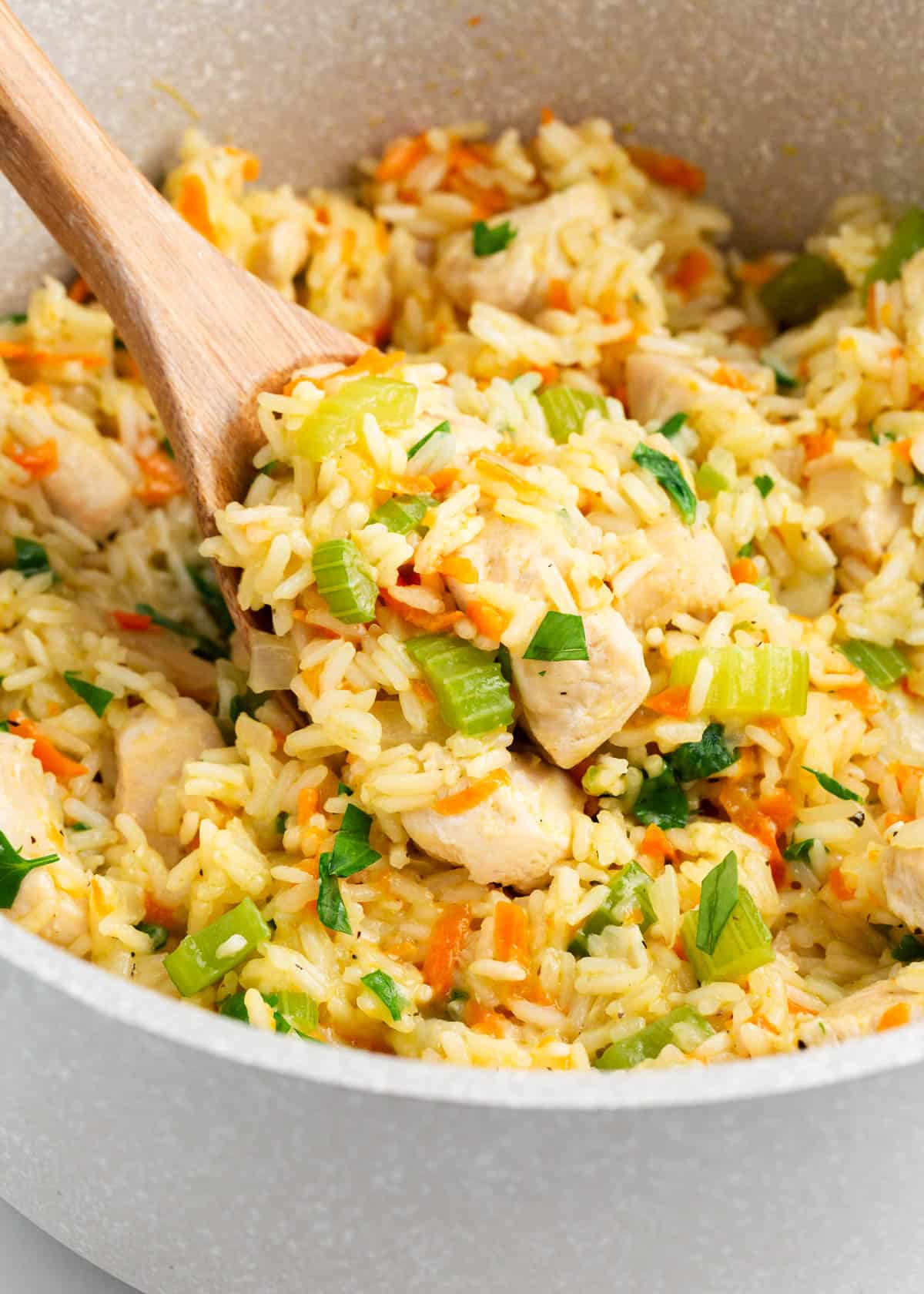 5 star review
"This has become a "go to" dinner in our house. I've made it at least a dozen times and it never disappoints! Even the kids love it!"

– Emily
What to Serve with Chicken and Rice
Any of the below side dishes would taste great with this easy chicken and rice recipe. Make a complete meal with any of these sides. These are all great combinations!
Recipe FAQs
Can I use brown rice?
Brown rice takes longer to cook than long-grain white rice and typically requires a bit more liquid. For best results, I don't recommend using brown rice in this recipe as it might not cook as well.

If you'd like to give it a shot, try using 1 cup brown rice instead of 1.5 cups and let it cook for an additional 10 minutes or so to get tender.
Can this recipe be made vegetarian?
Sure! Omit the meat and use vegetable broth in place of chicken broth when cooking the rice. You could always add in extra veggies to bulk it up more or serve it with cooked tofu for protein.
Are chicken and rice gluten-free?
Yes! Rice is a gluten-free grain, which makes this dish perfect for those with gluten allergies or sensitivities.
How long will it stay good for?
Any leftovers will keep in the fridge for about 3 to 4 days. Reheat in the microwave until warm or in a pot on the stove over low heat (add a splash of broth and cover with a lid to help steam).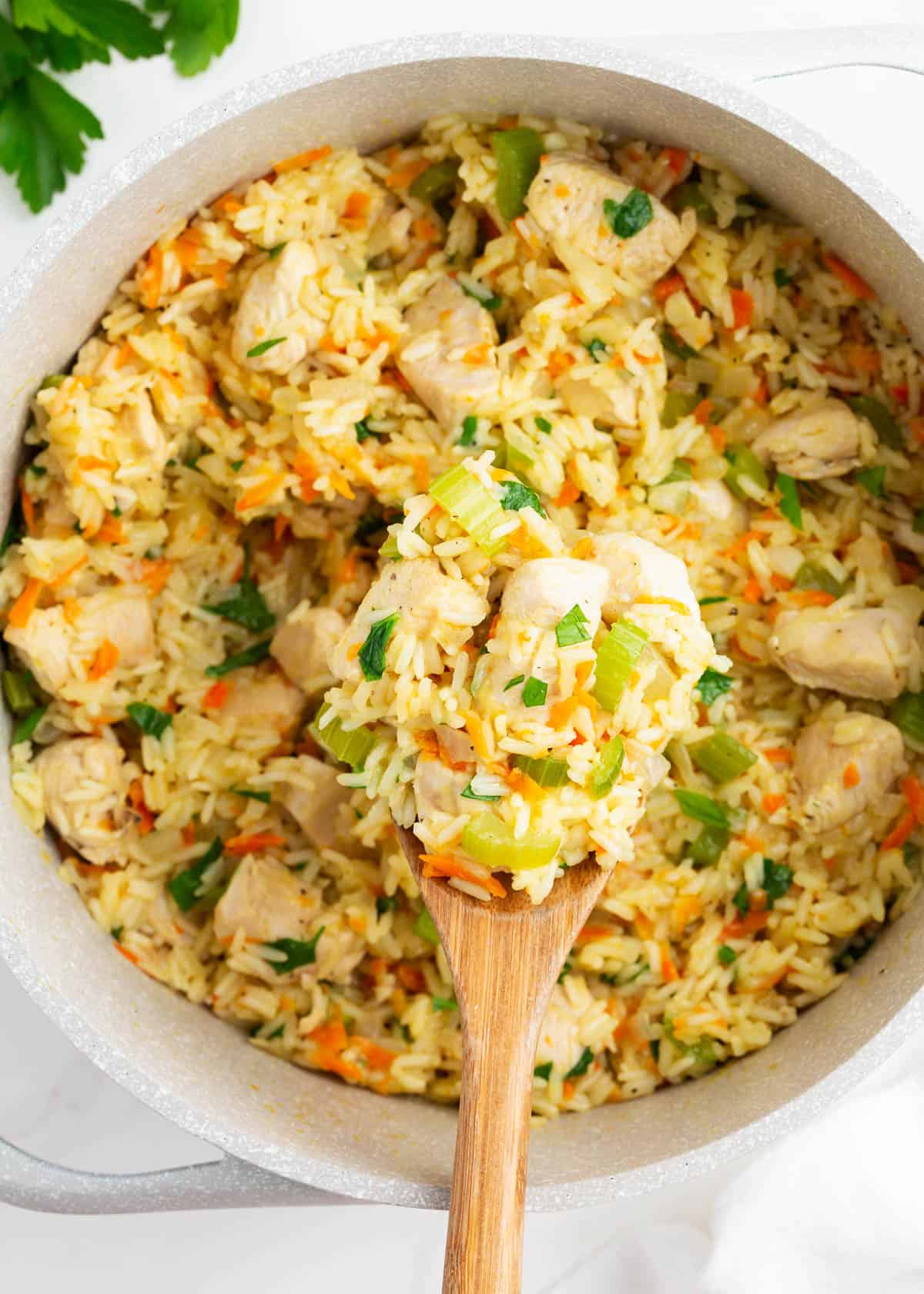 Storing and Leftovers
Store leftovers in an airtight container stored in the refrigerator. When ready to reheat, take out of storage and warm it up in the microwave or on the stovetop until it is warmed through.
Check out these other one pan dishes that are easy, quick and so delicious!
HUNGRY FOR MORE? Subscribe to my newsletter and follow on Facebook, Pinterest and Instagram for all the newest recipes!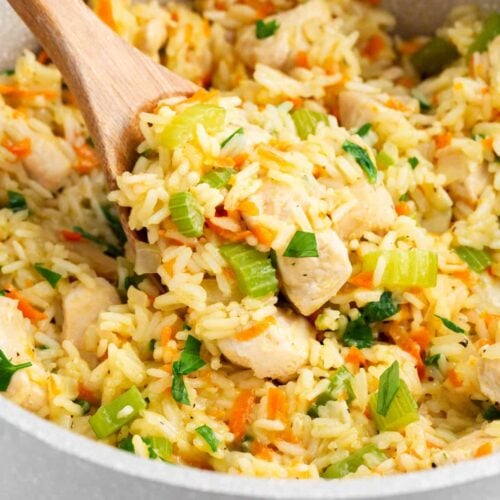 One Pot Chicken and Rice
This easy one pot chicken and rice recipe is a healthy dinner made with simple and real ingredients. Perfect for any night of the week!
Ingredients
3-4 Tablespoons extra virgin olive oil
1 ½ pounds boneless, skinless chicken thighs or breasts , cut into 1-inch pieces
salt , to taste
ground black pepper , to taste
1 medium yellow onion , diced
2 carrots , peeled and shredded
2 celery stalks , chopped
1 Tablespoon minced garlic
2 cups chicken broth
1 ½ cups jasmine rice , rinsed
½ cup shredded or grated Parmesan cheese
⅓ cup chopped fresh parsley
Instructions
In a 3-quart stockpot, heat olive oil over medium-high. Add chicken and season with salt and pepper (I start with about 1 teaspoon salt and 1/4 teaspoon pepper). Sauté 5 to 7 minutes, or until no longer pick and cooked through.

Add onion and sauté 3 minutes. Stir in the carrots, celery and garlic and sauté 1 minute.

Increase the heat to high and add the broth and rice. Bring to a boil, then reduce heat to low. Stir again, cover, and let simmer 15 to 20 minutes, or until the rice is tender and the broth is absorbed. Stir occasionally to keep the rice from sticking to the pot.

Stir in the parmesan and parsley. Taste and add more salt, pepper, or any other desired seasonings.
---
Notes
Variations:
Can used cooked chicken, if desired. Simply skip step #1 and add in after sautéing veggies.
For extra garlic flavor, add in 3 cloves of garlic (not minced) to help infuse the garlic flavor. Remove before serving.
You may also add in extra vegetables while sautéing the onions, like bell pepper or mushrooms.
Nutrition
Calories: 422kcal | Carbohydrates: 42g | Protein: 29g | Fat: 14g | Saturated Fat: 4g | Polyunsaturated Fat: 2g | Monounsaturated Fat: 7g | Trans Fat: 0.02g | Cholesterol: 115mg | Sodium: 545mg | Potassium: 472mg | Fiber: 2g | Sugar: 2g | Vitamin A: 3778IU | Vitamin C: 7mg | Calcium: 143mg | Iron: 2mg
Nutrition provided is an estimate. It will vary based on specific ingredients used.
Did you make this recipe? Don't forget to give it a star rating below!