Learn to make rich and creamy restaurant-style risotto with easy steps and simple ingredients. Cooked low and slow in chicken broth, white wine if desired, with tons of Parmesan cheese and butter added for flavor and texture, then topped with fresh herbs. This is the BEST risotto recipe you'll ever need!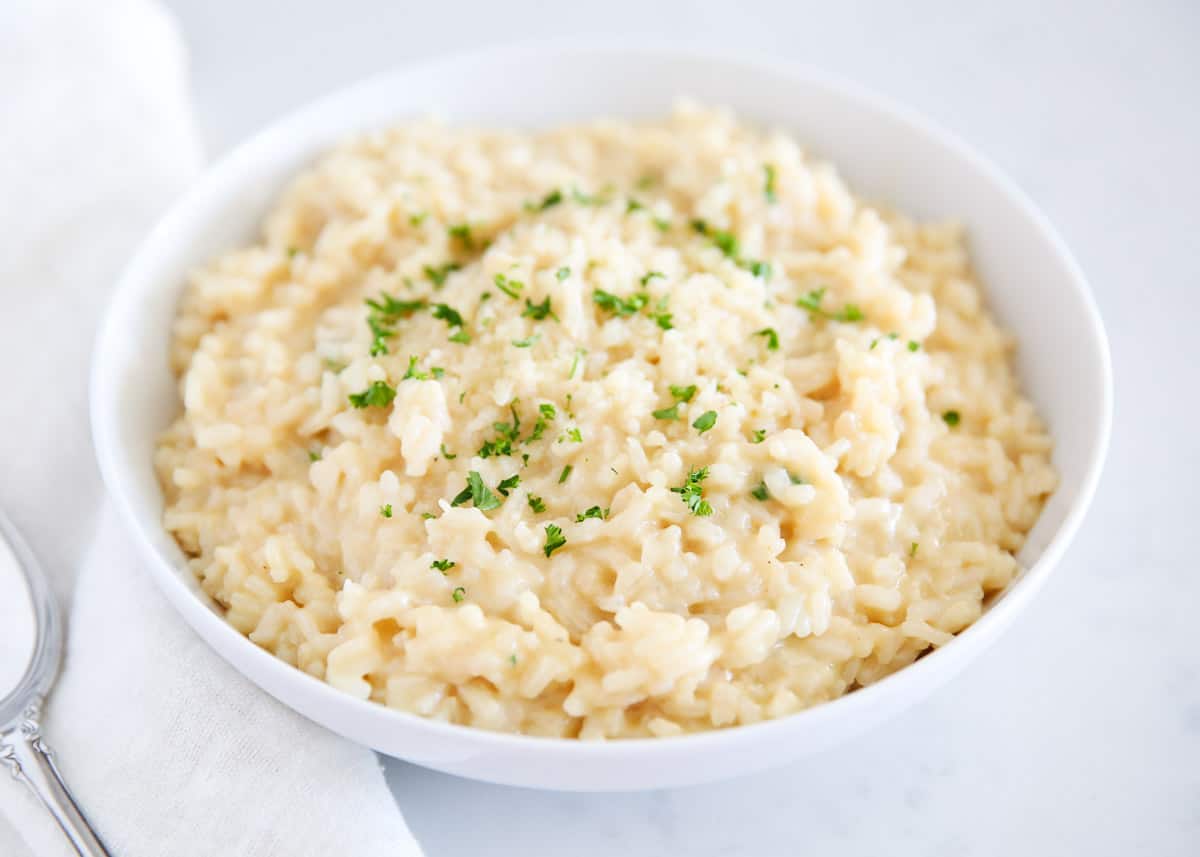 Classic Risotto Recipe
The best risotto recipe is always a bit of a labor of love, but it's so worth it! This easy risotto recipe breaks it down for you so you can make it right in your own kitchen with foolproof results. You no longer have to wait to eat out to enjoy it!
When it comes to rice recipes, rich and creamy risotto goes above and beyond boiling water and simmering the rice until it's cooked. It's made by slowly releasing the starches out of arborio rice using white wine and chicken stock and adding layers of flavor with aromatics, Parmesan cheese, and fresh herbs.
This recipe for risotto is a great place to start. Once you decide you'd like to add some extra flavor or additional veggies, you can try making butternut squash risotto, mushroom risotto, or even lobster risotto!
It's ready in under 1 hour and can be eaten as a main meal or as an elegant accompaniment to easy baked pork chops, roast beef tenderloin or shrimp scampi for a weeknight meal or dinner party feast!
What is Risotto?
It's a classic Italian dish made using risotto rice, which comes in a few varieties of short-grain rice, Arborio being the most popular. Risotto rice has a lot of starch and absorbs plenty of liquid, usually broth and wine, making it nice and creamy as it cooks.
Making it isn't difficult, however, it takes constant stirring and adding liquids in intervals to get the perfect results. It's not a recipe you can walk away from, but believe me, it's worth the extra bit of time!
Why This Recipe Works
It's simple, yet elegant. So, it works for all occasions. Serve it for special occasions, holidays, and all your family gatherings.
Rich, creamy, and flavorful. The perfect risotto isn't runny or gummy, and it should have enough flavor to enjoy as a main dish but not humble enough to enjoy as a side dish.
Makes you feel like a pro! Try it once and you'll quickly get the hang of it. You'll be eager to show off your risotto-making skills over and over again!
Recipe Ingredients
This risotto recipe uses just a few simple ingredients, so it's important to use high quality ingredients whenever possible to let the best flavors shine through.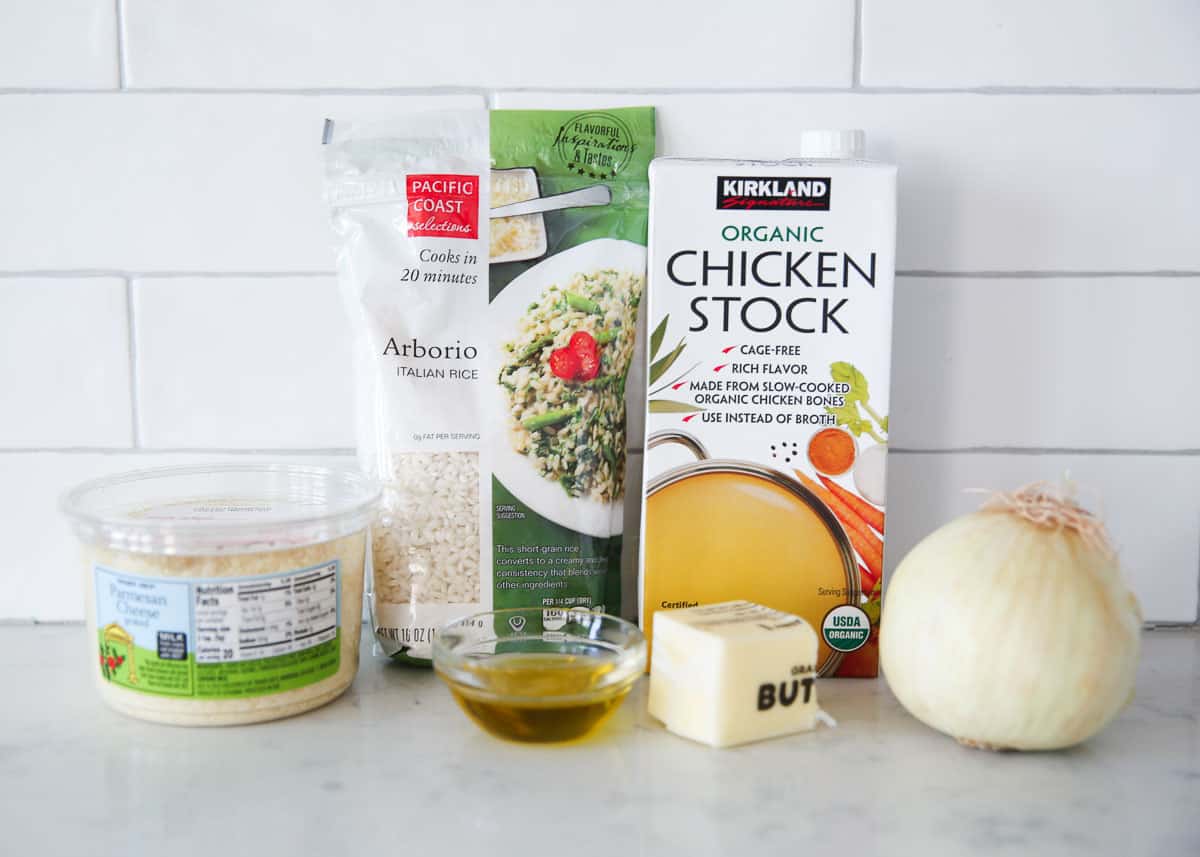 Find the full printable recipe with specific measurements below.
Chicken stock: A good quality chicken broth or stock will give the rice so much flavor as it absorbs the liquid. If you've got a really great homemade chicken stock recipe you want to use, go for it.
Salted butter & Olive oil: Used together to saute the aromatics without burning and to add a delicious buttery flavor. We're also adding butter to the finished risotto along with the Parmesan cheese to give it an extra creamy texture!
Chopped onion: Regular diced onion or shallots, it's up to you. Either will work to build flavor.
Arborio rice: This is probably the most popular and easily accessible risotto rice. You can use Vialone Nano or Carnaroli rice instead if preferred.
Dry white wine: I don't typically cook with wine, however, it is how risotto is traditionally made. If you want to use it, go with a good quality Riesling, sauvignon blanc, or pinot grigio. If you're not using it, you can replace it with water or more stock.
Parmesan cheese: Freshly grated from a block is always better as it will melt much better. However, when I'm in a pinch I buy the freshly grated kind from Sprouts. Reserve some for garnish before serving too!
Salt & pepper: To taste.
Chopped fresh parsley: An optional garnish that adds a pop of color and a fresh finish.
Variations
There are plenty of ways to jazz up even the best risotto recipe! Add some vegetables to your skillet. Peas, squash, shiitake, chanterelles, or cremini mushrooms, carrots, and celery are all great additions.
You can also add some garlic in with the onions, swap the Parmesan and use authentic Italian Parmigiano Reggiano if you have some.
Fresh thyme is also a great addition, especially if you're making creamy mushroom risotto.
And finally, if you want to make it a vegetarian risotto, use vegetable stock instead of chicken stock.
How to Make Risotto
It's important to warm the broth in a separate saucepan on the stove before adding it to the rice. Adding cold broth will take longer to absorb as it will stop it from cooking.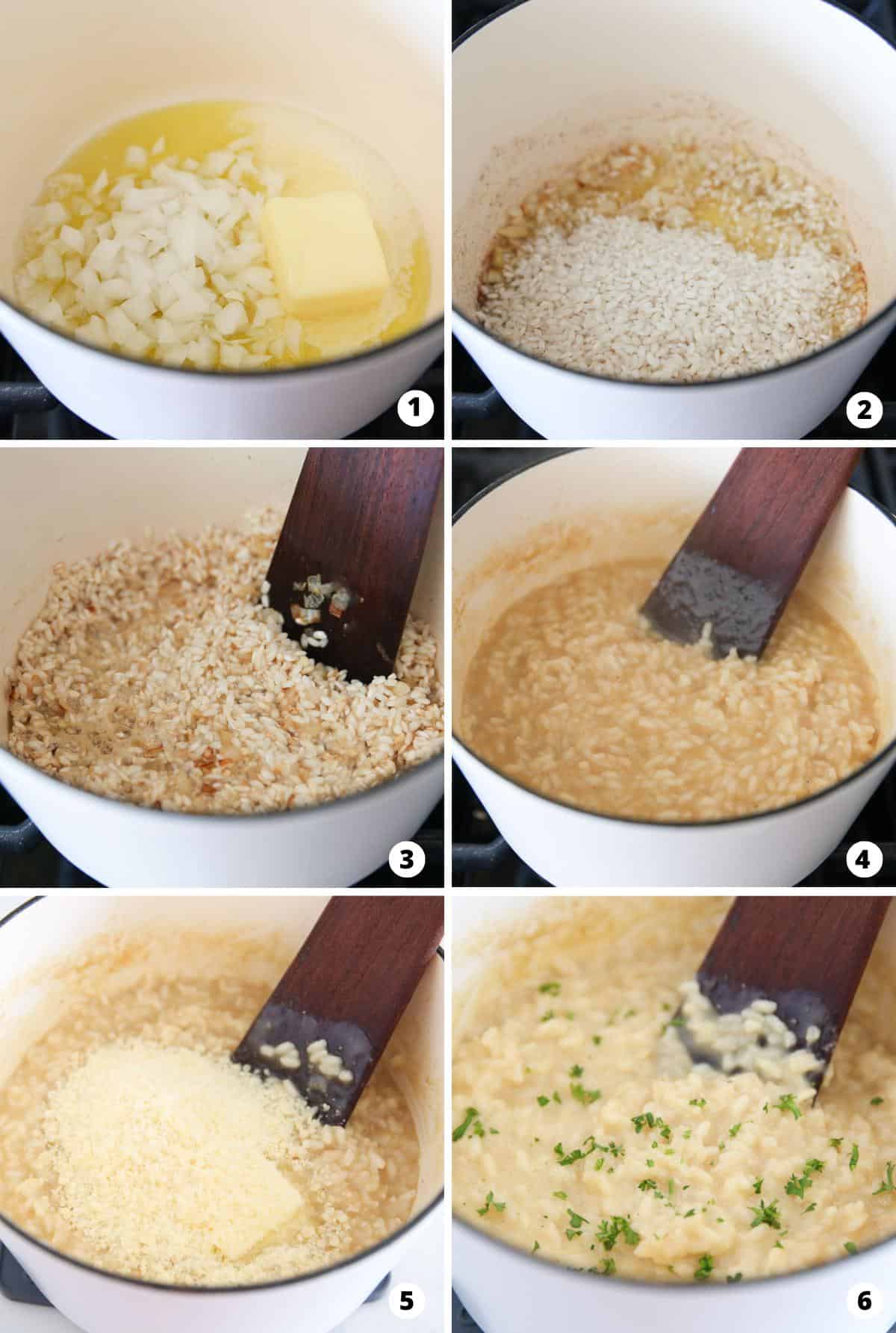 Cook the onions. In a large Dutch oven cook the onions in melted butter and oil for 1 minute. They should become soft and aromatic. Using both oil and butter will help to prevent any burning.
Add the rice. Stir in the rice to coat in oil and butter and cook for 2 minutes until lightly golden.
Pour in wine. As you stir constantly, add the wine and allow it to fully absorb.
Stir in the broth. Then, stir in 1/2 cup of the warm broth until that too has been absorbed. Don't stop stirring! Continue adding the broth 1/2 cup at a time allowing it to absorb and the rice becomes tender but not soft. This should take about 15-20 minutes to stir, simmer, and absorb!
Remove from heat. Now you'll add in the remaining butter and Parmesan and allow it to melt into the risotto.
Serve. Season with salt and pepper and garnish with extra Parmesan and fresh parsley. Enjoy!
Expert Tips
Starch is your friend. Normally we are encouraged to rinse the rice to get rid of as much starch as we can to achieve fluffy white rice. However, in this case, we need the starch, so don't wash your rice!
Skip arm day at the gym. Just kidding, but really, it does take quite a bit of stirring, but too much stirring can make it gluey. It's a constant slow stir for the duration of the cooking time, however, it's mostly to make sure it's not sticking to the bottom and that the stock is being absorbed.
Patience is key. Be sure to wait until the liquid has been absorbed before adding the next bit. If you overdo the liquid, it may cause the Arborio to become mushy and yet not fully cooked.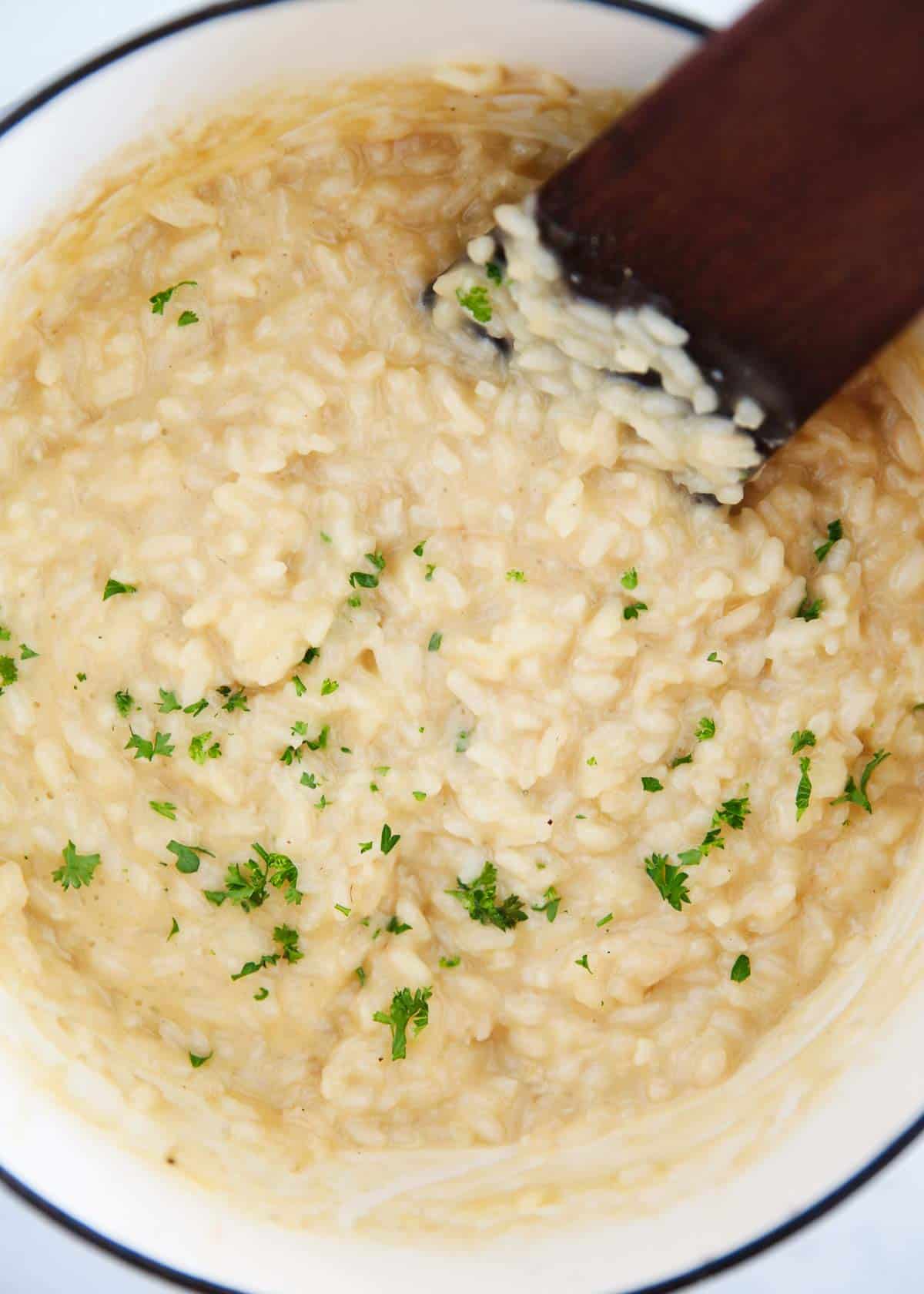 Recipe FAQs
What makes risotto so creamy?
It's the extra starchy rice! Regular rice absorbs liquid too, but it does it in a way that just cooks the rice. When we keep the starch on the outside of the grains, it cooks the rice, but also gives the outside a chance to become nice and creamy.
What if I run out of broth?
No problem! Continue as directed using hot water instead.
If I don't have a Dutch oven, can I use a skillet to make risotto?
Absolutely. You can use a soup pot or a large skillet to make it.
Can I add protein to the risotto?
Yes! There's nothing better than seafood risotto! Other than shrimp, salmon, scallops, crab, and lobster, you can also add bacon, shredded chicken, sausage, turkey, you name it!
Make-Ahead and Storing
Leftovers of this risotto recipe can last in the fridge for up to 5 days in an airtight container.
I don't recommend freezing it as once it thaws, it's no longer the same texture. It's hard, grainy, and weird.
To reheat it, add it to a saucepan with some extra broth or water and stir to get it creamy again.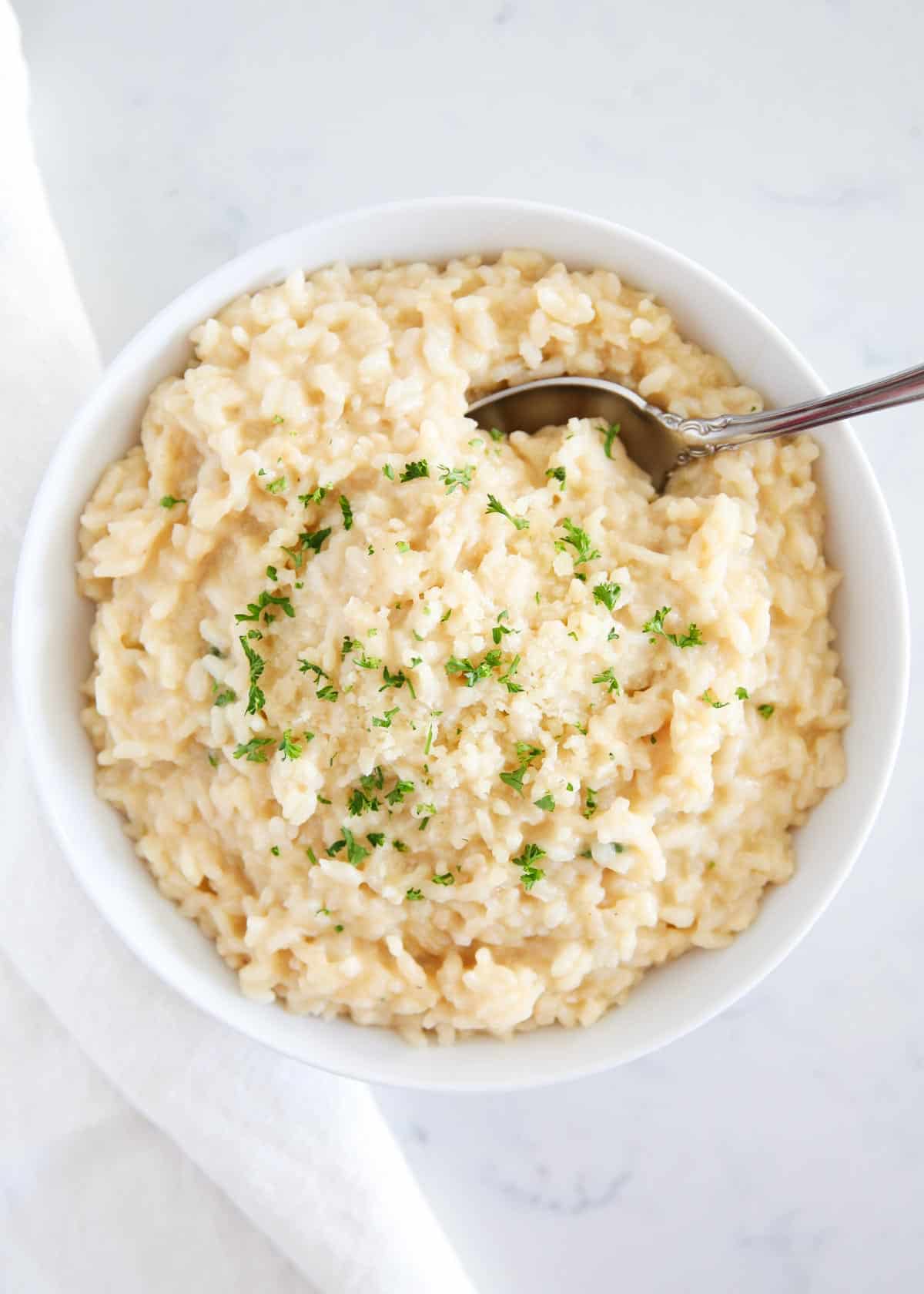 HUNGRY FOR MORE? Subscribe to my newsletter and follow on Facebook, Pinterest and Instagram for all the newest recipes!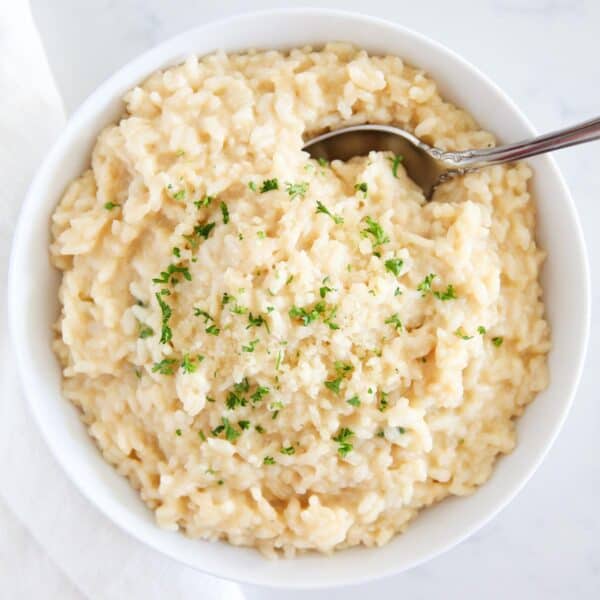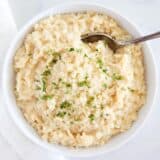 Risotto Recipe
Learn to make rich and creamy restaurant-style risotto with easy steps and simple ingredients. Cooked low and slow in chicken broth, white wine if desired, with tons of Parmesan cheese and butter added for flavor and texture, then topped with fresh herbs. This is the BEST risotto recipe you'll ever need!
Ingredients
1 quart chicken stock , more as needed
4 Tablespoons salted butter , divided
2 Tablespoons olive oil
½ cup finely chopped onion , or shallots
1 ½ cups Arborio rice
½ cup dry white wine , or water
½ cup freshly grated parmesan cheese , plus more for serving to taste
Kosher salt , to taste
Freshly cracked black pepper , to taste
Chopped parsley , for serving, optional
Instructions
In a large saucepan, warm broth over low heat.

In a 5 1/2-quart Dutch oven, heat 2 Tablespoons butter and oil over medium-low heat. Stir in shallots and cook 1 minute. Stir in rice and cook 2 minutes, or until rice is coated with oil and lightly golden.

Stirring constantly, add wine until fully absorbed. Stir in 1/2 cup warm broth until the broth is absorbed. Continue stirring in the remaining broth, 1/2 cup at a time, 15 to 20 minutes, or until the liquid is absorbed and the rice is tender but not soft.

Remove from heat and stir in remaining 2 Tablespoons butter and parmesan. Season with salt and pepper. Serve with a sprinkling of parmesan and parsley, if using.
---
Notes
Storage: Let risotto cool and store in an airtight container in the refrigerator 4 to 5 days. Freeze: I don't like freezing risotto since it ends up being hard and grainy. Reheat: Risotto tastes great reheat. Simply reheat in saucepan over medium heat with some chicken stock or water, stirring until it's hot and creamy again.
Nutrition
Calories: 379kcal | Carbohydrates: 44g | Protein: 8g | Fat: 18g | Saturated Fat: 7g | Polyunsaturated Fat: 1g | Monounsaturated Fat: 8g | Trans Fat: 0.3g | Cholesterol: 32mg | Sodium: 1080mg | Potassium: 140mg | Fiber: 2g | Sugar: 2g | Vitamin A: 310IU | Vitamin C: 1mg | Calcium: 92mg | Iron: 3mg
Nutrition provided is an estimate. It will vary based on specific ingredients used.
Did you make this recipe? Don't forget to give it a star rating below!