Quick and easy Instant Pot teriyaki chicken is tender pull apart chicken coated in a thick, sweet, and sour sticky sauce and is exactly the restaurant-style meal your whole family will love!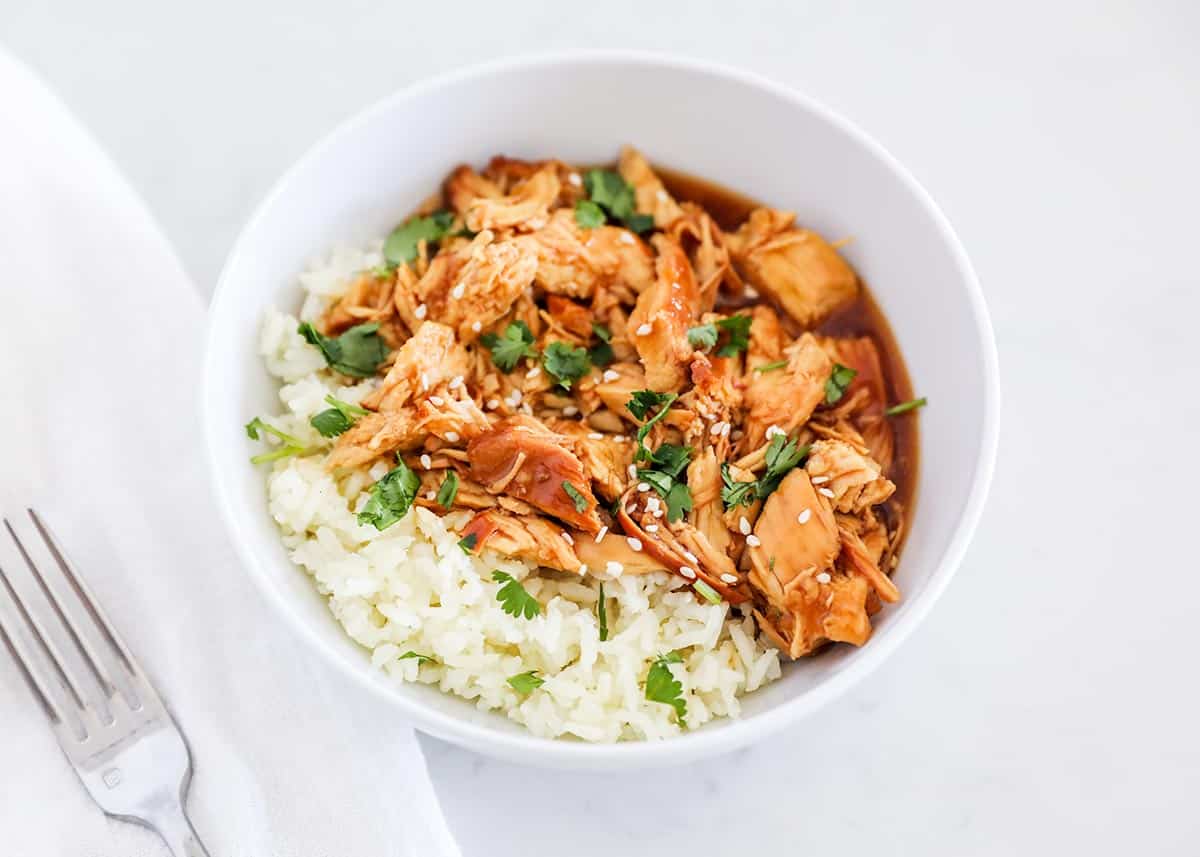 Restaurant-Style Chicken Teriyaki
Instant Pot teriyaki chicken is a quick and flavorful dinner idea that requires only 10 ingredients including a homemade teriyaki sauce! The pressure cooking method infuses the chicken with the sweet and savory teriyaki flavors, resulting in tender and delicious chicken that's better than any take-out and perfect for serving over rice or noodles.
This recipe is a version of my popular Japanese-style slow cooker teriyaki chicken but made in a fraction of the time. There are days when I love slow cooker meals, but then there are days when I want something quick and easy. Once you learn how to use the Instant Pot, it'll become your favorite go-to kitchen gadget.
This teriyaki chicken in Instant Pot is pretty much the reason I own one! Pressure cooking meat as quickly as it does, whether bone-in or out, fresh or frozen, always turns out great. This healthy comfort food dish is ready in about 30 minutes, use honey as a sweetener and contains no refined sugars!
Recipe Ingredients
Chicken teriyaki Instant Pot is simple to make by cooking chicken breasts in a homemade teriyaki sauce for a quick and tasty meal.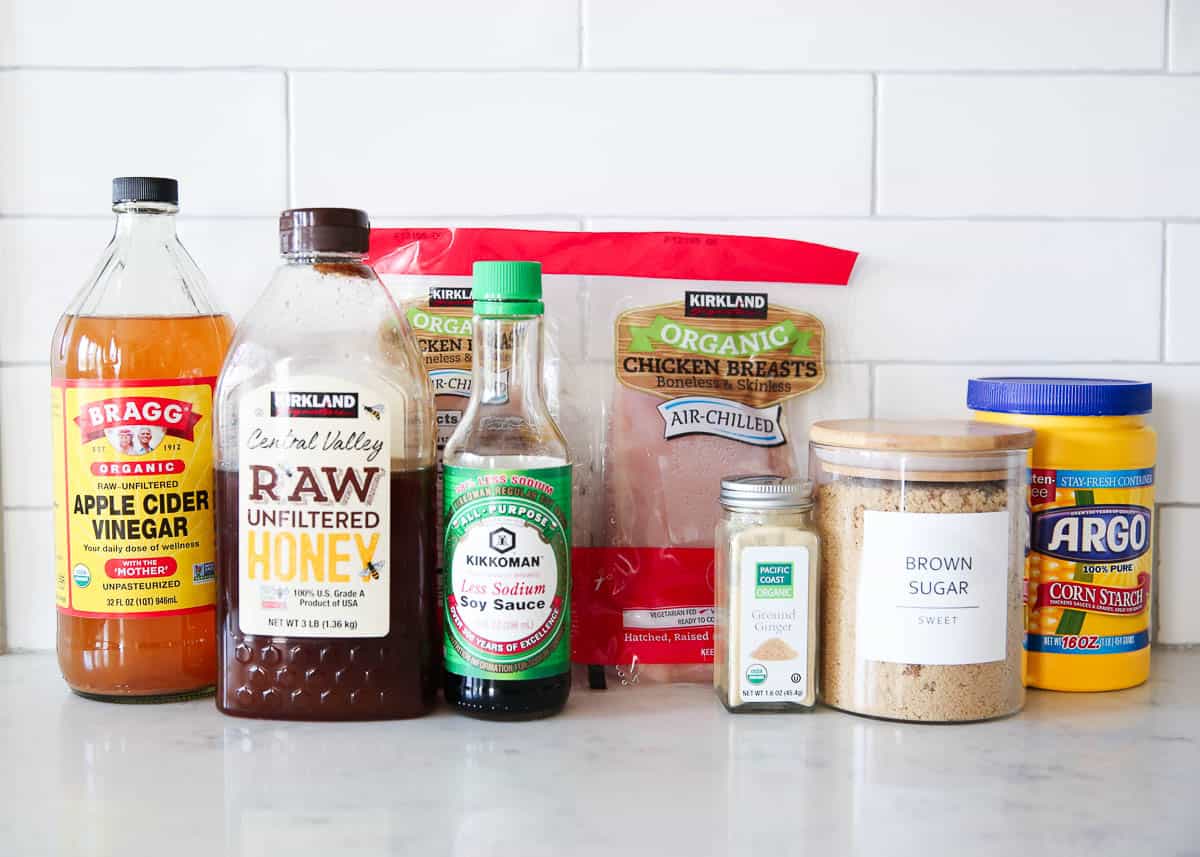 Find the full printable recipe with specific measurements below.
Chicken breasts: The chicken is cooked until it is easy to shred, which will ensure it can absorb all the delicious sauce.
Honey: Adding sweetness and a little thickness, honey is a key component to every great teriyaki sauce (at least in my humble opinion).
Low-sodium soy sauce: Though this will still add a salty element, the lower sodium keeps the dish from being too salty.
Apple cider vinegar: I like the sweetness and tang of apple cider vinegar, and it works perfectly with all of the other flavors.
Brown sugar: I prefer light brown sugar in this and just a little to add a darker color and richer sweetness to the sauce.
Garlic: The garlic gives the sauce a bit of depth and freshness.
Ginger: I use ground ginger, but fresh would also work just as well, to add a little spice to the dish.
Pepper: This gives a mild heat and help balance out the sweetness.
Cornstarch: When mixed with a little bit of the cooked sauce, cornstarch will help to thicken the sauce and make it ideal for serving.
Extra Ingredients for Extra Flavor
Pineapple or orange juice will give it a little extra sweetness.
Red pepper flakes for added heat.
Sesame seeds and green onions for garnish are an option, and gives it that extra take-out feel!
Add in some brown sugar for a darker color and a bit more sweet and sticky appeal.
Omit the garlic and just use ginger, but I like to use a bit of both.
How to Make Instant Pot Teriyaki Chicken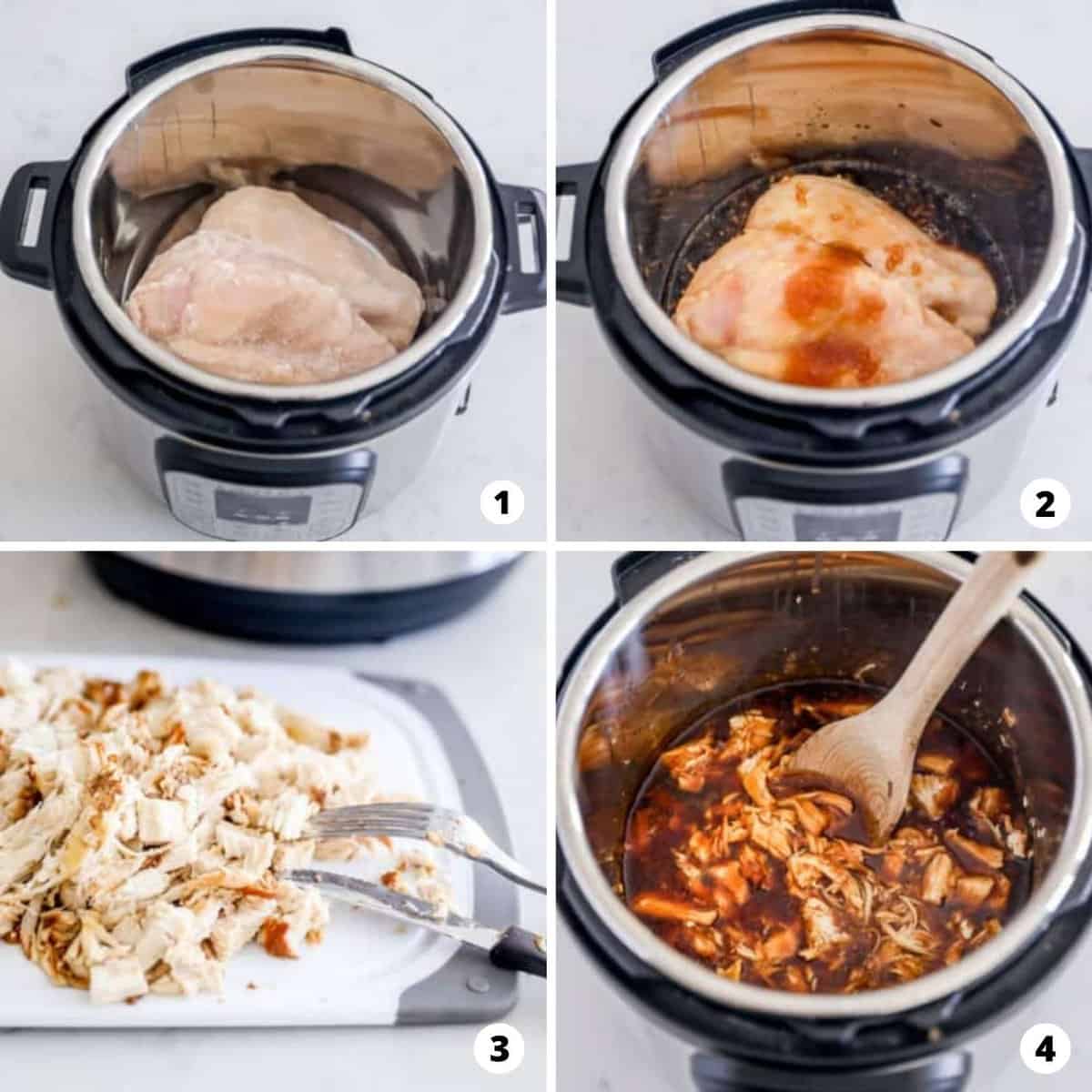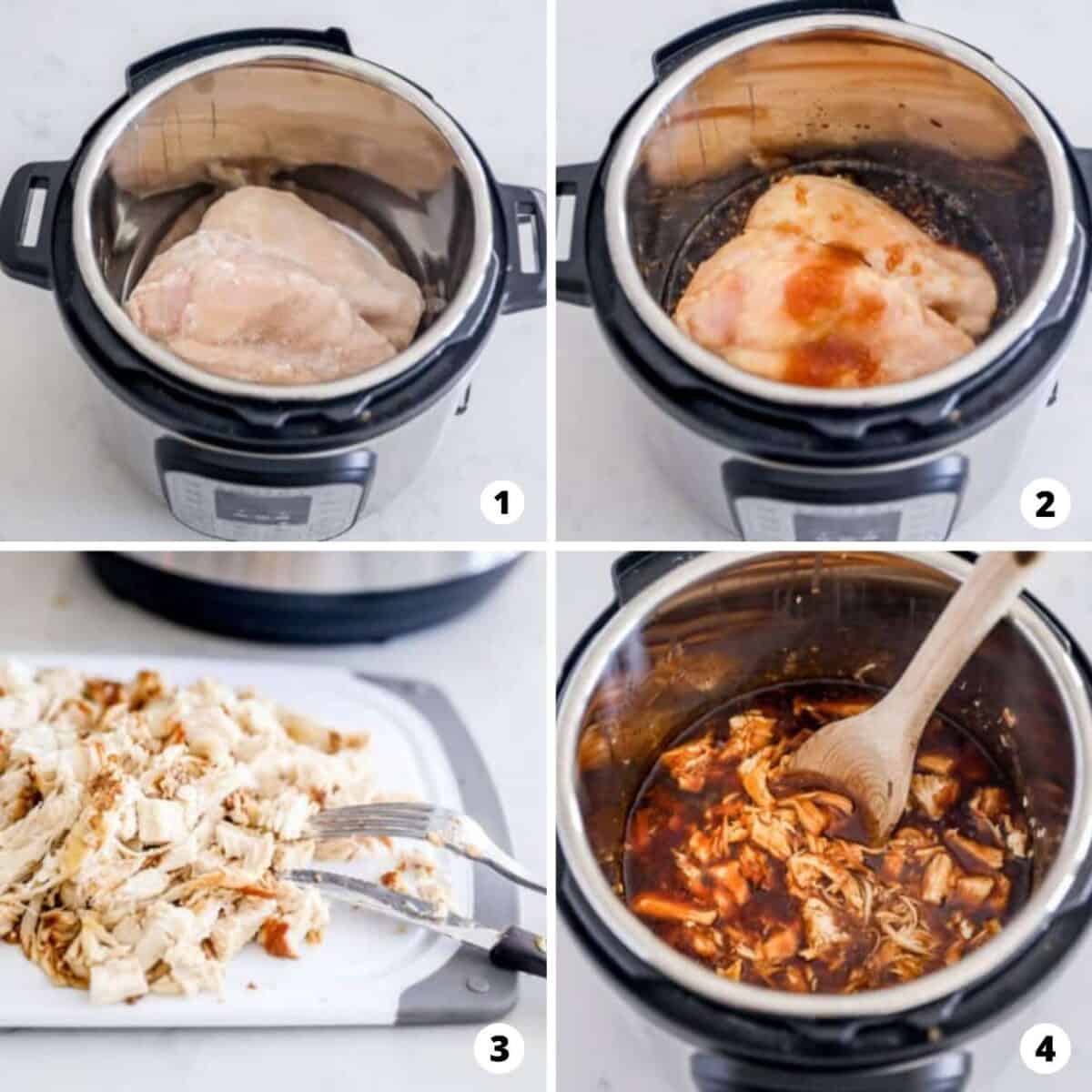 Combine. Place chicken breasts and water in the Instant Pot.
Whisk. In a small bowl, whisk together the honey, soy sauce, vinegar, garlic, ginger, brown sugar, and pepper until the sugar is dissolved.
Cook. Pour the teriyaki sauce over the top. Seal the lid and set to High pressure. Cook 12 minutes. Let the pressure naturally release.
Shred. Transfer chicken to a cutting board and shred.
Thicken. Remove 1/4 cup liquid from the pot and whisk in cornstarch until dissolved. Set the Instant Pot to Sauté. While whisking, pour the cornstarch mixture into the pot. Continue whisking until the sauce is thickened. Turn off the Instant Pot.
Serve. Return the chicken to pot and coat in sauce. Serve over rice or quinoa with steamed vegetables. Top with sesame seeds and/or green onions.
Ways to Serve Instant Pot Teriyaki Chicken
When serving a crowd, you can leave the pressure cooker on the warm function until everyone is ready to eat. Serve with my favorite coconut rice recipe, white rice or cooked quinoa and a side of steamed vegetables and roasted broccoli available.
People can make up their own plates and serve themselves right from the pot. Have a little extra teriyaki sauce for people who want a little more.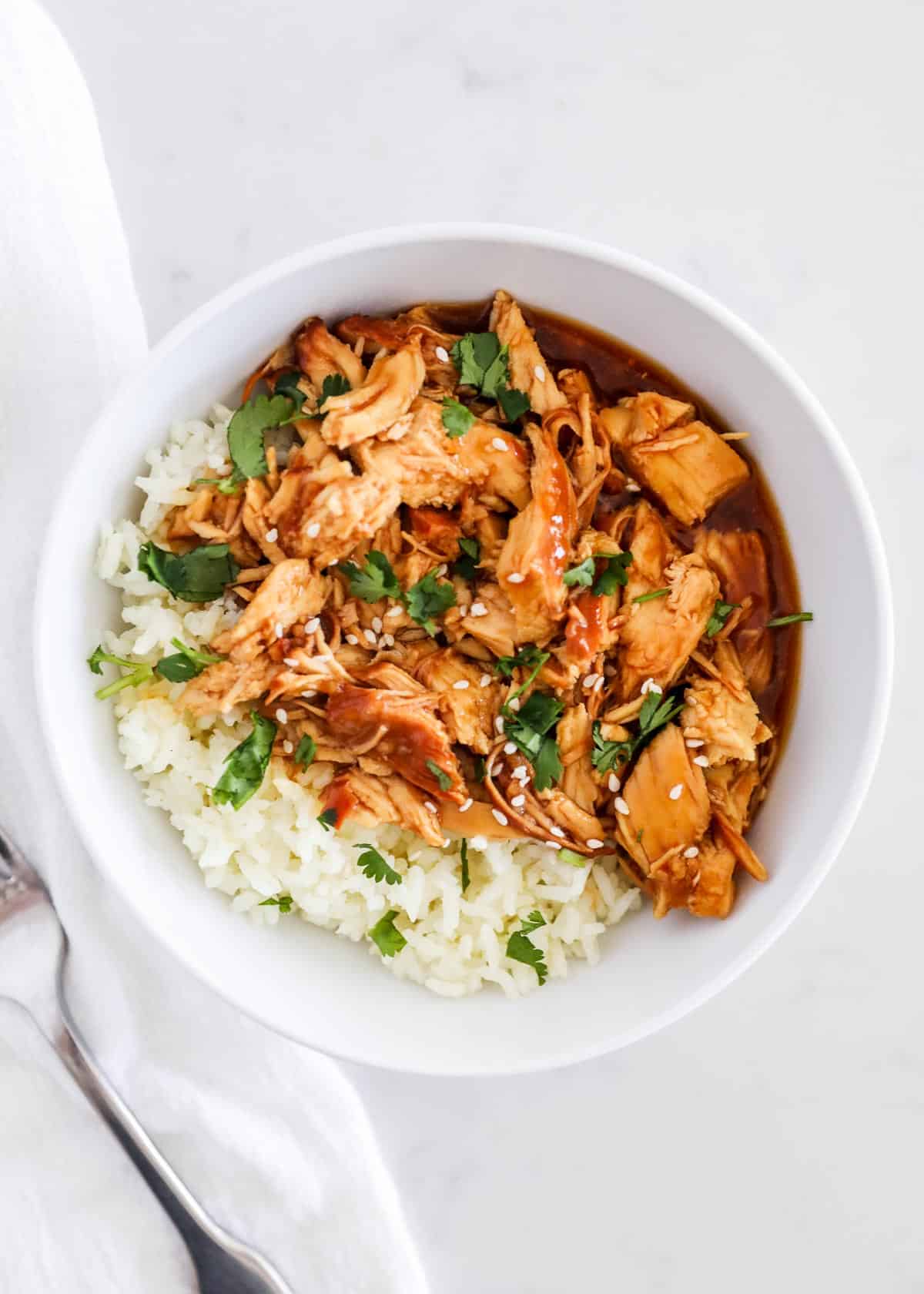 Recipe FAQs
Can I use frozen chicken?
Yes, you can. One of the brilliant things about a pressure cooker is that it cooks the meat from frozen without drying it out, or resulting in a rubbery texture. When cooking frozen chicken in the Instant Pot, you want to keep the chicken pieces separate to make sure it cooks evenly. Cook for 20 minutes instead of 12.
Which cut of chicken is the best for this Instant Pot Teriyaki Chicken recipe?
You're going to end up with shredded chicken either way (unless you want to keep your chicken whole), so the cut you use is totally up to you. Bone-in is generally tastier, but boneless tends to provide more meat. Either way, I must say, the Instant Pot always delivers tender juicy chicken.

Boneless chicken breasts are generally my preference as they are meaty and I don't have to worry about the bones. If you do use bone-in, you'll want to cook them for 20 minutes just as you would frozen chicken. Keep an eye on the amount of liquid required. Bone-in vs boneless produces different amounts of liquid when cooking.
Storing, Freezing & Reheating
To store: Once completely cooled, store in an airtight container in the fridge for up to 3 days.
To freeze: Transfer to a freezer-friendly bag and keep frozen for up to 3 months. Thaw in the fridge overnight.
To reheat: If you've got a big batch, you can reheat it in the Instant Pot all over again, or on the stovetop on low heat. If you're just reheating a single portion for yourself, the microwave is fine. You may find you need to splash a bit more sauce, or a little water just to add some liquid back into it if it's gotten too thick.
HUNGRY FOR MORE? Subscribe to my newsletter and follow on Facebook, Pinterest and Instagram for all the newest recipes!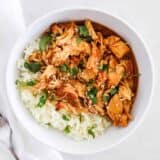 Instant Pot Teriyaki Chicken
Quick and easy Instant Pot teriyaki chicken is tender pull apart chicken coated in a thick, sweet, and sour sticky sauce and is exactly the restaurant-style meal your whole family will love!
Ingredients
2 pounds chicken breasts
½ cup water
1/2 cup honey
½ cup low-sodium soy sauce
¼ cup apple cider vinegar
2 to 3 Tablespoons light brown sugar
4 cloves garlic , minced
1 teaspoon ground ginger , or 1 Tablespoon fresh grated ginger
¼ teaspoon ground black pepper
2 Tablespoons cornstarch
For serving: Cooked rice or quinoa, Sliced green onions, Sesame seeds, Steamed vegetables
Instructions
In an Instant Pot, add the chicken and water.

In a small bowl, whisk together the honey, brown sugar, soy sauce, vinegar, garlic, ginger, and pepper. Taste and adjust seasoning, if needed.

Pour sauce over the meat and seal the lid. Cook on High pressure, for 12 minutes. If using frozen chicken, cook 20 minutes. When the pressure cooker beeps, let it naturally release 5 to 10 minutes, or until the float valve sinks. Carefully open the lid using hot pads.

Remove chicken from the pot and shred (removing any fat).

Set Instant Pot to the Sauté setting. Remove 1/4 cup liquid and whisk in 2 Tablespoons cornstarch until dissolved. Pour back into the pot while whisking until the sauce thickens. Turn off the Instant Pot.

Return the chicken to the pot and stir together with the sauce.

Serve over cooked rice or quinoa with steamed vegetables. Top with sesame seeds and green onions, if desired.
---
Notes
Variations: You can replace the garlic for ginger (or use a combination of both).
For serving: I love to add freshly steamed vegetables (such as broccoli and carrots).
Storage and freezer instructions: This chicken will stay fresh in a covered container in the refrigerator for 3 days or in the freezer for 3 months. Thaw overnight in the refrigerator and then reheat on the stove top over low heat.
Nutrition
Calories: 302kcal | Carbohydrates: 32g | Protein: 34g | Fat: 4g | Saturated Fat: 1g | Polyunsaturated Fat: 1g | Monounsaturated Fat: 1g | Trans Fat: 0.02g | Cholesterol: 97mg | Sodium: 945mg | Potassium: 675mg | Fiber: 0.3g | Sugar: 27g | Vitamin A: 46IU | Vitamin C: 3mg | Calcium: 25mg | Iron: 1mg
Nutrition provided is an estimate. It will vary based on specific ingredients used.
Did you make this recipe? Don't forget to give it a star rating below!