Learning how to use the Instant Pot is so easy with this beginner's guide. Learn to identify the parts, the features, how to set it up, how to safely release the pressure, more safety tips and tricks, and the ways you and your family can enjoy this pressure cooker for years to come!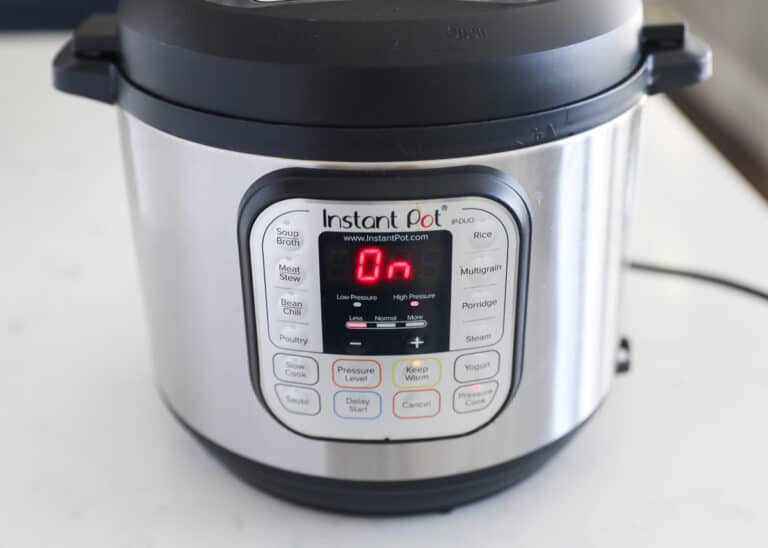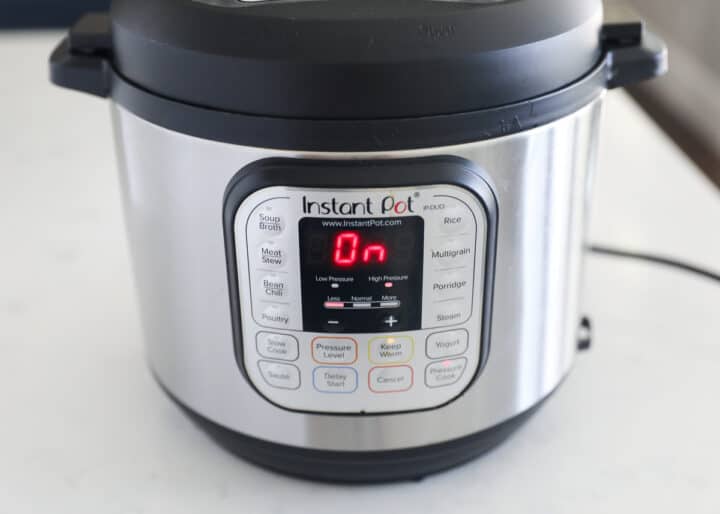 Fast and Easy One Pot Meals
Have you purchased an Instant Pot because it's all the rage but you've got absolutely no idea where to begin? Maybe you received it as a gift and it's been sitting in a box collecting dust? Well, dust it off and break open the box because you're about to find out why everyone loves the Instant Pot!
This simple step-by-step guide will provide easy-to-follow instructions on the basics of how to set it up, how to set the time, tips on what size pot you need, using high pressure, the difference between a natural and quick release, and a slew of safety tips. It's so much easier than you think and in the end, you'll be wondering how you ever got along without it.
At first glance, it looks like it could be complicated but the truth is that couldn't be farther from the truth. This smart appliance is really a set-it-and-forget-it pressure cooker that does most of the work for you. It's all about knowing how to begin. So, let's dive in!
What is an Instant Pot?
In a nutshell, it's an electric pressure cooker. It comes in 4 different sizes and the older models differ slightly to the newer models but not enough to have to run out and buy the latest version. Remember back in the day when pressure cookers needed to be used on the stovetop? That's no longer the case. It's a completely safe (when used properly) plug-in appliance that builds contained pressure and cooks and steams food ridiculously fast!
It's really more of an all-in-one appliance because it also sautés, it has the ability to be a slow cooker, a rice cooker, it makes hard boiled eggs, it cooks meat like kalua pork and shredded chicken as well as complete meals like chicken taco bowls and Instant Pot meatloaf and mashed potatoes. It also makes Instant pot spaghetti and other pasta, soups such as potato soup, yogurt, stews, chili, you name it!
Benefits of the Instant Pot
One-pot meals and easy cleanup. Both the lid and the inner pot are machine washable.
Fast and easy. Cooks complete meals in a fraction of the time, even frozen meat!
No presoaking beans or seeds. Although you can, with the IP there's no need.
Use it for any meal any time of day. You can cook steel cut oats for breakfast and then Instant Pot ziti for dinner with minimal effort.
It contains the heat so there is no heating up the oven or your kitchen.
There is a warm function that when set it can keep your food warm for hours without drying it out.
It is foolproof and completely safe when used properly.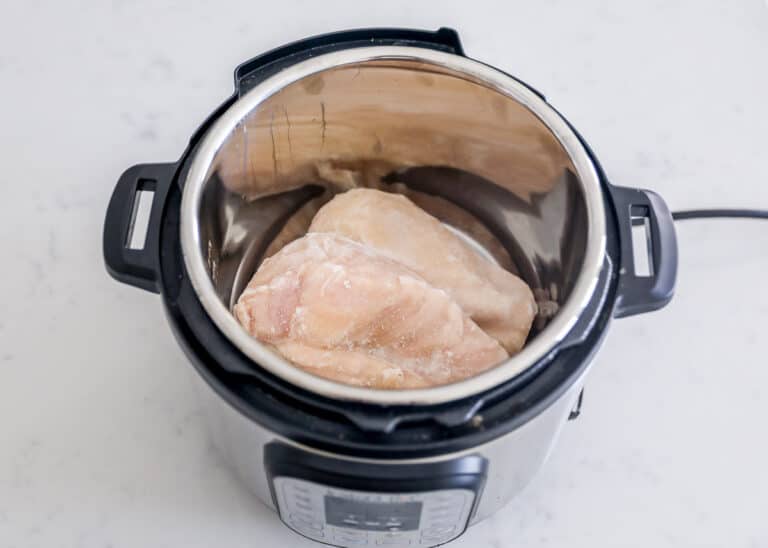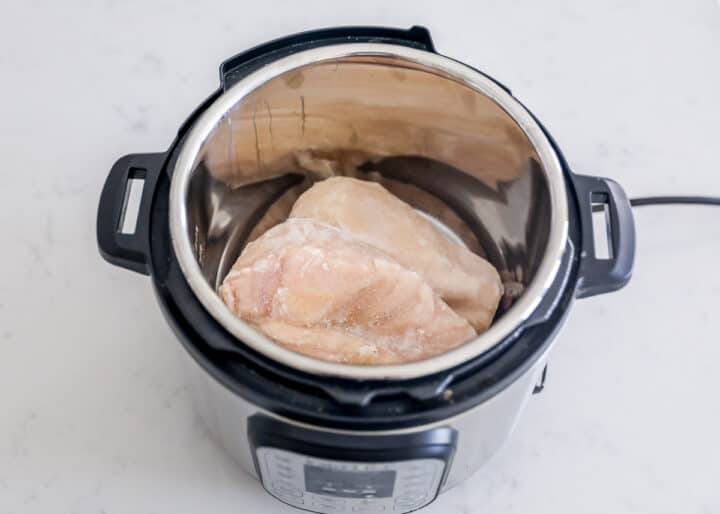 Instant Pot vs. Crockpot
They are definitely not the same thing. By nature, the Instant Pot is meant to cook food fast, and the crockpot, otherwise known as a slow cooker, is meant for low and slow cooking. The Instant Pot traps the steam and pressurizes what's inside while the crockpot cooks the food without a build-up of pressure or a sealed lid.
Typically people use a slow cooker if they want to have it cook for hours throughout the day. It's an appliance that allows you to fill our house with pleasant aromas as it simmers. You can't smell what's cooking in the Instant Pot until the steam is released and the lid is opened.
They both serve wonderful purposes, but their functions are so different that you should definitely own one of each!
Parts of the Instant Pot
Whether you have a 3 quart, 5 quart, 6 quart, or 8 quart Pot, they all come with the following parts:
The outer base unit: Contains the heating element and is what has all of the display buttons.
The inner lining: This is the pot itself, which can be easily removed for washing, storing, and even transferring food for a potluck.
The trivet: This comes with the Instant Pot. It's for elevating the food out of the liquid so it doesn't boil it, but instead steams it.
The lid: This is where you'll find the valve which is small but mighty. It serves the most important function to be able to trap the steam. If you forget to set your valve to sealing, it won't pressurize. You will also find the pressure pin on top of the lid. It's a little nob that goes up when the pot has come to pressure and goes down to let you know it's safe to open the lid. The lid also consists of a silicone ring. You'll see it surrounding the outer portion of the lid. It's what helps to seal the lid and helps to avoid any release of liquid.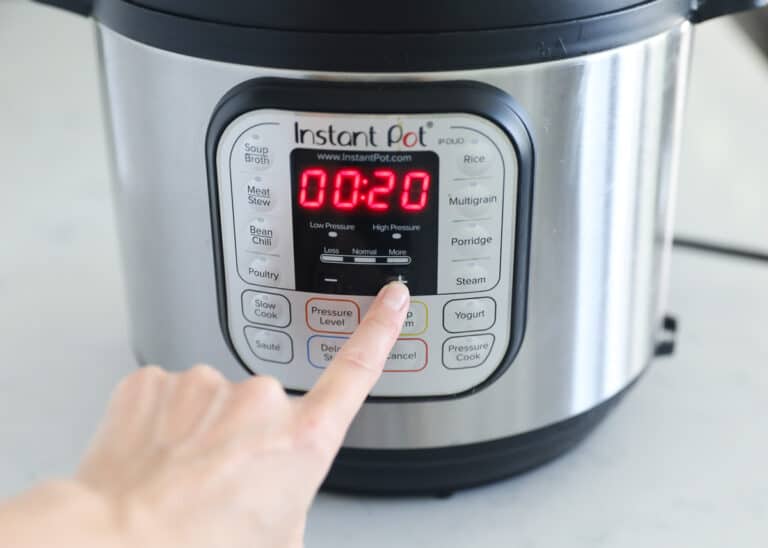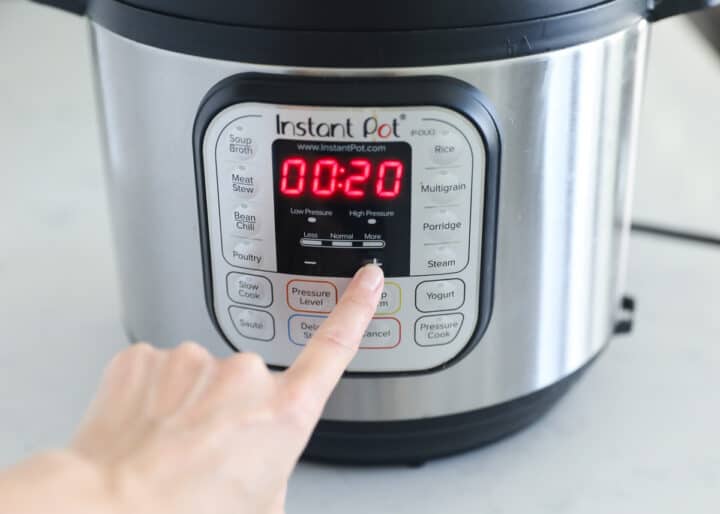 How Do You Use a Pressure Cooker Safely?
Place Instant Pot on a flat even surface and plug it in somewhere away from kids. The lid can get VERY hot.
Keep your face and hands away from the steam valve, especially when it's in the process of releasing steam. It sprays steam straight up in the air quickly, so avoid getting anywhere near that.
Do not ever put the base unit in water. If you need to clean it, wipe it with a damp cloth and allow it to dry.
Keep your heating element and base unit clean and free of any debris or leftover mess.
Always remember to place the inner pot into the base unit before adding anything to it. Accidentally pouring food directly onto the heating element is a recipe for disaster. It's hard to clean!
Never go past 2/3 max line. It's there to remind you to leave the rest of the room for the pressure.
Make sure to WAIT for the pressure to fully release before opening the lid. Opening the lid before the pressure has released is dangerous. Once the pin drops down, that is your indication that it is safe to open.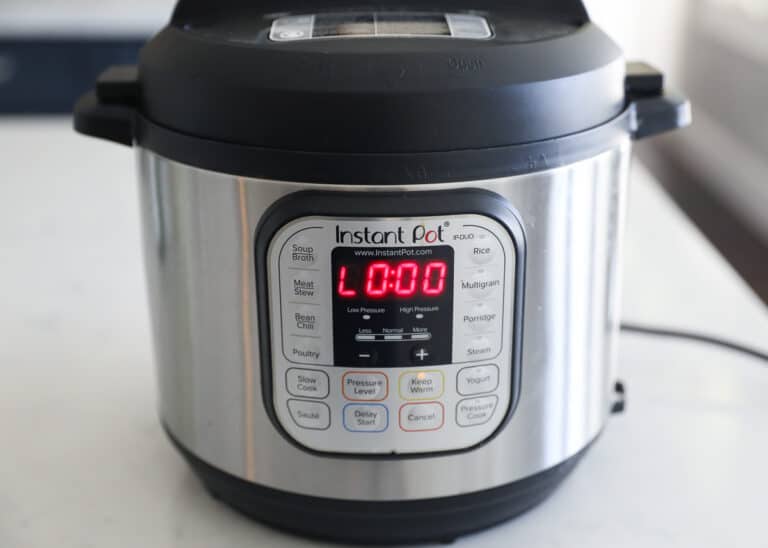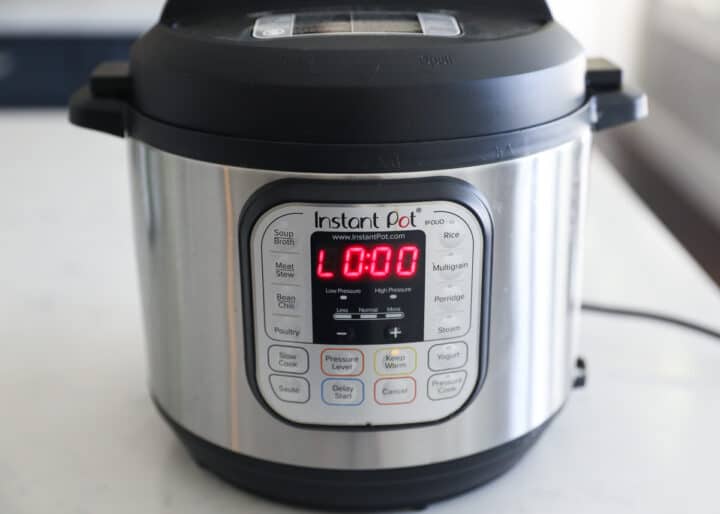 How to Use Instant Pot?
Inspect your pot making sure everything is where it should be, with no rips tears or broken parts.
Plug it in. It will turn on right away but won't start heating up until you tell it to.
Any Instant Pot recipe will give specific instructions on what to add, how much, and when. For the sake of an example, pour the water into the bottom of the pot. Sometimes you'll add broth, sometimes sauce…you get the idea.
You may be required to add the trivet, depending on what it is. Sometimes you don't need it.
Add ingredients and close the lid.
Move the steam release valve to the sealing position.
Depending on what model you have you will have a button that either says "manual" or "pressure cook" – They mean the same thing. Press it.
Set the cooking time and adjust using the + or – buttons. It's important to remember the total time and cook time aren't the same thing. It takes time for the pressure to build up which will increase total time.
Once you set the cooking time, you will see "on" and the pressure will start to build. You may see a bit of steam escape from the valve and that's ok. As long as it's not a lot, in which case you may need to adjust the valve's position.
When the pressure has finished building, the timer will then start to countdown the cooking time.
When it is done, your Instant Pot will beep letting you know it's ready. Now, it's time to release the pressure.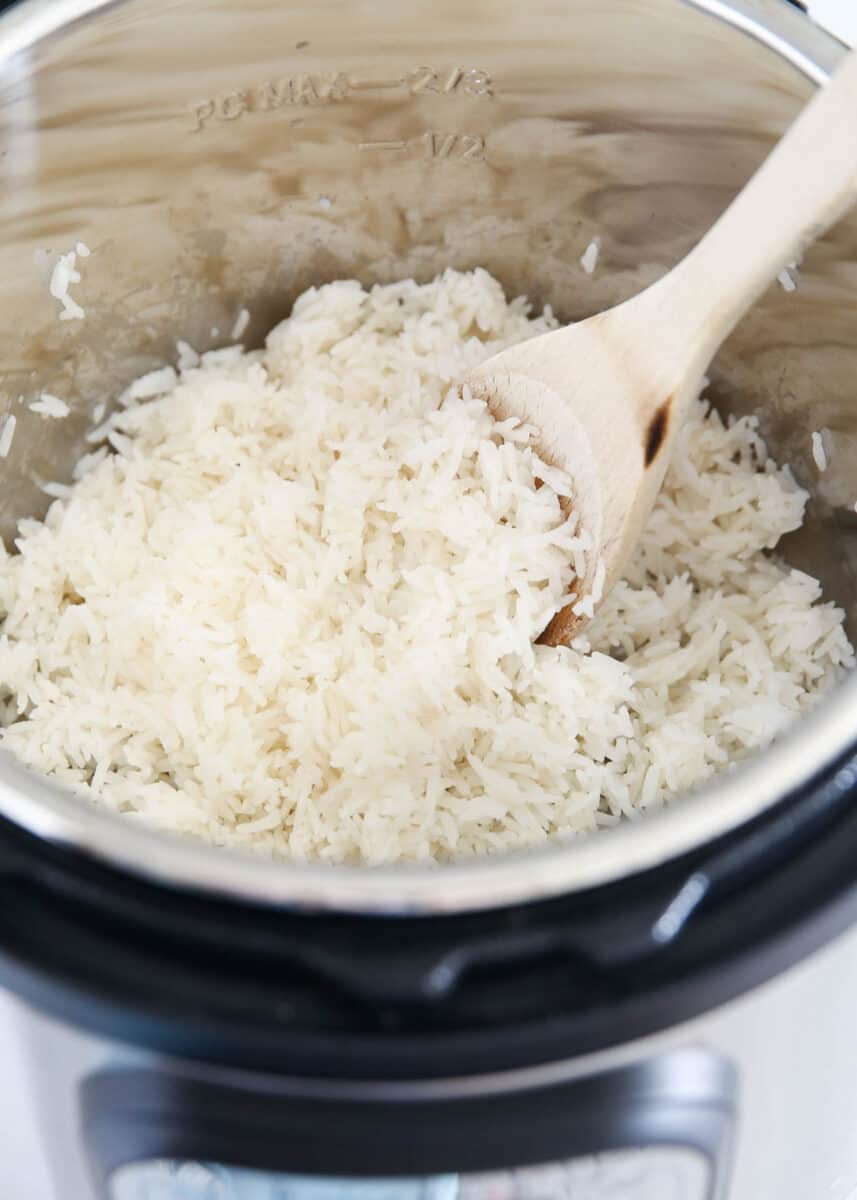 Natural Release vs. Quick Release
Depending on what it is you're cooking, there are two different ways to release the pressure:
Natural release: This is done by not doing anything! Once it beeps letting you know that it's done cooking it will automatically start releasing the pressure (ever so slowly, depending on how much is in there).
This method is used when the food inside could use a little extra tenderizing or when it won't affect the outcome of the recipe to keep it in there a little longer. Some recipes will ask you to naturally release for a few minutes before doing a quick release. Once it's done naturally releasing, the pin will drop and you can then open the lid.
Quick-release: This way requires extra precautions as you're turning the valve to the venting position which will allow the steam to escape quickly (usually with some splatter). I like to use the end of a wooden spoon to move the valve that way I'm not touching it directly and I'm far enough away that I know my face won't get in the way.
This method is used when we want to make sure whatever is inside doesn't overcook and become mushy. Again, once the pin drops, you can open the lid.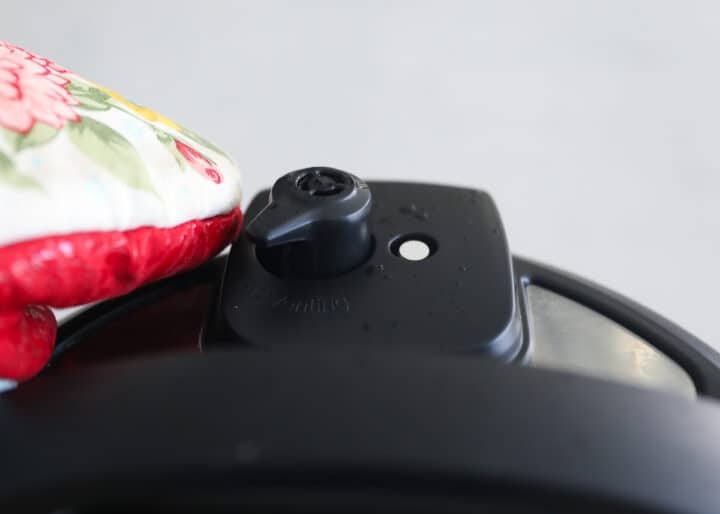 What Size Pot Should I Buy?
When thinking about purchasing an Instant Pot, the biggest question becomes, which one should I buy? They serve the same functions but depending on your lifestyle that will determine which one suits your needs.
The mini 3 quart Instant Pot will feed approximately 2 people. It's not great for batch cooking, or meal prep because it won't make more than a couple of portions and probably won't have a lot of leftovers. Then, as the sizes go up, the more food it can fit.
Ideally, a family of 4 or more will do well with either a 6 quart or an 8 quart size. This is great for feeding your crew with the possibility of lots of leftovers, especially with the larger size. Keep in mind, the bigger the pot, the longer it takes to come to pressure and it also takes up more counter or storage space.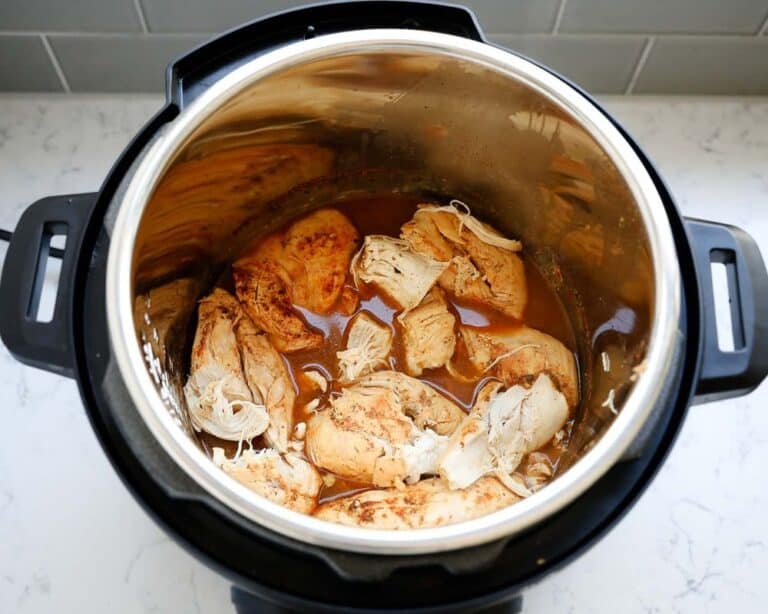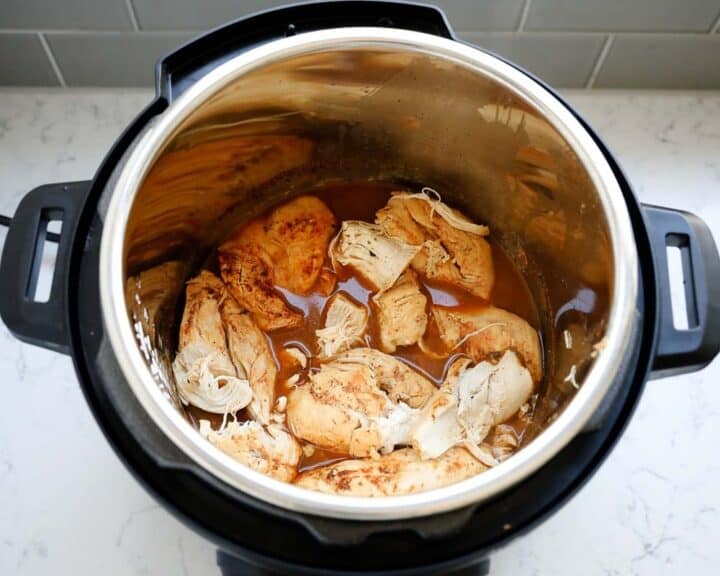 Free Printable Instant Pot Time Chart
Everyone needs an Instant Pot cheat sheet, no matter how experienced you are! Keep this printable handy and have easy access to Instant Pot cooking times no matter what you're cooking!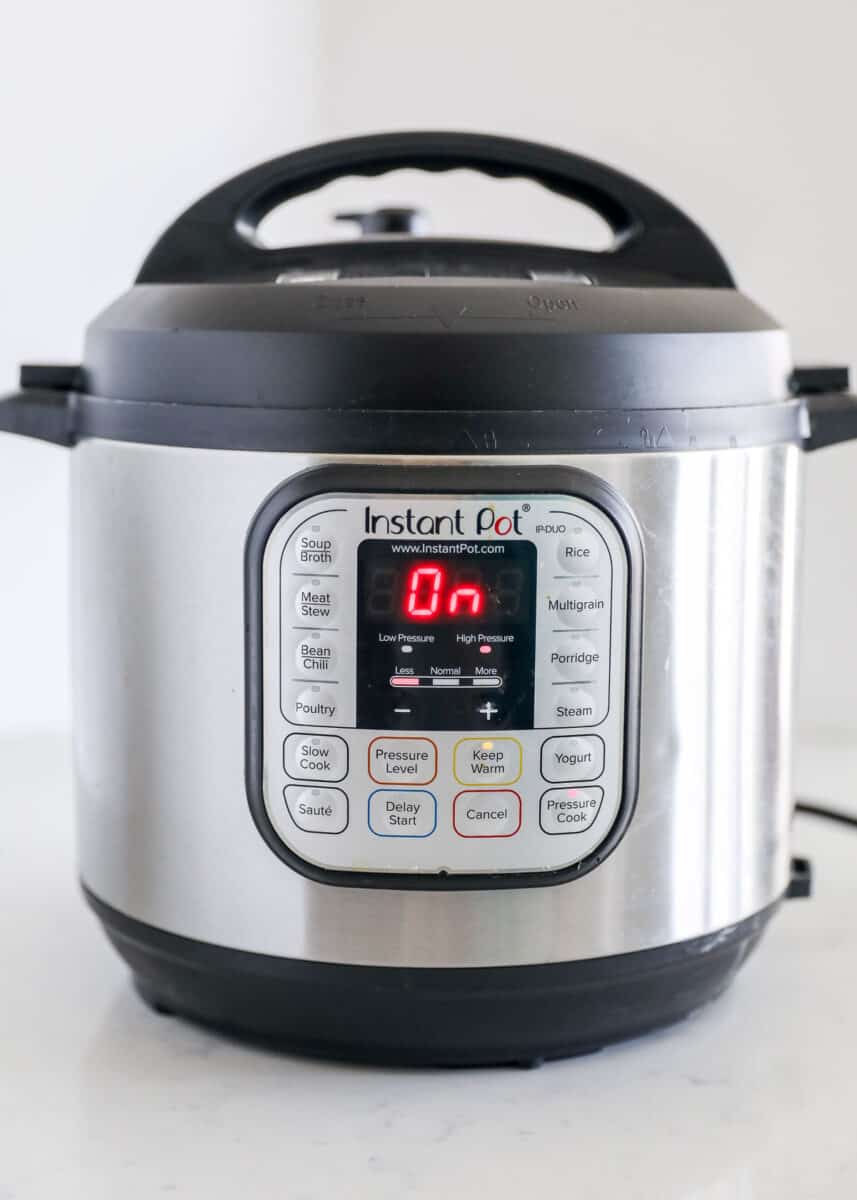 Why use an Instant Pot?
It cooks the food quickly without drying it out. I also love using one to free up space in my oven, especially during the holidays. I always make my mashed potatoes in my instant pot.
When to use Instant Pot trivet?
It's best to use when you're cooking things like hard boiled eggs, vegetables, whole chicken and cakes that need to be lifted out. It will also help prevent the burn notice from coming on.
What are some good meals to cook with the Instant Pot if you're just learning how to use it?
I'd start with the 4 recipes below. The Instant Pot Baked Ziti is a family favorite.