Kale quinoa salad is a healthy, colorful, and delicious salad full of high fiber, good fat, and loads of veggies! Topped with a sprinkling of pine nuts and a tangy vinaigrette, this salad will transform the way you think about kale!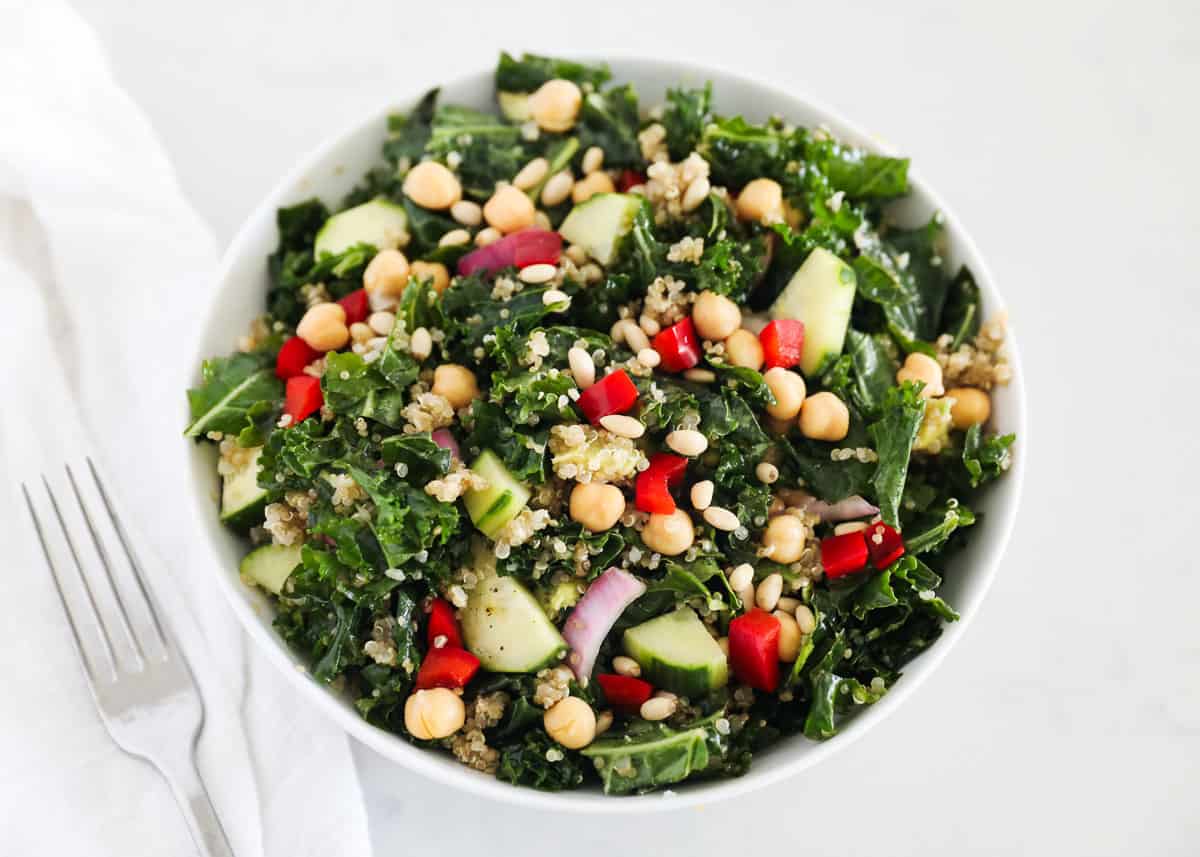 Healthy and Vibrant Salad
This kale and quinoa salad is an entire experience. It's almost as if just looking at it sends signals to your brain that you're about to nourish it with all the delicious and healthy things you've been missing out on!
If you're not a fan of raw kale or even quinoa, this salad is about to change your mind. It's a beautiful assortment of grains, dark leafy greens, legumes, loads of crispy veggies, and a sprinkling of crunchy pine nuts. All of it comes together with a zesty vinaigrette made with Italian seasoning, red wine vinegar, garlic, and a few other simple ingredients.
It's a hearty bowl of nutrient-dense foods that is a vegan, high protein, dairy-free, and gluten-free meal, perfect for a light lunch or healthy dinner. It's a salad so it's naturally customizable and flexible to what your preferences are, which is great for meal prep. Especially if you're meal prepping for more than one person.
Sometimes I like to add sliced avocado, roasted sweet potatoes, feta cheese, or Kalamata olives for a switch up. If I have some leftover grilled chicken or grilled salmon, I might toss some in there to bulk it up with some extra protein while other days I like to keep it as is. It's amazing no matter what!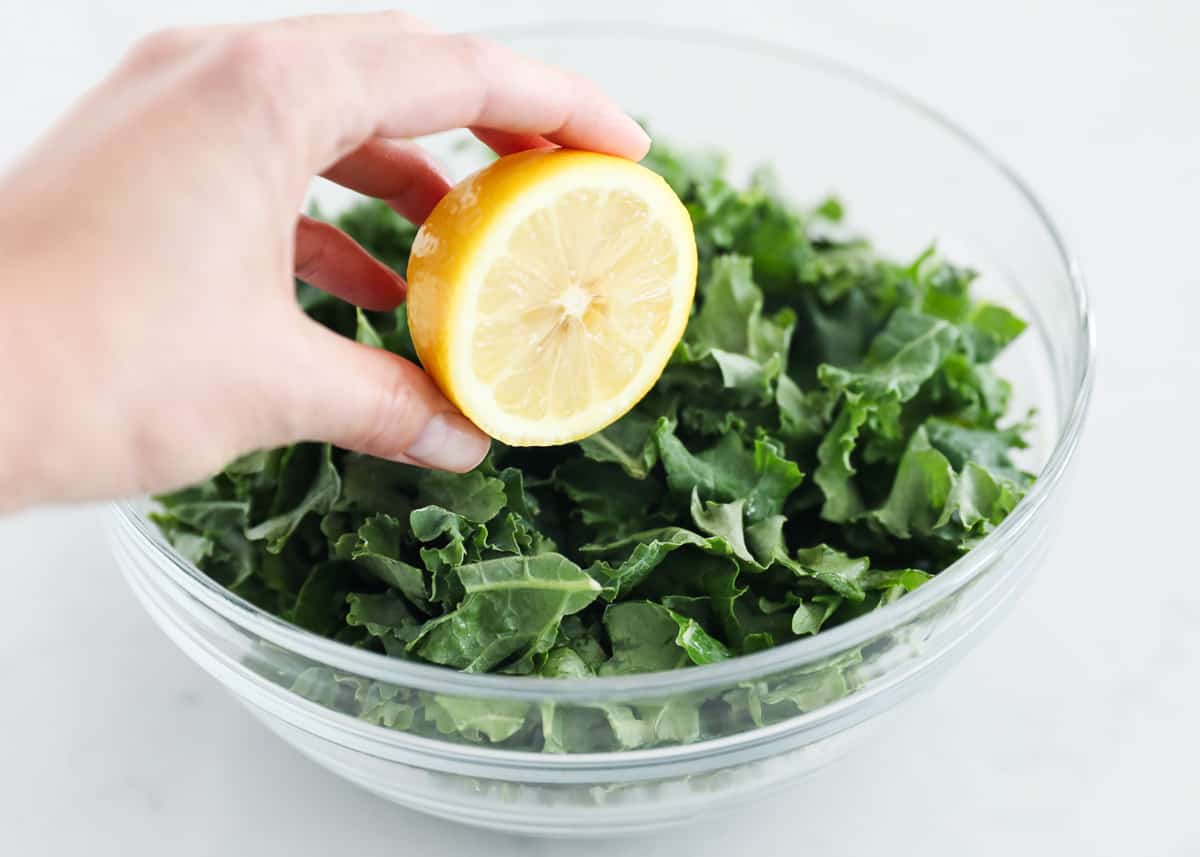 Tips for Making Kale and Quinoa Salad
Use whichever quinoa you'd like, either red or white and don't forget to rinse it first!
If you need a guide to help you learn how to cook quinoa, my easy-to-follow recipe is here for you. It's a good idea to get this out of the way earlier on that way you can save time when it comes time to assemble the salad.
Remove the stem of the kale by breaking off the leafy parts away from the middle.
Massage the kale. Part of why many people don't enjoy eating raw kale is due to the texture. When you don't massage your kale, you won't break down the fibers and allow the leaves to become softer and easier to chew. So don't skip this step once you've coated it with oil and lemon juice. Learning how to massage kale is simple, quick and makes a big difference!
Chop your veggies down to uniform sizes. Everything should be bite-size, including the kale. It makes for a nice even bite of everything.
Pickle the onions. If you would like to have slightly pickled onions, be sure to add them to the dressing ahead of time and allow them to sit for a bit.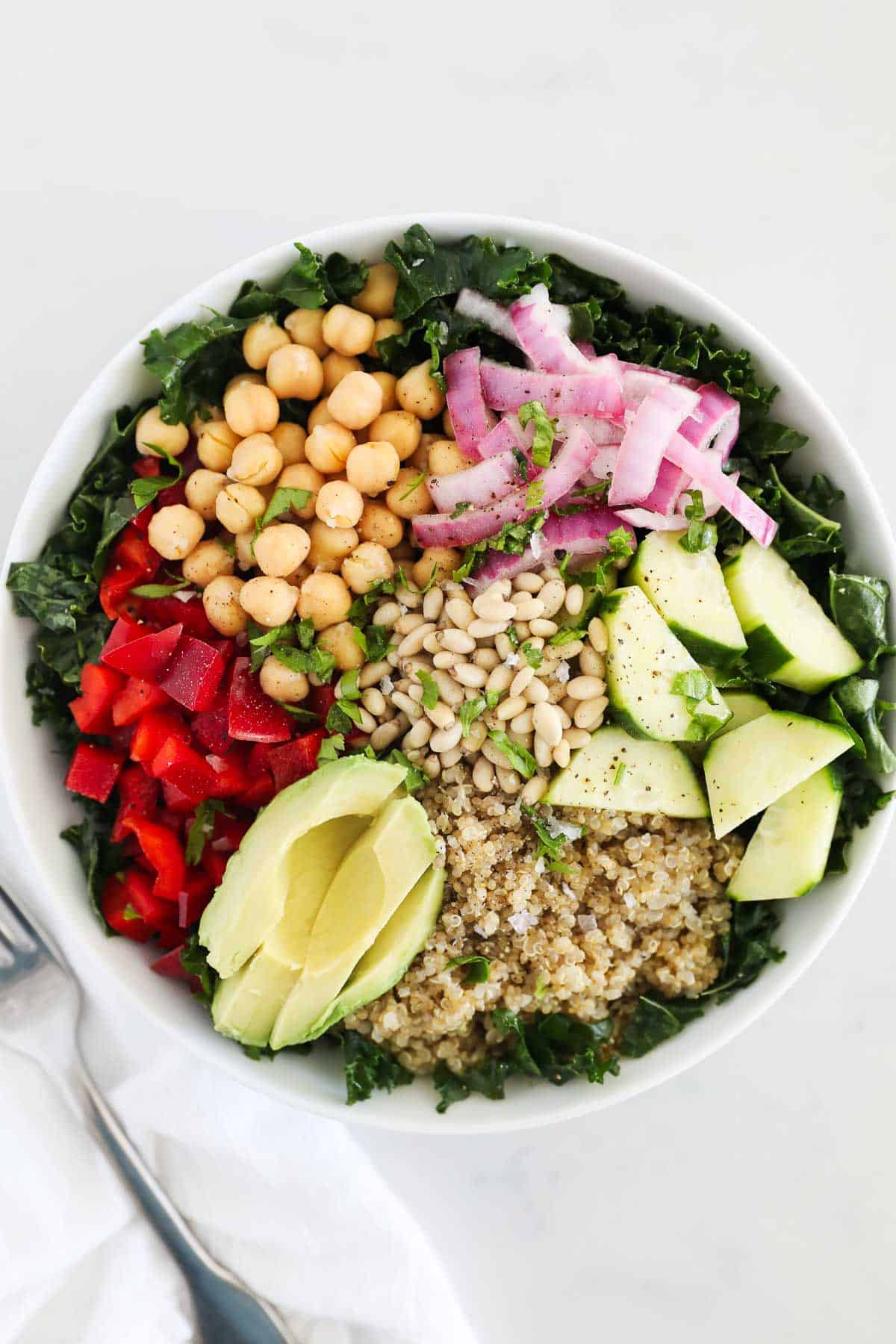 Optional Add-Ins
Feta cheese
Kalamata olives
Walnuts
Pecans
Slivered almonds
Make Ahead + Storage
To make this salad the day before, assemble all ingredients with the exception of the dressing. That you can combine and set aside in a separate jar. Add dressing to salad and give it a toss just before serving.
This salad will keep for 3 days in an airtight container in the fridge which means leftovers. It might actually taste even better the next day!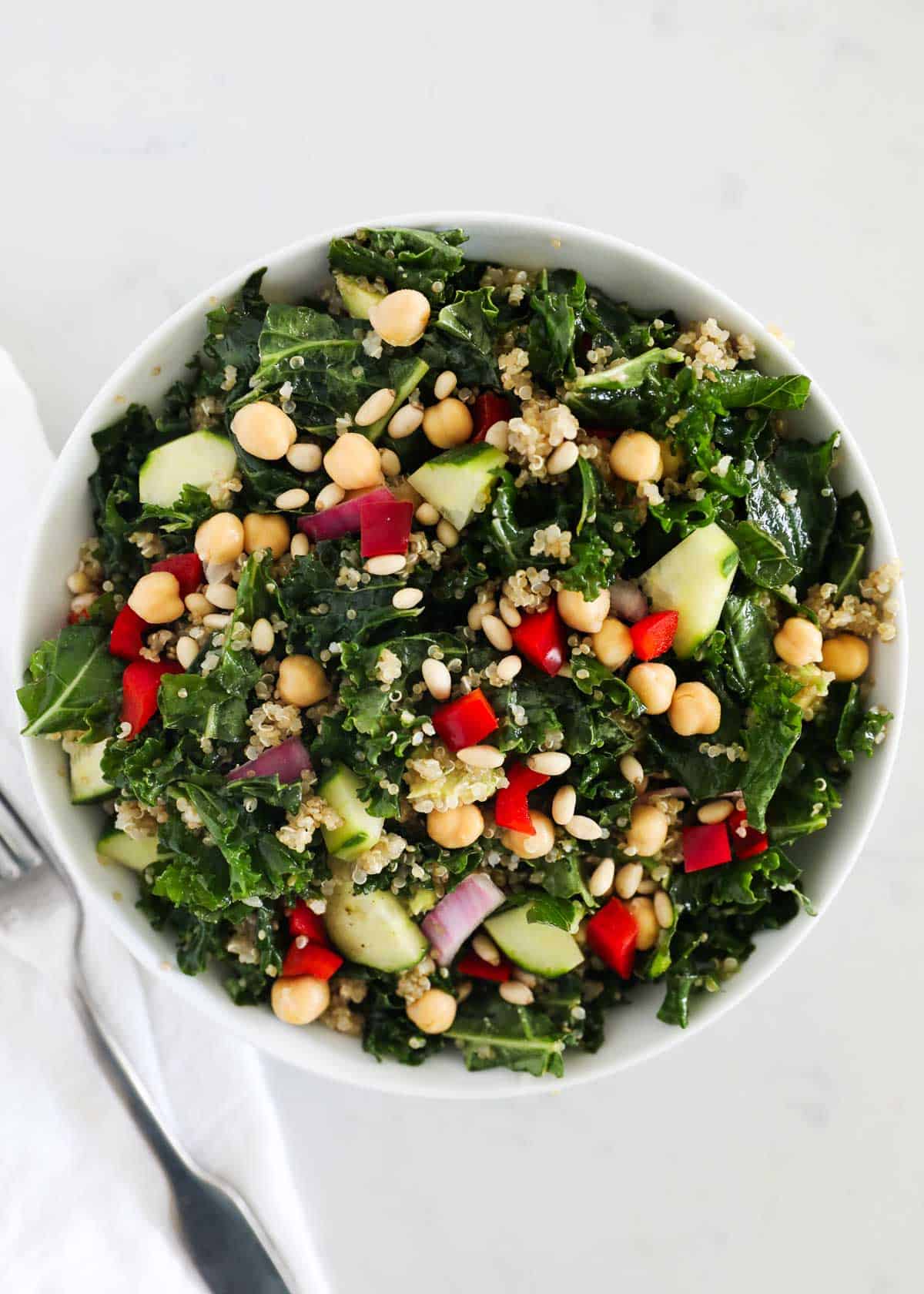 HUNGRY FOR MORE? Subscribe to my newsletter and follow on Facebook, Pinterest and Instagram for all the newest recipes!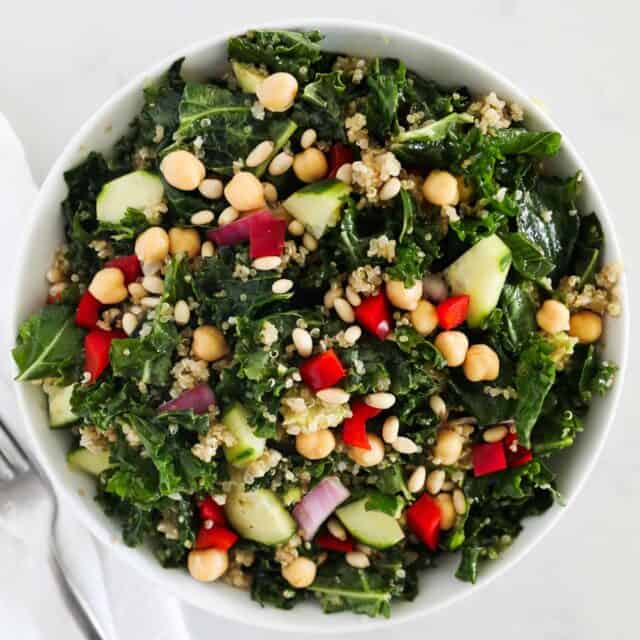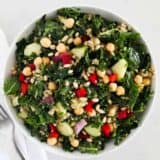 Kale Quinoa Salad
Kale quinoa salad is a healthy, colorful, and delicious salad full of high fiber, good fat, and loads of veggies! Topped with a sprinkling of pine nuts and a tangy vinaigrette, this salad will transform the way you think about kale!
Ingredients
4 cups chopped kale
1 lemon , juiced
¾ cup cooked quinoa
½ cup garbanzo beans
1 red bell pepper , chopped
½ cucumber , sliced and cut into 4
¼ cup diced red onion
2 Tablespoons fresh parsley
2 Tablespoons pine nuts
Dressing:
¼ cup extra virgin olive oil , divided
2 Tablespoons red wine vinegar , or balsamic vinegar
2 cloves garlic , minced
1 teaspoon Italian seasoning
¾ teaspoon Kosher salt , more to taste
¼ teaspoon Freshly ground black pepper , more to taste
Optional: Avocado, feta cheese
Instructions
In a small bowl, whisk together the olive oil, vinegar, garlic, Italian seasoning, salt and pepper. Add the onions if you'd like to have them pickle slightly. Set aside.

Place the kale in a large bowl. Add lemon juice and 1/2 Tablespoon olive oil. You can add 1/8 teaspoon salt here as well. Massage for 2 minutes or until the kale is tender and soft.

Add the garbanzo beans, bell pepper, cucumber, onions and pine nuts to the bowl.

Toss salad together with dressing and then top with fresh parsley. Season to taste. Serve at room temperature or chilled.
---
Notes
Make ahead: This salad can easily be made a day in advanced. Add the dressing before serving.
Variations: Feel free to use either red or white quinoa. For a healthy fat, add in avocado, feta cheese and kalamata olives.
Storage: This salad will keep in the fridge for about 3 days. Just keep stored in an airtight container.
This recipe is perfect for meal prep! You could even add chicken or avocado to bulk it up a little more.
Nutrition
Calories: 293kcal | Carbohydrates: 27g | Protein: 8g | Fat: 19g | Saturated Fat: 2g | Polyunsaturated Fat: 4g | Monounsaturated Fat: 11g | Sodium: 471mg | Potassium: 672mg | Fiber: 5g | Sugar: 4g | Vitamin A: 7844IU | Vitamin C: 138mg | Calcium: 149mg | Iron: 3mg
Nutrition provided is an estimate. It will vary based on specific ingredients used.
Did you make this recipe? Don't forget to give it a star rating below!