Ever wondered how to cut a mango? It's so easy and takes less than 5 minutes to do! After following these simple steps, you'll become a mango-cutting pro!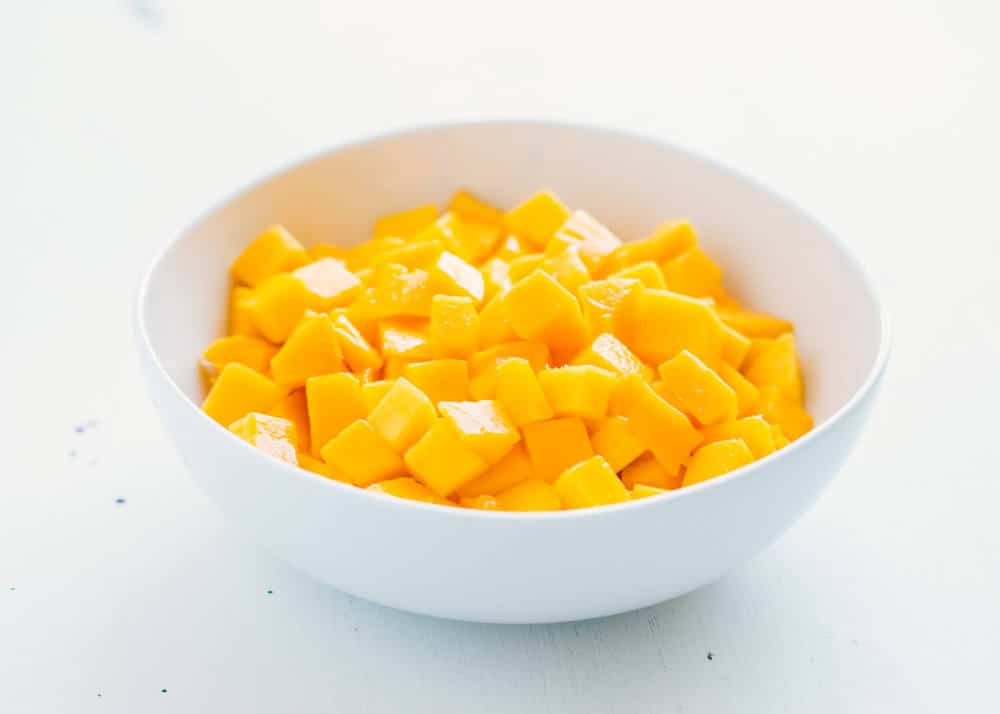 Step by Step Cutting a Mango
There's nothing like a fresh, juicy mango. Mangoes are one of my favorite fruits and I love to incorporate them all types of recipes, especially fresh mango salsa , mango chicken quinoa salad and grilled shrimp skewers.
I used to never buy mangoes because I never knew how to cut them! Although they are one of my favorite fruits, cutting them can be somewhat intimidating. The good news is that it is actually SO easy to cut mangoes! Once you do it once, you'll be a pro. :) It takes less than 5 minutes and before you know it, you have perfectly diced fruit ready to eat.
Mangoes are so juicy and delicious and add such a fresh, sweet flavor to any recipe. We love to add them to smoothies, salads, fruit salsa…you name it! They are also extremely delicious by themselves. I could snack on them all day! And let's not even get started on dried mangoes. Those are dangerous!
How Do You Know When it's Ripe and Ready to Eat?
The skin is mostly red or yellow, with a couple of green spots. The more ripe the mango is, the less green color the skin will have.
If it's soft to squeeze, that means it is ripe and ready to eat. If still hard, let it sit a couple more days.
When a mango is ripe, there will often be a yellow circle around the stem.
It will smell fragrant, whereas a non-ripe mango won't smell at all.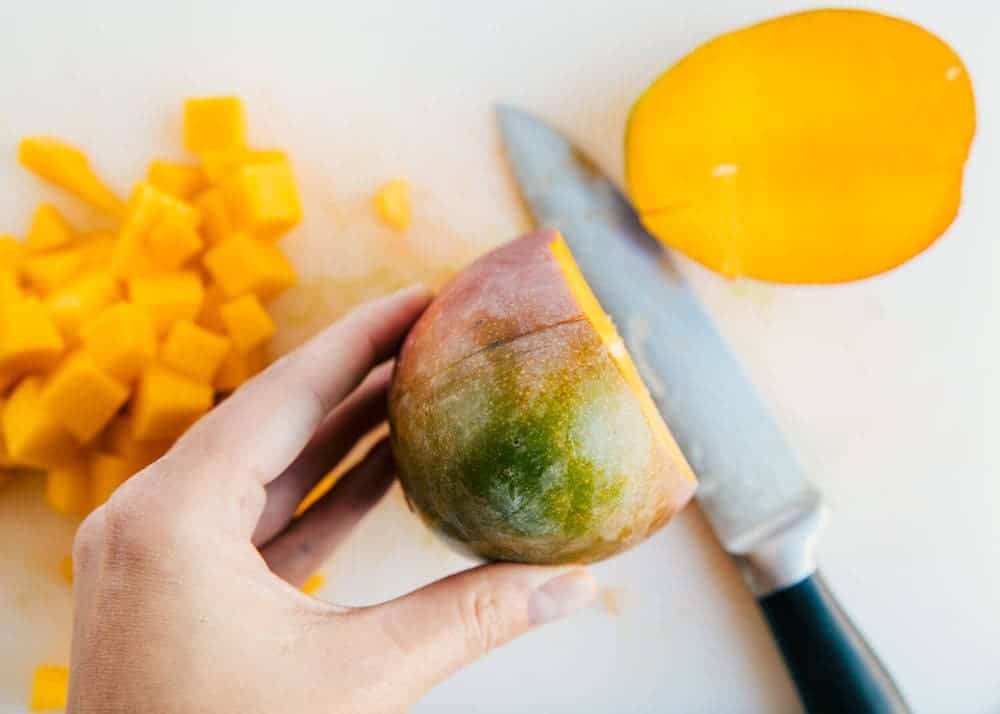 How Do You Cut a Mango?
Cut off the sides. First, assemble the mango, knife and cutting board. Place your mango on the cutting board and determine which side is tallest. The mango seed (or pit) will be positioned along that side. Start by cutting off both sides along the seed. If your knife hits the seed, you may need to re-position it and try again. Once the sides are sliced, I like to also cut off the remaining flesh to gather the most mango as possible. Just make sure not to cut off part of the seed!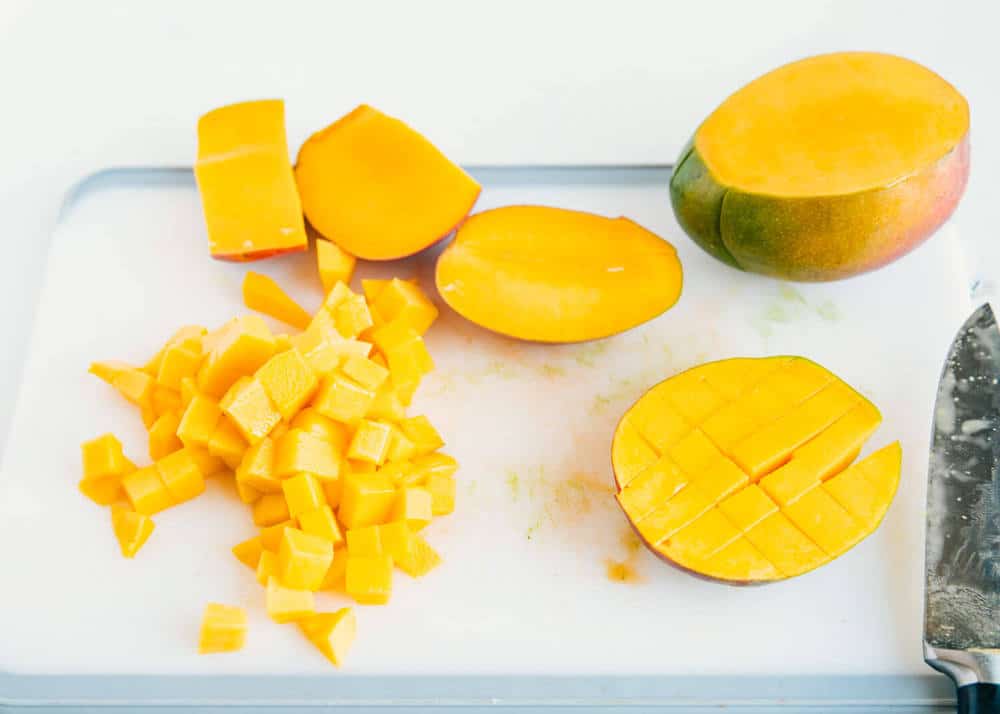 Make vertical and horizontal slices. Holding one of the sides, use your knife to make lengthwise slices vertically down the mango towards the skin. Repeat the process horizontally. It's important to note that you don't want to cut through the skin. Use this cutting method on all mango pieces.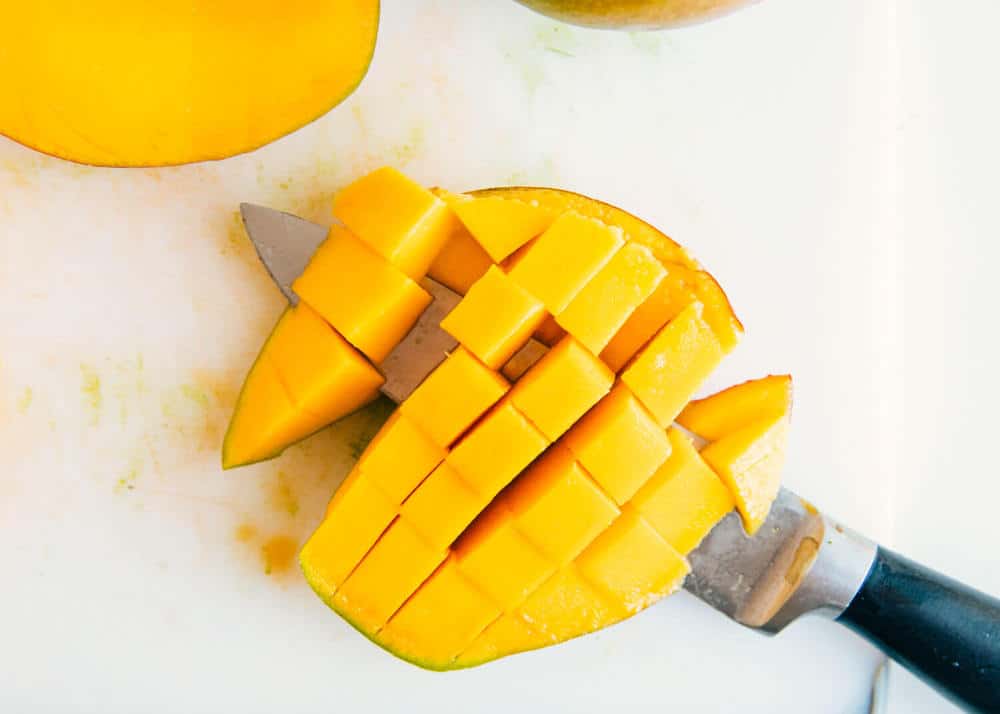 Dice the mangoes. Next, turn the mango inside out by pushing out the center of the fruit through the skin. The pieces will pop up, making it easy to dice. Just use your knife to cut the mango cubes away from the skin. And there you have it, perfectly diced mangoes!
Favorite Ways to Use Diced Mangoes
Smoothies: Mangoes add such a nice tropical twist to smoothies. Try adding to this pineapple smoothie or mango smoothie bowl.
Oatmeal: I love the addition of sweet, juicy mango to cooked oatmeal or even overnight oats. Top with maple syrup, almond butter or even a dash of cinnamon for the ultimate breakfast.
Salads: Salads taste so delicious topped with fresh fruit. I like to incorporate a mix of lettuce, mango, avocado, chicken and top with a honey lime vinaigrette.
Fruit kabobs: It makes a wonderful addition to fruit kabobs. I love to grill my fruit kabobs using this recipe.
Salsa: There are so many different salsa recipes that it would taste delicious in. A few of my favorites are black bean and corn salsa, mango salsa and fruit salsa.
Fruit pizza: Try topping a fruit pizza recipe with mango for a fun, tropical twist.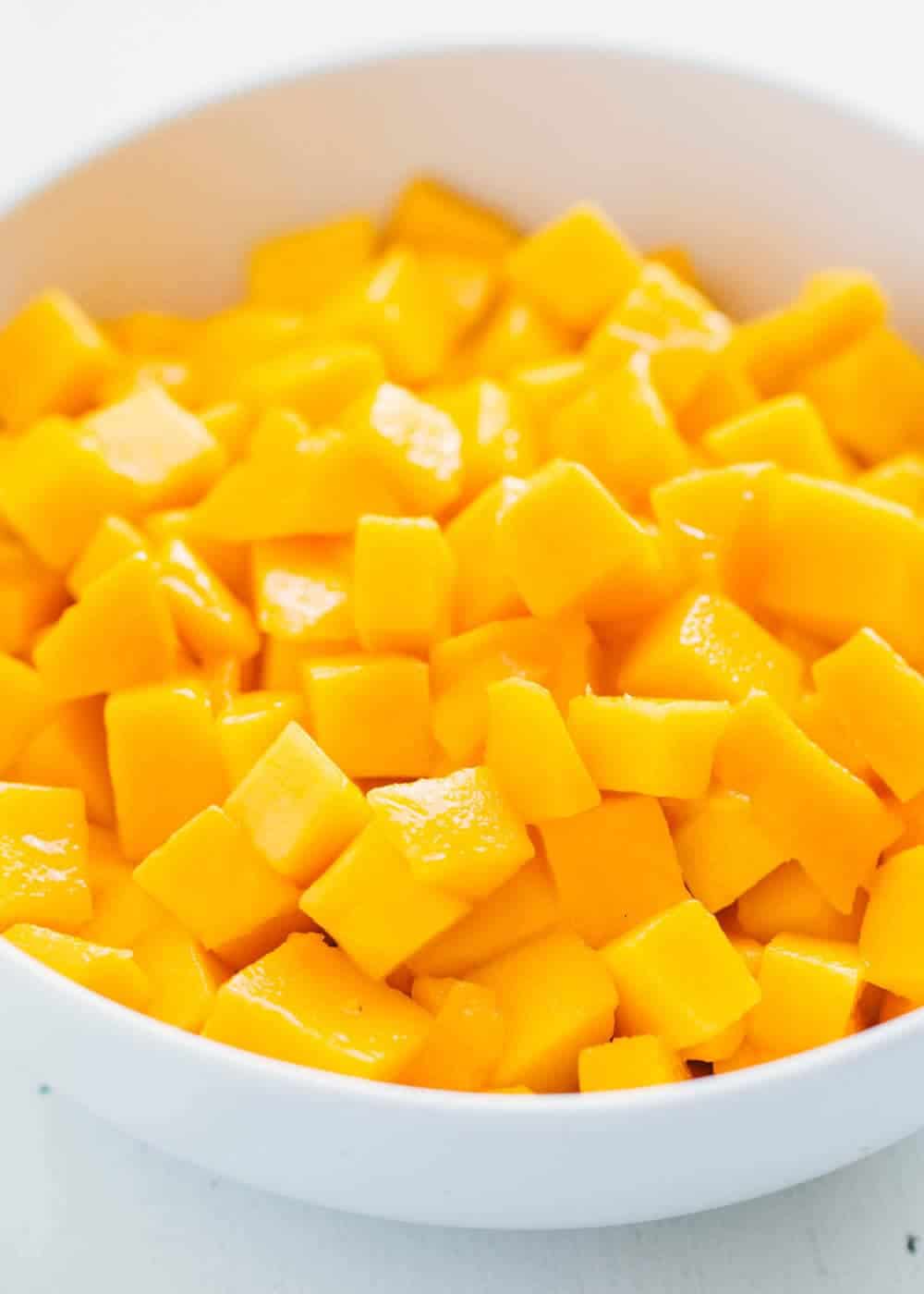 Storing and Freezing
Place the diced mango in an airtight container or bag and store in the fridge for up to 5 days. It also freezes great, too! Simply place the diced mango on a baking sheet and freeze for about 30 minutes, or until the fruit is hard. This helps it from sticking together and freezing in clumps. Then place in a freezer bag or container and store in the freezer.
More Helpful Tutorials