Jump to Recipe⌄
Southwest Cornbread Salad
Potlucks can be hit or miss. But there is nothing I like better than a potluck that is a hit! I am lucky enough to have a group of neighbors that are great cooks so whenever we have a neighborhood potluck party I know there will be plenty of good food to try and lots of new recipes to get!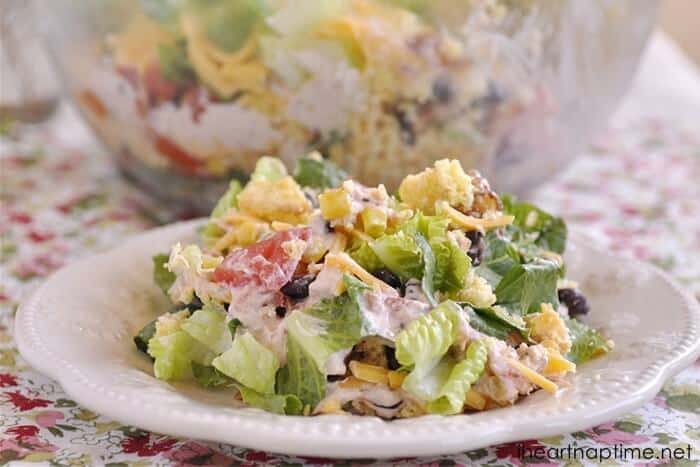 Today's recipe for Southwest Cornbread Salad is one I got a few years ago from a neighbor at our yearly Fourth of July cul de sac party. This salad is a little unique. It is a layered salad made with cornbread and I loved the flavor and texture that the cornbread gave the salad.
The salad starts with a layer of crumbled cornbread. I just used the Jiffy Mix! Then you add a layer of lettuce, tomatoes, black beans, corn, a ranch/salsa dressing, bacon, green onions and cheese. And then you repeat all that for a second layer. All kinds of yummy flavors and textures!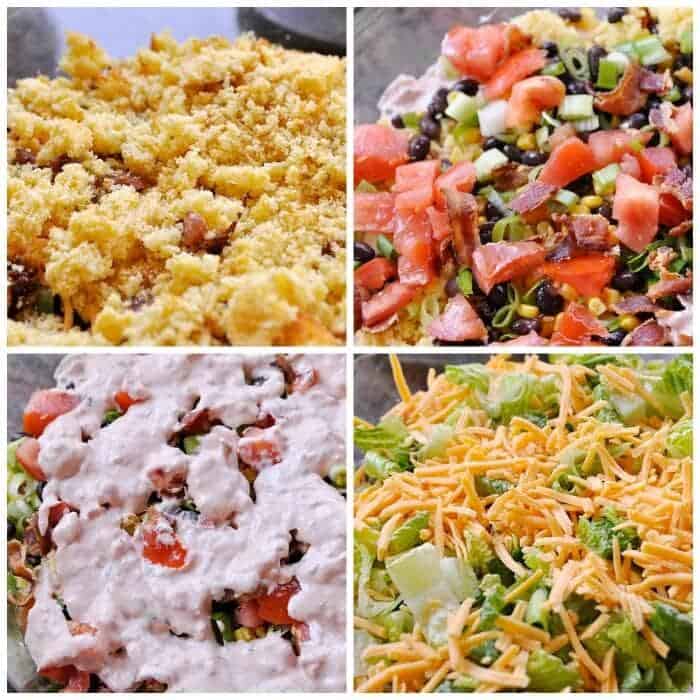 Next time you want to be a hit at a potluck dinner take this salad. Southwest Cornbread Salad is delicious and something just a little bit different.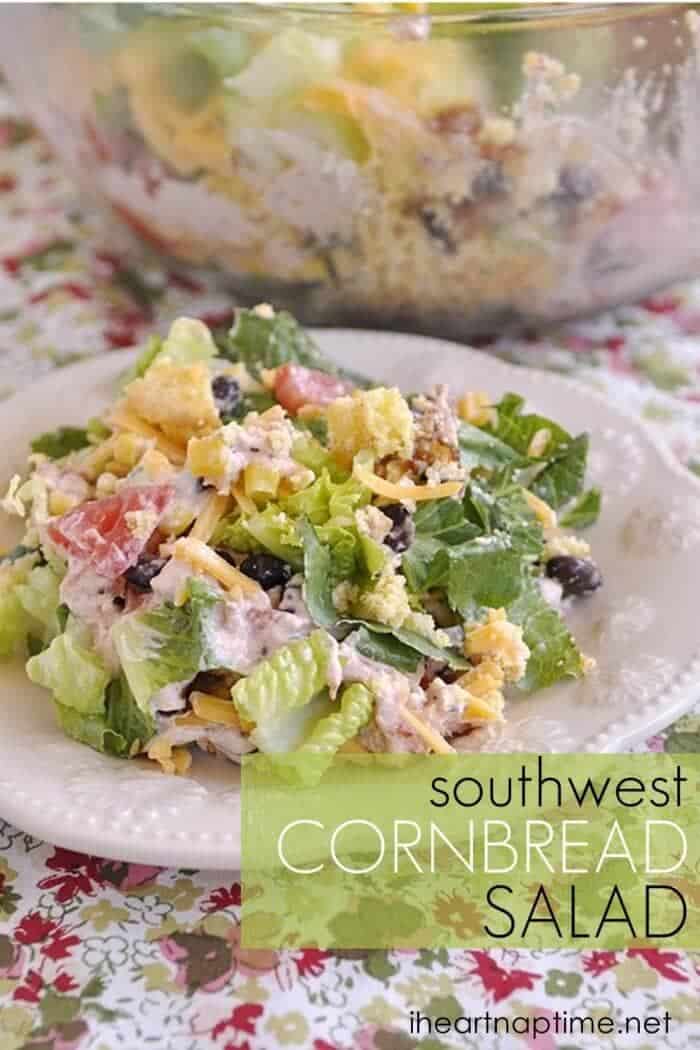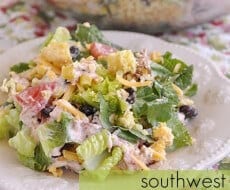 Southwest Cornbread Salad
Ingredients:
1 6 oz. package of Cornbread mix
1 (1 oz.) envelope of Buttermilk Ranch Salad Dressing Mix
1 C sour cream
1 C mayo
2 C salsa
1 head of romaine lettuce, shredded
2 large tomatoes, diced
1 (15 oz.) can black beans, rinsed and drained
1 (15 oz.) can whole kernel corn, drained
2 C shredded cheddar cheese
6 slices of bacon, cooked and crumbled
4 green onions, chopped
Directions:
1. Mix dressing mix with sour cream and mayo.
2. Add salad dressing to salsa
3. Bake cornbread according to directions, cool and crumble
4. In a large bowl layer using half of all ingredients: cornbread, tomato, beans. corn, bacon, green onions and end with dressing, lettuce and cheese.
5. Repeat the layering process
6. Chill for at least 2 hours before serving
All images and text ©
For other yummy recipes try these:

Grilled Vegetable & Peach Salad|Cilantro Lime and Chicken Chop Salad|Corn & Blueberry Salad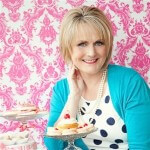 I'm Leigh Anne and food, family and friends are three of my favorite things. I am the mother of four young adults, a new mother in law and am still trying to adjust to life as an empty nester along with my husband of over 30 years.  I love throwing parties, burying my head in a book and digging in the dirt in my garden.  My husband would tell you I love making messes in the kitchen and craft room and finding junk (treasures) at Goodwill.  I believe that life is beautiful and it is up to us to find and create that beauty.  I love sharing my journey to finding the pretty and delicious in life over at Your Homebased Mom.  You can also visit me on Facebook, Pinterest, Twitter or Instagram.