This beautiful antipasto salad is loaded with all of your favorite appetizers in one mouthwatering bowl! It's a low-carb, super satisfying salad with a taste and texture combination of crunchy, crispy, salty, and zesty!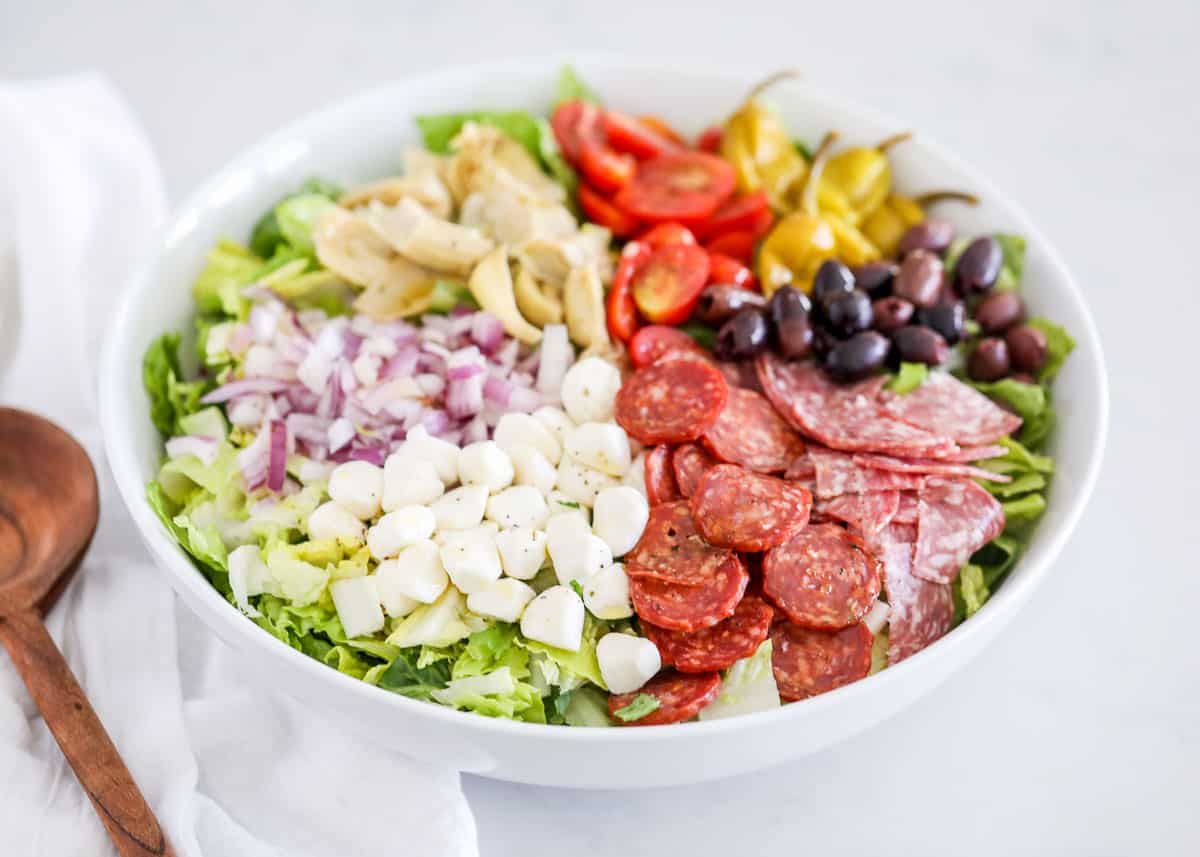 A Satisfying Summer Antipasto Salad
If you love the idea of charcuterie or cheese boards and eating by way of grazing and enjoying a bit of everything, then this no-cook summer salad is for you! This antipasto salad recipe is always a crowd-pleaser.
Not only is it a starter salad to dishes like my favorite eggplant parmesan but it is so hearty and filling it could easily be turned into a main dish. It's kind of like a low-carb version of a delicious Italian sandwich without the bun but you could also swap the greens for any cooked pasta to make a delicious Italian tortellini pasta salad.
It has all of the best things of an Italian antipasto platter or antipasto skewer in one bowl. Salty brined artichokes and olives, juicy tomatoes, fresh soft mozzarella, sliced salami, and all of that balanced with the cool crisp bed of lettuce. The dressing choice is flexible but I always like to go with either a tangy Italian dressing, Olive Garden dressing or a vinaigrette. The citrusy tartness is a delicious balance!
It is seriously the best antipasto salad I have ever come across and also the easiest. The toppings are flexible and can be customized to your liking, but as with any Italian salad, the quality of ingredients is what makes it spectacular!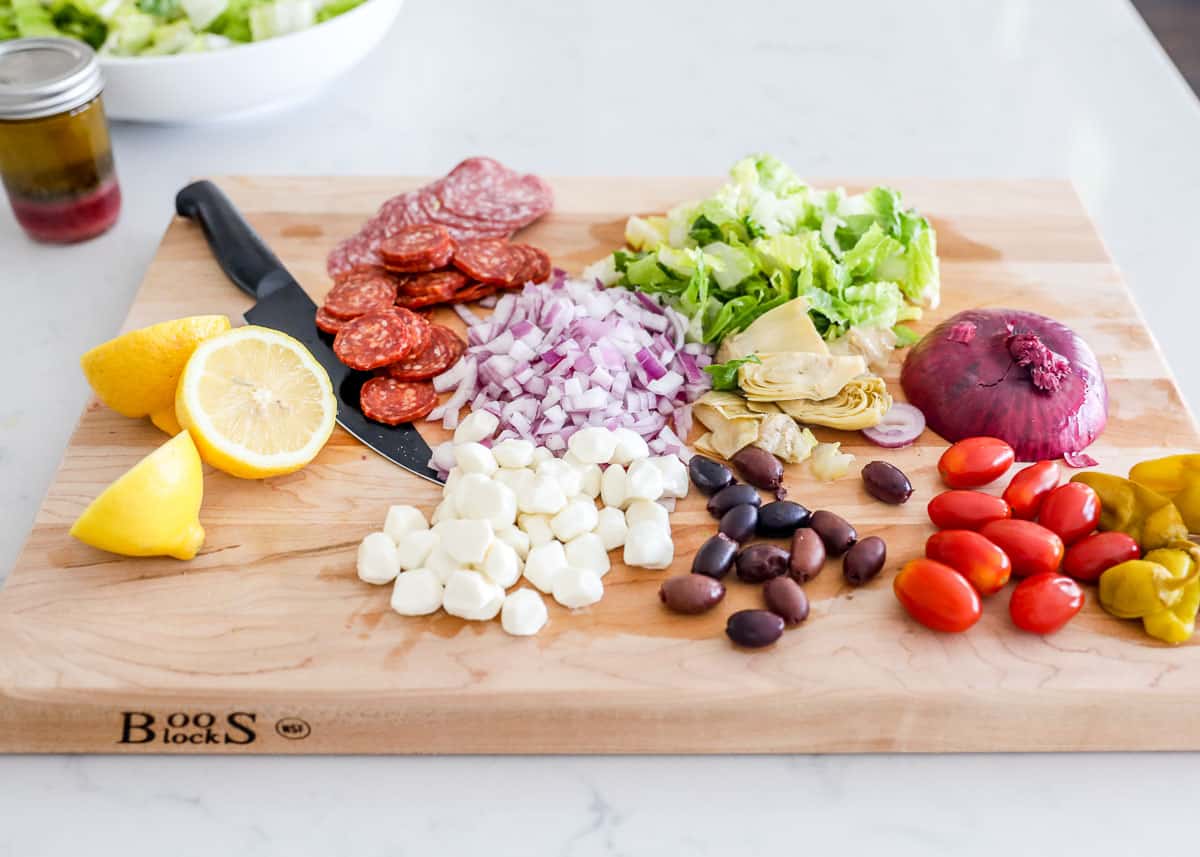 What is Antipasto Salad?
In Italian, antipasto means "before the meal" so it's always a platter served as a starter before the main event. Nowadays an antipasto is typically reserved for special occasions, like weddings, or when you're hosting a gathering or having special company over.
It's basically split into two categories "sea" or "mountain." The sea would consist of things like shrimp, mussels, or a cold fish salad, and bruschetta. Mountain, like our version, contains cold cuts, artichokes, grilled eggplant, zucchini, and the like.
Traditionally it's served with a nice loaf of bread, but what we've done is taken all of our favorite antipasto components and turned an antipasto salad with the most delicious toppings. And it's amazing!
Tips for Assembling an Antipasto Salad
Chop your greens extra fine. The toppings really are the stars and the greens are a supporting character. Chunky leaves might overpower each bite.
Use fresh, quality ingredients whenever possible. Things like fresh mozzarella, not prepackaged, or homemade dressings and croutons.
Layer the salad with toppings placed on top but don't toss until just before serving.
Don't add the dressing until just before tossing. Otherwise, it could get soggy!
In a pinch, you can use storebought dressing, but there really is nothing better than a homemade vinaigrette.
When serving a crowd, prep bowls of lettuce and have the toppings laid out for everyone to build their own bowls.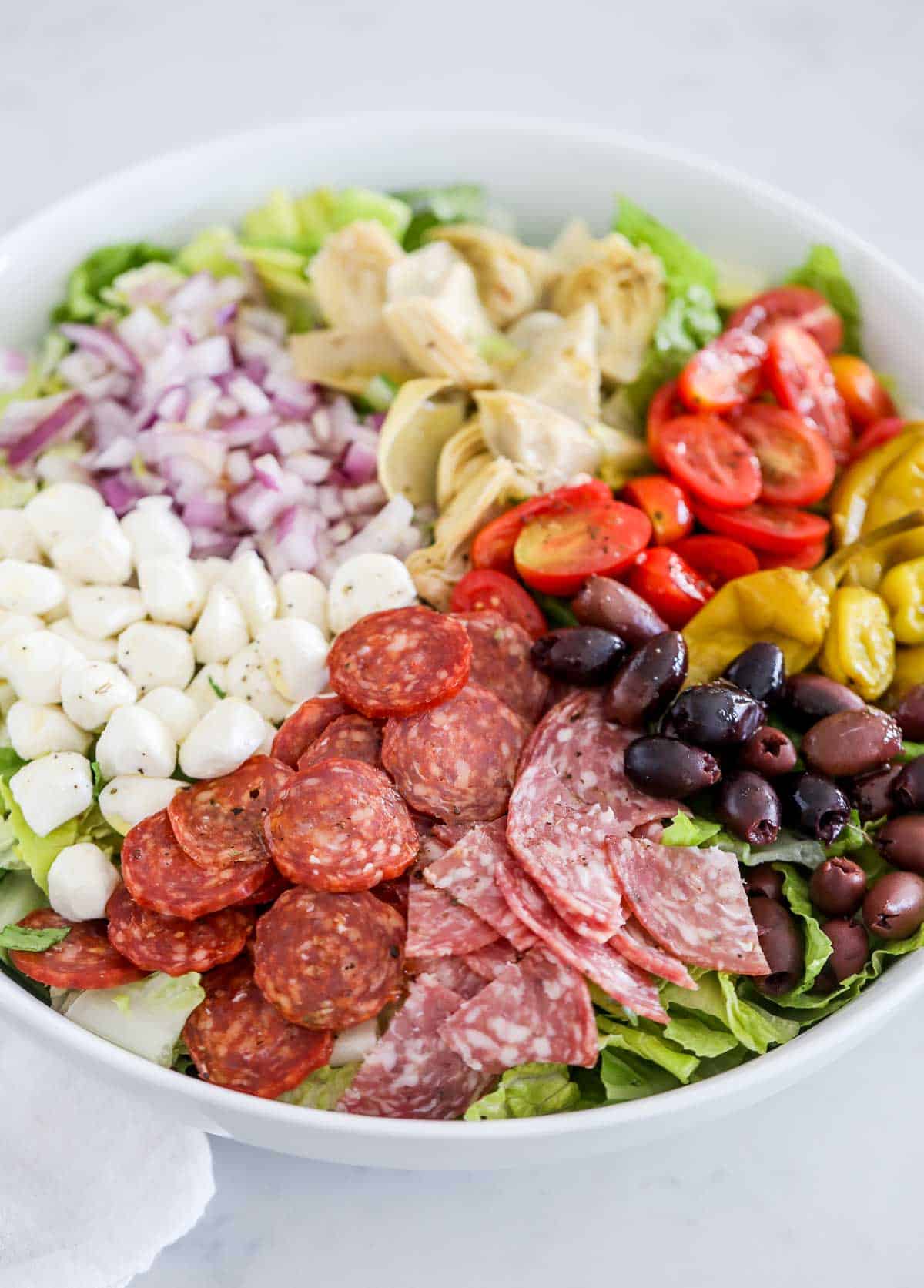 Optional Toppings
This customizable salad works for everyone! Add in your favorites, omit what you're not a fan of, and get creative.
Pepperoncini
Prosciutto
Roasted red pepper
Marinated zucchini or eggplant
Bell pepper
Mushrooms
Carrots
Radicchio
Provolone cheese
Parmesan shavings (the big chunks!)
Greens: Mixed greens, iceberg, romaine, Bibb, spinach, or kale
Recipe FAQs
What is an antipasto salad made of?
Common ingredients include cured meats, tomatoes, artichokes, olive, red onion and pepperoncini served over greens. Although you could add a lot more additional toppings as you wish!
What is the difference between antipasto and antipasti?
Antipasto is singular and antipasti is plural. For example, this is a singular (antipasto) salad. If you are making an appetizer platter with different types of antipasto, like cheese or bread, you would call it antipasti.
What is the difference between charcuterie and antipasto?
Not too much! Both refer to an appetizer platter and often include meat. Charcuterie often contains more meat selections while antipasti includes meats, cheeses and vegetables. Although charcuterie has expanded and now includes many fun variations, too!
Make Ahead & Storing
To make ahead: To prep this salad ahead of time you'll want to make sure to keep everything separate. If you're making delicious homemade croutons, you can have them ready a couple of days ahead of time. You can chop up your greens, and store your toppings individually until you're ready to assemble and serve.
To store: If you have leftover tossed salad, store it in the fridge for up to 2 days. It will definitely get a bit soggy and the lettuce will probably wilt, but the flavors will only get better. Yummy lunch for the next day!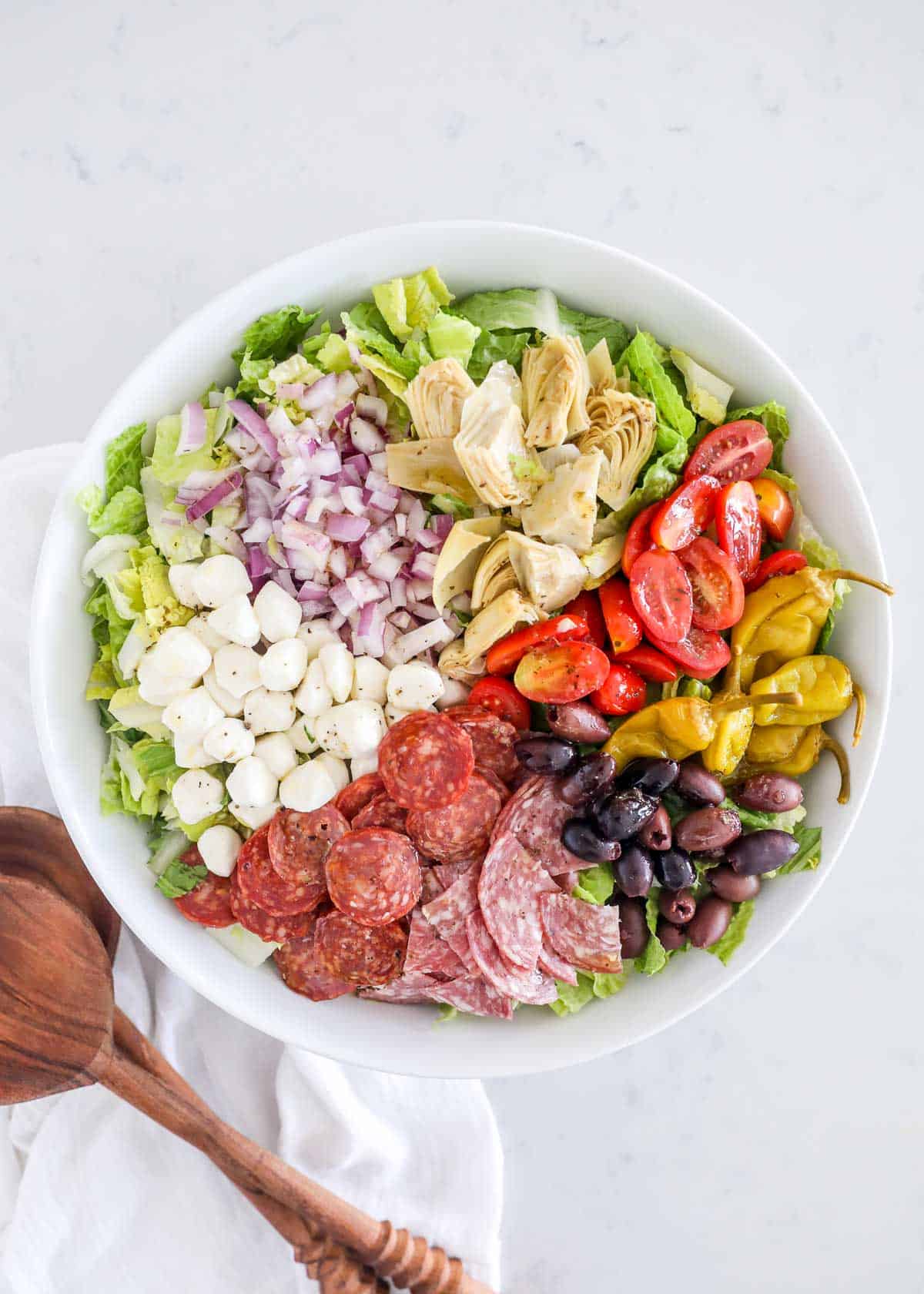 HUNGRY FOR MORE? Subscribe to my newsletter and follow on Facebook, Pinterest and Instagram for all the newest recipes!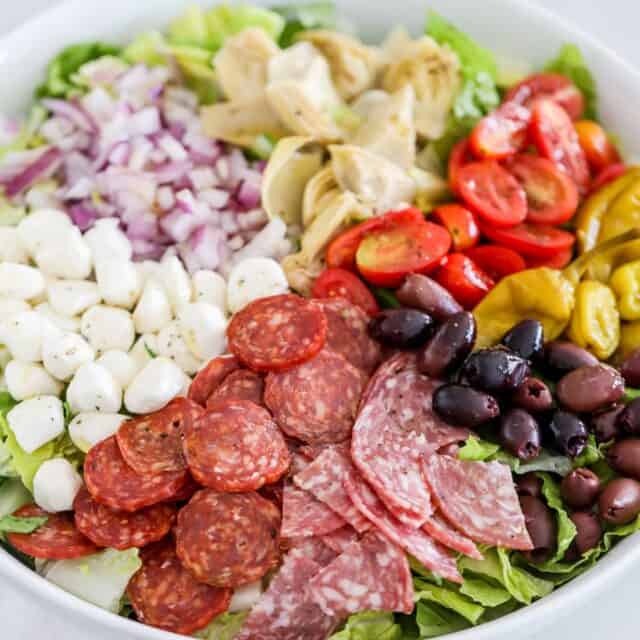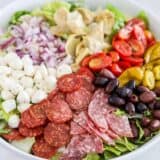 Antipasto Salad
This beautiful antipasto salad is loaded with all of your favorite appetizers in one mouthwatering bowl! It's a low-carb, super satisfying salad with a taste and texture combination of crunchy, crispy, salty, and zesty!
Ingredients
6 cups romaine lettuce
1 cup cherry tomatoes , sliced in half
4 ounces salami , cut into bite sized pieces
4 ounces marinated artichoke hearts , quartered
4 ounces mozzarella balls
¼ cup mini pepperonis
½ cup kalamata olives
½ cup olives
¼ cup sliced red onion
Optional mix-ins: peperoncino, extra veggies, chopped parsley or basil, croutons
For serving: Italian dressing or Vinaigrette
Instructions
Chop the greens extra fine and then place in a large bowl.

Next layer the tomatoes, salami, artichoke hearts, mozzarella, pepperoni, olives and red onion. Add fresh parsley or basil and peperoncino peppers if desired.

Drizzle the dressing over top and then toss with salad tongs. Serve immediately.
---
Notes
Extra mix-ins (calories not included in count):
Greens: mixed salad greens, romaine, iceberg lettuce, spinach, bibb lettuce, kale
Veggies: bell peppers, carrots, radicchio
Dressing: Vinaigrette, balsamic or Italian
Nutrition
Calories: 213kcal | Carbohydrates: 5g | Protein: 10g | Fat: 18g | Saturated Fat: 5g | Trans Fat: 1g | Cholesterol: 27mg | Sodium: 952mg | Potassium: 264mg | Fiber: 2g | Sugar: 1g | Vitamin A: 4493IU | Vitamin C: 12mg | Calcium: 105mg | Iron: 1mg
Nutrition provided is an estimate. It will vary based on specific ingredients used.
Did you make this recipe? Don't forget to give it a star rating below!