This easy homemade naan bread is super soft, chewy and delicious! You'll never go back to store-bought naan after trying this amazing recipe.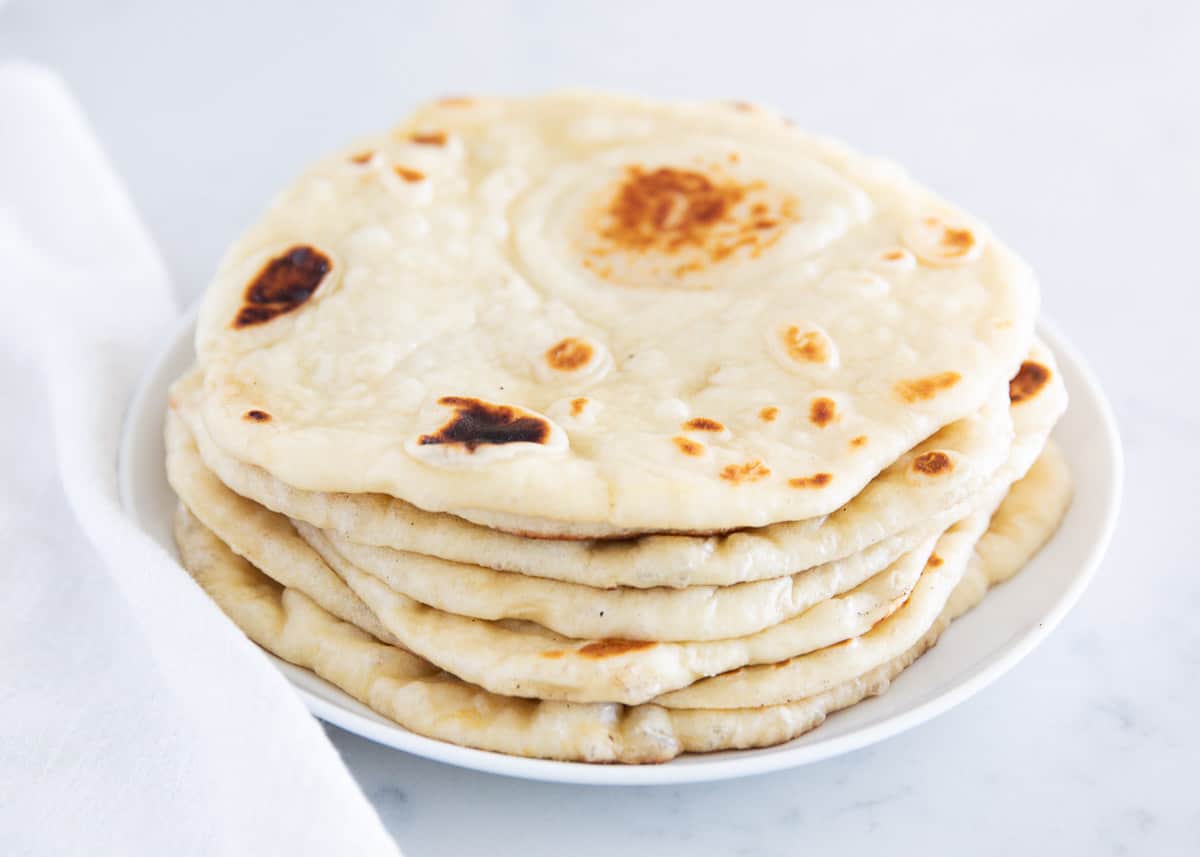 Homemade Naan
I love all types of Mediterranean food, but I especially love naan bread. It has the perfect texture and flavor and tastes delicious served with my favorite white bean hummus or skinny dill dip.
My family loves making homemade naan. The kids all get in on the fun. It's a lot easier than you think it would be to make. There's honestly nothing better than a soft and chewy piece of naan, especially when it's warm with melted butter. Seriously so good! Once you make it, you'll never go back to buying store bought again.
Recipe Ingredients
Just a few pantry staple ingredients will create this amazingly delicious naan bread. It is so simple to make and comes together quickly. This naan recipe will be a favorite in your home!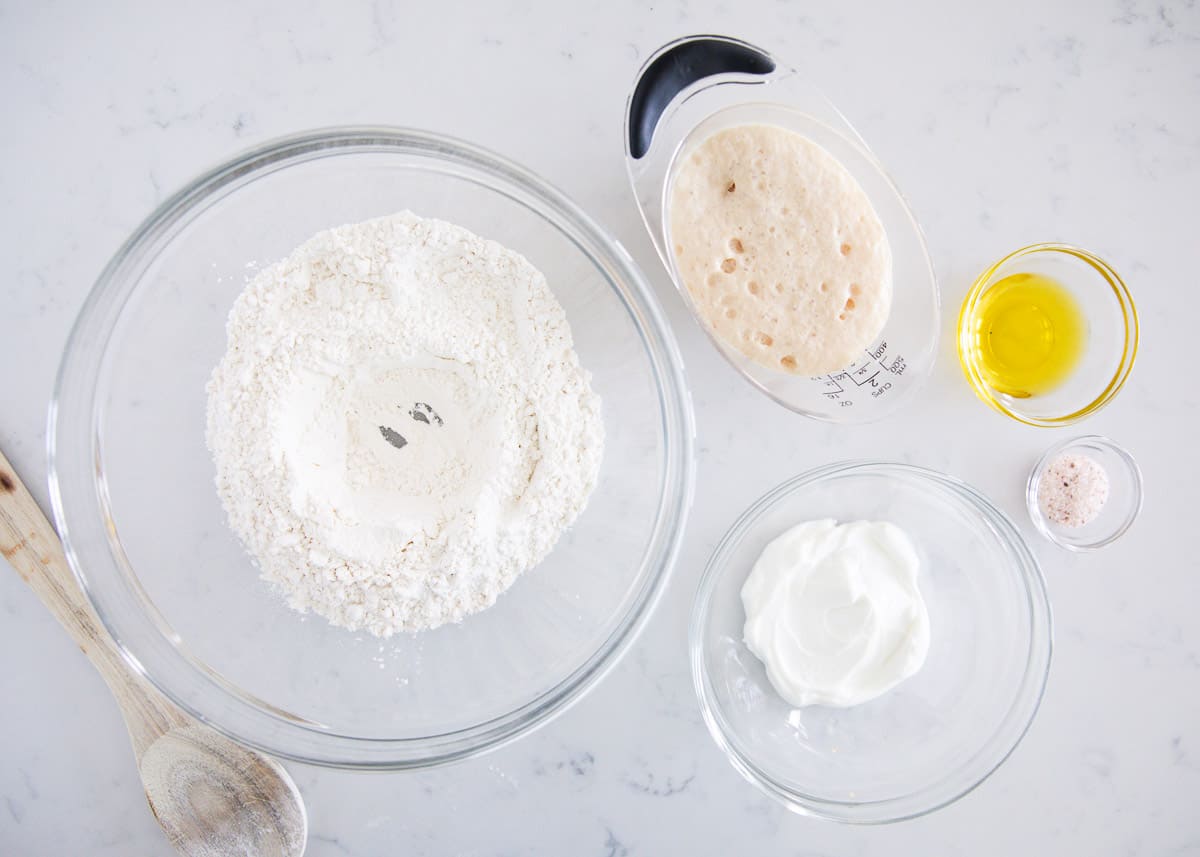 Find the full printable recipe with specific measurements below.
Warm water: Heat water between 105-110°F
Active dry yeast: This will help rise the bread and give it the active ingredients that is needed.
Sugar: Add in some sweetness to this savory bread.
Flour: The base of this bread is the all-purpose flour. It adds thickness and gives the naan bread recipe the texture it needs.
Greek yogurt: Smooth and thicken the dough with a tangy and sweet flavor added to the bread dough.
Olive oil: During the cooking process, brush olive oil on the skillet and at the end to the naan bread for extra deliciousness.
Fine sea salt: Sprinkle salt over top the bread once cooked to give it that additional touch!
How to Make Naan Bread
Proof the yeast. Start by mixing together the warm water, yeast, and sugar in a medium bowl (I like to use a large measuring cup). Let it sit until the mixture begins to foam and puff up. Then stir in the yogurt, oil, and salt.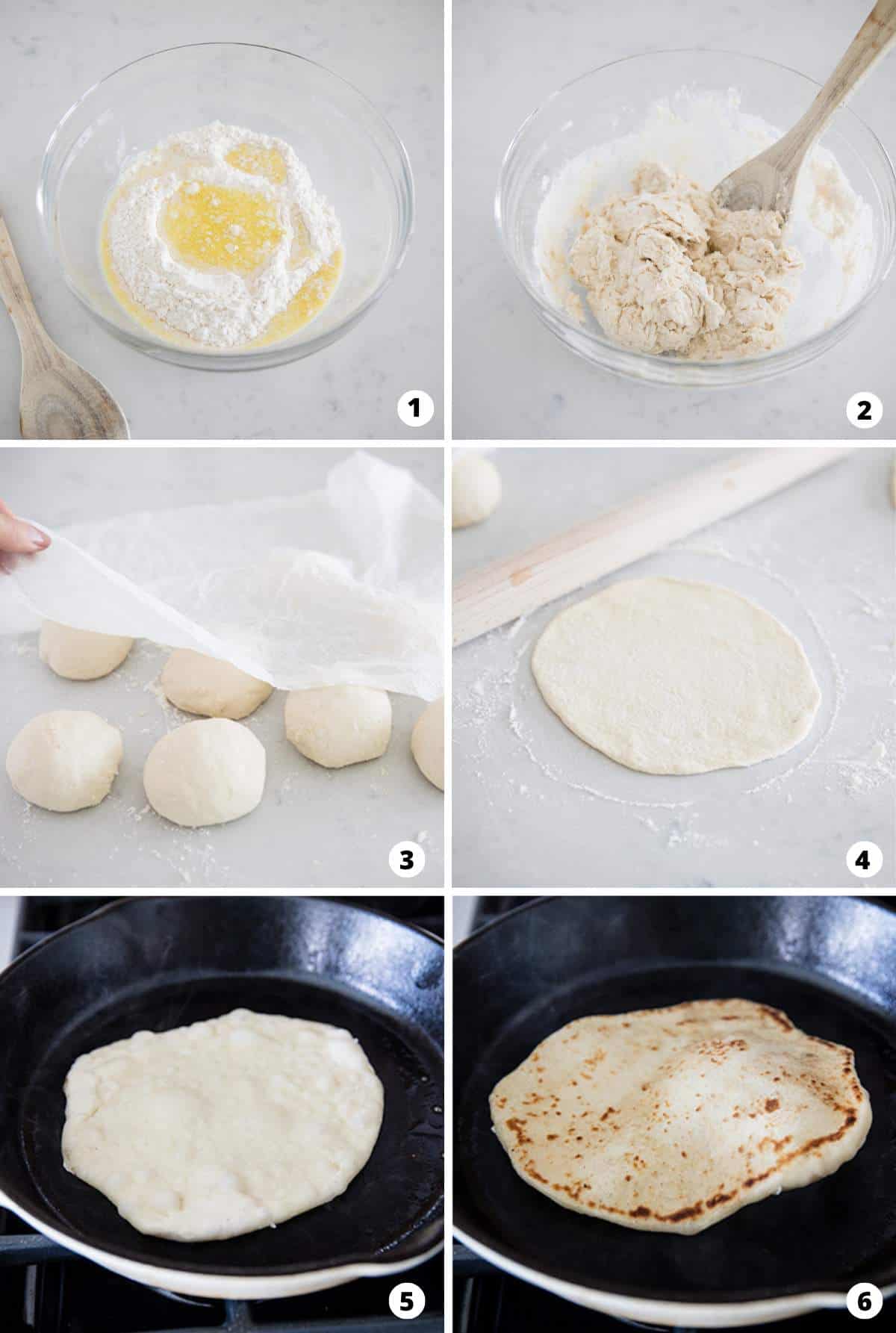 Mix together. Pour the flour in a large bowl and then create a well in the middle. Add the yeast mixture in the middle of the well and mix together until it becomes hard to stir.
Knead and let rise. Knead the dough with your hands (or an electric mixer with a dough hook) for about 3 to 5 minutes. Then shape into a ball and place in a greased bowl. Cover and let rise until the dough has doubled in size.
Shape. Punch down on the dough, then divide into eight equally sized pieces. Shape each piece into a ball and cover with a damp towel for 10 to 15 minutes.
Roll. Form a ball with the dough into a circle that's about 1/8″ thick. Making each roll equal portions as the others.
Cook in skillet. Brush the skillet with oil and turn the heat to medium-high heat. Once it's hot, add in one of the naan dough circles. Cook for about 1-2 minutes, or until the top begins to bubble up.
Flip. Then flip and cook on the other side until you see golden brown spots, about 1 more minute. Once done, place on a plate and cover with a towel to keep warm while you cook the others.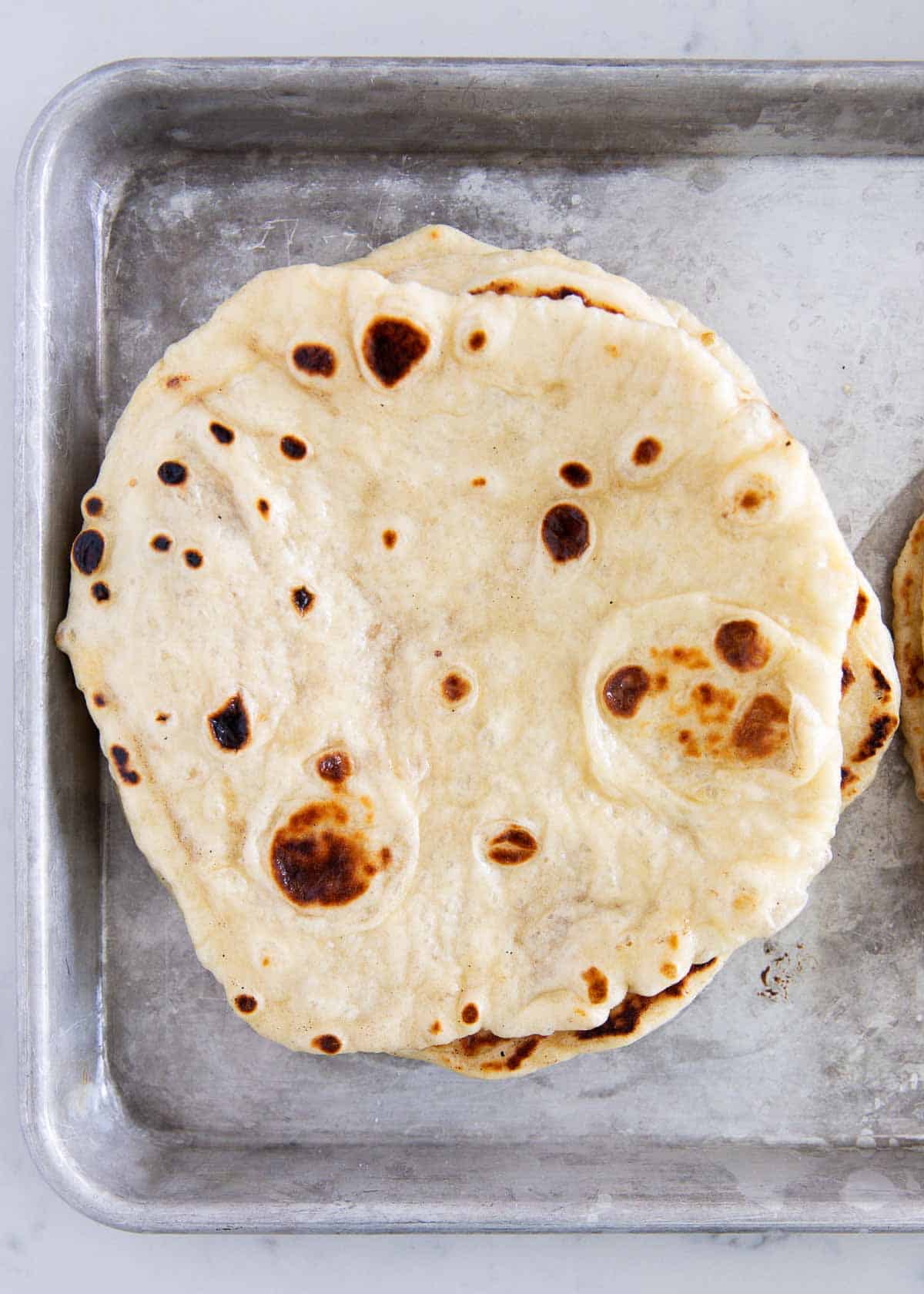 5 star review
I just made this little flatbread and we love it I'm not a white bread eater is there any way to substitute the flour for whole wheat but these freshly made bread are awesome my family is very much in love with them thank you ❤"

-W. Desouza
What to Serve with Naan Bread
The options are limitless with this easy naan bread! Serve this homemade naan as a dip, appetizer, tortilla, wrap, or like a side of bread for pasta. So many variations and delicious choices to use this naan for!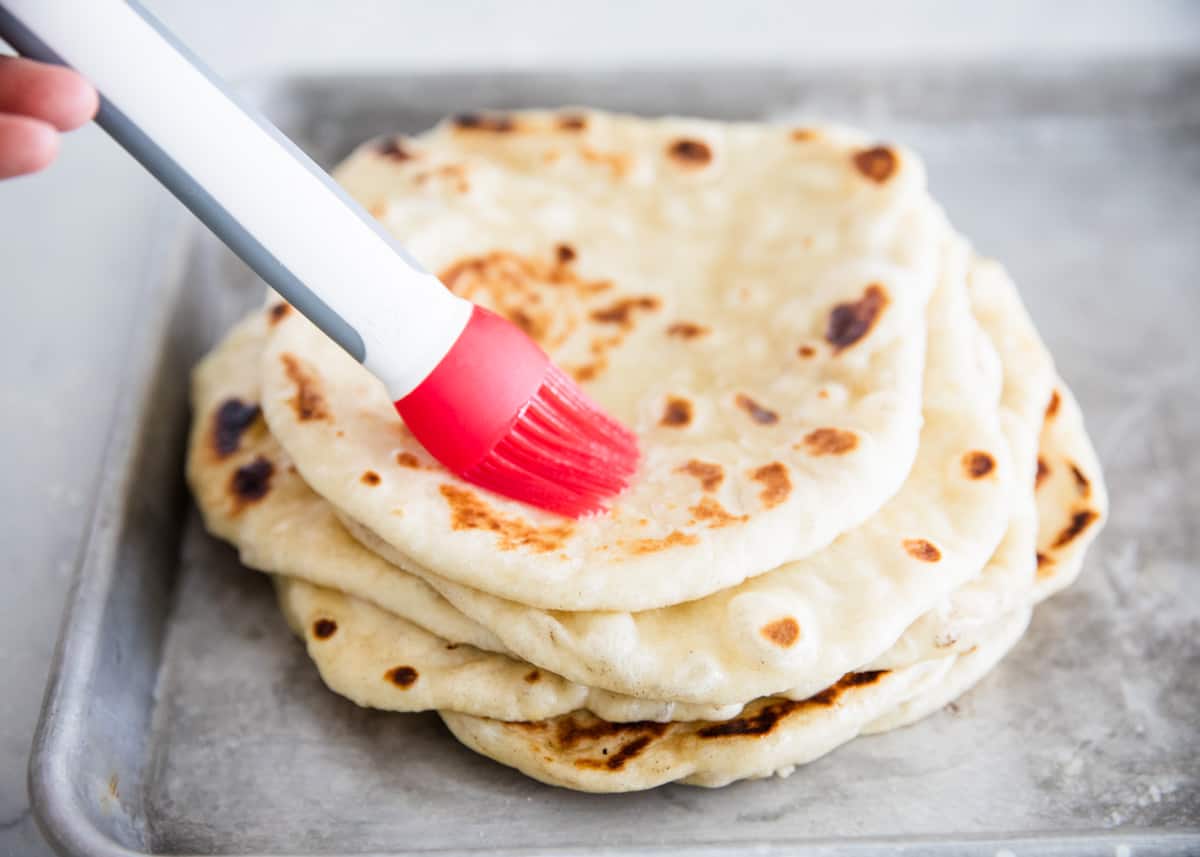 Recipe FAQs
What's the difference between naan and pita bread?
While both are flatbread, naan bread has yogurt mixed into the dough creating a softer and more chewy center. It also gives the bread a little bit of tang. I adapted this recipe from my favorite pita bread with a pocket. Pita bread is a lot airier inside because it doesn't have the weight of the yogurt.
What is special about naan bread?
Naan is considered a flatbread that is normally cooked in a tandoor. It is similar to an oven but it is opened at the top. The tandoor gives distinct charred and crispy edges along the sides. This is one of those MUST-make Indian dishes.
Can naan bread be baked?
Yes! Naan bread dough can be baked. Line a baking sheet with parchment paper or a silicone mat and place the naan dough on it. Preheat oven to 350 degrees Fahrenheit. Sprinkle water over top and bake in the oven for 3 to 5 minutes.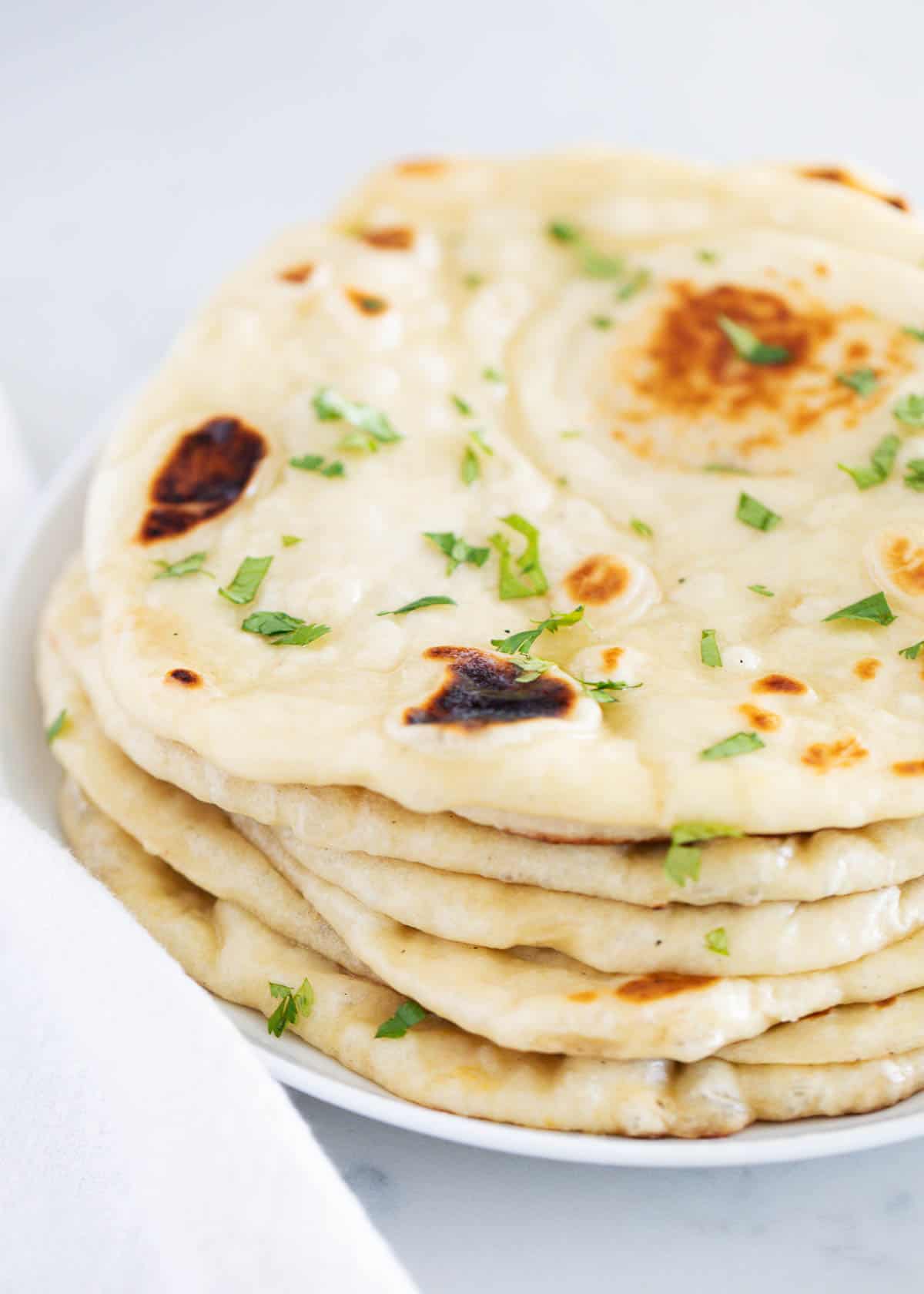 Storing, Freezing & Reheating
This naan is so simple to store and even freeze if needed. Double or triple your batch and freeze them for another dinner! Storing is easy and the naan still tastes amazing the next day!
To store: If you have leftovers, this homemade naan will keep in an airtight container or bag at room temperature for about 1-2 days.
To freeze: You can also freeze any leftovers if you prefer. Layer the naan in a freezer bag with parchment paper in between each piece. Then store in the freezer for up to 3 months. Reheat in a damp towel when ready to enjoy.
More Homemade Bread Recipes
HUNGRY FOR MORE? Subscribe to my newsletter and follow on Facebook, Pinterest and Instagram for all the newest recipes!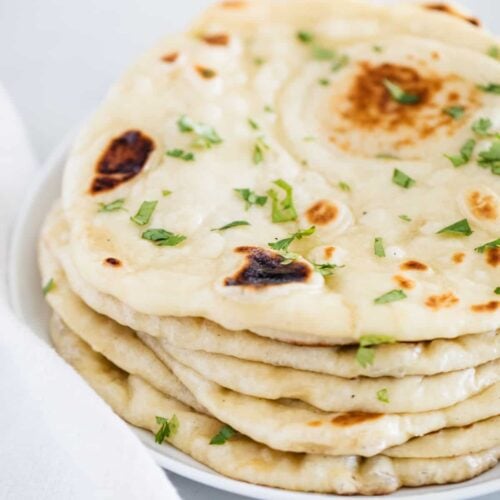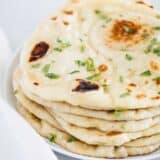 Naan Bread
This easy homemade naan bread is super soft, chewy and delicious! You'll never go back to store-bought naan after trying this amazing recipe.
Ingredients
1 cup warm water , around 105-110°F
2 ¼ teaspoons active dry yeast , 1/4 ounce packet
2 teaspoons granulated sugar
2 ¾ cups (365 grams) all-purpose flour , more as needed
⅓ cup plain Greek yogurt , I used Fage
2 Tablespoons olive oil
1 ½ teaspoons fine sea salt
Melted butter, for serving
Instructions
Combine the warm water, active dry yeast and sugar in a medium size bowl. Let sit for about 10 minutes, or until it foamy and has puffed up. Add the yogurt, olive oil and salt to the yeast. Stir just until combined.

Place the flour in a large bowl. Create a well in the middle. Add the wet ingredients to the middle. Stir until it becomes to hard to stir. Then knead the dough with your hands. You may also use an electric mixer with a dough hook. Knead for 3-5 minutes. Form the dough into a ball and place in a greased bowl. Cover with a clean kitchen towel or plastic wrap. Allow to rise for 1 hour in a warm place, or until doubled in size.

Punch down the dough and divide the dough into eight pieces (about 75 g each). Shape each piece into a ball and then cover with a damp paper towel for 10-15 minutes.

Roll out one piece of dough at a time on a lightly floured surface. Roll into an circle about 1/8" thick.

Brush about 1/2 teaspoon oil onto a large cast iron skillet. Heat over medium heat. Place rolled out dough onto the pan once it's hot and allow to cook for 1-2 minutes. Once it has puffed up with bubbles across the top, flip to the other side and cook an additional minute or until you see golden brown spots. Remove to a plate and cover with a towel.

Brush the warm naan with melted butter. Best served warm and fresh. Will keep for 1-2 days in an airtight container at room temp.
---
Notes
Freezer instructions: Place in a zip top freezer bag with a piece of parchment in between each piece. Store in the freezer for up to 3 months. Simply reheat in a damp towel.
Nutrition
Serving: 1naan | Calories: 193kcal | Carbohydrates: 33g | Protein: 6g | Fat: 4g | Saturated Fat: 1g | Cholesterol: 1mg | Sodium: 443mg | Potassium: 86mg | Fiber: 2g | Sugar: 1g | Calcium: 15mg | Iron: 2mg
Nutrition provided is an estimate. It will vary based on specific ingredients used.
Did you make this recipe? Don't forget to give it a star rating below!