Pieces of chicken are coated in a yogurt-based marinade and then pan-seared until brown. The rich and creamy sauce in this chicken tikka masala recipe is a blend of tomato puree, heavy cream, and a delicious mix of spices.
Looking for more chicken recipes? Try Butter Chicken, Orange Chicken and Sweet and Sour Chicken.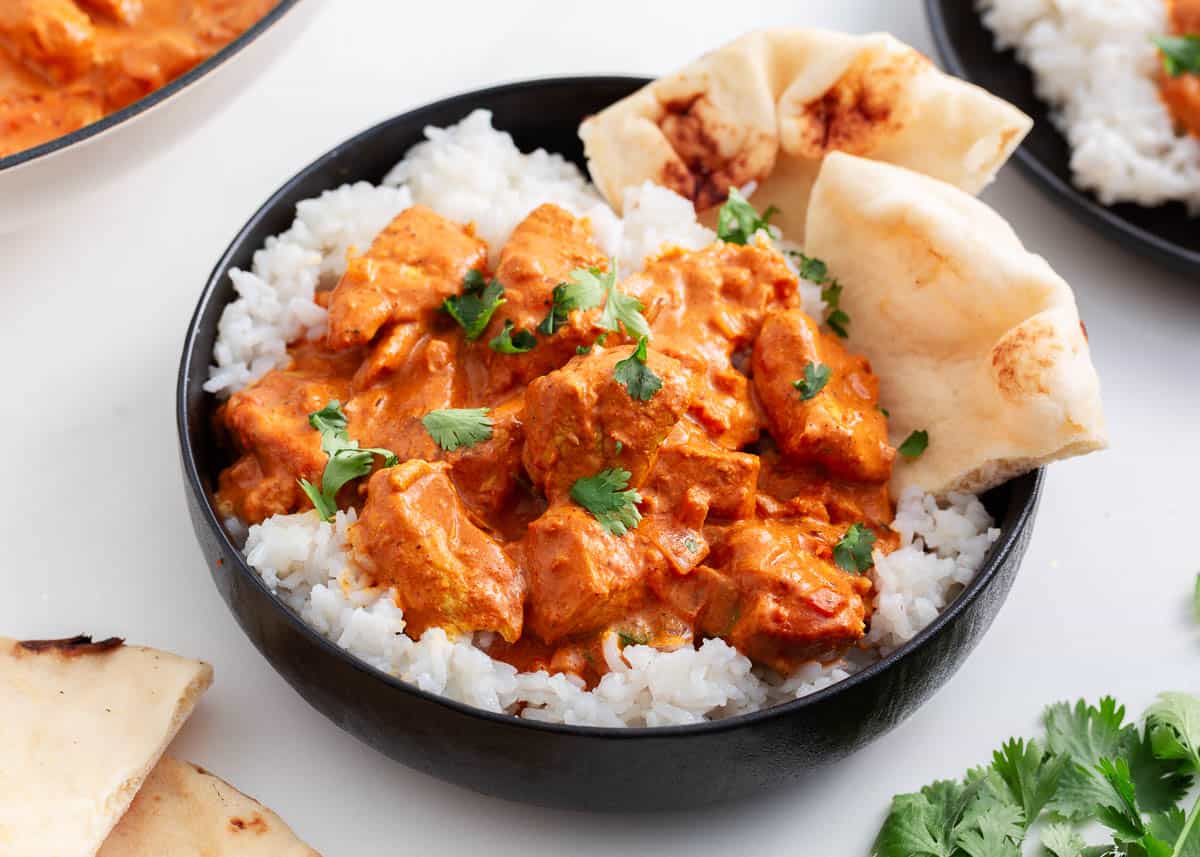 Restaurant-Style in Under 1 Hour
This easy chicken tikka masala recipe is so tasty that every time I make it I wonder why I don't make it more often!
It's one of my favorite Indian dishes that I order when we eat at Indian restaurants. This is not an authentic Indian recipe, but here is my take. It combines so many incredible flavors that come together in one skillet, making it easy to enjoy your favorite dish at home.
Whether you're new to Indian cuisine or you normally cook with a variety of spices, you probably have what you need on hand. Otherwise, a quick trip to your grocery store is where you'll find everything you need.
It's very similar to Instant Pot butter chicken, so if you've ever tried that one, this tikka masala chicken is a must!
What is Chicken Tikka Masala?
Originally, chicken tikka on its own is comprised of chunks of chicken that are marinated in yogurt and Indian spices, then skewered and either grilled or roasted. The chicken itself can be used in many ways, but when making tikka masala, the chicken is then simmered in a sauce usually made with tomato puree, cream, and a blend of spices.
Each recipe is different from the next, so there is no one way to make it. This chicken tikka masala recipe is by far my favorite!
Recipe Ingredients
If it looks like there's a long list of ingredients, you'd be right, there is. I promise though, it's much easier than you think. Once you've got all your spices lined up and ready to go, it's so easy. The bonus is, the same spices that are in the marinade are what you'll need for the sauce!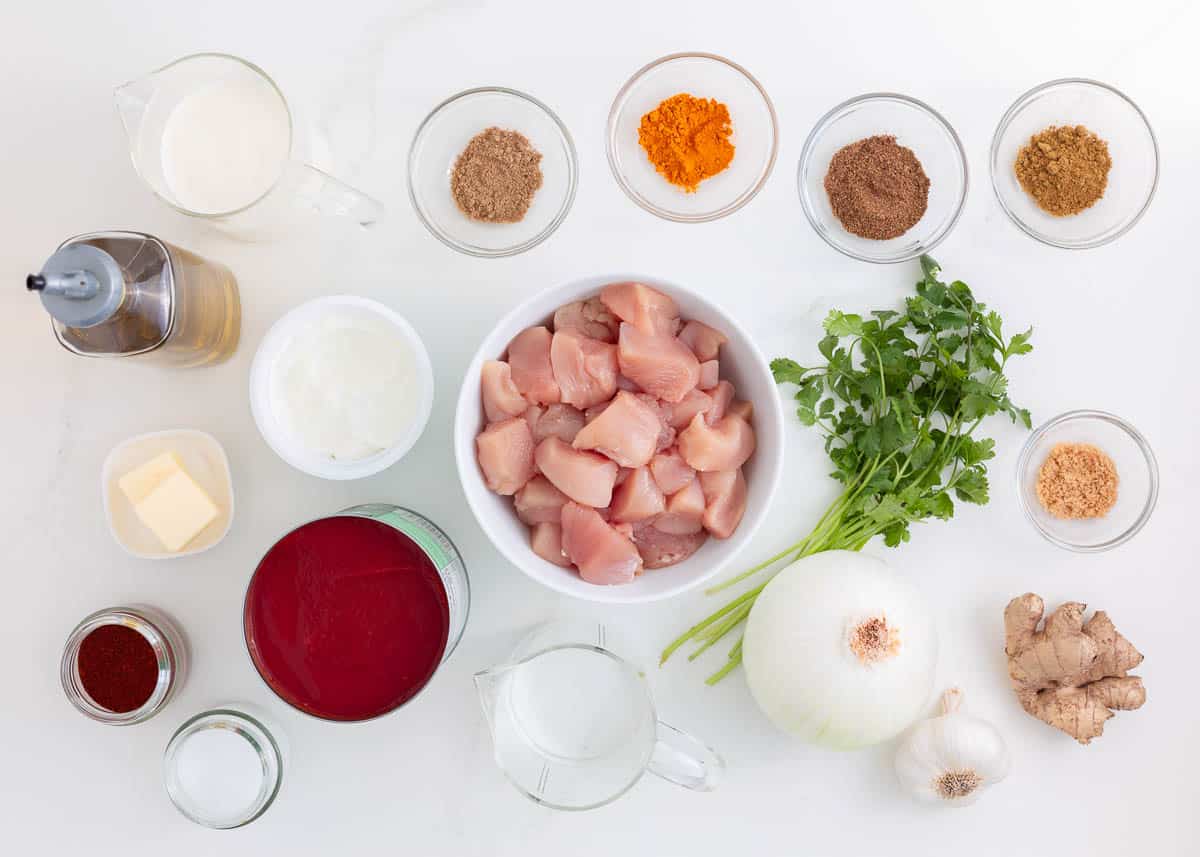 Find the full printable recipe with specific measurements below.
For the Marinade
Plain yogurt: The acid in the yogurt helps to break down the muscle proteins making the chicken pieces nice and tender. The coating also keeps the meat moist and helps to distribute the spices evenly all over each piece of chicken.
Chicken breast: Use boneless skinless chicken breasts cut into bite-size pieces.
Minced garlic & grated ginger: Fresh garlic and ginger do a great job of balancing out the deeper earthy spices.
Spices: Garam masala, ground turmeric, cumin, and salt.
For the Sauce
Olive oil: Used to sear the breast cubes so that they are evenly browned on all sides.
Unsalted butter: Once the seared chicken has been set aside, the butter is melted as a base for the sauce, giving it a buttery flavor.
Onion, garlic, & ginger: The aromatics along with the spices are cooked until fragrant.
Spices: Garam masala, cumin, turmeric, coriander, and chili powder.
Tomato puree: Gives the sauce its color and rich tomato-y flavor.
Salt: Enhances the overall flavor of the sauce.
Heavy cream or half-and-half: This will help to give the sauce a creamy consistency, help to lighten up the bold red color, and add richness.
Brown sugar: A bit of sweetness to help cut through the acid. Using brown sugar instead of white sugar will also give it that extra element of caramel flavor.
Water: Only if needed to thin out the sauce once it comes together.
Chopped cilantro: For garnish.
Variations
There are countless ways to make chicken masala, so feel free to play around with the spices to make it the way you like it.
You can also swap the breast for juicier chicken thighs. Use either skinless boneless or bone-in. If using bone, it'll take a little longer to cook the meat.
For a dairy-free version, swap the cream or heavy cream with coconut cream. You can also add a bit of spice by using a sprinkle of cayenne pepper.
If you don't have tomato puree on hand, tomato sauce will do. You can also use a bit of chicken broth instead of water to thin it out.
How to Make Chicken Tikka Masala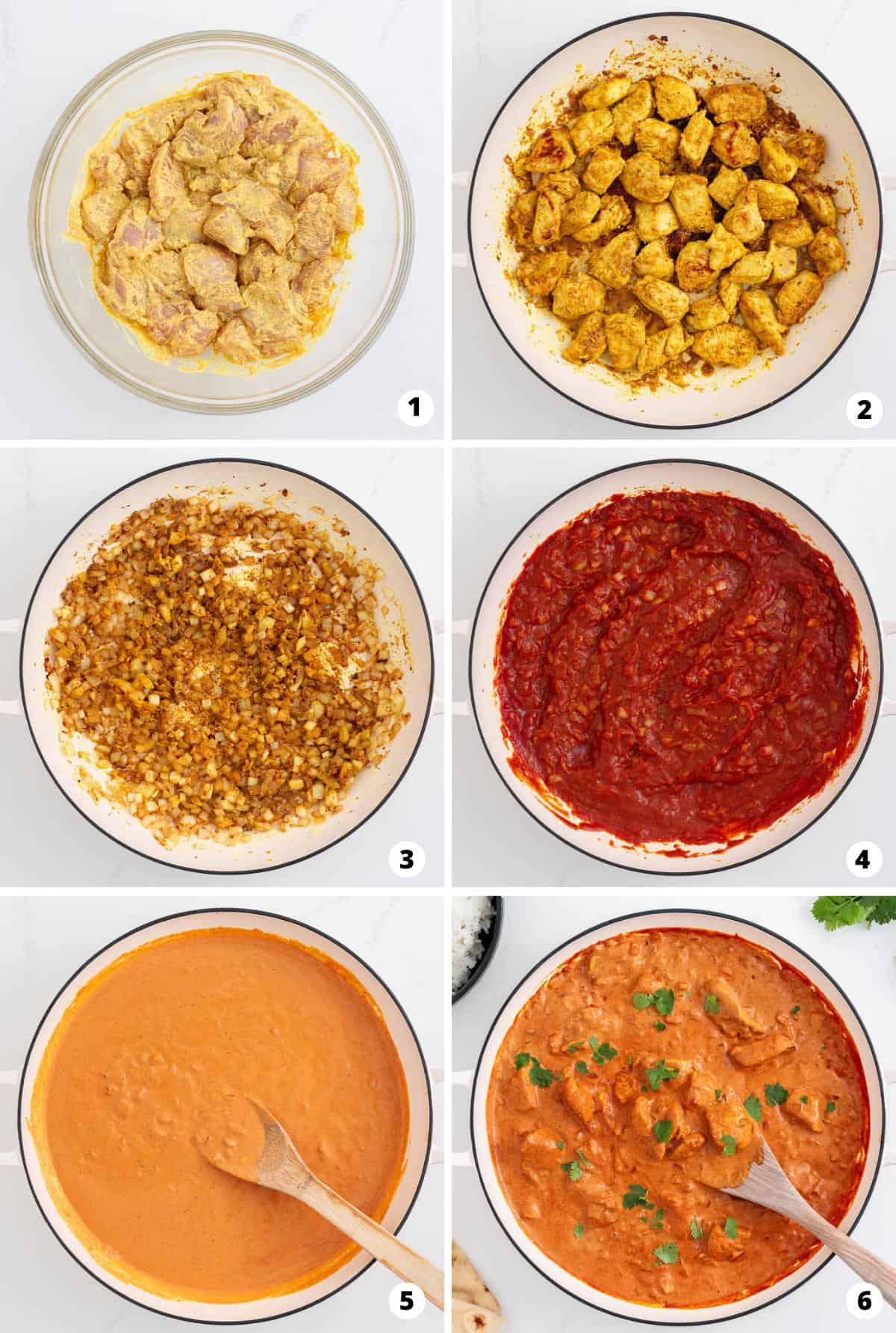 Marinate. Whisk together the ingredients for the marinade until well combined. Add the pieces of the chicken to the bowl and stir (or use your hands) until the pieces are well coated. Cover with plastic wrap and marinate in the fridge for at least 10 minutes.
Brown the chicken. Heat olive oil in a large skillet over medium-high heat. Cook the meat for 3 minutes per side in a single layer, working in batches if necessary. You don't want to overcrowd the pan. Once browned, transfer the cooked pieces to a plate and cover them with foil to keep them warm.
Cook aromatics for sauce. In the same skillet, melt the butter. Then, add the onions, to cook for 3 minutes until softened. Scrape the bits off the bottom of the pan as you stir. Add the garlic and ginger, followed by the garam masala, cumin, turmeric, and coriander. Sauté for 20 seconds until fragrant.
Add the sauce and remaining spices to simmer. Pour in the tomato puree, chili powder, and salt. Simmer for 10-15 minutes, stirring occasionally. At this point, the sauce will turn a dark red, almost brown color, and will thicken in consistency.
Stir in cream and brown sugar. This will help cut through the tomato acid as well as add richness and lighten up the color as well.
Add chicken back to the skillet. Transfer back the chicken to the skillet, along with its juices, and submerge the meat into the delicious sauce. Cook for another 8-10 minutes until the chicken is cooked through and the sauce is bubbling.
Serve over basmati rice and garnish with cilantro. Enjoy!
Expert Tips
Marinate time. You want a minimum of 10 minutes but no more than 12 hours. Otherwise, the acid in the yogurt will start changing the texture of the meat.
Work in batches. To evenly brown all sides of the chicken, you will need to make sure there is enough room between each piece. There won't be room for all of it at once.
Do not overcook the chicken. For juicy tender results, just brown it initially and allow it to finish cooking as it simmers in the sauce.
Above and beyond. For charred edges, cook the chicken using a stovetop grill, an outdoor grill, or the broiler on a rimmed baking sheet with a wire rack to get extra crispy edges.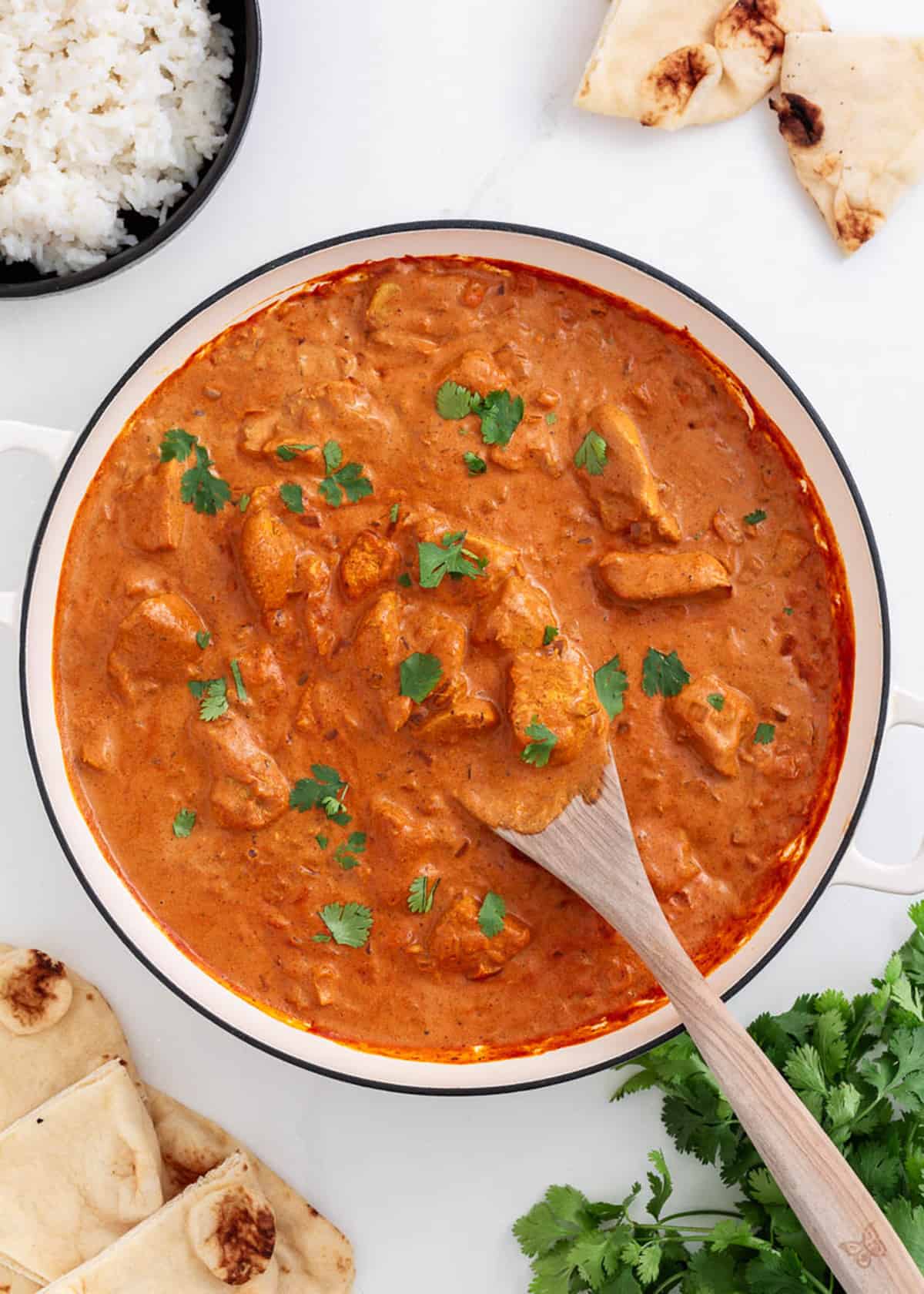 Recipe FAQs
What is the difference between butter chicken vs. chicken tikka masala?
The chicken tikka masala ingredients and butter chicken ingredients are very similar. You will probably find an increased number of spices used in masala whereas the butter chicken is lighter, creamier, and a bit milder in flavor.
Is chicken masala really spicy?
It's heavily spiced in terms of complex flavors used in the combination of earthy spices, but it's not spicy in terms of a kick. Although, if you add any cayenne pepper or increase the amount of chili powder, it can be!
Is chicken masala healthy to eat?
Absolutely! Isn't it a treat when something so good for you tastes even better?

The chicken itself is high in protein, if you're using breast it's also lean protein. Then you've got so many antioxidants in the spices and aromatics, vitamins and minerals, plus it's gluten-free and can be made dairy free as well.
Storing
Keep leftovers stored in an airtight container in the fridge for up to 4 days. You can also freeze it for up to 3 months and then thaw it in the fridge when you're ready to enjoy it again.
To reheat chicken tikka masala, pop it in the microwave to heat or use the stove on medium-low heat until everything is warmed through.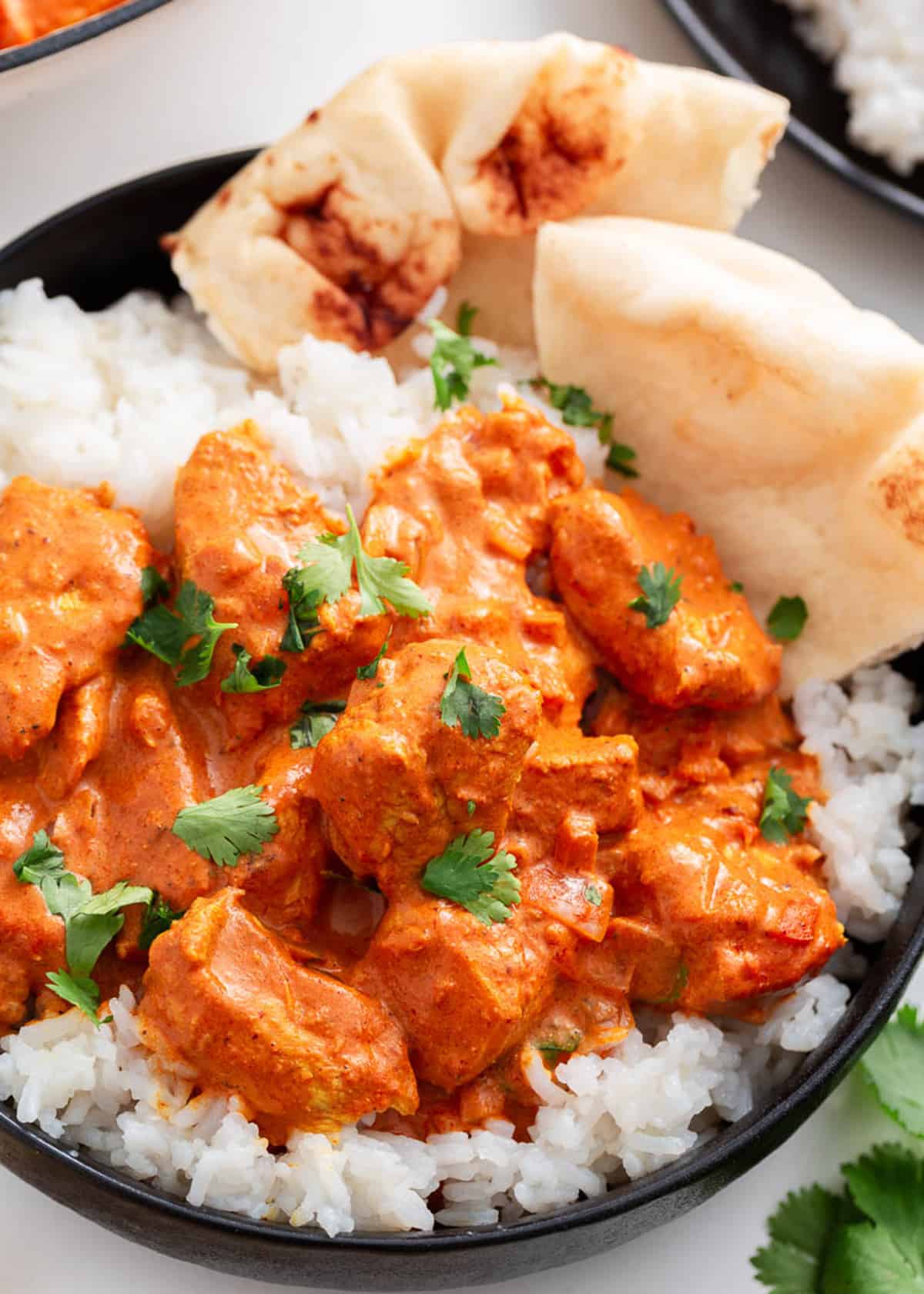 HUNGRY FOR MORE? Subscribe to my newsletter and follow on Facebook, Pinterest and Instagram for all the newest recipes!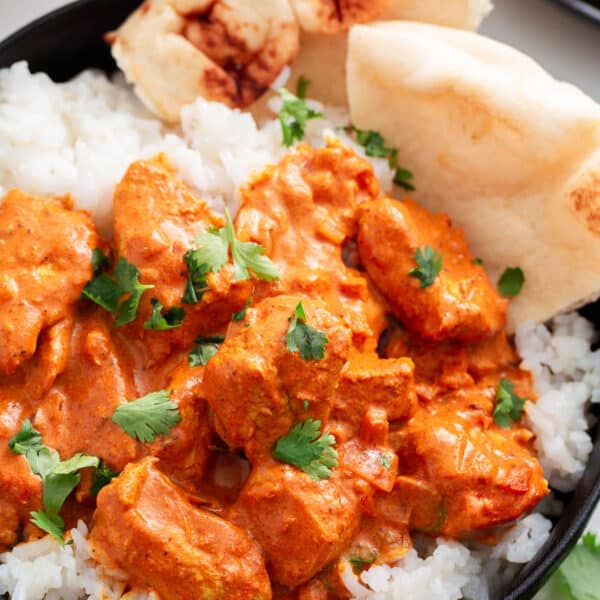 Chicken Tikka Masala Recipe
Pieces of chicken are coated in a yogurt-based marinade and then pan-seared until brown. The rich and creamy sauce in this chicken tikka masala recipe is a blend of tomato puree, heavy cream, and a delicious mix of spices.
Ingredients
Marinade
½ cup plain yogurt
1 ½ Tablespoons minced garlic
1 Tablespoon finely grated ginger
2 teaspoons garam masala
1 teaspoon ground turmeric
1 teaspoon ground cumin
1 teaspoon Kosher salt
2 pounds boneless, skinless chicken breast , cut into bite-sized pieces
Sauce
2 Tablespoons olive oil
2 Tablespoons unsalted butter
1 large onion , finely diced
1 ½ Tablespoons finely grated garlic
1 Tablespoon finely grated fresh ginger
1 ½ teaspoons garam masala
1 ½ teaspoons ground cumin
1 teaspoon ground turmeric
1 teaspoon ground coriander
1 (14-ounce) can tomato puree
1 teaspoon chili powder , or to taste
1 teaspoon Kosher salt
1 ¼ cups heavy cream , or half-and-half
1 teaspoon brown sugar
¼ cup water , if needed
4 Tablespoons chopped cilantro , for garnish
For serving: cooked rice and/or flat bread
Instructions
Marinade
In a large bowl, whisk together the yogurt, garlic, ginger, garam masala, turmeric, cumin, and salt until well combined. Add the chicken and stir until well coated. Cover and marinate in the fridge at least 10 minutes or up to 24 hours.
Sauce
In a large skillet, heat olive oil over medium-high heat. Add pieces in batches, if needed, being careful not to overcrowd the skillet. Sauté 3 minutes, or until browned. Flip and sauté the other side 3 minutes more, or until browned. Transfer to a plate and cover with foil to keep warm. Repeat with remaining chicken.

Add the butter to the skillet. When melted, add the onions, scraping up any browned bits stuck to the pan, and cook 3 minutes, or until softened. Stir in garlic and ginger 1 minute. Stir in garam masala, cumin, turmeric, and coriander. Sauté 20 seconds, or until fragrant.

Add the tomato puree, chili powder, and salt. Simmer, stirring occasionally, 10 to 15 minutes, or until the sauce thickens and becomes a dark brown red color. Stir in the cream and brown sugar.

Add the chicken and its juices to the sauce. Cook 8 to 10 minutes more, or until the chicken is cooked through and the sauce is thick and bubbling. Stir in the water to thin the sauce, if needed.

Sprinkle with cilantro to serve.
---
Nutrition
Calories: 460kcal | Carbohydrates: 9g | Protein: 35g | Fat: 31g | Saturated Fat: 16g | Polyunsaturated Fat: 2g | Monounsaturated Fat: 10g | Trans Fat: 0.2g | Cholesterol: 165mg | Sodium: 985mg | Potassium: 744mg | Fiber: 1g | Sugar: 4g | Vitamin A: 1041IU | Vitamin C: 6mg | Calcium: 91mg | Iron: 2mg
Nutrition provided is an estimate. It will vary based on specific ingredients used.
Did you make this recipe? Don't forget to give it a star rating below!