Flavorful Greek chicken gyros made with warm flat bread, tzatziki sauce and fresh veggies. Only 6 ingredients and 15 minutes of prep to make this delicious restaurant-worthy meal.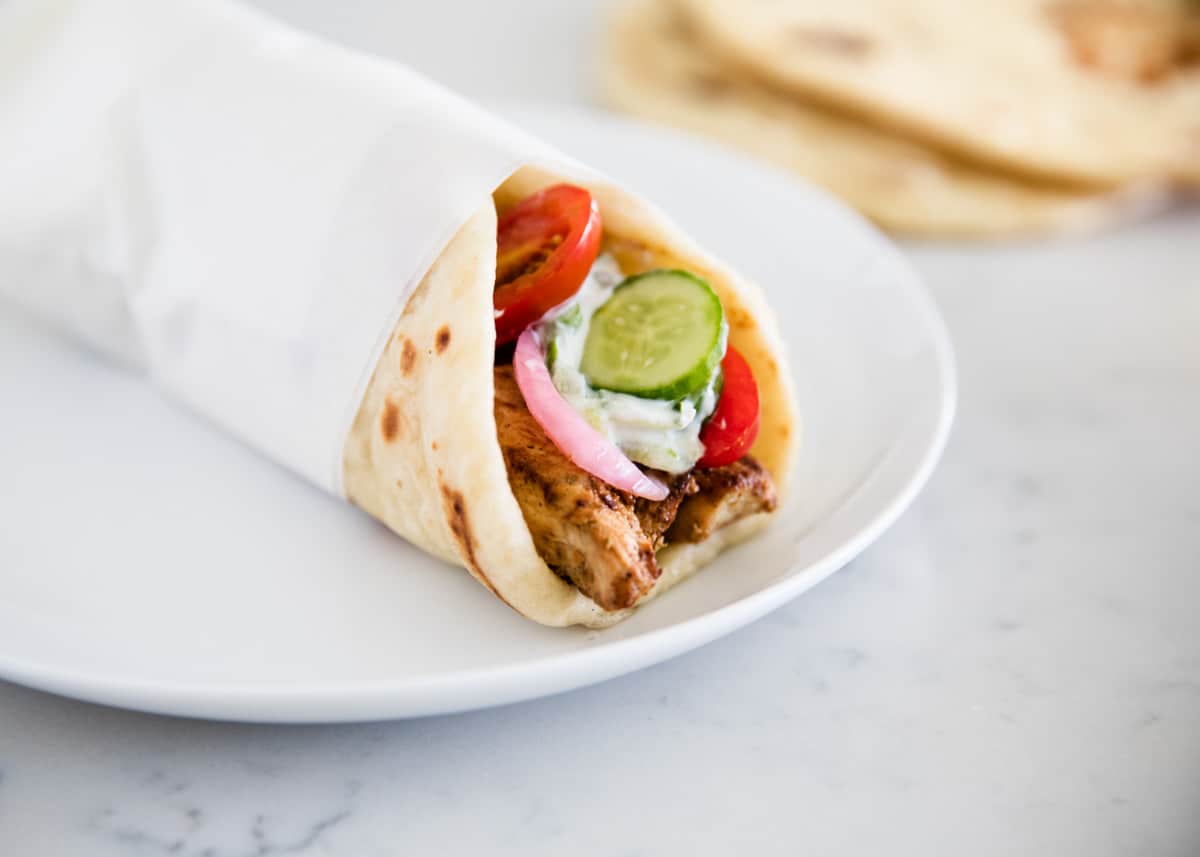 Table of Contents
Greek Chicken Gyro
Two of my favorite things to order from a Mediterranean restaurant are hummus with veggies and a chicken gyro. I knew I wanted to recreate both at home for those days where we just didn't feel like dining out. Queue this chicken gyro recipe and homemade hummus. Both are SO easy to make and have delicious restaurant quality flavor.
Chicken gyros are one of my go-to lunches! They're so easy to make and taste like they came straight from a restaurant. You'll only need 6 ingredients and about 15 minutes to prep. The thing I love about this meal is it can be made ahead of time which makes dinner time a breeze. I usually marinate the meat in the afternoon and then cook right before serving.
Make sure to load up on your favorite toppings. I love adding fresh tomatoes, cucumbers, pickled onions, parsley and feta. And if you really want to take your chicken gyro up a notch, try making your own homemade naan or pita bread. It's so delicious and tastes so fresh.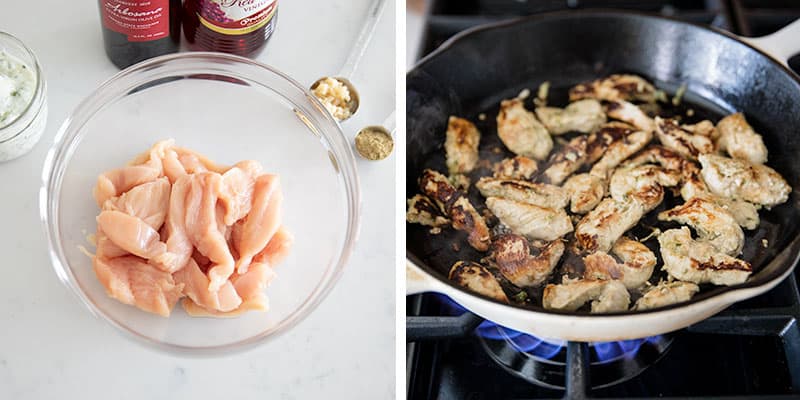 Ingredients
Chicken: This recipe calls for chicken breasts, cut into about 1-inch strips. Make sure to marinate your meat for the most flavor!
Tzatziki: I used tzatziki sauce in my chicken marinade, as well as a gyro topping. The yogurt in the sauce helps to tenderize the meat.
Olive oil: Extra virgin olive oil is used in the marinade.
Vinegar: Red wine vinegar adds some acidity and contributes to that delicious Greek flavor.
Garlic: Fresh minced garlic gives it the most flavor.
Flat bread: Pita bread or naan bread both taste delicious. Make sure to warm them up before serving.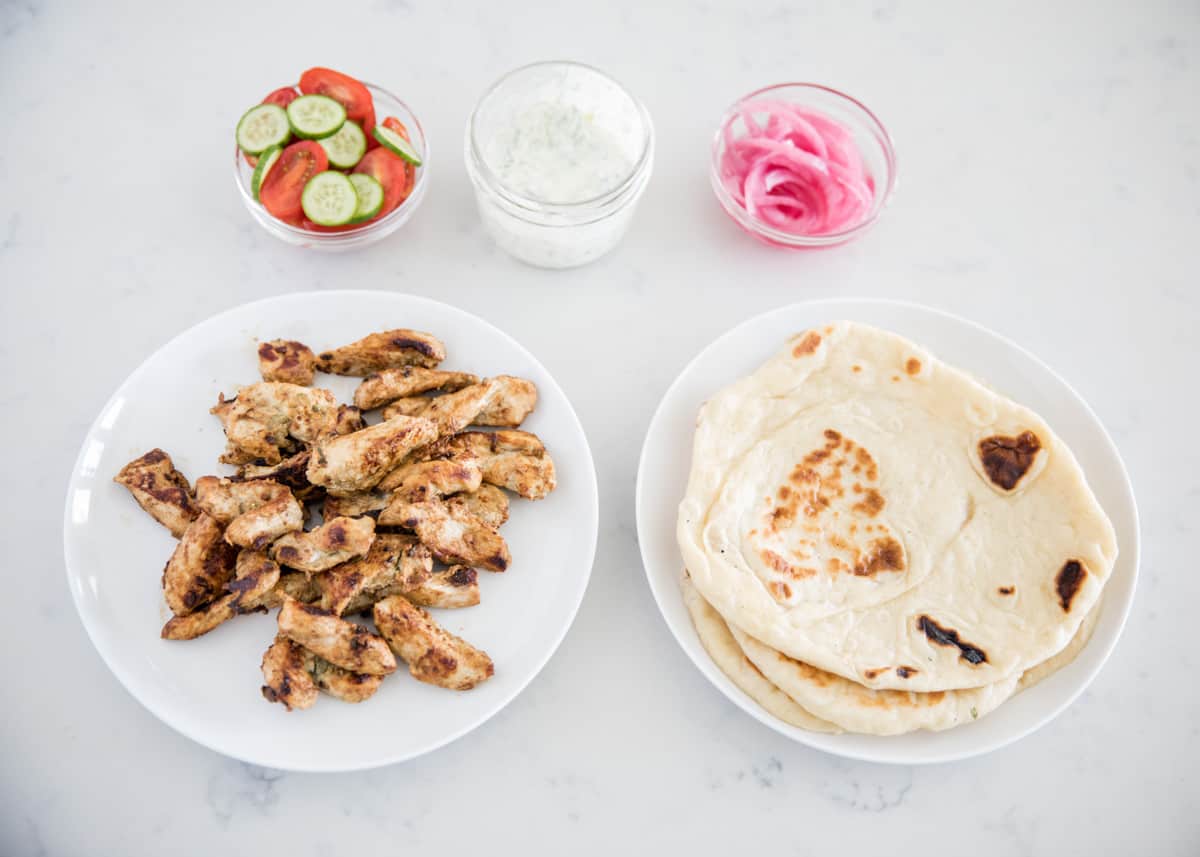 Preparation
MARINATE the chicken in a mixture of the tzatziki sauce, oil, vinegar and garlic for at least 30 minutes (up to 4 to 6 hours). The longer it marinates, the more flavor it will have.
COOK the marinated chicken in an oiled skillet over medium for about 2 to 3 minutes on each side. The chicken is ready when the outsides are lightly browned and the center is no longer pink.
ASSEMBLE the gyros by adding the chicken in the middle of a warm flat bread, then add on your favorite toppings.
Favorite Toppings
Don't forget to load on all your favorite toppings! Below are my go-to toppings when making chicken gyros:
tomatoes
cucumbers
red onions or pickled onions
green bell pepper
feta cheese
lettuce
fresh parsley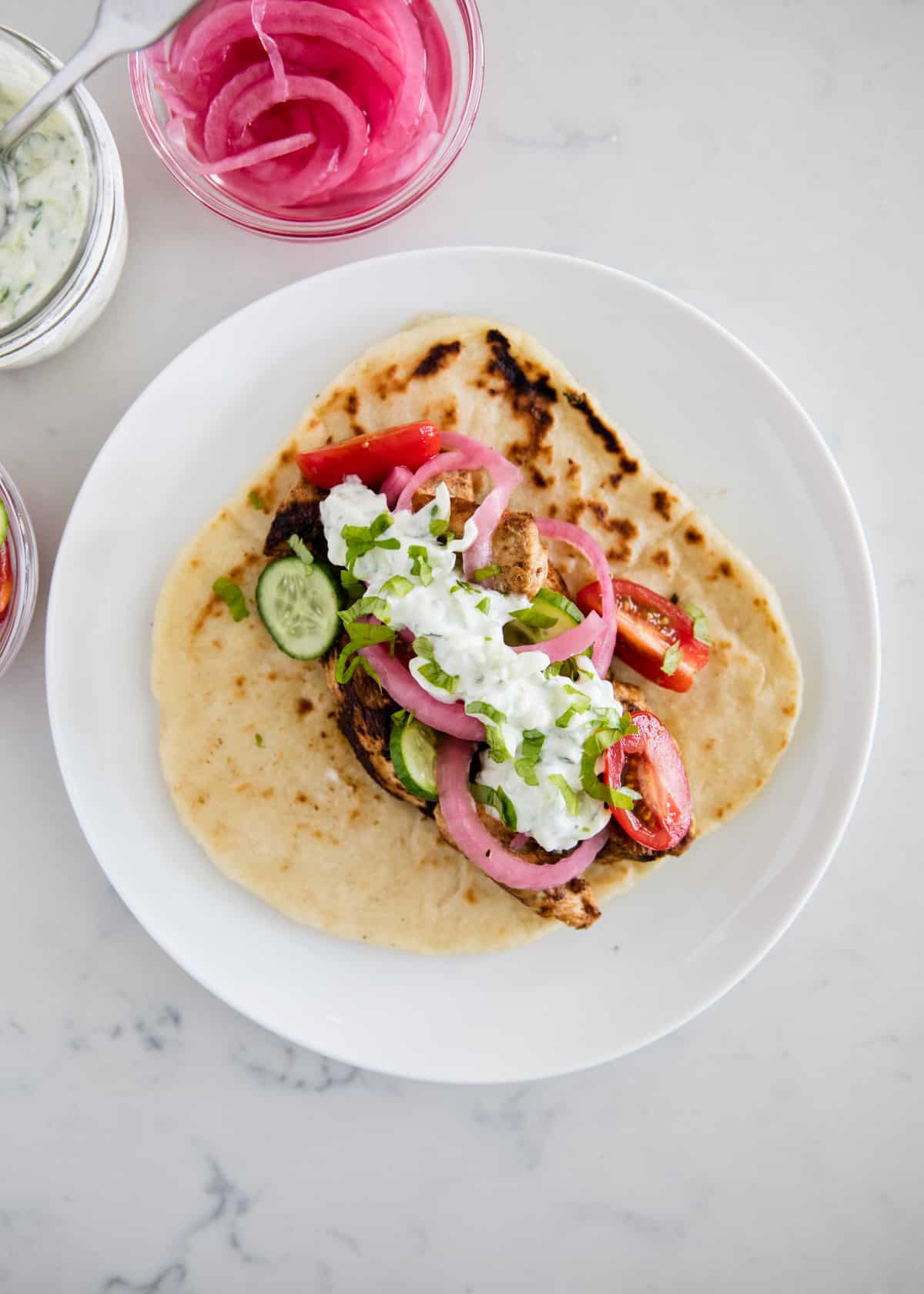 Cooking Tips
Marinate the chicken for at least 30 minutes. I love to marinate mine for a few hours. Instead of marinating in tzatziki sauce, you can use an easy Greek chicken marinade instead.
Do not overcook the chicken or it will not be as tender. Use a meat thermometer and remove chicken from the skillet when it has reached 165°F.
Use fresh ingredients. This will add the best flavor!
Make your ingredients homemade for the best chicken gyro. When in a pinch, you can pick up store bought flat bread and tzatziki sauce (I'll usually get mine at Trader Joe's).
Warm the naan or pita bread before assembling the gyro. It makes it more pliable and extra delicious.
You can also skip the bread and serve the ingredients over a bed of lettuce, similar to my Mediterranean salad.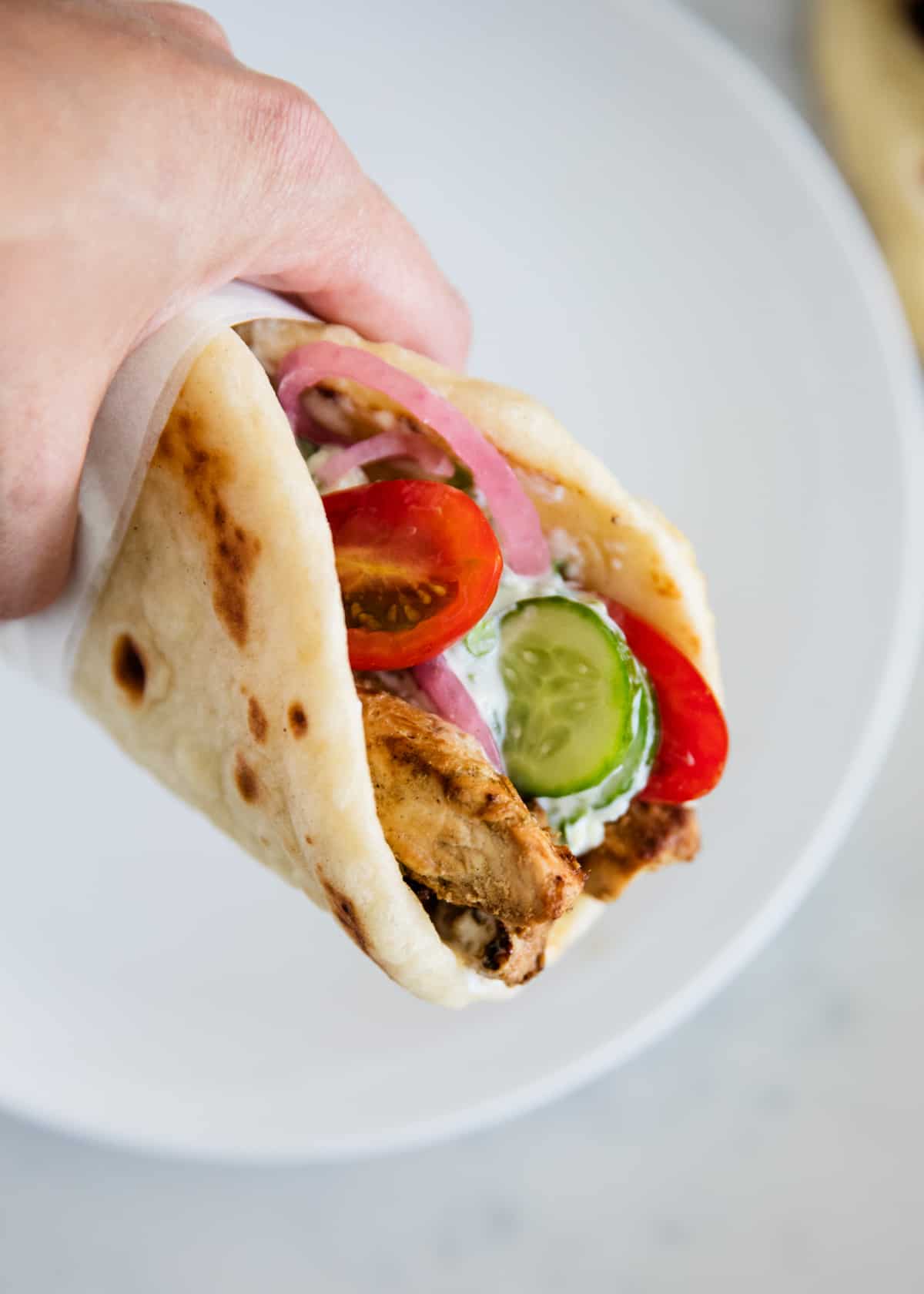 More Greek Recipes You'll Love
HUNGRY FOR MORE? Subscribe to my newsletter and follow on Facebook, Pinterest and Instagram for all the newest recipes!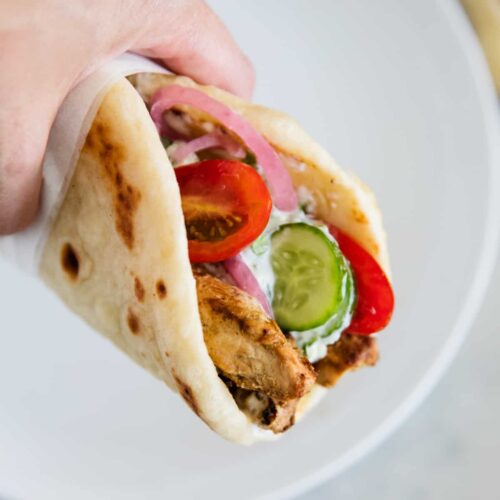 Chicken Gyro
Flavorful Greek chicken gyros made with warm flat bread, tzatziki sauce and fresh veggies. Only 6 ingredients and 15 minutes of prep to make this delicious restaurant-worthy meal.
Ingredients
Chicken gyro marinade
1 pound chicken breast (cut into strips)
2 Tablespoons tzatziki sauce (store bought or homemade)
1 Tablespoon extra virgin olive oil
1 Tablespoon red wine vinegar
2 teaspoons minced garlic
½ teaspoon ground oregano (or 2 teaspoon dried)
Optional toppings: sliced tomatoes, sliced cucumber, red onion or pickled onions, feta cheese, fresh parsley
Instructions
Place the chicken in a glass bowl or zip top bag. Add the tzatziki sauce, olive oil, red wine vinegar, minced garlic and oregano. Mix until coated. Allow to marinate for atleast 30 minutes (up to 4-6 hours).

If cooking on a skillet spray a skillet for an olive oil spray or brush with a little olive oil. Then place the chicken in the skillet and cook over medium heat. Cook for 2-3 minutes and then flip and cook an additional 2-3 minutes or until lightly browned and the center is no longer pink.

Warm flat bread and then place chicken in the middle. Add tzatziki sauce and your favorite toppings.
---
Notes
Grilling chicken: You can also cook this chicken on the grill. Wait to cut the chicken into strips until the end if you plan on grilling. Then preheat your grill to medium-high heat and cook each side for about 4-5 minutes, or until internal temperature reaches 165°F.
Nutrition
Calories: 303kcal | Carbohydrates: 24g | Protein: 29g | Fat: 10g | Saturated Fat: 2g | Cholesterol: 76mg | Sodium: 421mg | Potassium: 488mg | Fiber: 3g | Sugar: 1g | Vitamin A: 108IU | Vitamin C: 2mg | Calcium: 44mg | Iron: 2mg
Nutrition provided is an estimate. It will vary based on specific ingredients used.
Did you make this recipe? Don't forget to give it a star rating below!