This simple strawberry sauce recipe is fresh, vibrant and, and incredibly delicious! Made with just 2 ingredients, it's way too easy not to make your own batch to add a finishing touch to pancakes, ice cream, cheesecake, and more. There are endless possibilities!
Best Strawberry Sauce Recipe
Simple and sweet homemade strawberry sauce is a delicious way to put a finishing touch on all your summertime treats. Bursting with fresh, juicy strawberries, it tastes just like strawberry jam but there is no boiling involved! This versatile sauce is the perfect mouthwatering accompaniment to elevate your favorite treats and desserts.
Drizzle it over a scoop of vanilla ice cream or strawberry ice cream, swirl it into a simple cheesecake or pile it high atop buttermilk pancakes or waffles, along with a whole lot of whipped cream! Strawberry crepes with cream cheese crepe filling are next-level amazing with the addition of this scrumptious sauce.
Homemade strawberry sauce is basically foolproof. It's made with just 2 ingredients, strawberries and sugar, and the butter and lemon are completely optional! Trust me, it's that easy and yet makes a major taste impact. Keep this recipe on hand, because as much as we love it during the summer, it's for sure a year-round staple!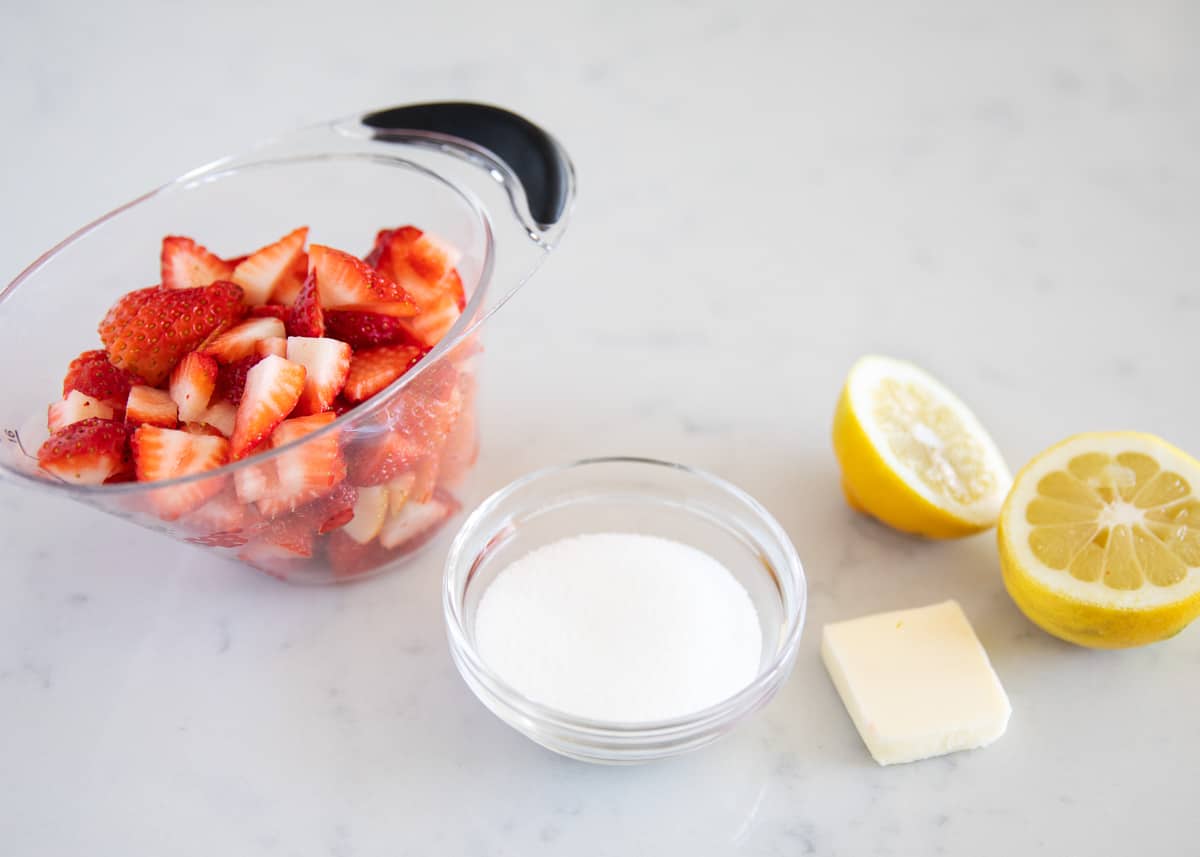 How to Make Strawberry Sauce
As easy as this recipe is, I'm excited to share it because I know there are many home cooks and busy parents out there who are always looking for quick and easy, budget-friendly ways to create their favorite sauces, dressings, and dips that way they can avoid the store-bought stuff. So, here we are!
Combine sliced strawberries and sugar together in a bowl and allow it to sit. The sugar will draw out the natural juices from the strawberries and sweeten everything up nicely. It's so good, you'll want to eat it right out of the bowl!
TIP: Depending on what you're using it for, it can be served cold, room temperature, or nice and warmed up!
How to Thicken Strawberry Sauce
For a thicker consistency with more of a jam texture with softer berries, place mixture, along with butter and lemon juice, in a pot on the stove and simmer on medium-low until thickened. You can then mash with a fork for a textured syrup or use an immersion blender for a runnier smoother texture. This recipe can take you from strawberry sauce to strawberry syrup in a pinch!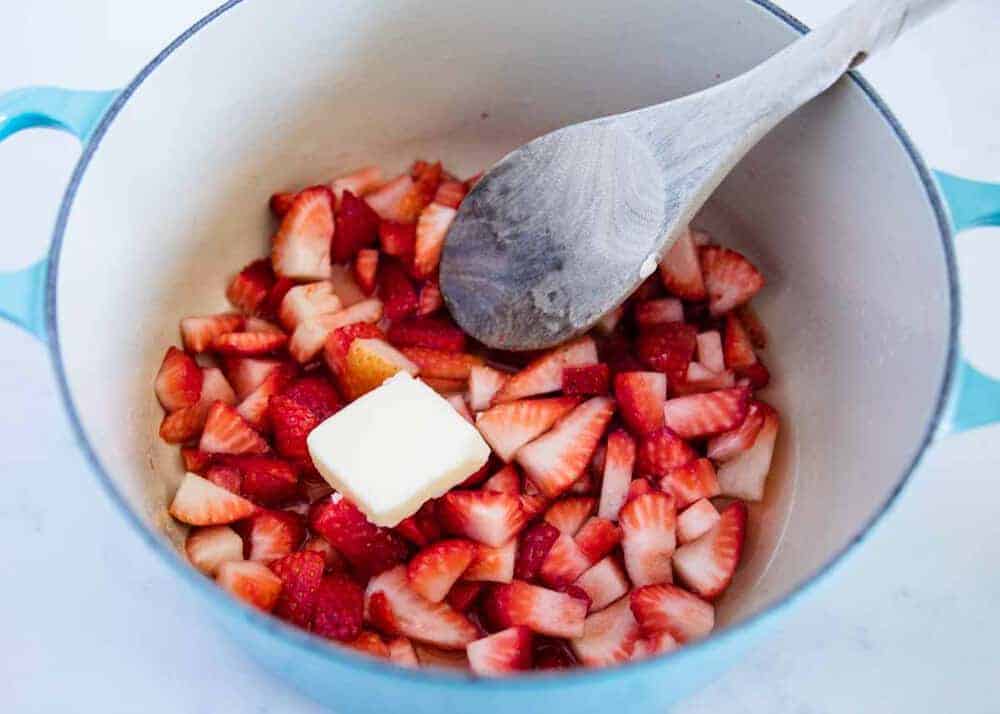 Tips & Variations
Cut your strawberries to the desired size, remembering that the bigger they are, the chunkier your sauce will be.
If you are going to blend your strawberries until smooth, do this after they've simmered and thickened, not before. For some reason, it loses a bit of its glossy appearance if it's blended beforehand.
This recipe works with other berries as well, exactly as directed. Think blackberries, raspberries or blueberry sauce!
Add chopped rhubarb: It pairs so well with strawberries like in my homemade strawberry rhubarb jam!
You can use either fresh or thawed from frozen strawberries for this sauce.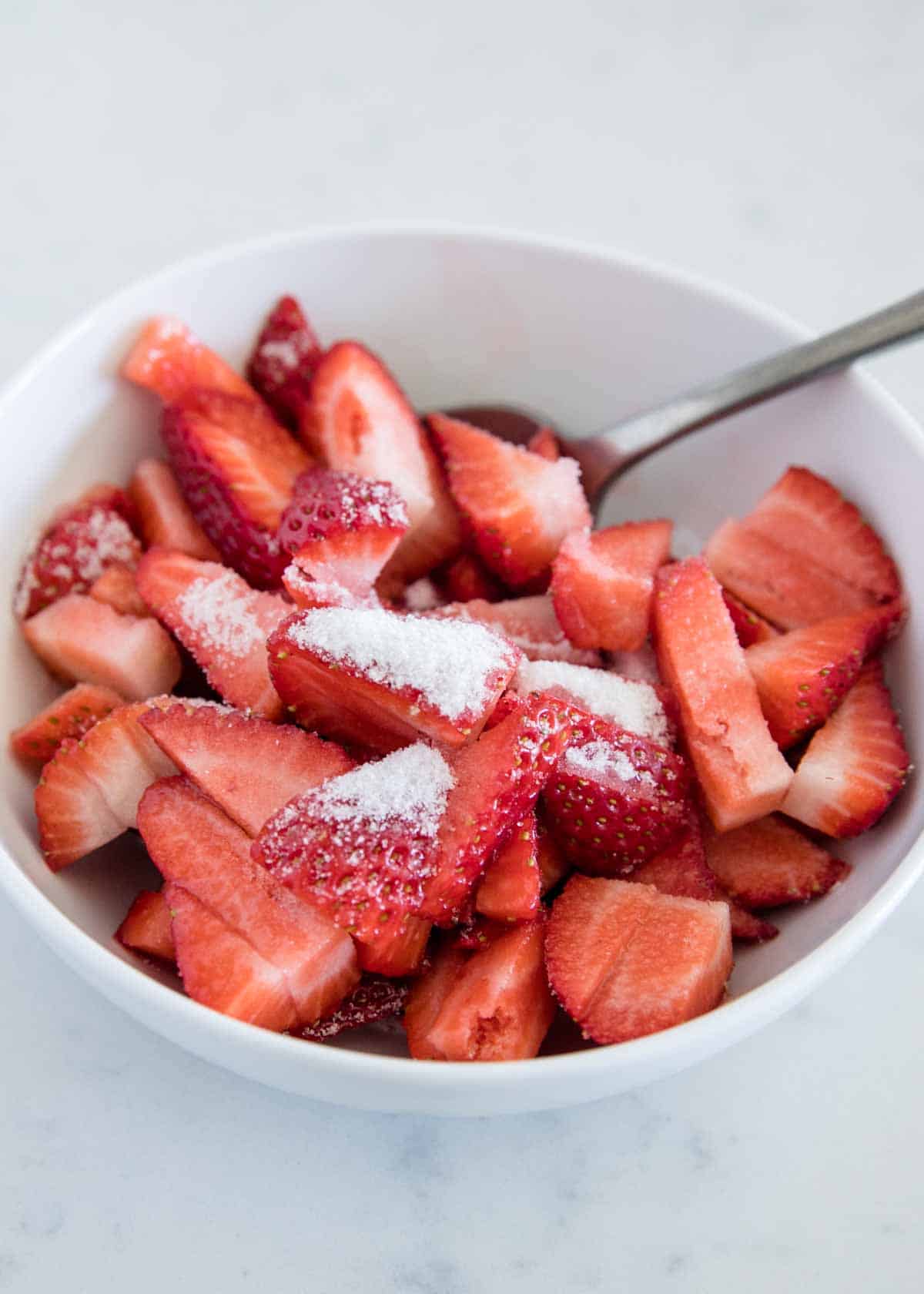 The Possibilities are Endless
There's never a shortage of reasons to whip up a batch of strawberry sauce. Below are just a few of our favorite ways to use it, whether we pour it, drizzle it, or spread it.
Storing, Freezing & Reheating
To store: Keep in a jar with a lid in the fridge for 3-5 days and allow the flavors to marry even more.
To freeze: Transfer to an airtight container and keep frozen for up to 6 months. If you've made a lot, you might consider storing it in individual or smaller portions and only thaw what you need.
To reheat: Allow to thaw in the fridge overnight. You can either reheat on low over low heat on the stove or microwave for 20-second intervals.
FAQs
What is strawberry sauce made of?
Strawberry topping is made with strawberries and sugar. Optionally you can add butter, lemon juice and vanilla extract if you would like.
Why is my strawberry sauce not thickening?
If the strawberry sauce is not thickening on it's own, you can simmer it in a pot on the stovetop. When a spatula leaves a clear line around the edge of the pan while stirring your sauce has thickened.
Can I use flour instead of cornstarch to thicken my strawberry sauce?
If you are using cornstarch to thicken your sauce but would like to use flour instead, you can whisk 2 Tablespoons of flour with 1/4 cup of water. Add strawberry topping to a saucepan, stir in your flour slurry and simmer until thickened.
How many cups are in a pint of strawberries?
One pint yields approximately 2 cups sliced strawberries.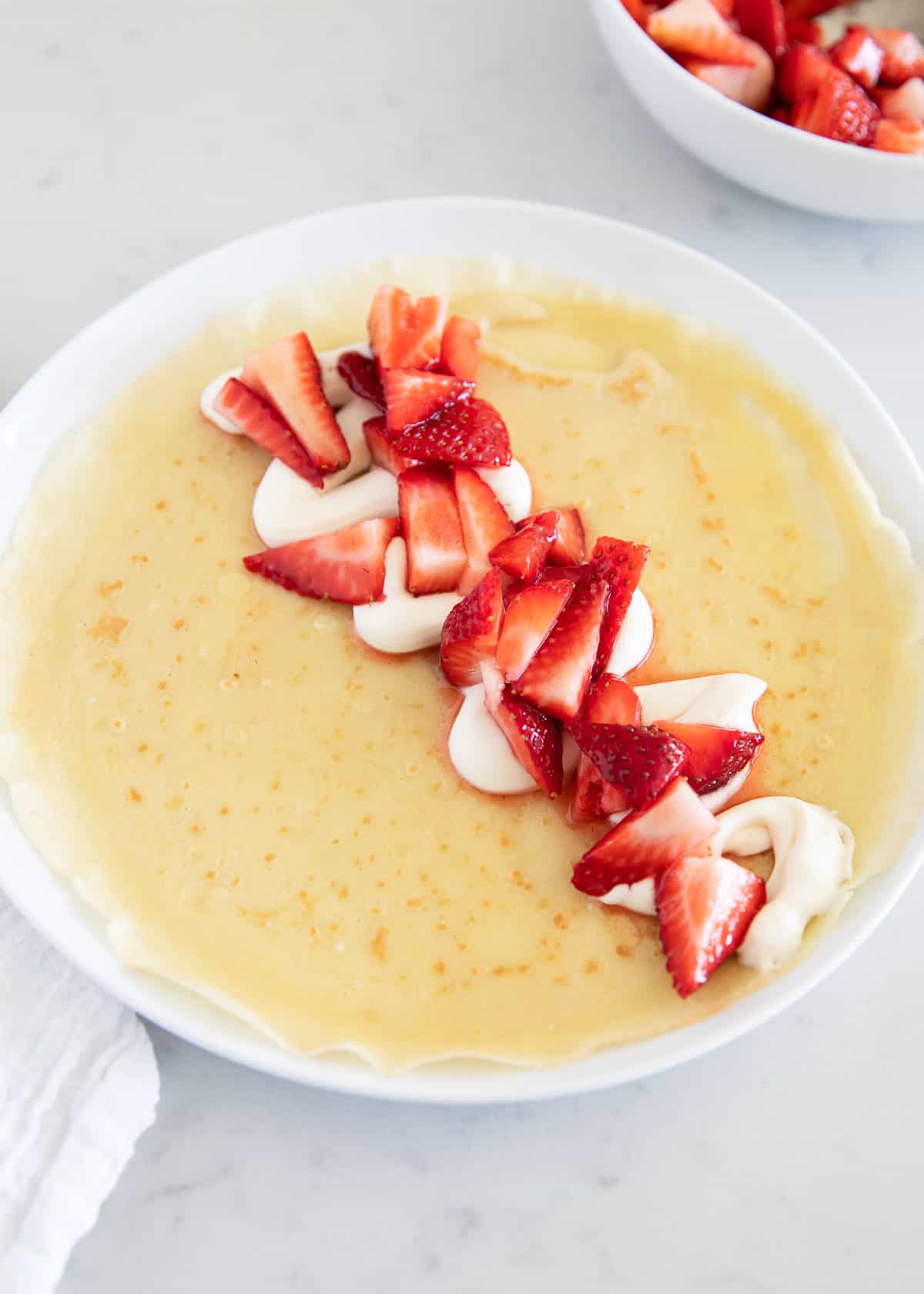 More Recipes to Use it In
HUNGRY FOR MORE? Subscribe to my newsletter and follow on Facebook, Pinterest and Instagram for all the newest recipes!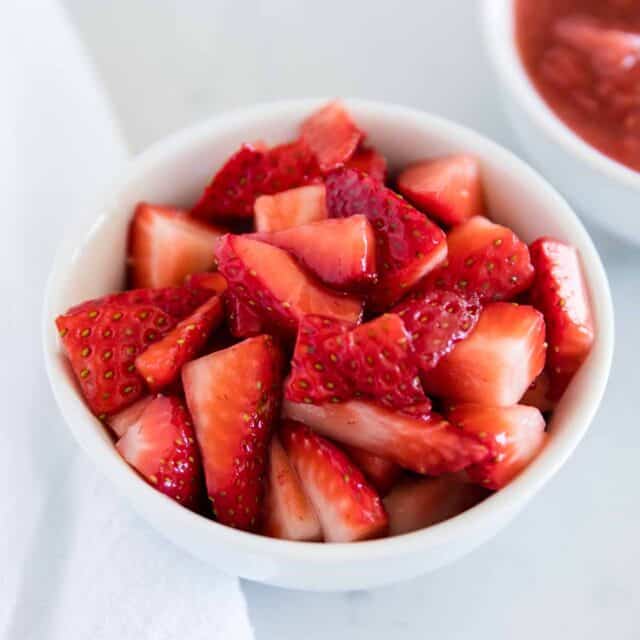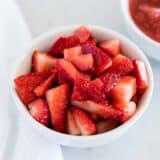 Strawberry Sauce Recipe
This simple strawberry sauce recipe is fresh, vibrant and, and incredibly delicious! Made with just 2 ingredients, it's way too easy not to make your own batch to add a finishing touch to pancakes, ice cream, cheesecake, and more. There are endless possibilities!
Ingredients
1 pint strawberries , rinsed and dried
¼ cup granulated sugar
1 Tablespoon lemon juice , optional
1 Tablespoon butter , optional
Instructions
Cut the strawberries into desired size. Combine the strawberries and sugar. Let sit in the refrigerator for at least 15 minutes, or until a syrup forms. Stir in fresh lemon juice if desired.

For more of a jam strawberry filling, place the strawberries with sugar in a small saucepan. Then add the lemon juice and butter. Cook over medium-low heat. Simmer for 3-5 minutes. Allow to thicken. Mash with a fork if (or use an immersion blender) to reach desired consistency. Allow to cool.

Serve strawberry filing on top of crepes, pancakes, ice cream, etc.
---
Notes
Storing: Store in the refrigerator for 3-5 days, or freeze for 3-6 months.
Nutrition
Calories: 56kcal | Carbohydrates: 11g | Protein: 1g | Fat: 2g | Saturated Fat: 1g | Polyunsaturated Fat: 1g | Monounsaturated Fat: 1g | Trans Fat: 1g | Cholesterol: 4mg | Sodium: 13mg | Potassium: 93mg | Fiber: 1g | Sugar: 9g | Vitamin A: 51IU | Vitamin C: 36mg | Calcium: 10mg | Iron: 1mg
Nutrition provided is an estimate. It will vary based on specific ingredients used.
Did you make this recipe? Don't forget to give it a star rating below!