Oreo cake pops are one of the EASIEST no-bake desserts that not only taste amazing but are adorable too! They're such a fun party treat and so inexpensive to make!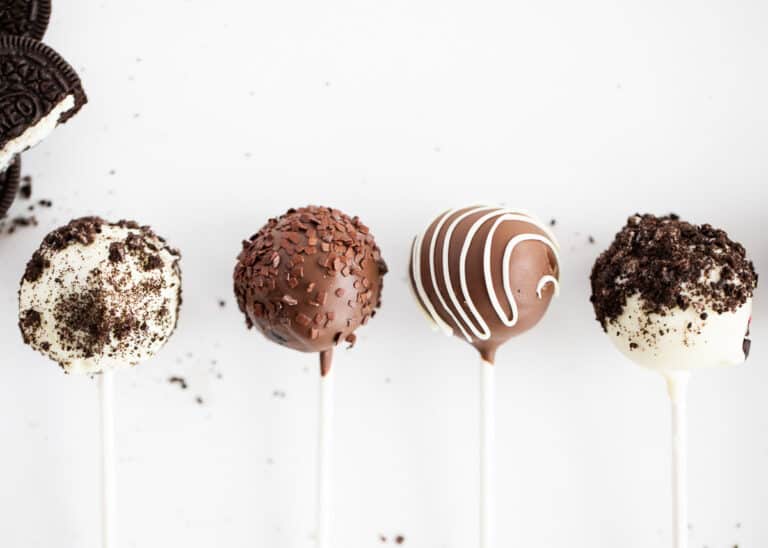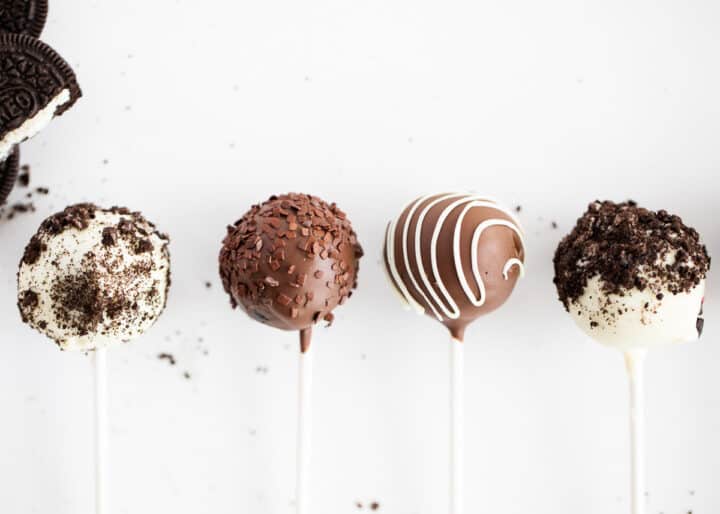 No-Bake Oreo Cake Pops
Oreo cookie cake pops are slightly different than the original cake pop recipe and that's because it's made without cake! Instead, I take Oreo cookie crumbs and combine them with cream cheese for the center, and similar to my recipe for Oreo balls, I coat them in either white or dark chocolate and place them on sticks. They're a chocolaty, chewy bite with contrasting creamy sweet and tart flavors, coated in a hard chocolate shell. So so good!
These Oreo cake pops are decorative desserts great for all kinds of parties and special occasions. Sometimes if I do have cake leftover, or I am making chocolate cake pops, I'll still make these as well because why not? They're no fuss and super simple to make, and because they only need a few ingredients, they're always within budget!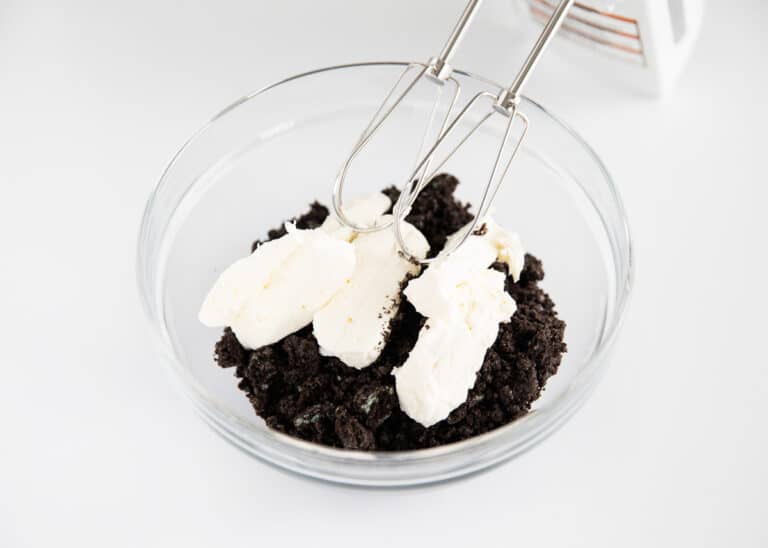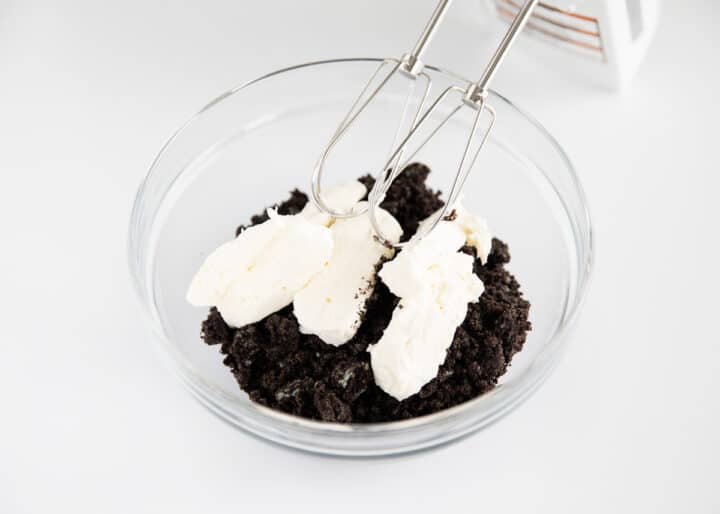 Getting Started
Once you've learned how to melt chocolate, and how to soften cream cheese quickly (if you forgot to take it out of the fridge earlier), you're already halfway there.
Mix crushed Oreos and cream cheese. Scoop out the mixture by the spoonful and form it into balls. Place on a parchment-lined cookie sheet.
Melt a few chocolate wafers, separated by color, in the microwave. Dip one end of the cake pop stick into the melted chocolate and then press it into the Oreo ball. Do this until each ball has a stick.
Place the baking sheet in the freezer for 20 minutes and just before taking them out, melt the chocolate wafers in deep narrow containers. Dip each ball into the chocolate making sure they're evenly coated.
Allow them to set in a jar of rice or a styrofoam block to make sure they stay upright! You can even make them into a cake pop bouquet for a fun gift or centerpiece!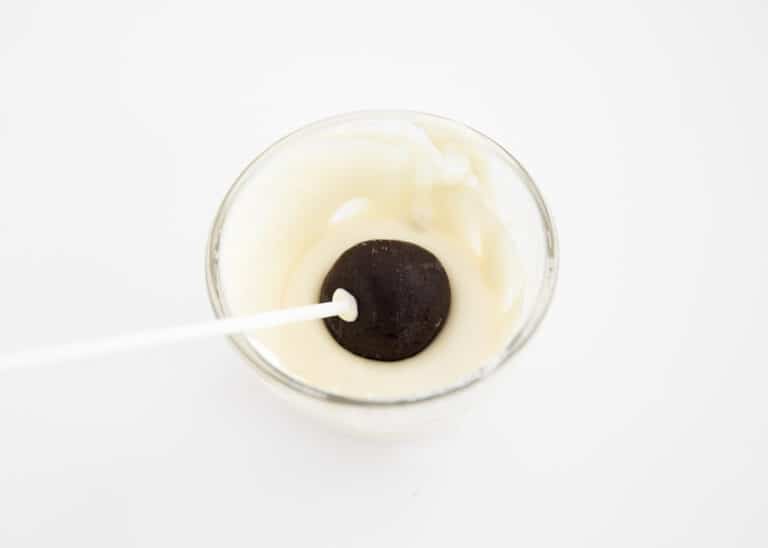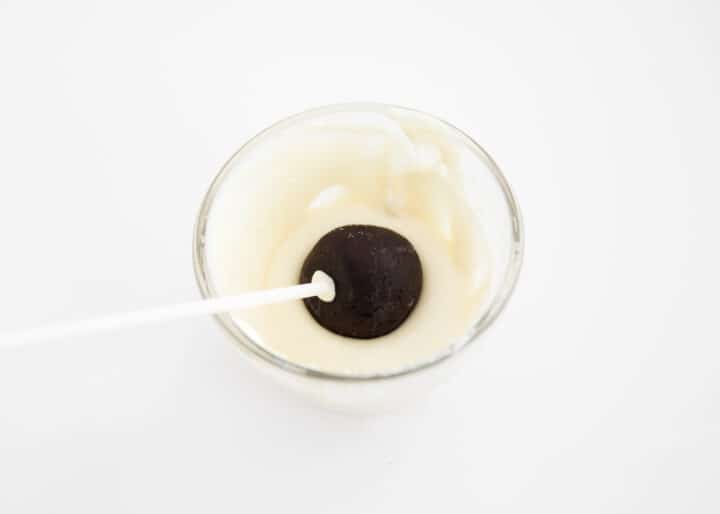 Tips for Success
Use regular Oreos, not double stuffed. If there is too much cream, they will not hold together as well.
Don't be afraid to use your hands to mix the cookie crumbs and cream cheese. It may just be the best way to keep the balls intact.
Make sure the cake ball is not big for the stick. If they are, they will fall over, or they will be so heavy that they will just fall right to the bottom of the stick.
Flash freezing the cake balls helps to solidify them before coating them.
Spin or swirl any excess chocolate off the balls before placing them upright to set completely.
If you are using sprinkles, or jimmies, add them before the chocolate hardens. If you are wanting to decorate with chocolate swirls, wait until the chocolate hardens, and then add a swirl.
Storing & Freezing
This Oreo cake pop recipe makes about 20 cake pops, so you may very well have leftovers. If so, keep stored in the fridge for up to 4 days or freeze them for up to 3 months.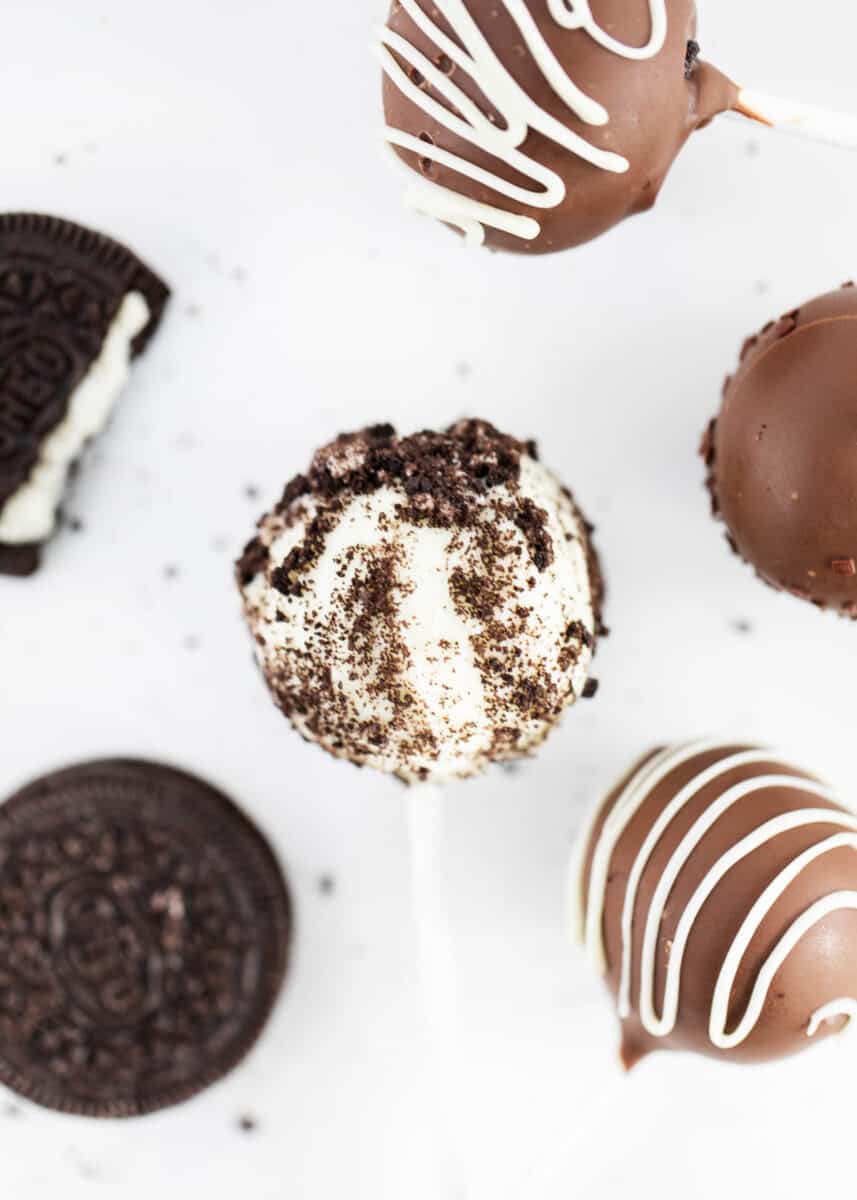 More Easy Oreo Desserts:
HUNGRY FOR MORE? Subscribe to my newsletter and follow on Facebook, Pinterest and Instagram for all the newest recipes!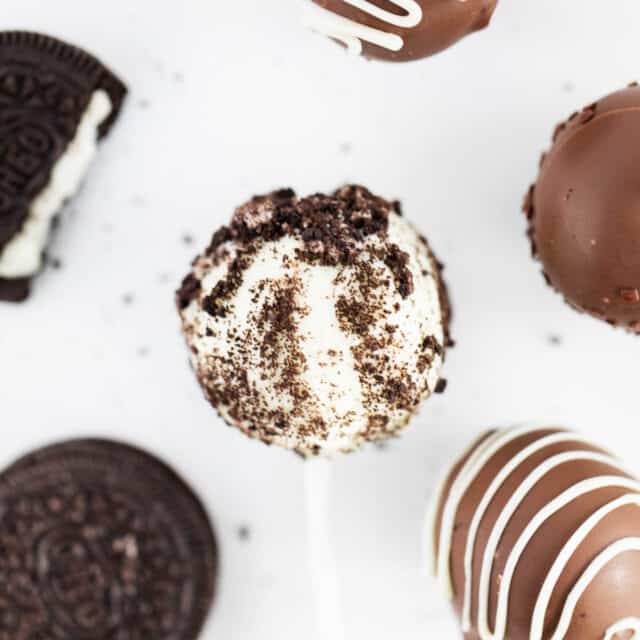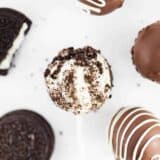 Oreo Cake Pops
Oreo cake pops are one of the EASIEST no-bake desserts that not only taste amazing but are adorable too! They're such a fun party treat and so inexpensive to make!
Ingredients
36 OREO cookies , regular, not stuffed
6 ounces cream cheese , softened
5 ounces package dark chocolate melting wafers , I prefer Ghirardelli
5 ounces package white chocolate melting wafers
Optional: Sprinkles, jimmies or other desired decorations
Instructions
Line a baking sheet with parchment paper. Then crush the oreos (with filling) in a blender or food processor. Mix together the oreo crumbs and cream cheese with a hand mixer. If it isn't coming together, get your hands in there and mix it up.

Using a small cookie scoop, scoop out 1 scoop of oreo mixture. Roll into a ball and place onto the parchment paper. Repeat until all the mixture has been formed into balls.
Dip in chocolate
In two small microwave safe dishes, melt a few of the dark and white chocolate wafers. A deep, 2 cup measuring cup will allow you to dip the cake pop in the chocolate, or in a shallow dish, you can spoon the melted chocolate over the cake pop. Begin by heating for 30 seconds and then stirring. Repeat until all the wafers are melted.

Dip the end of the cake pop stick into the melted chocolate and push the stick into the oreo cake pop. Repeat until all cake pops have a stick. Place the baking sheet in the freezer for about 5 to 10 minutes. Then dip the balls into the chocolate.

Once coated in chocolate, gently tap the stick on the side of the melting dish to let the excess drip off. You can also spin or twirl the cake pop to remove the excess.

Before the chocolate starts to harden, add sprinkles, jimmies or other decorations. If decorating with more chocolate, let the chocolate covering harden on the oreo cake pop. Then, using a spoon or fork, drizzle with the additional melted chocolate.

Push the stick into a styrofoam block or use a glass filled with rice to hold them upright. The chocolate will be set in about an hour.
---
Notes
Storing: Store for 3-4 days in an airtight container or freeze for up to 3 months.
Nutrition
Calories: 162kcal | Carbohydrates: 19g | Protein: 2g | Fat: 9g | Saturated Fat: 5g | Cholesterol: 9mg | Sodium: 133mg | Potassium: 58mg | Fiber: 1g | Sugar: 13g | Vitamin A: 114IU | Calcium: 13mg | Iron: 2mg
Nutrition provided is an estimate. It will vary based on specific ingredients used.
Did you make this recipe? Don't forget to give it a star rating below!