Chocolate cake pops are taken up a notch with this recipe using 3 times the chocolate! These portable bite-sized treats are rich, decadent and so much fun to eat!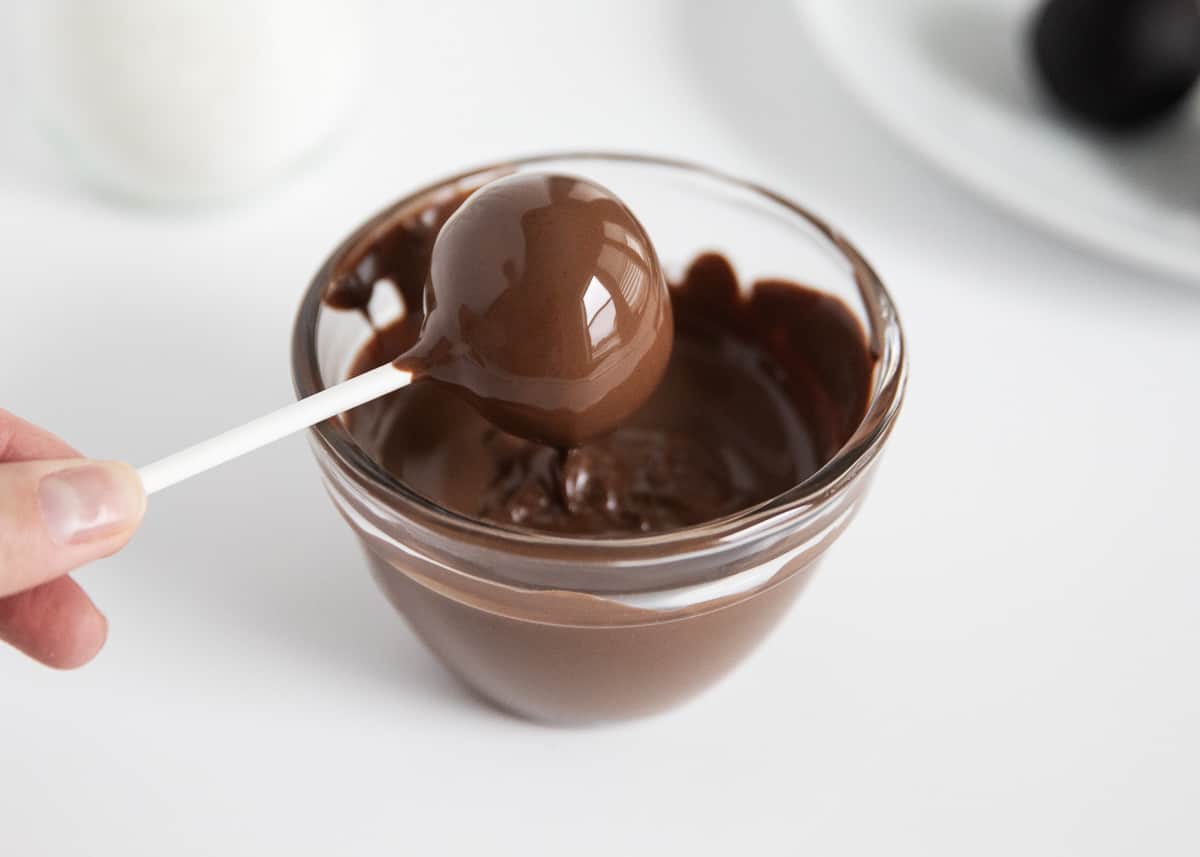 Starbucks Cake Pop
As cake pops become more and more popular, people are getting more creative which is great because you can never have too many different types. I mean, imagine only ever eating one kind of cake! Sometimes, however, we need a simple cake pop recipe to get us started!
Triple the chocolate has never been so easy. A chewy chocolate cake and chocolate buttercream frosting center is then coated in a layer of hardened dark chocolate! These pops are super simple to make with only a few guided steps. You'll learn how to melt chocolate, make a buttercream frosting from scratch and how exactly to get them to stay on the sticks! All of that and you'll be biting into dainty decadence in no time.
They're so much fun to decorate for any occasion. Kids love portable food on a stick, which of course makes them perfect for birthday parties, Halloween parties, baby showers, Easter, Valentine's day, you name it. Customize the decorative sprinkles and drizzles in any way you'd like and watch how quickly they disappear. These delicious bite-sized desserts are totally irresistible!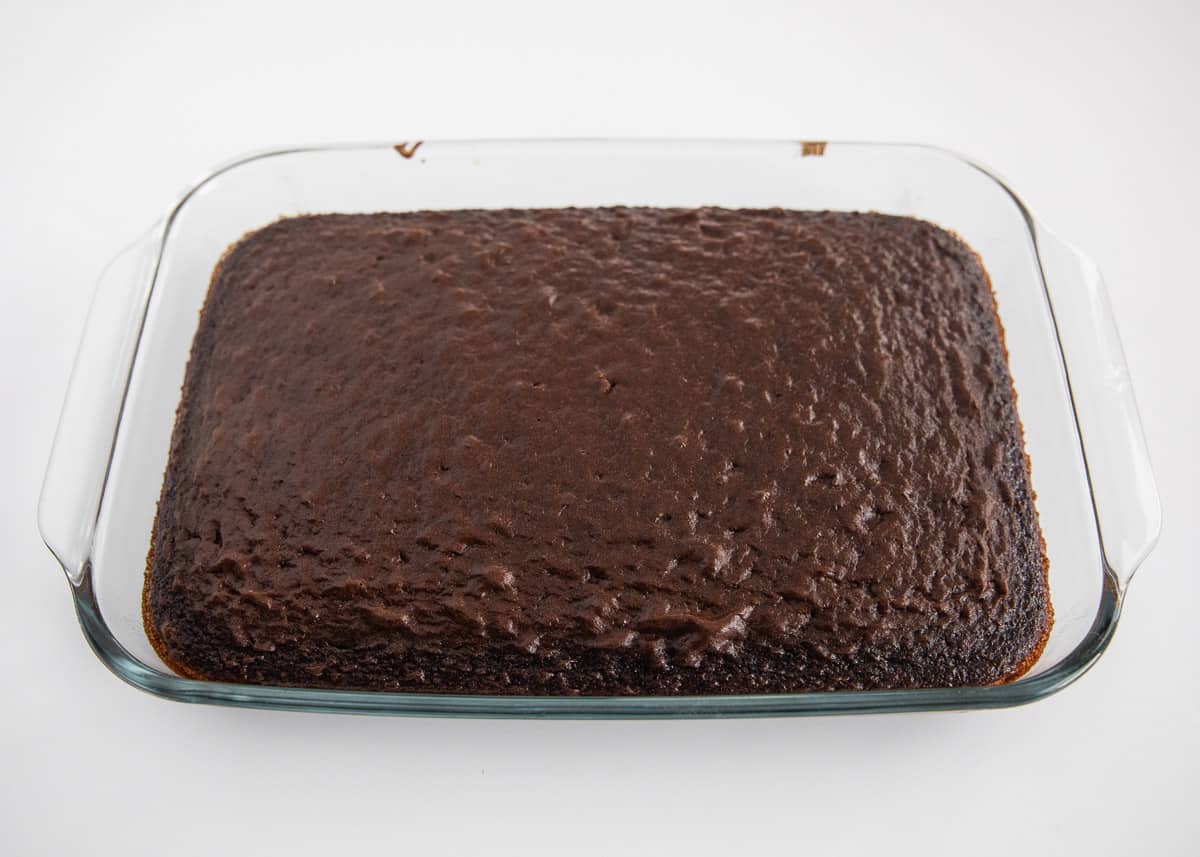 How to Make Chocolate Cake Pops
Prep. Make the buttercream frosting and bake the cake according to package instructions. Allow it to cool completely before continuing on.
Mix and roll. Crumble the cake into fine crumbs using only the smooth center. If any of the edges are hardened and or browned, discard them. Add a few spoonful's of buttercream to your crumble and combine them together with your hands or a spoon. You want the consistency that will allow you to roll a bit up into a ball without it falling apart. If it is still too crumbly, add a bit more frosting until it holds together. Using up all of the mixture, roll into individual balls and place on a plate.
Add the stick. Melt a bit of chocolate in the microwave for 30-second increments. Check, stir and repeat until completely melted. Dip the end of the stick into the melted chocolate and push it into the pop. Once the chocolate on the end of the stick sets, it will help keep it in place. Place them in the freezer to set for about 20 minutes.
Dip the pop in chocolate. Before you take the pops out of the freezer, begin melting your chocolate. When chocolate is melted transfer it to a deeper dish to allow for a complete dunk. Otherwise, if you are using a shallow dish, make sure to have a spoon handy so that you can scoop up and coat all sides of the ball completely. Once it's coated, gently tap, twirl, or spin the cake pop to remove excess dripping chocolate.
Decorate and let it set. While the chocolate hasn't hardened yet (in other words, work quickly!), add sprinkles, jimmies, or other decorations before it does. If you want to achieve a beautiful drizzle with extra melted chocolate, then you will need to allow the coating to harden first. To allow them to set, no need to put them back in the fridge. They will be ready to eat in about an hour. Try serving them in a cake pop bouquet to really wow your crowd!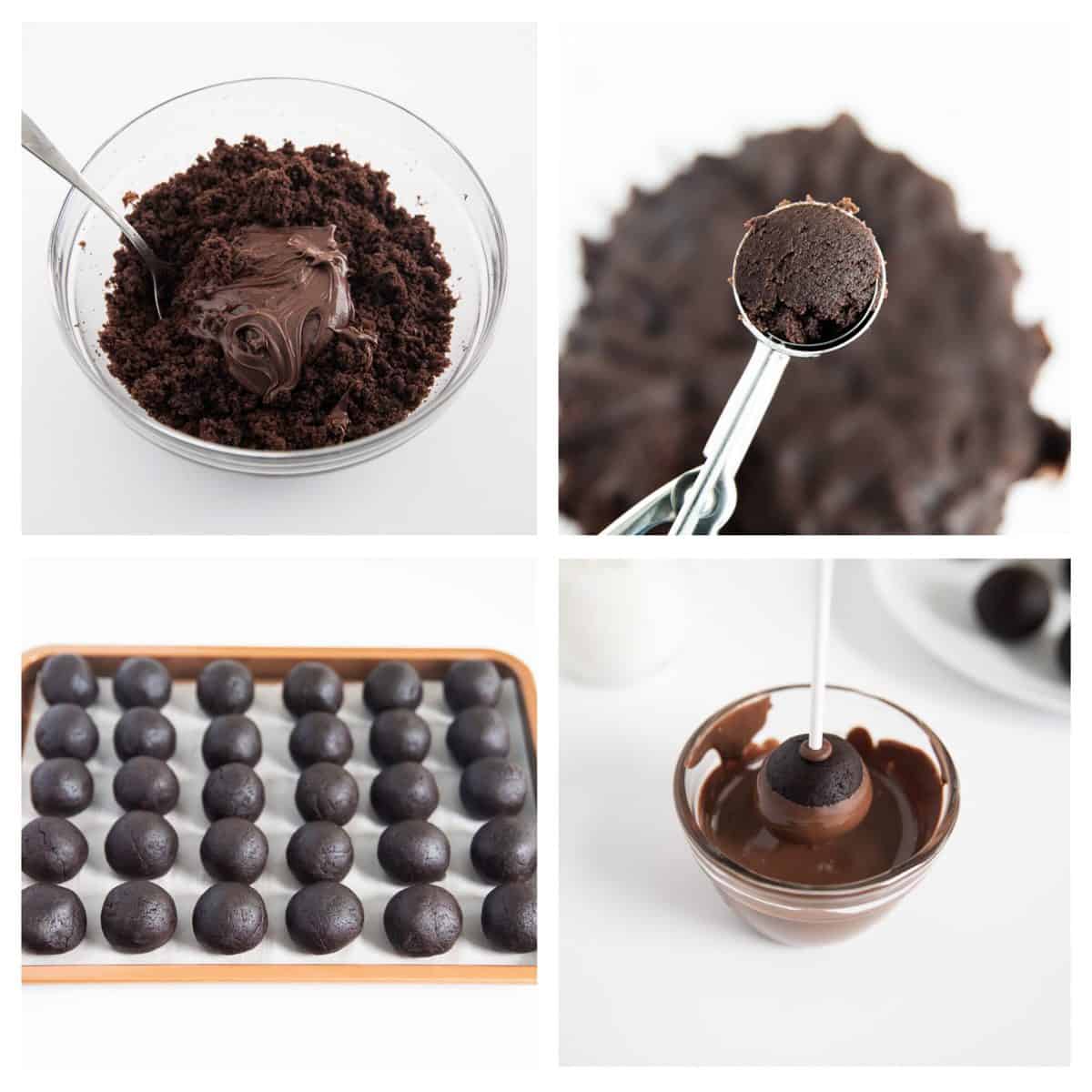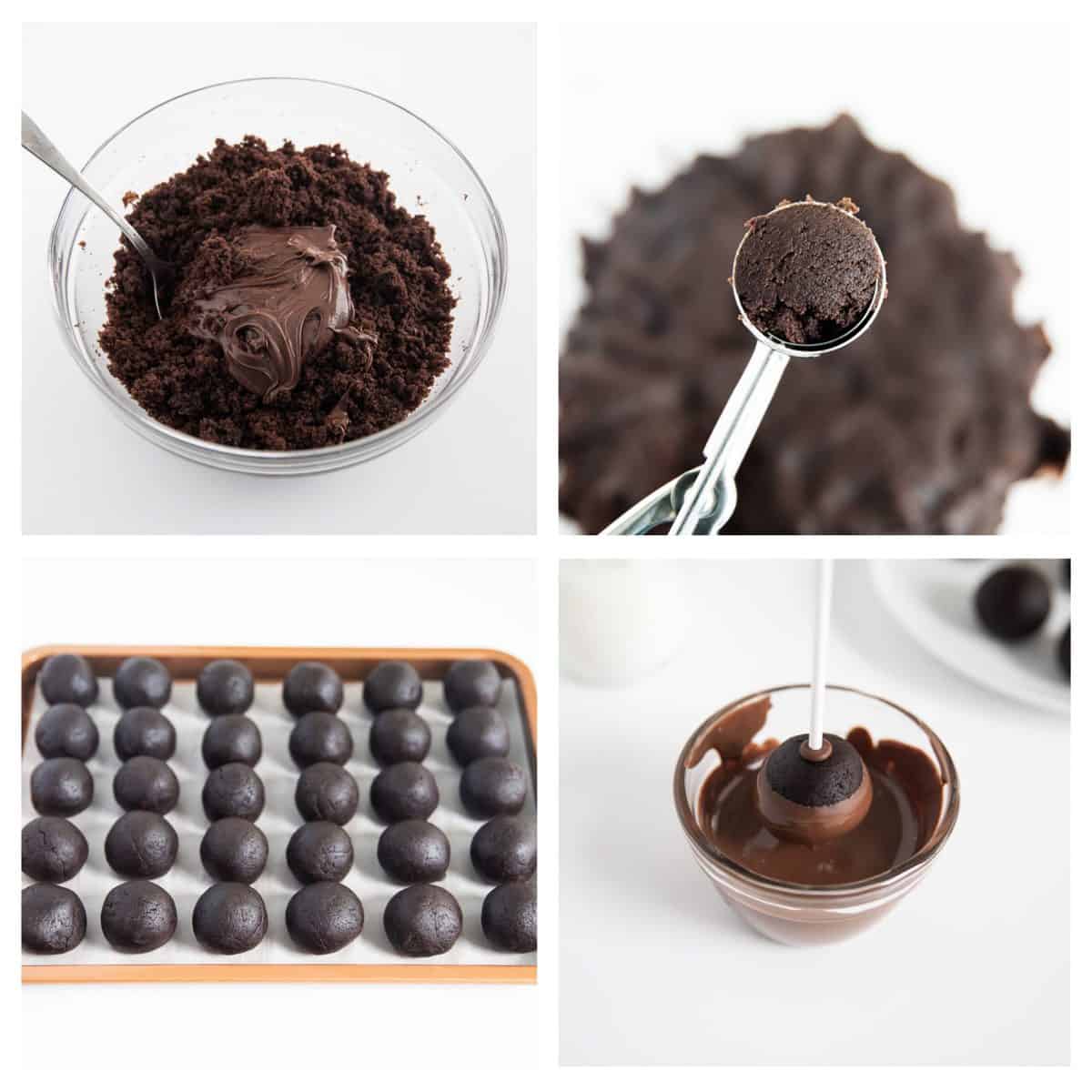 Tips for Success
The frosting to cake ratio is key. How much buttercream frosting you use will depend on how moist your cake is. I make half a batch of frosting and then only use about half of that. If it is really moist, I will use even less than that. You want enough so that it doesn't crumble when formed into a ball. But not enough so that you forget there's actually cake in there.
Mix with your hands. This is the best way to incorporate the frosting. Is it messy? Yes. Will we lick our fingers before we wash them? Also, yes.
Deep narrow cup for dipping. To make life easier, it's best to use a deep and narrow cup. Something like a tall glass or a measuring cup. It'll make for a one-step dunk and you're done.
Any cake will do. Store-bought or homemade chocolate cake, the choice is yours. No one will know the difference!
Keeping cake pops upright. Use a styrofoam holder or rice in a jar to keep them standing upright to set. Since they don't need to go back into the fridge or freezer to set, it's important to find a way to keep them standing up.
Make-ahead prep. Make the cake and frosting the day before for easy prep. Cool the cake overnight at room temperature and keep the buttercream in the fridge. Bring to room temperature before you begin and you're all set to go when the time comes.
Size of cake pop matters. Don't make them too big. If you've ever made this mistake before you'll know what I'm talking about. If a single cake pop is too big, it'll be too heavy and the stick won't be able to hold it. The weight will either make it so that it slides down the stick or it will just fall off completely.
Skip the stick. If you're in a pinch and have made them too big after all, or just because you want to, skip the stick and make "truffles" instead!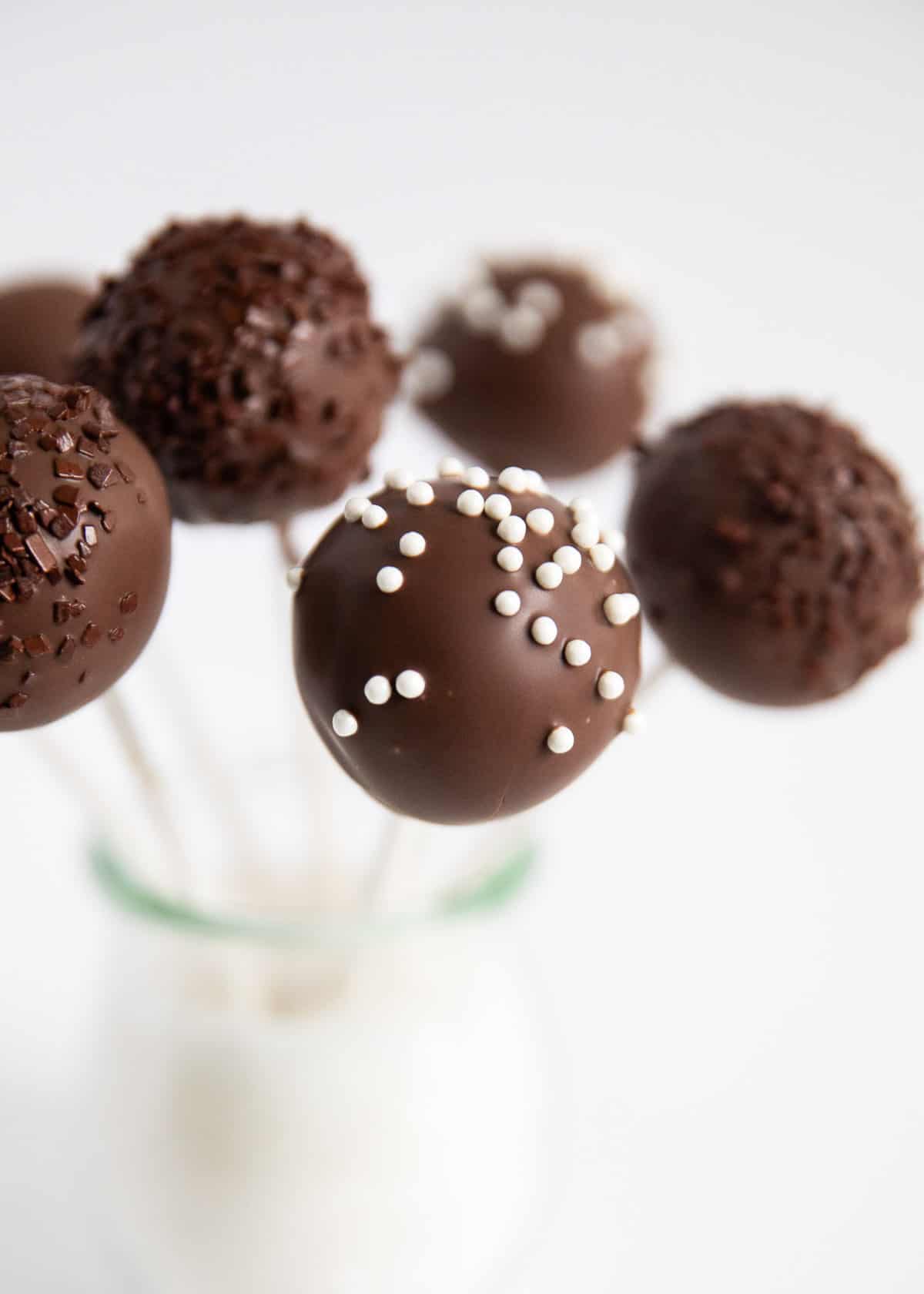 More Bite-Sized Chocolate Desserts
HUNGRY FOR MORE? Subscribe to my newsletter and follow on Facebook, Pinterest and Instagram for all the newest recipes!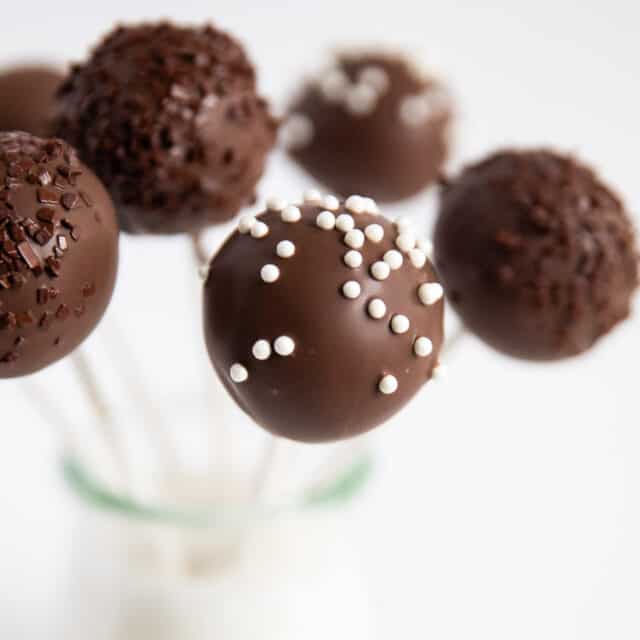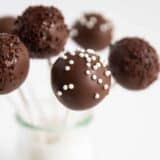 Chocolate Cake Pops
Chocolate cake pops are taken up a notch with this recipe using 3 times the chocolate! These portable bite-sized treats are rich, decadent and so much fun to eat!
Ingredients
15 ounce box chocolate cake mix , bake according to package directions in a 9×13" pan
10 ounce package dark chocolate melting wafers , I prefer Ghiradelli
Buttercream Frosting
½ cup salted butter , softened
2-2 ½ cups powdered sugar
2-3 Tablespoons natural unsweetened cocoa powder , more or less, to taste
1 teaspoon vanilla extract
1 Tablespoon heavy cream or milk
Optional: Sprinkles, jimmies or other desired decorations
Instructions
Make Buttercream Frosting
In a medium bowl, whip the butter. Add in 1 cup of powdered sugar. Mix until combined. Add the cocoa powder, vanilla and additional powdered sugar, a little at a time. Add 1 Tablespoon of heavy cream or milk to make the frosting thick and creamy. It should hold a point.
Make Cake Pops
Once the cake has cooled, crumble the prepared cake into fine crumbs. If the edges of the cake have browned I like to remove the edges. Add 2 spoonfuls of buttercream frosting to the cake. Combine with your hands or a spoon. Gradually add more frosting until the cake holds together if squeezed. You don't want it too crumbly or it won't hold together.

Using a medium cookie scoop, scoop out 1 scoop of cake mixture. Roll into a ball and place onto a plate. Repeat until all the cake mixture has been formed into balls.
Dip in chocolate
In two small microwave safe dishes, melt a few of the dark and white chocolate wafers. Begin by heating for 30 seconds and then stirring. Repeat until all the wafers are melted.

Dip the end of the cake pop stick into the melted chocolate and then push the stick into the cake pop. Then push the stick into the cake pop. Repeat until all cake pops have a stick. Place the plate of cake pops in the freezer for about 20 minutes.

Right before they are ready to be taken out of the freezer, melt the chocolate. A deep, 2 cup measuring cup will allow you to dip the cake pop in the chocolate, or in a shallow dish, you can spoon the melted chocolate over the cake pop.

Once coated in chocolate, gently tap the stick on the side of the melting dish to let the excess drip off. You can also spin or twirl the cake pop to remove the excess.

Before the chocolate starts to harden, add sprinkles, jimmies or other decorations. If decorating with more chocolate, let the chocolate covering harden on the cake pop. Then, using a spoon or fork, drizzle with the additional melted chocolate if desired.

Push the cake pop stick into a styrofoam block or use a glass filled with rice (or beans) to hold them upright. The chocolate will be set in about an hour. Store for 3-4 days in an airtight container in a cool place.
---
Notes
You can also use 8 ounces of frosting from the store (half of a 16 ounce can) to make it easier, I just prefer the homemade buttercream. Make sure that you're only working with about five cake pops at a time. Leave the rest in the freezer so that they don't soften too much while you work on the others. You want them to be really cold when working with them. After dipping the stick in melted chocolate, let it dry first before sticking into the cake ball. It's easier to work with this way and is less likely to fall off when dipping the whole cake pop into melted chocolate. Discard any brown edges of the cake before crumbling.
Nutrition
Calories: 150kcal | Carbohydrates: 23g | Protein: 1g | Fat: 7g | Saturated Fat: 4g | Cholesterol: 9mg | Sodium: 149mg | Potassium: 52mg | Fiber: 1g | Sugar: 18g | Vitamin A: 102IU | Calcium: 23mg | Iron: 1mg
Nutrition provided is an estimate. It will vary based on specific ingredients used.
Did you make this recipe? Don't forget to give it a star rating below!