A no-bake Oreo dirt cake recipe made with an Oreo cookie crust and a creamy, sweet, and tangy pudding cheesecake filling, topped with more crushed Oreos that resemble dirt! Make this dirt cake dessert with or without gummy worms on top!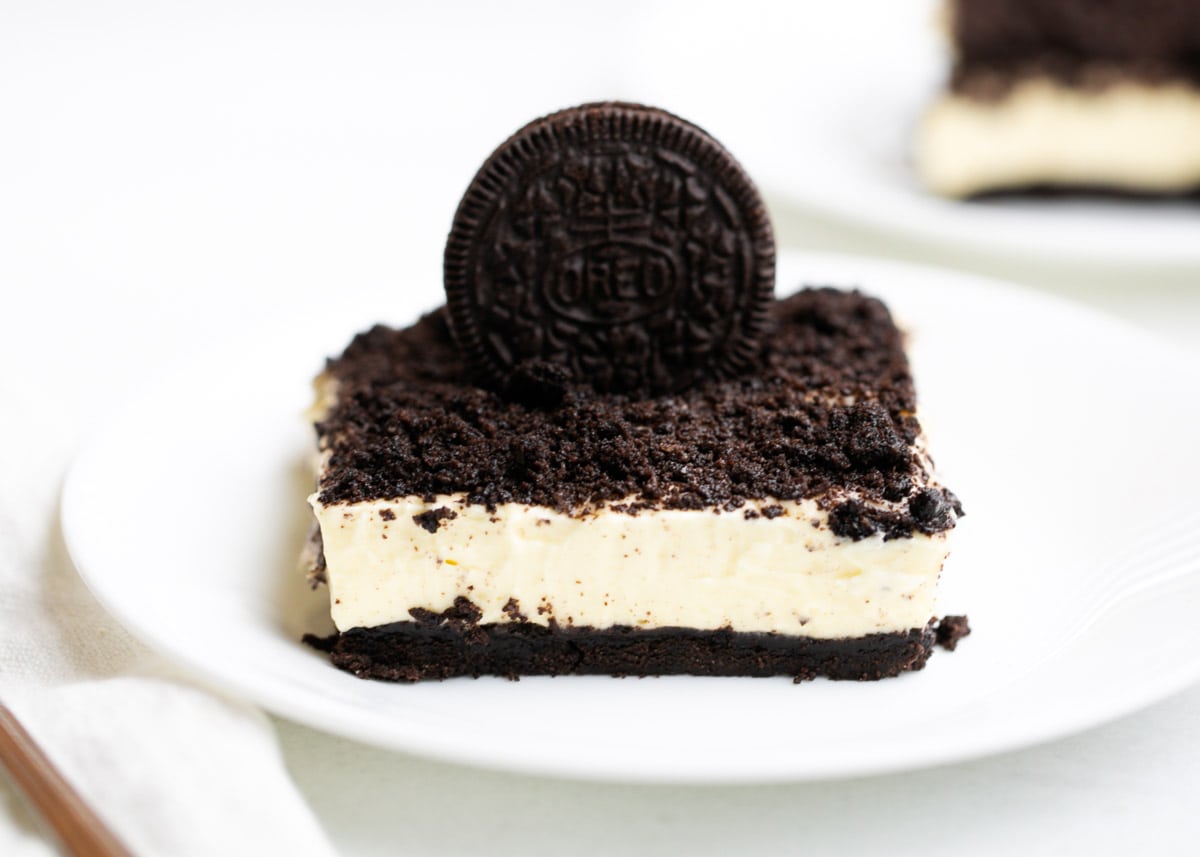 A Fun, Family-Friendly Dessert!
Oreo dirt cake is just one of many ways I love to use Oreos in desserts! Oreo ice cream cake, Oreo balls, mini cookies and cream cheesecakes are only the beginning.
This dirt cake recipe is where Oreo lovers, cheesecake lovers, and no-bake dessert lovers unite!
It's a classic and fun kid-friendly recipe that takes mere minutes of prep time. It needs time to chill and set, so it's the perfect make-ahead recipe for everything from potlucks and BBQs to holiday parties and family gatherings.
Why This Recipe Works
Versatile. Serve this fun dirt cake recipe in individual cups, parfait style, or add gummy worms or a mini bucket and shovel on top for effect. I've even seen people serve the entire thing in buckets and flower pots!
Kid-Friendly. This recipe is easy enough for kids to make all on their own! Little ones can surely help and they'll get a kick out of making it look like dirt.
Budget-friendly. Or should we say it's dirt cheap? Oreo dirt cake uses just a handful of ingredients, some of which you may already have. There's nothing fussy about it!
Easy peasy. There is only 20 minutes of prep time that goes into making this cake. The rest is chilling and waiting. Crush the Oreos, mix the creamy layer, assemble, and voila. It's even easier than chocolate lasagna if you can believe it!
Dirt Cake Recipe Ingredients
There's no ice cream in this recipe, kids! For that, you're going to have to check out my mud pie recipe!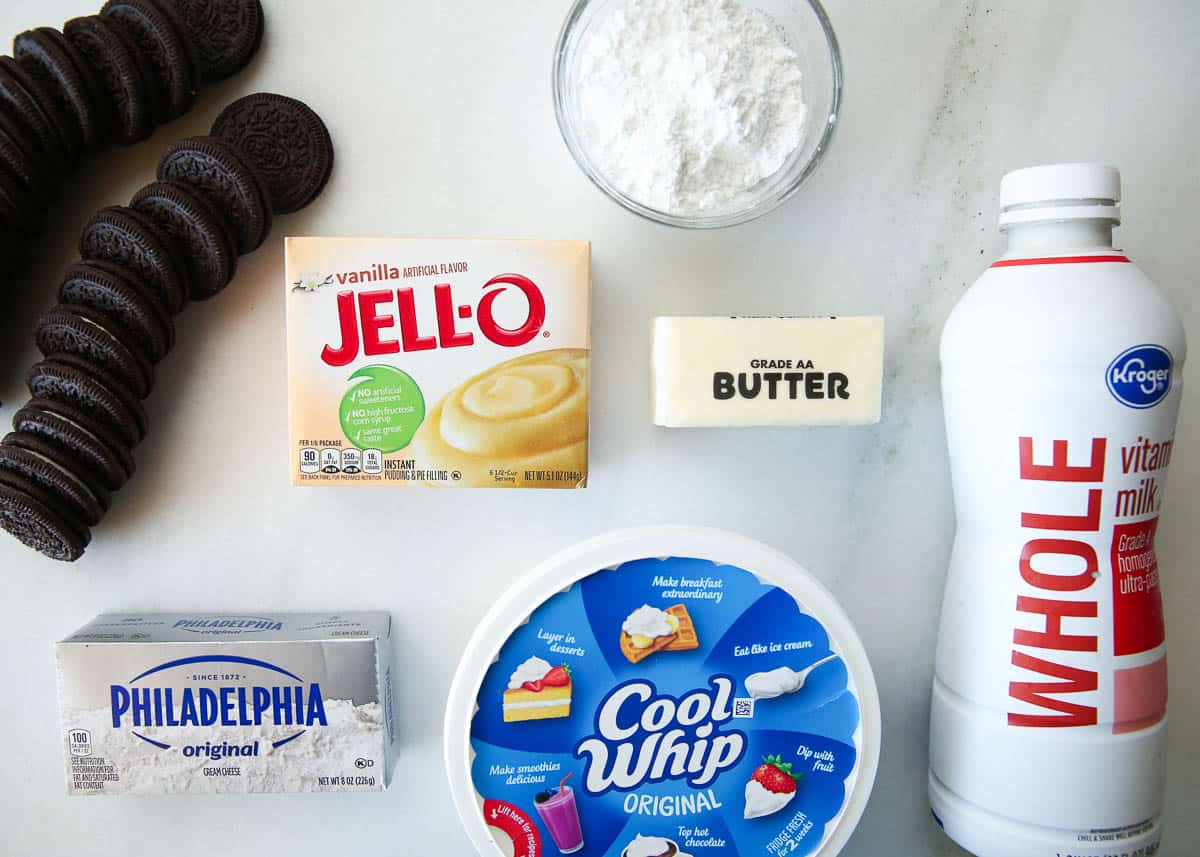 Find the full printable recipe with specific measurements below.
For the crust: You'll need 36 regular Oreos (not double stuffed) and melted salted butter. Keep the cream in the center of the cookies. You'll need it for binding as well as additional sweetness in the crust.
Cream cheese softened: Both Cool Whip and pudding are quite light and airy, the softened cream cheese adds a bit of sturdiness to the layer. It, of course, also adds the tangy cheesecake flavor too!
Salted butter, softened: Bring the butter to room temperature so that it creams easily without leaving chunks of butter throughout. We're using salted butter to balance the sweetness.
Powdered sugar: Confectioners' sugar is perfect for when you need to blend it without worrying about leaving any granules behind. It also helps to stabilize creams.
Vanilla extract: A warm flavor addition that would be missed if not there. It enhances the vanilla pudding flavor so much!
Cool Whip: Remember to thaw it first. It's a good idea to bring it out when you're bringing out the cream cheese and butter. Homemade cool whip is easy if you want to give it a try!
Instant vanilla pudding: Not the cook and serve! It has to be an instant pudding mix.
Whole milk: When mixed with the instant pudding powder it turns it into a rich, creamy, pudding.
Variations
Oreo dirt dessert is an easy dessert recipe as is, but it's also one that is so versatile, there are endless ways to make it fit any occasion!
Swap the regular Oreos for golden Oreos for sand instead of dirt to make it a beach theme! Mini umbrellas are optional!
Get down and dirty for a birthday party and add extra toppings on top. Sprinkles, hot fudge, gummy worms, mini shovels, etc. The kids love it!
Use instant chocolate pudding instead. You won't get the distinct black and white layers, but you'll get even more chocolaty flavor!
Cheesecake pudding or white chocolate pudding would also be great.
For something a little extra special for the holidays, serve the Oreo dirt cake in a trifle bowl.
You could also make individual servings by making little layered parfaits.
How to Make Dirt Cake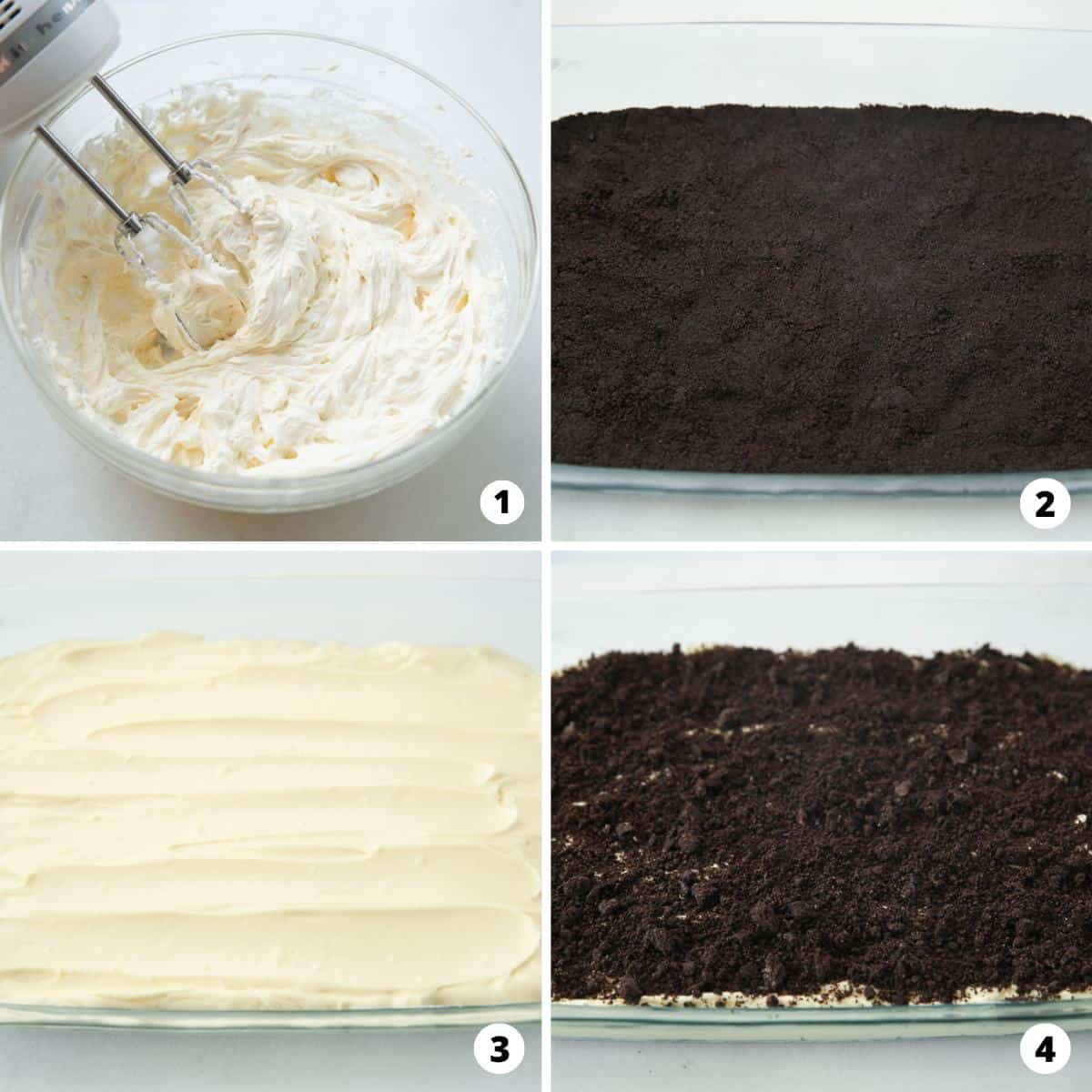 Make the filling. In a medium mixing bowl, use a hand mixer to whip the cream cheese and butter together until fluffy. Add the powdered sugar and vanilla, mix until smooth then fold in the cool whip. Separately, mix pudding and milk until it's thick. Let stand to thicken and then fold it into the cream cheese mixture.
Prepare the crust. Crush the Oreo cookies into fine cookie crumbs. Reserve 1/2 for the topping, and mix the rest with the melted butter. Press the sandy mixture into the bottom of a 9×13 baking dish and chill it in the fridge or freezer for 5 minutes.
Assemble it. Remove it from the fridge and spread the filling evenly over the entire surface of the cookie crust. Smooth out the top as best as you can.
Chill the Oreo dirt cake. Sprinkle the remaining cookie crumbs over top, cover loosely with plastic wrap, and place the Oreo dirt cake in the fridge to chill for 4 hours before serving. Enjoy!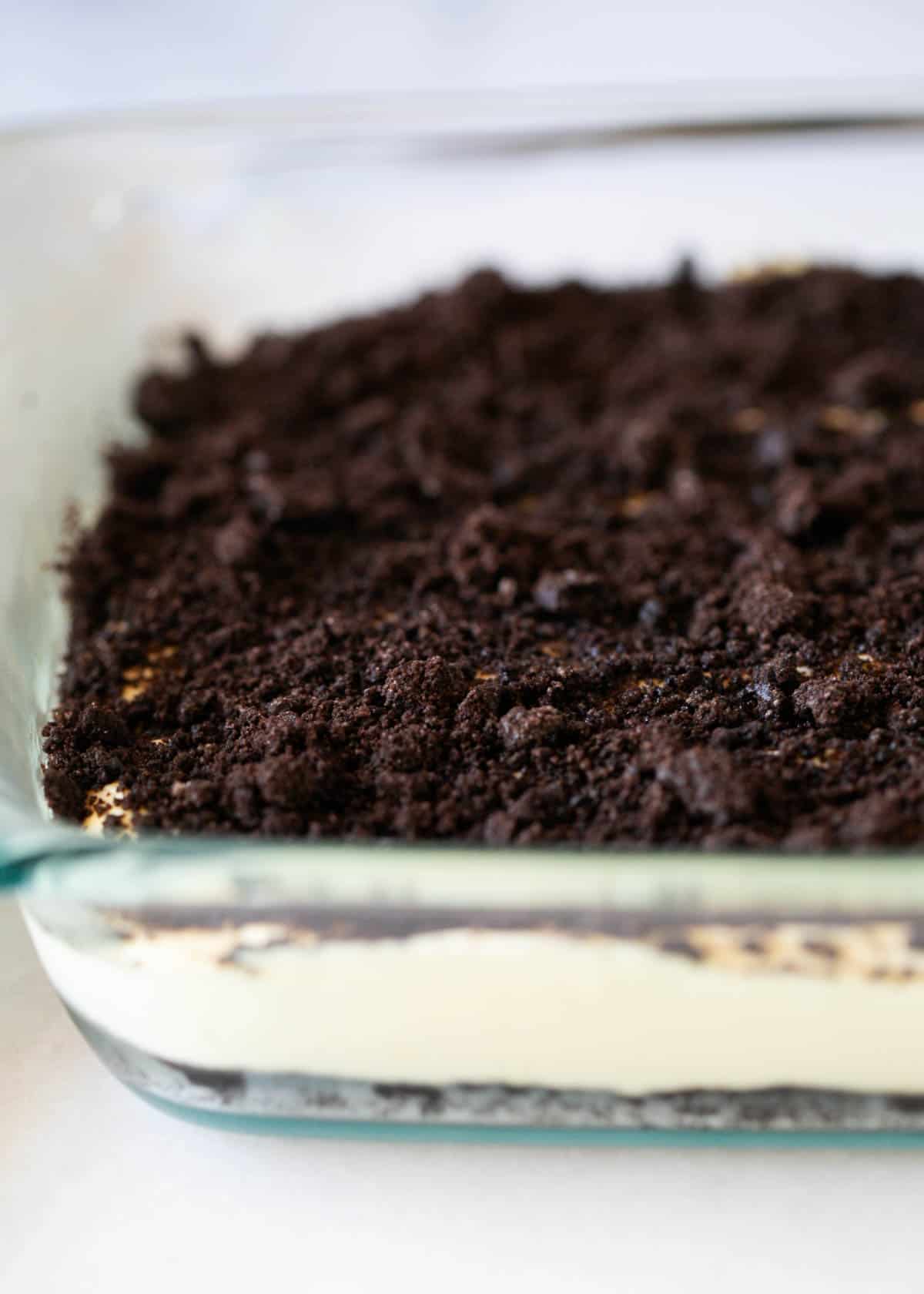 Expert Tips
Fine crumbs. If you can help it, it's recommended that you use a food processor to crush the cookies into fine crumbs. It's just easier!
Do not overmix. You are just folding the Cool Whip and pudding mix into the cream cheese mixture. Overmixing causes a release of air and will alter the texture of the filling.
Don't skip the chill time. You need to allow time for the pudding to set. Otherwise, the Oreo dirt cake will be more pudding than cake!
Prep in advance. You can also make it in the evening and allow it to chill overnight. I wouldn't keep it any longer than that or the crust will start to get soggy.
Use cream cheese from a block. The easy spread kind has too much water in it which won't hold up in this dirt cake too well.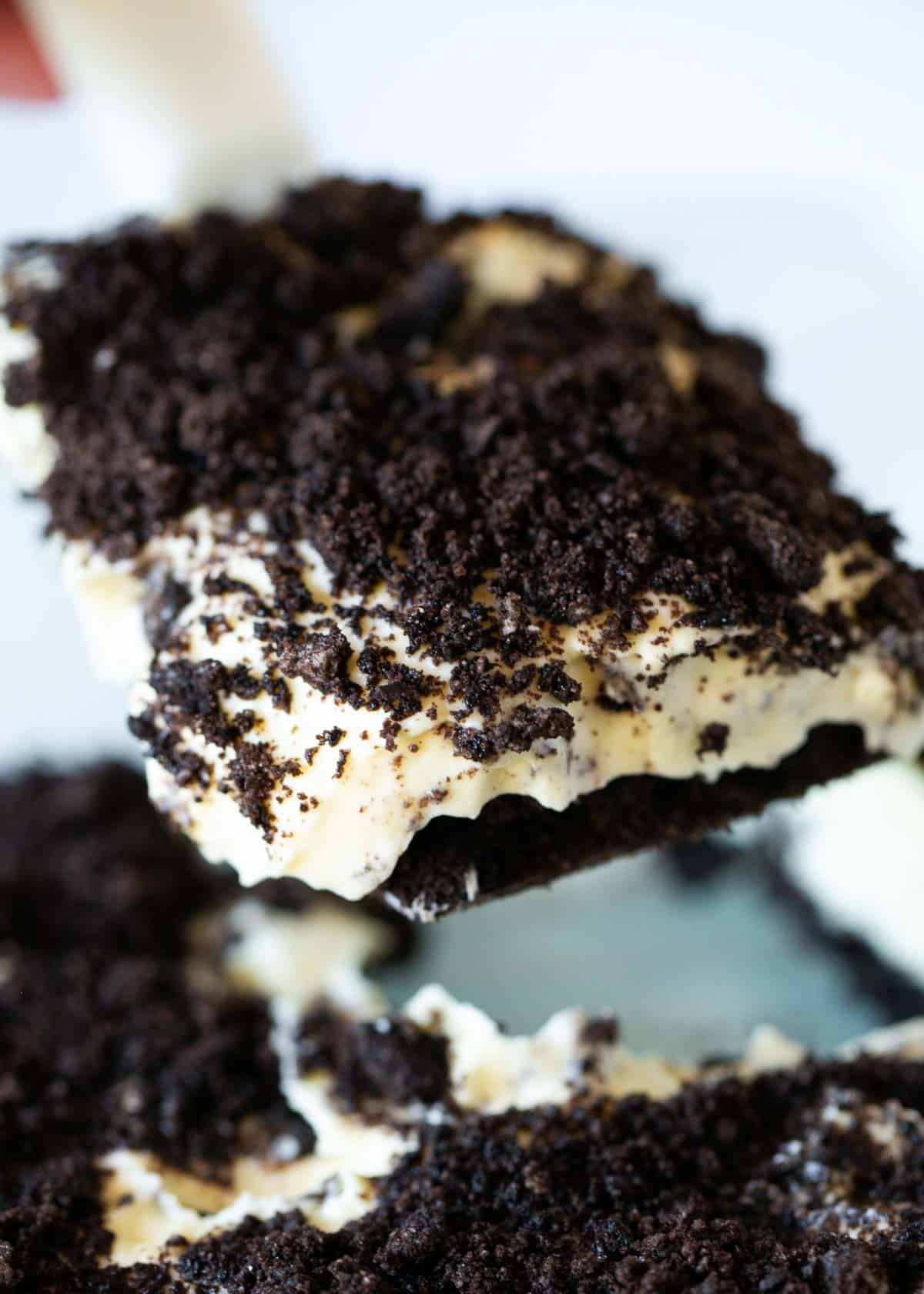 Recipe FAQs
Can I make an Oreo dirt cake in advance?
You sure can. Giving the flavors time to meld makes it even better!
You can either assemble it completely and make it up to 48 hours ahead, or keep the layers separate until you're ready to assemble it and serve.

Any longer than 48 hours you'll notice the crust start to get soggy.
How to store leftover dirt cake?
Keep any leftovers in an airtight container in the fridge for up to 3 days. The crust will be softer, but it'll still taste great.
Can I freeze it?
Technically you can freeze it for up to 1 month. If you do, be prepared that once thawed, the texture of the filling will be different.
Why is my dessert cake not set properly?
The culprit could be not using instant pudding, or using it but not allowing it to sit and thicken before adding it with other ingredients.

You also want to make sure to use full-fat cream cheese and whole milk, and make sure the butter and cream cheese are softened beforehand.

Last, you want to make sure you're giving the Oreo dirt cake enough time to chill and set in the fridge. No shortcuts!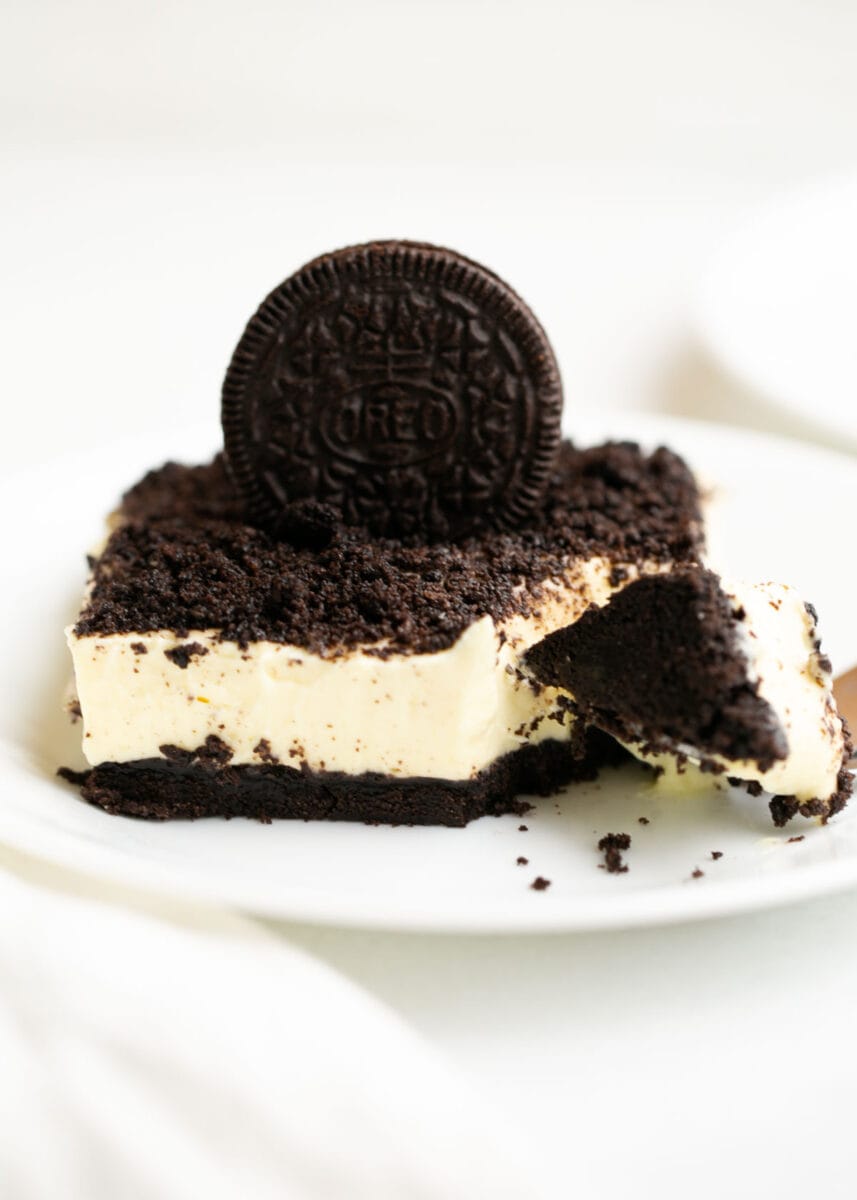 More Oreo Dessert Recipes
HUNGRY FOR MORE? Subscribe to my newsletter and follow on Facebook, Pinterest and Instagram for all the newest recipes!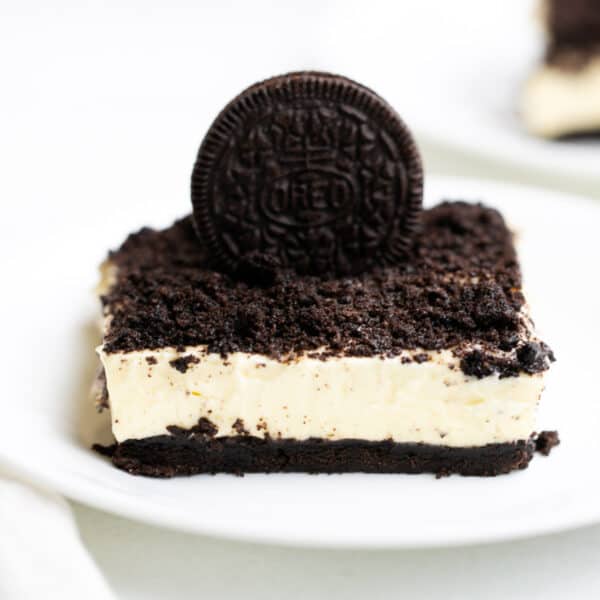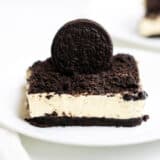 Oreo Dirt Cake Recipe
A no-bake Oreo dirt cake recipe made with an Oreo cookie crust and a creamy, sweet, and tangy pudding cheesecake filling, topped with more crushed Oreos that resemble dirt! Make this dirt cake dessert with or without gummy worms on top!
Ingredients
Oreo Crust
36 regular Oreos
3 Tablespoons salted butter , melted
Layer 1
1 (8-ounce) package cream cheese , softened
5 Tablespoons salted butter , softened
⅔ cup powdered sugar
1 teaspoon vanilla extract
8 ounces Cool Whip , thawed
2 (3.9-ounce) boxes instant vanilla pudding
2 ½ cups whole milk
Instructions
Oreo Crust
In a food processor or blender, blend Oreos (whole cookies) into fine crumbs. Reserve 1/2 cup for topping and then mix in the melted butter until combined. Press the mixture into the bottom of a 9×13-inch baking dish and place in the freezer or the refrigerator for 5 minutes.
Filling
In a medium-sized bowl, whip the cream cheese and butter until fluffy with an electric mixer. Mix in the powdered sugar and vanilla until smooth. Fold in the Cool Whip.

In a separate bowl, whisk the pudding and milk together until thick. Let sit a few minutes to thicken. Then fold the pudding into the cream cheese mixture.

Spread the filling evenly over the Oreo crust until smooth.

Sprinkle the reserved 1/2 cup Oreo crumbs over the top. Cover loosely with plastic wrap and chill 4 hours before cutting and serving.
---
Notes
Oreo's: Keep the cream in the center. You want to crush the whole cookie pretty fine, so I find using a blender or food processor is easiest.
Cool whip: If you prefer a homemade cool whip, it is fairly easy to make.
Make ahead: This dessert can easily be made 24 hours in advance. The crust will get softer the longer the pudding sits, so I don't like to prep it more than 48 hours in advance. You can also make the crust and then keep the layers in separate bowls until ready to assemble.
Variations:
Switch up the flavor of pudding. Cheesecake, chocolate or white chocolate would be great.
Make in individual serving cups.
Add gummy worms to make it fun for the kids.
Nutrition
Calories: 134kcal | Carbohydrates: 12g | Protein: 2g | Fat: 9g | Saturated Fat: 5g | Polyunsaturated Fat: 0.4g | Monounsaturated Fat: 2g | Trans Fat: 0.2g | Cholesterol: 24mg | Sodium: 88mg | Potassium: 98mg | Fiber: 0.1g | Sugar: 10g | Vitamin A: 293IU | Calcium: 79mg | Iron: 0.3mg
Nutrition provided is an estimate. It will vary based on specific ingredients used.
Did you make this recipe? Don't forget to give it a star rating below!