This easy homemade cake pop recipe is covered in a sweet chocolate coating with a delicious crumb. The perfect bite-sized party treat or favor for any occasion!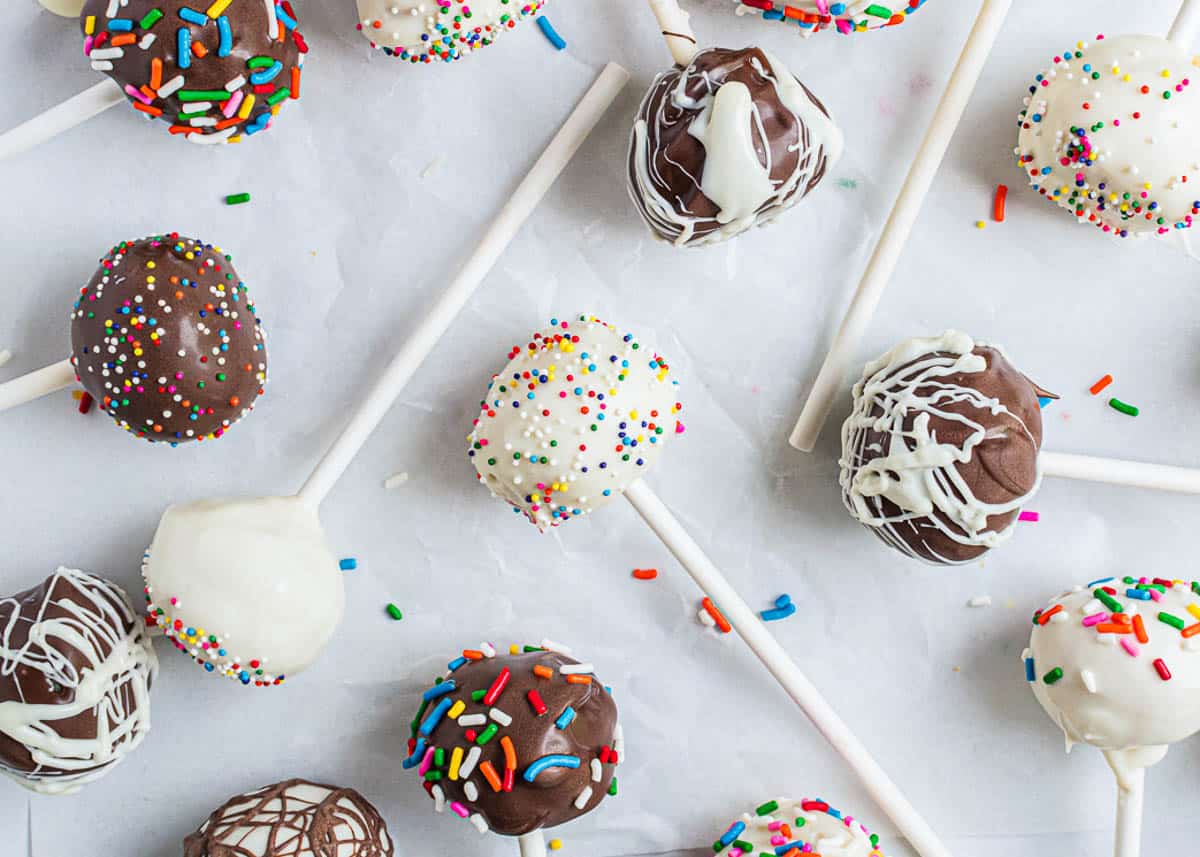 Perfect Bite Sized Dessert
This recipe reminds me of my sugar cookie truffles, but with a delicious cake base similar to my cake balls instead. Moist and crumbly cake is mixed with rich buttercream frosting, then dipped in a sweet chocolate coating. Not only do these cake pops taste incredible, but they look amazing too!
There's just something about eating a decorative, bite-sized dessert on a stick that is so fun. My kids love these! These homemade cake pops are the perfect treat for birthdays, baby showers, wedding showers, holidays or when hosting a dinner party. You can even wrap them up individually and give them to guests as party favors!
This recipe is perfect for beginners, with an easy step by step tutorial included. It's a great way to use up any leftover cake and frosting. I love the classic white cake + buttercream combo, but there are so many other yummy variations you can make too. They are so fun to decorate and can be served at literally any occasion!
Recipe Ingredients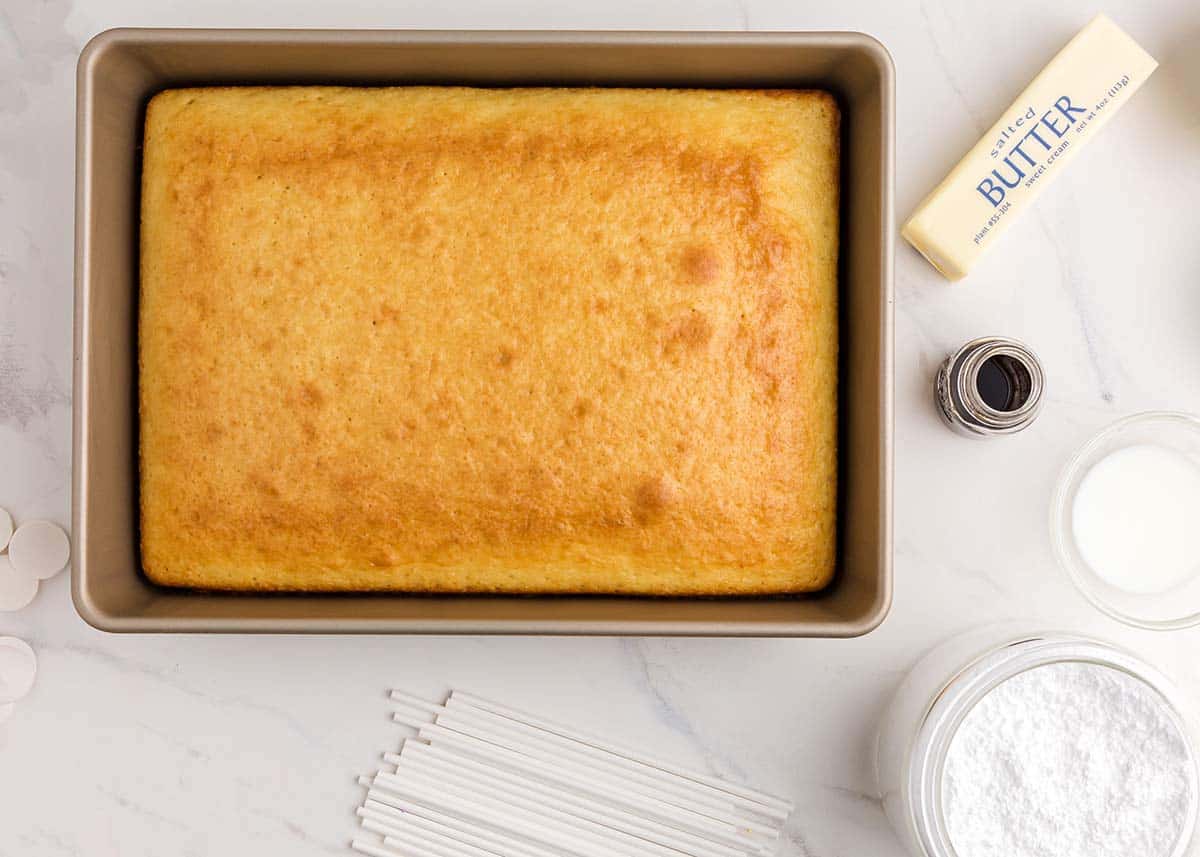 Find the full printable recipe with specific measurements below.
Cake mix – Use your preferred flavor of cake mix here. Alternatively, you can bake your favorite from-scratch recipe. Bake according to the instructions.
Melting wafers – I prefer the Ghiradelli melting wafer in vanilla or chocolate.
Salted butter – If you only have unsalted butter, just add in a pinch of salt to the frosting.
Powdered sugar – This will help bring the sweetness and stability to the frosting.
Heavy cream or milk – This helps makes the frosting creamy.
Sprinkles – Use your favorite sprinkles, jimmies, or other desired decorations.
Cake pop sticks -Don't forget the cake pop sticks. Although you could make cake balls instead if preferred.
Frosting for Cake Pops
I used white cake for this recipe, but you can really use any flavor of box cake mix (or make your favorite recipe from scratch).
A classic buttercream is also my favorite type of frosting for cake pops, but feel free to use others like chocolate buttercream, cream cheese frosting or strawberry buttercream.
Below are a few different flavor combinations that would taste delicious:
How To Make Cake Pops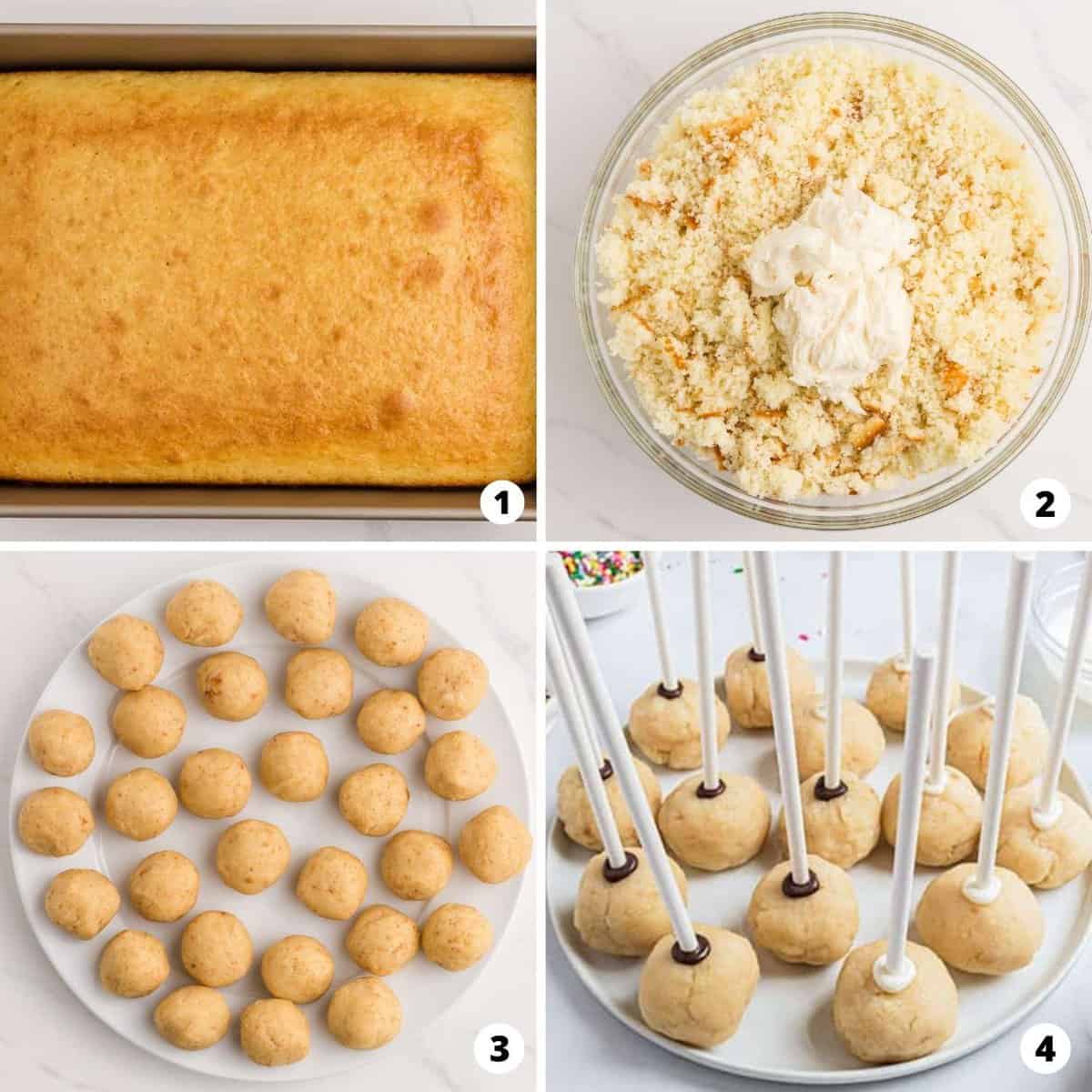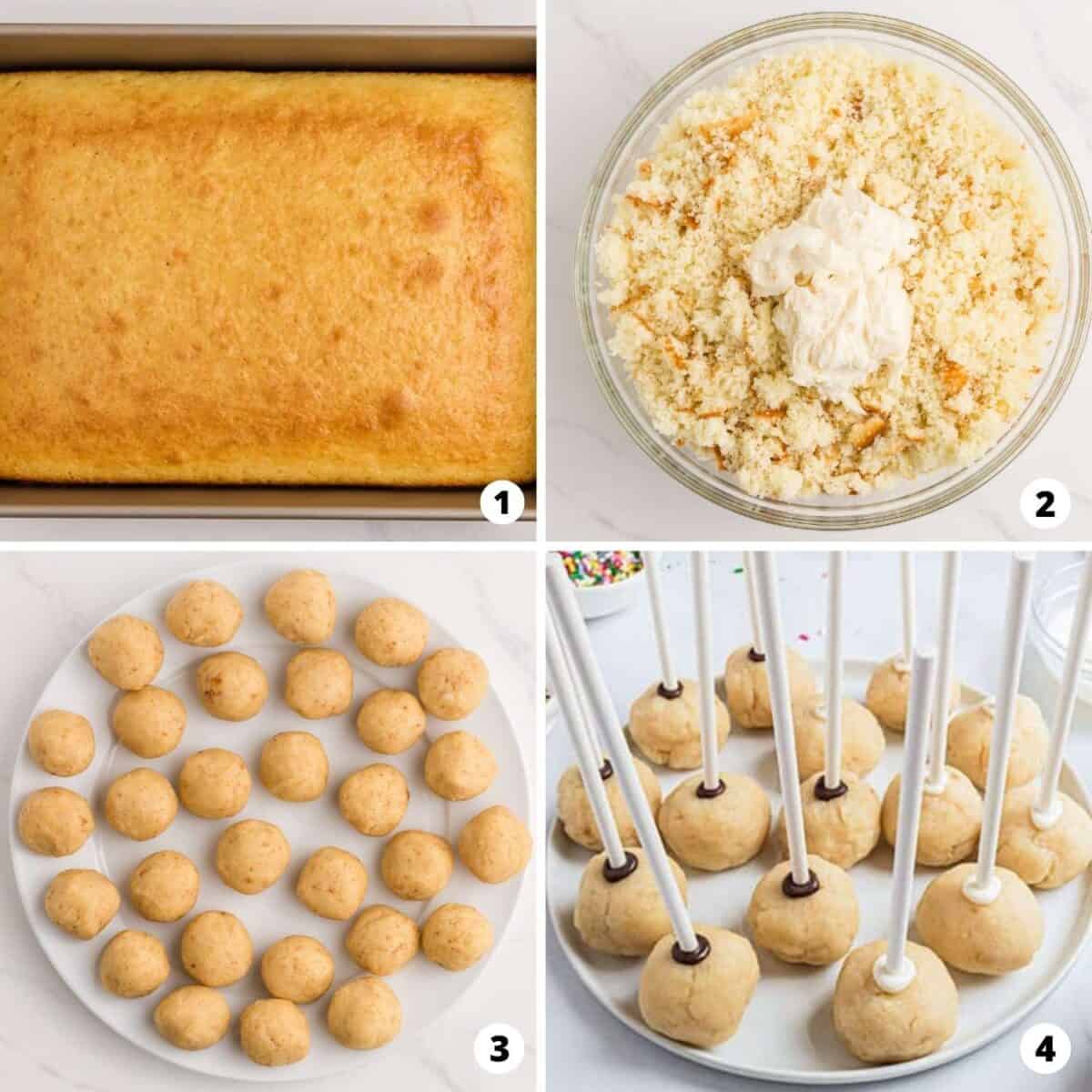 Crumble. Allow the cake to cool and then crumble in a large bowl.
Mix. Add a few spoonful's of frosting and use your hands to combine. The dough should hold together if squeezed. If it's still crumbly, stir in a little more frosting.
Scoop. Then scoop out the mixture with a medium cookie scoop (about 1 1/2 Tablespoons) and roll into a ball. Repeat until you've used all of the mixture.
Add cake pop stick. Melt a few of the dark and white chocolate wafers in two separate bowls. Then dip the end of the cake pop stick into the melted chocolate and push that same end into the cake ball. The melted chocolate helps "glue" the stick to the cake ball. Once each ball has a stick, place them in the freezer to harden for about 20 minutes.
Coat in chocolate. Melt the remaining dark and white chocolate in separate bowls. Dip the cake balls into the melted chocolate, making sure it's fully coated. Gently tap the stick on the side of the dish to remove any excess chocolate.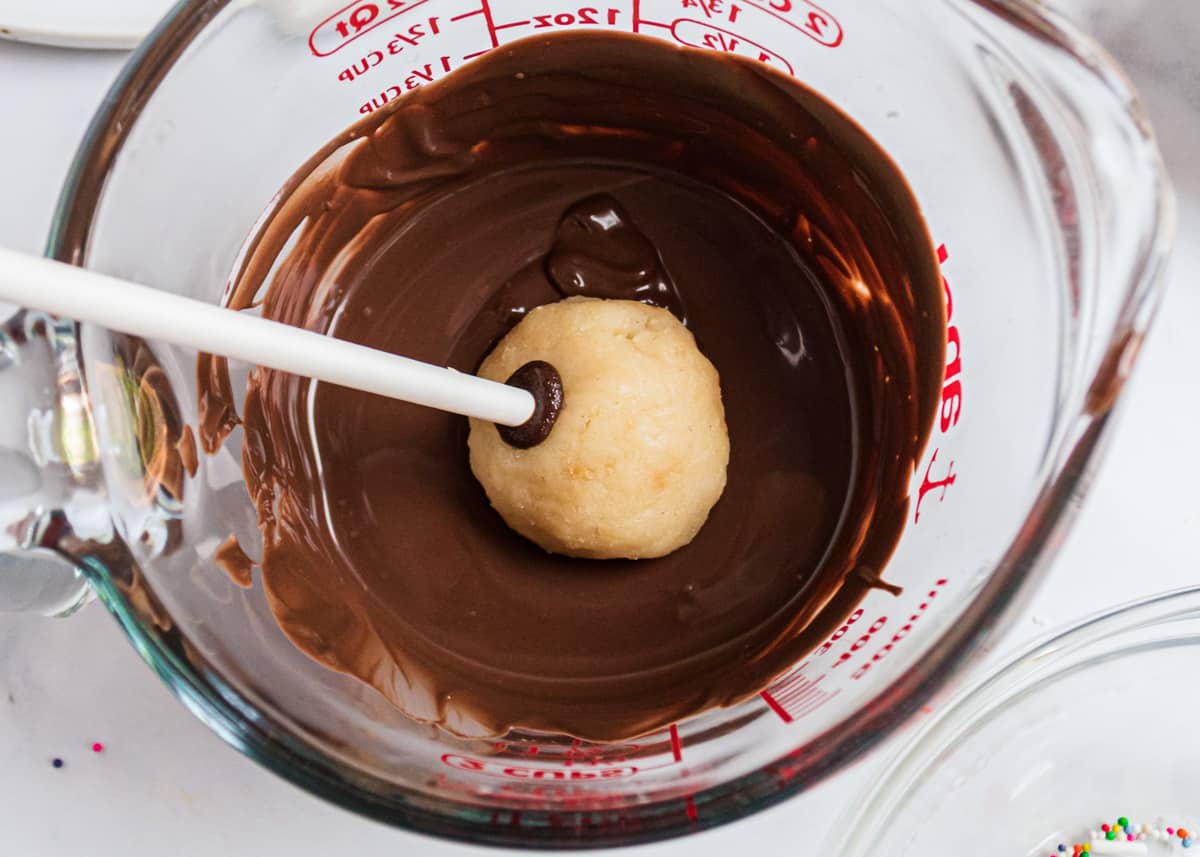 Decorations
There are so many ways to decorate cake pops! Add sprinkles or jimmies while the chocolate is still wet. If decorating with a chocolate drizzle, let the chocolate coating harden first, then drizzle more chocolate on top.
Below are a few easy and adorable ideas:
Add sprinkles or jimmies
Drizzle with more melted chocolate
Sprinkle crushed oreos like I did in these oreo cake pops
Use colored candy melts
Make them for a holiday (Valentine Cake Pops or Easter Cake Pops are fun)
Dye the cake batter with food coloring for a fun surprise when biting into them
Make them into a cake pop bouquet for a fun gift or centerpiece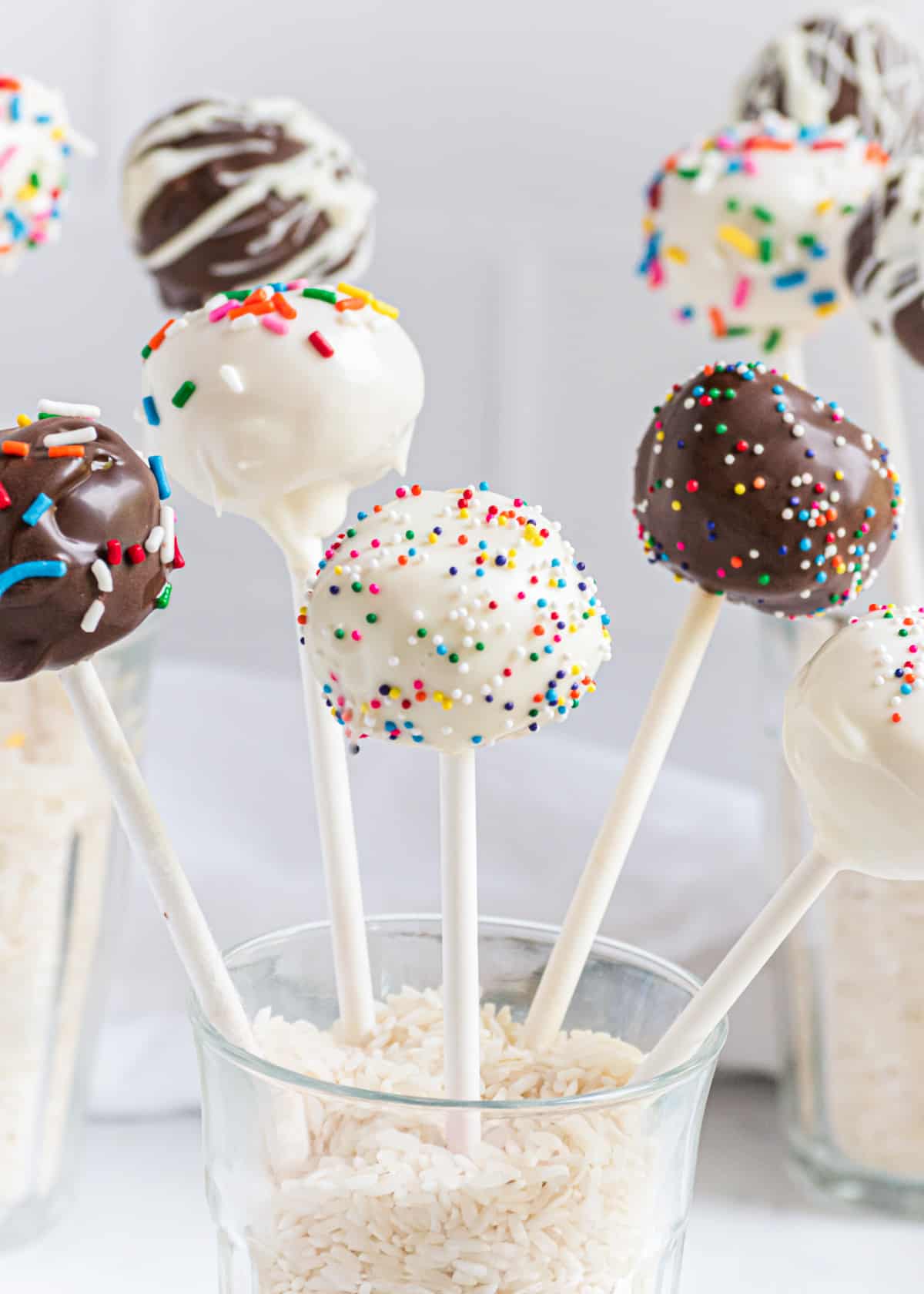 Expert Tips
Half batch of frosting – I made a half batch of my buttercream frosting and used only half of that amount. How much frosting you need will depend largely on how moist the cake is. Mine was VERY moist, so I didn't need that much. If you have leftover frosting, you can easily store it in an air sealed zip top bag in the freezer.
Add enough frosting – Make sure to add enough frosting or else they will crack and fall apart after freezing. Add the frosting in gradually though, because including too much could cause them to be soggy.
Chill in freezer – It is very important that they are cold. They will not hold form or hang onto the stick if they aren't cold enough, especially when you start dipping and covering with the melted chocolate. Sometimes I freeze mine for closer to 45 minutes to ensure they're cool enough. I also take half of the batch out at a time, so the other half doesn't soften up while I'm coating in chocolate.
Melting the chocolate – If the chocolate hardens up while in the bowls, you may need to reheat and melt again. Make sure to only heat the chocolate for 30 second increments. Any longer can burn the chocolate.
Dipping method – You can either dip the cake ball into a deep, 2 cup measuring cup filled with melted chocolate or spoon the chocolate over in a shallow dish. A few of the cake balls fell off of the stick when dipping into a measuring cup, so the spoon method worked better for me. It is important to note that they will look a little misshapen at first, but as the chocolate cools, it smoothes out. Any decorations will hide imperfections.
Decorating tips – While decorating, have an empty plate or bowl below to help catch the excess decorations that don't stick.
Holding upright – Use a glass filled with rice or sprinkles (above), or a styrofoam block to hold the cake pop upright.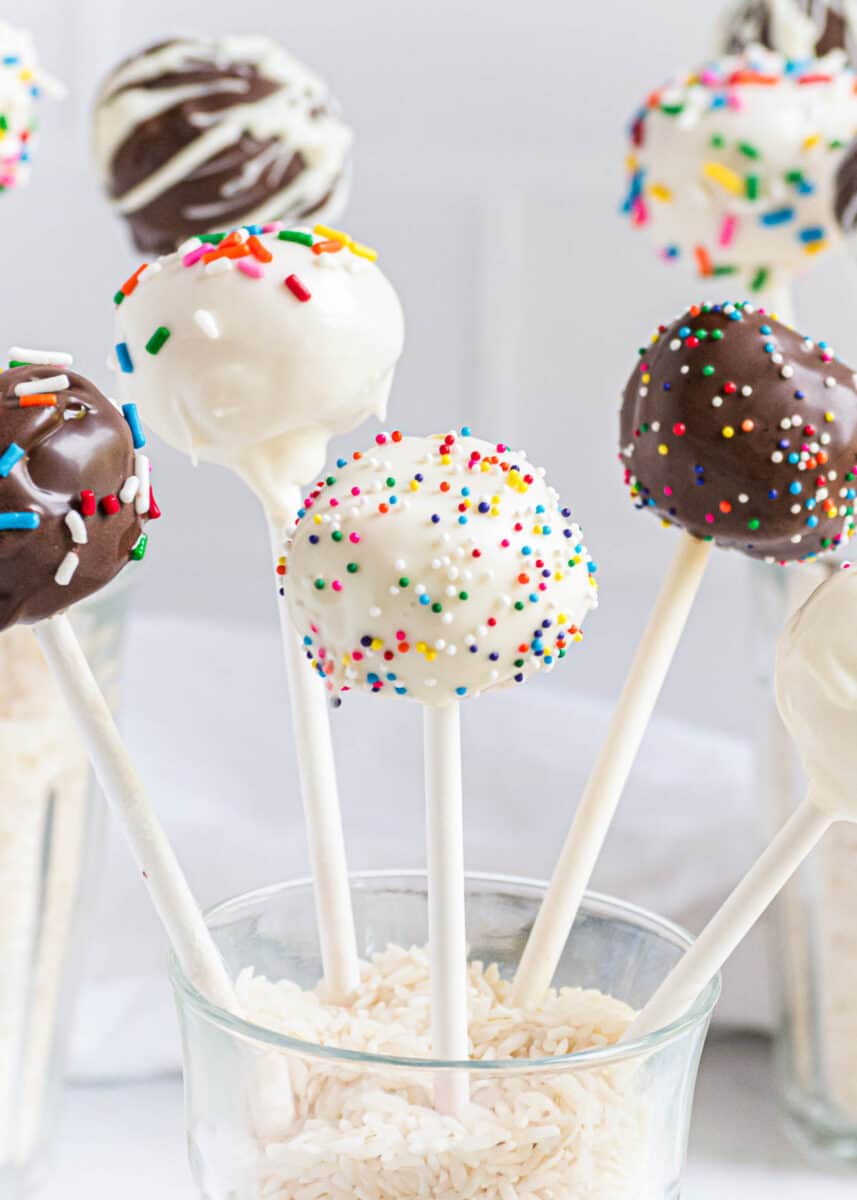 FAQs
How do you make cake pops stay together?
It's all about the frosting! When you mix the frosting in with the cake, the mixture should hold together when squeezed. If the mixture is crumbly, that means it needs more frosting. Make sure to only add in a little at a time so that the cake doesn't get too soggy. If you have a very moist cake, you may not need much frosting at all.
Why are my cake pops cracking?
If the chocolate coating has cracked, it's likely due to the difference in temperature between the cake balls and the melted coating chocolate. Don't freeze the balls for longer than instructed, or else the super cold cake combined with the warm melted chocolate could cause cracking.

The type of chocolate you use can also contribute to whether or not the cake pops crack. Using melted chocolate chips may cause cracking, so I'd suggest using chocolate melting wafers instead. They have a thicker texture once hardened and a smooth finish, which result in a more sturdy exterior.
Can I use canned frosting?
Sure! While I prefer homemade frosting over canned, I've never been one to shy away from an easier shortcut! Store-bought frosting usually comes in a 16 ounce can, so you'll only need half (8 ounces) to make this recipe.
What's the best type of coating chocolate to use?
I've had the most success using chocolate melting wafers because of their super smooth finish (Ghirardelli melting wafers are my favorite). A high quality chocolate bar (such as Ghirardelli or Bakers) would be the next best option.
Are cake pops gluten-free?
They can be! Use your favorite gluten-free cake mix or pick up a premade gluten-free cake from your local grocery or bakery. All other ingredients needed to make this recipe are free from gluten!
How long will they last?
They will stay fresh for 3 to 4 days if stored in an airtight container in a cool place.
Can you freeze cake pops?
Yes you can freeze them, just make sure they've dried completely before freezing. They will stay fresh in the freezer for up to 6 weeks. Let thaw at room temperature when ready to serve.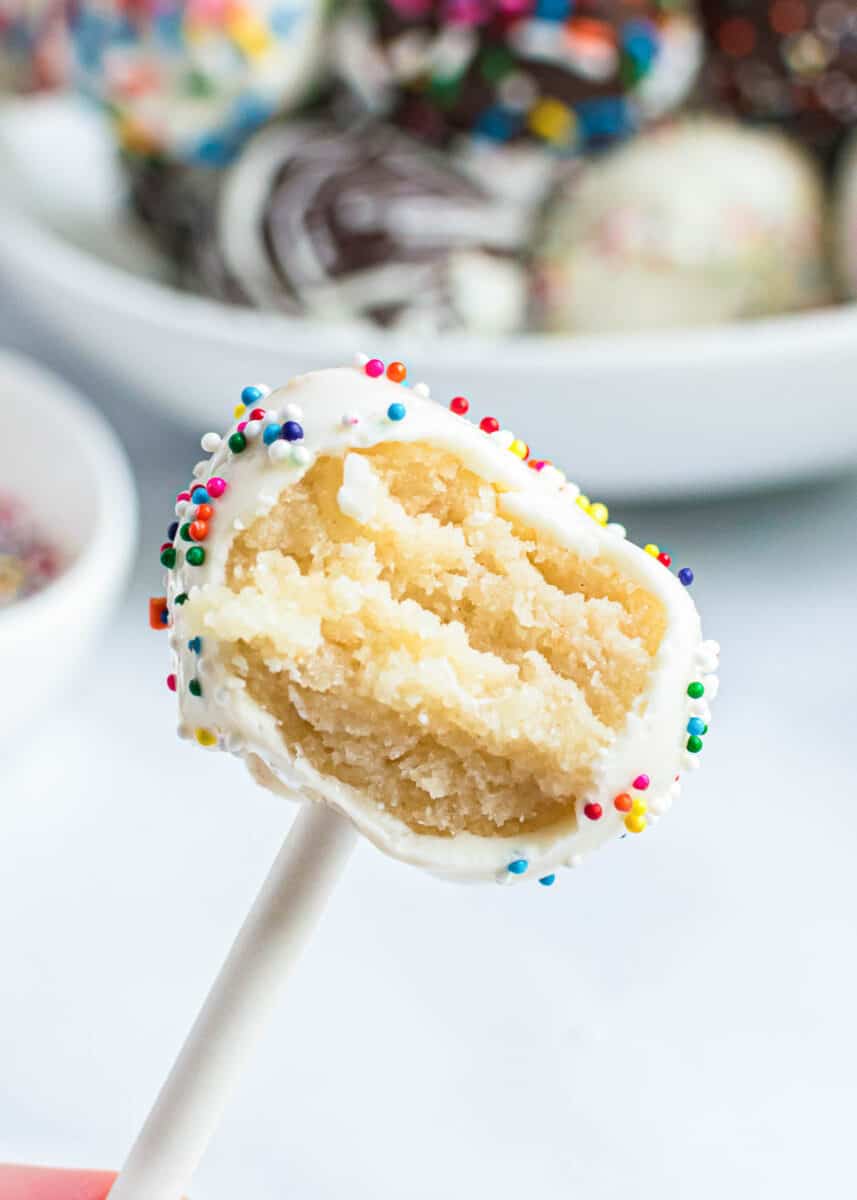 More Bite-Sized Party Treats
HUNGRY FOR MORE? Subscribe to my newsletter and follow on Facebook, Pinterest and Instagram for all the newest recipes!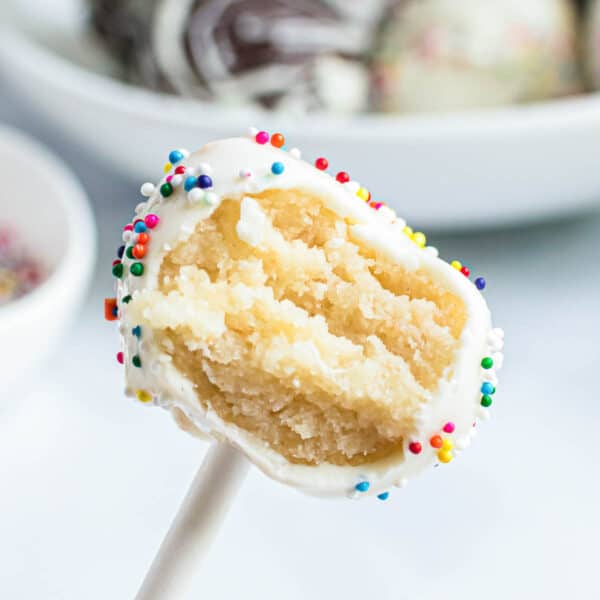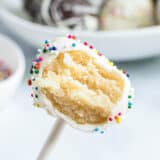 Cake Pop Recipe
Easy homemade cake pops covered in a sweet chocolate coating. The perfect bite-sized party treat or favor for any occasion!
Ingredients
15 ounce box white cake mix , cook according to package directions in a 9×13" pan
10 ounce package dark chocolate melting wafers
10 ounce package white chocolate melting wafers ,I prefer Ghiradelli
Buttercream Frosting
1 stick salted butter , softened
2-2 ½ cups powdered sugar
1 teaspoon vanilla extract
1 Tablespoon heavy cream or milk
Optional: Sprinkles, jimmies or other desired decorations
Instructions
Make Buttercream Frosting
In a medium bowl, whip the butter. Add in 1 cup of powdered sugar. Mix until combined. Add the vanilla and additional powdered sugar, a little at a time. Add 1 Tablespoon of heavy cream or milk to make the frosting thick and creamy. It should hold a point.
Make Cake Pops
In a large bowl, crumble the prepared cake into fine crumbs (make sure it has cooled completely before crumbling). Add 2 spoonfuls of buttercream frosting to the cake. Combine with your hands or a spoon. Gradually add more frosting until the cake holds together if squeezed. You don't want it too crumbly or it won't hold together.

Using a medium cookie scoop, scoop out 1 scoop of cake mixture. Roll into a ball and place onto a plate. Repeat until all the cake mixture has been formed into balls. Freeze balls for about 10 minutes.
Dip in chocolate
Right before they are ready to be taken out of the freezer, melt the dark chocolate and the white chocolate in two separate microwave safe bowls. Begin by heating for 30 seconds and then stirring. Once coated in chocolate, gently tap the stick on the side of the melting dish to let the excess drip off. You can also spin or twirl the cake pop to remove the excess.

Before the chocolate starts to harden, add sprinkles, jimmies or other decorations. If decorating with more chocolate, let the chocolate covering harden on the cake pop. Then, using a spoon or fork, drizzle with the additional melted chocolate.

Push the cake pop stick into a styrofoam block or use a glass filled with rice to hold them upright. The chocolate will be set in about an hour. Store for 3-4 days in an airtight container in a cool place.
---
Notes
You can also use 8 ounces of frosting from the store (half of a 16 ounce can) to make it easier, I just prefer the homemade buttercream. Make sure that you're only working with about five cake pops at a time. Leave the rest in the freezer so that they don't soften too much while you work on the others. You want them to be really cold when working with them. After dipping the stick in melted chocolate, let it dry first before sticking into the cake ball. It's easier to work with this way and is less likely to fall off when dipping the whole cake pop into melted chocolate. Discard any brown edges of the cake before crumbling.
Nutrition
Calories: 110kcal | Carbohydrates: 15g | Protein: 1g | Fat: 6g | Saturated Fat: 4g | Cholesterol: 9mg | Sodium: 36mg | Sugar: 15g | Vitamin A: 101IU | Calcium: 1mg
Nutrition provided is an estimate. It will vary based on specific ingredients used.
Did you make this recipe? Don't forget to give it a star rating below!