Blackberry cobbler is a classic dessert perfect for serving a crowd. Showcase beautiful fresh berries smothered in a fluffy cake-like topping and serve it hot with a cold scoop of vanilla ice cream!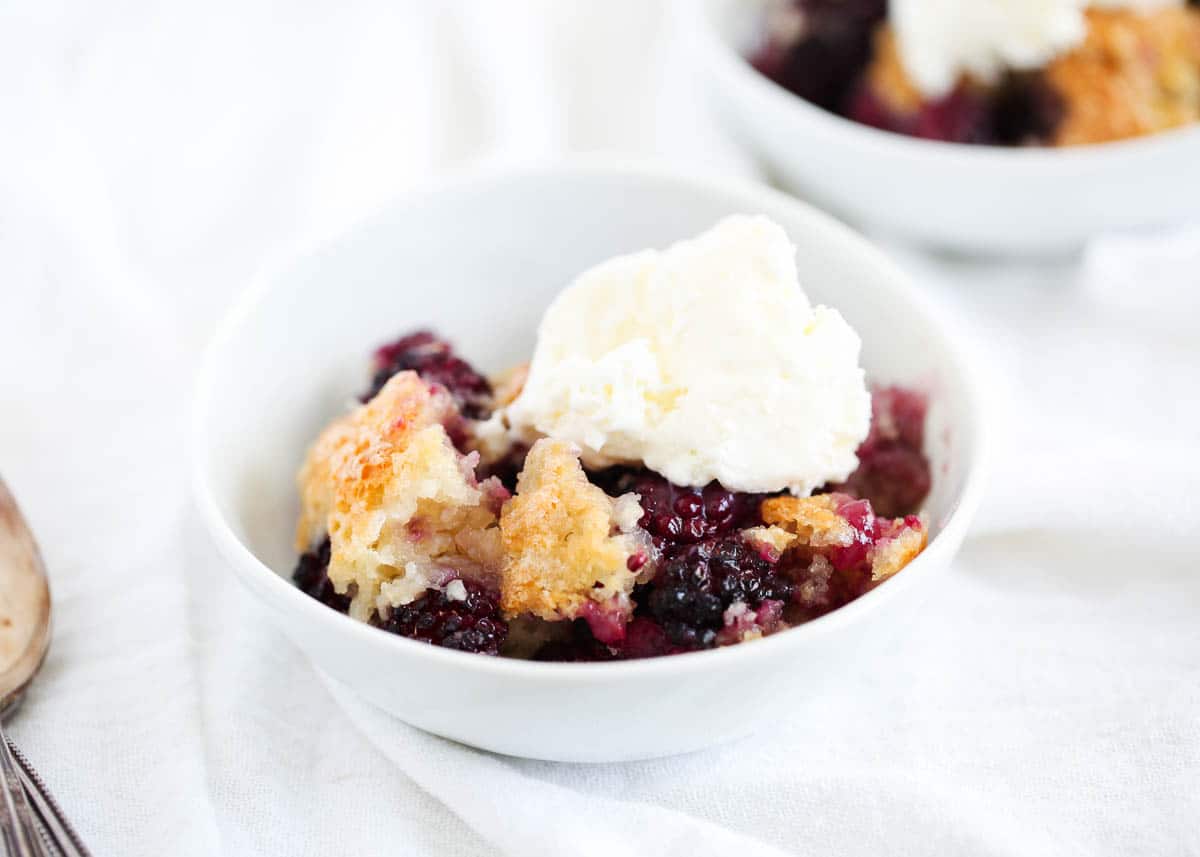 Easy Blackberry Cobbler
You don't have to grow your own berries to enjoy summer berry recipes. Eating seasonally means enjoying produce from your local markets and knowing that they're nice and ripe and cost less too!
Fruit cobblers are great for showing off the natural sweetness from the abundance of ripe juicy fruit, no matter the season! Peach cobbler is a summertime favorite as well as this easy peach dump cake recipe and when fall comes around, I'll make an apple cobbler or two.
You're going to love this blackberry cobbler recipe, not only because it's bursting with flavor but because it comes together in a jiff. There are two components, the blackberry syrup, and the cobbler dough that rises to a beautiful golden crust and absorbs the blackberry syrup.
A super simple classic recipe that can be enjoyed plain or served with a dollop of homemade whipped cream or a scoop of vanilla ice cream!
Why We Love Blackberry Cobbler
No-fuss. With very little prep time and minimal steps, there is nothing complicated about this recipe!
Flexible. The fun thing about fruit cobblers is you can replace the fruit with whatever you like! Use this same recipe for raspberries, cherries, strawberries, and blueberries!
Great for parties. It's always a hit and a crowd-pleaser! Bring to potlucks, barbecues, 4th of July parties, camping trips, you name it!
What is a Cobbler?
Other than it being one of my favorite desserts, it's a dish that's made by baking fresh fruit topped with a biscuit-like dough. The lumps of dough are said to resemble a cobblestone street once they're baked and puffy.
There are several ways to make it, especially since shortcuts are becoming more and more popular. Some people use ready-made biscuit dough for theirs, while others use dollops of homemade dough. Ours, for instance, starts with the dough on the bottom but then rises to the top!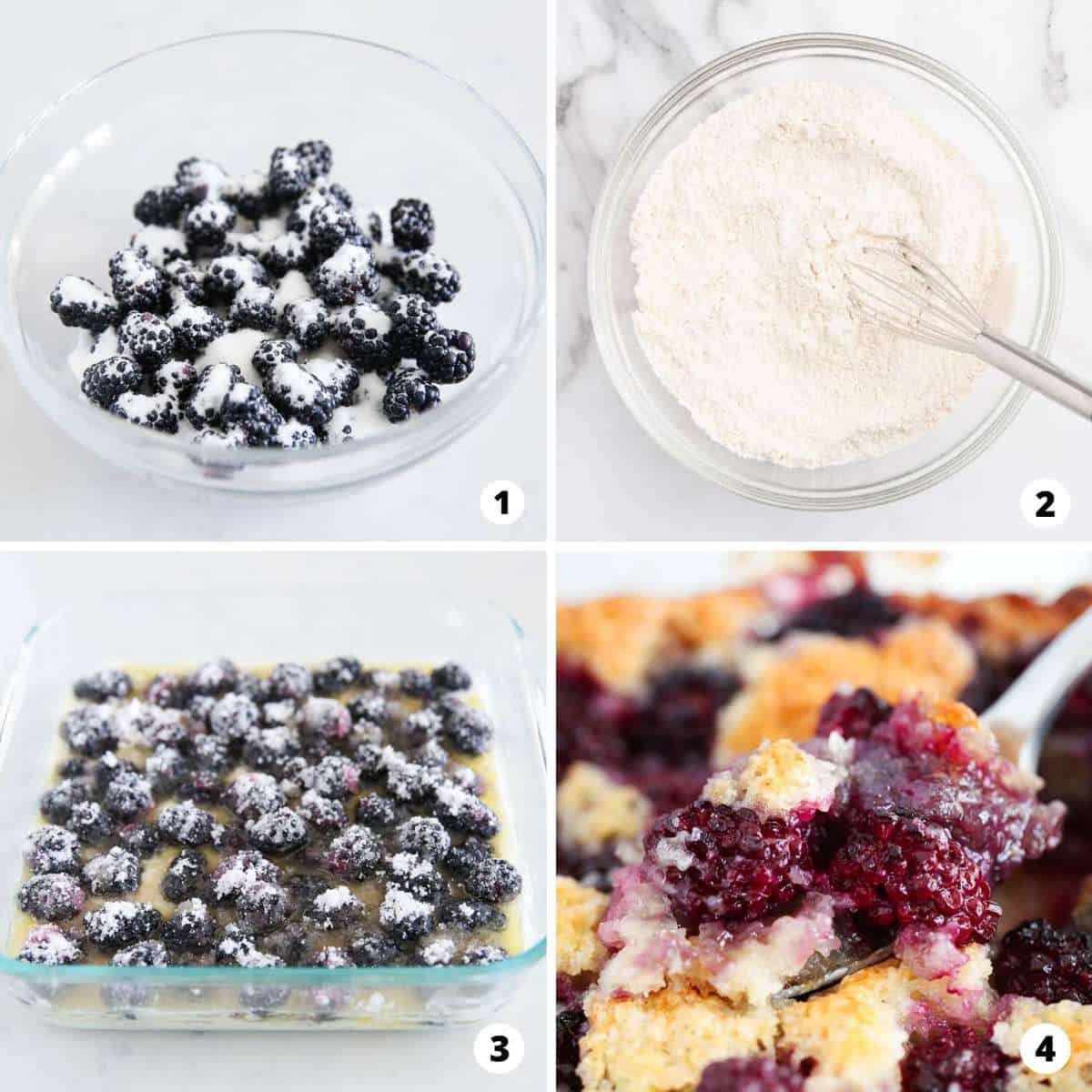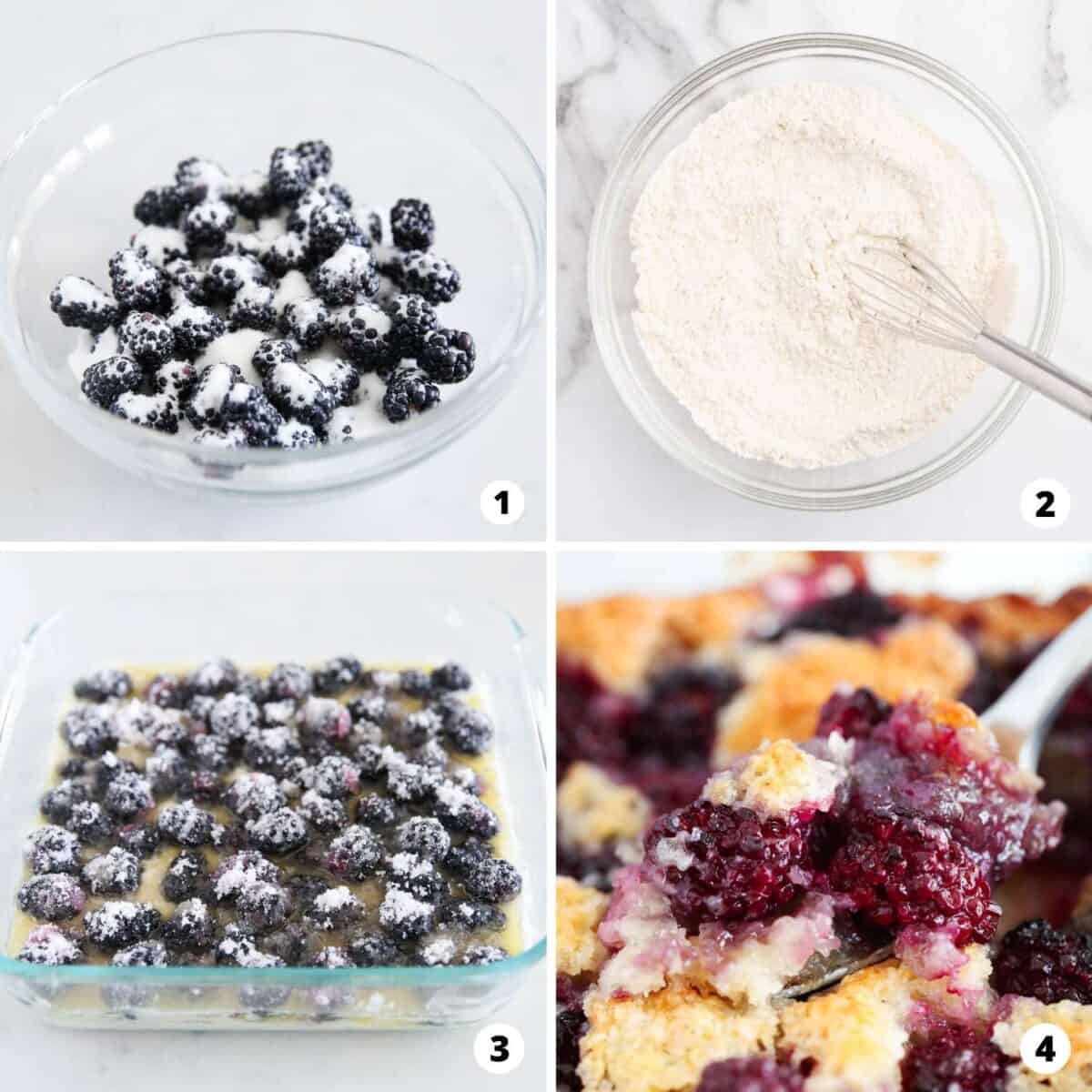 Ingredients
Fresh blackberries: Use plump juicy berries. They should smell sweet. Do a little taste test beforehand, that way you'll know if you need to add a bit more sugar.
Granulated sugar: The sugar will help to break down the berries and extract the juices so that it forms a syrup. You'll also need some sugar for the blackberry cobbler dough.
Almond extract: You can also use vanilla extract if you prefer, either one will add another layer of yummy flavor.
All-purpose flour: The foundation of the cobbler dough. I like to use all-purpose because I know it'll result in a neutral flavor ready to absorb the flavors of the berry mixture.
Baking powder: A leavening agent that will help the dough to rise to a nice and fluffy cake-like consistency.
Sea salt: Brings out the flavor of everything it touches!
Milk and melted butter: The liquid that is needed to form the dough. The milk and butter will add richness and moisture to the texture of the cobbler.
How to Make Blackberry Cobbler
Mix blackberries, sugar, and almond extract in a bowl. Let them stand for about 15 minutes to release the juices and syrup starts to form.
In a medium bowl, whisk the dry ingredients together. Then, stir in the milk until the dough starts to form. Fold in melted butter to combine. It's ok if it's not fully combined.
Pour the batter into a prepared baking dish and then spoon the blackberry mixture over the top. Make sure the berries are evenly dispersed across the whole surface area.
Bake the blackberry cobbler in a preheated oven for 45 minutes. It is done when the cobbler is golden brown and has risen above the blackberries. Serve warm with ice cream, whipped cream, or caramel sauce. Yum!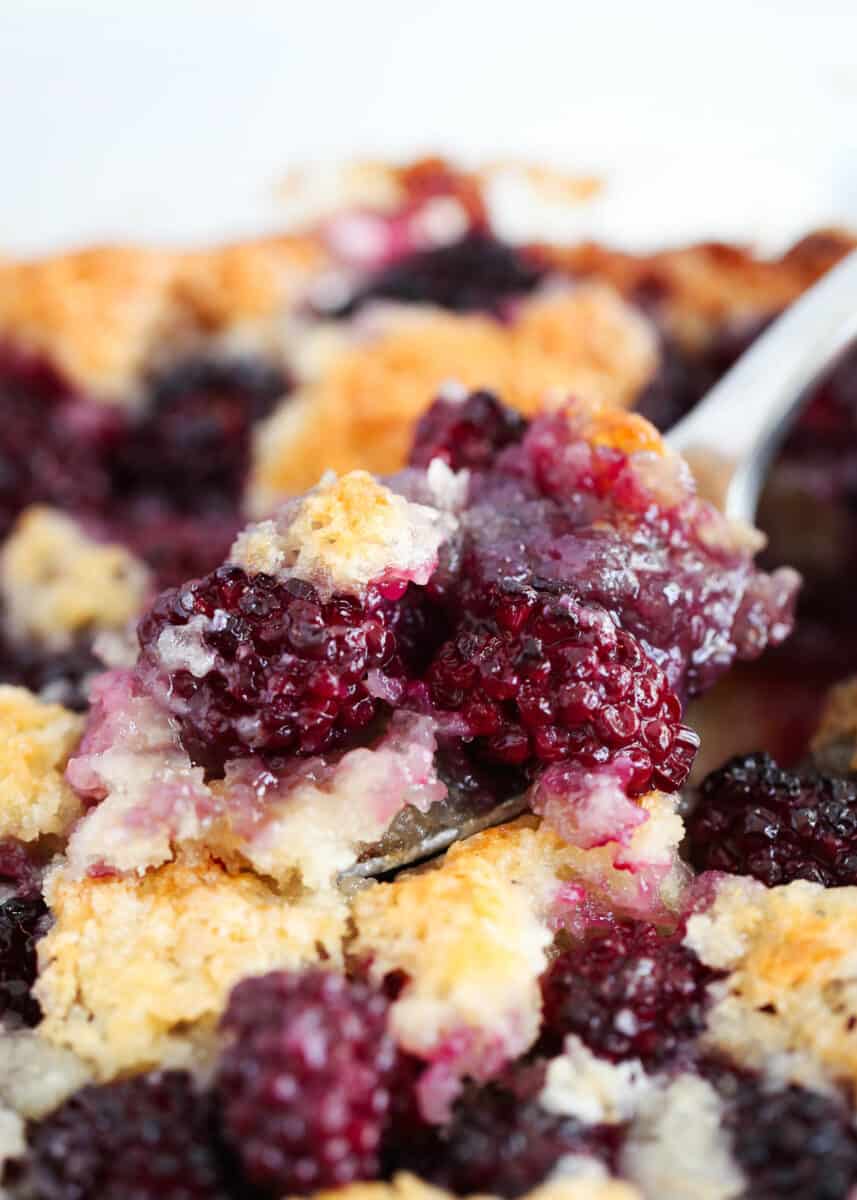 Recipe Tips & Fun Variations
Always test your berries! You can play around with the amount of sugar you add to your recipe. Keep in mind, that if you serve it with ice cream or caramel sauce that will add to the sweetness level as well.
If you've added a bit too much sugar and find your blackberry cobbler too sweet, you can add a squirt of lemon juice to balance it out.
Use mixed berries for a different take!
I love to use homemade whipped cream, but store-bought works too.
Sprinkle some cinnamon into the flour mixture for a warm flavor. This is extra special during the fall and winter months.
Use brown sugar instead of granulated sugar if preferred.
Storage Suggestions
Keep any leftover blackberry cobbler in an airtight container in the fridge for up to 3 days. Reheat a single piece in the microwave or the oven for about 10 minutes at 300 degrees F.
FAQs
Can I use frozen blackberries?

Sure you can, as long as they are frozen when baked. Frozen fruit is a great alternative to fresh fruit as they are typically frozen when ripe. They're just as loaded with all the good things like fiber and vitamin c!

If you allow them to thaw first, they will become mushy. Bake straight from frozen.
What size pan should I use if I double this blackberry cobbler recipe?

If you want more (because who can blame you?), double the recipe and use a 9 x 13 baking dish or even a large cast-iron skillet.
Can I freeze blackberry cobbler?

Yes! Just like a pie or cake, you can freeze a cobbler. Wrap it in plastic wrap and then foil to avoid any freezer burn. Keep frozen for up to 1 month.
How do you keep a blackberry cobbler from being runny?

You want to avoid mushy fruit, to begin with! The sugar helps to break the berries down and produce syrup, but you don't want them soggy. Otherwise, the cobbler topping will also be soggy.

Use fresh or frozen berries, never thawed from frozen.

If you find the syrup is still a bit too runny for your liking, sprinkle a little cornstarch and some lemon juice or lemon zest into the berry mixture.
Use your fresh summer berries to make these other delicious desserts!
HUNGRY FOR MORE? Subscribe to my newsletter and follow on Facebook, Pinterest and Instagram for all the newest recipes!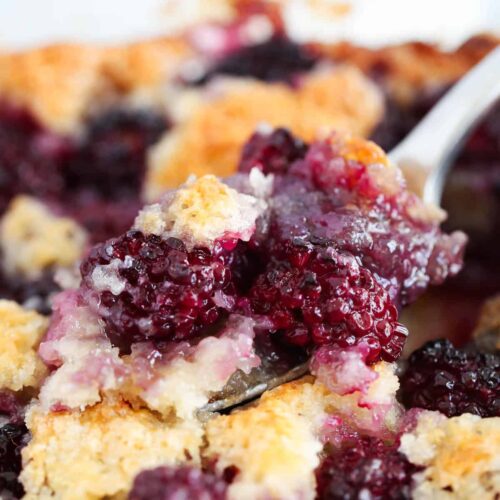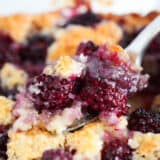 Blackberry Cobbler
Blackberry cobbler is a classic dessert perfect for serving a crowd. Showcase beautiful fresh berries smothered in a fluffy cake-like topping and serve it hot with a cold scoop of vanilla ice cream!
Ingredients
2 1/2-3 cups (12-15 ounces) fresh blackberries
¾ cup (150 grams) granulated sugar , divided
1 teaspoon almond extract , or vanilla extract
1 cup (130 grams) all-purpose flour
2 teaspoons baking powder
½ teaspoon fine sea salt
¾ cup milk
6 Tablespoons unsalted butter , melted
Optional serving: Vanilla ice cream or Whipped cream
Instructions
Preheat the oven to 350°F. Spray an 8×8-inch baking dish with nonstick spray.

In a medium bowl, stir together the blackberries, 1/4 cup sugar, and almond extract. Let stand 15 minutes, or until syrup begins to form.

In a medium bowl, combine flour, baking powder, salt, and remaining 1/2 cup sugar. Stir in milk. Pour butter over dough and gently fold in (it's ok if it doesn't fully combine).

Transfer mixture to baking dish. Spoon blackberry mixture over the top.

Bake 45 minutes, or until the cobbler is golden and has risen above the blackberries.

Serve warm topped with ice cream, whipped cream, or caramel sauce.
---
Notes
Storage: This dish is best served hot out of the oven. You can store leftovers for up to 3 days. For best results, reheat in the oven for 5 to 10 minutes at 300°F.
Whipped cream: I like to use homemade whipped cream, however you can also buy a store-bought can, if you prefer.
Berries: Taste your berries before adding the sugar. If too tart, add another Tablespoon or 2 to help balance the sweetness.
Nutrition
Calories: 198kcal | Carbohydrates: 37g | Protein: 3g | Fat: 5g | Saturated Fat: 3g | Polyunsaturated Fat: 1g | Monounsaturated Fat: 1g | Trans Fat: 1g | Cholesterol: 12mg | Sodium: 156mg | Potassium: 228mg | Fiber: 3g | Sugar: 22g | Vitamin A: 271IU | Vitamin C: 9mg | Calcium: 88mg | Iron: 1mg
Nutrition provided is an estimate. It will vary based on specific ingredients used.
Did you make this recipe? Don't forget to give it a star rating below!