This easy apple cobbler recipe has a caramelized apple filling cooked down in a sugar-cinnamon syrup topped with a buttery sweet cobbler topping that is just heavenly! So simple yet so delicious!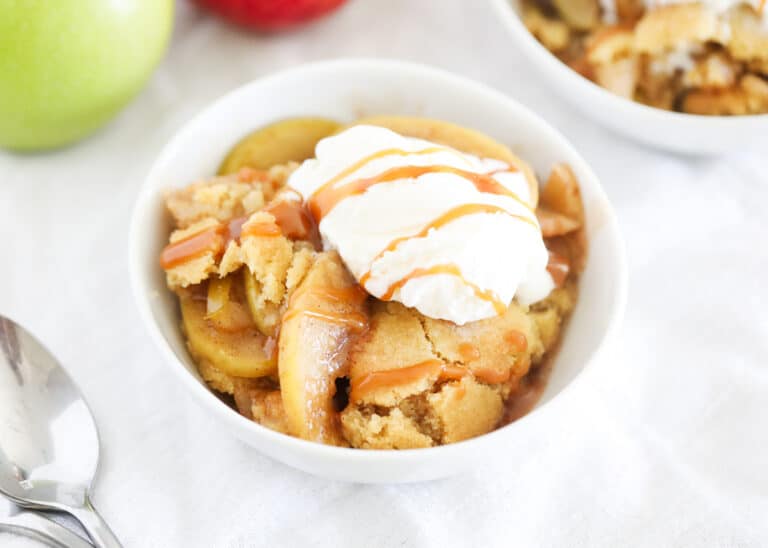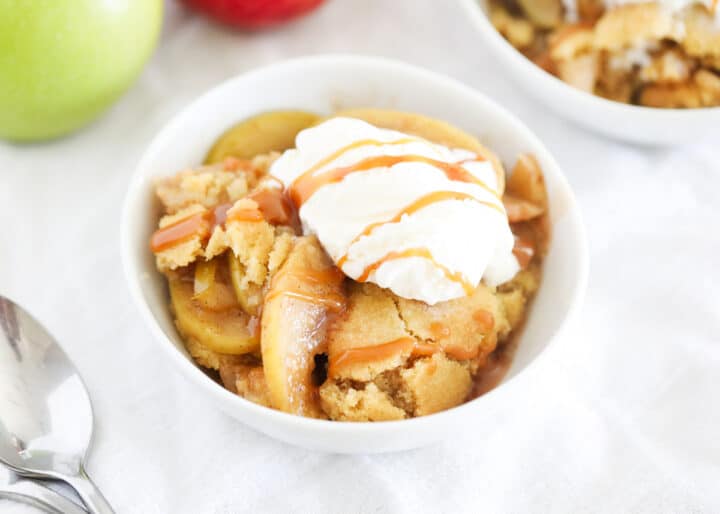 Homemade Apple Cobbler
I am a firm believer that there is no such thing as having too many apple desserts. When I need a simple dessert for me and my family on a weeknight, a quick apple dump cake or apple crisp is one I can easily whip up. When I'm serving guests or celebrating a holiday and I need something that is easy yet impressive, I'll bake an apple pie.
You see, there's always a reason to bake with apples no matter the occasion, and this apple cobbler recipe is just one more to add to your arsenal, especially during the fall and winter season!
The base apple filling is made with crispy apples, cooked down in apple juice and cinnamon sugar that's thickened up to make a gooey saucy filling. Then it's topped with a sweet, buttery, crispy cake-like topping that will rival grandma's cobbler any day! It's seriously, the best. Serve warm with a scoop of vanilla ice cream, whipped cream, and caramel sauce (yes, AND) and enjoy this absolutely delicious dessert in under 1 hour.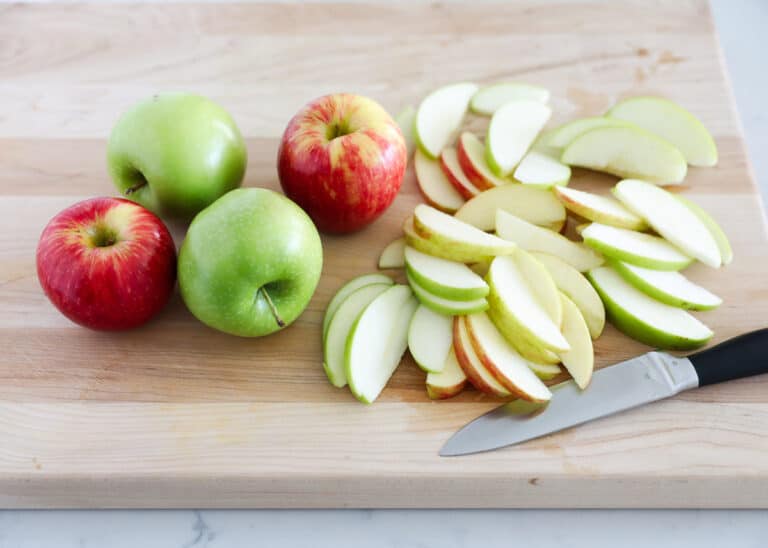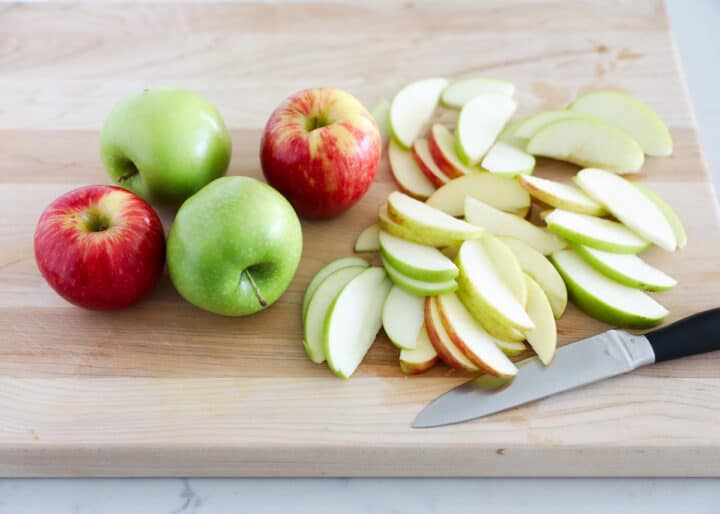 Best Apples to Use for Baking
Unless you're making apple sauce, you usually want apples that will hold their structure and not turn to mush. You want fresh and firm apples that will cook down nice and tender but still hold their own. Below are a few of the ones I use for various baking recipes.
Golden delicious
Honeycrisp
Granny smith
Braeburn
Gala
Pink Lady
Cobbler vs Crumble vs Crisp
If you are wondering what the difference between a cobbler and a crisp is, or a cobbler and a crumble, you wouldn't be the first! They are quite similar in that they are all baked fruit desserts. The filling can be used interchangeably, and can really be any fruit (stone fruit and berries work well) you want to use. It's typically cooked down with added sugar and flavors (cinnamon, for example) and used as the base of whatever topping you decide to use. This is where the difference makes a difference!
Cobbler toppings are thicker, cake-like with a buttery sugary crispy topping. It's either made with biscuit dough, cake dough, or pie dough, or a variation of these. It's dropped onto the filling in dollops, or in the case of this recipe, pieces of dough are flattened and laid out, then it is baked so that it has a "cobbled" appearance (think European cobblestone roads).
Crumble toppings are more of a streusel topping, made mostly of brown sugar, butter, flour, and cinnamon. All it takes to make a crumble topping a crisp topping is to add oats.
They're all so similar and yet all have their own distinct features. So yes, you should definitely know how to make all of them. They're way too easy not to!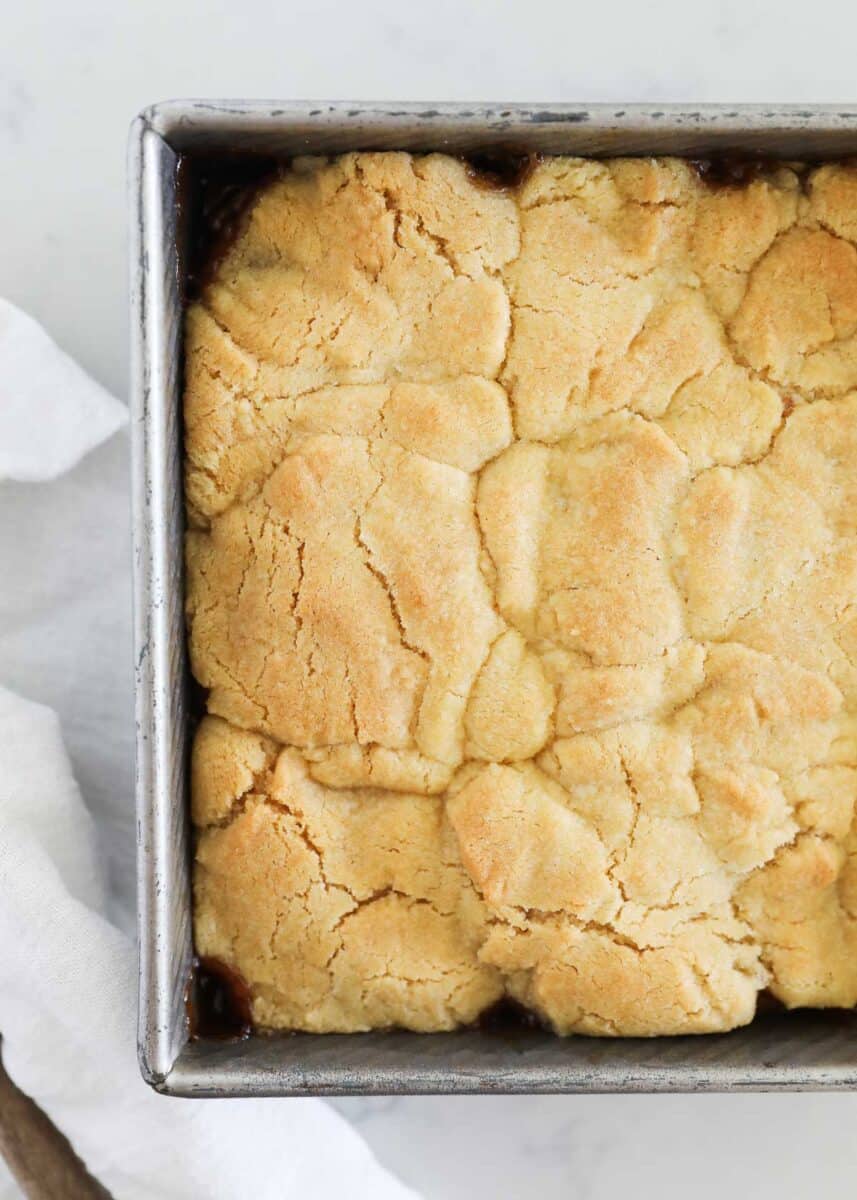 Can I Use a Cake Mix for the Cobbler Topping?
You can! I do this often with dump cakes, which makes life a lot easier. You could even go so far as to use Bisquick if you have that on hand. Otherwise, a vanilla or yellow cake mix works great.
Tips
Swap the apples for other fruit such as mixed berries, strawberries, blackberry cobbler, plums, or peaches like in this peach cobbler.
Leave the skin on if you prefer, but I do peel mine if I have a bit of extra time.
If you like a thicker topping, use a bit of a smaller baking dish, that way you'll overlap the crust topping a bit more.
This easy apple cobbler is best served immediately, however, you still want to let it rest for a few minutes just to allow the juices to settle and the topping to get that extra bit of crispness. It's worth the wait!
Make more of the apple filling than you need and use it to enjoy a bowl on its own, or keep it frozen for apple pie or apple crepes later on.
Serve with vanilla ice cream, whipped cream, or caramel sauce.
Make Ahead, Storing & Reheating
To Make Ahead: When planning ahead, this dessert can be made in advance. Cook down the apples to make the filling and make the crust but keep them stored separately in air-tight containers. When you're ready to bake, assemble in the baking dish and continue as directed.
To Store: Keep in an airtight container for up to 3 days in the fridge.
To Reheat: If you're just reheating a single serving, popping it in the microwave for a quick 20-30 second heat works. The longer it sits in the fridge, the softer the topping gets as it continues to absorb the juices from the filling. To crisp it back up a little, put it in the oven at 300 and reheat for 5-10 minutes.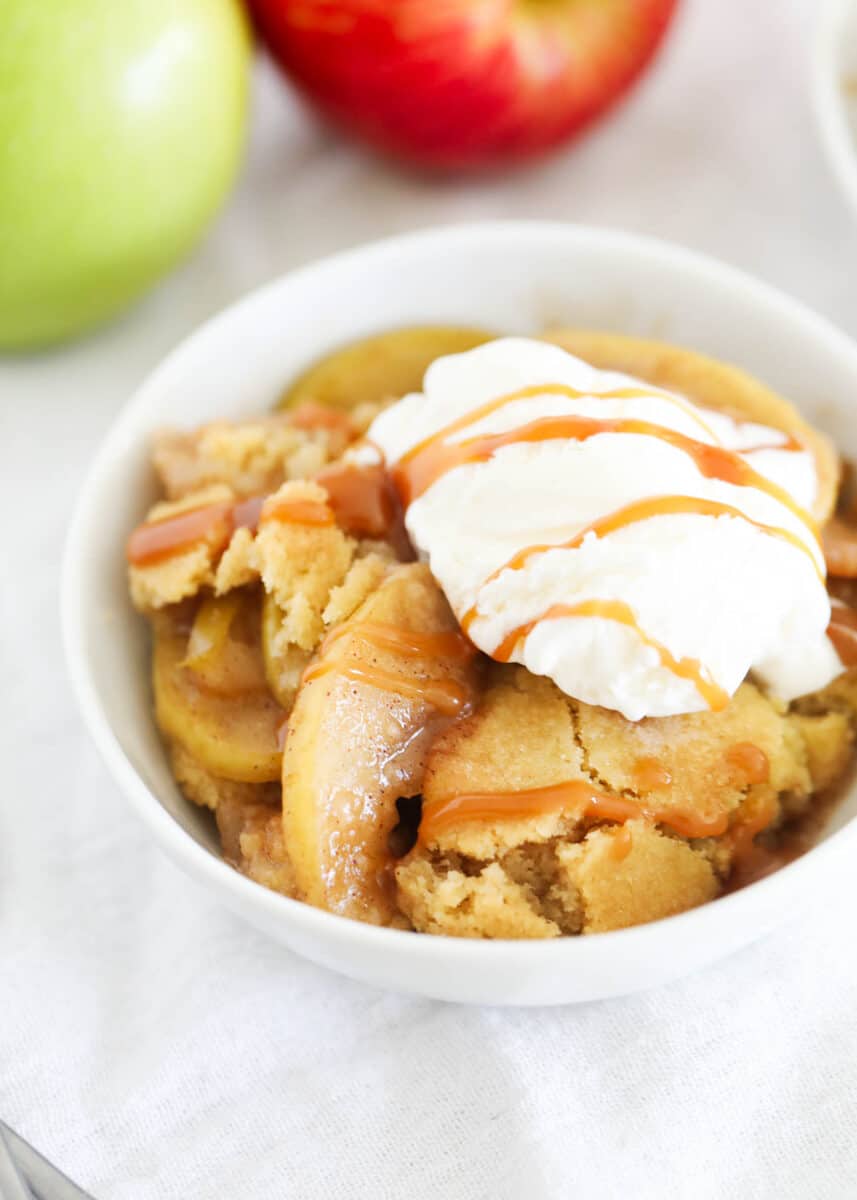 More delicious apple desserts: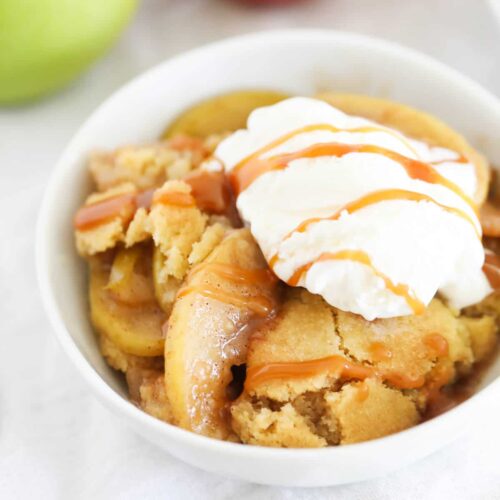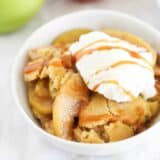 Apple Cobbler
This easy apple cobbler recipe has a caramelized apple filling cooked down in a sugar-cinnamon syrup topped with a buttery sweet cobbler topping that is just heavenly! So simple yet so delicious!
Ingredients
Apple filling:
5 medium apples , about 7 cups
1 Tablespoon fresh lemon juice , optional
3/4 cup apple juice
1/4 cup light brown sugar , packed
2 teaspoons cornstarch
1 teaspoon ground cinnamon
1/8 teaspoon Kosher salt
Crumble topping:
1/2 cup salted butter , slightly melted
2/3 cup granulated sugar , more for top
1 teaspoon vanilla extract
1 cup all-purpose flour
1 teaspoon baking powder
For serving (optional): vanilla ice cream, whipped cream or caramel sauce
Instructions
Peel the apples if desired and then cut into slices 1/4" thick. You can then cut the apples in half if you'd like smaller pieces.

Then place the apples in a sauce pan. Squeeze juice of a lemon in if desired. Then add in the apple juice, brown sugar, corn starch, lemon juice, cinnamon and salt. Cook over medium heat for 3-5 minutes.

Mix the butter, sugar and vanilla in a medium size bowl. Once it's mixed, add in the flour and baking powder. Add in a pinch of salt and cinnamon if desired. Mix just until combined.

Preheat oven to 350°F. Butter a 9×13" or 9×9" (for a thicker crust) baking dish. Then pour the apples into the pan. Flatten the dough to place on top. Sprinkle with a Tablespoon of sugar (or cinnamon sugar) if desired.

Bake for 35-45 minutes, or until lightly browned. Remove from the oven and let rest 10 minutes before serving.

Serve while warm with vanilla ice cream or whipped cream. Drizzle caramel on top if desired.
---
Notes
Apples: Make sure to use fresh and firm apples. I prefer to use a mix of golden delicious, honey crisp or granny smith for baking. Feel free to leave the skin on or peel them beforehand. I prefer to peel them, but usually run out of time and leave them on. :) Make ahead: If you want to get a head start on this dessert, you can cook the apples as instructed. Then I would make the dough and refrigerate separately until ready to bake. Follow the last 3 steps when ready to bake. Storage: This dish is best served hot out of the oven. You can store leftover for up to 3 days. For best results, reheat in the oven for 5 to 10 minutes at 300°F.
Calories: 281kcal | Carbohydrates: 47g | Protein: 2g | Fat: 11g | Saturated Fat: 7g | Polyunsaturated Fat: 1g | Monounsaturated Fat: 3g | Trans Fat: 1g | Cholesterol: 27mg | Sodium: 93mg | Potassium: 197mg | Fiber: 3g | Sugar: 32g | Vitamin A: 381IU | Vitamin C: 6mg | Calcium: 35mg | Iron: 1mg
Nutrition provided is an estimate. It will vary based on specific ingredients used.
Did you make this recipe? Don't forget to give it a star rating below!