Add an extra boost of flavor to your meal with these quick pickled onions! They're sweet, tangy and crunchy and take only 5 ingredients and 5 minutes to prep.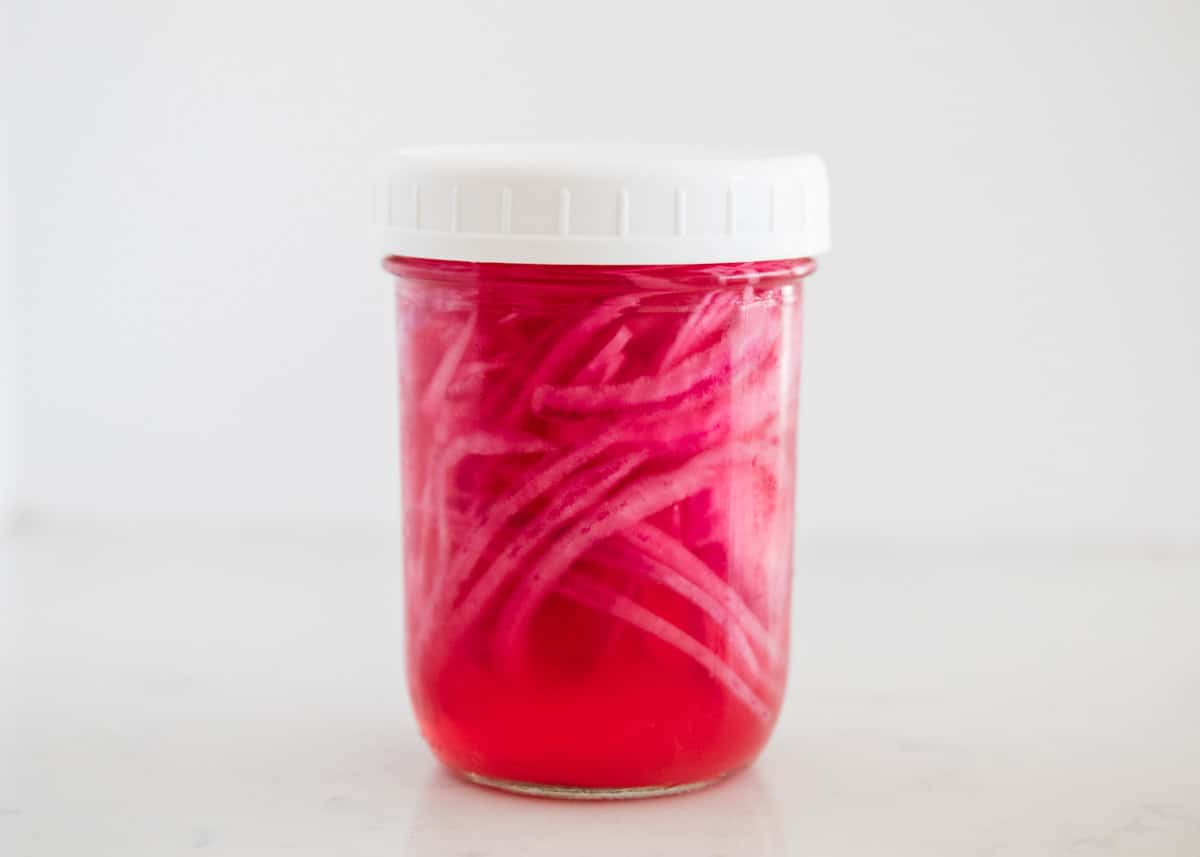 Easy Pickled Onion
I recently added these pickled onions to a taco salad and instantly became obsessed. They were the perfect addition and added such great flavor. I'm going to make these all the time now and add them to all of my favorite meals!
I'm not actually a huge fan of raw onions, but when I first tried pickled onions it was a whole different story. For whatever reason, these taste SO much better. The marinade infuses an awesome flavor and creates a tangy, sweet and slightly crunchy onion. You will be adding these to everything after your first batch. They add an extra boost of flavor to chicken tinga tacos and so many more meals!
Ingredients
Onion: Red onions work best and have the most flavor.
Vinegar: I used a mixture of half apple cider vinegar and half white vinegar. You could use one or the other though.
Sugar: Adding the sugar helps cut the acidity and gives it a slight sweet taste. Honey also works too.
Salt: A small amount of salt is added for extra flavor.
Water: The warm water helps soften the raw onions and takes the bite out.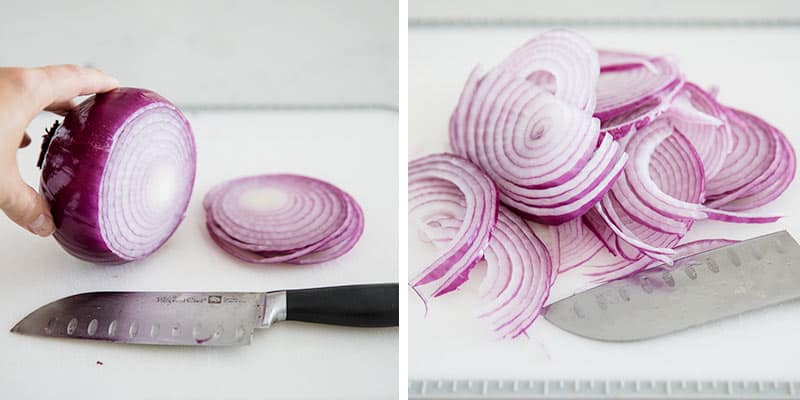 How to Pickle Onions
These quick pickled red onions are so easy to make and only take 5 ingredients. They also only take about 5 minutes to prep and then you'll just let them sit until they're well marinated and the liquid has turned pink.
CUT. Start by cutting the onion into very thin slices with a sharp knife or mandoline. If the slices are too thick, they'll take longer to soften and infuse with flavor. Aim for about 1/8 inch slices.
COMBINE. Mix together the remaining ingredients in a small bowl or glass jar and stir until dissolved. I prefer to use a glass jar so that I can easily mix and store them all in the same container.
MARINATE. Add the sliced onions into the jar or bowl and then cover with lid. Let the onions marinate in the mixture for 30 minutes before serving.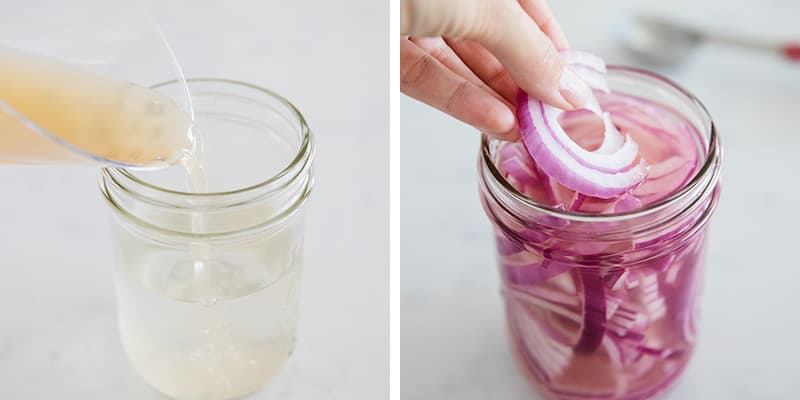 Storing
Once the onions are done marinating, cover the jar or bowl with a lid and store in the fridge. They will keep refrigerator for up to 2 weeks. You can even double the batch so that you have lots of extras on hand to add to any breakfast, lunch or dinner.
Pickling Tips
Thinly slice the onions. In order for them to marinate quickly, it's important that the onions are very thinly sliced. They'll soften up and gain more flavor faster. If you prefer thicker sliced onions, you'll likely need to marinate them for 1-2 hours.
Add extra flavor. Feel free to add in extra spices like peppercorns, garlic, Italian seasoning and more.
Use warm water. Warm water helps to soften the onions, which in turn helps the vinegar soak into them quicker. If you want them to marinate quickly, make sure your water is warm.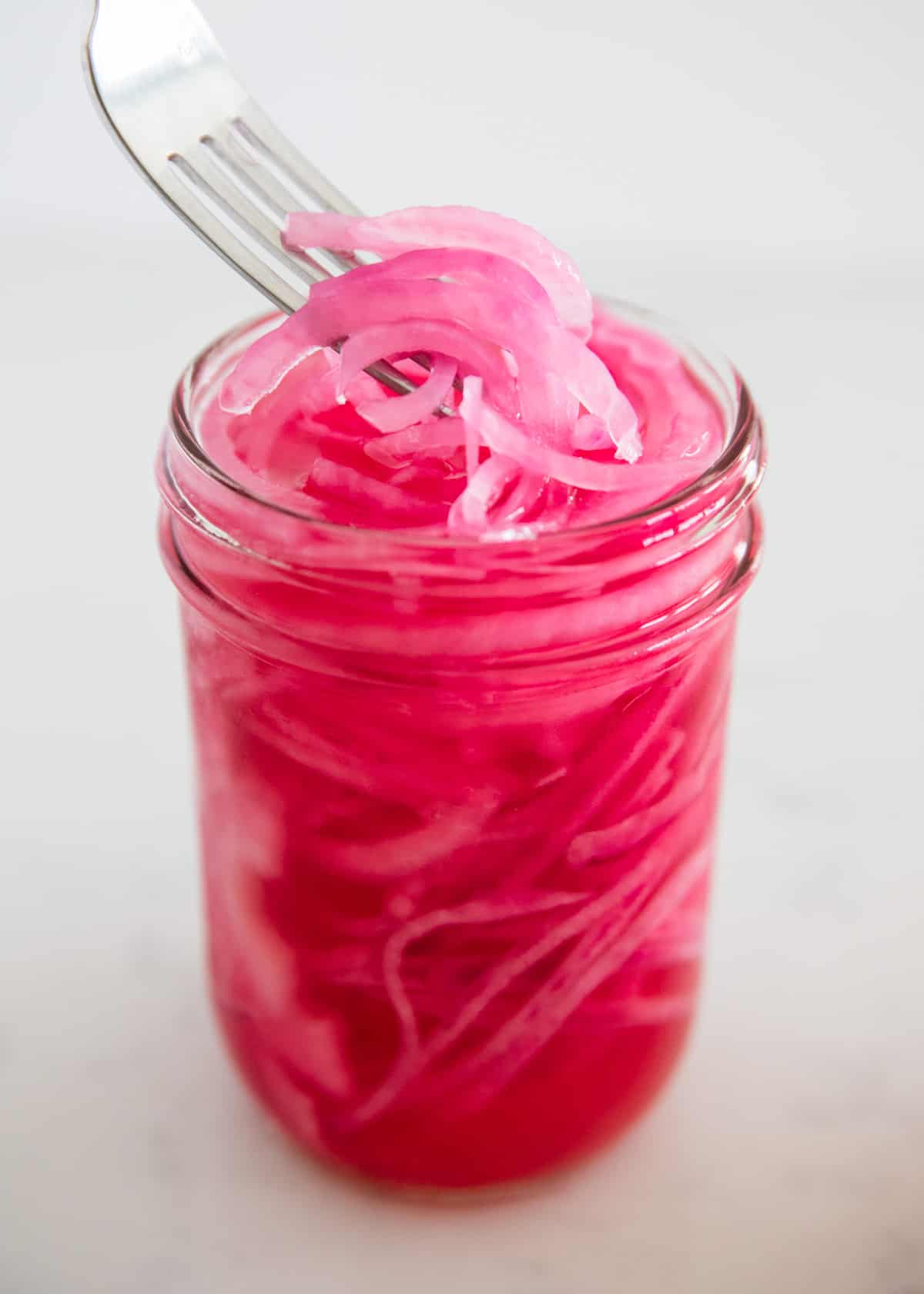 Ways to use Pickled Onions
HUNGRY FOR MORE? Subscribe to my newsletter and follow on Facebook, Pinterest and Instagram for all the newest recipes!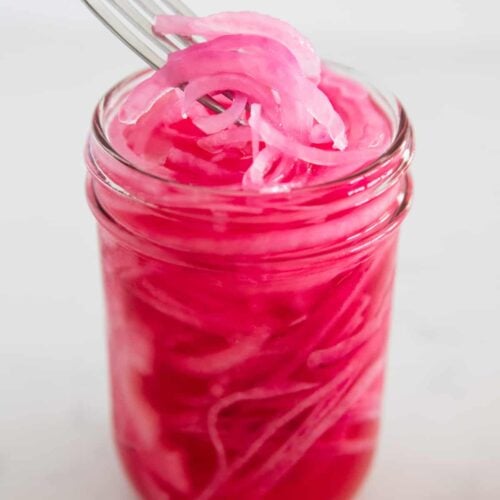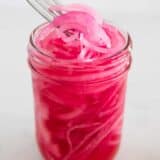 Pickled Red Onion Recipe
Add an extra boost of flavor to your meal with these quick pickled onions! They're sweet, tangy and crunchy and take only 5 ingredients and 5 minutes to prep.
Ingredients
1 red onion
¼ cup apple cider vinegar
¼ cup white vinegar
1 Tablespoon granulated sugar , or honey
1 teaspoon Kosher salt
1 cup warm water
Instructions
Cut the onion into very thin slices. Discard the ends.

Combine the vinegars, sugar, salt and warm water in a glass bowl or jar. Mix until dissolved.

Add the onions into the jar and then seal the lid on top. Let marinate for 30 minutes. Refrigerate for up to 2 weeks.
---
Nutrition
Calories: 10kcal | Carbohydrates: 2g | Protein: 1g | Fat: 1g | Saturated Fat: 1g | Sodium: 196mg | Potassium: 17mg | Fiber: 1g | Sugar: 1g | Vitamin C: 1mg | Calcium: 2mg | Iron: 1mg
Nutrition provided is an estimate. It will vary based on specific ingredients used.
Did you make this recipe? Don't forget to give it a star rating below!