Slow Cooker Chicken Tinga Tacos
Slow Cooker Chicken Tinga Tacos, a recipe that tastes like it came straight from a Mexican restaurant. The best part? It only takes 5 minutes to prep!
Last month I visited Nashville with the Old El Paso freshest bloggers and went on a walking food tour through the city. We ate at 4 different taco shops in 4 hours. I ate some of the best tacos of my life that day. Holy cow. I needed to be rolled out of there by the time it was over. ;) I think everyone needs to put a walking food tour on their bucket list. I'm thinking Chicago and NYC would be fun cities to do next! So much fun.
I had the most delicious chicken tinga tacos on this tour and knew I had to try and recreate the recipe at home to share with you. At another restaurant I tried the most amazing feta crema sauce on a taco as well, so I thought I would take the two and make one amazing taco. These tacos did not disappoint. They taste like they came straight from a Mexican restaurant and take no time at all to make.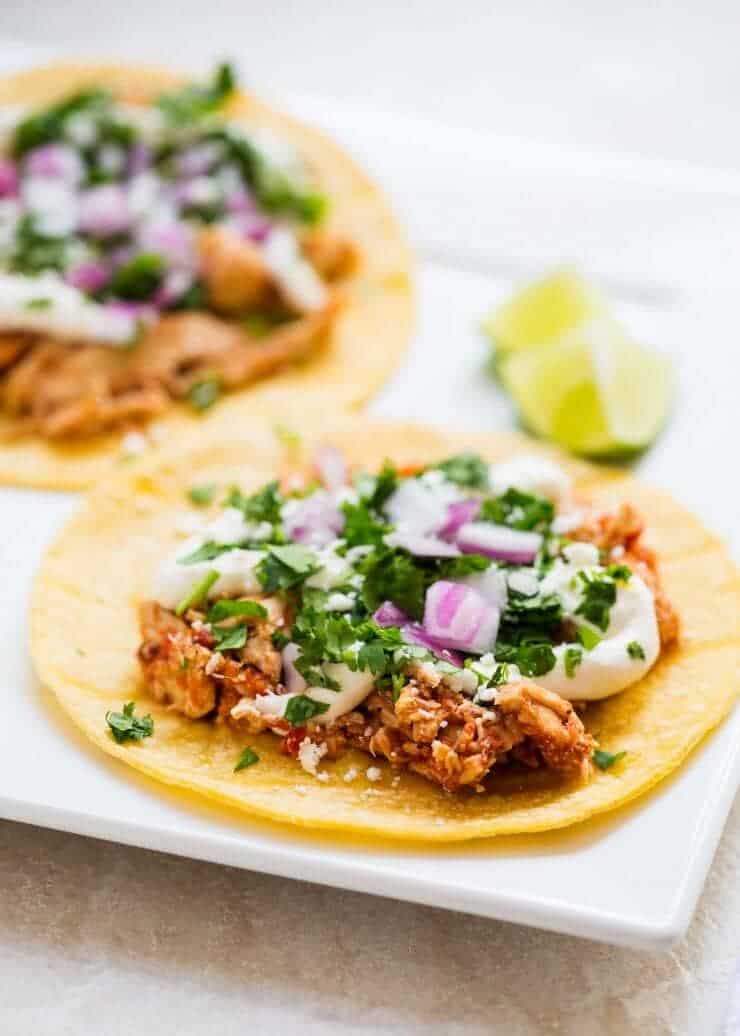 MY OTHER RECIPES
Slow Cooker Chicken Tinga Tacos are so easy to prep!
All you need is 5 minutes and 5 ingredients to make the sauce. You'll place the tomatoes, peppers, garlic, onion and seasonings in a blender and pulse 5 times. The peppers and Old El Paso taco seasoning adds just the right amount of heat.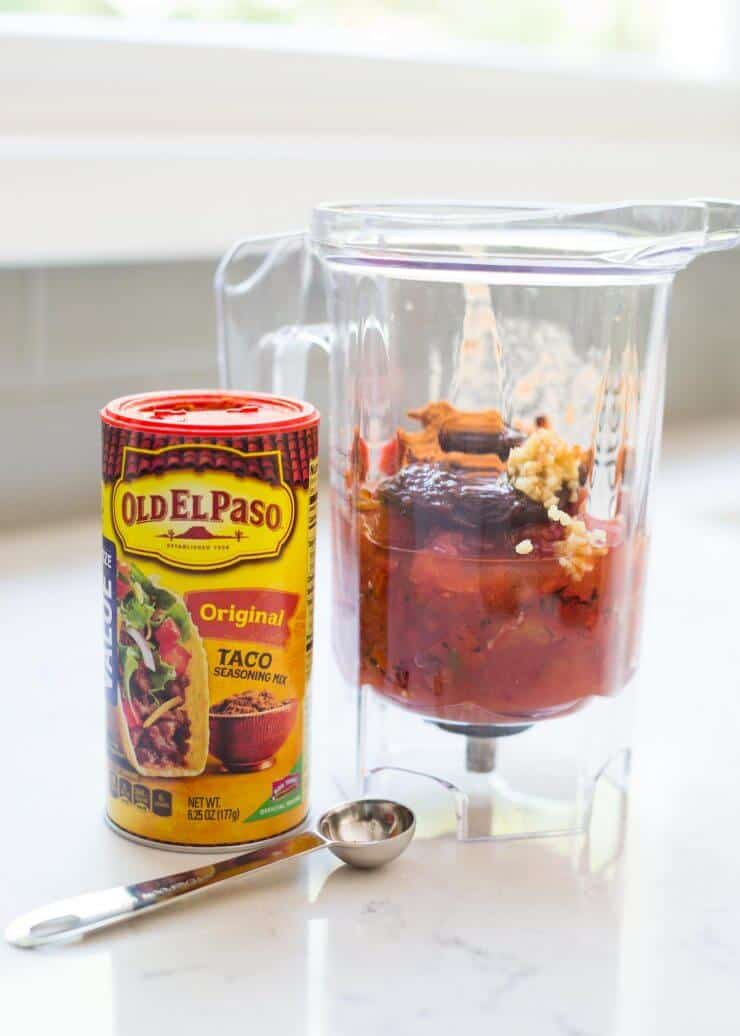 Then you'll pour the sauce of the chicken in the slow cooker and cook for about 4 hours. Once the chicken simmers in the sauce it will have a nice smoky chipotle flavor. Such a simple dish packed with so much flavor.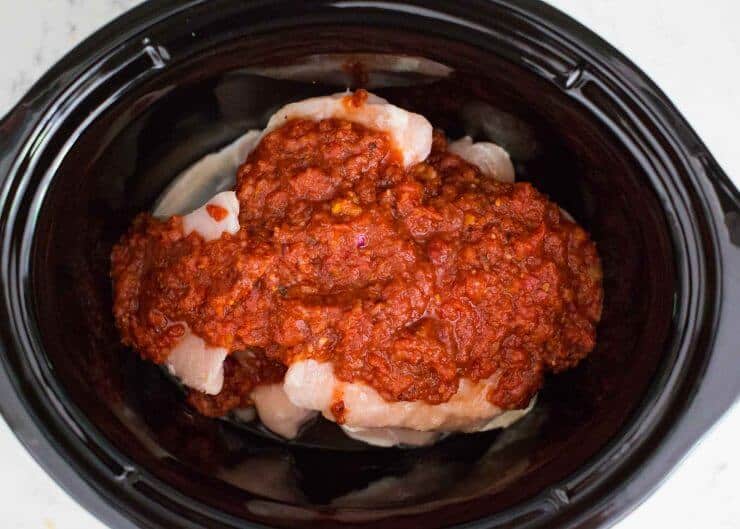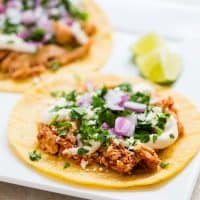 Slow Cooker Chicken Tinga Tacos
Yield: 6 ot 8 servings
Prep Time: 5 minutes
Cook Time: 4 to 6 hours
Ingredients:
2 pounds boneless, skinless chicken
1 (14.5-ounce) can fire roasted tomatoes
1/2 diced onion
3-4 chipotle peppers in adobe (more if you like heat)
1 teaspoon minced garlic
1 teaspoon Old El Paso taco seasoning
1/2 teaspoon kosher salt, more to taste
Feta crema:
4-ounces cream cheese, softened
3 Tablespoons feta cheese
1/2 lemon, juiced
Whole milk, if needed
For serving:
Tortillas
Diced onions
Chopped cilantro
Crumbled feta or cotija cheese
Lime slice
Directions:
Place the chicken breast in the slow cooker.
Add the tomatoes, onion, peppers, garlic, taco seasoning and salt to a blender. Pulse 3 to 5 times. Then pour over the chicken. Cook on low for 4 to 6 hours, or until you are able to shred the chicken. Shred and then cook an additional 15 to 30 minutes. Place on warm until ready to serve.
For the feta crema, stir the cream cheese, feta and lemon juice until smooth. Add milk in needed to thin it out.
Serve the chicken tinga inside of tortillas. Add your favorite toppings such as, onion, cilantro and feta cheese.
The feta crema sauce seriously takes the chicken tinga from ordinary to extraordinary. It's worth trying, and only takes a couple extra minutes to make. Promise!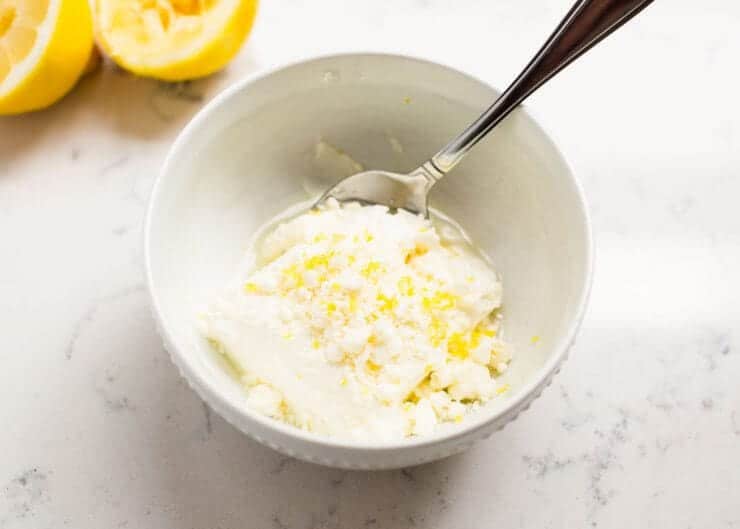 I placed crema in a zip top bag and then cut off the top to drizzle over the chicken tacos. It's a little thick, so you could also just add a big dollop to the center of the taco. :)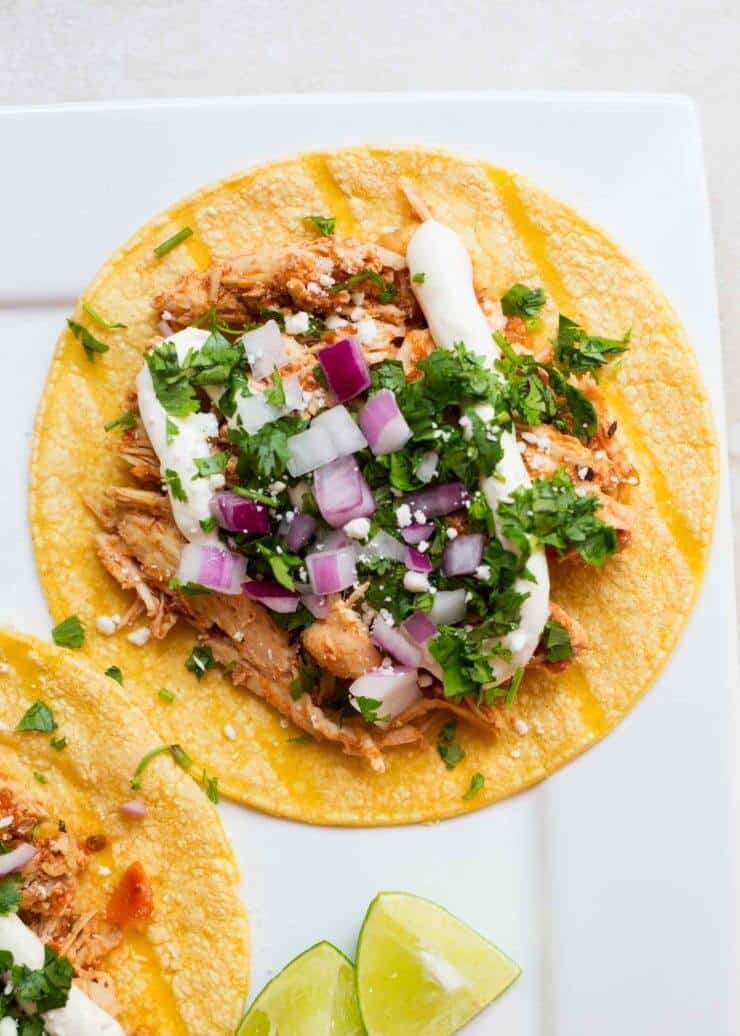 ENJOY!

Looking for more taco recipes? You'll love these too:
This post was brought to you by Old El Paso. All opinions are 100% my own. Find out more about their products here or connect with them on Facebook. 
Join in! Leave a comment!
Comments