Jump to Recipe⌄
Pizza Chicken Roll Ups
Pizza Chicken Roll Ups recipe …a tender chicken breast stuffed with mozzarella cheese, pepperoni and marinara sauce. Easy, healthy and delicious! A dish the whole family will love.
This was the first recipe I've made in awhile that EVERY person in my family said "I LOVED this!" My son is super hard to please these days, so I was very happy about that. There's so many fun ways you can make this dish with all your favorite pizza toppings. I'm already excited to try a BBQ chicken version. Yum!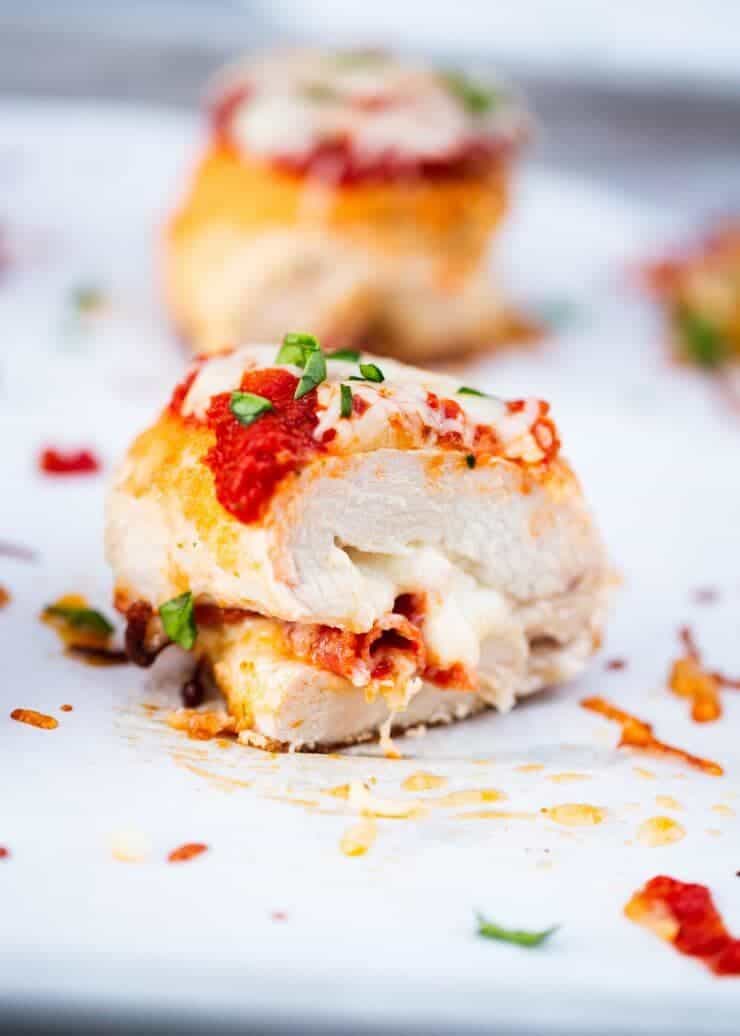 Pizza Chicken Roll Ups Toppings
You'll start with a chicken breast, marinara, mozzarella and your favorite pizza toppings. We kept it classic with pepperoni.
Some other ingredients you could fill the chicken with are mushrooms, red onions, peppers, olives or jalapenos. Feel free to try whatever your family normally eats on pizza.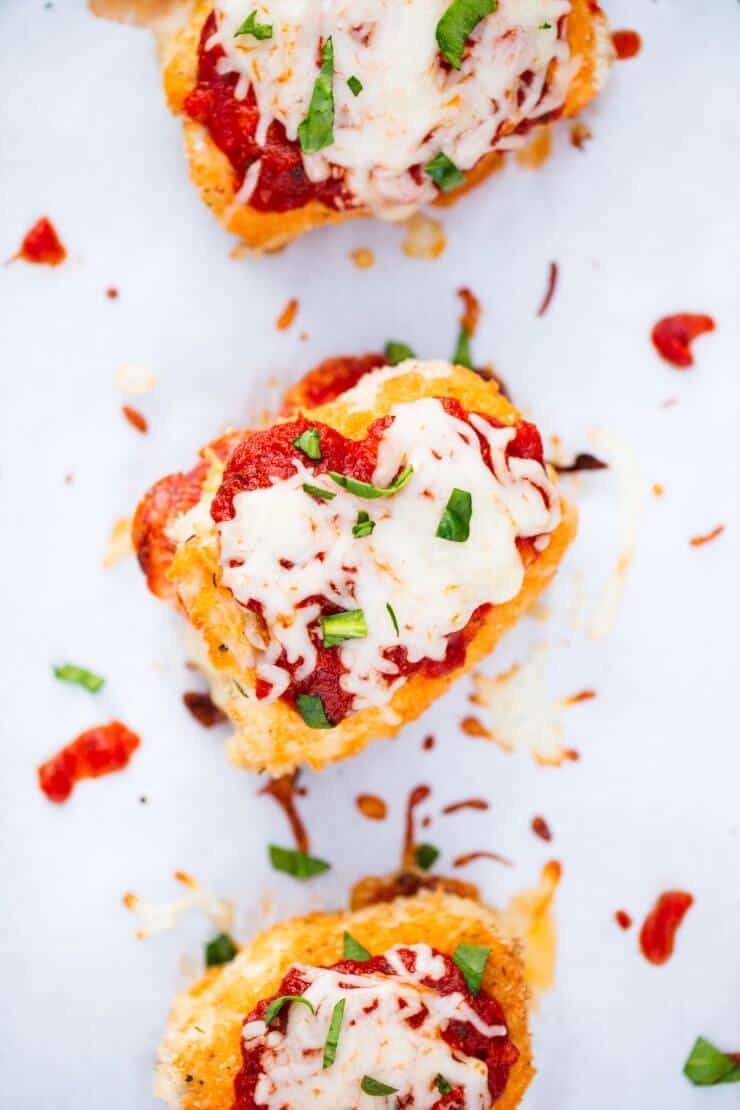 I found this recipe in the Skinnytaste Fast and Slow Cookbook. This cookbook is absolutely beautiful and filled with tons of delicious quick-fix and slow cooker recipes. I've bookmarked at least a dozen recipes I want to try ASAP. That pasta on the cover is up next. They all look amazing, easy and healthy! Add this cookbook to your wish list.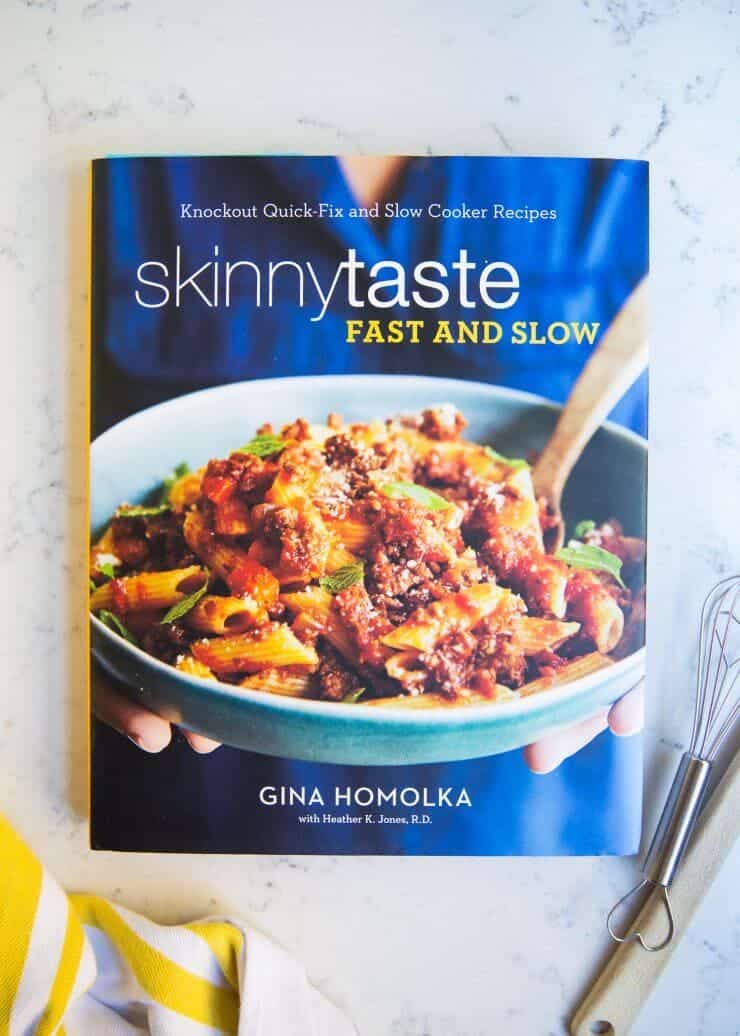 But first… you guys have to try these pizza chicken roll ups. The chicken is so tender and full of flavor!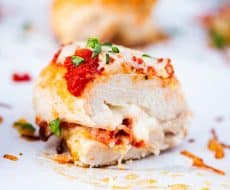 Pizza Chicken Roll Ups
Ingredients:
Olive oil spray
3 boneless, skinless chicken breasts
Kosher salt and ground pepper, to taste
1/2 cup shredded mozzarella, more if needed
12 slices pepperoni
1/4 cup seasoned breadcrumbs
2 Tablespoons grated Parmesan cheese
1 Tablespoon fresh lemon juice
1 Tablespoon olive oil
1/2 cup marina sauce
Fresh chopped basil, optional
Directions:
Preheat oven to 450ºF. Line a baking sheet with foil or parchment paper and lightly spray with oil. In a bowl, combine the bread crumbs and Parmesan. In a second bowl, combine the olive oil and lemon juice. Set aside.
Cut each chicken breast in half, horizontally to create 6 pieces. Cover with a piece of wax paper and lightly pound to 1/4″ thickness. Season lightly with salt and pepper.
Lay each piece out and top with 1-2 Tablespoons mozzarella cheese and 2 slices pepperoni. Roll each piece up, starting with the smaller edge and then dip into the olive oil mixture and then into the bread crumbs mixture. Place onto the baking sheet, with the seam facing down. Lightly spray the tops with oil. Bake for 20 minutes.
Remove chicken and then add about 1 Tablespoon of marinara and mozzarella cheese. Bake for an additonal 4 to 5 minutes, or until the cheese is melted and the chicken is no longer pink.
In the cookbook, it mentions adding mushroom, purple onions and green peppers. Feel free to add your favorite toppings!
Adapted from Skinny Taste Fast and Slow
All images and text ©

Enjoy!!