These pizza chicken roll ups are stuffed with mozzarella cheese, pepperoni and marinara sauce. A dish the whole family will love!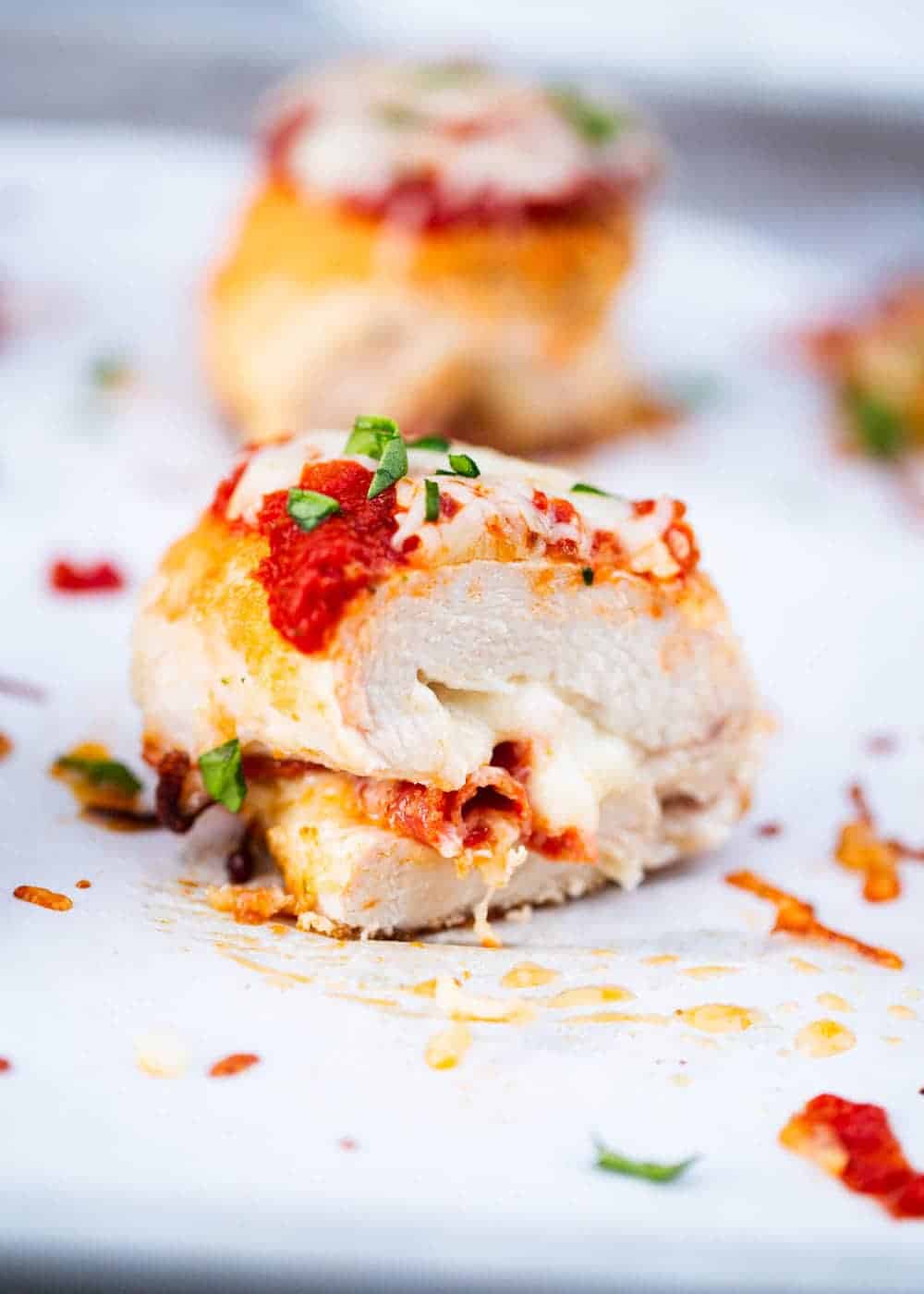 A Fun Twist on Pizza
This recipe is a fun way to fulfill your pizza cravings without all the carbs. Now don't get me wrong, I love to indulge in a slice of pizza with my homemade pizza dough on the weekends. But sometimes I'm in the mood for a lighter option. And this pizza chicken is the perfect alternative!
This pizza stuffed chicken breast was the first recipe I've made in awhile that EVERY person in my family said "I LOVED this!" My son is super hard to please these days, so I was very happy about that. :)
There are so many fun ways you can make this pizza chicken and the topping options are endless. This recipe is so versatile and can be easily customized to your liking. I'm already excited to try a BBQ version. Yum!
Topping Ideas
You'll start with a chicken breast, marinara, mozzarella and your favorite pizza toppings. We kept it classic with pepperoni, but try adding in any of the ingredients below if you'd like!
Mushrooms
Red Onions
Peppers
Olives
Jalapenos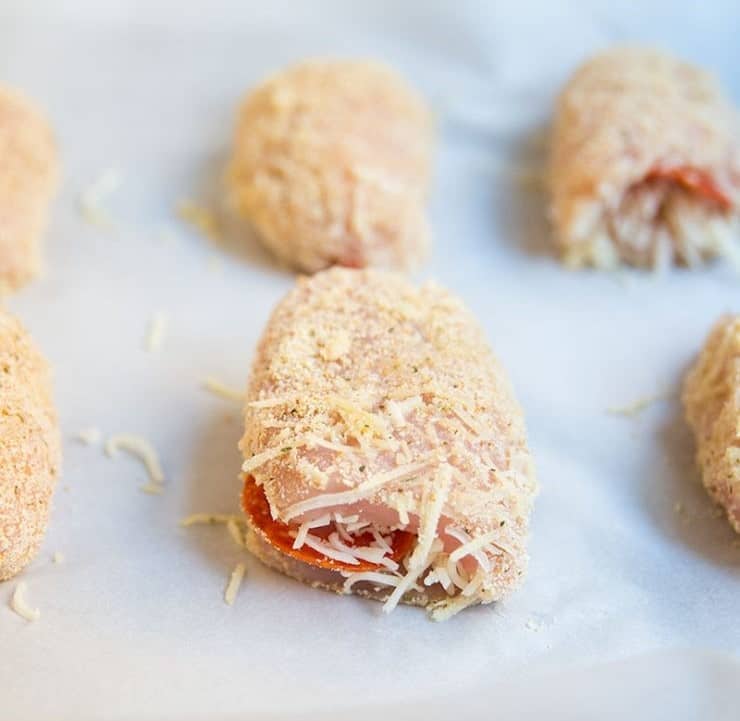 How to Make Pizza Stuffed Chicken
MIX COATINGS. Combine breadcrumbs and parmesan in a bowl. Then combine olive oil and lemon juice in a separate bowl.
SLICE CHICKEN. Cut each breast in half horizontally, then gently pound with a meat mallet until 1/4″ thick. Season with S&P.
STUFF & ROLL. Top each piece of chicken with 1-2 Tablespoons cheese and 2 slices pepperoni. Roll it up, then dip into olive oil mixture and coat in breadcrumbs. Place on a foil-lined baking sheet, seam side down. Lightly spray the tops with olive oil.
BAKE. Bake at 450ºF for 20 minutes, then remove from oven and add a spoonful of marinara on top. Add a little more mozzarella, then bake an additional 4-5 minutes, or until the cheese is melted and the chicken is cooked through.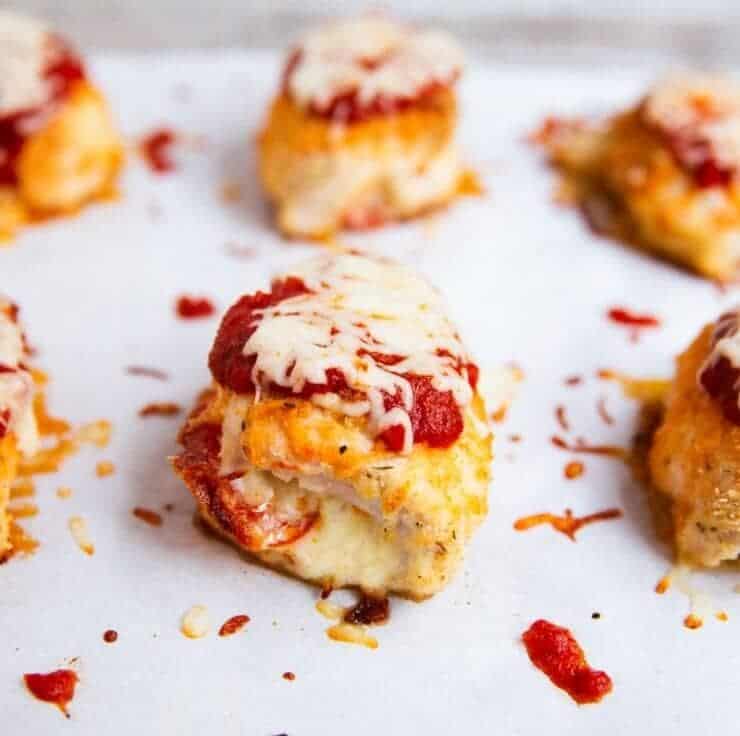 Helpful Tips
Line your Pan with Foil
Because the chicken is stuffed with cheesy goodness, it's inevitable that a little will ooze out of the sides. So make sure to line your pan with foil for easy cleanup. Also, don't forget to spray the foil with nonstick spray first so that your chicken doesn't stick!
Pound the Chicken Breast
Don't skip this step! This is what makes the chicken pliable and easy to roll. I use this same technique in my cordon bleu chicken. Cut the breast in half, then cover with a piece of wax paper. Use a meat mallet to gently pound the meat until it's about 1/4 inch thick.
Use a Shallow Bowl for the Coatings
I'd recommend putting the olive oil and breadcrumb mixtures in a shallow bowl. This makes it way easier to dip the rolled chicken into the mixtures evenly.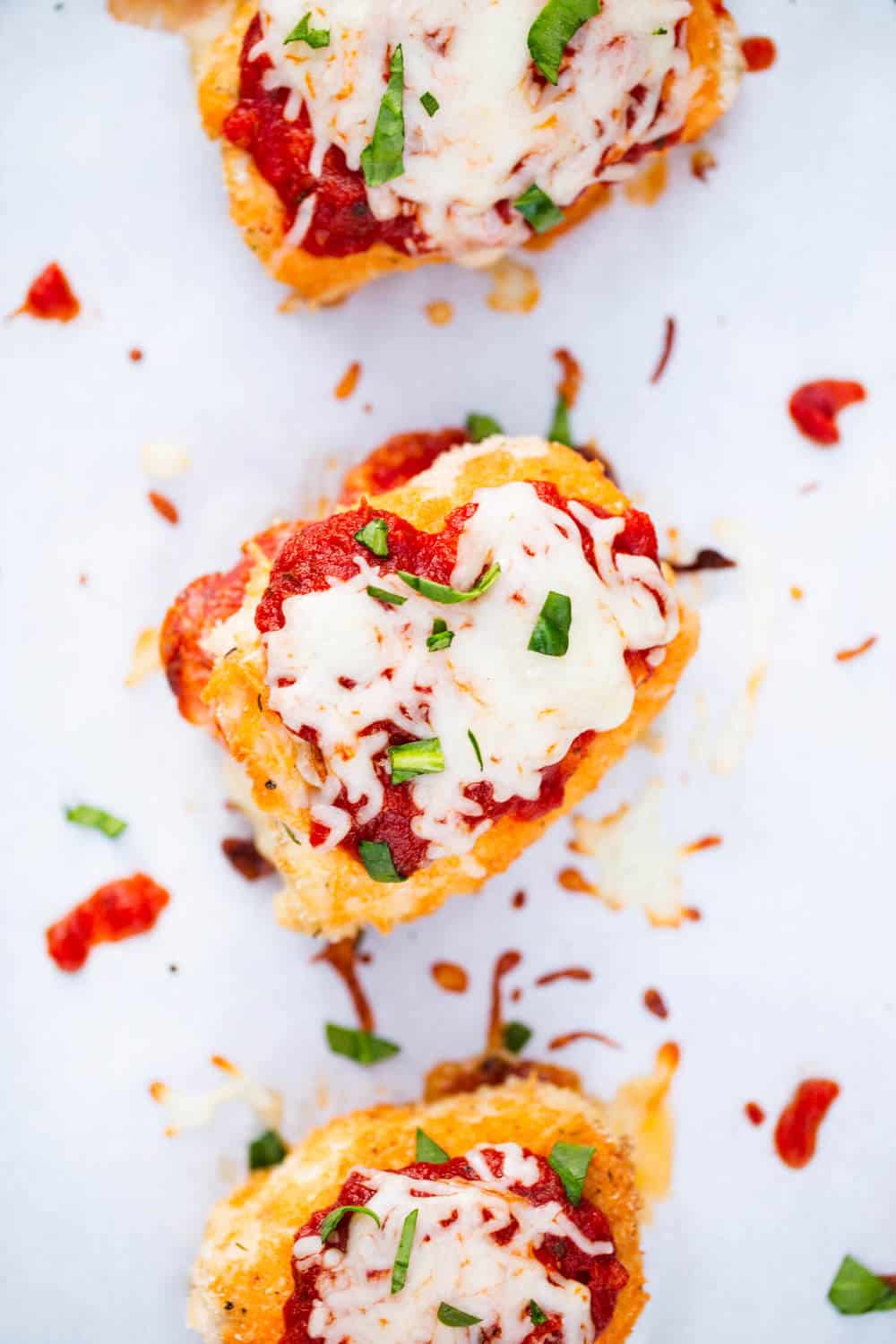 More Pizza Inspired Recipes
HUNGRY FOR MORE? Subscribe to my newsletter and follow on Facebook, Pinterest and Instagram for all the newest recipes!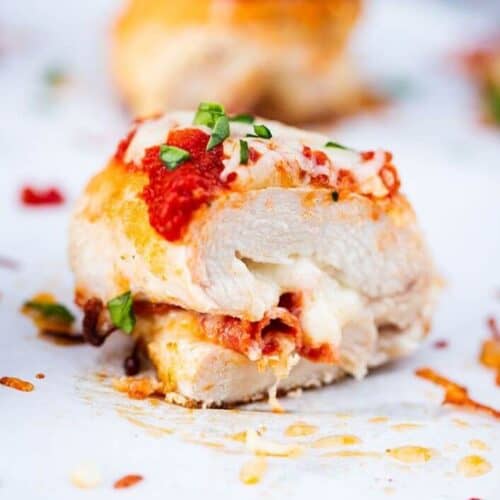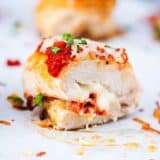 Pizza Chicken Roll Ups
These pizza chicken roll ups are stuffed with mozzarella cheese, pepperoni and marinara sauce. A dish the whole family will love!
Ingredients
olive oil spray
3 boneless, skinless chicken breasts
Kosher Salt & Pepper (to taste)
½ cup shredded mozzarella (more if needed)
12 slices pepperoni
¼ cup seasoned breadcrumbs
2 Tablespoons grated Parmesan cheese
1 Tablespoon fresh lemon juice
1 Tablespoon olive oil
½ cup marina sauce
fresh chopped basil (optional)
Instructions
Preheat oven to 450ºF. Line a baking sheet with foil or parchment paper and lightly spray with oil. In a bowl, combine the bread crumbs and Parmesan. In a second bowl, combine the olive oil and lemon juice. Set aside.

Cut each chicken breast in half, horizontally to create 6 pieces. Cover with a piece of wax paper and lightly pound to 1/4″ thickness. Season lightly with salt and pepper.

Lay each piece out and top with 1-2 tablespoons mozzarella cheese and 2 slices pepperoni. Roll each piece up, starting with the smaller edge and then dip into the olive oil mixture and then into the bread crumbs mixture. Place onto the baking sheet, with the seam facing down. Lightly spray the tops with oil. Bake for 20 minutes.

Remove from oven and add about 1 Tablespoon of marinara and mozzarella cheese. Bake for an additional 4 to 5 minutes, or until the cheese is melted and the chicken is no longer pink.
---
Notes
Recipe from the Skinnytaste Fast and Slow Cookbook. In the cookbook, it mentions adding mushroom, purple onions and green peppers. Feel free to add any of your favorite toppings!
Nutrition
Calories: 246kcal | Carbohydrates: 7g | Protein: 24g | Fat: 12g | Saturated Fat: 4g | Cholesterol: 73mg | Sodium: 590mg | Potassium: 459mg | Sugar: 1g | Vitamin A: 290IU | Vitamin C: 4.6mg | Calcium: 120mg | Iron: 1.2mg
Nutrition provided is an estimate. It will vary based on specific ingredients used.
Did you make this recipe? Don't forget to give it a star rating below!