Easy pizza pinwheels made with fluffy crescent rolls, marinara, and all your favorite pizza toppings. The perfect snack or appetizer that's ready in just 20 minutes!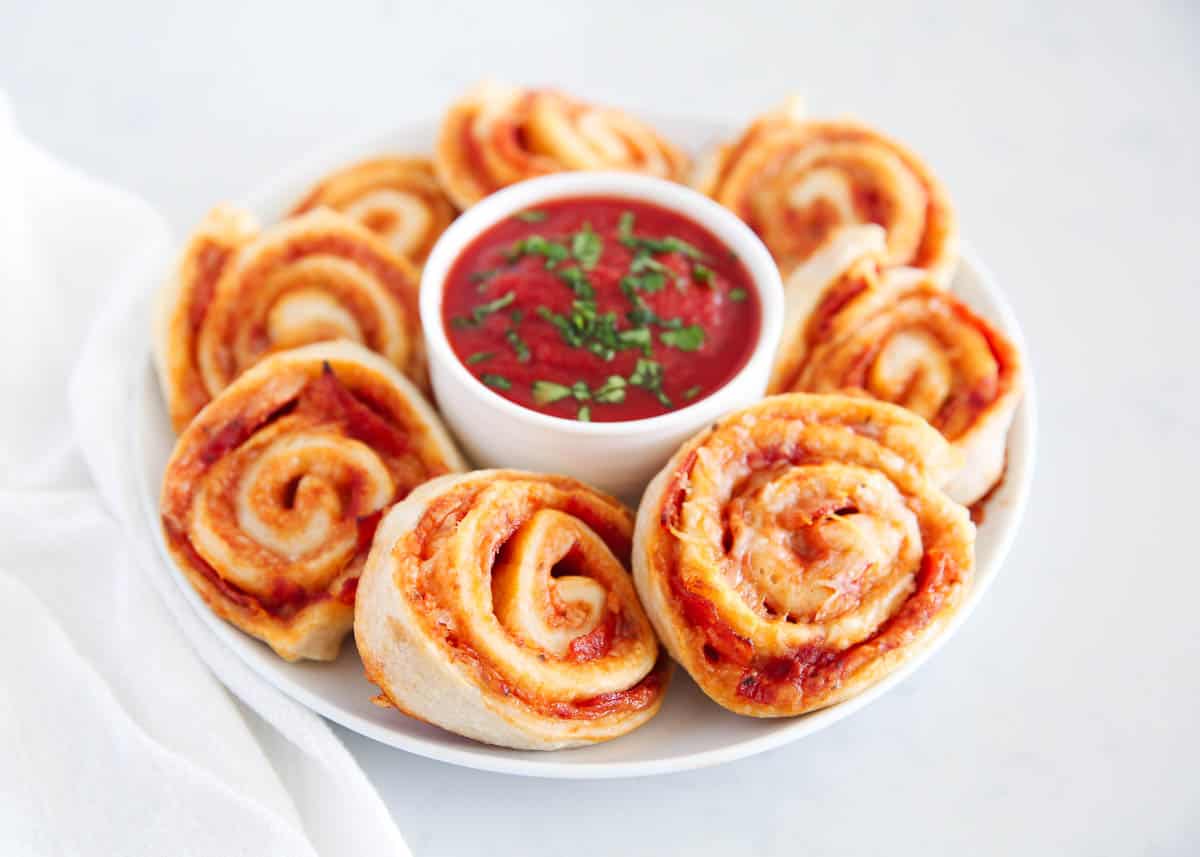 Baked Pizza Pinwheels
My family absolutely loves these pinwheels. They're a fun appetizer or snack that's delicious and both adult and kid-friendly. Some of our other favorite go-to's are pigs in a blanket, ham and cheese rolls, and garlic knots.
When it comes to my kids and when they're hungry – they want something good and fast. And these pizza pinwheels make the perfect snack!
These little roll-ups are made with Pillsbury Crescent Dough (or pizza dough) just like my crescent roll pizza! You can use jarred pizza sauce or if you have a little more time, homemade marinara sauce. They take just a few minutes to prepare and they bake in just about 10 minutes.
I love that these are super easy to make, can be adapted to be kids or adult-friendly, and make a great after-school snack, or even a light meal. So simple and delicious!
Ingredients for Easy Pizza Pinwheels
All you need are three simple ingredients that make these pizza pinwheels easy to make and roll together. Make it with homemade favorites or use store-bought pizza dough. Together these are the best handheld snacks made!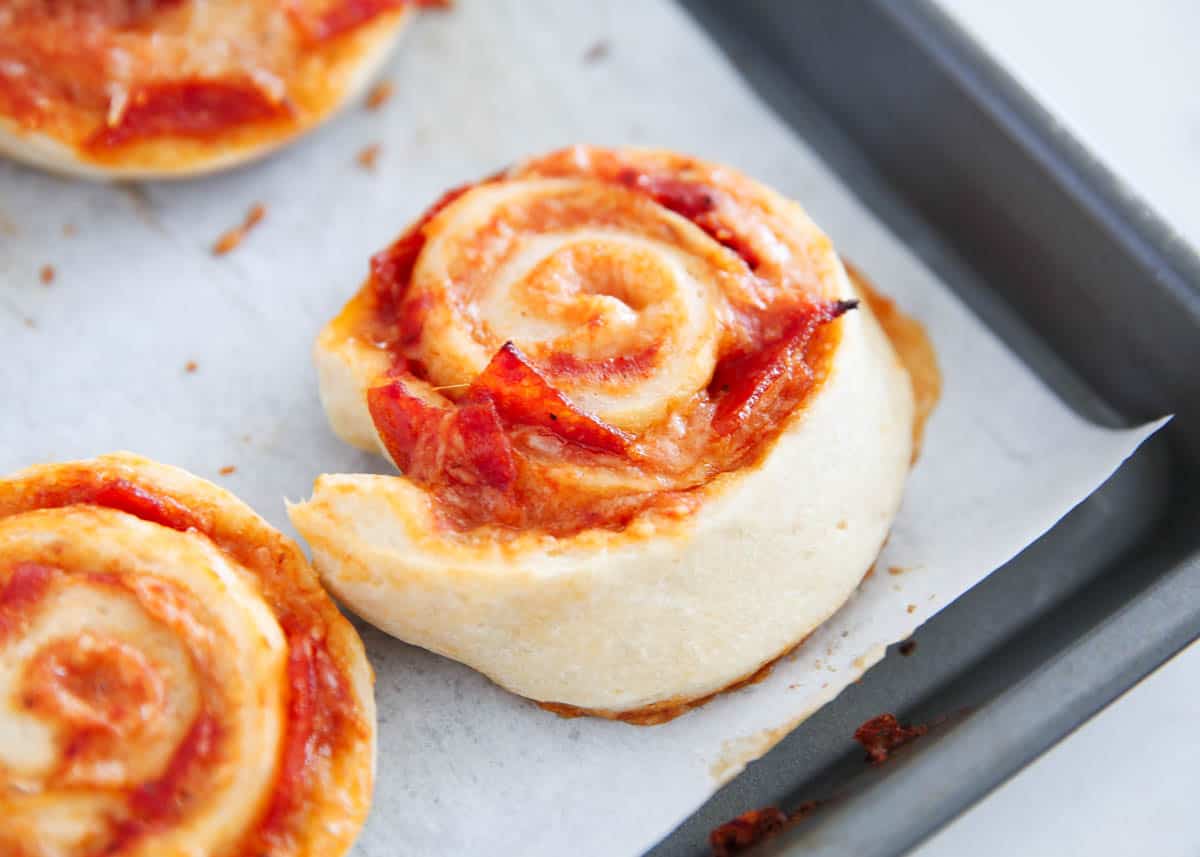 Find the full printable recipe with specific measurements below.
Crescents: Refrigerated crescent roll dough or pizza dough works well together. If you're using crescents, you'll want to make sure you press the seams together to form the crust.
Pizza sauce: Making homemade pizza sauce, tomato sauce, or marinara works well for the red sauce.
Mozzarella: Sprinkle shredded white mozzarella cheese over top the dough. Use as much or as little as you would like.
How to Make Pepperoni Pizza Pinwheels
These pizza pinwheels are a quick and easy way to make a snack or appetizer for everyone around. For a classic pizza taste add on pepperoni or just cheese for the perfect combination!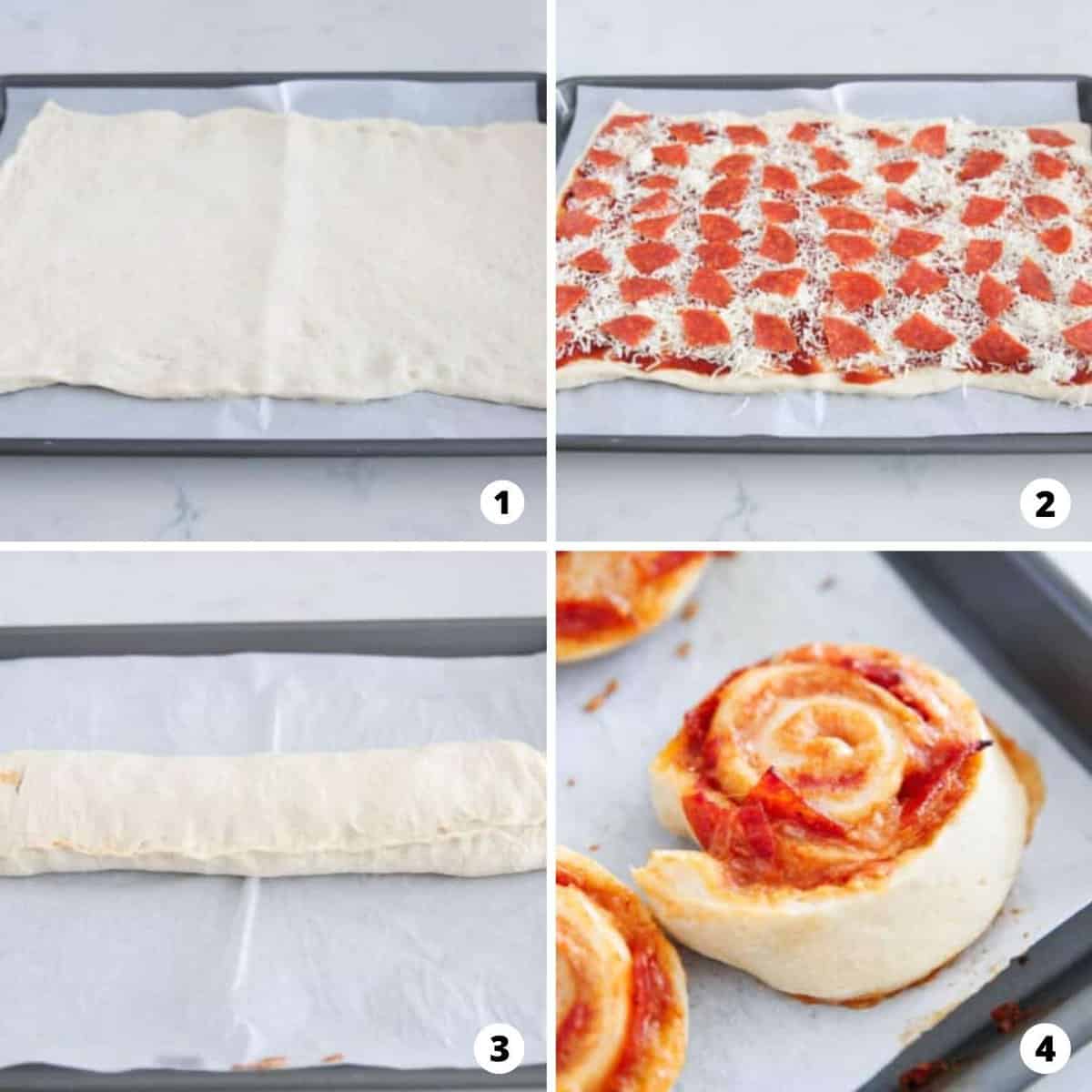 Roll out the dough. To get started, you'll need to flatten out the dough first. You can use refrigerated crescents or pizza dough; they both come out to roughly the same size. Be sure to flour the surface or use parchment paper to avoid sticking.
Add sauce and toppings. Spread on the sauce and add some toppings. Each roll makes about a dozen pinwheels, and you can divide the toppings to get more variety.
Roll the pinwheel. The next step is probably the hardest, but the great thing about these roll-ups is that they are very forgiving as they bake even if they look sloppy after you roll them up. You'll need to roll them lengthwise; I usually start by folding the edge and then continue the rolling motion, doing just a little bit at a time to keep the filling from falling out.
Slice into pieces. Using a sharp knife, slice the roll into 1-inch pieces. I like to rinse off my knife every couple of slices so that the cuts are cleaner.
Add to a baking sheet and bake. Place onto a foiled-lined baking sheet about 2 inches apart. Bake in the oven until the tops are golden.
Serve and enjoy! Let cool for a couple of minutes and then serve with your favorite dipping sauce such as pizza sauce or ranch.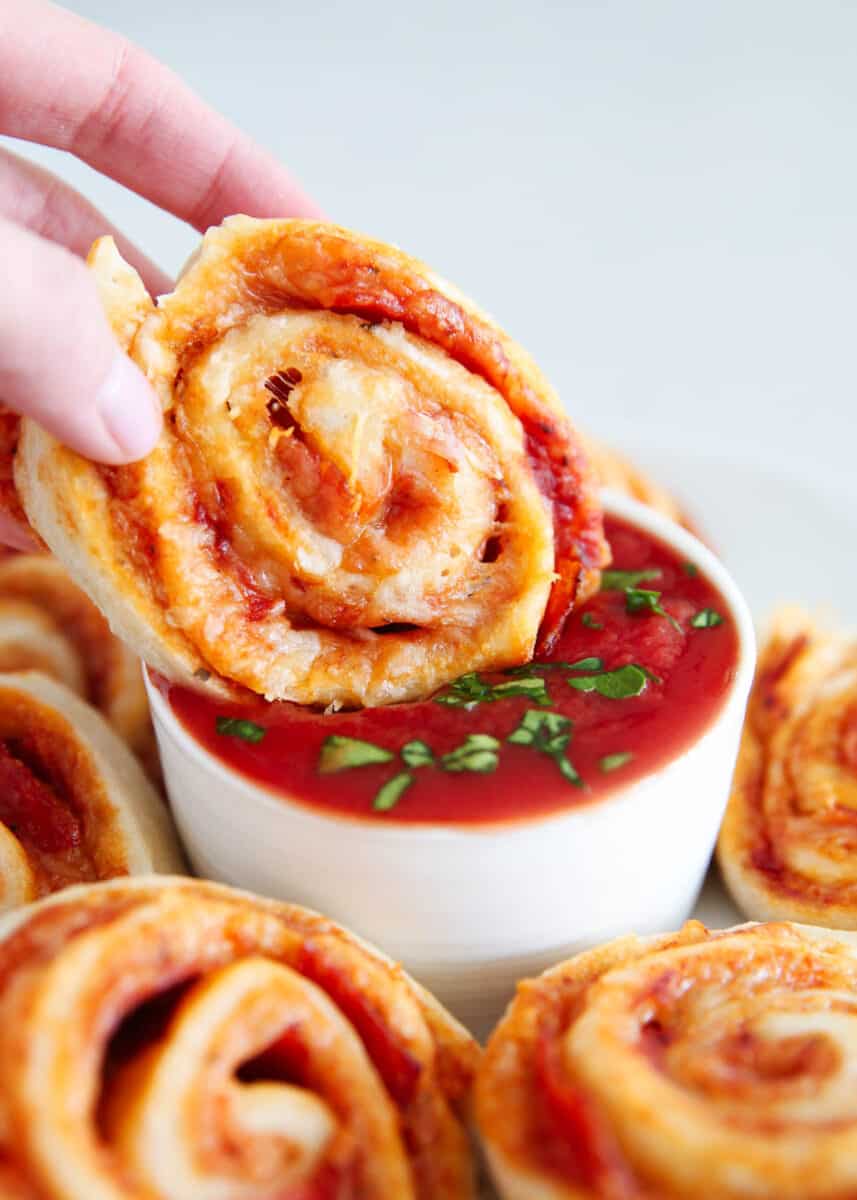 TIP: One tip that I got from a reader was to freeze the roll for 10 to 15 minutes before slicing it to preserve its shape. I thought that was a great idea if you have the time!
Variations
There are SO many fun variations you can make for these pizza pinwheels! Instead of pepperoni, add some chicken, diced peppers, onions, mushrooms, or any other specialty ingredients you like. Baked ham and cheese pinwheels are also other favorites!
Sauces:
Toppings:
Cheese: Mozzarella, provolone, cheddar, pepper jack, Monterey, and parmesan cheese are all great combinations.
Veggies: Peppers, onions, tomatoes, mushrooms, basil, and jalapenos are all sliced and diced to warm through in the oven.
Meats: Pepperoni, turkey pepperoni, chicken, Canadian bacon, and ground beef are perfect combinations for meat lovers.
Combinations:
Pepperoni: Pizza sauce, mozzarella, and pepperoni for a traditional combination.
Veggie: Pizza sauce, mozzarella, and chopped veggies of choice.
BBQ chicken: BBQ sauce, chicken, mozzarella, and red onion sliced for a fun twist.
Alfredo: Alfredo or white pizza sauce, mozzarella, and cubed chicken for a light and tasty pizza.
Pesto: Pesto sauce, mozzarella, chicken, and tomatoes for an Italian favorite.
Buffalo: Buffalo sauce, mozzarella, chicken, and ranch for a spicy flavor.
Recipe FAQs
How many calories are in a pizza pinwheel?
It depends on what type of cheese, meat, and sauce you are adding to the pinwheel. On average one pizza pinwheel is about 96 calories.
What's in a pizza roll?
Pinwheel pizza rolls are all different! The toppings and add-ons are endless! Choose your favorite toppings, cheese, and meat to roll up together.
How do I keep my dough from sticking?
Using parchment paper can help or even applying flour on an area to roll or pinch together the seams depending on which type of crescent rolls.
Can pizza pinwheels be frozen?
Yes! Pinwheels are a great snack to freeze. Once the pinwheel is baked and cooled completely, place the pinwheels in an airtight container in the freezer for up to 3 months long. When ready to enjoy, place in the oven or microwave frozen and warm through.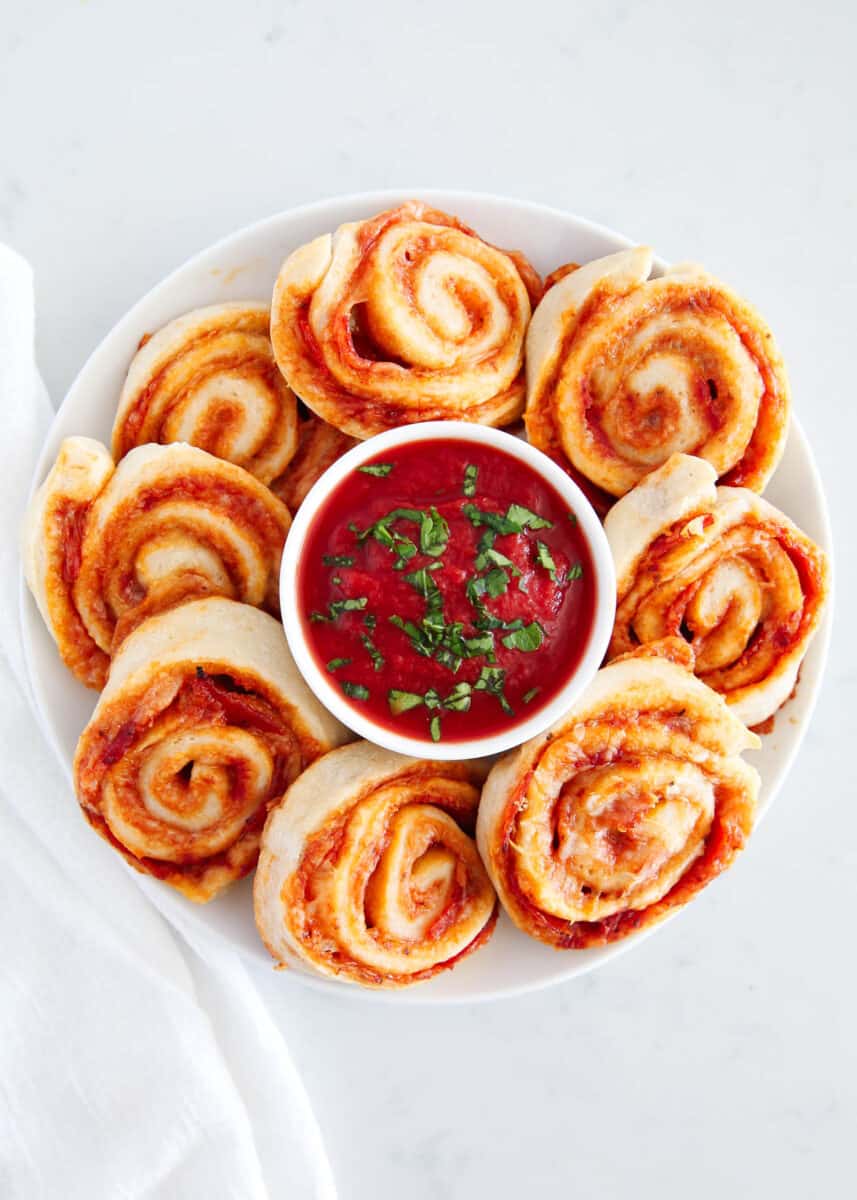 5 star review
"Just made these tonight and everyone (including all 4 of my kids!) loved them! We did two rolls and used the pizza dough. I prepped one and popped in freezer while I did the second and it worked perfectly, will definitely make again! Thank you for the recipe."

-Kimberly
Storing and Making Ahead
These homemade pizza pinwheels are best made the day of or right before enjoying. If you are lucky enough to have any leftovers, these pinwheels are stored in an airtight container in the refrigerator for a few days. When ready to reheat place in an air fryer, microwave, or warm up in the oven until they are heated through.
More Pizza Recipes
HUNGRY FOR MORE? Subscribe to my newsletter and follow on Facebook, Pinterest and Instagram for all the newest recipes!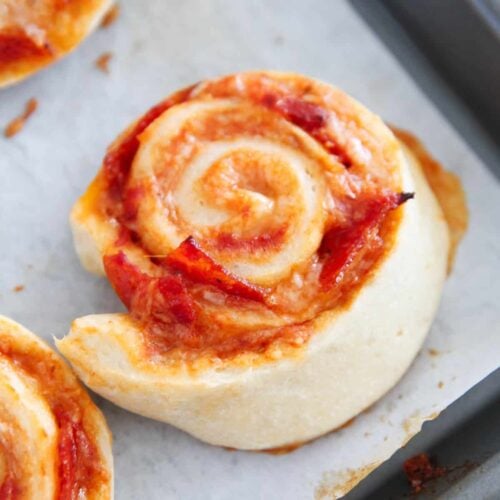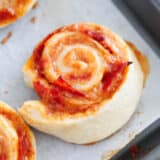 Pizza Pinwheels
Easy pizza pinwheels that are made with fluffy crescent rolls, marinara and all your favorite pizza toppings. The perfect snack or appetizer that's ready in just 20 minutes!
Ingredients
1 can refrigerated crescents , or pizza dough
½ cup pizza sauce or marinara , more as needed
1 cup shredded mozzarella cheese , more as needed
Optional toppings: pepperoni, bell peppers, olives, onions, mushrooms
For dipping: extra marinara or ranch
Instructions
Preheat oven to 350°F. Line a large baking sheet with foil and spray lightly with cooking spray. Lightly flour a large wooden cutting board. Roll out dough onto the floured surface, pressing seems together as you go.

Spread pizza sauce evenly over the dough, to the edges. Top with shredded mozzarella and your choice of pizza toppings.

Roll pizza width-wise (the longest side) and seal the edges. Slice into 1-inch pieces with a sharp serrated knife. Place pinwheels on the prepared cookie sheet, about 2 inches apart.

Bake for about 10-12 minutes, or until the tops are golden brown and the middles are cooked through.

Allow to cool for a couple of minutes, then serve with marinara or ranch for dipping.
---
Notes
Dough: For a thicker pinwheel use the Pillsbury pizza dough instead of crescent. You can also use half a batch of homemade pizza dough.
Tips:
For larger pinwheels, roll lengthwise (the shortest side). You'll want to make sure the fillings are the same for the whole pizza if you choose this method.
For a cleaner cut, use a sharp knife and cut slowly. You could also freeze the pinwheel roll for about 10-15 minutes before slicing. This helps preserve their shape!
Variations:
Pepperoni: Pizza sauce, mozzarella, pepperoni
Veggie: Pizza sauce, mozzarella, chopped veggies of choice
BBQ chicken: BBQ sauce, chicken, mozzarella, red onion
Alfredo: Alfredo or white pizza sauce, mozzarella, chicken
Pesto: Pesto sauce, mozzarella, chicken, tomatoes
Buffalo: Buffalo sauce, mozzarella, chicken, ranch
Nutrition
Serving: 3pinwheels | Calories: 289kcal | Carbohydrates: 25g | Protein: 9g | Fat: 18g | Saturated Fat: 9g | Cholesterol: 22mg | Sodium: 780mg | Potassium: 123mg | Fiber: 1g | Sugar: 7g | Vitamin A: 320IU | Vitamin C: 2.1mg | Calcium: 145mg | Iron: 1.2mg
Nutrition provided is an estimate. It will vary based on specific ingredients used.
Did you make this recipe? Don't forget to give it a star rating below!