It's Melissa from over at Bless this Mess and I've got a super easy, very tasty, and a little nontraditional meal for you today: Pepperoni Pizza Lasagna Roll-ups. Two of our favorite things to eat are pizza and anything pasta, so when you throw the two together you just can't go wrong. All you have to do is boil the noodles; a jar of sauce, some cheese, and a few pepperonis do the rest. See, it really is easy! And sure to be enjoyed by the whole family.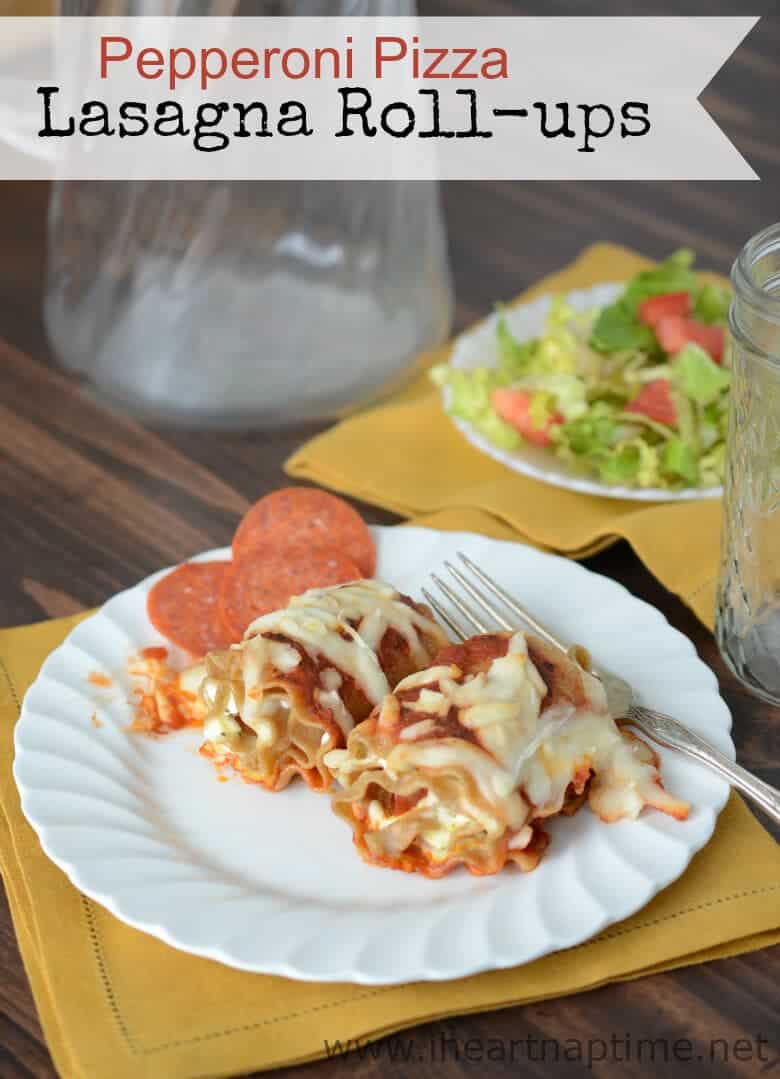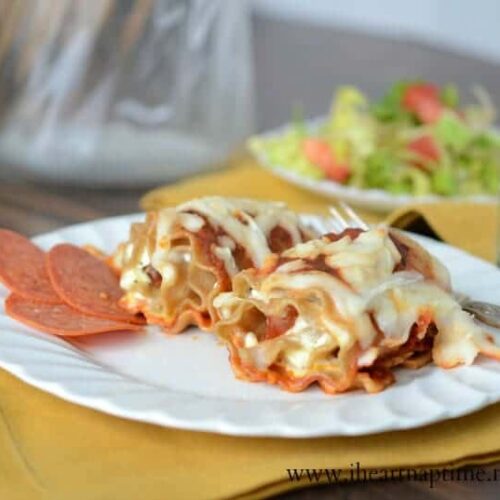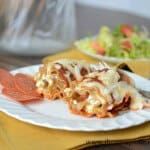 Pepperoni Pizza Lasagna Roll-ups
Pepperoni Pizza Lasagna Roll-ups - Combines two of the most delicious things: pizza & pasta!
Ingredients
24 oz pasta sauce (1 jar)
12 lasagna noodles (cooked according to the package directions)
48 pepperoni slices
2 cups mozzarella cheese (shredded)
Instructions
Preheat your oven to 375 degrees and spread a small amount of pasta sauce in the bottom of a baking dish (pie plate, cake pan… doesn't matter).

Lay all of your lasagna noodles out on your cutting board or counter top. Spread around 2 tablespoons of sauce on each noodle, all over one side. Repeat with the other noodles. Sprinkle half the cheese on top of the sauce. Place four pepperonis on each noodle, on top of the cheese.

Starting at one end of the noodle roll it up like a cinnamon roll or jelly roll. Place the rolled noodle in the baking dish with the end of the noodle on the bottom so they don't flap open. Repeat with remaining noodles.

Once all of the noodles are rolled up, use the rest of the sauce to cover the noodles. Top with the remaining cheese and bake for 20 to 25 minutes until everything is hot and bubble and the cheese is melted. Let the dish cool for 3-5 minutes before serving hot.
---
Calories: 213kcal | Carbohydrates: 24g | Protein: 10g | Fat: 8g | Saturated Fat: 3g | Cholesterol: 23mg | Sodium: 556mg | Potassium: 286mg | Fiber: 1g | Sugar: 3g | Vitamin A: 370IU | Vitamin C: 4mg | Calcium: 109mg | Iron: 1.2mg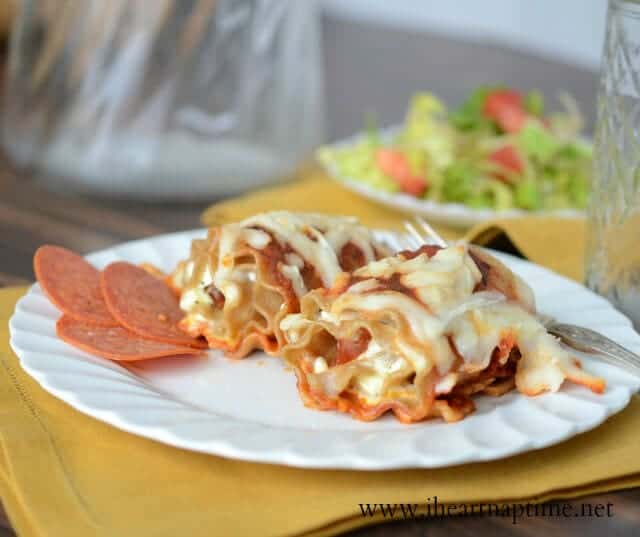 You'll love how easy this is and it takes no time to whip up. It's an easy one to get the kids involved in too… they are great at spreading, sprinkling, and rolling with a little guidance. Serve it with a green salad and some sliced oranges and you've got yourself a great meal!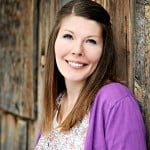 Hello. I'm Melissa. You'll find posts about raising backyard chickens, remodeling our house while living in the mess and lots and lots of family-friendly recipes, dessert included. Don't miss the party- you can find me on my blog. And if you stop by, say hi, I love new people.