You can enjoy this incredibly flavorful tender spinach and cream cheese stuffed chicken breast recipe in under 45 minutes!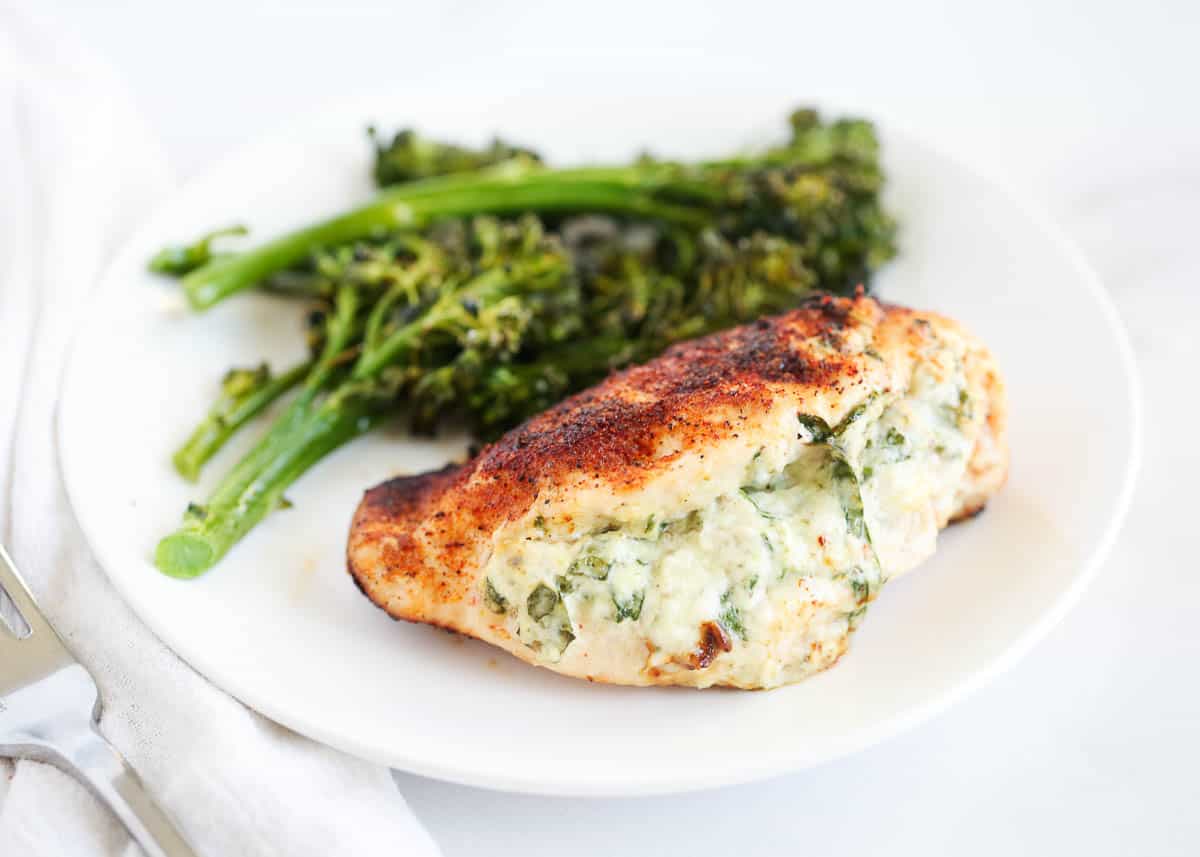 Dinner in Under 1 Hour
I'm always looking for new ways to cook chicken breasts for dinner because I love their versatility. The most important thing for me is that the meat stays juicy and this recipe ensures that every mouthful is tender and full of flavor.
This stuffed version of an easy oven baked chicken breast is perfect for easy weeknights and fancy dinner parties! You'll start by making a cheesy herby filling with three different kinds of cheese (cream cheese, mozzarella, and parmesan) and then you'll throw in some spinach and seasoning.
The filling gets stuffed into pockets that you'll cut carefully into the meat which will then be cooked in a skillet until to golden perfection similar to parmesan crusted chicken! My mouth is watering just thinking about this recipe!
To round the meal out, we love to serve this with some creamy mashed potatoes and garlicky steamed veggies, parmesan roasted broccoli or green beans. Or, keep it low carb with cauliflower rice!
Why This Recipe Works
Quick and easy. These spinach and cheese stuffed chicken breasts couldn't be any simpler to make. You need about 15 minutes of prep time and 20 minutes or so of cooking time. That's it!
Juicy & tender. The meat is browned in a hot skillet on the stovetop before finishing it off in the oven. This browning not only gives the meat a delicious flavor, but it also helps to seal in all of those amazing juices.
Healthy spinach. Spinach is a great source of iron, vitamins, and minerals. This is a tasty way to enjoy all of those benefits!
A household favorite. Everyone I've served this to has loved it, including the kids, which is a true seal of approval in my eyes! I'm sure you're going to love it too.
Recipe Ingredients
All it takes is some chicken breasts and a few varieties of cheese and spices to make this spinach and cream cheese stuffed chicken. It's so easy and ultra creamy and delicious!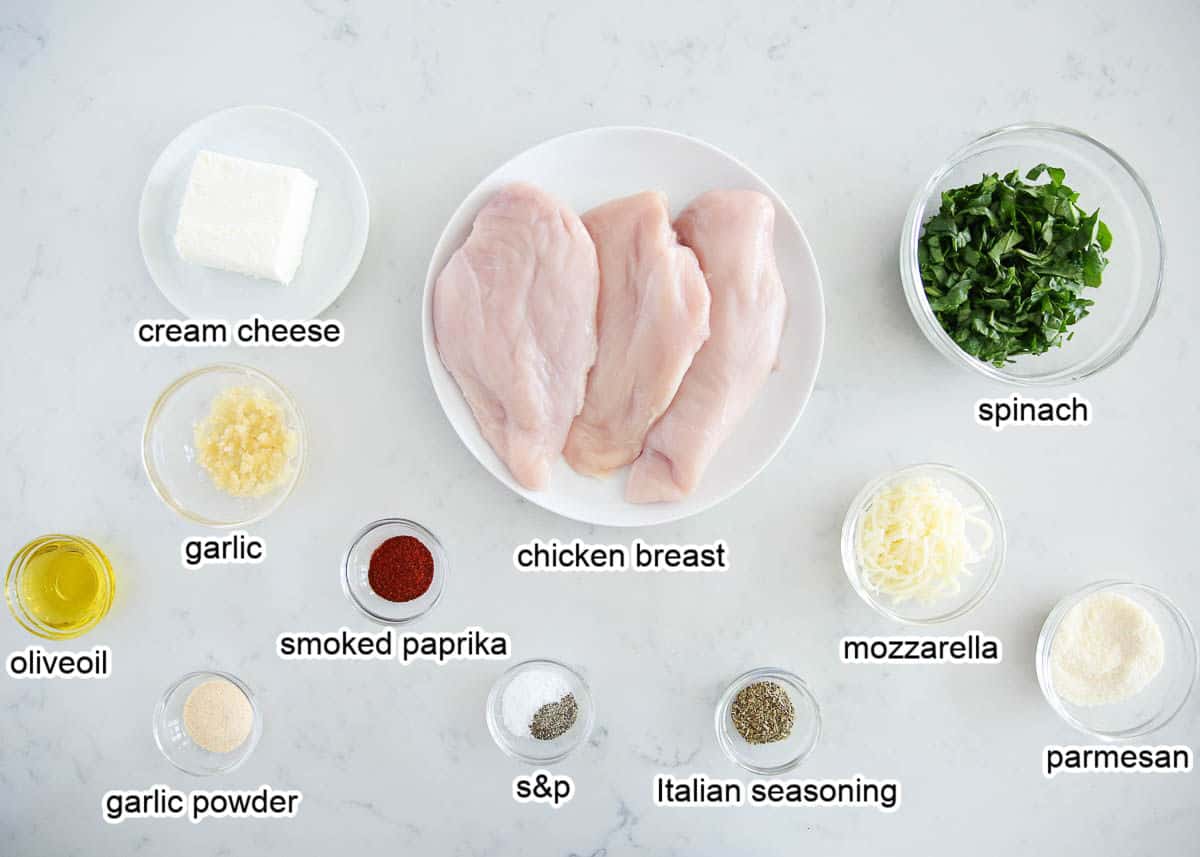 See full printable recipe with detailed measurements below.
Cream cheese: Make sure your cream cheese is soft before you begin mixing. It will make the process so much easier!
Minced garlic: I prefer to mince garlic for the best flavor. If you're in a pinch, you can also use minced garlic from a jar.
Cheese: I used a blend of mozzarella and parmesan, but you can use any cheese that works for you. I recommend using something that melts.
Italian seasoning: This is an herby blend of things like basil, oregano, thyme, and parsley. You can whip up a homemade blend of Italian seasoning or buy it premade in most spice sections of the grocery store.
Chicken breasts: Choose boneless and skinless chicken breasts. This recipe makes about 3 – 4 spinach and cream cheese stuffed chicken breasts depending on their size.
How to Make Spinach Stuffed Chicken Breasts
You won't have to spend a lot of time in the kitchen preparing this easy yet impressive dish, which makes it a winner in my books! It's perfect for both quick weeknight meals or weekend dinner parties with friends.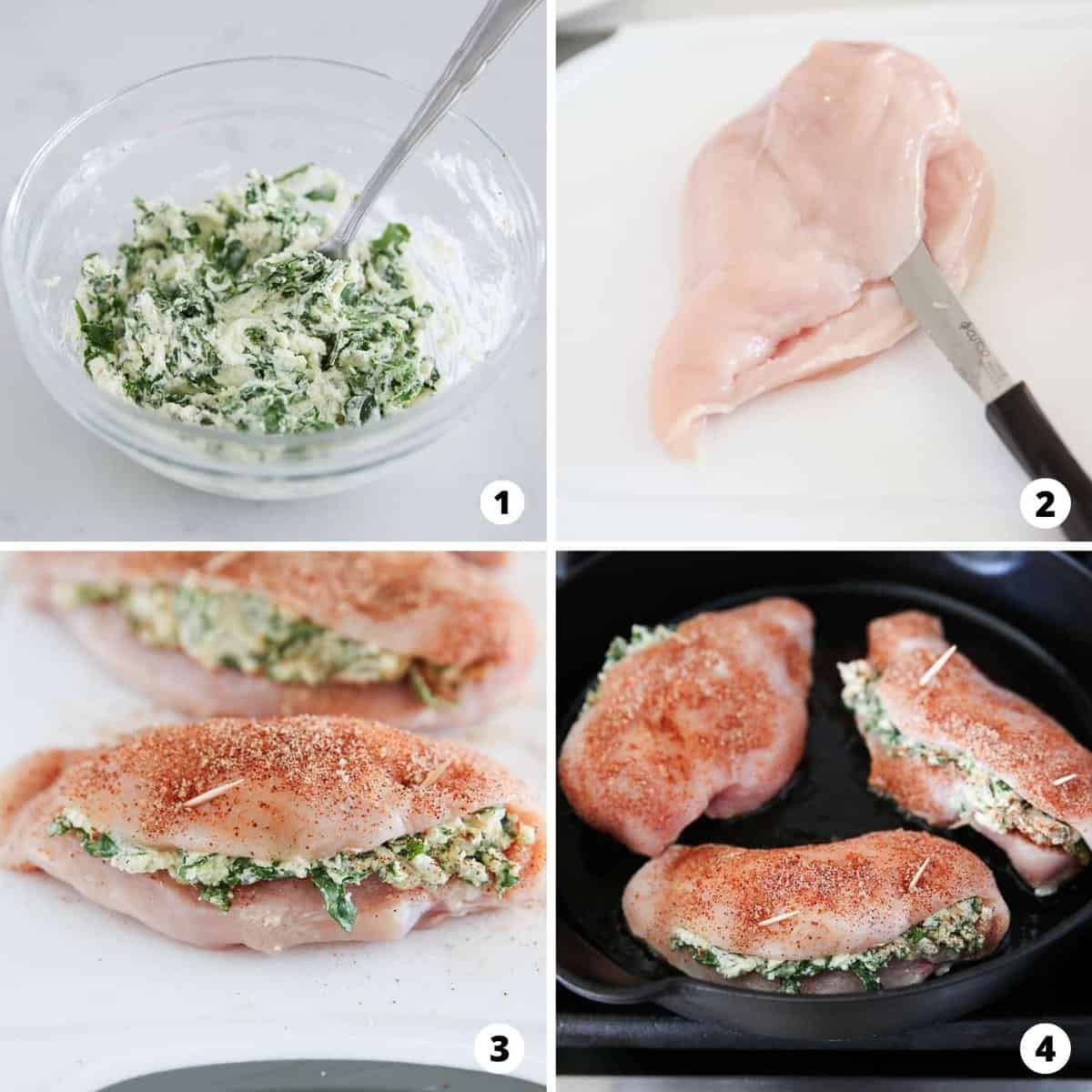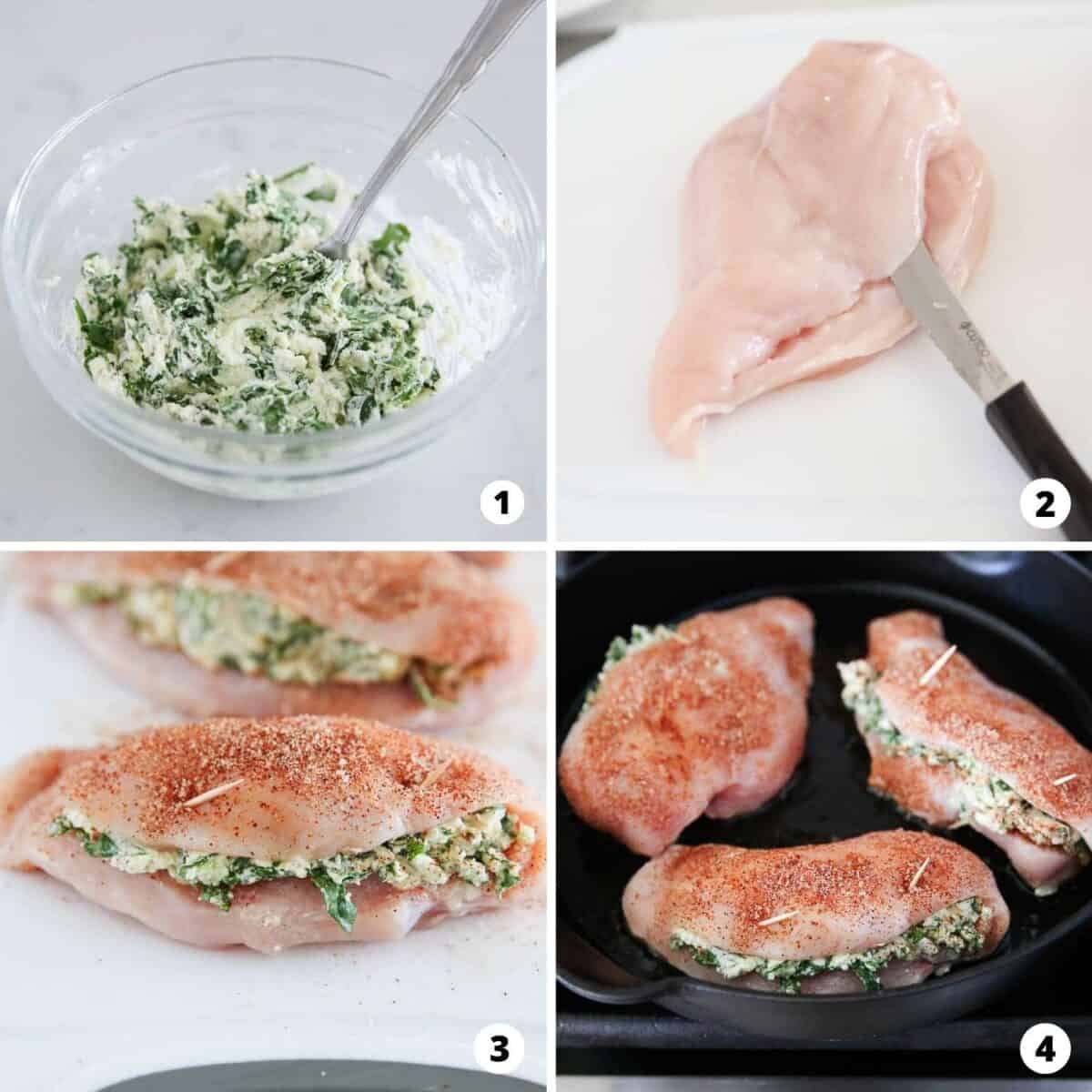 Make stuffing. Stir together the softened cream cheese, garlic, spinach, mozzarella, parmesan, and seasoning. Stir everything well until it's all combined.
Cut slits. Use a sharp knife to carefully slice the side of the chicken breast ¾ of the way through the middle to create pockets. Make sure you don't cut all the way through to the other side.
Stuff. Spoon the spinach and cream cheese mixture into the pockets and secure with toothpicks inserted horizontally. Season the chicken breasts.
Cook. Add some color to the cheese stuffed chicken breasts by browning them on the stovetop in a skillet for 3 minutes per side until golden brown then bake them in the oven for 10 minutes. Allow the spinach and cream cheese stuffed chicken breast to rest for 10 minutes before slicing which lets the juices settle back into the meat.
5 star review
This stuffed chicken recipe is amazing. It is very easy to make comes together in minutes and is so flavorful! The spinach cream cheese stuffing is so good too!

– Matt
Expert Tips
Seal the pocket. Be careful not to cut the slit through your chicken breast, but don't worry if your knife goes a little too far. You can seal it up by using toothpicks to prevent all of your stuffing from leaking out of your finished cheese stuffed chicken breast.
Cover with foil. If the outside of the stuffed chicken breast is browning too quickly in the oven, cover it with some foil to prevent over-browning.
Extra spinach stuffing. You can use any extra stuffing as a delicious veggie dip!
Save time. The stuffing is super easy to whip up, but if you find yourself short on time, you can always substitute with a store-bought spinach dip or use leftovers of baked spinach artichoke dip. It makes a great shortcut, for days when time is extra tight.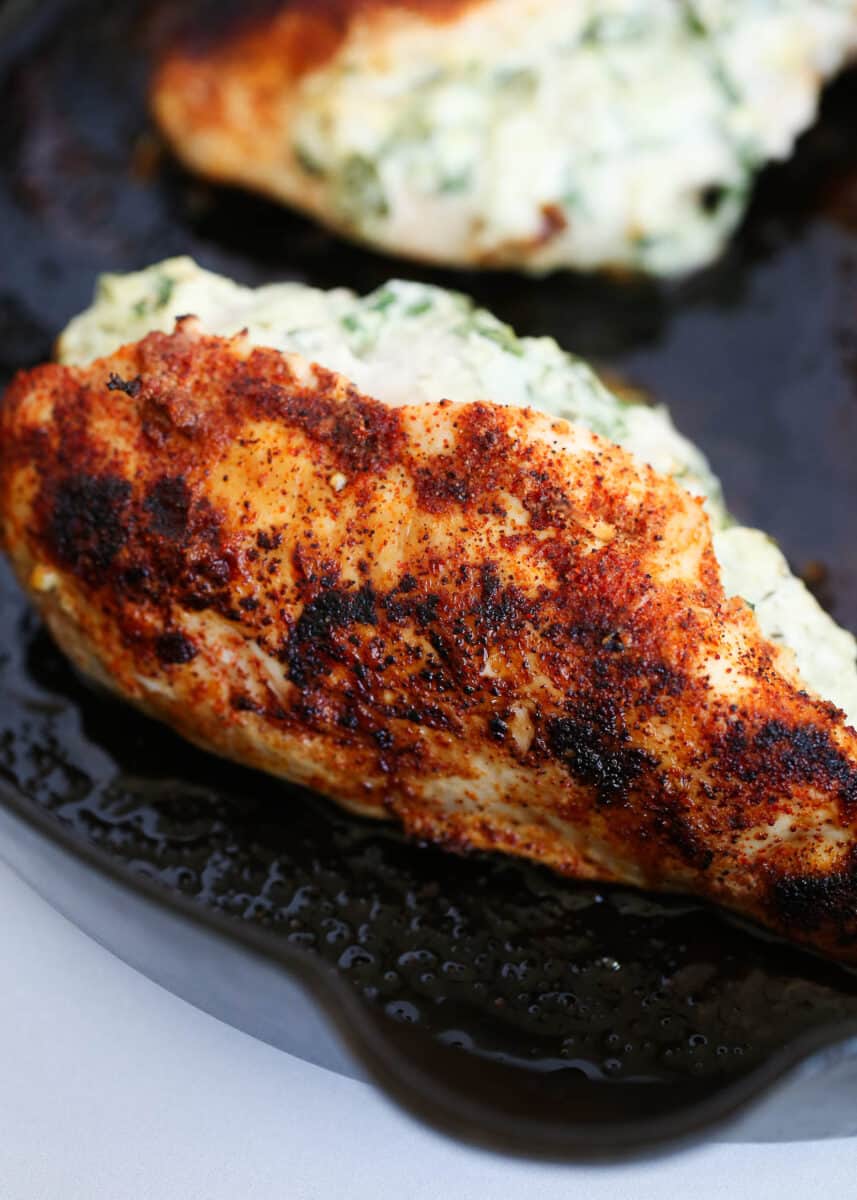 Recipe FAQs
Can I swap the type of cheese?
Absolutely! Just make sure to use a melting cheese in place of the mozzarella cheese. Cheddar or gruyere would be good options! Parmesan cheese can be left out or used with any other type you decide on.
Can I use frozen spinach?
I recommend using fresh spinach if you can, but if you only have frozen then go ahead and use it. Make sure to defrost it first and squeeze as much water as you can out of it before mixing it with the other filling ingredients.
How do I keep the stuffing from falling out of the chicken?
Make sure you cut the slit three-quarters of the way through the breast (being careful not to cut it all the way through) to create a large enough pocket for the filling.

If the stuffing seems to be overflowing, I like to seal the cheese stuffed chicken breast with toothpicks to help enclose it inside of the breast meat.
How do you know when stuffed chicken breast is cooked?
You never want to eat undercooked chicken, so it's important to make sure that it's cooked to the right temperature. The chicken is fully cooked once the thickest part of the chicken reaches an internal temperature of 165°F.

The best way to test the temperature is with a meat thermometer. Insert the thermometer through the thickest part of the meat to get the best reading.
Storing + Reheating
This chicken recipe tastes the best when you eat it on the first day as it can sometimes be a bit tricky to reheat, but you can definitely store it.
Place your leftovers in an airtight container in the refrigerator for up to 3 days.
To reheat the cheese stuffed chicken breast, place it on a baking sheet and cover with foil, then warm it in the oven for 10 minutes at 325°F.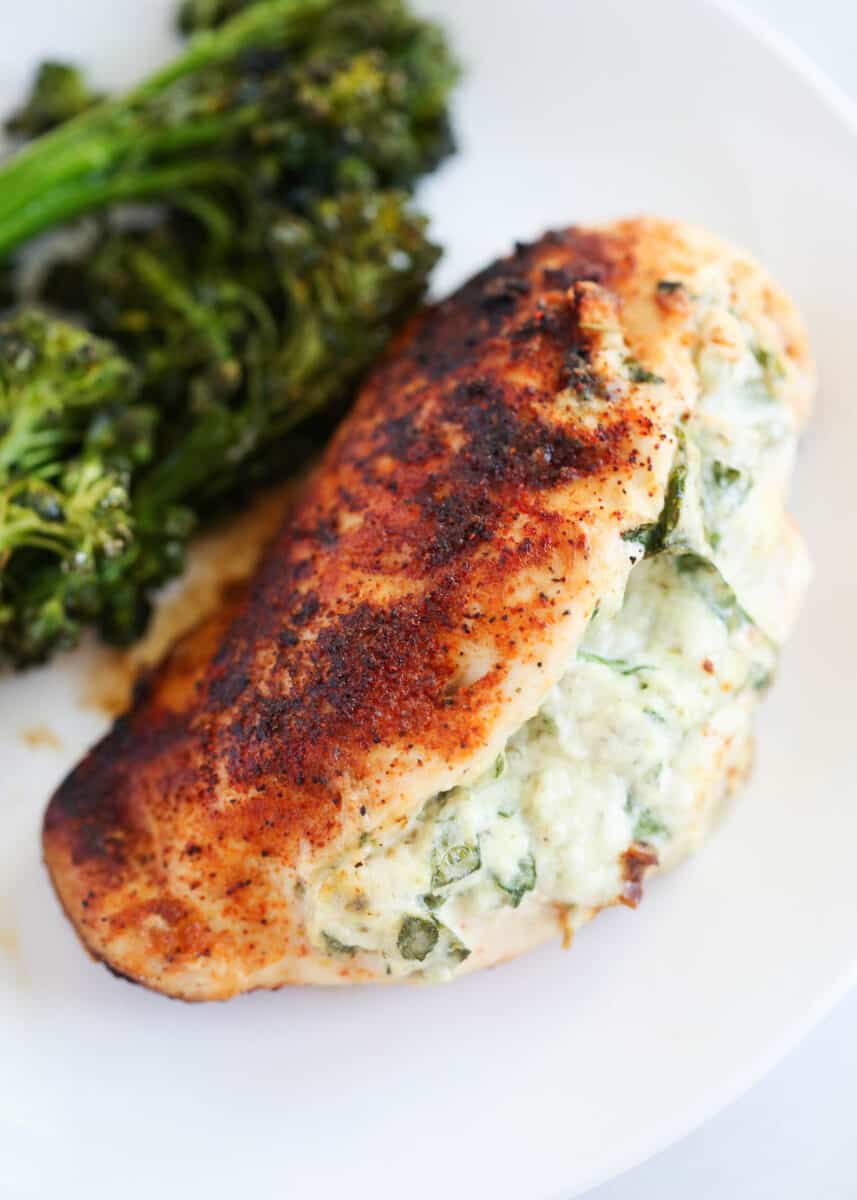 HUNGRY FOR MORE? Subscribe to my newsletter and follow on Facebook, Pinterest and Instagram for all the newest recipes!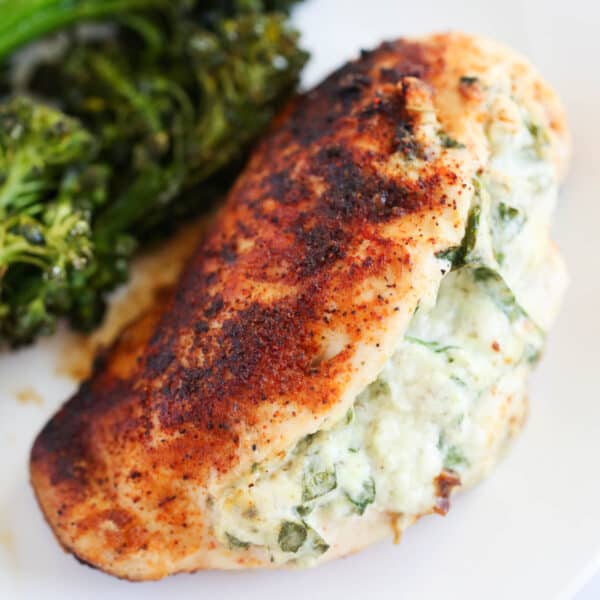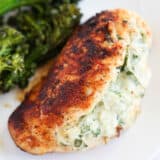 Spinach Stuffed Chicken Breast
Chicken doesn't have to be bland and with this spinach and cream cheese stuffed chicken breast recipe, you can enjoy incredibly flavorful tender chicken stuffed with a cheesy spinach filling and cooked until golden brown in under 45 minutes!
Ingredients
Cream Cheese Filling
4 ounces cream cheese
3 cloves garlic , minced
¾ cup chopped baby spinach , about 2 cups before chopped
¼ cup mozzarella cheese
3 Tablespoons parmesan cheese
1 teaspoon Italian seasoning
½ teaspoon kosher salt
Chicken
2 pounds boneless, skinless chicken breasts (3-4 breasts)
1 teaspoon Kosher salt
1 teaspoon garlic powder
½ teaspoon smoked paprika
¼ teaspoon freshly ground black pepper , plus more to taste
2-3 Tablespoons avocado oil , or olive oil
Instructions
Preheat the oven to 425°F.

In a large bowl, stir together the cream cheese, garlic, spinach, mozzarella, parmesan, Italian seasoning and 1/2 teaspoon kosher salt until combined.

Trim the chicken of any excess fat and pound the top if it is too thick (don't pound less than 1/2-inch). Cut a slit 3/4 the way through the middle of the chicken (being careful not to cut all the way through). Then stuff the chicken with the spinach mixture. Secure with toothpicks (placing in horizontally if possible).

In a small bowl, whisk together the salt, garlic powder, paprika, and pepper. Rub evenly over both sides of the chicken.

In a large, heavy-bottomed iron skillet, heat olive oil over medium heat. Add chicken and sear 3 minutes per side, or until golden brown.

Transfer skillet to oven. Bake 10 minutes, or until a thermometer inserted into the middle of the chicken reads 165˚F.

Remove from the oven and let rest 5 to 10 minutes before slicing to allow the juices to absorb. Do not skip this step or your chicken will not be as juicy.
---
Notes
Spinach: You can swap fresh for frozen. Just make sure the frozen is thawed and squeezed dry of any extra liquid. Storage: This is best eaten the first day, but you can store it. Place leftovers in an airtight container up to 3 days in the refrigerator. Reheat in a 325°F oven 10 minutes, or until warm.
Nutrition
Serving: 1g | Calories: 387kcal | Carbohydrates: 3g | Protein: 43g | Fat: 21g | Saturated Fat: 8g | Polyunsaturated Fat: 3g | Monounsaturated Fat: 8g | Trans Fat: 0.03g | Cholesterol: 148mg | Sodium: 888mg | Potassium: 784mg | Fiber: 1g | Sugar: 1g | Vitamin A: 1388IU | Vitamin C: 5mg | Calcium: 138mg | Iron: 1mg
Nutrition provided is an estimate. It will vary based on specific ingredients used.
Did you make this recipe? Don't forget to give it a star rating below!