Pumpkin crisp is made with the classic flavors of a pumpkin pie and the simplicity of a crisp. Topped with a sweet cinnamon streusel topping, this easy dessert is sure to please any crowd at your next holiday party!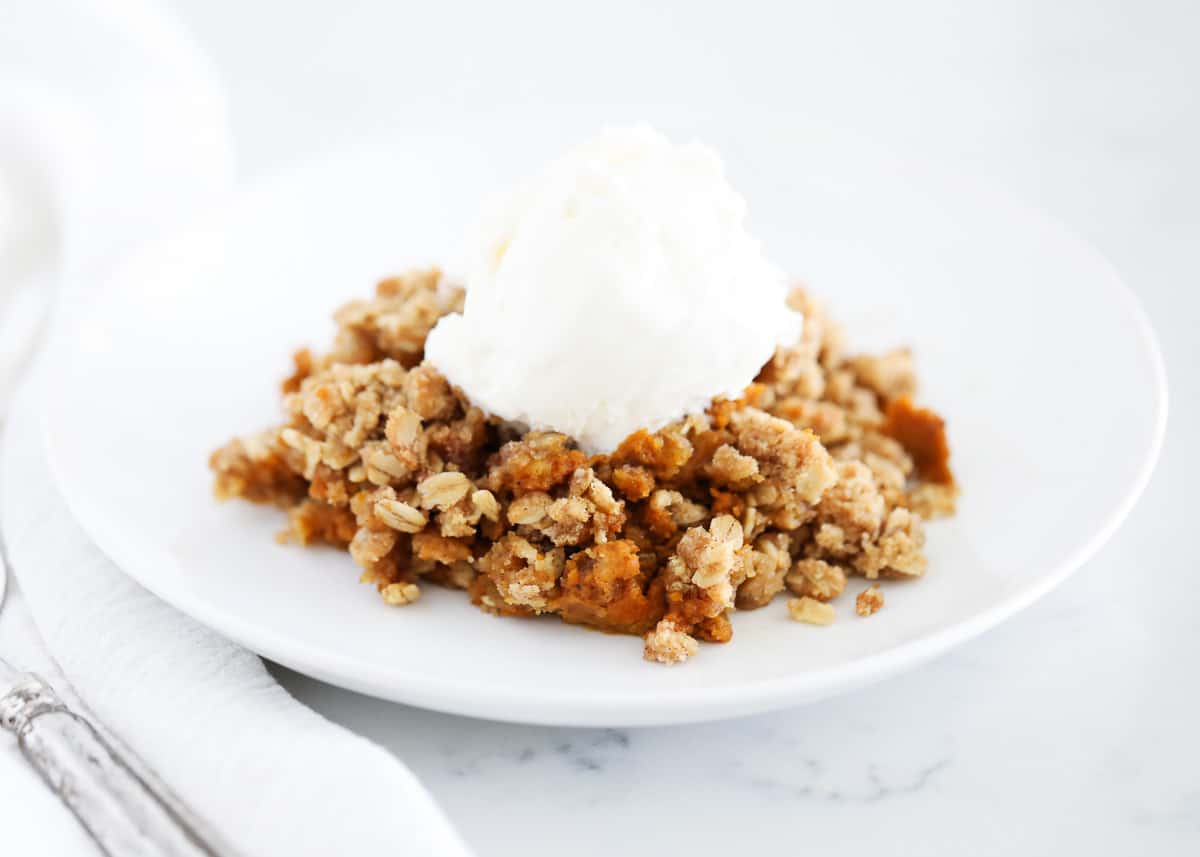 Easy Pumpkin Pie Crisp
If you love an apple crisp, you're going to love this pumpkin crisp just as much! It's a cross between a pumpkin pie and everyone's favorite fruit crisp, but the twist is, there's no fruit!
It's made with creamy base filling of fresh pumpkin puree with loads of pumpkin pie spice. Then, it's covered with a cinnamon streusel topping and when served warm along with a scoop of vanilla ice cream.
This homemade pumpkin crisp recipe is one of the best pumpkin recipes that will come in handy when you need dessert for your Thanksgiving menu or Christmas dinner, but don't have time to bake pie with a homemade pie crust!
Planning Ahead?
Make the pumpkin mixture and the streusel topping ahead of time, but keep them separate in the fridge until you're ready to bake it. This way the streusel won't become soggy and you'll just assemble it when you're ready to bake it!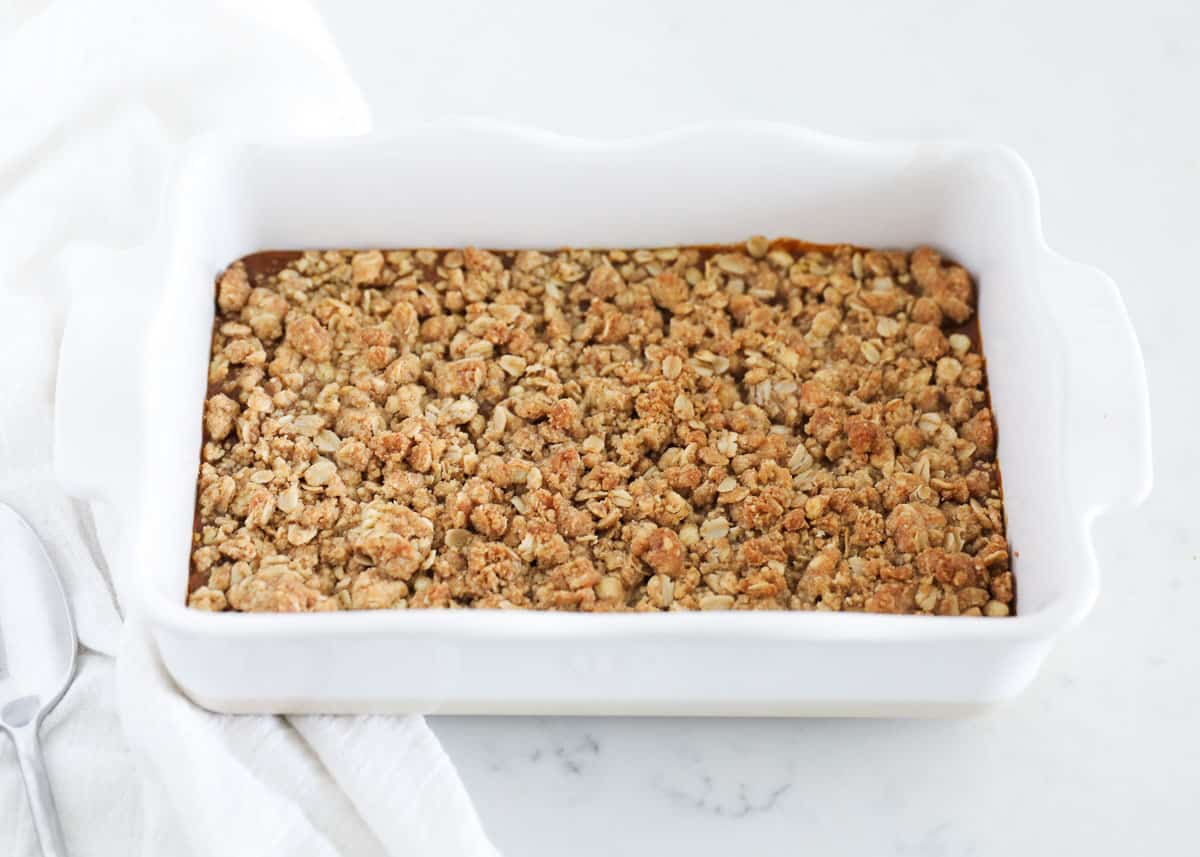 Tips & Variations
I use salted butter in this recipe because the salt brings out the other ingredients in the streusel. If you are using unsalted butter, remember to add 1/4 teaspoon of salt with the cinnamon.
Double this recipe and use a 9 x 13″ pan. The entire dish will be thicker so you'll need to bake it for about 3-5 minutes longer.
Add 1/2 cup of chopped nuts (walnuts, pecans, almonds) to the streusel for added crunch!
If you notice the streusel is browning too fast, cover it with foil.
You could also use a simple crumble topping (without the oats), although I enjoy the crunch that the oats add to the dessert.
Store any leftovers and enjoy for up to a few days, but don't freeze it (the consistency of this crisp will not hold up to being kept frozen).
What to Serve it With
When I'm serving a crowd, I'll provide topping options, such as whipped cream, vanilla ice cream, and caramel sauce, but it's got so much of the pumpkin pie spice flavor going on, it's perfect all on its own.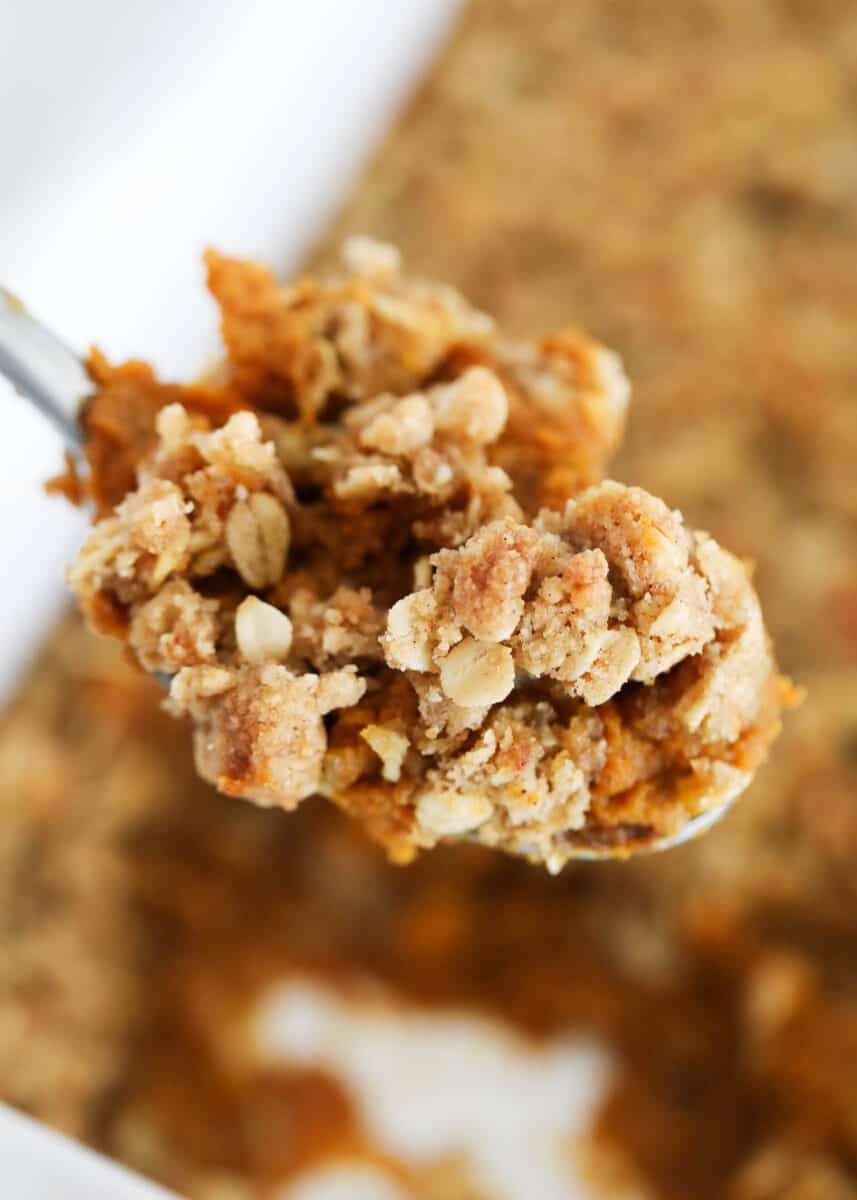 FAQ
Can I use pumpkin pie filling instead?
Technically yes, but here's why I don't. Using pumpkin puree allows me to adjust the seasoning to my liking. I find pumpkin pie filling quite sweet as it comes with its spices and sugar already added. You can use it in a pinch, just keep in mind the flavor won't be the same, and the texture and color may be different as well.
What if I don't have pumpkin spice?
Pumpkin pie spice is a simple combination of cinnamon, nutmeg, cloves, ginger, and allspice. If you have any or all of those, combine 4 teaspoons each of cinnamon and nutmeg and 1 teaspoon each of the remaining spices.
How to Store a Pumpkin Crisp
As with any crisp, it's always best served warm the day it's made. Keep any leftovers stored in the fridge for up to 3 days and enjoy again reheated or cold straight out of the fridge! The longer it sits the soggier it will get, so to crisp it back up a bit, use the oven or toaster oven.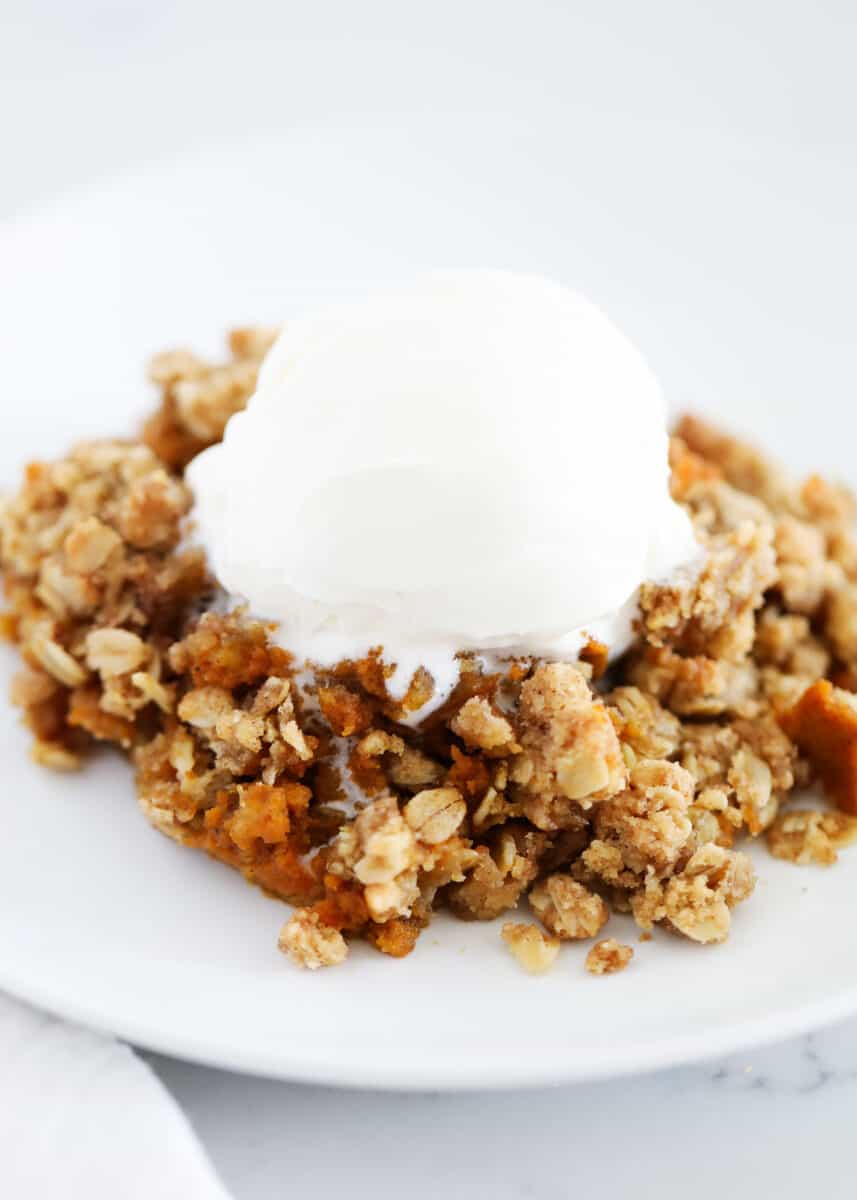 More Easy Fall Desserts:
HUNGRY FOR MORE? Subscribe to my newsletter and follow on Facebook, Pinterest and Instagram for all the newest recipes!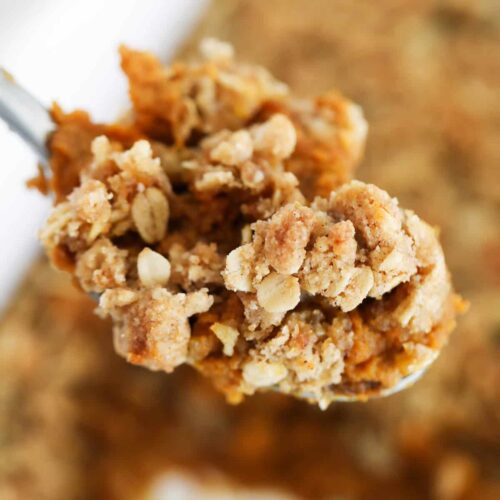 Pumpkin Crisp
Pumpkin crisp is made with the classic flavors of a pumpkin pie and the simplicity of a crisp. Topped with a sweet cinnamon streusel topping, this easy dessert is sure to please any crowd at your next holiday party!
Ingredients
Streusel Topping
6 Tablespoons salted butter , slightly melted
⅔ cup all-purpose flour
½ cup old fashioned oats
⅓ cup light brown sugar , packed
½ teaspoon ground cinnamon
Optional: 1/2 cup chopped nuts
For serving (optional): Vanilla ice cream or whipped cream
Instructions
Preheat the oven to 375°F. In a large bowl, combine the flour and butter with a fork or pastry mixer. Then mix in the oatmeal and brown sugar. Add nuts if desired.

Combine the sugar and eggs in a large bowl. Whisk or mix with an electric mixer for about 1 minute. Then whisk in the milk. Next whisk in the pumpkin, vanilla, pumpkin pie spice, cinnamon and salt. Then pour into an 8×8" or 9×5" baking dish.

Sprinkle the streusel topping on top of the pumpkin. Then bake for 35 – 45 minutes or until the center is set. Cover the top with foil if the streusel is browning too fast.

Remove from oven and allow to cool for 10 minutes. Then spoon into bowls. Add whipped cream or ice cream on top if desired.
---
Notes
Butter: If you use unsalted butter, add in 1/4 teaspoon salt with the cinnamon. Doubling: This recipe is easy to double and place in a 9×13″ pan. The pumpkin mixture will be a little thicker, so you'll want to cook and additional 3-5 minutes. Make ahead: If you want to make ahead, I would recommend making the pumpkin and streusel mix and storing in the refrigerator until ready to serve. Then combine once ready to bake so the streusel does not get soggy. Storage: This recipe is best served the first day while warm. You can store the leftovers in the fridge for up to 3 days. This recipe does not freezer well.
Nutrition
Calories: 242kcal | Carbohydrates: 33g | Protein: 4g | Fat: 11g | Saturated Fat: 6g | Polyunsaturated Fat: 1g | Monounsaturated Fat: 3g | Trans Fat: 1g | Cholesterol: 48mg | Sodium: 250mg | Potassium: 167mg | Fiber: 2g | Sugar: 20g | Vitamin A: 5098IU | Vitamin C: 2mg | Calcium: 72mg | Iron: 1mg
Nutrition provided is an estimate. It will vary based on specific ingredients used.
Did you make this recipe? Don't forget to give it a star rating below!