There are plenty of ways to use a black beans and rice dish whether as a side, a main, in a burrito, or a bowl. Made with aromatic, buttery black beans, cumin, and lime juice, this simple dish is about to become your new favorite dinner staple!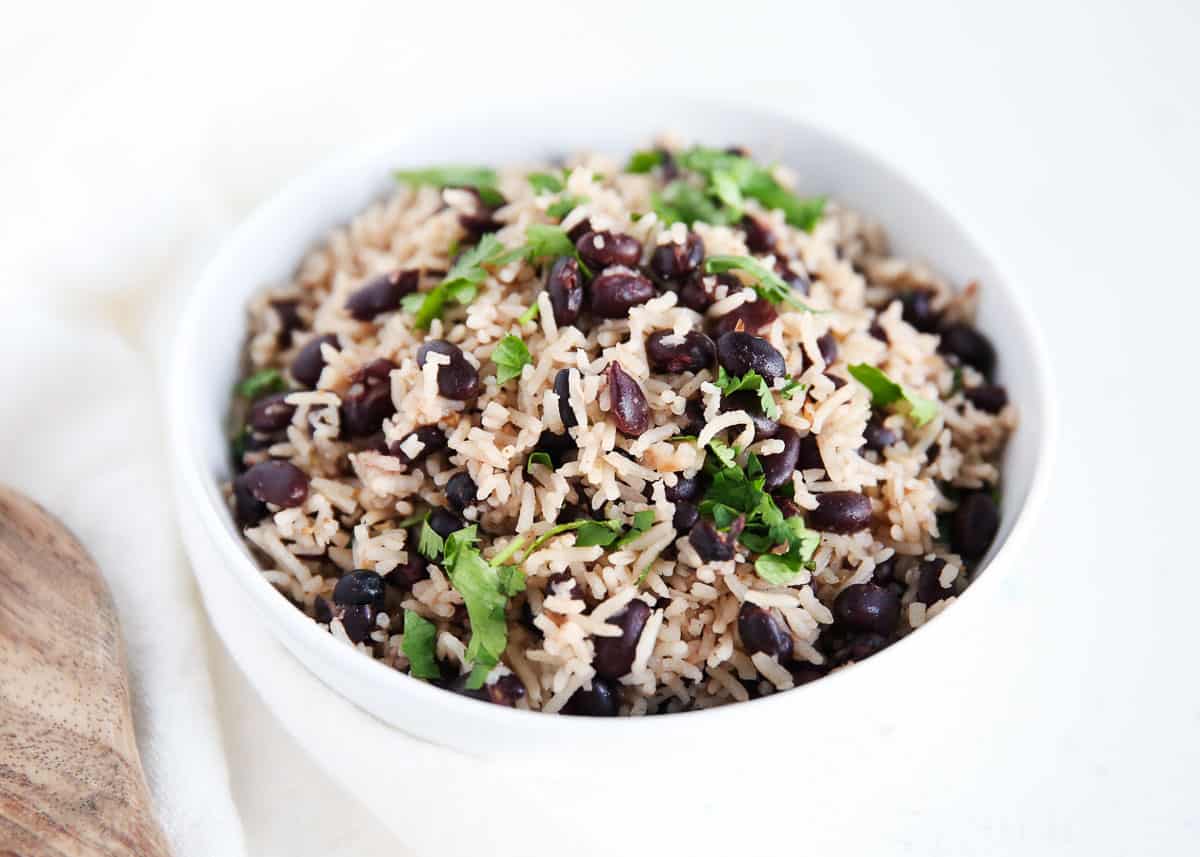 30 Minute Rice
Did you know that the combination of rice and beans makes a complete protein? That's why it's a staple dish in vegetarian and vegan diets and great for when you just don't have any meat to eat!
So, not only does this delicious rice make a great side dish recipe, but it can also be enjoyed as a complete 30-minute meal when you add some steamed vegetables on the side!
We're using canned black beans which means there's no presoaking required and it's all done in one pot. This recipe is made with sauteed onions, fluffy rice, buttery black beans, cumin spice, and a squirt of lime to finish.
It's truly one of my favorite rice dishes on the blog that we make often when serving Mexican foods!
Why This Recipe Works
Quick and easy. The whole thing is done in 30 minutes using a single pot for easy cleanup, but we're also using canned beans, which eliminates the need to soak dry beans overnight.
Versatile. This is a great stand-alone recipe but it can also be used in so many ways. As a filling for burritos or enchiladas, or as part of a one pot burrito bowl. Have some with some leafy greens and make it a salad. The options as a main or Mexican side dish are endless.
Budget-friendly. Canned beans and bags of rice are relatively inexpensive, have long shelf lives, and can be bought in bulk.
Recipe Ingredients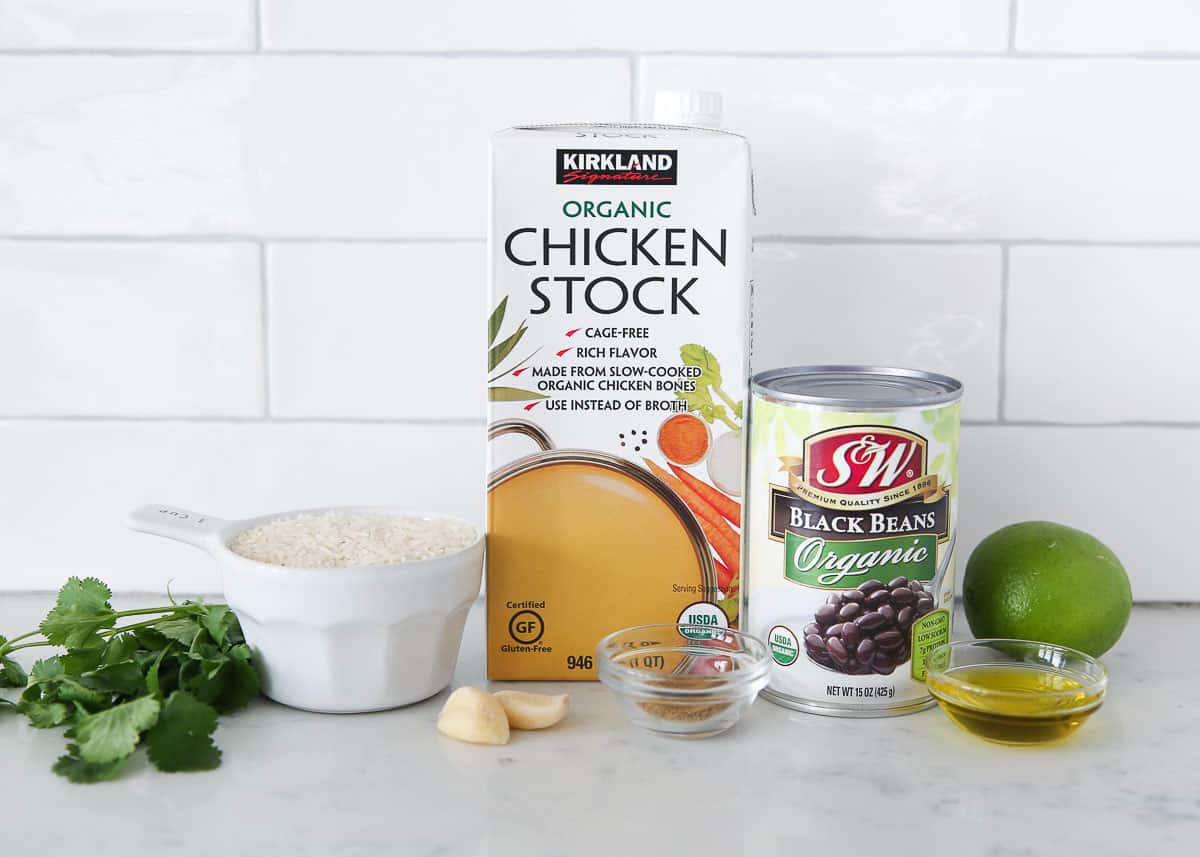 Find the full printable recipe with specific measurements below.
Onion & garlic: I love that in this rice and black beans recipe the onion and garlic not only give it flavor but the little bits of caramelized onion become a textural part of the dish.
Cumin: An earthy warm spice that adds an element of Latin-inspired flavor.
White rice: Start with uncooked jasmine or long grain rice. You want to use one that doesn't contain a ton of starch so the grains don't stick together. Basmati rice also works.
Chicken broth: Using broth instead of water gives it so much extra yummy flavor!
Black beans: Drain and rinse your canned beans before adding them to the recipe.
Lime juice: Freshly squeezed lime juice brightens up the entire dish with a refreshing finish.
Salt & pepper: To taste.
Chopped cilantro: Adds a pop of green and a signature flavor pairing with all kinds of rice dishes as a part of it or as a garnish. Mexican chicken and rice and Mexican rice are two examples of this.
Variations
For a spicy kick, throw in some chopped jalapenos, chili, or a dash of cayenne pepper.
Adding diced tomatoes is a great way to give it some acidity and zest.
Make yours with diced veggies like mushrooms, bell peppers, zucchini, corn, or olives.
Use brown rice for a bit more heartiness and that extra boost of nutrients. You will need to cook it for an extra 15 minutes as it takes longer than white rice.
As mentioned earlier it makes a great side dish for protein, but why not add it in? Diced ham, leftover Instant Pot pork carnitas, chicken breast, bacon, sausage, you name it!
Crumbled feta or a sprinkling of nutritional yeast would be great if you're looking to add some cheesiness.
How to Make Black Beans and Rice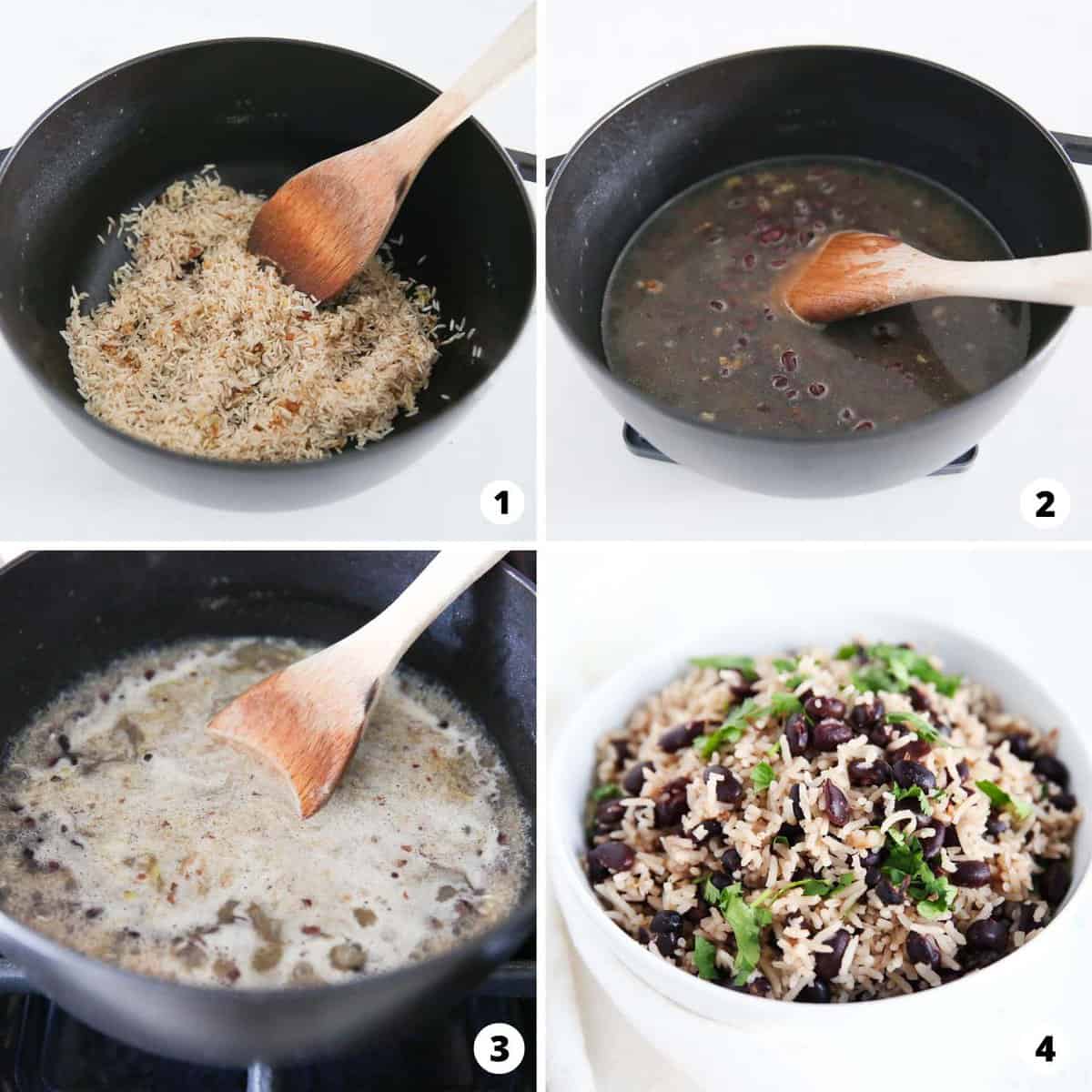 Saute onion and garlic over medium-high heat. You want to use either a saucepan or a stockpot large enough to hold the entire dish because it's all made in one pan. Then, add the cumin and rice and saute for 1 more minute. Smell those amazing aromas!
Pour in the broth and drained black beans. Stir it and allow it to come to a boil and then place the lid on top.
Reduce the heat to low and simmer for 20 minutes, stirring halfway. Once the rice is tender and the liquid has been absorbed, it's ready.
Season and serve. Stir in lime juice and cilantro and season with salt and pepper.
Tips on Cooking Rice
Always rinse your rice. No matter what kind it is. Some varieties will have more starch than others, but you still want to make sure you rinse off as much excess as possible. That way it won't stick together.
Rice to liquid ratio. 1 cup of brown or white rice to 2 cups of broth or water is what you want. Too much water and it will end up mushy. Too little water and you'll end up with it burning on the bottom, learn all my tips and trick on how to cook rice on the stove.
Season the water with salt. If you're using chicken broth as I do, skip this step.
Allow it to simmer. Keeping it over high heat will cause the water to evaporate too quickly before the rice has had a chance to absorb it.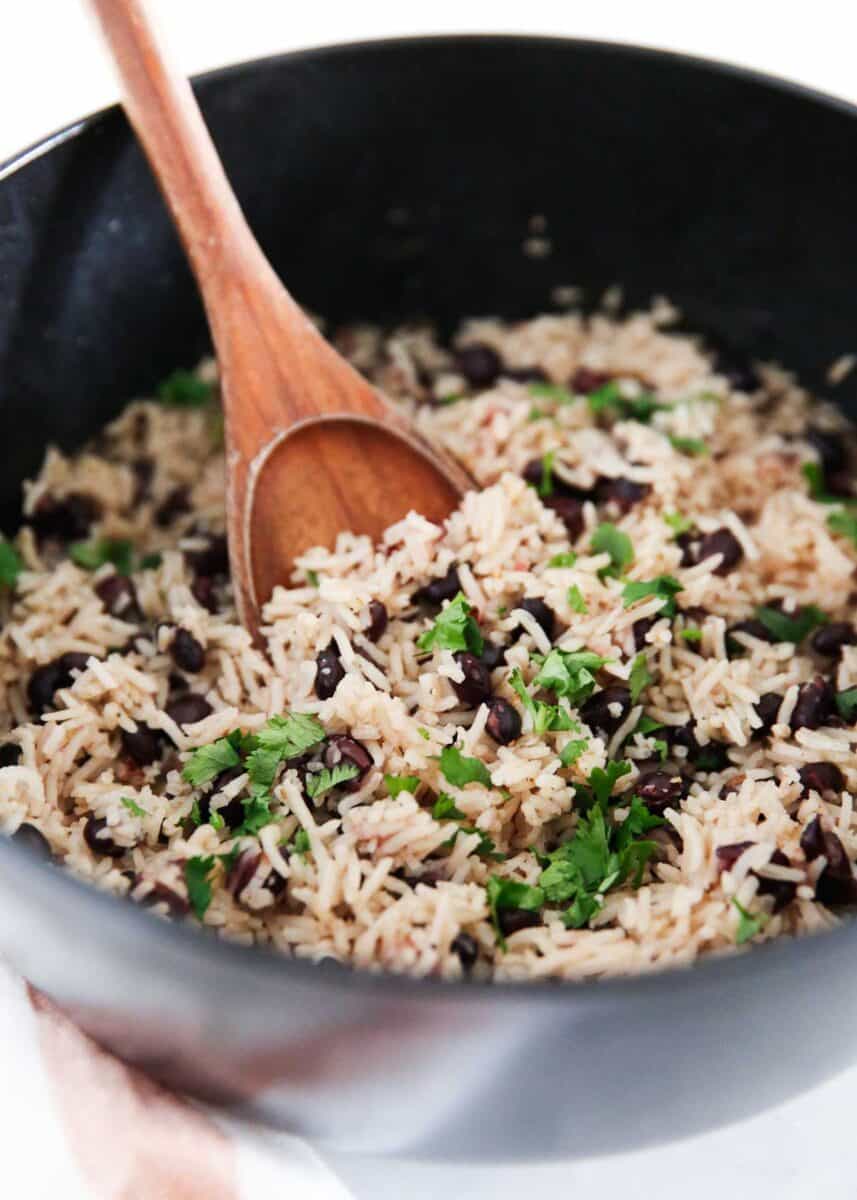 Recipe FAQs
How much cooked rice will I get from 1 cup of uncooked?
3 cups of cooked rice is what you'll end up with. Most people will be happy with a 1/2 cup on their plate, so this recipe is enough to feed 6 people.
Are beans and rice healthy?
A dish full of plant-based protein, high in fiber, and loaded with iron, I'd say yes. This vegetarian dish has it all.
What happens if I forget to rinse my canned beans?
That liquid comes with extra starch and a lot of sodium. So, not only will it affect the texture of your black beans with rice, but it will also affect its nutritional value.
Can I used cooked beans from scratch?
Sure home-cooked beans would be great! Just remember to soak your dry black beans overnight and then cook them on the stove for a couple hours before adding them to your rice.
Storing
Keep leftovers stored in an airtight container for up to 4 days in the fridge.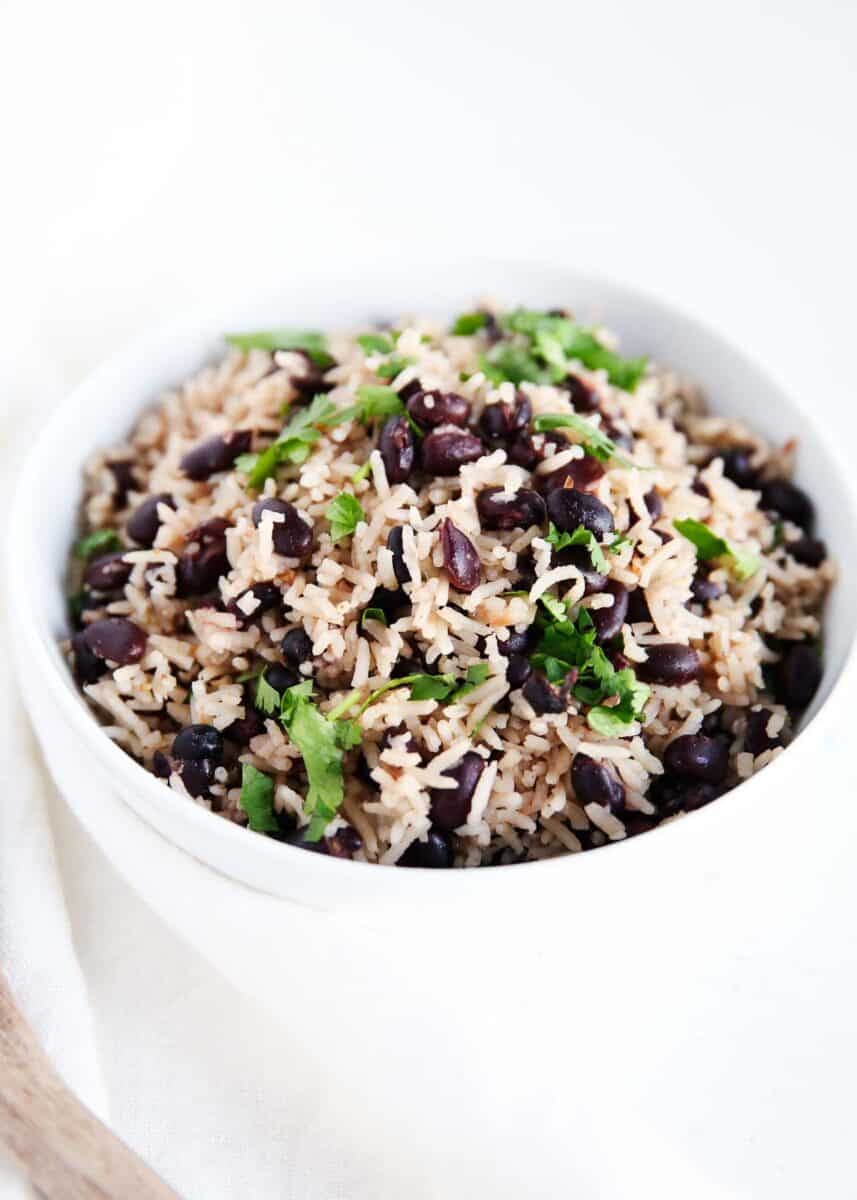 HUNGRY FOR MORE? Subscribe to my newsletter and follow on Facebook, Pinterest and Instagram for all the newest recipes!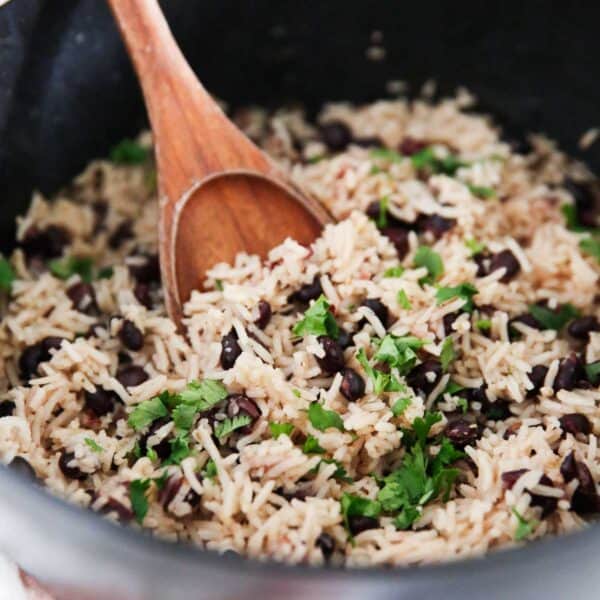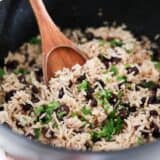 Easy Black Beans and Rice
There are plenty of ways to use an easy black beans and rice dish whether as a side, a main, in a burrito, or a bowl. Made with aromatic, buttery black beans, cumin, and lime juice, this simple dish is about to become your new favorite dinner staple!
Ingredients
1 Tablespoon olive oil
½ onion , finely chopped
2 cloves garlic , minced
½ teaspoon ground cumin
1 cup uncooked white rice (jasmine or long grain)
2 cups chicken broth
1 (15-ounce) can black beans , drained and rinsed
1 lime , juiced (about 1-2 Tablespoons)
finely chopped cilantro
¾ teaspoon Kosher salt , more to taste
Ground black pepper , to taste
Instructions
In a stockpot or saucepan, heat oil over medium-high heat. Add the onion and sauté until transparent. Stir in the garlic and sauté for 1 minute. Add the kosher salt, cumin and rice. Sauté 1 minute more.

Pour in the broth and beans. Bring to a boil and cover. Reduce heat to low and simmer 15-18 minutes, or until rice is tender, stirring half way through.

Stir in lime juice and cilantro. Season with salt and pepper.
---
Notes
Spice: Feel free to add chopped jalapeños, chili's, or cayenne pepper for a little extra kick. Storage: Store leftovers in a covered container in the refrigerator up to 4 days.
Nutrition
Calories: 145kcal | Carbohydrates: 27g | Protein: 3g | Fat: 3g | Saturated Fat: 0.4g | Polyunsaturated Fat: 0.3g | Monounsaturated Fat: 2g | Cholesterol: 2mg | Sodium: 293mg | Potassium: 77mg | Fiber: 1g | Sugar: 1g | Vitamin A: 15IU | Vitamin C: 3mg | Calcium: 18mg | Iron: 0.5mg
Nutrition provided is an estimate. It will vary based on specific ingredients used.
Did you make this recipe? Don't forget to give it a star rating below!