Baked chicken chimichangas are flour tortillas stuffed with refried beans, saucy salsa, melted cheese, and seasoned cooked chicken. Then we fold them and bake them in the oven until they're golden, crispy, and deliciously messy!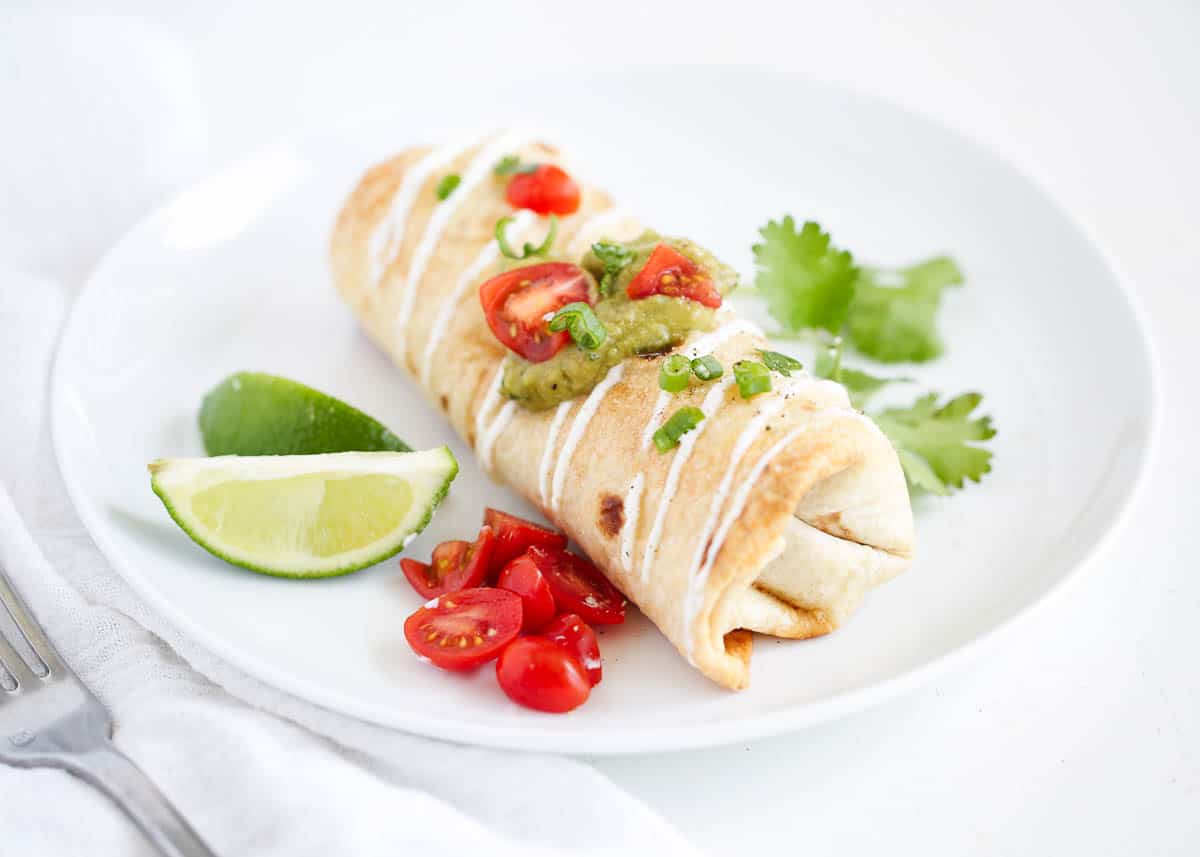 Oven-Baked Chicken Chimichangas
Cinco de Mayo is coming up so the wheels are in motion figuring out what's on this year's menu. Along with baked chicken chimichangas, it's a toss-up between my baked chicken taquitos, chicken burritos or this easy bean burrito recipe.
As you can imagine we eat homemade Mexican food all year round, so whatever I don't make on the 5th, we'll just move it over to the following week I'm sure!
Chimichangas are quick and easy to throw together and a great way to use leftover chicken. If you need a simple, satisfying and wholesome family meal, these baked chicken chimichangas check all the boxes!
What is a Chimichanga?
Traditionally they're deep-fried to get the crispy tortilla shell that's folded around the cheesy, sauce, loaded filling. In other words, a deep-fried burrito! However we're baking ours like my favorite beef enchilada recipe, which makes them lighter and healthier but still nice and crispy.
Chimichanga vs Burrito
Ok, so granted they are similar but not entirely the same. A burrito has filling stuffed into a flour tortilla just like the chimichanga, however, the burrito is served as is. The tortilla is still soft and never aims to be crispy by baking it or frying it.
The filling in both a chimichanga and burrito is flexible, which means you can make it exactly the way you like it. Use chicken, beef, pulled pork, or no meat at all!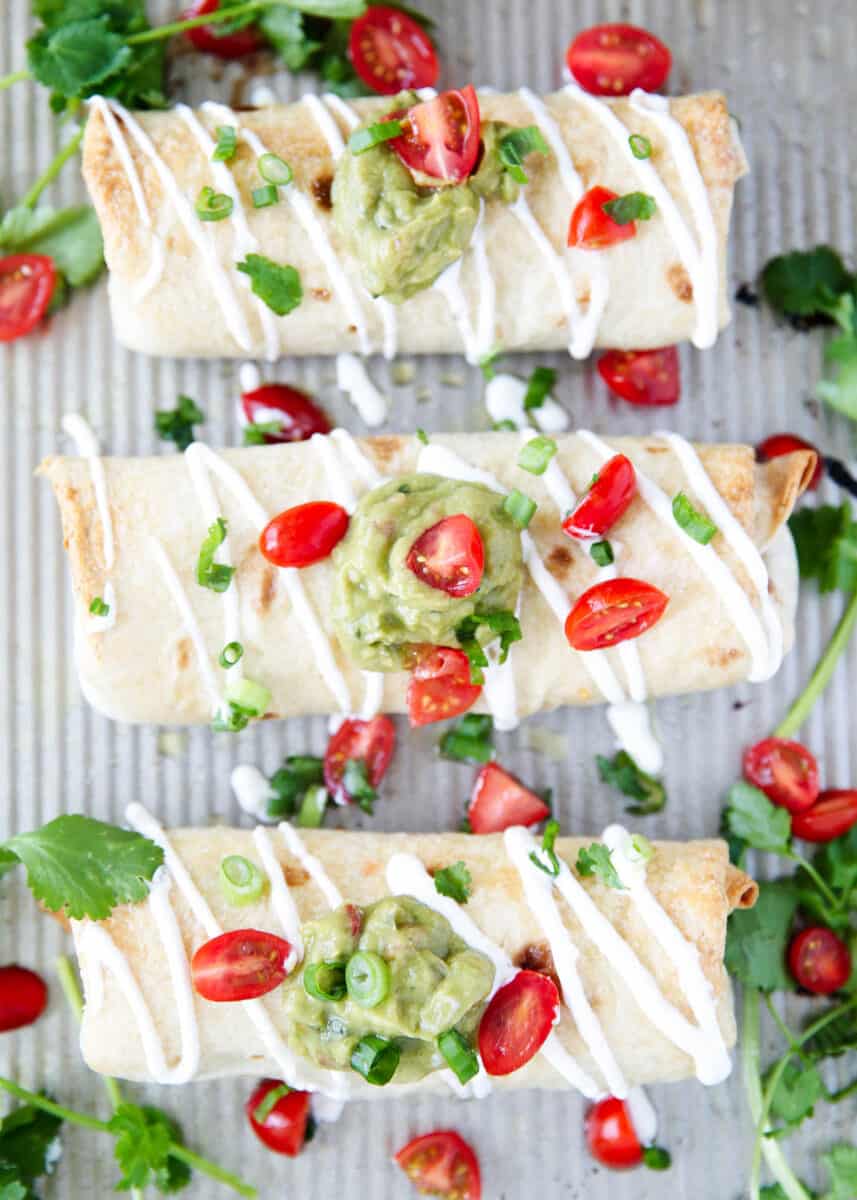 Ingredients for Chicken Chimichangas
Olive oil spray – We're not deep frying it in a pot of oil, but we do still want that crispy golden exterior. To do this we're using olive oil spray. A brushing of melted butter also works.
Tortillas – I use large flour tortillas so that they're big enough to hold all the filling! The sprinkling of salt on top just before it bakes gives the outside shell so much flavor.
Refried beans – Double the amount (maybe add some rice) if you're skipping the chicken for vegetarian chimichangas. Homemade refried beans will take your chimichanga to the next level!
Cheese – I use Colby Jack or mozzarella. Cheddar cheese is an option and so is leaving it out for a dairy-free chimichanga. Whatever you do, grate it from a block yourself. It melts easier and tastes a lot better than prepackaged cheese.
For the Chimichanga Filling
Feel free to use shredded chicken, chopped, leftover rotisserie, or Instant Pot Mexican chicken. Whatever you have you can use! This meat is easy to customize in this recipe.
I'm always a cheerleader when it comes to the fresh taste of homemade salsa, but jarred salsa is great too. A combination of dried cumin, chili powder, and oregano brings it together but sometimes I'll use my homemade taco seasoning. We also add some green onions to give it a fresh, mildly pungent, and crunchy addition to the filling.
How to Make this Baked Chimichanga Recipe
They're not fried which means no grease splatter, or using a ton of oil. Here's the kicker, if you don't want to bake them, this is still a great burrito recipe!
Mix the filling. In a medium bowl, mix the chicken, salsa, cumin, oregano, chili powder, onions, and cheese until combined.
Assemble the tortillas. Spread the refried beans down the center of the tortilla and place 1/2 cup of the chicken mixture on top. Fold in the sides and roll it up like you would a burrito.
Spray with oil. Arrange each rolled-up chimichanga on the prepared foil-lined and sprayed baking sheet. Spray the tops of the tortillas and sprinkle with salt.
Bake. Pop the baking sheet in the oven and bake the chicken chimichangas for 25 minutes until they're golden brown. Serve warm with your favorite toppings. See below for yummy inspiration on how to dress yours up!
Frying Method
Add oil to a large skillet. When I do fry mine I use vegetable oil. It's cheap, so I don't mind using it a lot, and it's neutral tasting.
Transfer rolled tortillas to the skillet and place seam side down so the filling doesn't spill out.
Turn every 30 seconds or so until chimichangas are lightly golden on the outside. It won't take long for the inside to warm up and the cheese to melt.
Toppings for Chimichangas
A dollop of sour cream.
There's nothing like freshly made guacamole from scratch
Cool diced tomatoes on warm baked chicken chimichangas is the best.
So is chopped cilantro!
Avocado lime dressing is a nice creamy zesty addition.
Lime wedges for everyone to squirt a little juice on theirs.
A drizzle of cilantro lime crema would be amazing.
Green chiles or salsa verde just because it's awesome.
Homemade pico de gallo is a staple on our table.
What to Serve with Baked Chicken Chimichangas
Complete your meal with more of your favorite Mexican restaurant items made quickly and easily right at home!
The only thing left to do is wash it down with a refreshing horchata drink!
FAQs
What substitutions and variations can I make to the filling?
Use a different protein for a change. Shredded beef, sweet pork, and taco meat are great swaps. You can even omit the meat completely and add in more vegetables, whole beans, or refried beans.

Add more heat to yours by sprinkling in some cayenne pepper to the chicken mixture, or diced jalapenos. Or add rice, beans, corn, you name it. Then replace the regular salsa with roasted salsa for a twist!
Can I freeze baked chicken chimichangas?

Absolutely! These freeze well and make a great make-ahead meal. Once you've rolled them up, don't even bake them. Wrap them tightly in plastic wrap and then transfer them to a freezer-friendly Ziploc bag. They'll keep frozen for up to 3 months.

Baked chicken chimichangas can be made directly from frozen. Keep them in the oven for a little while longer.
How long will they last in the fridge?

Keep baked chicken chimichangas wrapped and stored in an airtight container in the fridge for up to 4 days. They will lose their crispness. If you're ok with that, and you're too hungry to wait, pop it in the microwave to reheat.

To regain some of the crispness, reheat in the oven or the air fryer until warmed through and crispy.
Is chimichanga real Mexican food?

It's Mexican-inspired! The burrito is Mexican, but Americans have taken it one step further and popularized the deep-fried burrito, or in our case baked. Enter the Mexican-infused chimichanga.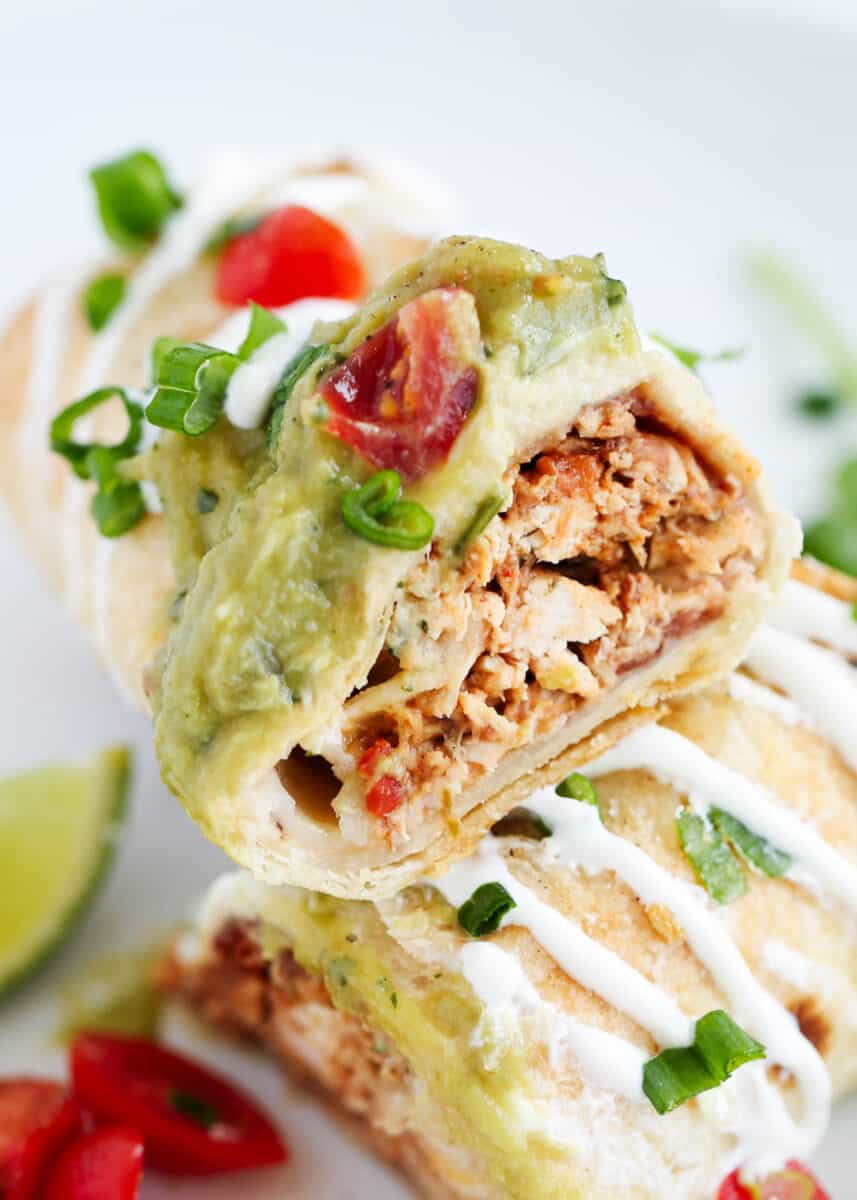 More Easy Mexican Recipes
HUNGRY FOR MORE? Subscribe to my newsletter and follow on Facebook, Pinterest and Instagram for all the newest recipes!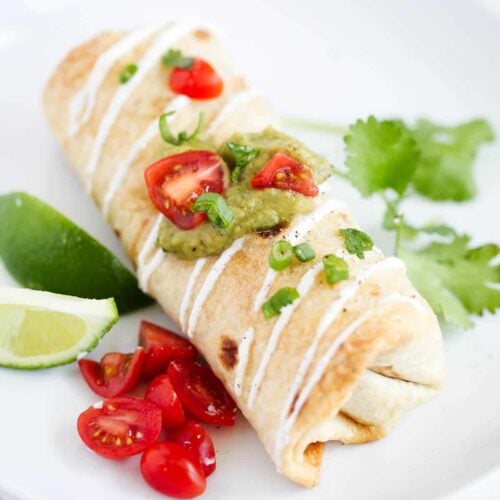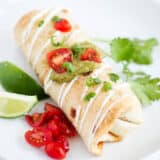 Chicken Chimichanga
Baked chicken chimichangas are flour tortillas stuffed with refried beans, saucy salsa, melted cheese, and seasoned cooked chicken. Then we fold them and bake them in the oven until they're golden, crispy, and deliciously messy!
Ingredients
Olive oil spray
3 cups cooked chicken , chopped or shredded
¾ cup salsa
1 teaspoon ground cumin
1 teaspoon chili powder
½ teaspoon crushed dried oregano
2 chopped green onions (about 1/4 cup)
6 (8-inch) large burrito-style flour tortillas
1 cup refried beans , divided
½ – 1 cup shredded cheddar cheese , plus more if desired
Kosher salt
Toppings: Diced tomatoes, Sour cream, Guacamole, Salsa, and Shredded Cheese
Instructions
Preheat the oven to 400°F. Spray a baking sheet with olive oil spray.

In a medium bowl, mix together chicken, salsa, cumin, oregano, chili powder, onions, and cheese.

Spread 1 to 2 Tablespoons beans in the center of a tortilla. Place 1/2 cup of chicken mixture on top of beans. Fold in sides of the tortilla and roll it into a burrito. Place on baking sheet. Repeat with remaining tortillas and filling.

Spray the top of the tortillas with olive oil spray and sprinkle with salt. Bake 25 minutes, or until golden brown.

Serve warm with desired toppings.
---
Notes
Frying: In a large skillet, heat vegetable oil and place chimichangas seam-side down. Turn every 30 seconds, or until lightly golden. Freezing: Roll as directed, however do not bake. Wrap tightly in plastic wrap and transfer to freezer bag. Freeze for up to 3 months. Bake from frozen when ready to serve. Keep them in the oven for a little while longer to get crispy.
Nutrition
Calories: 364kcal | Carbohydrates: 23g | Protein: 29g | Fat: 17g | Saturated Fat: 8g | Polyunsaturated Fat: 2g | Monounsaturated Fat: 4g | Cholesterol: 81mg | Sodium: 908mg | Potassium: 329mg | Fiber: 4g | Sugar: 4g | Vitamin A: 647IU | Vitamin C: 1mg | Calcium: 284mg | Iron: 3mg
Nutrition provided is an estimate. It will vary based on specific ingredients used.
Did you make this recipe? Don't forget to give it a star rating below!