A simple and delicious meal that can be thrown together quickly. This sheet pan chicken and potatoes recipe is healthy, delicious and best of all, the clean-up is a breeze!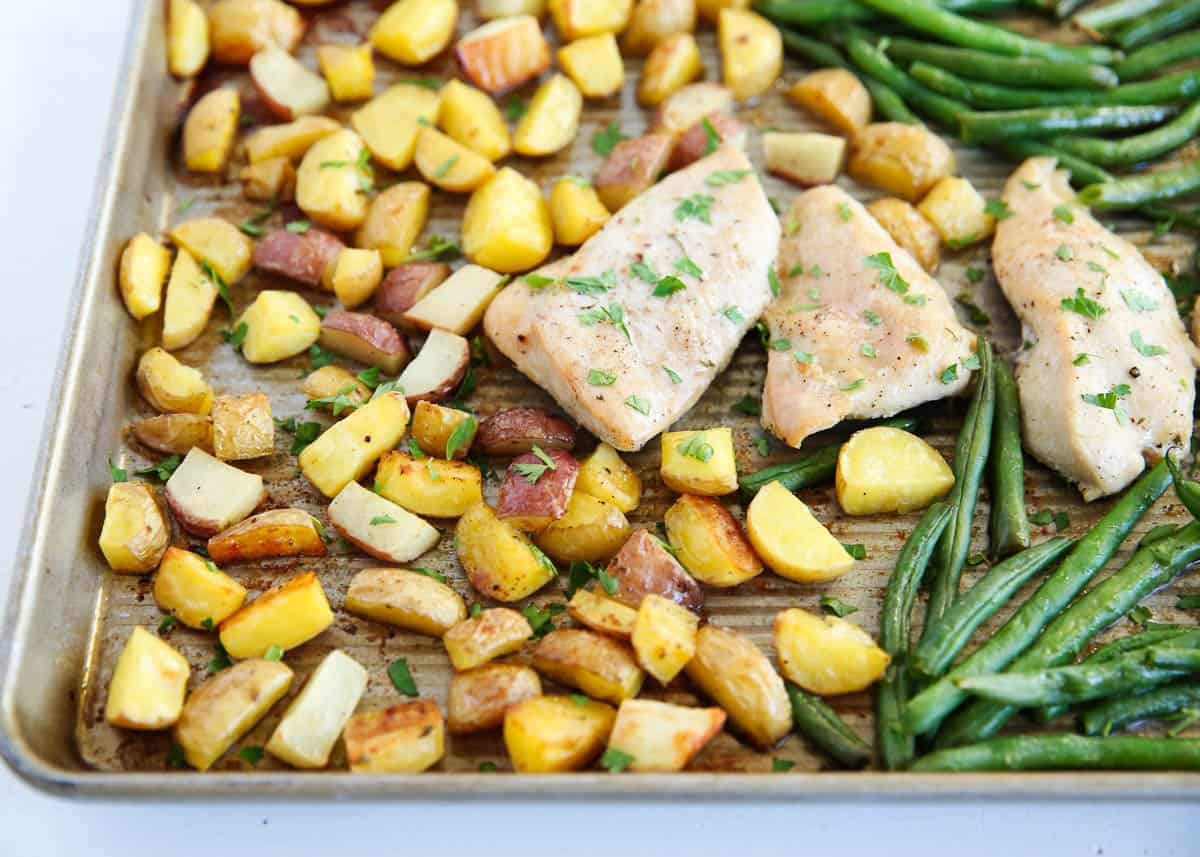 The Ultimate Meal for Busy Families
I can't get enough of sheet pan dinner recipes. They simplify my dinner time prep as everything is thrown onto one pan and roasted together. It couldn't get any easier!
Easy 30-minute meals are a must in my house! Sheet pan chicken thighs and sheet pan chicken and veggies are two of our favorite quick weeknight meals and now we're adding this amazing sheet pan recipe to the roster!
Chicken breasts and baby potatoes are tossed in a simple sauce of chicken broth, olive oil, and seasonings. Everything is roasted until the chicken is tender and juicy and resulting in a complete meal that everyone in the family will love.
It's really important to me to serve healthy dinners that also taste amazing. When the prep is quick and the clean-up is minimal that's always a bonus! This recipe ticks all of those boxes.
What is a Sheet Pan Dinner?
You may have heard of one-pot meals, well a sheet pan dinner is essentially the same idea! All of your ingredients are cooked in the oven right on one sheet pan. The preparation is usually minimal and since you aren't using lots of different pots and pans, clean-up is quick and easy!
Recipe Ingredients
Simple ingredients come together to create this comforting sheet pan chicken and potatoes recipe.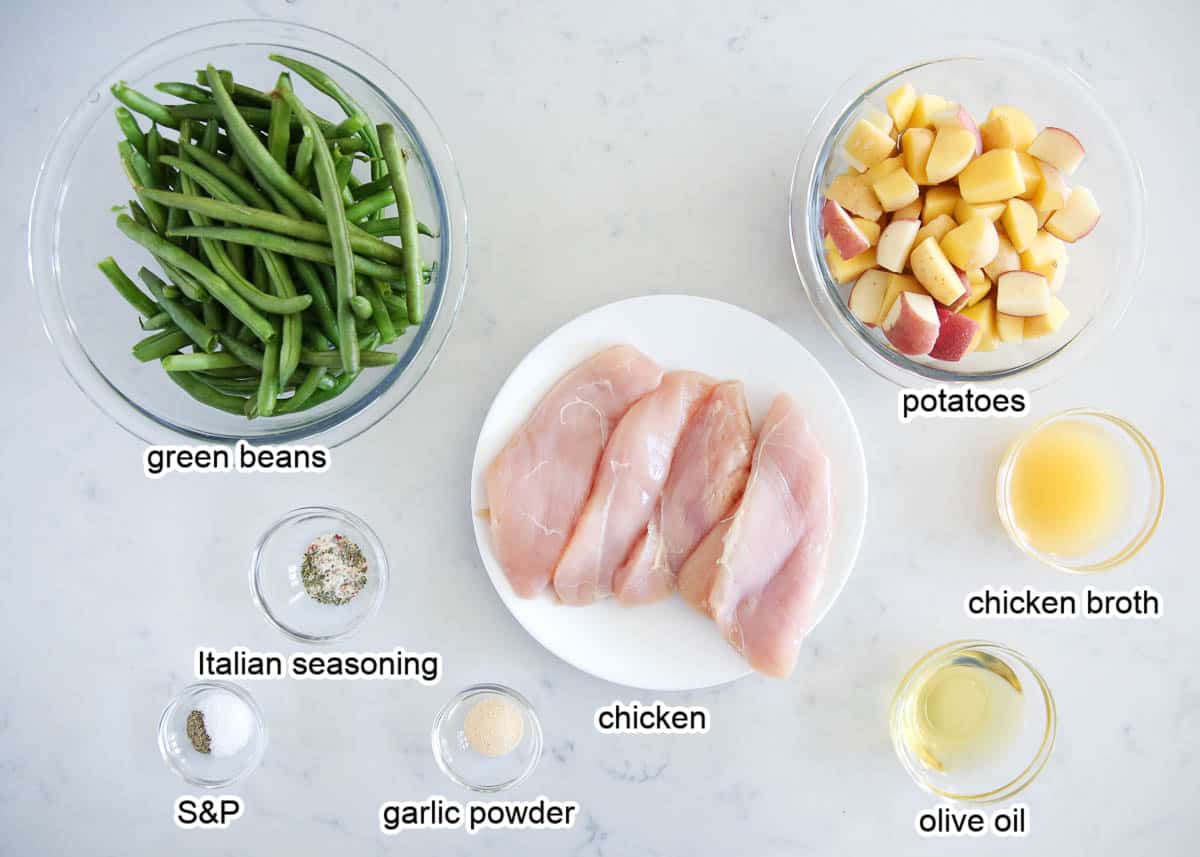 See full printable recipe below.
​Chicken breasts: I prefer to use boneless and skinless breasts, but if you like boneless, skinless thighs, you can use them instead!
Potatoes: I use baby potatoes and I don't peel them. You can use any kind of potato you like, just make sure to cut them into small even-sized pieces so they cook at the same rate.
Sauce: I like a simple sauce of olive oil, chicken broth, Italian seasoning (I make my own blend!), Kosher salt, ground black pepper, and garlic powder.
Green beans: To round out the meal, I add a vegetable and we love green beans! You can add your favorite vegetables to the pan. Broccoli is another favorite.
Garnish: Freshly chopped parsley or basil adds the perfect flavor on top.
How to Make Sheet Pan Chicken and Potatoes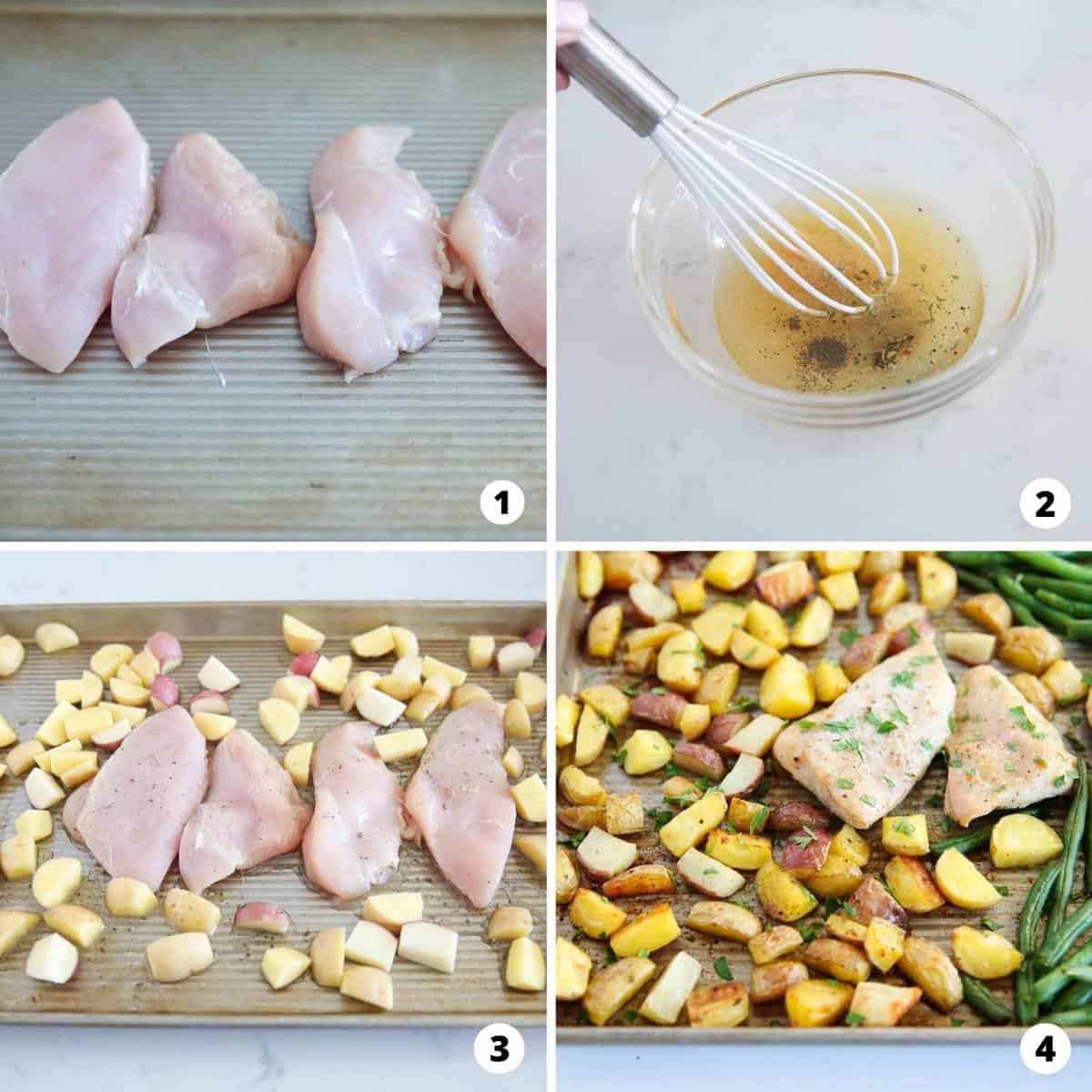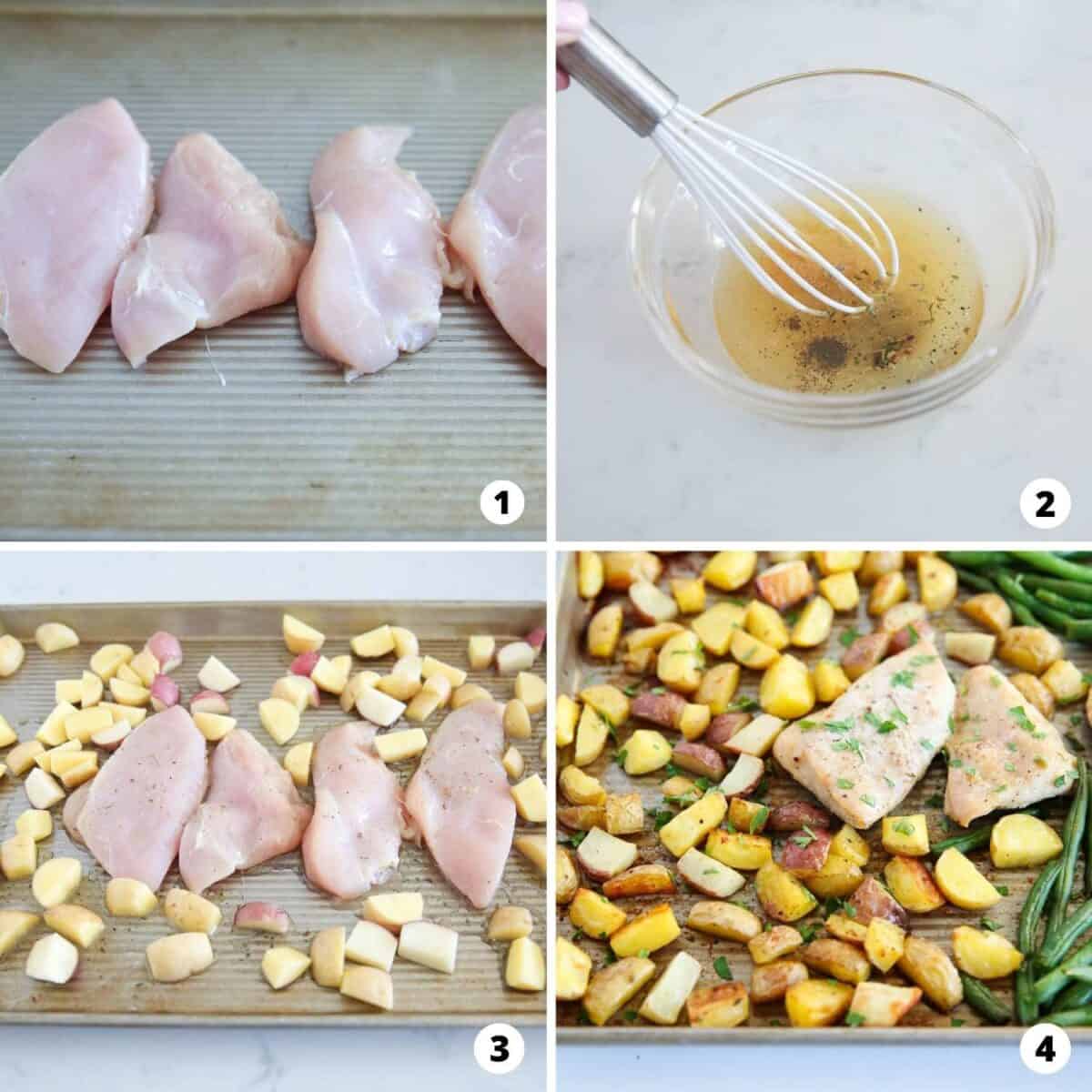 Preheat the oven and place the chicken breasts and chopped potatoes on a large baking sheet.
Make sauce. Whisk together the sauce ingredients. Drizzle ¾ of the sauce over the meat and taters and toss everything together. Bake for 15 minutes.
Flip. Carefully remove the pan from the oven and flip the potatoes and add the green beans. Drizzle over the remaining sauce and sprinkle over some salt and pepper to taste. Continue baking for 10 minutes.
Serve. Add fresh herbs on top and season with more salt and pepper if needed.
Expert Tips
Non-stick pan. To make clean-up even easier with all your one pan meals, use a non-stick pan or line it with parchment paper or foil.
Don't overcrowd. Space the contents of the pan out the best you can. If they are too close, they will steam rather than roast.
Crisp up. Use a paper towel to pat extra moisture from the chicken and the potatoes before roasting. You can also broil the sheet pan for the last minute of cooking to encourage a crispier top.
Resting time. Let the meat rest for 5 minutes before you serve it. This resting period gives the juices time to settle back into the chicken so it's tender and juicy once you cut into it.
Double the amount. This recipe is easily doubled! Distribute the breasts and potatoes onto two sheet pans and rotate the pans halfway through for even cooking. Alternatively, you can cook all the meat on one sheet and potatoes and other veggies on another sheet.
Variations
This is one of those family meals that are easy to customize. Try some of the variations below or come up with your own!
Vegetables: In the fall, add root vegetables like carrots or parsnips, or in the summer try zucchini, asparagus, or broccoli.
Chicken thighs: Swap out the breasts for thighs or use a combination of both. Make sure both are boneless and skinless.
Potatoes: I used baby potatoes because I don't have to peel them and they are already small, so I didn't have to spend too much time chopping. You can substitute a different kind of potato (like sweet potatoes), just make sure that you cut them into small pieces.
Add heat: Add some red pepper flakes to the sauce before drizzling over the top of the chicken and potatoes.
Seasonings: Swap out the Italian seasoning for something else. Try Greek seasoning or fajita seasoning for a different flavor! You could also use thyme, oregano, tarragon, or dill, or finishing with a squirt of lemon juice.
Recipe FAQs
What pan is the best for sheet pan dinners?
I recommend using a large metal half sheet pan which is 18 x 13 inches. This type of pan helps the chicken and potatoes crisp up. Look for a rimmed baking sheet that is made of a heavier gauge metal. Thinner sheets like jelly roll pans can sometimes warp in the oven.

If you only have a deep baking pan or glass baking dish, you can still use them, but just know that the chicken and potatoes probably won't brown in the same way.
Is it safe to cook chicken and potatoes together?
Yes, it is! It can even add to the flavor of your potatoes. You just want to make sure that the chicken is cooked thoroughly before serving it.
How do I know when the chicken is cooked?
The best way to know if your chicken is cooked is to use a kitchen thermometer. When cooked, the internal temperature should reach 165°F and the juices should run clear.
Storing and Reheating
To store: If you're lucky enough to have leftovers, you can store them in an airtight container in the refrigerator for up to 3 days.
To reheat: Place in a microwave safe bowl along with a splash or two of broth or water to prevent it from drying out. Cover with a paper towel and heat for 1 minutes or until warm. You could also place in a toaster oven for a few minutes to get it crispy.
HUNGRY FOR MORE? Subscribe to my newsletter and follow on Facebook, Pinterest and Instagram for all the newest recipes!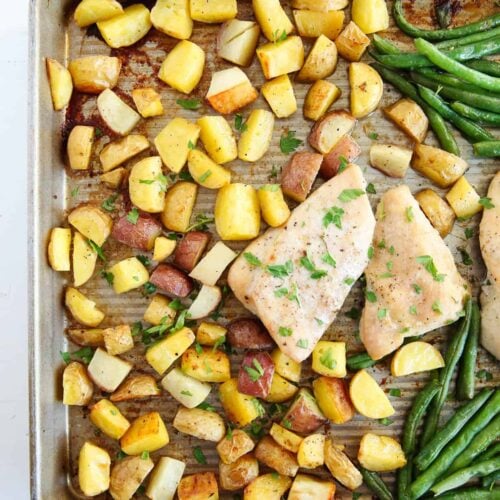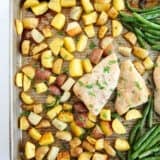 Sheet Pan Chicken and Potatoes
Sheet pan chicken and potatoes is a simple and delicious meal that can be thrown together quickly. It's healthy and delicious and best of all, the clean-up is a breeze!
Ingredients
1 pound chicken breasts , could also use chicken thighs
1 pound baby potatoes , quartered
3-4 Tablespoons olive oil
¼ cup chicken broth
1 teaspoon Kosher salt , plus more to taste
1 teaspoon Italian seasoning
½ teaspoon garlic powder
¼ teaspoon ground black pepper , plus more to taste
1 pound green beans
For serving (optional): Freshly chopped parsley or basil
Instructions
Preheat the oven to 415°F. Place the chicken and potatoes on a large baking sheet (18×13-inch).

In a medium bowl, combine the olive oil, broth, Italian seasoning, salt, garlic powder, and pepper. Drizzle 3/4 of the mixture over the chicken and potatoes. Toss to combine. Bake 15 minutes.

Remove from the oven. Flip the potatoes and add the green beans to the pan. Drizzle the remaining olive oil mixture and sprinkle any additional salt and pepper needed over the top.

Bake an additional 10 to 15 minutes, or until the potatoes are tender. You can broil the last minute if you prefer a crispier top. Once chicken is cooked through (a meat thermometer inserted into the center reads 165°F), remove from oven. Add fresh herbs on top. if desired. Season to taste.
---
Notes
Vegetables: This recipe is easy to swap out vegetables. If using a root vegetable (like carrots), make sure to cook with the potatoes. During summer season, we like to add a zucchini or broccoli. Chicken: I prefer to use boneless and skinless chicken breasts, however you can use chicken thighs if preferred. Storage: Store the leftovers in a covered container in the refrigerator for up to 3 days.
Nutrition
Calories: 348kcal | Carbohydrates: 28g | Protein: 29g | Fat: 14g | Saturated Fat: 2g | Polyunsaturated Fat: 2g | Monounsaturated Fat: 9g | Trans Fat: 0.01g | Cholesterol: 73mg | Sodium: 782mg | Potassium: 1152mg | Fiber: 6g | Sugar: 5g | Vitamin A: 828IU | Vitamin C: 38mg | Calcium: 71mg | Iron: 3mg
Nutrition provided is an estimate. It will vary based on specific ingredients used.
Did you make this recipe? Don't forget to give it a star rating below!