Need an easy, healthy, and scrumptious dinner idea in a hurry? Sheet pan chicken thighs are exactly what you're looking for. A complete meal that is done on one sheet is ready in 30 minutes!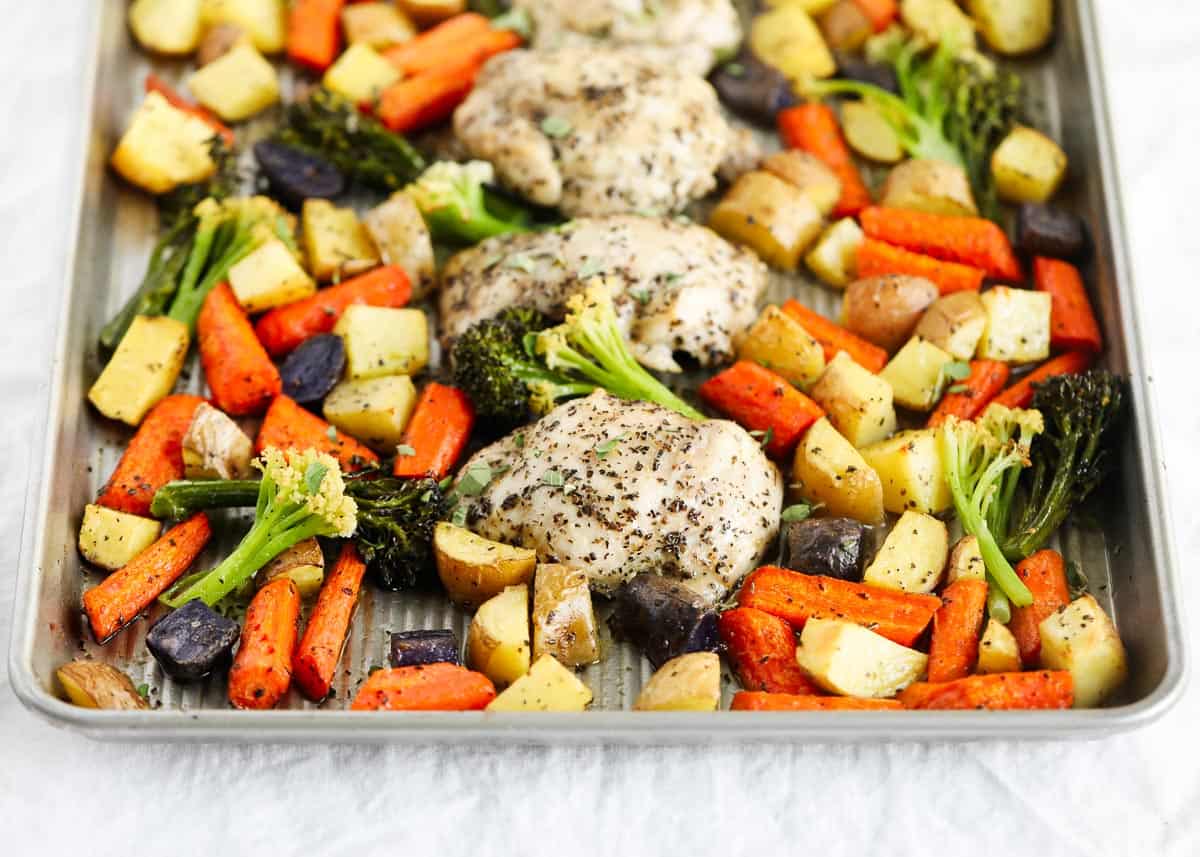 Easy One-Pan Dinner
Sheet pan chicken thighs are one of the easiest ways to get a 30-minute meal on the table. Being able to bake everything on one sheet makes for easy cleaning up but any type of sheet pan dinner is also an efficient way to make sure everything is ready at the same time. Both the main and the sides!
This chicken thigh sheet pan dinner is made with tender juicy chicken, and roasted potatoes, carrots, and broccoli with tons of flavor with the simple seasoning of salt, pepper, and Italian seasoning. High protein, loads of veggies and completely gluten-free!
I don't know about you but there are just some days when the last thing I want to do is make an elaborate meal that my kids may or may not agree on. Sheet pan chicken thighs and potatoes or this pork chop sheet pan dinner are the answer to a healthy dinner idea and a simple go-to meal that I know they will love. I can customize the veggies on the side because it's a flexible recipe that can meet everyone's needs.
Customize it!
Sometimes I'll switch up the potatoes to sweet potatoes, add more veggies, or use broccoli instead of cauliflower. If I need to feed a larger crowd, I'll turn it into a 2 sheet pan meal keeping one pan for more chicken and another pan for just the roasted potatoes and carrots or just for sheet pan vegetables. A super budget-friendly way to eat if there ever was one! Pick up what's on sale or use what you've got. Quick, easy, healthy, and delicious!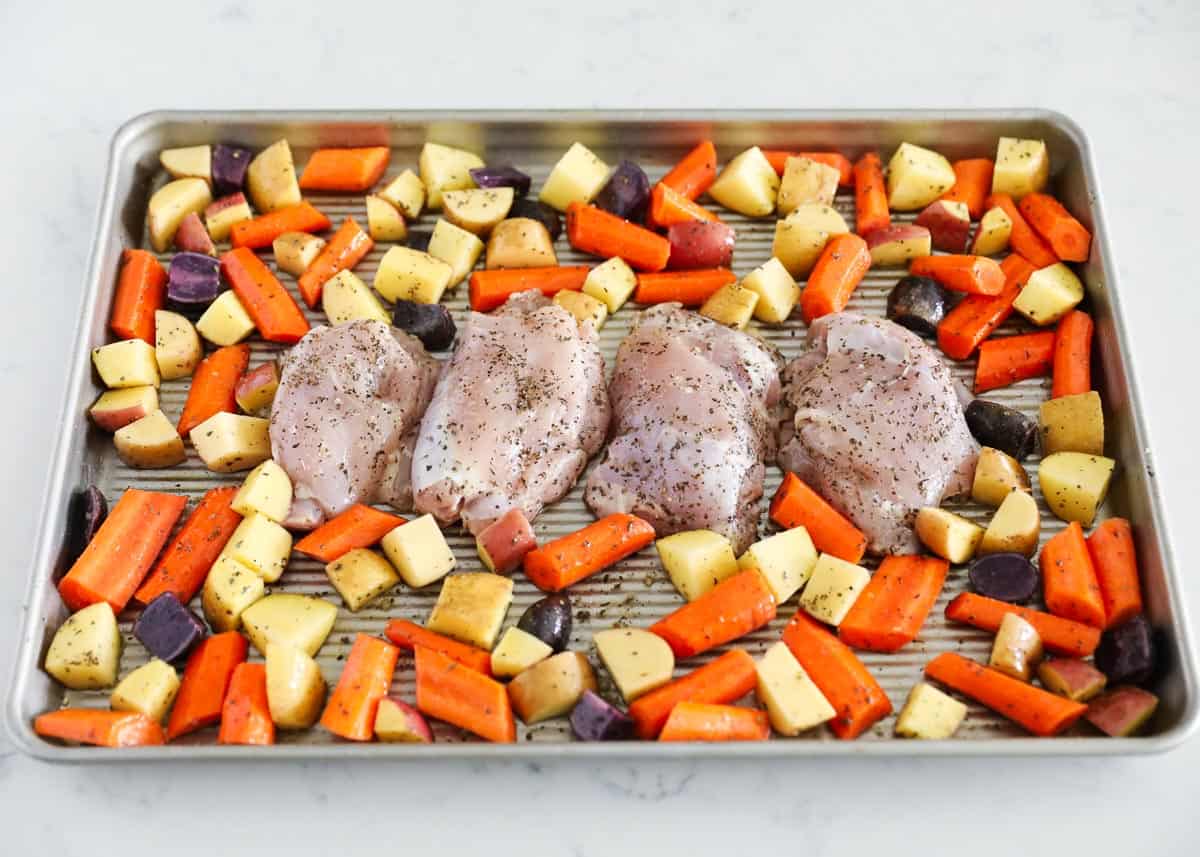 Cooking Tips
Non stick. Everything gets tossed in oil once it's on the baking sheet, and should become non-stick but feel free to use a sheet of foil for extra assurance.
Timing. You roast the potatoes and carrots first because they take longer to cook. Avoid adding the broccoli too soon as you'll overcook and possibly burn it.
Season beforehand. This chicken thigh sheet pan dinner is super flavorful as is, but if you want you can marinate it ahead of time by sprinkling it with the seasoning and allowing it to sit in the fridge before baking.
Don't overcrowd the pan. If you need to make more you might find you need to use two pans. Overcrowding could lead to uneven cooking.
Variations
I prefer using boneless, skinless chicken thighs because that's what my kids prefer but you can switch up any of the components!
Chicken breast – with or without bone and with or without skin, just like in my other favorite sheet pan chicken and veggies recipe. Chicken drumsticks also work.
For a more rustic appearance don't peel your potatoes or carrots. Just make sure to scrub very well first!
Potatoes – Speaking of not peeling…this recipe calls for baby potatoes which have a thin skin, so there is no need to peel. Red potatoes would also be great. If you prefer to peel them, go right ahead!
Some alternate roasted veggies could be colorful bell peppers, cauliflower, beets, turnips, butternut squash, white onions, and sweet potatoes.
Switch up the seasoning – For a different flavor next time, try fajita seasoning or taco seasoning over everything! Use a blend of Mediterranean spices to make chicken shawarma or this easy Greek seasoning is also perfect for making Greek sheet pan chicken.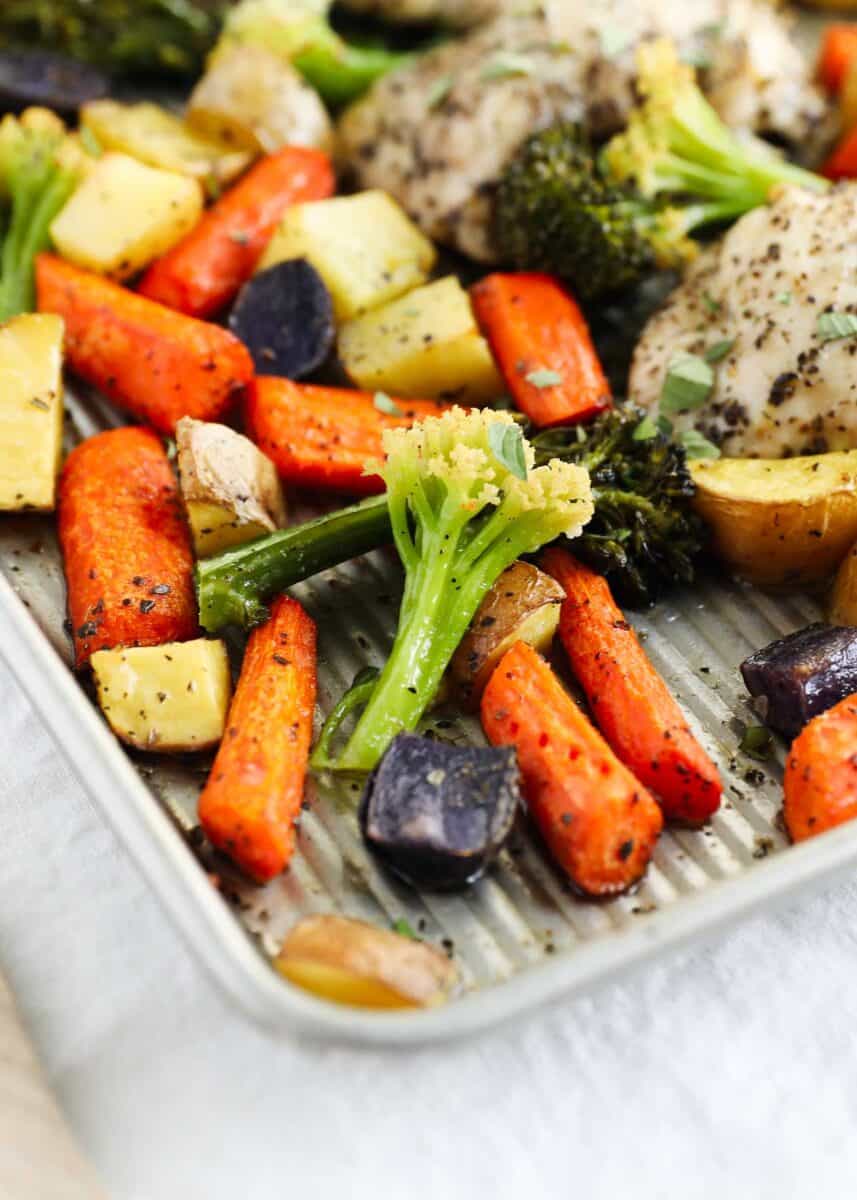 Make Ahead Sheet Pan Chicken Thighs
If you're planning for dinner tonight, you can do a little bit of the prep work ahead of time and then pop everything into the oven just before dinner time. Season the chicken, cover it, and allow it to sit in the fridge for a bit of marinating time. Wash, peel and cut the vegetables and either season them ahead of time and keep them stored or wait to season them on the pan just before you put them in the oven.
Storage Suggestions
Enjoy leftovers for up to 3 days. This sheet pan dinner will keep fresh in the fridge in an airtight container. Heat it in the microwave if doing small portions or place it back in the oven to heat through, if heating a larger amount.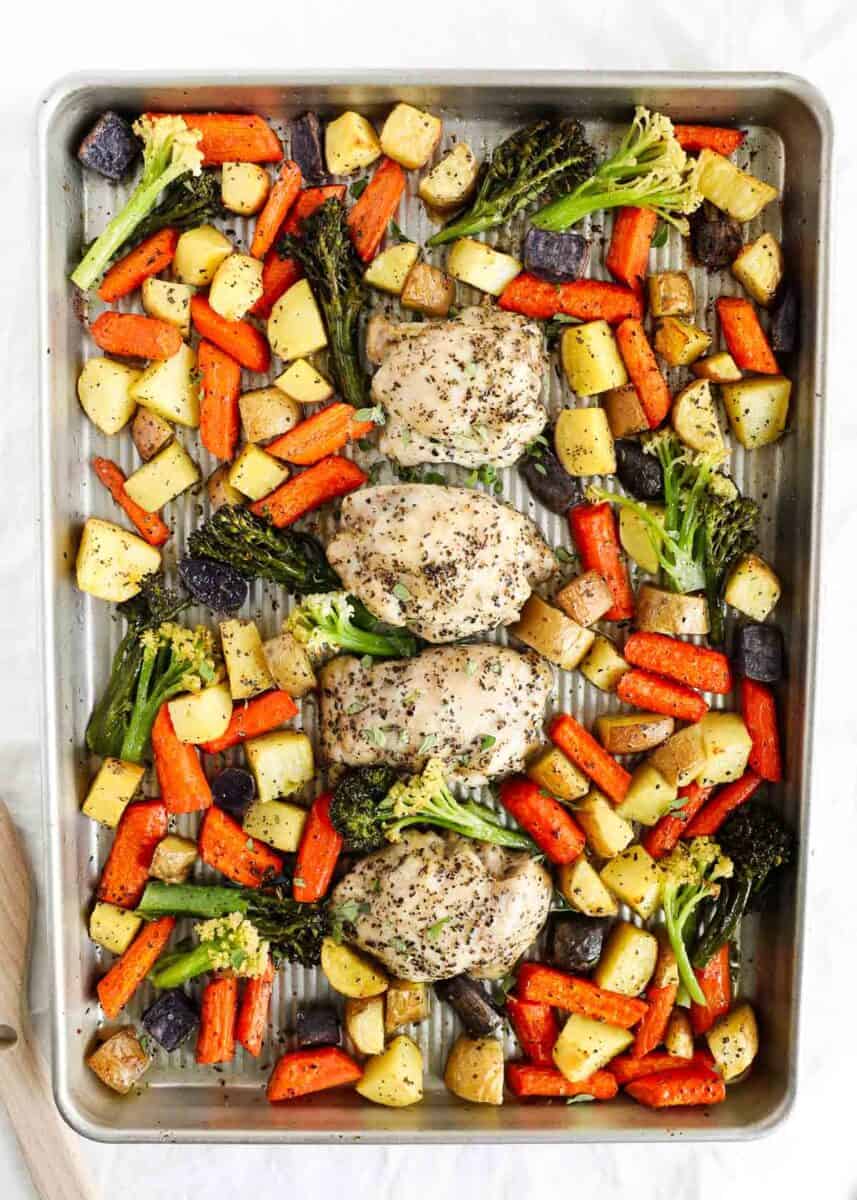 More Easy Sheet Pan Dinners:
HUNGRY FOR MORE? Subscribe to my newsletter and follow on Facebook, Pinterest and Instagram for all the newest recipes!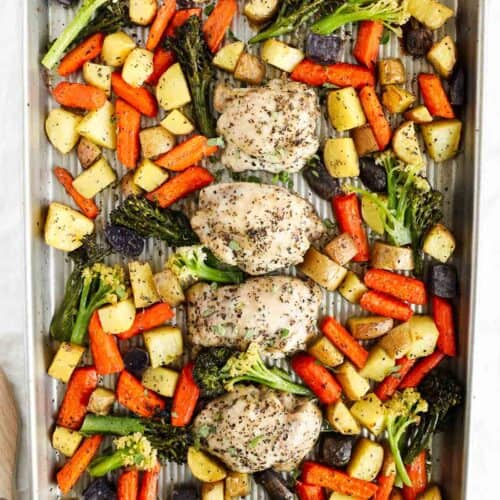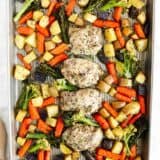 Sheet Pan Chicken Thighs
Need an easy, healthy, and scrumptious dinner idea in a hurry? Sheet pan chicken thighs are exactly what you're looking for. A complete meal that is done on one sheet is ready in 30 minutes!
Ingredients
4 chicken thighs , can use 6 if needed
1 pound baby potatoes , could also use red potatoes
½ pound large carrots , peeled
1 head broccoli
3-4 Tablespoons olive oil
1 teaspoon Kosher salt , more to taste
1 teaspoon dried oregano leaves
1 teaspoon dried basil leaves
½ teaspoon garlic powder
¼ teaspoon ground black pepper , more to taste
Instructions
Preheat the oven to 425°F. Cut the carrots in half and then cut into 2-inch pieces. Then cut the potatoes into 1/4" rounds. Place on a large baking sheet (18×13").

Place the chicken in the middle of the pan. Then place potatoes and carrots onto the pan. Drizzle the olive oil and sprinkle the seasonings evenly over top. Then toss to evenly combine.

Bake for about 15 minutes, or until they begin to soften. Remove from oven, add broccoli and flip vegetables. Add an extra Tablespoon of oil if needed. Then bake an additional 10-15 minutes or until the chicken reaches 165°F. Serve while warm. Salt and pepper to taste.
---
Notes
Chicken: I prefer to use boneless and skinless chicken thighs which are easier for my kids to eat, however you can cook them with the bone in. Storage: Store leftovers in a covered container in the refrigerator or up to 3 days.
Nutrition
Calories: 505kcal | Carbohydrates: 36g | Protein: 26g | Fat: 30g | Saturated Fat: 7g | Polyunsaturated Fat: 5g | Monounsaturated Fat: 15g | Trans Fat: 1g | Cholesterol: 111mg | Sodium: 765mg | Potassium: 1384mg | Fiber: 8g | Sugar: 6g | Vitamin A: 10512IU | Vitamin C: 161mg | Calcium: 120mg | Iron: 3mg
Nutrition provided is an estimate. It will vary based on specific ingredients used.
Did you make this recipe? Don't forget to give it a star rating below!